原文标题:No one starves in India. The poor drink, get sick and die
原文链接:http://www.firstpost.com/india/no-one-starves-in-india-the-poor-drink-get-sick-and-die-272150.html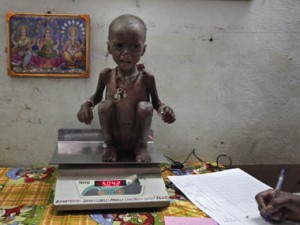 Being underweight is a "national shame" in India but starving to death, well, that just does not happen.

When a survey revealed that 42% of India's children are underweight, Manmohan Singhcalled it a "national shame."

But when a Gita Devi dies of starvation, the village council chief shrugs, writes Ashwin Parulkar, researcher at New Delhi think tank Centre for Equity Studies, in the Wall Street Journal's India Real Time. Read Parulkar's six part India Real Time series on Starving in India: The Forgotten Problem.



在印度,体重不足是一项"国耻",但是饿死人的事情,并没有发生。





一项调查标明42%的小孩体重不足,辛格称之为"国耻"。





新德里智库公正研究中心的研究员Ashwin Parulkar,在为《华尔街日报》的"真实的印度"中写道:"但是,当Gita Devi饿死时,村委会头目无动于衷。"Parulkar在"真实的印度"专栏中写了六篇关于"印度的饥饿:遗忘的问题"的文章。



"Gita Devi," he said between a gulp of tea and a bite of biscuit "died of tuberculosis."

"These people are poor," he explained. "They drink. So they have health problems. They get sick. And die."

Bas. Case closed.

What the series, done in association with the Centre for Equity Studies, shows, is that we cannot admit to starvation deaths because it would mean admitting to an entire systemic failure up and down the chain.



"Gita Devi 死于肺结核",他一口饼干一口茶,说道。





"这些是穷人",他解释道,"他们喝水,所以有健康问题,他们得了病,然后死掉了。"





公正研究中心的系列研究表明,我们不能承认饿死了人,因为这意味着我们承认了上下整个体系的失败。



It would mean admitting to negligence or corruption.

It would mean admitting to flouting the Supreme Court's ruling that states have a legal responsibility to ensure that people have adequate food.

It would mean admitting to the fact that public distribution system was defunct.

It would mean admitting that the government mandated mid-day school meal, only happens four or five days a month because the school is closed the other days. It does not have enough staff.

It would mean admitting to prickly unpleasant questions about why the poorest of the poor, the ones starving to death in a food-surplus country, belong to the most backward castes.

It's much easier instead to announce yet another Mukhyamantri Yojana (chief minister's scheme) that does not reach the people and dismiss the deaths that do happen.

Eight people died in Hindiyankalan village in Jharkhand in one night in October 2008. The official verdict – they died of food poisoning from eating gethi, a toxic wild root. True. But the real question is – can we imagine the hunger that drives a family to eat wild roots it knows are toxic?



这将意味着承认渎职或者腐败。





这将意味着嘲笑最高法院规定的保障人民免于饥饿的法律责任。





这将意味着承认公共分发系统的失效。





这将意味着承认政服强制发放的校园午餐一个月只有4天或5天,因为其他日子学校都关门。学校没有足够的职工。





这将意味着承认令人刺痛敏感的问题:穷人中最穷的那些人,那些最低种姓,在印度这个食物过剩的国家被饿死。





贾坎德邦的Hindiyankalan村,2008年十月份的一个晚上,死了8个人。官方结论是他们死于食物中毒,吃了一种叫做gethi的有毒野生植物根茎。但是真实的问题是——我们如何想象饥饿驱使一个家庭去吃明知有毒的野生根茎?



Read the India Real Time series because the stories, while bleak and heartrending, are not just an Arundhati Roy-esque rant against the system. They are stories about policy and policy failure but with the faces of real people.

"My mother died in the morning after drinking water," he said. "The same night, my daughter passed away. The next morning, my wife also died of starvation," he added, straight-faced.

Vilas wasn't done with the surprises.

"Now my second wife is ill," he said. "And we don't have enough food to give her."



尽管"真实的印度"系列,读起来让人绝望和心碎,但是不只是Arundhati Roy-esque抨击这个系统。他们是真实人们展现出来的政策和政策失败的故事。





"我的母亲早上喝了水以后,就死了",他说,"同一个晚上,我女儿也死了。第二天,我老婆同样饿死了。"他面无表情地接着说。





Villa忍不住吃惊。





"现在我的第二个老婆也病了",他说,"我并没有足够的食物给她吃。"



And once you have read the stories, read some of the comments to understand the scale of the problem.

Sosad writes, "This article, like many that can be found in the pages of western media, casually mentions the caste of the people discussed here. The clear implication will be that somehow upper caste folks are oppressing these people. And this type of reporting is pervasive, since many of the reporters doing these articles have clear left leanings and their own caste agendas."

Ratnesh says, "Gita Devi died after giving birth to her SIXTH child….read that again….S I X T H child. A family that can barely manage to feed its existing members has no right to keep bringing in more hungry mouths into this world."



一旦你读完这些故事后,看看评论你就能理解这个问题的严重性。





Sosad写到,"这篇文章,就像n多西方媒体中能找到的那样,不经意提到正在讨论的种姓制度。里面很清楚地影射高种姓阶层一直在压迫这些人民。这种类型的报告到处都是,因为很多报道者写文章明显左倾、是他们自己种姓阶层的利益代言人。"





Ratnesh说,"Gita Devi在生下第六个小孩后死的....再读一遍....第六个小孩. 一个家庭既然都养不了活着的人,就没权生更多吃东西的嘴巴。"



Sorry, Sosad this is not about right or left and bleeding heart liberal handwringing versus tough free market policies. Sorry, Ratnesh, this is not about a failure of family planning.

This is about the utter failure of the safety net.

In that sense, the series is being too charitable with its headline – Starving in India: The Forgotten Problem. There is something benign about forgetting – like a missed birthday or misplaced keys.

The problem is not forgotten as much as it is ignored, shoved under the carpet or just blatantly denied.

Only one person uses the word "forget" in the story. It's Paro Devi from Jharkhand whose husband starved to death after his construction jobs dried up.

"I haven't tasted dal (lentils) in so long I forget what it tastes like," she says.



对不起,Sosad, 这不是关于左倾或右倾,以及软心肠自由主义对严苛的自由市场政策。对不起,Ratnesh, 这不是关于失败的家庭计划。





这是关于安全网络的彻底失败。





在那种意义上,该系列的标题显得太慈善化了——"印度的饥饿:被遗忘的问题"。一个简单滴关于遗忘的问题——就像忘记了一个生日,或者忘了钥匙放哪儿了。





饥饿问题被忽略、掩盖或者公然否认,不过没有被遗忘。





只有一个人在故事中使用了"遗忘"这个词儿。此人是贾坎德邦的Paro Devi,她丈夫失去建筑工作后饿死了,她说:"我太长时间没吃扁豆了,几乎忘了它是啥味道了。"




以下是评论部分:




FishTank ? 3 months ago

there is a word for it, its called poverty porn. Do something and then write about it.

只





有一个词形容它:贫穷秀。干点啥,然后再写吧。




Rasik ? 3 months ago ? parent




What are you doing to solve this problem, other than commenting on this article??? Writing about poverty helps to solve the problem in the sense that it highlights the problem. Otherwise, how does one know about the existence of this problem? The first thing towards the solution of a problem is recognizing the problem. India has surplus food grain production. Despite this, millions are still starving. Frequently media come up with reports that millions of tons of food grain are rotting in the warehouses. So the problem is not about the lack of food in the country to feed the poor, but about the sorry state of food grain management. Government failure in distributing food to the needy. Starvation in India underlines the problems in the system - lack of proper mechanism to identify the real poor, and our political leadership's failure to chalk out programs aimed at providing the needy with provision so that instances of starvation deaths could be avoided. Powerful articles on the subject can serve as wake-up call to not only our politicians, but also to innumerable NGOs and philanthropic organizations working in the rural India. Only collective efforts with mass participation can solve the problem, and media plays an important role in galvanizing people into a mass movement against poverty.




除了评论本文之外,你都干了啥来解决这个问题?说出这些贫困在于暴露问题,有利于解决问题。否则,谁知道这些问题存在呢?解决问题的第一要务是认识问题。印度有过剩的粮食产出。尽管这样,成百万的人们却仍旧挨饿。媒体经常报道数百万吨的粮食在仓库里烂掉。所以,问题不是国家缺少食物供给穷人,而是国家糟糕的粮食管理。在将实物分发给需要的人方面,政服做得失败了。印度的饥饿问题凸显了系统中的问题——缺少合适的机制甄别真正的穷人,针对需要的人们,政治领袖们不能有眼界地做好规划,以避免饿死现象。有关该主题的强有力文章不但可以唤醒我们的政客,而且可以唤起无数在印度农村工作的NGO和慈善组织。只有靠群体参与的集体力量才可以可解决这个问题。在攻克贫困问题上,媒体可以扮演重要的角色来促使人们一起努力。




leo ? 3 months ago ? parent




You wouldn't discuss it otherwise. Denying the problem doesn't mean it doesn't exists.




要不你不要谈论它了。否认问题不等于问题不存在。



Guest ? 3 months ago

Its 65 years. and the governments still believes that the cities are the real India.
Eventually everyone has to migrate to the cities.
All development is for the cities. Only free power and free grains for the rest of the India.

How long can governments go on with this mind-set.
And then they would complain about the maoists. !



65年了,政服仍然相信城市是真正的印度。最终每个人都要移民到城市。所有的开发都是为了城市。只有剩余的精力留给印度的其他地方。





这种思路政服会坚持多久。到时候他们又将抱怨毛主义者。




Akash ? 3 months ago ? parent




Maoists have the answer? They even blow up schools. These mad Maoists and their supporters like Arundhati Roy are part of the problem. Because of the Maoists, even the elementary support which worked are now in disrepair.




毛主义者有解决方案吗?他们甚至炸掉了学校。这些疯狂的毛主义者和支持者们,如Arundhati Roy,本身就是问题之一。因为毛主义者,过去可用的基本支援现在甚至都荒废了。




Guest ? 3 months ago ? parent




That's the point Akash.
How did they come into existence, who are a headache today ?




说到点了。他们是如何存活下来的,谁是今天头疼的人?




Cnu4frnds ? 3 months ago ? parent




Not to worry, this flawed approach of restricting to cities will result in a breakdown in the near future with over population in the cities, unemployment etc. The whole system is defunct, a complete overhaul is of utmost necessity




甭担心,这种有问题的城市管理路子,最终会因为超负载人口、失业等问题导致不久将来城市崩溃。整个系统已经失灵了,非常有必要来一个全面的修理。



Vijay Palaniappan ? 3 months ago

One question to MMS,

You know well ... How Great Roman Empire came down,,, just because of its own people. suffering of working class was ignored by Rome.

Have you ever honestly tried to solve the problem of poverty in India in the current office term?

I know, you don't have power, but if you would have tried and failed, it is a different story.
You are not like other politicians, then how can you eat your food without any feelings.

I can't enjoy the food in a restaurant happily, because before entering, I see my fellow malnourished Indians waiting both sides of the road.

Sure, god will hear the curse of all our hungry people due to poor governance
Your govt, party will be erased soon in the Indian history



一个问题给辛格总理,





你该很清楚,伟大的罗马帝国是怎么挂掉的。就是因为他自己的人民。罗马忽视了劳动人民。





在当前条件下,你是否诚实滴尝试过解决印度的贫困问题?我知道你没有权利,但假设你尝试过却失败了,那可是另一回事。你跟其他政客不一样,又怎么能心安地只顾自己吃饭。我无法在餐馆里高兴地吃饭,因为进门前,我看到路两边营养不良的印度同胞。





当然,由于管理不善,上帝会听到我们所有饥饿人民的诅咒。





你们政服、政党,很快会从印度的历史上被抹掉。




Ajit ? 3 months ago ? parent




v p we finally rely on god to do the magic, why cant we all middle class come out on next election and make compulsory population control main issue.
my dream india -2020 80 crore population and 10 times gdp!!!!!!!!!!!




我们最终依靠上帝来玩魔法。我们所有中产阶层为啥不能在下一届选举中出头并制定强制实施的人口控制计划。




我梦想中的印度 —— 2020年8亿人口, 10倍的GDP!!!



Karenachu9005 ? 3 months ago

unless.....this damn.....politicians stop cheating & smuggling our nation....this will go on....
leaving the poor distressed and dying....



除非... 该死的政客们不再欺骗和倒卖我们的国家....但是这将继续.....让穷人处于沮丧和垂死境地.......
Ajith S ? 3 months ago

Good area to focus. So called reformists are talking about having condom vending machines in Colleges.... !!! What to say???



很好的话题。所以应该号召改革家们讨论在大学里安置避孕套售货机....!!! 怎么说来着??




reena ? 3 months ago ? parent




Ummm...there should always be easy access to birth control. It reduces the birth rate and results in a higher standard of living for everyone. I would LOVE to find out what your reasoning is behind not wanting women and men to have access to birth control and ESPECIALLY the published studies you've used to develop that opinion.




呣..... 避孕措施应该便于获取。生育率下降,人们生活质量提高。我想知道你不希望妇女和男人进行避孕的背后依据是啥,特别是支撑你观点的出版物




Guest ? 3 months ago ? parent




Is that bad ?




这个不好吗?




freedune ? 3 months ago ? parent




Some people think that promoting contraception promotes premarital sex. Invoke Mr. T!




一些人认为宣扬避孕就是宣扬婚前性行为。



Barath Madhavan ? 3 months ago

Root of all problems is corruption. There are enough schemes and policies if implemented properly will benefit everyone. Only God knows what is in the store for the future



所有问题的根本是腐败。政策条令足够多了,如果得到正确执行,每个人都会收益。
Anthony ? 3 months ago

Thanks to 60 years of Congress Raj aka British Raj 2.0....these people can provide food to general public and they talk about Democracy. What is the use of democracy if people are dying of hunger? Time to Change the center government.



感谢60年的国大党统治,即英国统治2.0.......这些人提供食物给公众,他们谈论皿煮。如果人民都因饥饿处于垂死状态,皿煮有什么用?改变中央政服的时间到了。
Madan ? 3 months ago

There is much truth in the reports, so we can forget about the political leanings of the journalists. There are water and food shortages all over the country. The pity is that many of these problems can be solved by simple interventions. But corrupt politicians and an indifferent media ignore these problems. Huge amounts of money earmarked for the people are lost in the bureaucracy, and in corrupt schemes.



报告中提供了很多事实,因此我们可以忘掉记者的政治倾向。全国上下都存在水和食物的短缺。可悲的是这些问题可以通过简单的干预得以解决。但是腐败的政客和冷漠的媒体忽略了这些问题。服务民众的巨额专用款项在官僚腐败中被浪费了。




Rajaram V.V. ? 3 months ago ? parent




I have seen the poverty at Haridwar railyway station. Many people are found sleeping in the platform in unonscious state/immobile condition due to hunger and thrist. You can count the bones in thier ribs as the bodies look like skelton




我在Haridwar火车站见识过贫穷。许多人躺在月台上,因为饥饿和干渴处于昏迷和瘫痪状态。身体看起来像骷髅,能一根根地数出肋骨。



kishore Reddy ? 3 months ago

People in Rural regions need awareness about family planning..... A poor man with two wives and ten children has no chance......



农村地区的人们应该意识到家庭计划.... 一个穷男人是不能有2个妻子和10个小孩的....




Kbrisley ? 3 months ago ? parent




Are you aware of what the lowest caste earn there? It would be a choice between spending money on condoms or food and when you are starving there is only one choice. Next people will suggest abstinence not realizing that many of these people are so poorly educated that they do not realize how babies are made or what to do to stop it from happening. Try abstinence yourself and see how it goes - even priests who have made vows and know they will burn in hell for eternity cannot seem to bring themselves to do it.




你知道最低种姓的人是怎么过日子的吗?你必须在花钱买避孕套,还是花钱买食物中二选一。提倡节育的人们没有意识到这些人没有受过正当教育,他们不知道小孩是怎么生出来的,或者说怎么才能避免生小孩。你自己试试看节育,怎么进行——即便发过誓、明知会在地狱中被烧死,祭祀们自己也做不到。




Guest ? 3 months ago ? parent




Right.. A condom costs five rupee plus !




正确...一个避孕套要5个多卢比呢




freedune ? 3 months ago ? parent




Poor man with two wives?




有两个妻子的穷男人?




kishore Reddy ? 3 months ago ? parent




Yes it is the case in many villages.... If you read the article properly you will notice that author mentioned an example where a poor man has two wives......




This usually happens in certain societies although they are poor are proud of number of children and wives they have.... or multiple marriages are encouraged to have male child......




是地,n多村庄里都有这种情况... 如果你仔细阅读作者文章的话,例子中的穷男人就有两个妻子.....




这种事情发生在以老婆孩子数量为荣的社会里..... 或者鼓励多次结婚,以生得儿子.....




congi_chor ? 3 months ago ? parent




The issue is given reputation of current government...even condoms being distributed free will be sold and proceeds invested by sonia maino and raul in their swiss account....:)




这个问题给现政服带来声誉.....即便免费发放避孕套,也会被索尼亚和拉胡尔拿来销售或者投资到他们瑞士的银行账号里.....



FB ? 3 months ago

It's amazing how many people on this message board don't get one extremely simple principle "Don't shoot the messenger, look at the message". Is there any disagreement whether extreme poverty exists in India? Do people actually believe the current PDS is so efficient and non-corrupt so as to deliver the benefits to the needy?

Also, it is sad to see that many people on this board have got the direction of causality between population and poverty very wrong. The poor are forced to have more children because of their circumstances. For them, more people mean more hands which can earn wages. This is especially relevant when the wages per head are capped due to various inefficiencies. Also, due to diseases and other factors, it is very probable that they lose some of the earning members. Hence, for them, it makes a lot of sense to have a large family.



很好奇为啥留言板上这么多人没有把握一个超级简单的原则"不要为难送信的人,看看信上说了啥"。印度是否存在超级贫穷问题,有没有人持不同意见?人们是否真的相信当前分配系统真的如此高效和清廉,以致于能够将福利送到需要的人手中?





还有,我很不爽留言板上n多人误导人口和贫穷的因果关系。穷人被迫生更多的小孩是因为他们的环境。对他们来说,更多的人意味着更多的人手来挣工资。这是特别相关的,因为低效,每个人头的工资是有限的。同样,由于疾病或其他因素,他们很可能失去一些挣钱的人手。因此,对他们来说,一个大型的家庭有很多的意义。
FishTank ? 3 months ago

tear jerker, sigh, please someone give the journalist a pulitzer or something, so that he can hang it on the frame, if you care about the poor of India, do something about it, else please shu t up. Forcing the PM to admit to starvation issues, while he has already admitted to malnutrition is called nitpicking. And please go and ask why the westerners are doing nothing to solve the issues of India, I mean all of us are humans right. Now they crucified the Indians saying we are callous and shallow, but what does it say for westerners to consume guzzling colas and eating and becoming fat while indians starve, don't they have a duty towards humanity. Are they inhuman. Enough of tear jerking moralizing. Do something.



泪奔啊,唉,请为记者颁一个普利策奖或者其它啥的,这样他可以吊死在相框上,如果你们关心印度的贫穷,就做点什么,要不请闭嘴。总理已经承认营养不良了,还强迫他承认饥饿问题,这叫做吹毛求疵。请回去问问,为什么西方人没为解决印度问题做任何事情,我的意思是所有人都有人全啊。现在他们逼我们印度人说我们是冷酷无情的,但是印度人挨饿、而西方人豪饮暴食得过于肥胖这事又怎么说。他们没有人道主义义务吗?他们是不是没有人性?受够了催人泪下的说教。干点啥吧。
virtualmonkey ? 3 months ago

I was embarrassed, but took courage one night and asked a construction worker in Chennai City, if he could find someone to eat some leftover. He sent his mother, and the old lady was smiling and full of grace. Must I say more about our country ?

Circa 2012...in the Name of Our Bloody Lord.....long dead & gone



我觉得难为情,但有一个晚上我鼓起勇气问了钦奈的一个建筑工人,能否找到一个吃人家剩饭的人。他拉来他母亲,老太微笑着,很优雅。还要让我对这个国家说更多的吗?
Shiv ? 3 months ago

No need to be emotional - the truth is that all the people cannot be fed on the current agricultural production. If the Government hasnt got the will to implement compulsory family planning - they should withdraw the free immunisation program at least. Why waste money on poor children to make them live a life of grinding poverty anyway.



没必要太情绪化——事实是当前的粮食产量不能喂饱所有人。如果政服没有意愿执行强制家庭计划——他们至少应该收回免费免疫项目。为啥把钱浪费在穷孩子上,以让他们生活在无法避免的难以忍受的贫困之中。




freedune ? 3 months ago ? parent




You are such a lovely person! I bet your mother loves you.




你真是一个可爱的人! 但愿你老妈爱你。



Marco ? 3 months ago

Actually every one is selfish for well being of there kiths and kins and
no one bothers about the rest. Its not just politicians but rather
every one- This is a Selfish World.

Its pity that who could make it COMPLETE right and I feel its just GOD, but its tearful to see the God's photo behind the baby..

If you cant manage to take care the basic necessities of your family
then reduce the suffering by any means rather than waiting for a helping
hand.



事实上,为了亲朋好友,每个人都是自私的,没有人想管别人。这不只是政治,而是每个人——这是一个自私的世界。





遗憾的是,完全正确的,我觉得只有上帝,但是让人泪流的是看到婴儿照片背后的那个上帝....





如果你不能成功滴照顾你家庭的基本需求,你应该想尽办法减少磨难,而不是等待援手。
S kumar Parmar ? 3 months ago

Because INDIA is great country, Our Politicians believe and
follow our ancient thoughts. They think firstly fill their stomach then to
others. But when their own pockets are seems to empty how it is possible to
help the others? So People think when there is life; death will definitely
be....So carry on..!!!



因为印度是一个伟大的国家,我们的政客相信并追随我们古老的思想。他们先填满自己的胃口,然后考虑别人。但是他们口袋空空如也的时候,哪会考虑别人?人们认为只要有生,就必定有死....继续吧.....




Hank ? 3 months ago ? parent




"Because INDIA is great country!" you sound like every telemarketer our there selling bullshit




"因为印度是一个伟大的国家" 听起来你像我们那卖狗屎的电话销售员。



《华尔街日报》就印度饥饿问题写了一系列文章,让读者极为震惊,也引发了很多辩论。本文是就该系列文章读者反响写的一篇回顾。在印度,体重不足是一项"国耻"。一项调查标明42%的小孩体重不足,辛格称之为"国耻"。新德里智库公正研究中心的研究员Ashwin Parulkar,在为《华尔街日报》的"真实的印度"中写道:"但是,当Gita Devi饿死时,村委会头目无动于衷。"Parulkar在"真实的印度"专栏中写了六篇关于"印度的饥饿:遗忘的问题"的文章。