原文标题:Indian contingent fumes at presence of mystery woman in red
原文链接:http://timesofindia.indiatimes.com/sports/london-olympics-2012/news/Indian-contingent-fumes-at-presence-of-mystery-woman-in-red/articleshow/15246843.cms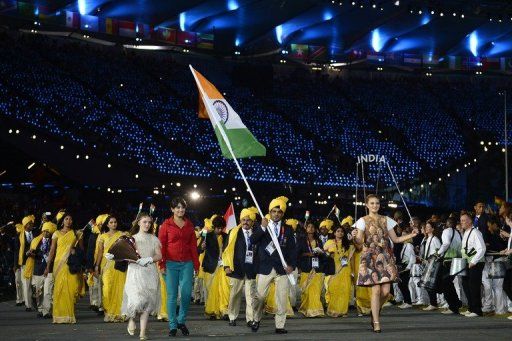 LONDON: The Indian contingent is furious over a strange trespass bang in the middle of their official march in Friday's opening ceremony.

Any lingering disappointment about a lack of camera spotlight on the nation's athletes was overshadowed by the mystery of a lady in red and blue who walked alongside flag bearer Sushil Kumar.

The woman of unknown origin brazenly gate crashed the party, raising security concerns and adding to the anger over India's blink-and-miss appearance on global TV screens.



伦敦:在星期五的开幕式上,一名陌生人在出场中混入印度代表团,令印度代表团大为光火。





人们对镜头太少聚焦印度代表团的挥之不去的失望因一名走在旗手苏希尔·库马尔边上穿着红色上衣和蓝色裤子的神秘女子而相形见绌。





来历不明的女子无耻地闯进了印度代表团,引发了安全关注,增添了人们对印度代表团在全球电视屏幕上"眨眼就过"的愤怒。



The Indian contingent - around 40 athletes and 11 officials in all - marched into the stadium with the men in yellow Rajasthani turbans, blue blazers and white trousers and the women in yellow sarees and blue blazers. Sticking out in the small contingent was a beaming young woman, seemingly Indian or of Indian origin, in a red track top, blue pants and sneakers. There she was, smiling at the cameras, even waving, soaking in the moment taking and an evening stroll as it were.

Inexplicably, the Indian camp is clueless about the trespasser's identity. "She had no business being there. It was a clear case of intrusion," said the acting chef-demission, Brig P K M Raja. "We are taking up the issue with the organizers. We don't know who she is and why she was allowed to walk in."

The Indians suspect a security breach and have decided to take up the matter with the London Olympic Games Organizing Committee (LOCOG).

"It is a shame that she was walking with our athletes," said Raja.



走进体育场的印度代表团总共大约有40名运动员和11名官员。男运动员佩戴黄色拉贾斯坦头巾,穿着蓝色便上装和白色裤子;女运动员穿着黄色纱丽和蓝色便上装。一名笑容满面的年轻女子走在人数不多的代表团前面,显得相当抢眼。她看起来似乎是印度人或者是印度裔,穿着红色运动上衣和蓝色裤子,脚上穿着运动鞋。她对着镜头微笑,甚至挥手,沉浸其中,似乎在享受夜晚式的散步。





令人难以理解的是,印度代表团对这名闯入者的身份毫无头绪。"那名女子是一个无关人员,她的举动显然是一起干扰事件。"印度代表团的副团长拉贾,"我们正向组委会反映这件事。我们所有人都不知道这名女子是什么人,也不知道她为什么闯进我们的队伍。"





印度人怀疑这是一起安全漏洞,决定向伦敦奥组委(LOCOG)反映这件事。





"她与我们运动员一起行进,这是耻辱,"拉贾说。



"We checked in together at various points from the Village. It was a 2km walk. When we were entering the stadium, a member of the organizing committee or some security guy asked to be in front of us. We thought the woman was part of LOCOG. When we entered the stadium, the woman who was walking between us and the contingent ahead of us, the Independent Olympic Athletes, suddenly came back and started walking next to Sushil Kumar, our flag-bearer. She just hogged the limelight. The march past is for the athletes and officials attached to the contingent. We are totally surprised by the manner in which she joined the delegation and kept walking inside the stadium," he said.

Asked whether the woman was Indian, he said he could not say. "She could be Asian, Latin American, I don't know."

Did he think it was a security breach? "I can't say that as she was in a sanitized zone but this was bizarre. We will ask for an apology. She embarrassed us in front of the world... the Indian contingent was shown for just 10 seconds, and to think this lady hogged all the limelight."

Surely, the last has not been heard on this.



"我们从奥运村出发,在不同地点办理登记手续。总共是2公里的路程。当我们进入体育馆时,一名看似组委会成员或者安检人员的女子要求走在我们前面。我们以为她是伦敦奥组委的成员。当我们进入体育场时,这名走在我们代表团和前面一个代表团之间的女子突然往回走,并开始走在我们旗手苏希尔·库马尔的边上。她抢了镜头。队伍行进是为运动员和代表团官员准备的。我们对她混入代表团并走完体育场内的行程表示十分惊讶。"





在被问及这名女子是否是印度人时,拉贾说自己也说不清。"她可能是亚洲人、拉丁美洲人,我不知道。"





拉贾是否认为这是安全漏洞呢?"我不能这样说,因为她是在安全区域里,不过是奇怪的。我们会要求道歉。她在世界面前让我们尴尬...印度代表团才在镜头里出现10秒钟,而这名女子抢走了所有风头。"




以下是印度网民的评论:




Hallam (Bombay) 4 hrs ago
What is the big deal particularly as a foreign woman has gate crashed to run the country!!
Agree (68)Disagree (10)Recommend (43)



这有什么大不了的,特别是一名外国女人突然闯进来统治我们国家!
deep (calif) 8 hrs ago
a similar mystery woman met rajiv gandhi during his study in cambridge and rest is history and our future as we see her as the most powerful person in India
Agree (67)Disagree (7)Recommend (35)



拉吉夫·甘地在剑桥大学读书期间,一名类似的神秘女子和他见了面,随后的历史大家都知道了。正如我们所看到的,这名女子未来可能是印度最强大的人。
dinu204 (Mumbai)
I got it !!!........ that as Suresh Kalmadi.. disguised as a lady......... waits till he calls a press conferance and discloses how he pulled off this stunt after everyone was against his attending opening ceremony.....
Agree (55)Disagree (2)Recommend (23)



我明白了!...这个人是苏雷什·卡马迪,他乔装成一名女子....你们就等着他开新闻发布会吧,他会披露自己在被反对参加开幕式后是如何耍这个花招的......





(三泰虎注:苏雷什·卡马迪是印度奥委会主席,德里英联邦运动会丑闻让他蒙羞)
rk (India) 7 hrs ago
Hmm ...mystery woman in the olympics too. People should wake up. One is leading the country too
Agree (44)Disagree (4)Recommend (18)



Hmm...奥运会上的神秘女子。人们应该觉醒了。有个人也在领导这个国家。
Dushyant (USA) 5 hrs ago
perhaps that is clean shaven Suresh Kalmadi!!
Agree (42)Disagree (0)Recommend (12)



可能这个人是胡子刮得很干净的苏雷什·卡马迪!
Guru (India) 7 hrs ago
They think this mystery lady embarrassed the country - what a joke! Wait till our athletes finish up with the Olympics. The medal tally will be the one which is embarrassing.
Agree (36)Disagree (0)Recommend (19)



他们认为这名神秘女子让国家难堪。真是笑话!等我们运动员完成奥运会比赛后再看看。奖牌榜会让国家尴尬的(译文来源:三泰虎)。
Tapan (Chennai) 6 hrs ago
Any way the Indian contingent consists of a large number of useless officials. At least she added some color to the contingent.
Agree (30)Disagree (4)Recommend (10)



不管怎么说,印度代表团由许多无用官员组成。她至少给代表团增添了一些颜色。
AMERICAN (USA) 6 hrs ago
"Embarrassed us in front of the world"?? Really? If someone should be embarrassed it should be the authorities organizing the games.
Agree (29)Disagree (1)Recommend (16)



"让我们在世界面前尴尬"?真的吗?如果有人应该为此感到尴尬的话,那也应该是组织奥运会的奥组委。
Mike (Amritsar) 5 hrs ago
the next thing is that she is offered a role in a bollywood film
Agree (26)Disagree (1)Recommend (6)



下一件事是他在一部宝莱坞电影中获得一个角色。
iyer (new York ) 7 hrs ago
At least she looks cuter than the rest.
Agree (26)Disagree (16)Recommend (5)



至少她比其他人看起来更好看
vairamsmuthu (Bangalore)
Ha Ha Ha. This is India, no planning, confused and corrupted.
Agree (25)Disagree (9)Recommend (12)



哈哈,这就是印度,没有规划,混乱和腐败。
kamal (DEL) 4 hrs ago
I think C was Rahul Gandhi 's Girl Friend !!! Or Suresh Kalmadi;s relatives ....
Agree (22)Disagree (3)Recommend (9)



我认为她是拉胡尔·甘地的女友!或者是苏雷什·卡马迪的亲戚...
Qutrochi (Italy) 4 hrs ago
She looks like an Italian. May have some connection with Sonia or her sister. We need to have a CBI enquiry.
Agree (22)Disagree (6)Recommend (14)



她看起来像是意大利人。可能与索尼娅或者她妹妹有关联。我们需要展开情报调查。
D.Jagannathan (Puducherry)
The entire country is fuming about a foreign women dominating in our politics with mysterious power. These are all common to see, in all walks of life.
Agree (22)Disagree (1)Recommend (6)



整个国家对一名外国女人用神秘权利统治我们政治感到愤怒。这些都是各行各业司空见惯的事情。
PRAKASH V (usa) 5 hrs ago
SHE IS RAHUL'S EX GIRL FRIEND.
Agree (20)Disagree (2)Recommend (2)



她是拉胡尔的前女友。
anil sharma (mumbai)
When the Country is Led by mystery Italian Woman and we do not Worry the Why to worry about mystery woman in Olympic march who was noticing her ?
Agree (19)Disagree (0)Recommend (10)



既然我们对国家由一名神秘的意大利女人领导并不感到担忧,那为什么要担心奥运会开幕式入场中的一名神秘女子。谁在注意她?
Mani Iyer mama (Thanjavur) 3 hrs ago
It is surely Kalmadi in disguise, after the Delhi high court ruling that he should NOT go neat the Olympics opening ceremony as it would be an embarrassment to India. He put on the red track top, two or three mangoes, painted himself white. Not sure about the beard though.
Agree (18)Disagree (0)Recommend (4)



肯定是乔装的卡马迪。德里法庭裁决他不应该参加奥运会开幕式,因为会让印度尴尬。所以他穿上红色运动上衣,塞进两三个芒果,把自己涂白。不过不确定胡子哪去了。
Hazoor (Canada) 5 hrs ago
Is she Kalmadi's daughter, representing him?
Agree (18)Disagree (1)Recommend (12)



她是否是卡马迪的女儿,代表她父亲去的?
Fuming (vs Producing Results) 1 hr ago
Indian contingent... fuming. Other countries... producing results. Medal count so far = China 6, Italy 5, United States 5. Many more medals upcoming for these nations. Anyway, good luck Indians, despite lack of leadership, strategy, vision, and honesty (officials). In the next Olympics (2016), just send the sportspersons and skip the officials.
Agree (15)Disagree (0)Recommend (7)



印度代表团...愤怒。其他国家...出成绩。迄今为止的奖牌数=中国6枚、意大利5枚、美国5枚。这些国家还会拿到许多奖牌。不管怎么说,尽管缺乏领导力、战略、愿景和(官员的)诚实,还是祝印度人好运吧。在下一届奥运会(2016年),就派运动员去就可以了,官员就免了。
VM (USA) 7 hrs ago
Why no one in the Indian contingent noticed this girl in the beginning. If they knew that she was not a member of Indian team, why the so called officials taking part could not take any action? I hope she is not the South American girl friend of Rahul Gandhi!
Agree (15)Disagree (1)Recommend (1)



为什么印度代表团一开始没有人注意到这名女孩。如果他们知道她不是印度代表团的成员,为什么参团的所谓官员没有采取任何行动?我希望她不是拉胡尔·甘地的南美女友!
Harish (Qatar) 4 hrs ago
What is the big fuss , we Indians are very cooperative in allowing outsiders to enter our house & country , like terrorist entering our country very smoothly . Not even our own athletes question her, all the athletes are having their pass & ID you can see she doesn't have one . As said Indian men looking at white skin get carried away , or we are always afraid of ministers kin , so some of our athletes must have thought she must be the relative of some one in Delhi , better keep quiet or we will only be a spectator in the games , our sports body is very strong and they can ruin our carrier . We were ruled by British first , now by our good for nothing ministers ,
Agree (14)Disagree (5)Recommend (8)



有什么好大惊小怪的。我们印度人在允许外来者进入我们家里或者国家方面是很配合的,就像恐怖分子能够很顺利进入我们国家一样。甚至连我们自己的运动员也没有质问她。所有运动员都有通行证,你可以看到她没有。正如所说的,印度男人看到白人就被迷倒了,或者我们总是害怕部长们的亲戚。所以我们的一些运动员肯定认为她是德里某官员的亲戚,最好保持沉默,否则就只能当奥运会的看客了。我们的体育局非常强大,可以毁了你的职业生涯。我们首先被英国统治,现在被一无是处的部长们统治。
Banchhanidhi Maharana (Cuttack) 1 hr ago
This is a serious issue. This could be a plan by the Brits who try every possible opportunities to damage India's image. I remember during CWG Delhi, British media were covering less on sports but more on slums in India. Having said that, I am angry of the fact that this was not noticed by Indian officials then. Our lack of sincerity and carelessness have cost us successive invasion of foreigners who not only managed to rule us , but also enslaved us. And yet we have not learnt any lessions. Politicians at the helm of affairs or bureaucrats are disaster. No wonder our country is in such a mess.
Agree (13)Disagree (2)Recommend (6)



这是一个严重的问题。可能是英国计划抓住每个诋毁印度形象的机会。我记得德里英联邦运动会期间,英国媒体不怎么报道体育赛事,而是更多关注印度的贫民窟。话虽如此,不过我对印度官员当时没有注意感到生气。缺乏诚意和粗心大意给我们带来的代价是被外国人依次入侵,他们不仅设法统治了我们,而且也奴役我们。但是我们没有吸取任何教训。掌权的政客或者官僚是个祸患。难怪我们国家如此一团糟。
gokul mohan (Kochi) 2 hrs ago
She may be the representation from Italy.... Sonia may knows about her.....haa haaaa
Agree (13)Disagree (6)Recommend (1)



她可能是来自意大利的代表...索尼娅可能认识她...哈
MS (DUBAI) 5 hrs ago
What is this big fuss about ? Is it not clear to everybody - That was Kalmadi in disguise.
Agree (13)Disagree (1)Recommend (1)



有什么好大惊小怪的?大家还不清楚吗——那个人是乔装的卡马迪。
ridencollide (delhi)
this is the worst indian olymic dress i have seen.
Agree (13)Disagree (6)Recommend (2)



这是我见过的最差的印度奥运会服装。
Midwestmom (USA)
Gosh...need to get my eyes checked, never noticed her while watching on TV. Did notice the lovely yellow sarees.
Agree (12)Disagree (0)Recommend (4)



天啊...得检查下我的眼睛有没有问题了。看电视时压根就没有注意到她。不过确认留意了好看的黄色纱丽(译文来源:三泰虎)。
Manka (Olympic Village) 6 hrs ago
even 10 seconds of exposure sounds too much thinking about the medals we are going to get
Agree (11)Disagree (0)Recommend (5)



考虑到我们即将要获得的奖牌数,我觉得10秒的曝光时间都听起来太多了。
WAG (Maha Mumbai) 7 hrs ago
She might be an Indian diplomat's illegitimate daughter.
Agree (11)Disagree (1)Recommend (3)



她可能是印度外交官的私生女。
Gowdru (bengaluru) 8 hrs ago
She is pretty, though not much in shape. Unfortunately here dazzling bright clothes, good looks and height has taken the sheen out of the indian contigent. She can be Kalmadi's paid representative also as he himself could not be there!
Agree (11)Disagree (3)Recommend (2)



虽然体形不是很好,不过她是漂亮的。不幸地是,炫目的衣服、美貌和身高让她在印度代表团中相当抢眼。她可能是卡马迪收买的代表,因为他本人无法出席!
Upendra (Bangalore)
Indians should boycott the games as this is a serious issue if they have some pride and self esteem...
Agree (1)Disagree (11)Recommend (1)



印度人应该抵制奥运会,因为如果印度人还有一些自豪和自尊的话,那么这可是个严重问题。
Kumble (Bangalore ) 5 hrs ago
The fat white pig should be prisoned for this. My blood boils for the very thought of her stealing the limelight with only 10 seconds of tv air time of the Indian contingent. Shame on the organizers .
Agree (3)Disagree (5)Recommend (2)



这头白肥猪应该为此入狱。印度代表团在电视里的露脸时间只有10秒,而她抢走了所有风头。一想到这个我就怒火中烧。这是组织者的耻辱。
Jo (Bahrain) 40 mins ago
Without that unknown beauty, Indian contingent looks dry
Agree (13)Disagree (3)Recommend (5)



要不是有这个不知名女子的美貌,印度代表团看起来就是干巴巴的。
marshal panda (sambalpur)
So much for security in London Olympics.
Agree (1)Disagree (2)Recommend (1)



伦敦奥运会的安保就到此为止吧。
rkmurtee (razole)
i saw women waight lifting yesterday..we have to go a long way to compete with china..china lady lifted 91 kg to get gold..indian lady went upto 71 kg only[6thplace]..even though govt is spending crores ofrupees, the result is highy shameful...
Agree (7)Disagree (2)Recommend (1)



我昨天看了女子举重...我们要和中国竞争还有很长的一段路要走...中国女运动员举起91公斤,获得了金牌...印度女运动员只举起了71公斤(第6名)...虽然政服花了数千万卢比,结果还是十分可耻...





原创翻译:三泰虎 http://www.santaihu.com
Ram (Pune) 9 hrs ago
Its shocking that none of the people from the Indian Contingent stop walking and alert security/police. How can they blame others ?
Agree (0)Disagree (2)Recommend (0)



令人震惊的是没有一名印度代表团成员停下来警示安保人员或者警察。他们又怎么能责怪别人呢?
Vidya Bulchandani (Pune, Maharashtra)
Surprisingly no one has identified her till now!
Agree (3)Disagree (1)Recommend (1)



令人吃惊的是到现在为止仍然没有人确认她的身份!
sachin menon (Trivandrum) 1 hr ago
The mystery women is Madhura Honey, a post-graduate from Bengaluru.The organiser told her, she would accompany the contingent till the track but she went on to take the entire lap
Agree (5)Disagree (1)Recommend (1)



这名神秘女子是Madhura Honey,是一名来自班加罗尔的研究生。组织者告诉她可以陪同代表团一直到跑道为止,但是她继续走完了整个一圈。
Laugh it off (India) 3 hrs ago
What matters now is how many medals we win. Forget this lady in red, next time be careful. Now back to business folks. People complaining about he lack of exposure of Indian athletes...well India isn't a sports powerhouse to be worthy of prolonged camera exposure.
Agree (8)Disagree (1)Recommend (1)



现在关键的是我们赢得了多少奖牌。别提红衣女子了。下次小心点就是了。现在言归正传。人们抱怨印度运动员出镜时间太少...我们印度不是体育强国,本来就不值得过多的曝光。
Reuben Moraes (Abu Dhabi) 4 hrs ago
If the athletes wanted some limelight, then they should get some by performing at the Olympic games not by just walking 2 km! And if they were wondering as to who she was and why she was walking with them, they could have asked her once the walk was over, yet no one said a word until she disappeared apparently! Doing what Indians are known for doing best, creating drama!
Agree (8)Disagree (1)Recommend (2)



如果运动员想要受到注目,那么他们应该通过在奥运会的表现来得到,而不只是走上那么两公里!如果他们疑惑她是谁和为什么会走在一起,那么行程一走完,他们就应该问她。可是在她消失之前,没有人问过一句!印度人以最擅长创作戏剧而著称。
les als (mumbai)
Thank God it was only a women, not a terrorist
Agree (5)Disagree (1)Recommend (2)



感谢上帝,她只是一名女子,不是恐怖分子。
Sree (Bangalore) 8 hrs ago
I know here..,, She is looks like my Ex-Girl Friend....,Hope she comes back with a Medal.., i will be her Boyfriend again.....
Agree (5)Disagree (1)Recommend (2)



我知道...她看起来像我前女友...希望她能带一枚奖牌回来...我会再当她男友的...
anil kumar (mumbai) 8 hrs ago
10 seconds was also too much coverage for India , it wasnt a corruption march that we would get hours of coverage... What have we achieved in olympics that we think we are great...
Agree (9)Disagree (1)Recommend (4)



对于印度来说,10秒钟的报道太多了,又不是腐败游戏,否则我们可以获得数小时的报道...我们在奥运会有取得什么自己认为很棒的成就吗...
在伦敦奥运会开幕式运动员入场时,一名神秘红衣女子混入印度代表团,令印度代表团大为光火。人们对镜头太少聚焦印度代表团的挥之不去的失望因一名走在旗手苏希尔·库马尔边上穿着红色上衣和蓝色裤子的神秘女子而相形见绌。来历不明的女子无耻地闯进了印度代表团,引发了安全关注,增添了人们对印度代表团在全球电视屏幕上"眨眼就过"的愤怒。印度人怀疑这是一起安全漏洞,决定向伦敦奥组委(LOCOG)反映这件事。