版权所有:http://www.santaihu.com
原文标题:Less than 25% of Chinese like India, finds survey
原文链接:http://timesofindia.indiatimes.com/world/china/Less-than-25-of-Chinese-like-India-finds-survey/articleshow/16859539.cms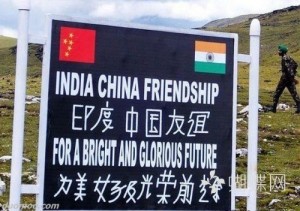 BEIJING: Less than one-fourth of Chinese like India, found a survey by the Washington-based Pew Research Center. The attitude of the Chinese towards Pakistan though somewhat better, is not hugely favourable. The findings underscore Indian government's poor efforts to implement the much-publicized attempt to build people-to-people relationship.

The annual survey of global attitudes found 23% of people in India and China take a favourable view of each other's country. About 53% urban Indians think the economic rise of China is bad for India and 26% said it was good for the country.

The Pew report found the Chinese attitude towards Pakistan is only slightly better - 31% of Chinese respondents favour Pakistan. This is surprising since foreign ministry officials and the state-controlled media are constantly praising Pakistan for being in the "forefront in the war against terror".



北京:位于华盛顿的皮尤调查中心发起的一项调查显示,不足25%的中国人喜欢印度。虽说中国人对巴基斯坦的态度好些,不过也没有非常讨人喜欢。调查结果突显印度政服在尝试增进两国人民关系方面所做的努力不足,而这种尝试被大势宣传。





皮尤全球态度调查发现,中印两国人民各有23%的人喜欢对方国家。大约53%的印度城里人认为中国的经济崛起对印度不利,而持正面看法的占26%。





皮尤报告发现,中国人对巴基斯坦的态度稍微好些,有31%的中国受访者喜欢巴基斯坦。外交部官员和国家媒体常常称赞巴基斯坦处于"反恐战争最前沿",所以这个结果让人吃惊。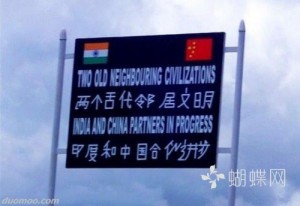 Only 39% of Chinese respondents said they viewed Beijing's relationship with New Delhi as one of cooperation compared to 53% in 2010. The number of Chinese who regard India's economic advances as positive slid from 60% in 2010 to only 44% now.

Criticism in the Chinese media about New Delhi's "adamant attitude" on the boundary dispute is seen as a reason for the slide in public opinion about India. Inadequate effort to explain the Indian point of view and build bridges with the ordinary people by facilitating travel and cultural connections is another, observers said.



只有39%的中国受访者把北京与新德里的关系视为合作,而2010年的这一数据是53%。对印度经济进步持正面看法的人数所占比例从2010年的60%下滑至如今的44%。





中国媒体对新德里在边界争议上"固执态度"的批评,被看做是公众对印度持正面看法下滑的原因。观察家称,对印度观点的不恰当解读,在促进旅游和文化交流方面所做的努力不够,未能搭起两国人民的沟通桥梁等是另外一个原因。



Most cultural functions and film festivals organized in China by the Indian government are poorly attended by the Chinese due to bad canvassing and distribution of tickets and passes. The India page on Weibo, the Chinese version of Twitter, attracts very poor response compared to pages put up by governments of other countries.

Industry interaction programmes organized by the Indian government and industry bodies are usually attended by lower rung Chinese executives. Senior executives and chief executive officers rarely participate, said Shanghai-based country head of an Indian company.



由于宣传不力和票证分发存在问题,印度政服在中国组织的文化活动和电影节通常参与者寥寥无几。与其他国家政服比起来,印度政服在新浪的官方微博冷冷清清。





印度政服和工业机构组织的产业交流项目的参与者通常是低阶中国主管,高级主管和首席执行官很少参与。




以下是印度网友的评论:




Rohan (Canada)
And Indians are not exactly in love with the Chinese either!!
Agree (24)Disagree (3)Recommend (10)



印度人也没有喜欢上中国人!
ajay (lndon)
who cares..china isnt an important partner for india...usa and japan are our real partners.
Agree (16)Disagree (11)Recommend (6)



谁会在意...中国不是印度的重要伙伴...美国和日本才是我们真正的伙伴。




AAM AADMI (pune) replies to ajay
BEING NATIONALIST I HEAT CHINA!!!




作为民族主义者,我讨厌中国!!!



Dev (Australia)
if country is clean and nice ,chinese willl like. they dont have emotional response like indians. India is f* filthy and actually indians are not bothered about this. Global community has certain levels of requirements before a country is liked. India fails miserably in most foreign persons eyes. ( so my advice is to f* grow up! and clean up place before going like dogs to find people who like you )
Agree (13)Disagree (6)Recommend (1)



印度如果干净整洁,中国人会喜欢的。他们没有印度人那样的情绪。印度污秽不堪,可印度人实际上不在意这个。一个国家要讨全世界的人喜欢,得在一定程度上满足一些要求。在大多数外国人眼里,印度做得很失败。(所以,我的建议是成熟些,把周围打扫干净,先别像条狗一样到处寻找喜欢你的人)
Marc Wicoff (NJ)
Good, then they can go about their business and India can go about theirs. Carry on.
Agree (4)Disagree (2)Recommend (2)



好样的,他们专心他们的事情,印度人也专心自己的事情。继续保持。
Indian in Chinese (Sh)
surprise to see even 25% are positive towards India.. am sure, number will go further down if they visit India.. in last 5 years China successfully managed to host global events like Olympics, world expo, Asian games, WTO meet.. wherelse, India managed only large scale scams 2G, CWG, n wot not... whethere we like or not... this is how the world look at India now.. corrupt country with spineless leader... n Indian are no less... this year as part of cultural exchange program, about 100 Indian students visited China n vice versa.. these indian students visited more than 10 cities n met with number of students, teachers, officials... as a result so many people complaint about indian male students' behavior, they had to cut short the trip and send them back... guys, sitting in India, it's very easy to get eye washed by UPA's anti-china propoganda.. in reality, we need to learn from china n do some hard-introspection to decide what we need to do today for better tomorrow..
Agree (19)Disagree (2)Recommend (5)

吃惊地看到还有25%的人对印度持正面看法...我确信,如果他们去印度走走,喜欢印度的人还会进一步减少...在过去5年里,中国成功举办了多项全球赛事,比如奥运会、世博会、亚运会、WTO会议...相比之下,印度只导演了2G、英联邦运动会等骗局...不管喜不喜欢,世界就是这么看印度的...腐败的国家,领导人没有骨气...今年,作为文化交流的一部分,大约100名印度学生访问了中国,中国学生也进行了回访。这些印度学生参观了10几个城市,会见了许多学生、教师、官员...结果,许多人抱怨印度男学生的行为,结果不得不削减行程,并送他们回家...各位,呆在印度很容易被UPA政服的反华宣传蒙蔽眼睛...在现实中,我们需要向中国学习,需要做深刻反省,为了更美好的明天,确定眼下该做的事情。



原创翻译:三泰虎 http://www.santaihu.com




Mack (usa) replies to Indian in Chinese
my dear friend, The fact to you can write and comment is the greatest acheivement of a free country, India. Try voicing your thoughts in China and see what happens to you! ( I have lived in Nanjing/Shanghai long enough, so I appreciate what india has to offer).
Agree (4)Disagree (2)Recommend (1)




亲爱的朋友,你可以发表评论就是印度这个自由国家最伟大的成就。试试在中国说出你的想法,看看你会面临什么下场!(我在南京和上海住得够久了,所以我欣赏印度所能给予的权利)。



Raj (Tokyo)
No one likes competitors and both the countries views the other as competitors rather than partners.. They have proved that they are far from being a real partner to anyone 50 years back.. China is the country that was and is in offensive and there is no need for India to bend its knees to improve friendship with China.. If China changes its ways towards peaceful partnership, India should more than welcome it..
Agree (8)Disagree (1)Recommend (1)



没有人会喜欢竞争对手。中印两国把对方看做竞争对手,而不是看做伙伴...50年前,中国人证明了他们并非是印度的真正伙伴。中国以前和现在都是冒犯一方,印度没有必要为了改善与中国的关系而卑躬屈膝。如果中国在对待伙伴关系上做出些改变,那么印度再欢迎不过了...
Mahesh Ved (Mumbai)
It is Worse here in India.Less than 5% Indians Likw China.
Agree (10)Disagree (0)Recommend (6)



印度这边更不乐观,不足5%的印度人喜欢中国。




Dev (australia) replies to Morgan
how many indians like India? it cant be a high percentage esp in cities
Agree (3)Disagree (6)Recommend (0)




有多少印度人喜欢印度?比例不会高,特别是在城市里。



Suraj (Bang)
hehehehe....Pak against terrorism is like prostitute against Sex....:)...common gys...hw long r these ppl gonna beleive this crappy stories....
Agree (13)Disagree (0)Recommend (10)



呵呵...巴基斯坦反恐就像妓女反嫖一样... :) ...人们还要多久才不相信这些低劣故事...
Chief (Australia)
Has anyone thought of the race and ethnic angle? Living in Australia for several years, I am convinced that Chinese are racists and prefer whites over Indians. They consider dealing with Indians below their dignity. When it comes to white people - no questions asked - they are all sweet and chumy. They show the same traits in work situations and are very reluctant to deal with people like us. Most Chinese businesses don't prefer Indian customers and are often rude and short with them. On the other hand, Indians are wagging their tales in front of the Chinese and they are crazy about Chinese food - incredible! Have you seen a Chinese gobling down Indian curries? When will Indians forget about their slavery days!
Agree (16)Disagree (2)Recommend (5)



有人从种族主义角度来思考这个问题吗?在澳大利亚生活了几年,我相信中国人是种族主义者,他们喜欢白人胜过喜欢印度人。认为与印度人打交道有损其尊严。一旦碰到白人,就什么问题也没有,尽是说些好话。中国人在工作场合中也是如此,非常不愿意与我们打交道。大多数中国商人不喜欢印度客户,经常粗暴对待之。另一方面,印度人在中国人面前摇尾乞怜,还超爱吃中餐。难以置信!你有看过中国人大快朵颐咖喱吗?印度人什么时候才会忘记奴隶制时代!




breaking NEWS (for the people) replies to Chief
Never,There is another reason of Indians being disliked in Australia, it is their dodgy practices and bargaining like a beggar attitude
Agree (4)Disagree (3)Recommend (1)




从来没有看过。还有另一个原因让印度人在澳大利亚不讨人喜欢,那就是善于欺骗和像个乞丐一样讨价还价。




Chief replies to colranbir lamba
Bargaining is not begging. As far as dodgy practices - make yourself an honest person first - there will be one rascal less in the world!
Agree (3)Disagree (0)Recommend (2)




讨价还价并不是乞讨。至于善于欺骗,先做个老实人吧,世界会因此少一个无赖!



K.parameshwar (Mysore)
I hate chinese for their food habits. Eating anything that moves.I do not know if there is any creature in the world that can be compared to them.We Indians may be dirty in our habits but the kind of foods that we eat are far better than the filth that others eat in the name of food.. Otherwise I am jealous of them for their success in all fields of human endevour.
Agree (11)Disagree (6)Recommend (1)



我讨厌中国人的饮食习惯。只要会动的东西都吃。不知道世界上哪一种生物能够与之比较。我们印度人习惯上脏兮兮的,不过我们吃的食物远远优于他人以食物名义吃的污秽物。另外,我嫉妒中国人在人类竭力探索的各领域取得的成功。




Rice Plate Reddy (Srinagar) replies to K.parameshwar
yes, but Indians eat so much onions and dhal that they are walking gas factories. Instead of complaing about the 6 cylinders, they can stick a pipe up their backside and cook more dhal for 1 day.
Agree (7)Disagree (1)Recommend (3)




是的,不过印度人进食太多大蒜和木豆,以致于身体成了行进中的"放气工厂"。印度人不是去抱怨6缸的"放气工厂",而是在屁股上插根管子,然后再炒一天的木豆。




Indian (Auckland) replies to K.parameshwar
But they don't defecate in open.
Agree (3)Disagree (1)Recommend (0)




不过他们不会在野外大便。




K.parameshwar replies to Indian
If the quality of food eaten is good,then the excreta is comparitively easier to tolerate. Imagine the excreta generated by dirty food intake as the chinese.They surely must not defecate in the open.




如果吃的是优质食物,那么排泄物就相对容易忍受。想象一下中国人吃下去的肮脏食物消化后的排泄物会有多恶心,所以当然不能在野外大便了。




原创翻译:三泰虎 http://www.santaihu.com



dk (syd)
why does USA so keen in surveying indian/chinese preferences about each other? Try to spread hatred between other communities and enjoy? It is Satanic. Let india and china survey on USA/Middle East liking for each other, or US/Russia liking to each other. Ha ha ha ha...........
Agree (10)Disagree (2)Recommend (2)



为什么美国如此热衷印度人和中国人是否彼此喜欢?试图在其他群体之间散步仇恨?真邪恶。印度和中国应该调查美国人和中东人是否彼此喜欢,哈哈...
Sunil Menon (Mumbai)
99% Indians don't like Chinese, the great backstabber, other than few communist and some muslims who does not like India's growth. Period.
Agree (14)Disagree (6)Recommend (9)



除了一些不喜欢看到印度发展的共产主义者和穆斯林之外,99%的印度人不喜欢中国人,中国人是背后中伤者。




Gopi (Simla) replies to Suresh
so bandar, when will Mumbai become like Shanghai? are u enjoying the stink of mumbai everyday? even Indians hate your mumsbhai, chu tiyeh !
Agree (8)Disagree (7)Recommend (2)




孟买什么时候会成为上海?你喜欢孟买的臭味吗?连印度人都讨厌孟买!



Mango Man (Delhi)
Who cares about these chink!es? These are low IQ idiots who blindly follow white man. Their food smell worst than Indian sh!t .
Agree (4)Disagree (13)Recommend (3)



谁会在意这些眯眯眼?这些人的是低智商的傻瓜,盲目跟从白人,吃的食物比印度人拉的粪便还恶心。
pardeep (my heart india)
LESS THEN 1 % INDIANS LIKE CHINA.
Agree (14)Disagree (3)Recommend (7)



不到1%的印度人喜欢中国。
breaking NEWS (for the people)
But all Indian men like Chinese women and China made goods
Agree (10)Disagree (3)Recommend (2)



不过所有印度人都喜欢中国女人和中国货。
Indian (India)
Every Indian in China should try to promote India-China relationship. India should go friendly with China.
Agree (8)Disagree (5)Recommend (2)



在华印度人应该尽量促进中印关系。印度应该与中国交好。
cool_atomic (delhi)
Well, more then 75% of Indians love chinese NOODLES!!!
Agree (8)Disagree (1)Recommend (5)



超过75%的印度人喜欢吃中国面条!




Buddy (India) replies to Bahu Virupaksha
I am sure you never tested Chinese noodles. What Indians like is Indian version of Chinese noodles.
Agree (2)Disagree (0)Recommend (3)




我敢肯定你从来没有吃过中国面条。印度人喜欢的是印度化的中国面条。



Rahul (India)
People's choice doesn't matter. People's Army choice matters.
Agree (1)Disagree (1)Recommend (2)



人民的选择并不重要,人民军队的选择才重要。
nbhel (India)
i like chinki girls
Agree (6)Disagree (0)Recommend (2)



我喜欢眯眯眼女孩。
Raj (USA)
That's the first problem with India.. they always are worried what people think of them and are always looking for recognition. Who care what someone thinks of Indianans!
Agree (7)Disagree (2)Recommend (3)



印度的真正问题就在于此,总是担心别人怎么看自己,总是寻求别人的认可。谁会在意别人怎么看印度人!
Vishal (JK)
chinese eat anything that moves. If you go to chinese store in USA, it stinks big time. Beijing is a public toilet
Agree (10)Disagree (2)Recommend (6)



中国人吃一切会动的生物。去美国的中国商店看看,那可是非常臭。北京就是个大公厕。




Dongfeng (Maharastra) replies to Vishal
I think you mean that Beijing has public toilets, right?




我想你意思是北京有公厕,对吧?



Chandramohan Khati (manhattan, newyork)
when you start becoming strong and rich your neighbours start disliking you out of frustration.Iam not surprised to know that india is not iked by countries around us.
Agree (5)Disagree (1)Recommend (1)



一旦开始变得强大和富裕,邻国就会沮丧,就会不喜欢你。印度不被领国喜欢,这并不意外。
Vijay (Dharmasala)
Looking at scary chinese eyes. They can open only little and have no eye brows.
Agree (2)Disagree (0)Recommend (2)



看看中国人让人恐惧的眼睛,只能稍微张开,没有眉毛。
Sid Pune (Pune)
Public opinion is made by the media. Chinese media is always negative about India and write anything just to make it more sensational. Chinese media should behave more responsibly.
Agree (3)Disagree (0)Recommend (2)



公众舆论是媒体营造的。中国媒体总是负面报道印度,为了更加引起轰动,什么事情都敢报。中国媒体应该理智些。
SCL Premi (India)
Irrespective of what China or Chinese people think about us, we should concentrate on developing the country at double quick speed!
Agree (18)Disagree (1)Recommend (5)



不管中国或者中国人如何看我们,我们应该集中精力以双倍速度发展国家!
Human being (Pune)
China doesn't like India. India doesn't like Pakistan. USA doesn't like China. Arabs don't like USA. Israel doesn't like Arabs. USA doesn't like North Korea.... So on and so forth ... The day everybody will start loving and respecting everybody else, the earth will become a beautiful planet. Thumbs up if you agree ..
Agree (25)Disagree (4)Recommend (11)



中国不喜欢印度,印度不喜欢巴基斯坦,美国不喜欢中国,阿拉伯不喜欢美国。以色列不喜欢阿拉伯,美国不喜欢朝鲜等等...一旦到了每个人开始互敬互爱的那一天,地球就会成为一个美好的星球。如果同意,请翘起拇指...
NBC (UAE)
Maybe if the Chinese are served Indian-Chinese food (like Gobi Manchurian), they will start liking India more? Even they will be surprised that their own food can taste so much better,,,
Agree (7)Disagree (0)Recommend (2)Offensive



如果用印度的中餐(比如印度酸甜花菜)招待中国人,那么他们或许会更喜欢印度。他们甚至会惊奇地发现中餐也可以这么好吃...





原创翻译:三泰虎 http://www.santaihu.com
Rajiv (USA)
This is a joke. The Chinese are already destroyed mentally by the government, quiet frankly I can't believe any survey on the Chinese people.
Agree (11)Disagree (0)Recommend (8)



笑话而已。中国人在精神上已经被政服搞垮了。坦白说,我不相信中国人发起的任何调查。
Casey (India)
Why should we care if the Chinese like us or not ? We probably dislike them just as much as they do and they wouldn't care either...and that's perfectly OK too... Honestly, they do not even have the right to like/dislike their govt, but are readily given the right to poll on others ! Height of Hypocrisy !
Agree (10)Disagree (0)Recommend (4)



为什么要在意中国人是否喜欢我们?他们不喜欢我们,我们可能也同样不喜欢他们,他们才不会在意...一点问题也没有...老实说,他们没有权利喜欢或者不喜欢政服,不过有权利接受有关对他人看法的调查!太伪善了!
ahmed (delhi)
Islam offers solutions to all world problems. Islam prohibits drugs, sex outside marriage, prostitution, pornograph, violence, murders, corruption, INDOCHINA WARS etc and teaches truth, love, charity, humanity, respect for women and universal brotherhood. Follow Islam and lead a moral and peaceful life. PEace
Agree (0)Disagree (20)Recommend (1)



伊斯兰为所有世界性问题提供了解决办法:禁止毒品、婚外性、卖淫、淫秽作品、暴力、谋杀、腐败等等,传播真理、友爱、宽容、仁慈,尊重妇女和信士皆兄弟等理念。信仰伊斯兰教,就可以过上平和的道德生活。
Whatever (Whenever)
Not true, the last time I was in a KTV bar in China all of them wanted to be with me :-)
Agree (2)Disagree (1)Recommend (1)



不正确,上次在中国的一个KTV酒吧里,她们都想和我一起 :-)
以下是印度Rediff读者的评论
原文标题:75 percent Chinese DON'T like India
原文链接:http://www.rediff.com/news/slide-show/slide-show-1-most-chinese-dont-like-india-says-survey/20121019.htm
We love our country !!
by Seema Parikh

who cares whether chinese like or not India....we love our country & thats more than enough



谁会在意中国人是否喜欢印度...我们喜欢自己国家就够了。
Like ?
by Prakash Tiwari

Why are they doing searvy for like or dislike , It is wrong step , beacuse we are not going to marry chinees girls.



为什么要调查中国人是否喜欢印度,这是不对的,我们可不打算娶中国女人。
Lol good attempt by usa
by BhadMeinJaao Nahi

Truth is its very difficult to get opinion from chinese people without been censored by their govt



真相是你很难在不受中国政服审查的情况下获知中国人民的看法。
great
by bhanu

if u take a review in India that would be 100% of indians not liking the chinese and not the noodles may be.....



如果在印度调查,那么100%的印度人会说不喜欢中国人,或许不会讨厌中国面条...
India Survey
by ravi singh

100% Indian doesnt like China



100%的印度人不喜欢中国。
Let China enter Cricket.
by Santhanam

Let China enter Cricket and the relations between India and China would improve.



让中国加入板球运动中来,中印关系会改善的。
commies
by biju

99.99% of indians also do not like CHina.. The remaining 0.01% are communists



99.99%的印度人不喜欢中国。剩下的0.01%是共产主义者。




Re: commies
by ashok vidyarthy
But I love Chinese girls! They are far better in bed than our girls.




但我喜欢中国女人!她们在床上的表现比印度女人好多了。




Re: Re: commies
by Samir Bhagwat
asok-with their flat chests and flat behinds, i guess that says about your orientation !




她们平胸矮臀,我猜你就是喜欢这一类的吧!



CHENESE
by privatemail

MEN ARE TOO UGLY, BAD BEHAVIOUR, DONT BATH AND TOO SMELLY. BUT GIRLS DECENT, GOOD HABITS, AND COOPERATIVE ESPECIALLY IN NIGHT TIMES. VERY GOOD LOOKING GIRLS THOUGH THEY ARE 3 FOOT HEIGHT



中国男人长得丑,行为不良,不洗澡,臭死了。不过中国女人很赞,习惯良好,晚上在床上特别会配合。虽然只有3英尺高,不过她们长得可好看了。





原创翻译:三泰虎 http://www.santaihu.com
Survey
by SREENIVAS

If you do similar survey in India-100% indians don't lke china-because of their troublesome nature-they have occupied our territory, they support our enemy country-Paki



中国人天生让人讨厌,占我领土,支持敌国巴基斯坦,所以如果在印度展开类似调查,100%的印度人会表示不喜欢中国。
Trade?
by Deepak Kanojia

Ask them to stop selling their products to India.. Will solve their issue and our problem of unemployment..



叫他们不要把产品卖到印度,这样既可以解决他们的问题,又可以解决我们的就业问题...
china on india
by hotosho

What is the use of public opinion?
China is not democracy,Govt. will not listen to her people.



公众舆论有什么用?





中国不是皿煮国家,政服不会倾听人民意见。
True
by shri shetty

they like only cockroaches, insects, frogs, dogs, snakes. Why do they like us :)



他们只喜欢蟑螂、昆虫、青蛙、狗、蛇。为什么他们会喜欢我们 :)
stop buying anything which is chinese
by deepak

dont buy anything made in china. first they killing our economy and help pakistan. now they hate us. make sure from chinese pen to lenovo to htc nthing should be bought.



别买中国货。中国人首先扼杀了印度经济,还帮助巴基斯坦,现在又讨厌我们。从中国笔到联想,再到htc,抵制所有中国货吧。
Wrong
by vidwan soni

How many people they have surveyed. Only few educated people in China KNOW about India. They have their own progress and problems to mind. I have visted Chian twice-in 1987 ay Xiamin, people haved never seen a Sikh gentleman. Most people asked me, " Are all Indians dressed like you? These surveys are wrong and unreliable.



调查了多少中国人。中国只有少数受过教育的人了解印度。他们关注自己的进步,关心自己的问题。我在1987年两次访问中国,人们从来没有见过锡克人。许多人问我:"所有印度人都像你这样穿着吗?"这些调查不准确,不可靠。
let them dislike
by surya kanishka
still they need buddha from India



就让他们不喜欢印度吧,不过他们仍然需要印度的佛陀。
One mans food is ...
by Sri R

One mans food is another mans poison ..
100% Indians doesn't like China ..



一个人的食物,对于另一个人可能是毒药...





100%的印度人不喜欢中国...
And..
by rajat lahiry
We have not forgotten 1962



我们没有忘记1962年中印战争。
That's ok
by SP

We don't like them either. They are nosy especially on the internet.



我们也不喜欢他们。他们爱管闲事,特别是在网上。
chinese noodles
by Perfect stranger

we like only Chinese noodles made in Indian version. That's all we like about China or its people.



我们只喜欢印度式的中国面条,不过也仅局限于此。




Re: Wrong data
by Kumaran Babu
and also Jet Li




还喜欢李连杰。



美国皮尤调查中心发起的一项调查显示,不足25%的中国人喜欢印度。大约53%的印度城里人认为中国的经济崛起对印度不利,而持正面看法的占26%。中国人对巴基斯坦的态度稍微好些,有31%的中国受访者喜欢巴基斯坦。中国媒体对新德里在边界争议上"固执态度"的批评,被看做是公众对印度持正面看法下滑的原因。观察家称,对印度观点的不恰当解读,在促进旅游和文化交流方面所做的努力不够,未能搭起两国人民的沟通桥梁等是另外一个原因。