原文标题:SM Krishna meets 2 stranded Indians in China
原文链接:http://timesofindia.indiatimes.com/india/SM-Krishna-meets-2-stranded-Indians-in-China/articleshow/13881735.cms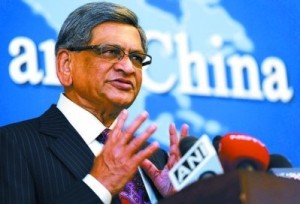 NEW DELHI: Foreign minister SM Krishna met the two Indian traders stranded in China after they were held for not paying dues to their Chinese suppliers. Krishna assured them that he would raise the issue with his Chinese counterpart Yang Jiechi on Thursday.

Krishna is in Beijing to attend the SCO summit. He met the two Indian traders, Shyam Sunder Agrawal and Deepak Raheja, who were released from illegal custody from the Chinese suppliers in Yiwu after India's intervention.

The Indian Embassy in Beijing has spent more than Rs 13 lakh from the Indian Welfare Community funds for legal services provided to the traders and also for their boarding and lodging.



新德里:克里希纳外长在中国会见了两名受困的印度商人。他们是由于没有支付债务而被控制。克里希纳向他们保证,他会在星期三向中国同行提起这个问题。





克里希纳正在北京参加上合组织峰会。他会见了两名印度商人:Shyam Sunder Agrawal和Deepak Raheja。他们被义乌的中国供应商非法拘留,在印度干涉之后被释放。





为了给两名印度人提供法律服务和食宿,印度驻华使馆从印度福利社区基金拿了超过130万卢比。



Krishna had discussed the case even earlier with Yang when he visited China in February. Together, the two Indians have been asked to pay 10 million yuan ($1.5 million) to local traders. China has told India that cases against the two Indians would not be withdrawn until they repay the entire amount.

The local traders took them into custody last December after their owner fled without making payment for the supplies secured.



克里希纳2月份访问中国的时候就和杨外长讨论了这个案子。这两名印度人总共被要求向当地商人支付1000万人民币(150万美元)。中国告诉印度,在偿还所有欠款之前,针对两名印度人的起诉不会撤销。





去年12月,这两名印度人的老板没有支付货款就逃离后,当地商人拘留了他们。




以下是印度网民的评论:




Raj (Mumbai) 6 hrs ago
One more official trip for SM Krishna, more money being wasted. The Congressmen always have a nice holiday spending tax payers money in the name of official visits for summits, conference, etc. This includes the current President and her relatives including the cook.
Agree (4)Disagree (2)Recommend (4)



克里希纳又一次官方旅行,浪费了更多钱。国会议员总是以官方访问的名义出席峰会、会议等,花费纳税人的钱、度一个愉快的假期。这包括现任总统和他的亲戚、厨子。
H (US) 5 hrs ago
Why are Indian taxpayers footing the bills for business people's legal problems? If the the business man makes errors/mistakes or follow corrupt practices, they must bear the consequences. Looks like Mr Krishna does not have much to do with Indian foreign policy. Last time he got involved in one Indian family's marital and legal affairs in Europe.
Agree (4)Disagree (4)Recommend (1)



为什么印度纳税人的钱要为商人的法律问题买单?如果商人犯错或者遵循腐败行为,那么他们必须承担后果。看起来克里希纳先生和印度外交政策不大搭边。他上次在欧洲介入了一个印度家庭的婚姻和法律事务。
THIRUMALAIBHUVARAGHAVAN (CHENNAI)
Developmental Mr. Modi went to China, now Mr.Krishna, our External love affairs minister and meets the same two business men from Gujarat, if the issue is just 1.5 million dollars, Mr. Krishna would have given in one cheque. The matter should be much more serious. Indian ethics and International business ethics are different, that too between India and Chinese they need not be studied as the needs are same as India. These business men in greed would have violated seriously and since they are in the docks.
Agree (1)Disagree (2)Recommend (0)



穆迪先生去了中国,现在去的是克里希纳。我们的外交部长会见了来自古吉拉特邦的这两名商人。如果问题仅仅涉及150万美元,那么克里希纳先生可能会给一张支票。可是,这个问题应该是严重得多。印度人的商业道德和国际商业道德不相同,印度人和中国人的商业道德也不同。这些贪婪的商人正在受审,所以可能严重违规了。
loginashish (Singapore)
What action Indian authorities are taking on those Chinese firms who cheated over 1.3 ml US $ of Indian companies.
Agree (4)Disagree (1)Recommend (1)



印度当局对骗取印度公司130多万美元的中国公司采取了什么行动?




JP (USA) replies to loginashish
What action? the chinese built the substandard stack that collapsed causing death of hundred laborers and the chinese vanished. Sardar got orders to do nothing from antonia maino italian vincci gandhi aka corruption queen.
Agree (2)Disagree (0)Recommend (0)




什么行动?中国人修建的不符合标准的烟窗倒塌,造成上百名工人死亡,中国人却消失了。萨达尔从...那里得到不要采取任何行动的命令。



707MahaDev (London)
Indian bhai log this is China where you will have pay your dues. Even though it doesn't look good. but different country have different way to take money out. This Chines people knew that once these Indian business person will leave China then they will be absconding and disappear deep in India and will make impossible to recover their money.
Agree (9)Disagree (0)Recommend (4)



印度兄弟,这是中国,你必须支付欠款。虽然看起来不是很好,但是不同的国家有不同的索钱方式。中国人知道,一旦印度商人离开中国,他们会逃匿和消失在印度的茫茫人海中,到时候想要收回钱是不可能的。





原创翻译:三泰虎 http://www.santaihu.com




justin (china) replies to 707MahaDev 3 hrs ago
put them behind bars, till they pay the money...or let government take their properties back home and settle the issue..Indian traders...few of them...think they are smart and want o become over night millionaires. Now keep them every night behind bar.they will pay
Agree (1)Disagree (1)Recommend (0)




把他们投入监狱,直到他们还钱为止...或者让政服没收他们国内的财产...少部分印度商人自以为聪明,想要一夜之间成为百万富翁。现在让他们日夜蹲监狱吧。他们会还钱的。



RAJESH AGRAWAL (LUCKNOW)
Chinese laws should be respected in the same way we have asked Italian seamen to respect Indian laws and withstood all the pressures from Italian Govt. However, it must be ensured that no injustice whatsoever is done to our citizens and all support including financial and legal must be extended as required. We must learn to value our citizens !
Agree (10)Disagree (1)Recommend (0)



我们要求意大利船员尊重印度法律,并经受住了来自意大利政服的所有压力。同样的,中国人的法律也应该得到尊重。然而,必须确保我们的公民没有得到任何不公正的对待,必须给予包括财政和法律在内的所有必要支持。我们必须学会重视我们的公民!
MB (us) 4 hrs ago
S M KRISHNAN MY BROTHER WAS TAKEN AS POW IN 62 WAR HE NEVER CAME BACK CAN YOU PLEASE LOOK INTO, HIS NAME IS MAJ SAHIB CHUGANI .
Agree (12)Disagree (0)Recommend (7)



克里希纳,我的兄弟在1962年中印战争中被俘。他一直都没有回来,你可以调查下吗,他的名字叫MAJ SAHIB CHUGANI。
Rajguru (delhi)
Chinese keep humiliating Indians and Indian Government on slightest excuses. Imagine any European or US citizens in place of two Indians and imagine the possible reactions from their Governments.
Agree (5)Disagree (4)Recommend (3)



中国人老是以轻微借口羞辱印度人和印度政服。想象一下吧,要是换成任何欧洲国家公民或者美国公民,他们政服会做何反应。




Mahaguru (Noida) replies to Rajguru 3 hrs ago
You moron, they are not held because of no reason. They are held because of non payment, in other words - Cheats. This has nothing to do with humilation.
Agree (4)Disagree (2)Recommend (0)




你这个傻瓜,他们不是无缘无故被拘留。他们是没有还钱而被控制的。换句话说,他们是骗子。这和羞辱没有什么关系。




Sumit (Mumbai) replies to Mahaguru 2 hrs ago
Kindly read the TOI report carefully. It is not clear whether the traders are guilty. If the traders have been arrested, then it has to be clear what the charge is, and whether they have been found guilty in a court of law. So it is right for India to protest.
Agree (2)Disagree (1)Recommend (0)




拜托,认真看看印度时报的报道。这些商人是否有罪还不清楚。如果这些商人被逮捕了,那么必须明确是受到什么指控和他们是否被认定有罪。所以,印度抗议是正确的。




Rajguru (delhi) replies to Mahaguru
Your name should be Maha ch***ia. Non-payment by owners .The poor chaps detained are employees. And cannot Indian Government trace the owners ,recover money and pay off ?
Agree (2)Disagree (1)Recommend (0)




你的名字应该是maha...老板没有付款,被逮捕的家伙是员工。印度政服不能追踪老板并要回钱,然后偿清债务吗?



Bobby (Yiwu,China) 3 hrs ago
The Chinese government is right, the cases against the 2 must not be cleared until & unless the due's are cleared. These are methods employed by many so called traders for making quick bucks. The sufferers are the so called Chinese small time traders who are deprived of their hard earned money. Be it Indian or Chinese the feeling & loss remains the same for the loser. The Indian government is spending more on such people who are giving our country a 'Bad Reputation'. Let the Law of the Land, take its own course, & stop spending more of National Funds for wrong do'ers.
Agree (8)Disagree (5)Recommend (3)



中国政服是对的。除非欠款结清,否则针对两人的诉讼不能被撤销。这些是许多想要赚快钱的所谓贸易商使用的伎俩。受害者是中国的小型交易商,他们辛苦赚来的钱被剥夺了。不管是印度人还是中国人,对失败者的情感是一样的。印度政服在这些给我们国家带来坏名声的人身上花了更多钱。让法律顺其自然吧,停止为做坏事的人花更多国家基金的钱。
IMTU (yiwu,china) 3 hrs ago
These 2 guys are no saint,they have committed a crime the biggest lie to this huge story in india is that these 2 were employees,the fact is that they were partners in crime together with other 3 guys who ran away every indian who is staying in yiwu knows what these guys have done to other indians who are staying in yiwu and doing the business honestly,just because of these 2 people the kind of trouble we are facing only the people who are staying here knows that,we indians were 1 community to whom chinese trusted in doing buisness but just because of these 2 people now they are suspicious of doing buisness with fellow indians,i would request TOI to get the facts right and report accordingly as this news paper is widely read among the NRI`S.
Agree (11)Disagree (2)Recommend (5)



这两个家伙不是什么圣人。他们犯了罪。在印度,这个故事的最大谎言是两人是员工。事实上,他们和其他逃跑的三个家伙是同犯。每一个在义乌经商的印度人都知道这些家伙给其他呆在义乌诚实经商的印度人造成了什么影响。我们印度人是一个团体,中国人做生意时信任我们。但是仅仅因为这两个家伙,他们现在同印度人做生意时抱着怀疑的态度。印度时报广受海外印度人的阅读,所以我请求印度时报如实报道。
Amit (Surat ) 3 hrs ago
Good job Chinese government.. This marwadi should learn lesson.. They think they can cheat and anyone's Money the way they do in India.. In India they buy police for doing scam like this.. All marwadi should boycott to do business.. Keep them for another 2 years in jail like surat's diamond smugglers ..
Agree (9)Disagree (3)Recommend (4)



中国政服,干的不错...这个马尔瓦尔人应该吸取教训。他们认为自己可以像在印度一样骗别人的钱。在印度,他们收买警察,制造此类丑闻。所有马尔瓦尔人应该(被)抵制做生意。就像苏拉特的钻石走私者一样,让他们再蹲两年牢狱吧...




Bear (Artic) replies to Amit 35 mins ago
It is unbelievable that one Indian has such hatered against other Indian.
Agree (0)Disagree (1)Recommend (0)




一名印度人如此仇恨其他印度人,真是令人难以置信。




Srinivas (Bangalore) replies to Amit 2 hrs ago
are you gone mad? This is what respect to the fellwo Indians. What if if your father or brother stranded in China. Would you behave similar. People like you are blot to India
Agree (4)Disagree (1)Recommend (0)




你疯了吗?你就是这样尊敬印度同胞的?要是你的父亲或者兄弟在中国受困,你还会这样类似反应吧。你这样的人是印度的污点。



mats (SIN) 3 hrs ago
Why he needs to meet these idiots.... They are doing business, hv taken the service of chinese bizmen, so they are suppose to pay.... why the hell they are not paying. Krishna sud say, pay and get out of china or be here. Simple!!!!!!!!!
Agree (6)Disagree (7)Recommend (2)



为什么他要见这些傻子...他们是在做生意,接受了中国商人的服务,所以他们理应付钱...为什么他们不付钱?克里希纳应该这样说:付钱然后离开中国,否则就留在这里吧。就这么简单!




Arpit (Sonepat) replies to mats 2 hrs ago
oye m****d all is not well with them. Don't you read their owner fled. You don't understand what does that mean. They need to pay $1.5m, which means nearly Rs. 8 crore Its not so easy to pay such a big amount. For small businessmen like them, it would mean selling of all their properties and paying such huge amounts. If its that Simple for you go and pay the amount. tenu naani yaad ajyegi. Samjha!!
Agree (9)Disagree (0)Recommend (1)




他们并不尽如人意。你没看到他们的老板跑了吗。你不理解这意味着什么。他们需要支付150万美元,也就是接近8000万卢比。要支付这么大一笔资金不是那么简单的。对于他们这样的小商人来说意味着倾家荡产。要是有那么简单的话,你去付这笔钱...




Ravi (Chennai) replies to Arpit 4 mins ago
Who is their owner? Indian or foreigner? I vaguely remember it was some one from Middle East. Why theh, Chinese are not pusuing him. These people are mere workers. isn't?
Agree (0)Disagree (0)Recommend (0)




谁是他们的老板?印度人还是外国人?我模糊记得好像是中东的某个人。为什么中国人不追捕他。这些人仅仅是员工,是吗?



count dracula (Coffin)
What should do to Chinese people who have encroached the border of India.??
Agree (3)Disagree (0)Recommend (0)



我们该怎么对付那些蚕食印度边界的中国人呢?
zam zam cola (amaravati) 2 hrs ago
I would say marry chinese women and then start selling their stuff one by one to repay chinese. Pay them in their own coin.
Agree (5)Disagree (3)Recommend (0)



我会娶中国女人,然后开始一件件的变卖她们家的东西,得到的钱偿还给中国人。用中国人的钱还中国人嘛。
nagarajan31 (coimbatore)
what could have been the conversation among the three, let me guess. the indian traders: sir help us out of this trouble, we are stranded here and are not sure whether we could reach our home as what we are. SM krishna might have told you both are declared stranded, I am not sure of my status. I do not even know whether I am still the minister, you guys are at liberty to do whatever you want. think about me and get some consolation.
Agree (0)Disagree (6)Recommend (0)



这三个家伙碰面的时候会说什么呢?让我猜一猜。





两名印度商人:先生,帮助我们走出困境吧,我们在这里受困,不确定是否能回家。





克里希纳可能这样回答:你们都宣称受困,可我连自己的地位都不确定。我甚至不知道自己是否仍然是部长。你们这些家伙可以随意做任何事情。想想我,你会得到一些安慰的。
Proud Indian (Chennai) 2 hrs ago
We are a shameless nation of slaves. We curse China day in and day out, but stand in long ques for jobs and business in front of Chinese embassies:)
Agree (5)Disagree (9)Recommend (0)



我们是无耻的奴隶之国。我们日复一日的诅咒中国,却为了工作和生意而在中国大使馆前排长队:)
martinjoannes (delhi)
Those two shd be deported and M S krishna shd be held hostage.
Agree (6)Disagree (0)Recommend (1)



那两个人应该被驱逐出境。克里希纳留下来当人质。





原创翻译:三泰虎 http://www.santaihu.com
Ninad Varadkar (Bahrain)
Hope they do kidnap SM Krishna too...........he is a useless corrupt buerocrat.........
Agree (4)Disagree (2)Recommend (1)



希望他们也绑架克里希纳......他是个无用的腐败官僚主义者...




Sudhirb (Delhi) replies to Ninad Varadkar 55 mins ago
Good suggestion
Agree (0)Disagree (0)Recommend (0)




不错的建议



Manu (Kuwait)
What can't u bring them back to India.... Negotiate with the Dragons...........
Agree (1)Disagree (2)Recommend (1



为什么你不能把他们带回印度...跟中国龙谈判吧...
Arjun (New Delhi)
Shameless SMK: chineese took Indians in their custody in December 2011 and you found time now see them? after 7 months?
Agree (1)Disagree (0)Recommend (0)



无耻的克里希纳:中国人2011年12月就拘留了两名印度人,你现在才有时间去看他们?7个月后才去看?
Devan (Bangalore) 28 mins ago
My Cousin does Business and has been living in Yiwu, the same place where these so called Two shameless businessmen were abused. My cousin tells me that the Agarwal & Raheja were roaming in BMW , spending lavishly. But when it came down to paying money later, these guys wanted to escape. These thugs r just shameless guys who now r seeking Indian Govt support and hoping Indian taxpayers will bail them out.
Agree (0)Disagree (0)Recommend (0)



我的堂兄在义乌做生意,就是两名无耻商人受到所谓虐待的地方。我的堂兄告诉我,Agarwal和Raheja开着宝马到处逛,消费奢侈。但是当后来要付钱的时候,这些家伙想逃跑。这些恶棍只是无耻的家伙,他们现在想寻求印度政服的支持,想要印度纳税人救助他们。
Sandeep Gupta (Gurgaon)
Govt should discuss with chinese authorities and make the arrangements to get them back to India.



政服应该和中国当局商讨,安排他们回到印度。
abpant111 (Mumbai)
With India growing in its stature as a global economy it is hugely important that we show greater concern in taking care of our people and interests.
Agree (1)Disagree (0)Recommend (0)



随着印度成长为全球经济,我们在照顾人民和利益方面表达出更大关切是相当重要的。
Alok Singh (Mumbai, Maharashtra, Ind)
Any guesses what would have happened if the position was to be reversed.. i.e., 2 Chinese detained by Indian traders on similar grounds..



能猜一下吗,要是位置调换过来会发生什么...也就是2名中国人基于类似理由被印度商人拘留...




sanand_1 (Bangalore) replies to Alok Singh
China would have smuggled his citizens out of India may be through Nepal or Pak.
Agree (1)Disagree (0)Recommend (0)




中国可能会通过尼泊尔或者巴基斯坦,把他的公民偷偷带离印度。



Ravindra Dixit (Mumbai)
Let us do our best and get our people back, it is important.



让我们尽力把自己人要回来,这是重要的。
sanand_1 (Bangalore)
What else this old impotent minister can do? Meet them, say hi hello, and come back. What a great action on his part.
Agree (2)Disagree (0)Recommend (0)



这位无能的老部长还能做什么?和他们见面,问个好,然后回来。对他来说,真是伟大的行动。
Anand (Qatar) 3 hrs ago
Exporting poor quality & fake products & asking money for that..Stop all imports from china and our government should monitor chinese movement & their fake products in India with eagle eye..
Agree (6)Disagree (2)Recommend (1)



出口劣质和虚假的产品,然后据此要钱...停止所有来自中国的进口吧。我们的政服应该在国内密切监控中国人的活动和他们的假货。
JBS (Bangalore)
2 stranded???? You should make it 3. Please keep SMK also with you. We don't need him. All along I had a good opinion about SMK. Only when I saw the amount of wealth he and his sons in law have amassed, I changed my opinion. Entire Bagmane Tech park in Bangalore belongs to one SIL and the Global Village on mysore road belongs to the other. Not to mention other properties, Cafe Coffee Day, plantations in coorg, chikmagalur which are in hundreds of acres and serai resorts. How can someone with a humble background amass so much wealth. Chor log hai BC.
Agree (5)Disagree (1)Recommend (4)



2个人陷入困境?你应该让3个人陷入困境。请把克里希纳也留下。我们不需要他了。我一直对克里希纳持正面看法。当我看到他和他的女婿积聚的财富数额时,我改变了看法。班加罗尔的整个科技园属于他的一名女婿,迈索尔公路边上的全球村属于他的另一名女婿。更不用说还有其他财产......为什么出身如此卑微的人可以积聚如此多财富......
SudhirK (Mumbai) 4 hrs ago
Are they traders or employees? Last line in the article says, "The local traders took them into custody last December after their owner fled without making payment for the supplies secured." If their owner has not paid, how can his employees be held responsible?.......... There is jungle law in China...... India should retaliate strongly... ...We should arrest a few chinese citizens and put some cases against them...... It will take a long time befor their cases come up for hearing in the court....... Cases should be withdrawn only 3 months after the 2 indians comeback......... Also ban all imports from China......They should have done this long ago.
Agree (2)Disagree (5)Recommend (0)



他们是商人还是员工?文章最后一句话说,"去年12月,这两名印度人的老板没有支付货款就逃离后,当地商人拘留了他们"。如果是老板没有还钱,怎么能让员工负责?......中国有弱肉强食的原则...印度应该强烈报复...我们应该逮捕一些中国公民,起诉他们...他们的案子要想在法庭举行听证需要很长时间...只有在两名印度人回来3个月后,才能撤销案例...此外,禁止一切来自中国的进口...他们很久前就应该这样做的。
《印度时报》6月7日报道,印度外长克里希纳在中国会见了两名受困的印度商人。据悉,在去年12月老板没有支付货款就逃离后,分别叫Shyam Sunder Agrawal 和 Deepak Raheja的两名印度商人被当地商人"拘留"。据悉,这两名印度人总共被要求向义乌的当地商人支付1000万人民币(150万美元)。中国告诉印度,在偿还所有欠款之前,针对两名印度人的起诉不会撤销。印度驻华使馆从印度福利社区基金拿了130多万卢比,为两名印度人提供法律服务和食宿。