版权所有:http://www.santaihu.com
原文标题:Kalam's visit to China aviation centre scrapped
原文链接:http://timesofindia.indiatimes.com/home/science/Kalams-visit-to-China-aviation-centre-scrapped/articleshow/17094141.cms?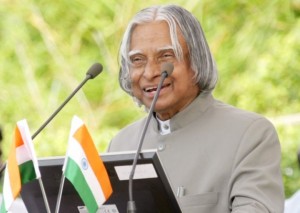 BEIJING: Hours before former President A P J Abdul Kalam was to visit China's top aviation body, he was told of a change in plans. He would visit the China Academy of Space Technology instead.

The last-minute change has sparked off speculation whether the cancellation was connected to China's wariness over its new stealth fighter, the J-31, launched just ahead of Kalam's visit.

Kalam, 82, an acclaimed aviation engineer, came on his first-ever visit to China on November 1, when pictures of the stealth fighter on its 11-minute flight test were flashed. Chinese officials said it was an improvised and lighter version of the J-20, launched about two years ago.

This made China the second country after the US to acquire the stealth bomber.



北京:就在前总统阿卜杜尔·卡拉姆准备参观中国航空工业集团的几小时前,他被告知临时改变行程,转而参观中国空间技术研究院。



"最后一分钟"改变行程引发猜测:卡拉姆访华前中国刚刚试飞歼31隐形战机,改变行程或与中国对此的"谨慎"有关。



82岁的卡拉姆是受人拥戴的航空工程师,他11月1日首次来华访问。中国J-31隐形战机试飞的图片当天备受关注。中国官员称J-31战机是J-20战机的简易和轻型版本。J-20战机发布于两年前左右。



Kalam was in China on the invitation of Beijing Forum, an intellectual body sponsored by the Chinese government. He was scheduled to visit the Aviation Industry Corporation of China (AVIC) on November 2, where he was to be given a detailed presentation. Instead, he was taken to the space academy, the premier body in charge of China's burgeoning space programme.

While Chinese officials were tight-lipped, analysts wondered whether AVIC wanted to avoid exposure of the J-31 to India's top defence and aviation specialist. Kalam was closely connected with the Defence Research and Development Organization and the Indian Space Research Organization (ISRO).



卡拉姆在北京论坛的邀请下出访中国。该论坛受中国政服支持,是知识分子的学术会议。原计划11月2日参观中国航空工业集团,并倾听中方的详细介绍,后来被带到中国空间技术研究院。在该机构的领导下,中国太空计划蓬勃发展。





中国官员对此守口如瓶,但分析人士怀疑,中航集团是否是为避免在印度国防与航空高级专家面前曝光歼-31,而卡拉姆与印度国防研究发展中心(DRDO)及印度太空研究组织(ISRO)联系都十分紧密。



Not someone to complain, Kalam made good of his visit to the academy of space technology, where he was given a detailed presentation about China's successful manned spaceflights, including the one this year, sending its first woman astronaut to the space station being built to rival Russia's Mir, currently being jointly manned with the US. Top officials also evinced interest in collaboration for a space solar power mission with India.

Kalam, in turn, highlighted the advances made by India in space technology, especially in putting heavier satellites into orbit. Isro is also working on its Mars Orbiter Mission set for next year.

Kalam left for India on Saturday after the three-day visit.



没有人抱怨。卡拉姆参观了中国空间研究院。中方向其详细介绍了中国成功的载人航天飞行,包括今年把首位女宇航员送上空间站。中方高级官员还表达了与印度在空间太阳能领域合作的兴趣。





卡拉姆则强调了印度近年来在太空科技上取得的进步,特别是把重型卫星送入轨道。ISRO还着手明年发射火星探测器。





11月3日,卡拉姆结束了三天访问,离开中国返回印度。




以下是印度网民的评论:




Tp Radhakrishnan (Washington DC)
May be China thought that Dr Kalam may advice India to replicate the manufacture of stealth bombers! His proposed visit to the Chinese Aviation center might have been cancelled for obvious reasons, but our scientific brains do not need replicating the system from China; we can do it on our own!
Agree (8)Disagree (2)Recommend (3)



也许中国认为卡拉姆博士会建议印度复制中国隐形轰炸机!他提出参观中国航空工业集团,被拒的原因很明显。但印度不需要复制中国的隐形飞机,我们的科技人才造的出来!
raj john (sj)
Chinese j 31 is junk fighter....Chinese are genetically paronoid people , as they feel inferior by ,looks,,,,,brain, and size of the thing........ and color.who in this world has yellow color when they see that other human look totally different than there face,,they feel ashamed....... and they feel paranoid....... ....Just as a good looking man is confident .. chinese have opposite view......
Agree (4)Disagree (13)Recommend (4)



中国歼31战机是垃圾。中国人天生偏执,对自己的外貌、智商、器官大小、肤色等感到自卑。世界上谁的肤色会是黄的。他们看到其他人的面容长得完全不一样,就会感到羞愧,心理就会闹得慌。帅气的人会自信,中国人持相反的观点...





原创翻译:三泰虎 http://www.santaihu.com




Pradosh (India) replies to Tp Radhakrishnan
I agree that they are paranoid but how can you say that J-31 is a junk fighter. They haven't revealed anything about this aircraft yet.
Agree (1)Disagree (0)Recommend (0)




没错,他们是偏执。但你怎么能说歼31是垃圾战机。他们还没有披露任何该战机的细节。



cabpgupta04 Prasad Gupta (GHAZIABAD)
CHINESE DIDNOT WANT TO EXPOSE THEMSELVES TOMUCH.



中国人不想过多地曝光自己。
CDRNET1965 (Chennai)
This shows China is wooried about Kalam's ability to take down details even from a presentation.
Agree (2)Disagree (2)Recommend (1)



此举表明中国担心卡拉姆能从中方介绍中记下一些信息。
Dinesh Prabhakar (delhi)
Makes no difference for Kalam, China never lags behind in showing its true colours!



对卡拉姆来说没有区别,中国从来就毫不谦让地暴露其真正面目!
Fox (India)
In my opinion it is better for India and China to develop close relationship else US one day is going to use the bitterness between the neighbors to is advantage. Just see India-Pakistan, Iran-Iraq, Koreas, China-Japan, Vietnams and so on. Please note this point. US is not a super power but a cunning fox.
Agree (9)Disagree (0)Recommend (7)



在我看来,中印最好建立亲密友谊,否则美国总有一天会利用中印仇恨。看看印巴、两伊、南北韩、中日、越南等。请注意,美国不是超级大国,而是狡猾的狐狸。
sumant padhi (orissa)
Indian media is known for twisting news so why take undue risk..
Agree (2)Disagree (0)Recommend (0)



印度媒体扭曲新闻那是出了名的,为什么要冒不应有的风险...
Maa Kasam (Sydney)
God knows where he gets this energy from at this age.. 82 years and people retire for good but there is no stopping Kalam.. Unfortunate that India doesn't have him as the President however fortunate that apart from India the rest of the world still looks him as President..Infact higher than President !!
Agree (4)Disagree (0)Recommend (1)



卡拉姆82岁了,不知道处于这个年龄的他从哪里获得这么多精力。要是别人早就退休了,不过没有什么能阻止卡拉姆。不幸地是印度现在没有让他当总统;幸运地是印度之外的世界仍把其当做印度总统看待,实际上接待规格比总统还高!
R D X (India)
What ever said and done these Chinese have made almost everything. They mad aircraft, fighter jets etc and are exporting the same to different countries. Where as we Indians started the project of aircraft and fighter jets years back and have just recently started producing it.the time lost and the funds lost is too much. all becoz of these politicians and the so called gods of public service (bureaucratic A## holes)
Agree (3)Disagree (0)Recommend (0)



不管怎么样,中国人几乎什么都造。他们造各种飞机,并出口到世界各国。印度几年前就开始了飞机项目,最近才开始生产。时间和金钱浪费太多了。一切归咎于腐败政客和低效公共服务。
jyotimukho (Visakhapatnam)
China has got a peculiar way in conducting its diplomatic activities against India in particular. It is not that Mr Kalam (a very noble person) will be able to or ever will have the intention of acquiring the secret information of Chinese aviation centre of j31. The last minute cancellation is just to humiliate India by showing disrespect to its top scientist . Conversely India would not only have allowed Chinese SPY in the disguise of a high level delegate to visit places of high security but also explained the technicality in detail .



中国开展外交活动的方式怪异,特别是对印度。问题不是卡拉姆先生有能力或者有意图获得中航集团里的J31秘密,最后一刻拒绝访问是对印度顶级科学家的不尊重,是在羞辱印度。相反,印度不仅允许中国间谍伪装成高级代表团成员参观重要场所,而且详细解释有关技术。




Nel (Australia) replies to jyotimukho
No, India does not even allow Chinese journalists to go to an Indian airshow so China letting an Indian scientist into its most advanced space center is very unbalanced.
Agree (5)Disagree (1)Recommend (2)




印度不允许中国记者参观印度航展,中国让印度科学家参观其最先进的太空中心,两相比较已经有失公允了。



William DSouza. (Mangalore)
Indian Ruling Politicians are most interested in filling their pockets and remain in power. Whereas the Chinese politicians are determined to make their nation as number one.... Wake Up Indian Politicians....think of our Nation...
Agree (6)Disagree (0)Recommend (5)



印度掌权的政客对装满钱袋和继续执政最感兴趣。中国政客则决心让国家成为世界最强。醒醒吧,印度政客,多为国家着想...
PRADEEP MANOHAR (Sharjah)
The Chinese seem to have developed cold feet at the last minute and maybe " last minute jitters " ..............



中国人似乎在"最后一分钟"胆怯了,也许是"最后一分钟的神经过敏"...
idolworshipper1 (India)
Chinese are more sensible than many of our so called intellectuals and leaders. They never create scenes where suspicious stories can be developed.
Agree (5)Disagree (0)Recommend (4)



中国人比我们许多所谓的知识分子和领导人更敏感。他们从来不会给别人提供可乘之机。
Sandeep (Qatar)
Why change?? A person like Kalam, can go any where, any sensitive place, even in China. Chinese are very secrative for everything but they didnot mind inviting Kalam there. Probabaly, Indian goverment was afraid that, Cinese stealth fighters will get publicity but does it matter? If China has it, who stopped Indian government? Government action is a bouncer to me.



为什么要改变行程?卡拉姆这样级别的人可以去任何地方,任何敏感的地方,包括在中国。中国人对一切都遮遮掩掩,但不介意邀请卡拉姆参观。可能印度政服担心中国隐形战机获得关注,但这有关系吗?如果中国有了,谁又能阻止印度政服?
prakash (kerala)
What china want to avoid Kalam to get a glace over their fighter : They are afraid of story of super computers that Kalam went with former prime minister Rajivee Ghandi in US . When US showed uneasiness to give a powerful supercomputer to India made by IBM , Kalam asked our former prime Minister to give a chance to do a technical dialogue with IBM people over their super computer when prime minister meeting with IBM chief . The story goes like that after discussing technical aspect of super computer , Kalam asked PM to drop the plan and make our self with a design he made after the discussion . The fear Kalam haunts Chinese and we are all proud of it . Congress party and CPM tried to make be little Dr. Kalam while BJP respected his as our nations distinguished scientist
Agree (7)Disagree (5)Recommend (3)



中国不想让卡拉姆窥视其战机。他们害怕超级计算机的故事重演,该故事发生在卡拉姆陪同前总理Rajivee Ghandi访问美国时期。当时美国不安地卖给印度一台IBM造的超级计算机,卡拉姆要求前总理在与IBM首席执行官会谈时提出与IBM人员举行技术对话。在讨论了超级计算机的技术后,卡拉姆要求总理放弃购买计划,用讨论后领悟到的设计制造印度的超级计算机。此种担忧缠绕着中国人,我们为此自豪。国大党尽力贬低卡拉姆博士,而BJP尊他为印度杰出的科学家。
R.K. Basu (Delhi)
The Chinese bought these planes from their Israeli allies but may be after 2 decades they might genuinely fly.
Agree (1)Disagree (7)Recommend (0)



中国人从盟友以色列那里购买这些飞机,但也许20年后能真正飞起来。
Maniam Krs (Us)
This is certainly a compliment to Kalam. The Chinese acknowledge that a personal overall viewing by him,,he would grasp their technology implemented!? Our Govt. should learn to give the due to our scientist and technocrats.
Agree (9)Disagree (0)Recommend (5)



此举是对卡拉姆的赞美。中国人承认卡拉姆整体观摩后能掌握其技术。印度政服应该学会给予我们科学家和技术专家应有的赞美。
Asoke Sen (Iselin,New Jersey)
Perhaps the erudition of Dr. Kalam has scared the Chinese,thereby prompting them to cancel his scheduled visit to AVIC,understanding fully well that this extraordinarily gifted scientist from India would read a lot from whatever little he is allowed to see inside the aviation complex.
Agree (4)Disagree (3)Recommend (0)



可能卡拉姆博士的博学吓阻了中国人,促使其取消了对中航集团的既定访问。中国人很清楚,不管卡拉姆在中航内部能看到的东西多么有限,这位才华横溢的印度科学家都能从中领悟到很多东西。





原创翻译:三泰虎 http://www.santaihu.com
Satyajit Meka (Hyderabad)
China! he is not such a crook-minded than you. Let it be it doesn't matter to him. It matters to us, A people's President, An inspiration to all our Indians and a humane being. It is your privilege being his presence on your soil.
Agree (7)Disagree (1)Recommend (0)



中国!卡拉姆可不像你一样那么喜欢欺骗。顺其自然,他不在乎。我们在乎,卡拉姆是人民的总统、所有印度人和人类的灵感。他驾临你们国家是你的荣幸!
《印度时报》5日报道,印度导弹之父阿卜杜尔·卡拉姆1日开始了为其三天的访华。就在卡拉姆准备参观中国航空工业集团的几小时前,他被告知临时改变行程,转而参观中国空间技术研究院。"最后一分钟"改变行程引发猜测。卡拉姆访华前中国刚刚试飞J-31隐形战机,改变行程或与中国对此的"谨慎"有关。印度分析人士怀疑,中航集团是否是为避免在印度国防与航空高级专家面前曝光J-31战机,而卡拉姆与印度国防研究发展中心(DRDO)及印度太空研究组织(ISRO)联系都十分紧密。