版权所有:http://www.santaihu.com
原帖标题:Japan: the world's most peaceful nation?
原帖链接:http://www.historum.com/asian-history/6887-japan-worlds-most-peaceful-nation.html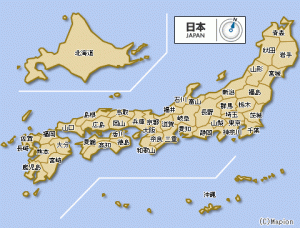 Yeah, I know all the cliches. Samuri. Toshiro Mifune. Pearl Harbor. Godzilla. Mobile Suit Gundam. Et cetera. But is Japan really as warlike as everyone likes to believe? Ask yourself the following question:

How many times in its entire history has Japan ever invaded another country? Twice? Once at the end of the 16th century and once at the beginning of the 20th? That's it? That's all they could accomplish in 1000 years? What a bunch of slackers.

By way of contrast, how many times have we peaceful Americans invaded another country in less than a fifth of that time? Oh, I know we invaded Canada, Mexico, the Phillipines, several Central American nations, and fought the Vietnam War in self-defense. And Grenada represented a clear and obvious danger to our security -- if Reagan hadn't sent in the troops, we'd probably all be speaking Grenadan and sipping drinks out of coconut mugs with little paper parasols by now. But still, if a race of visiting aliens were to study our planet's history to decide which nation was the most warlike, would Japan even show up on their list?



是的,以下这些我都知道:武士、 三船敏郎、珍珠港事件、哥斯拉系列电影、机动战士高达等等。但日本是否真的如大家所想的那么好战?问自己以下问题:





在整个历史中,日本几次入侵其他国家?两次?一次是16世纪末,另一次是20世纪初?就是这样?这就是他们在1000年里所取得的"成就"?好一群懒虫。





两相对比,在不到四分之一的时间里,我们爱好和平的美国人入侵了其他国家几次?哦,我知道,入侵了加拿大、墨西哥、菲律宾、几个中美洲国家,以自卫名义打了越战。格林纳达给我们的安全带来了显而易见的威胁,如果里根总统没有派部队过去,我们可能都在说格林纳达语和吸着椰子杯里的饮料。但是,如果外星人来研究地球上哪个国家最好战,那么日本是否会出现在名单中?




以下是各国网友的讨论:




vera(以色列)
Could you specify when they did invade? I know next to nothing of Japan's history, and perhaps there are more here like me...



你能详细说明他们入侵其他国家的时间吗?我对日本历史几乎一无所知,或许这里还有像我一样不了解的人...





原创翻译:三泰虎 http://www.santaihu.com
Hoplite(菲律宾)
Sino-japanese war, russo-japanese war and WW2 right? yeah come to think of it they only invaded other countries three times.



中日甲午海战、日俄战争和二战,对吧?回头想想,他们只入侵其他国家三次。




vera(以色列)
Thanks.




When I was to Korea I learned that Japan conquered, occupied and burned their country in the 19th-20th century. Perhaps, that should be added, too.




谢谢。




以前呆在韩国的时候,我获悉日本在19世纪至20世纪征服并占领了他们国家。或许,这个也应该添加进去。



Fan of the Game(美国)
Well I that is highly relative, although I am greatly biased and will admit that, but I think Canada is a very peaceful country, but lets not forget our friends the Swiss, who hold our gold when we have fisticuffs. Japan was involved in WWI, mainly to get a stake at the treaty table. Although they tend to play defense, but they also boasted the Samurai whose reputation proceeds them.

In all I think you have to consider Switzerland above all in terms of peaceful, but also countries like Sweden and Finland could get consideration as well. But I know nothing of their history.



是否爱好和平是相对的,我承认自己颇具偏见,不过认为加拿大是最爱好和平的国家。别忘了互殴中帮助我们保存黄金的瑞士。日本参加了一战,主要是为了在谈判桌上分一杯羹。虽然倾向于防守,不过日本也崇尚武士道精神。





总之,就爱好和平而言,我认为应该首先考虑瑞士,瑞典和芬兰等国家也值得考虑。不过,我不了解这些国家的历史。
Celticguy(爱尔兰)
Nothing like a defeat to turn a country into a peaceful nation. Since world war 2 both Japan and Germany have been very good boys and girls and behaved themselves



没有什么能比失败更能够让一个国家变成爱好和平的国家。自从二战结束以来,日本和德国一直表现不错。
Wobomagonda(美国)
japan invaded korea and china also.

and attacked the US, russia, china, ryukyu, etc... idk about peaceful.
They don't have the atomic bomb though, so that's kinda peaceful I suppose.



日本也入侵了朝鲜和中国,袭击了美国、俄罗斯、琉球群岛等...我不知道啥叫和平。日本人没有原子弹,所以会有几分和平。
gregorian(澳大利亚)
Japan is an island, with a rather wider strait to cross than the English Channel. This limits the wars the nation could indulge in, until the past 150 or so years.

With it's immediate neighbour being powerful Imperial China for many centuries, that also limited opportunities for warfare.

Once the nation joined in with the Europeans in ripping off a now weakened China, it went to war pretty much continuously until 1945.



日本是个岛国,与大陆之间隔着一个宽度超过英吉利隧道长度的海峡。一直到150年前左右,这条海峡限制了日本对外开战。





日本的领国是一个强大了许多个世纪的中华帝国,也限制了日本对外作战的可能性。





一旦加入欧洲国家一起剥削已经衰弱的中国,日本的侵略战争一直持续到1945年。
fledse(美国)
Korean historian book analysis says Korea had been invaded by Japan for more than 1000 times during AD 0 to 1945, whereas they were invaded by China for more than 3000 times during that same period. Though most of invasion were not deliberately planned by Japan's government, the figures would be astonishing.

But, in modern era, that is the post 1945, Japan is the most peaceful nation in the world where they wouldn't bother to go military. Japanese policemen are famous to give parking tickets to tank divisions which were under practice operations, arguing that is the traffic laws and there shouldn't be exception.



韩国历史书分析:公元0年至1945年,韩国被日本入侵1000多次,被中国入侵超过3000次。大多数入侵并非日本政服蓄谋的,数据着实令人惊讶。





1945年后的近代,日本是世界最爱好和平的国家,没有费心走军事化道路。日本警察为人所熟知的是,给正在训练的坦克开违规停车罚单,并辩称这是交通法规,不应有例外。





原创翻译:三泰虎 http://www.santaihu.com




DesertPilot(美国)
I cannot help but wonder what type of things the Korean analyst counted as an 'invasion'. Was he just counting minor border incursions, lost fisherman and trappers, illegal immigrants looking for work, and the like? This was, after all, the culture that routinely executed shipwrecked foreign sailors (well into the 19th Century!) because they'd had the temerity to set foot in the Silent Kingdom. Or perhaps they didn't want to share any kimchi. Which I can understand, because the stuff is quite good




The Japanese, on the other hand, didn't execute every shipwrecked sailor who landed on their shores... They only executed some of them...




我不禁想知道韩国历史学家怎么样计算"入侵"次数。是否把边界小规模侵犯、丢失渔民、找活干的非法移民等诸如此类事件看成"入侵"?毕竟,19世纪以前,处死遭难的外国水手是通行做法,原因是他们鲁莽地踏足了沉默王国,或者是因为韩国人不想分享泡菜。




另一方面,日本人并不处死所有登陆的遭难水手...只处死一部分...




fledse(美国)
In the medieval time, Japanese pirates invaded the Korea, which was counted as invasion as well as Chinese manchurians (such as Jurchen and Kitans) plundered around the North Korea.




Of course, the war such as the invasion Korea of 1592 and was between Qing dyansty - Chosun dynasty were counted as invasion too.
So, pretty much, the invasion written in the history books contain all harassment by Japanese or Chinese, from illegal immigration to the total warfare.




Some Koreans make fun of themselves that "we love peace soooooooooooo much, always invaded by other people, but never invaded others."




中世纪时,日本海盗侵犯朝鲜被算作入侵,还有中国满洲人对朝鲜的掠夺也算。




当然,1952年日本入侵朝鲜和清朝-朝鲜王朝之间的战争也算入侵。所以,历史书上记载的入侵包括了日本人或者中国人对朝鲜的所有骚扰,从非法移民到全面战争,全部都算。




一些韩国人取笑自己:"我们非常爱好和平,总是被别人侵略,但从来不侵略别人。"



Pedro(哥斯达黎加)
"The invasions of Korea launched by the dictator Toyotomi Hideyoshi are unique in Japanese history for being the only time that the samurai assaulted a foreign country. Hideyoshi planned to invade and conquer China, ruled at the time by the Ming dynasty, and when the Korean court refused to allow his troops to cross their country, Korea became the first step in this ambitious plan of conquest. In 1592 a huge invasion force of 150,000 men landed at the ports of Busan and Tadaejin under the commanders Konishi Yukinaga and Kato Kiyomasa. These two Japanese divisions rapidly overran their Korean counterparts, taking the principal cities of Seoul and then Pyongyang and driving the remnants of the Korean Army into China. The Japanese division under Kato Kiyomasa even started to advance into Manchuria. However, the Korean strength was in their navy and the vital Korean naval victory of Hansando disrupted the flow of supplies to the invasion forces, forcing them to hold their positions around Pyongyang. In 1593, the Chinese invaded capturing Pyongyang from the Japanese and driving them southwards."



丰臣秀吉发起的侵朝战争是日本武士首次进攻外国。丰臣秀吉计划入侵和征服当时统治中国的明朝。由于朝鲜拒绝日军路过,所以成为了日本雄心勃勃征服计划的首个跳板。1592年,丰臣秀吉和加藤清正各率领军队登陆釜山和Tadaejin,共计15万之众。两支日军快速击败了朝鲜军队,占领了汉城和平壤等主要城市,把朝鲜残余部队赶入了中国。加藤清正率领的日军甚至前进到了满洲。然而, 朝鲜的优势是水军。朝鲜水军在闲山岛取得的重大胜利中断了日本侵略军的供应,迫使日军防守平壤周围。1593年,明军从日本人手中夺取平壤,迫使日军南逃。




fledse(美国)
At the time, Korean dynasty was more like the vassal state of the Ming Chinese. How could they accept the Hideyoshi's offer? What Hideyoshi argued was to make a good reason for Japanese soldiers to accept the war and fight until they die.




Yes, indeed, it was so fast; it takes 15 days to walk to Seoul from Busan, but the Japanese spent only 20 days to conqueor Seoul after it landed on.
There were no strong resistances to Japanese.




Relationship between Kato and Konishi can be compared to Konev and Zhoukov in the WW2 of the Soviet; they were just racing to Seoul as Konev and Zhoukov both raced to Berlin to show their loyalty to Stalin.




Kato and Konishi never cooperated each others after the fall of Seoul, which could be why they couldn't conqueor all Korea.




Here, probably the most competent admiral not only in Korea but also in the World history comes out to defeat Japanese fleets with outnumbered troops, but better technology and naval doctrines. His name is Yi, Soon-Shin.




当时的朝鲜王朝更像是明朝的附属国。怎么会接受丰臣秀吉的要求?丰臣秀吉的辩称只是为了让日本士兵接受战争并战斗至死找一个好的理由。




日军确实进展非常迅速,从釜山行进到汉城花了15天,但攻陷汉城只花了20天。日本人没有遇到强烈抵抗。




丰臣秀吉和加藤清正的关系堪比二战时苏联的科涅夫和朱可夫。科涅夫和朱可夫比谁先进入柏林,以向斯大林表示效忠,丰臣秀吉和加藤清正也是快速奔向汉城。




攻陷汉城后,丰臣秀吉和加藤清正从来没有合作过,这可能就是日本没有征服整个朝鲜的原因。




这里出现了一位很可能不仅是朝鲜历史上,而且是世界历史上最有能力的水兵将领,这位将领率军击败了优势兵力的日本舰队。他的名字叫李舜臣。




fledse(美国)
Kato was the 1st division entering Seoul because his division burned transport ships near the Han River, which prevented Konishi divisions from entering Seoul through the River. On the same time, Kato entered Seoul from Northeast side, where he didn't need any transport ships to cross the river.




Konishi first thought because it was war, there wouldn't be ships avaliable to cross the river, but later he realized Kato intentionally burned the ships, which made him angry over Kato.




The other reason Kato hated Konishi was Konishi was a Christian, whereas Kato even persecuted Chritstians in his regional terrority.




After the fall of Seoul, Konishi went to Pyongyang (modern Chinese border side), wherease Kato went to Wonsan (modern Russian border side).
Kato was avaliable to be supplied from Sea of Japan or the East Sea, but Konishi was never possible to be supplied because Yi, Soon Shin massacred all supplies ships crossing the Yellow Sea.




加藤清正率领的日军首先进入汉城,他下令烧毁了汉江附近的渡船,使丰臣秀吉无法越过汉江进入汉城。而加藤清正所部是从东北方向进入汉城,并不需要渡船过江。




丰臣秀吉原以为是战争导致船只被烧,后来发现是加藤清正故意之举,从而大怒。




加藤讨厌丰臣秀吉的另一个原因是丰臣秀吉是基督徒。然而,加藤甚至在自己所辖区迫害基督徒。




攻陷汉城后,丰臣秀吉所部进入平壤,加藤所部进入元山。加藤可以通过日本海航道获得供应,而李舜臣摧毁了所有经过黄海的供应船,所以丰臣秀吉不可能获得供应。



native3(印度)
well world's most peaceful country..... well then i can name India... cause we have not invaded any country over a 100 years & more......

all the wars we fought with pakisthan & China was just to self-defence.... india never invaded any part of the world.....



我可以说印度是世界最爱好和平的国家,原因是我们100多年里没有入侵过任何国家...





我们与巴基斯坦和中国之间的战争只是出于自卫...印度从来没有入侵过其他地区...





原创翻译:三泰虎 http://www.santaihu.com
HistoryFreak1912(美国)
From what I understand, Japan has no standing army. Sure it has a home police force, but no big uber army so if it got invaded by...say...China, we'd have to get over there to help them eventually, if not immediatly.



据我了解,日本没有常备军,当然有自卫部队,不过不是庞大军队。所以,如果被入侵,比如遭受中国入侵,即使不是立即伸出援手,我们最终也得过去帮忙。
seabeesrock(美国)
cough cough the rape of nanking....



(咳两下),南京大屠杀...
sixtvs(美国)
Japan also invaded Okinawa. I am quite surprised to find out during my stay in Japan that this was not quite common knowledge. Okinawa was, by itself, an independent chain of islands. In 1609, the Shimazu Clan militarily invaded Okinawa and took it under the complete reign of mainland Japan. As a side now: Okinawa was just returned, or turned over back to Japan in 1977 by the US.



日本也入侵了琉球国(冲绳)。呆在日本期间,我吃惊地发现日本人并非普遍这样认为。琉球本是一群独立的岛屿。1609年,岛津氏派兵入侵琉球国,将其完全置于日本本岛的统治之下。附注:1977年,美国把冲绳归还给日本。
silviabosnie(喀麦隆)
Well i think that may be true cos for many years now we have not heard of Japan invasion or attack of another country.



我想可能是对的,许多年以来,我们没有听说过日本入侵或者进攻其他国家。
AndrewRayGorman(美国)
Japan wouldnt consider attacking because the memory of atomic death still reins in their elders memories.



被原子弹袭击的记忆仍然在老年人中挥之不去,日本不会考虑进攻其他国家。
sabio(美国)
What about its history of internal conflict; especially in the 16 century?



那日本的内部冲突历史呢,特别是在16世纪。
Jebusrocks(加拿大)
I actually have no clue why the Japanese are so renown for their samurai outside of Asia, and when that whole trend actually started (ppl who havent watched movies like Seven Samurai know bout them). But it should be noted that for most of Samurai history in Japan, it was quite bloody.



为什么日本人在亚洲以外地区以武士道著称,我对此真的毫无头绪。这个潮流什么时候开始的(没有看过《七武士》的人也知道)。但是日本武士的历史充满血腥。




fledse(韩国)
They have been good at marketing Samurai as the Japanese unique figure in lots of areas such as movie, cartoon, and books.




Another reason would be that during the WW2, Japanese were emphasizing Samurai sprits against US Marines, which were astonishing to US marines performing operations.




他们非常擅长在诸多领域推销日本人独特的武士道形象,比如电影、卡通和书籍。




另一个原因是二战期间,日本人在对阵美国海军陆战队时加强了武士道精神,令后者非常惊讶。



gaius valerius(比利时)
Erhm... you know they were constantly having civil wars and such.. so I don't know about being all that peaceful...



...你知道的,他们一直在内战,所以不觉得日本爱好和平...
Wobomagonda(美国)
Japan was in a period of near constant warfare (with some brief pauses) from 936 to 1603.



从公元936年至1603年,日本几乎一直处于内战中(期间只有短暂的中断)。
Wobomagonda(新西兰)
New Zeland is the most peaceful country on earth.



新西兰是地球上最爱好和平的国家。
tksensei(美国)
If we are including all of a nation's history then no country on earth can claim the title. The aliens will just be forced to conclude that humans are inherently violent beings.



纵观各国历史,地球上没有哪个国家可以摘得此项头衔。外星人会被迫得出结论:人类天生就是暴力的。





原创翻译:三泰虎 http://www.santaihu.com




Wobomagonda(美国)
Iceland, Costa Rica, Bermuda.




Iceland has only fought 1 war in it's existence, a civil war. Costa Rica and Bermuda (to my knowledge) have never fought a war.




冰岛、哥斯达黎加、百慕大。




冰岛自存在以来只打过一场战争,也就是内战。据我所知,哥斯达黎加和百慕大从来没有打过仗。



Efendi(土耳其)
I respect Jappanesse people, I admire their way of civilization.

I was living in a town in Anatolia. nearlly %90 of the foreing tourist was from Japan. It is a good implication to show how Jappan people pay importance to learning different cultures. Most of the tourist in cultural and historical areas are from Japain.

They should be the most civilized people on the Earth.

One a time, There were Japan group of around 10 people, i was just around 15, I greeted one of them in Japan way, bowing my head then the entire group of Japan people replied me back all together, at the same time. I felt shy and much honored.



我尊重日本人,欣赏他们文明的举止。





我住在安纳托利亚的一个镇上,接近90%的外国游客来自日本。文化和历史景点的游客大多数游客是日本人,很好地表明日本人对学习各种文化所赋予的重要性。





他们应该是地球上最有礼貌的人。





有一次,我碰到一个大约10人的日本旅游团,并用日本的方式向其中一名游客致意。我鞠躬以后,作为回应,日本的整个旅游团同时向我鞠躬。我感到难为情和不胜荣幸。
Satuf(美国)
Maybe you should ask why most Chinese hate the Japanese.



也许你应该问为什么大多数中国人讨厌日本人。
J'adore345(英国)
Well certainly more peaceful than the US



日本当然比美国更爱好和平。




diddyriddick(美国)
You might have trouble selling that to the folks of Nanking in 1937.




要是向1937年的南京人推销这一说法,你可能会遇到麻烦。



The Imperial(印度)
WOW!!! NO ONE MENTIONED INDIA??!!

India was the founder of Buddhism, Jainism (they frown upon war), ahimsa, their culture forbid them from slaughtering animals, Ashoka was a great ahimsa ruler, remember Gandhi??? All Indian elements,men...

India had their own "Amnesty International" long back, where they laid down the rules of war, and rules like- how to treat POWs, how to treat a surrendering king etc, and battlefield rules.

As one of this forum's members pointed out, Indian Empires were not built on a class of military men, but built on a class of businessmen. There is no point in history when India invaded a foreign country. Civil war never happened or were on a negligible scale.



哇!没有人提印度?!





印度是佛教、耆那教和非暴力主义的创始国,这些文化禁止人们屠杀动物。阿育王是奉行非暴力主义的伟大统治者。还记得圣雄甘地吗?一切都是印度元素、印度人...





很早以前,印度就有了"大赦国际",为战争规则、如何对待俘虏、如何对待投降的国王和战场规则奠定了基础。





正如本论坛一位会员所指出的,印度帝国不是靠军人建立的,而是靠商人。历史上,印度从没有入侵过外国,从来没有发生过内战。即使有发生过内战,其规模也可以忽略不计。





原创翻译:三泰虎 http://www.santaihu.com
nomooon(美国)
Japan is peaceful as long as its neighbors are strong... Samething for most other countries...



只要领国是强大的,日本就爱好和平...同样的情况适用于其他大多数国家...
specialpig(新加坡)
This is a ridiculous conclusion. If a ant is brutal, aggressive, it can cause few loss. But a peaceful elephant with occasional anger can cause a lot of loss, even disaster. Only in recent 120 years, Japanese was capable of invading other country. Before japan was just a brutal ant.



这是一个荒谬的结论。如果一只蚂蚁好斗和残忍,那么只会给别人带来微小损失。但如果一个爱好和平的大象偶尔发怒,那么会给别人造成巨大损失,甚至带来灾难。只有在最近120年里,日本人才有能力入侵其他国家。此前,日本只是野蛮的蚂蚁。
Narses(加拿大)
Of course Japan is war like. but US is not doing much better than Japan in recent years, invading two countries within a few years for the so called "self defense" purpose.



日本当然是好战的,但美国也好不到哪里去。最近几年,美国以所谓的"自卫"名义入侵了两个国家。
一名美国网友发表了一篇题为《日本:世界最爱好和平的国家?》的讨论帖。他称自己了解武士、 三船敏郎、珍珠港事件、哥斯拉系列电影、机动战士高达等等,但日本是否真的如大家所想的那么好战?在整个历史中,日本几次入侵其他国家?两次?一次是16世纪末,另一次是20世纪初?就是这样?这就是他们在1000年里所取得的"成就"?两相对比,在不到四分之一的时间里,爱好和平的美国人入侵了其他国家几次?他最后问道,如果外星人来研究地球上哪个国家最好战,那么日本是否会出现在名单中?