译文来源:三泰虎 http://www.santaihu.com
原文标题:Japanese PM holds out olive branch to China
原文链接:http://timesofindia.indiatimes.com/world/south-asia/Japanese-PM-holds-out-olive-branch-to-China/articleshow/18129690.cms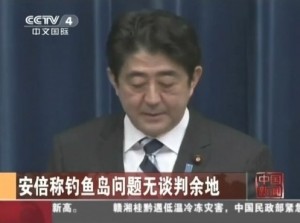 TOKYO: Hawkish Japanese premier Shinzo Abe held out an olive branch to China on Tuesday, sending a letter to Beijing's leader-in-waiting to be hand delivered by a coalition ally.

The move comes after months of diplomatic tussles between China and Japan over the sovereignty of a disputed island chain in the East China Sea that have seen repeated maritime encounters.

Natsuo Yamaguchi, head of the New Komeito party, was expected to stay in Beijing for four days, during which time he would meet China's incoming president, Xi Jinping, and hand over a letter from Abe, local media reported.



东京:22日,属于鹰派的日本首相安倍晋三向中国伸出橄榄枝,通过执政联盟盟友向北京的候任领导人转交亲笔信。





此举发生在中日就东海岛屿主权争议引发外交争执以来的数月之后,两国迄今在争议海域已经多次出现遭遇。





公明党党首山口那津男预计在北京停留4天。期间,他将和中国即将上任的主席xi会谈,并向其转交一封安倍的亲笔信,当地媒体称。



"Japan-China relations have been faced with various kinds of friction, and political dialogue has not been held for a long time," Yamaguchi told reporters ahead of his departure.

"I would like to make a step toward opening the door to normalising our relations," he said.

But Yamaguchi, who has no official government role, said Tokyo has no plan to compromise over the island row.

"Our stance is that no territorial problem exists. That's a shared recognition among the government and coalition."



"日中关系面临各种摩擦,两国很长一段时间未举行政治对话,"山口那津男在启程前接受记者采访时称。





"我愿迈出一步,为两国关系正常化打开一扇大门,"他说。





然而, 未担任任何政服职务的山口那津男表示,东京没有就岛屿争端做出妥协的计划。





"我们的立场是不存在领土问题。这是日本政服和执政联盟的共识。"



China has repeatedly sent ships to waters near the disputed islands since Japan nationalised some of the chain in September, a move that triggered a diplomatic dispute and huge anti-Japan demonstrations across China.

Beijing has also sent air patrols near the Tokyo-controlled islands, known as the Senkakus in Japan, but claimed by Beijing as the Diaoyus.

On Sunday, Beijing rebuked the United States after secretary of state Hillary Clinton issued a veiled warning to China not to challenge Tokyo's control over the chain, which is believed to sit atop vast mineral reserves.



自从日本9月份"国有化"争议岛屿后,中国多次向争议岛屿附近海域派遣巡逻船。日本此前的"国有化"举措引发了中日外交争执,还在中国引发了大规模反日游行。





北京还向这个东京控制的岛屿派出了巡逻飞机。该岛在日本被称为尖阁岛,北京则称之为钓鱼岛。





1月20日,北京指责美国国务卿希拉里含蓄警告中国勿挑战东京对该岛的控制。据信,该岛周围蕴藏丰富的矿产资源。




以下是印度网民的评论:




vs (India)
china has been a back stabber,world knows this! Better keep no friends than bad friends.
Agree (7)Disagree (4)Recommend (0)



世人都知道中国会背后暗算他人!与其交损友,不如不交朋友!



译文来源:三泰虎 http://www.santaihu.com

ert12 (India)
Good move by Japan... The way Japan has given the message, China should understand the meaning and accept the same. Any fight between Japan and China may convert to World War...
Agree (2)Disagree (4)Recommend (0)



日本此举做得好.....日本已然释放善意,中国应当理解其意图且做出同样回应。中日之间爆发的任何战争都可能会演变为世界大战.....
JAYANT (ahmedabad)
good movement by japan,we hope solution may come promptly.
Agree (2)Disagree (3)Recommend (1)



日本做得很好,但愿解决方案能快点出来。
danish khan (Kolkata)
It is time for Japan stop playing in the hands of western countries against China. This century belongs to Asia and western countries want to stop China and India to play a role in global affairs. Regional issues should be solved through negotiations not by war.
Agree (7)Disagree (9)Recommend (1)



日本早该拒绝被西方利用于对抗中国。本世纪属于亚洲,可西方国家想要阻止中国和印度在全球事务中发挥作用。为此,地区问题应当通过谈判解决,而非战争。




D.Bose (Calcutta) replies to danish khan
One cannot negotiate with China. India had tried for 6 years from 1956 to 1962. That has ended up in a massive Chinese invasion in 1962.
Agree (7)Disagree (7)Recommend (3)




和中国谈判是没法进行的,印度从1956至1962年试了6年,结果中国在1962年大规模入侵印度。




rajendra (India) replies to D.Bose
The only way China will step back is if Islands are handed over to them. I do not think Japan will do so & hence any olive branch from Japan will not work. China has been slowly & surely ratcheting up the pressure on Japan. Some historians have observed a clear parallel between China's pressure on India before 1962 & now. I will not be surprised if we wake up one day to breaking news of how China has suddenly attacked & taken over disputed islands.
Agree (1)Disagree (1)Recommend (1)




唯一能让中国罢手的方法是向其移交岛屿。我认为日本不会这样做,因此日本伸出的橄榄枝不会起作用。如今,中国逐渐对日本施加更大压力,有些历史学家甚至观察得出,中国1962年前对印施压以及现在对日施压之间具有明显的平行相似性。如果有一天,我们一觉醒来听到中国突然对日发起进攻且夺取争议岛屿的震惊消息,那么我不会感到吃惊。




dikcse90 (bbsr) replies to D.Bose
its was not chinese invasion...war happened due to Nehru "Forward policy"..
Agree (10)Disagree (0)Recommend (2)




不是中国人入侵.....战争是因尼赫鲁的"前进政策"而起.....



ironman (Madurai)
The whole world is busy with occupation of foreign lands and threatening neighbouring countries. India is the only country in the world whose politicans are busy looting and accusing their own people. Even the most dirtiest politician in the world will hang his head in shame when compared to politicians in India.
Agree (16)Disagree (2)Recommend (7)



世界各国忙着侵占他国领土和威胁周边国家,印度则是全世界唯一的奇葩,该国的政客在忙的是掠夺和责难国民,即便是其他国家最龌蹉的政客,只要和印度政客一比,就会羞愧难当。




Mac (Melbourne) replies to ironman
India is quietly occupying foreign lands with emigration.
Agree (3)Disagree (1)Recommend (0)




印度靠移民悄悄占领外国领土。




swapnil (India) replies to Mac
unlike you white idiots who ravaged all local population to settle in auatralia, america, south africa, these are not your land either.
Agree (4)Disagree (0)Recommend (1)




我们跟你们这些白皮猪不一样,你们劫掠澳大利亚、美国、南非等地的土著,然后在那里定居下来,这些地方本来也不是你们的。



D.Bose (Calcutta)
Japan must not compromise. China's greed has no limit. It has already occupied Spartley Islands 1000 miles away from China. This Senkaku Islands were never a part of China, just like Formosa was never a part of China. Westen countries like the UK and Australia support China, but Japan should not be afraid, because the rest of Asia, except perhaps the Khmer Rouge of Cambodia, support Japan.
Agree (7)Disagree (9)Recommend (3)



日本千万不能妥协,中国的贪婪无上限,已经占领了1000英里之外的南沙群岛。尖阁列岛(三泰虎注:即我钓鱼岛及周边岛屿)从来不是中国的一部分,类似台湾从来不是中国的一部分。英国和澳大利亚等西方国家(注:澳大利亚应该不是西方国家吧?)支持中国,但日本不应当害怕,除了柬埔寨的红色高棉之外,其他亚洲国家会支持日本。




Translucent (South Korea) replies to D.Bose
South Korea & North Korea both hates Japan to the core. Russia has a dispute with Japan, Kurile islands. Taiwan and China both claims Diaoyu Islands.
Agree (1)Disagree (0)Recommend (0)




韩国和朝鲜恨死日本了,俄罗斯和日本就千岛群岛的归属存在争议,台湾和大陆都主张钓鱼岛主权。



Jeet (hyd)
U r sending olive to robots......... too funny
Agree (5)Disagree (2)Recomm



你是在向机器人伸出橄榄枝....真有趣
himalaya (shimla)
Today China has claimed few islands belonging to Japan. Tomorrow China will claim territory belonging to India. Day after tomorrow China will claim territory belonging to Vietnam. The following day China will claim territory belonging to some other country. China just wants to keep expanding its borders, eating up other nations lands. A time will soon come, when enough would be enough, and the rest of the world will come together and fight China. China is heading straight in the direction of IIIrd world war.
Agree (12)Disagree (4)Recommend (5)



中国今天说日本的几个岛是他的,明天就会要印度的领土,后天会要越南的领土,中国就会一直这样要下去,尽是想着开疆扩土,蚕食其他国家,别国迟早会受够的,到时就会联合起来对付中国。目前,中国正径直朝着第三次世界大战奔去。
colranbir lamba (PTA)
FIGHT IT OUT
Agree (0)Disagree (3)Recommend (0)



决一雌雄吧。
Joe (Mumbai)
Japan please keep the tensions alive with china, atleast Indian will be at peace for some time. China has always been an evil country, supporting Pakistan, giving free vizas to indian national and calling a part of India theirs, hope the tectonic plates shift and take china and Pakistan far away from us.
Agree (9)Disagree (9)Recommend (3)



请日本保持其与中国的紧张关系,至少可以为印度争得一些和平时间。中国一直很邪恶,支持巴基斯坦,给印度国民免签证,说印度部分领土是他的,希望地质板块能发生迁移,让中国和巴基斯坦远离我们。




Rambo (Texas) replies to Joe
Japan wont be manipulated by India, a dog only have 1 master and its the USA.
Agree (6)Disagree (2)Recommend (1)




日本不会受印度操纵的,狗只会有一个主人,也就是美国。



bmcowl (planet earth)
On the one hand the US has treaty obligations with Japan and on the other it has borrowed heavily from China. So it can no longer have its cake and eat it too.
Agree (2)Disagree (1)Recommend (1)



美国一方面与日本签有安保条约,另一方面向中国借了很多钱,所以鱼和熊掌不能兼得。
Pankajakshan Pillai (Doha)
CHINA IS A VERY VERY LARGE COUNTRY AND STILL INTERESTED TO HAVE LAND HELD BY OTHER COUNTRIES IN THE VICINITY. IT IS HAVING LAND DISPUTES WITH SEVERAL NEIGHBORS INCLUDING INDIA. THEY SHOULD CONCENTRATE ON THEIR OWN LAND AND LEAVE OTHERS TO LIVE A PEACEFUL LIFE.
Agree (6)Disagree (8)Recommend (3)



中国是一个幅员辽阔的国家,却仍然觊觎周边国家的领土,目前和包括印度在内的几个邻国存在领土纠纷。中国应当关注其领土上的事情,好让大家过和平生活。
Krishna (Mumbai)
Nothing like olive branch to China. 1. Contents of the letter is unknown. 2. Can't compromise on Island row. Let's of peace exsists anyhow.
Agree (1)Disagree (1)Recommend (0)



不觉得是对中国伸出橄榄枝:





1、亲笔信的内容未知;





2、日本不可能就岛屿争端让步;





不管怎样,祈祷和平永存。
Arun (INDIA)
No yar we want to see a war between China and japan..
Agree (3)Disagree (9)Recommend (2)



不妙啊,我们想看到中日开战.....



译文来源:三泰虎 http://www.santaihu.com

poison 4 u. (Mumbai, Maharashtra, Ind)
plz start the war..............common china............japan....u can capture china once mor.
Agree (3)Disagree (8)Recommend (0)



日本,开战吧,你可以再次占领中国的.....




India (Pakistan) replies to poison 4 u.
Middle East should invade India and capture it. AND SPREAD OUR MUSLIM RELIGION AGAIN. WE CAPTURE INDIA AND MAKE THEM KNEEL FOR 400 YEARS WE CAN DO IT AGAIN
Agree (4)Disagree (4)Recommend (1)




中东应当再次入侵且占领印度,并传播伊斯兰教。我们曾经占领印度,让印度人屈服了400年,可以这样再来一次。



Jag Mohan (Delhi)
It is good because the war brings destruction only and enmity between neighbors
Agree (1)Disagree (0)Recommend (0)



这样很好,战争只会带来毁灭,在邻国间制造敌意。
Santoshkumar Nyattuvetty (Kuala Lumpur)
China is despo to show off her military power, looking for a reason to start war.



中国急切想炫耀军事实力,正在找一个理由开战。
The Beak (Canada)
China cannot trust Japan as a US vassal state under US military occupation. Japan must send those US military on Okinwa home. Then, Japan can resolve the island issue with China.
Agree (4)Disagree (0)Recommend (1)



日本在美国军事占领下成为其附庸,所以中国无法相信日本。日本必须把冲绳的美国驻军送回家,然后再和中国解决岛屿争端。
三泰虎1月24日译文,印度时报原题《日本首相向中国伸出橄榄枝》。据报道,属于鹰派的日本首相安倍晋三向中国伸出橄榄枝,通过执政联盟盟友向北京的候任领导人转交亲笔信。此举发生在中日就钓鱼岛主权争议引发外交争执以来的数月之后,两国迄今在争议海域已经多次出现遭遇。自从日本9月份"国有化"争议岛屿后,中国多次向争议岛屿附近海域派遣巡逻船。日本此前的"国有化"举措引发了中日外交争执,还在中国引发了大规模反日游行。