版权所有:http://www.santaihu.com
原文标题:Indian public sector inefficient, impotent: Chinese govt mouthpiece
原文链接:http://timesofindia.indiatimes.com/india/Indian-public-sector-inefficient-impotent-Chinese-govt-mouthpiece/articleshow/16768902.cms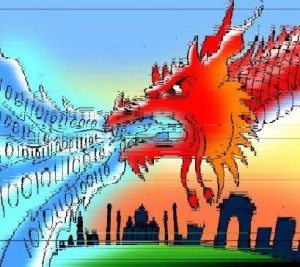 BEIJING: India is plagued by its "inefficient and impotent public sector", said a state-run Chinese daily, which added that successful Indian software and banking industries "contribute little to the employment and income growth of the overall economy".

An article "Inefficient public sector lets down India's entrepreneurial spirit" in the op-ed section of Global Times said that as the two most prominent emerging countries in the fast-growing Asian region, China and India have often been compared.

It said that despite their commonalities, the two are diverging in development paths and have fostered different comparative advantages for economic growth.

"We also need to bear in mind that there is actually a great gap in terms of GDP per capita between the two countries, with $5,414 for China and $1,389 for India, according to the IMF statistics in 2011," said the article by Xue Lei, a research fellow in the Department of International Organization and International Law of Shanghai Institutes for International Studies.



北京:环球日报专栏版一篇题为《低效的公共部门辜负了印度的企业精神》的评论文章称,印度饱受低效无能的公共部门的困扰,成功的印度软件业和银行业对就业和整体经济的贡献很少。文章还称,作为快速发展的亚洲地区最杰出的两个新兴国家,中国和印度经常被相提并论。尽管拥有诸多共性,两国还是步上了不同的发展道路,形成了经济发展中各自不同的比较优势。





该文由上海国际研究学院国际组织和国际法律系的研究员薛磊撰写。文章称:"我们应该记住两国实际上在人均GDP方面获得了巨大飞跃,按照IMF2011年的统计数据,中国是5414美元,印度是1389美元。"



It said that in recent years, although the Indian economy has been staying in a high growth track, "its achievement was attained with higher costs compared to China".

"India's debt to GDP ratio is now over 70 per cent, accompanied by over 7 per cent inflation. China has performed better in many macroeconomic indicators, with even higher growth rates," said the daily.

It added that China may have stepped into a period of a relatively stable macroeconomic environment combined with rapid growth and moderate inflation rates as well as a healthy fiscal structure, while "India may still be in a stage characterized by fluctuation amid growth".

The daily went on to say that over 50 per cent of Indians are still working in the agricultural sector, "which means it needs further efforts to transform itself into a modern industrialized or post-modern service-led economy. Therefore, we can say that in economic terms India still lags far behind China".

China and India have to face the challenge of economic transformation.

The article said that "India does not need to worry so much about the development of the private sector and entrepreneurial spirit, which are the key to innovative activities".



据称,在最近几年里,印度经济虽然保持在高速发展轨道上,但取得成就的成本高于中国。





环球日报称:"印度的债务率如今超过70%,伴随的通货膨胀率高于7%。中国在许多宏观经济指数上的表现要更好,发展速度更快。"





这家日报还称,中国可能已经步入了宏观经济环境相对稳定的时期,加上经济发展快速,通货膨胀率合理以及财政结构健康,而印度可能仍处于发展起伏阶段。超过50%的印度人仍然从事农业,意味着印度需要作出更多的努力,以转变成一个现代工业经济或者后现代服务型经济。因此,在经济方面,我们可以说印度仍然远远落后中国。





中国和印度必须面对经济转型的挑战。





文章称,印度没有必要如此担心私营部门的发展和企业精神,这些是创新的关键。



"Some researchers have pointed out that Indian entrepreneurial and managerial capital has been more successful than China's, especially in taking control of and managing assets in the sophisticated markets of Europe and the US.

"However, India is plagued by its inefficient and impotent public sector."

The article pointed out that one of the crucial bottlenecks for Indian economic development, "the backwardness of its infrastructure, can be traced back to the ineffectiveness of public institutions".

"Investment in infrastructure needs long-term visions and a strong guarantee of continuous flow of income. Hence without the initiating role of the public sector, there will be little incentive for the private sector to participate.

"The restraints caused by the deficiencies in infrastructure investment also become a great impediment to the development of the Indian manufacturing industry, which could lead to greater job creation if given full scope," it said.

It added: "And the successful Indian software and banking industries have often been referred to as economic enclaves which contribute little to the employment and income growth of the overall economy."



一些研究人员指出,印度的企业资本和管理资本比中国更成功,特别是在控制和管理欧美复杂市场上。





"然而,印度饱受低效无能的公共部门的困扰。"





文章指出,印度经济发展的其中一个关键瓶颈——基础设施的落后——追根溯源是公共部门的低效。





基础设施的投资需要着眼于长期和资金连续投入的强有力保证。因此,没有公共部门的发起,私营企业就会缺乏参与的诱因。





基础设施投资的不足严重阻碍了印度制造业的发展。而制造业的全面发展可以创造大量就业。





文章还称,印度成功的软件业和银行业经常被当做经济飞地看待,对就业和整体经济发展的贡献很少。




以下是印度网友的评论:




Sudhakar (USA)
We don't need Chinese to tell us we stink. We know our stink very well. We are not communist government to distribute wealth



我们不需要中国人告诉我们差劲。我们知道自己差在哪里,不奉行共产政服分配财富的那套机制。
Dinesh Prabhakar (delhi)
Truth coming out even from the mouth of an enemy for our benefit must be appreciated



虽说出自敌人之口,不过确属事实。出于自身利益考量,还是得欣赏下。





原创翻译:三泰虎 http://www.santaihu.com




anand (US) replies to Sudhakar
Well I would not call them enemy. They are hard competitors, so they appear enemy'ish.




我不会称之为敌人。他们是难对付的竞争对手,所以看起来像是敌人。



robust (Delhi)
You do not need China to say "However, India is plagued by its inefficient and impotent public sector." Read hundreds of the report of CAG of more than four decades. Now that China has said it , it will hurt national pride.



不需要中国说"印度饱受低效和无能的公共部门的困扰"。看看40多年里CAG数百份报告就会明白。既然中国说出来了,着实伤害民族自豪感。




MSCN (Chennai) replies to Dinesh Prabhakar
You are right. Truth is a bitter pill.




说得对。真理是一剂苦药。



Dr K K (Canada)
As unpleasant as it is to hear, especially from the Chinese, its all true.



听起来不舒服,特别是出自中国人之口更是如此,不过一切是真的。
Dinesh Prabhakar (delhi)
"It added: "And the successful Indian software and banking industries have often been referred to as economic enclaves which contribute little to the employment and income growth of the overall economy." An apt observation we need to improve in both the sectors and should not take this as an offensive remark, rather improvement in both the sectors will be to our own advantage!



"印度成功的软件业和银行业经常被当做经济飞地提及,对就业和整体经济增长贡献有限。"——观察得体,两个部门都必须改善,不应该把这句话看做冒犯言论。改善两个部门对我们自己有利!
Jijo (Mumbai)
The Chinks, for a change, are correct in their opinion about Indian Public Sector (see Air India as an example). The entire Government sector is inefficient, corrupt and badly mismanaged.



眯眯眼换了口味,有关印度公共部门的观点是正确的(印度航空就是一个例子)。整个政服部门低效腐败,管理不善。
mthusain (Dubai)
Dear childrean of Chou en lie and Mao please don't teach us. Indian public sector has created the base when country needed them. It was the life line for services and infrastructure. Nehru termed them Temples of India. You use bonded labour to create cheap goods. You copy designs to create fakes. Everybody come to China because of its cheap labour. Chinese blood is cheaper than a plastic doll.



亲爱的周/毛子孙,请不要训诫我们。印度公共部门具备自身所需之根基,是服务业和基础设施的生命线。尼赫鲁把它称之为印度庙宇。你们利用债役劳工生产廉价产品,靠抄袭设计制造假冒产品。大家是冲着廉价劳动力而来中国。中国人比塑料娃娃更低贱。
John (Mumbai)
Come on Guys.. Its the Truth. Accept It. China is 100 times way ahead of India.. accept it.



各位,拜托...这可是事实。接受吧,中国领先印度100倍...
NRI (USA)
Rightly put. I hate Chinese. But cannot disagree with this.



说得对。我讨厌中国人,但这个不能不同意。
CHANDRA SEKARA MURTHI R (CHENNAI)
"India's achievement was attained with higher costs compared to China"=it is correct because of the corruption factor involved in the cost. If that element is removed, nevertheless our cost will also be competitive....



"印度取得成就的成本高于中国"——正确,是腐败导致成本上升。如果这个因素被清除,我们的成本也会具备竞争力...
ocky (Rockabad)
Mr. Xue Lei has correctly analysed the Indian Economy. India is efficient in doing scams and corruption. Congress should be removed ASAP.



薛磊先生正确地分析了印度经济。印度擅长诈骗和腐败。让国大党倒台,尽快!
vivek (Hyderabad)
LOL....Can some one from our Government's mouth piece dare to reply this Chinki dude?



笑...我们政服的喉舌是否敢回应眯眯眼的此番言论?
Dinesh Prabhakar (delhi)
Looks China has deeply studied observations and reports of CAG recently, truth hurts and that too if it comes from the mouth of an enemy country!



看来中国最近深入研究了CAG的报告。真话伤人心。即便出自敌国之口,也是如此!
vicky cheema (Chandigarh)
Bitter but true. Hope this scene changes for better soon.



伤心,不过是真的。希望情况很快得到改善。
Ramdas (Bangalore)
Great discovery, time to attack india? Under congi regime country is always weak and defensive.



伟大的发现,是时候袭击印度了?在国大党政权的统治之下,国家总是虚弱和处于守势。
Jedi (mumbai)
China is more corrupt than India and with no human rights its a ruthless country... Recently I read an article that state machinery killed a man for protesting against land poaching by govt...the guy was crushed to dead with bulldozers,,, unthinkable in India



中国比印度更腐败,没有人全,是个残酷无情的国家...最近,我读了一篇文章,讲的是国家机器杀死了一名抗议拆迁的男子...这个家伙被推土机碾死...这在印度是不可思议的。
vj (mumbai)
They want to convey that India is the Most corrupt. That is the reality. Corruption is at all levels.



他们(中国人)想传达这样一个信息,即印度是最腐败的国家。这是现实。各级别机构都存在腐败。





原创翻译:三泰虎 http://www.santaihu.com
Dev Kumar (gurgaon)
" THERE IS ABSOLUTELY NO DOUBT....LIKE IT OR LUMP IT.......PUBLIC SECTOR IS IN DOLDRUM"



毫无疑问,不管你喜不喜欢,公共部门萎靡不振。
SGATADE (India)
I've heard from my friend in China: When they build roads, they build them with next 10 years in mind. 4-6 lanes with ample footpaths and service roads. When we build roads, we plan 2 tar lanes, scam budget for 1 lane, delay the last lane for months, build the lanes at a leisure pace with lowest quality and then block the new road for months so some minister can inaugurate the road.



我听在中国的朋友说:他们修建公路时着眼于未来十年的考量。4至6车道,宽敞的人行道和辅助道路。我们呢?我们铺设2车道的柏油道路,贪污了一条车道的预算,剩下的一条车道延期了数月,慢吞吞地修建,质量又低。为了让某个部长来举行开通典礼,把新建好的公路封锁几个月。
BlueHorse (Canada)
CHINA slap INDIA on the eve of 1962 War's Anniversary. This time CHINA win AGAIN!!!!



在1962年中印战争纪念日前夕,中国扇了印度一个耳光。中国这次还会赢!
Saurabh (Mumbai)
Yup , certainly , Shame on Indian Government... they are being humiliated every where.



替印度政服脸红...到处被羞辱。
Chatter (Azad Hind)
OK ..Agreed .. Very Right Observation.. Thanks a lot.. Now Get the hell out of Aksai Chin..



好吧...同意...观察得很正确...非常感谢...现在滚出阿克塞钦吧...




scamnivas (Madras) replies to Chatter
Even a blade of grass does not grow there.




那里寸草不生。



nabankur_paul (Kolkata)
Another " Hate -India" campaign by a cockroach eater.First & Foremost , India is a democracy & a much more transperant country than China. Our Poverty, Corruption , our inefficient public sector , unsatisfactory health & education infrastructure are all in the open . Hence, always amendable. Whereas in China every thing are under wrap , starting from huge income disparity , infinite corruption, millions of landless people evicted from their land by force etc etc. China awaits another revolution , from their have nots , & this China will not be able to control by force.



又是吃蟑螂者的反印宣传。印度是个皿煮国家,办事比中国透明得多。我们的贫穷、腐败、低效的公共部门、未得到满足的医疗和教育设施等都是公开的。因此能得到改善。而中国的一切都是藏着掖着,从巨大的收入差距、不受节制的腐败,到数百万被强迫驱离土地的人民等。中国正在等待另一场革命,革命后的中国不会用武力来控制。
krout (Hyderabad)
Yeah…….Really it's happening in India. But it became insult for us, when other country say in this manner.



这种现象确实存在于印度。不过别的国家以此种方式说出来,对于我们是个侮辱。
pi (us)
Some people cannot stomach the truth. I do not like copycat china. They have no innovation. However, is there any untruth in their statement. We need to know where we stand. Forget about China, the elite media and elite English speaking Indians compare with USA a $50,000 per capita nation. It feels ridiculous to compare Bhopal or Bangalore with Boston. Our income and living standards are more in line with our neighbours and we have to see how to improve the lot.



一些人难以接受事实。我不喜欢中国这个盲目模仿者。他们没有创新。然而,文章有说谎吗?我们需要弄清自己的位置。别说中国了,印度精英媒体和说英语的印度精英还想与人均5万美元的美国比较呢。把博帕尔或者班加罗尔与波斯顿进行比较是可笑的。我们的收入和生活水平与领国更一致,必须知道如何大幅提高生活水平。
prashantkupatnaik (Bhubaneswar)
China may not be friendly to India, but the present statement is 100% true that the Indian Public Sector is impotent , inefficient and contribute little to the employment and overall growth of the economy.



中国或许对印度不友好,但文章里的声明100%正确,即印度公共部门无能、低效,对就业和整体经济发展贡献很少。
Anil Ruparelia (world)
So the Chinese are patrified about Indian Software and banking sector. There are many other ares where we are ahead of Chinese.We have more gold then the rest of the world. Chinese speak nagatively about India only when they see an economical threat to them.



所以中国人对印度软件业和银行业感到惊呆就是了,其实印度有许多其他领域领先中国人。我们拥有的黄金比世界其他地区都多。只要看到经济威胁,中国人就对印度发表负面言论。
Dev Kumar (gurgaon)
" CHINKS MIGHT HAVE 'SMALL EYES' BUT THERE OBSERVATION IS PENETRATING".....UNFORTUNATELY THEY ARE BANG RIGHT"



眯眯眼可能眼睛小,但观察入木三分...不幸地是,他们说对了。
simplesolutions75 (AapkeDilMein)
With slave labour, like how china treats its workers, any country can have good economy.



只要有奴隶劳工,类似中国的工人,一个国家的经济要想不好都难。
Abrakadabra (Timbaktu)
Yes .....let first get democracy in China and talk about potency



中国先实现皿煮再来谈潜力吧。




Shiva (Chennai) replies to simplesolutions75
What democracy in India? It is Italian Dynasty.




印度有什么皿煮?那是意大利人的王朝。




Mr. Dependable (chicago) replies to Shiva
if u wre in china u wont have enough darings to say these words on open forum......this is difference




如果你在中国,你就不敢在公开论坛里说这些话了...这就是区别。



Raman (India)
Indian Government's response ". This is Chinese conspiracy to destabilize India"



印度政服的回应是:这是中国人破坏印度稳定的阴谋。
TRUTH (India)
Very very very True. This is the first time China is telling the truth.



非常正确。这是中国首次说实话。
FedexedNadal (blr)
at last somebody did call out "the emperor has no clothes"...



终于有人出来说"皇帝没有穿衣服了"...
ramesh chandra gupta (noida)
Very true analysis but this is cost of being democratic. We value human life whereas China is communist and have no respect for human life and who ever comes against the target, is wiped out.



分析得很对,这就是皿煮的代价。我们珍重人的生命,而中国是共产国家,不尊重人的生命。任何异议者会被消灭。
John (Kochi)
We Indians might not be as rich as the Chinese or have the same level of infrastructure. But one thing is certain, people in India are far more happier than in China. Anyway, I do agree that our public sector is very inefficient.



印度人或许没有中国人富裕,或许没有中国人那样水平的基础设施,不过有一点可以肯定,即印度人远远比中国人更快乐。不管怎么样,有一点我非常赞同:我们的公共部门是低效的。





原创翻译:三泰虎 http://www.santaihu.com
Abraham (dubai)
WISH OUR LEADERS READ THIS ARTICLE AND DO SOMETHING.



希望领导人能看这篇文章,并做一些改变。
Surya (Chennai)
China is beating us in everything- sports, standard of living, cleanliness and order (I have been there), Nobel prizes, respect for women, hardly any rapes and no dowry deaths, malnutrition, technology, etc...... To think of it, China was much worse off than India after WWII. Japanese had almost flattened the land.



中国在每个领域都打败我们:体育、生活标准、干净和有序(我去过中国)、诺贝尔奖、对妇女的尊重、几乎没有强奸和新娘因嫁妆不够而被焚死、营养不良、技术等...想起来,中国二战后比印度差不少。日本人几乎把中国夷平了。
Ream Gandhi (NDLS)
And credit goes to Nehru/Gandhi (fake Gandhi) led government. But I believe people of India are still loyal to them. Only god can save this nation.



一切功劳归功于尼赫鲁甘地家族领导的政服。但我相信印度人还是对其效忠。只有上帝才能拯救这个国家。
Buddhadeva Das (aaa)
India has more temples, more religions, more castes, more *ollywoods and more cricket. What does China have, just a wall and call it great?



印度以下东西比中国更多:寺庙、宗教、种姓、宝莱坞电影和板球。中国有什么?只有一堵"墙",还称之很棒?
Saurabh (Ind)
Chinese media picked up a very weak point of India. Now they should have the gut to tell how Indians enjoy better personal freedom than the Chinese.



中国媒体尽挑印度的弱点来批。现在应该有勇气说印度人如何比中国人享受更多的个人自由。
据印度时报报道,《环球时报》专栏版发表了一篇题为《低效的公共部门辜负了印度的企业精神》的评论文章,称印度饱受低效无能的公共部门的困扰,印度成功的软件业和银行业对就业和整体经济的贡献很少。文章还称,作为快速发展的亚洲地区最杰出的新兴国家,中国和印度经常被相提并论。尽管拥有诸多共性,两国还是步上了不同的发展道路,形成了经济发展中各自不同的比较优势。文章还指出,印度经济发展的其中一个关键瓶颈——基础设施的落后——追根溯源是公共部门的低效。