原文标题:Indians pack bags for Dubai begging fest
原文链接:http://timesofindia.indiatimes.com/city/chennai/Indians-pack-bags-for-Dubai-begging-fest/articleshow/15426840.cms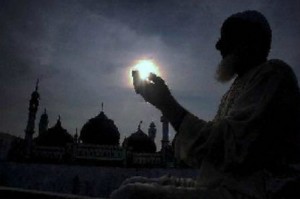 CHENNAI: Scores of Indians are flying to Dubai on a 'business opportunity' during Ramzan. Not all of them return soon enough though, as the business of begging is an offence in the Gulf country.

The Dubai police have arrested 131 people, including 16 from Tamil Nadu, for begging during the holy month. Devout Muslims are generous with alms (zakat) during Ramzan, though seeking alms in public can land one in trouble.

Diplomatic sources said a lot of Asians head for Dubai during the season. A beggar from Pakistan was caught with 18,000 Dirhams (around 2.45 lakh) during a recent raid. According to the Dubai police, this is an annual organised operation. "Even employed people come from different countries to seek alms in Dubai during Ramzan," said a source. "After paying for their return tickets and the short stay, they still carry a handsome amount back home."

A youth employed in a media organization in Dubai boasted that he made a cool 1,200 Dirhams (16,200) in a matter of ten minutes by seeking arms on the road a few days ago.



钦奈:许多印度人在斋月期间飞往迪拜寻找"商机"。并非所有人很快就回来,因为乞讨在海湾国家里是一种犯罪行为。





迪拜警察逮捕了斋月期间乞讨的131人,其中16人来自泰米尔纳德邦。虔诚的穆斯林在斋月期间会慷慨施舍,不过公开寻求施舍会让自己陷入麻烦。





外交部消息人士表示,每逢斋月期间,许多亚洲人会前往迪拜。在最近的一次突袭中,一名来自巴基斯坦的乞丐被抓时身上有1.8万迪拉姆(大约24.5万卢比)。迪拜警方称,这是年度有组织的操作。"从各国招募人在斋月期间前往迪拜乞讨,"一位消息人士称。"在支付完往返机票和短暂停留的费用后,他们仍然能带回一笔可观的钱。"





受聘于迪拜一家媒体机构的年轻人夸口说,几天前,在公路上乞讨施舍金时,他在十分钟内就得到了1200迪拉姆(1.62万卢比)。



Though details of Indians arrested for begging in Dubai were not known, sources said that all of them had Indian passports and visit visas valid for 45 days. Diplomatic sources said they were from Tamil Nadu, Bihar, Uttar Pradesh and Assam. Those from Tamil Nadu hailed from Vellore, Ramanathapuram and Tirunelveli districts.

Those arrested are produced before courts and serve a jail term of up to three months. "Those who come to beg here know the penalty. Many think it is worth taking the risk," said an Indian diplomat in the Gulf.

This year a number of police officials, some of who are women, have fanned out to mosques and shopping malls in the emirate to nab the beggars. A Dubai visit visa for example can be obtained for 75,000 through an agent and this investment is much less compared to the kind of money one could make from begging. The money obtained by begging cannot be transferred to India through official banking channels. Hawala operators help solve this problem with a 24 x 7 service to move money from Dubai to Tamil Nadu.

This is the system used by illegal Indian labourers in the Gulf as they cannot open a bank account or send money through exchange houses as they do not have a valid passport or a residential visa.

Bahrain, Muscat and Qatar are also preferred begging destinations during Ramzan.



那些在迪拜乞讨而被逮捕的印度人的详细消息仍然未知。消息人士称他们都有印度护照和45天有效期的访问签证。外交人士称他们来自泰米尔纳德邦、比哈尔邦、北方邦和阿萨姆邦。而乞讨的泰米尔纳德人主要来自韦洛尔、拉马纳塔普兰和蒂鲁内尔维利地区。





那些被逮捕的人被推上法庭,并得服完长达三个月的牢狱。"那些到这里乞讨的人知道所面临的惩罚。许多人认为值得冒险,"驻海湾地区的一名印度外交官表示。





今年,许多警官,其中一些是女性,分赴阿联酋的各清真寺和购物中心逮捕这些乞丐。一张迪拜访问签证要花7.5万卢比才能获得。比较之下,这笔投资远远少于乞讨所得来的钱。乞讨金无法通过正式的银行渠道转入印度。哈瓦拉业者提供把钱从迪拜转入泰米尔纳德邦的全天候汇款服务。





海外地区的非法印度劳工没有有效护照或者居住签证,所以无法在银行开户或者汇款。结果,他们只好使用哈瓦拉地下外汇体系。





巴林、马斯喀特和卡塔尔也是斋月期间备受亲睐的乞讨地。





(三泰虎注:哈瓦拉是用来进行国内或跨国界资金转移的一种非正规系统。从历史上看,许多国家都有地下外汇活动:在中国叫飞钱,在印度叫汉地,在中东叫哈瓦拉,在菲律宾叫拍达拉,在泰国叫飞宽)




以下是印度网民的评论:




Tony Shah (India)
Peoples like them make entire community shameful.
Agree (51)Disagree (7)Recommend (23)



他们这样的人让整个族群感到可耻。
Desi Pardesi (Pardes)
India will surely win gold medal in begging,cheating & Corruption competition if IOC will include in 2016 Olympics.
Agree (86)Disagree (8)Recommend (39)



如果国际奥委会在2016年奥运会把乞讨、欺骗和腐败比赛包括进来,印度肯定会获得金牌。
Mukesh Malkani (New Jersey USA)
DON'T CALL IT BEGGING.........CALL IT BUSINESS. Mukesh Malkani.
Agree (8)Disagree (12)Recommend (3)



别说这样的行为是乞讨...应该称之为商业
sammy (chennai)
beggars ask and take and politicians take without asking... I like beggars and hate politicians..
Agree (10)Disagree (1)Recommend (3)



乞丐喊着讨钱,而政客问都不问直接把钱拿走...我喜欢乞丐,讨厌政客...
Viveak Majithia (bangalore)
Well not a bad scheme...pity they get arrested. But am sure they will find a way to evade.
Agree (7)Disagree (1)Recommend (2)



不是一个坏的计划...可惜他们被逮捕了。但我确信他们有办法逃脱。
Funny Guy (Everywhere) 9 hrs ago
Smart business move by these guys. They should make a movie about this. You have to appreciate their creativity.
Agree (6)Disagree (1)Recommend (2)



此举是这些家伙的聪明商业举措。他们应该拍一部相关电影。你得欣赏他们的创举。
Pradeep (Boston) 8 hrs ago
Atleast they are begging... not looting like some of our elected leaders.
Agree (36)Disagree (2)Recommend (17)



至少他们是在乞讨...我们选出来的有些领导人可是明着抢。
prince (mangalore) 8 hrs ago
At least india will get gold medal in begging competition......great !!!
Agree (42)Disagree (2)Recommend (13)



印度至少可以在乞讨比赛中得金牌...棒就一个字!




Drake (Bangalore) replies to prince 5 hrs ago
Don't think so,once these people find out that there is a gold medal for begging,then they will be better than us.
Agree (2)Disagree (1)Recommend (0)




别这么想,一旦别人发现乞讨也能拿金牌,他们会比我们做得更好。




Ashish Chatterjee (Delhi)
Sure shot Gold Medal....if not a clean sweep
Agree (9)Disagree (0)Recommend (2)




即使不是横扫对手,也得把金牌拿到。



Jim (London) 5 hrs ago
Indians should follow the same begging strategy in Olympics to get at least some Gold medels. Indians are good at this profession.
Agree (12)Disagree (5)Recommend (5)



印度人在奥运会也应该奉行同样的乞讨战略,至少可以讨得一些金牌。印度人非常擅长这个职业(译文来源:三泰虎博客)。
hara (Bangalore) 5 hrs ago
so we wre told TN is golden land, where milk and honey flows, all are rich , best among the best in south indian state , proud of language so on , but look at what has happened ha ha
Agree (15)Disagree (5)Recommend (6)



我们被告知泰米尔纳德邦是到处流淌牛奶和蜂蜜的黄金宝地,大家都很富,是南印度各邦中最好的,还为自己的语言自豪等。但看看发生了什么,哈哈...
d singh (India, not by choice) 5 hrs ago
After all, old habbits die hard. Indians are by birth beggers and will ever remain so. Look at any India, no matter how much money he/she has. They always run for money and do every filthy thing in this world to amass money. I dont understand when these beggers dont spend this money, why the hell they want to earn. I have seen many people who earn handsome amount, living filthily. India is a country of sick people, seriously sick.
Agree (26)Disagree (12)Recommend (9)



毕竟,本性难移。印度人天生是乞丐,以后也会是。看看印度任何一个地方,不管人们有多少钱,他们总是为钱奔波,为了聚敛资金,什么肮脏事情都做得出来。我不理解,即这些乞丐既然不花钱,那又为什么要赚那么多钱。我看过许多人赚了一大笔钱,却过着污秽生活。印度是一个到处是病人的国家。
GJR Nadar (Mumbai)
Dubai govt should not allow any people especially Muslim people of other country during the month of Ramzan unless a relative in Dubai sponsor him or her. This will eliminate the beggars problems during the holy month. Culprits should be punished with whips and jail as per Islamic law. This will deter the beggars to enter for the sole purpose of begging
Agree (7)Disagree (2)Recommend (1)



除非有迪拜的亲戚赞助,迪拜应该禁止其他国家的穆斯林在斋月期间进来。这样就会消除乞丐问题。根据伊斯兰法律,罪犯应该接受鞭刑并入狱。此举会打消乞丐仅为了乞讨而进来的念头。
Dinesh Prabhakar (delhi)
ONLY REQUEST FROM GOVERNMENTS OF UAE QATAR,BAHRAIN AND MUSCAT, PLEASE KEEP ALL OF THEM WITH YOU AND DO NOT SEND THEM BACK TO INDIA!
Agree (16)Disagree (2)Recommend (3)



仅此请求阿联酋、卡塔尔、巴林和马斯喀特政服,请留下这些人,别让他们回印度!




skywalker (chennai) replies to Dinesh Prabhakar 4 hrs ago
... and dump them in the gulf sea with a huge concrete block tied to their legs.They are a disgrace to the country. Shame on their mothers.
Agree (0)Disagree (3)Recommend (0)




在他们腿上绑上巨型混凝土块,然后抛入海湾里。他们是国家的耻辱。替他们妈妈脸红。



Jagooo (mumbai) 4 hrs ago
Rahul Gandhi in Dubai asked them, where have u come from.. they said India.. They asked him in return where are u from,,.. he said Italy
Agree (14)Disagree (8)Recommend (5)



拉胡尔·甘地来到迪拜街头,并问他们:"你们来自哪里?"





他们说:"来自印度。"





这些人随后也问拉胡尔:"你来自哪里?"





拉胡尔说:"意大利。"





原创翻译:三泰虎 http://www.santaihu.com
ProudIndian (Bangalore) 4 hrs ago
Rich or not rich, begging and being a shameless slave is India's national pride and culture. I wish the beggars all the very best.
Agree (11)Disagree (4)Recommend (3)



不管富不富裕,乞讨和充当无耻的奴隶是印度的民族自豪感和文化。我希望这些乞丐一切顺利。
Adobe (USA)
High profile beggars !
Agree (3)Disagree (0)Recommend (1)



高调的乞丐!
boxathome (India)
I think Manmohan Singh and the entire cabinet can be sent to reduce the Fiscal deficit. Best job for them !
Agree (62)Disagree (5)Recommend (26)



我认为可以派曼莫汉·辛格和整个内阁去迪拜乞讨,这样可以减少财政赤字。这份工作最适合他们做了!
Indian (India) 4 hrs ago
Jai TN
Agree (6)Disagree (3)Recommend (1)



泰米尔纳德邦胜利




YoMan (India) replies to Indian 4 hrs ago
Jai UP, Bihar! 16 out of 131 from TN, remaining 115 from UP, Bihar, Assam.
Agree (13)Disagree (2)Recommend (3)




北方邦和比哈尔邦胜利!在131人中,16人来自泰米尔纳德邦,其余的115人来自北方邦、比哈尔邦、阿萨姆邦。



beg-champ (canada) 4 hrs ago
i did not know we indians are champion in begging . wow what an achievement!!
Agree (15)Disagree (1)Recommend (6)



我不知道我们印度人是乞讨冠军。哇,多么大的一项成就啊!
Amanullah (Mumbai) 4 hrs ago
When Indian ministers looting here, so they are going for begging internationally, bcoz nothing left here.
Agree (35)Disagree (1)Recommend (11)



印度的部长们把这里的一切都抢光了,一点也没留下,所以印度人只好去国外乞讨。
darkknight17july (DoesItmatter)
Sounds like cool job
Agree (5)Disagree (0)Recommend (1)



听起来像是很酷的工作。
Vats (Delhi) 3 hrs ago
Foreign Direct Investment .... it can't be more direct :D
Agree (22)Disagree (0)Recommend (5)



外国直接投资...此举再直接不过了 :D
Mad Madrasi (Chennai)
Well, we are getting Gold from somewhere! What if isn't London but Dubai? :-D
Agree (9)Disagree (0)Recommend (1)



好吧,我们在某个地方获得了金牌!不是伦敦,是迪拜拉 :-D
Mumbai Indian (Mumbai) 3 hrs ago
It is not at all shocking for me as the Arab anway treat Indians as beggers!!! After all begging is one of the oldest profession in the Human History like prostitution. You can never eradicate it.
Agree (15)Disagree (2)Recommend (3)



我一点都不吃惊,因为阿拉伯本来就把印度人当做乞丐!毕竟,乞讨像卖淫一样,是人类历史上最古老的职业。你永远无法消灭这些职业。
MAHA IBRAHMIN (Brahmavartha) 3 hrs ago
Begging is forbidden in Islam. These guys are NOT poor but they want easy money. When they can invest around 1 lakh and come all the way down for begging, if they invest this amount and efforts in small business, they can live a decent life in their home town.
Agree (20)Disagree (3)Recommend (4)



乞讨在伊斯兰是被禁止的。这些家伙并不穷,但他们想轻松赚钱。既然可以花大约10万卢比去迪拜乞讨,那么他们可以把这笔钱在家乡投资做点小生意,他们可以过上体面生活。
Jagdish Patel (mumbai)
Shameful act, everyone should learn from Sikhs, as no sikh in their lifetime can seen begging. Somehow Govt is also responsible for such thing as low employment is prevailing in this states.
Agree (48)Disagree (2)Recommend (17)



可耻行为。大家应该学习锡克人,锡克人一辈子不会乞讨。不知何故,政服也对此负有一些责任,因为这些邦的就业率普遍较低。
Sandy (Pune) 2 hrs ago
What a shame...those people are disgrace to our country.
Agree (6)Disagree (2)Recommend (2)



真丢脸...那些人是我们国家的耻辱。
Aviingoa (Goa)
If begging in Saudi or west asia is illigal, why dont they introduce lashing for people caught begging. that should deter beggers.
Agree (7)Disagree (2)Recommend (1)



如果乞讨在沙特或者西亚是非法的,为什么他们不对被逮到的乞丐实行鞭刑。此举能威慑乞丐。




Raajesh (Mumbai) replies to Aviingoa
Agreed dear - why cant Arab government punish people who encourage begging? and why does it want to punish the receiving people alone? If People are really generous enough they can organize a public contribution and help the needy.




同意,为什么阿拉伯国家不惩罚那些鼓励乞讨的人?为什么只惩罚接受施舍的人?如果人们真的那么大方,他们可以为需要帮助的人组织一次公开募捐。



Indian (India) 2 hrs ago
International roaming beggars.. who says India has not progressed under UPA? Old habits die hard!
Agree (9)Disagree (0)Recommend (4)



国际漫游的乞丐...谁说UPA领导下的印度没有进步?本性难移!




madrasmail20 (Trivandrum) replies to Indian 1 hr ago
Hey bro this is no only UPA, This has been going on in Dubai for so many years, I lived there for 19rs, Every year during Ramadan 100's of our people and from other asian countries come there to beg. This is an annual ritual




嘿,哥们,不能只说UPA政服。这种现象在迪拜出现许多年了。我在迪拜住了19年,每逢斋月,100多名印度人和其他亚洲国家的人会过来乞讨,成了一年一度的盛会。



flecainamide (Orissa)
Who says beggars can't be choosers. Lo and behold we choose to beg!
Agree (5)Disagree (0)Recommend (1)



谁说饥者不得择食。你瞧,我们就选择乞讨生活!
Derrick Dias (Goa)
Now we have to classify beggars. Those with passports and air tickets and a trip abroad will be classified as FRB ( foreign return beggars) Any more suggestions?
Agree (2)Disagree (0)Recommend (3)



我们现在得给乞丐分类了。那些有护照、机票和去过国外的被归类为"海龟乞丐"。还有其他建议吗?
Karan (UK) 1 hr ago
THE ONLY PURPOSE OF THIS ARTICLE IS TO SHOW INDIANS IN BAD LIGHT. THE PERSON WHO WROTE THIS ARTICLE SHOULD BE JAILED ON CHARGES OF DEFAMATION.
Agree (30)Disagree (25)Recommend (5)



本文的唯一目的是展现印度人的阴暗面。撰写此文的人应该以诽谤罪的指控而入狱。
Ashok Kr sinha (Patna)
I appreciate the business acumen of these beggars. They know how to make profit out of faith. Let IIM invite them as visiting professors. LOL!
Agree (3)Disagree (1)Recommend (1)



我欣赏这些乞丐的商业头脑。他们知道如何从信仰中赚钱。印度管理学院应该邀请他们当客座教授,笑!
Dinesh (USA)
Just wait, UPA Govt would come up with a BILL to TAX Beggars !!!
Agree (6)Disagree (1)Recommend (0)



等着瞧,UPA政服会出台一项征收乞丐税的法案!
Don (Mumbai) 1 hr ago
As an Indian, I'm feeling so ashamed to read this. countries as small as Japan with all the natural calamities is the 2nd biggest economy in the world. And look at India!! All because of the people we have elected and stone age LAWS!!!
Agree (10)Disagree (1)Recommend (0)



作为一名印度人,我读到这条新闻感到非常羞耻。小如日本那样的国家面临各种自然灾害,却是世界第二大经济体。再看看印度!一切根源在于我们选举出来的人和石器时代的法律!
Swami (Mumbai) 1 hr ago
This shows the progress, now even begging has gone international!!!!!!
Agree (16)Disagree (2)Recommend (4)



这显示了进步。现在连乞讨也变得国际化了!
Ranjit Pradhan (Baroda (Vadodara), India)
Hi indian beggers, donot do like this. if you want to be begger do in India only.
Agree (5)Disagree (2)Recommend (1)



嗨,印度乞丐,别这样子,如果想当乞丐,那就留在印度好了。
Parag (USA) 57 mins ago
When they are released by Dubai Police and sent back to India, they should be thrown in Indian ocean. Anyone who hopes to live on begging, doesn't deserve to live. No begging please, we are not Pakistanis.
Agree (5)Disagree (2)Recommend (4)



当他们被迪拜警方释放并遣返回印度后,应该把他们投入印度洋。任何希望靠乞讨过日子的人不应活着。请不要乞讨,我们不是巴基斯坦人。




Rajat (Mumbai) replies to Parag 39 mins ago
Now what did Pakistan have to do with this. Biases coming up in the wrong topic, eh?
Agree (2)Disagree (2)Recommend (0)




巴基斯坦和这个有什么关系。你在偏见中跑题了,恩?




Parag replies to Rajat
Btw, I hope you are an Indian as your name implies and not a Pakistani under an Indian name. And the "Beggar" badge has been "earned" by Pakistan. Sometime soon, begging is going to be declared an official profession in Pakistan, as Pakistan government is begging all the time. Top donors (1) USA, (2) China, (3) India, (4) UK, (5) UN, (6) Islamic states in the middle east.
Agree (3)Disagree (0)Recommend (1)




顺便说下,正如你名字所暗示的,我希望你是印度人,而不是冒充印度人的巴基斯坦人。"乞丐"徽章已经荣归巴基斯坦。很快,巴基斯坦就会宣布乞讨是正式职业,因为巴基斯坦政服一直在乞讨。最大的施主是:




1、美国




2、中国




3、印度




4、英国




5、联合国




6、中东的伊斯兰国家



Ria (Blr) 57 mins ago
If they are beggars, how come they have the money to buy a ticket to Dubai????
Agree (2)Disagree (3)Recommend (0)



如果他们是乞丐,他们怎么会有钱买机票去迪拜?
Dinesh (USA)
No wonder why India attracts DISCOVERY Channel !!!
Agree (10)Disagree (0)Recommend (1)



难怪印度老是能吸引《发现频道》过来拍节目!
Moumita (Ahmedabad) 48 mins ago
This is sick. Taking advantage of people's religious belief. Are people so devoid of self-respect that they go for these practices?
Agree (5)Disagree (1)Recommend (2)



恶心。利用了别人的宗教信仰。人们真的那么缺乏自尊以致于要这样做吗?
MSK (迪拜) 44 mins ago
First of all: Please frame the headlines properly. "Indians pack bags for Dubai begging festival". There is no such festival here in dubai. You cannot write what you like. Beware when you write something about a place on headlines. Consider the feelings on the people in that area,
Agree (13)Disagree (2)Recommend (3)



首先,请把文章标题修改妥当。《印度人收拾行囊奔赴迪拜乞讨节》。迪拜没有这样的节日。你不能随心所欲地写。当你写一篇有关某个地方的文章时,要注意标题。考虑考虑那个地区人民的感受。
NRI (London) 42 mins ago
I am in UK and really ashamed!! All my colleagues are making fun of this.
Agree (7)Disagree (2)Recommend (2)



我在英国,真的可耻!我所有同事都在取笑这个。




Dubai (Tamil) replies to NRI 26 mins ago
dont worry, comeback
Agree (11)Disagree (1)Recommend (0)




别担心,回来吧。



shafeeq (Dubai) 42 mins ago
Guys the fact is, Indians who are rich here in Dubai feel pity on fellow Indians and give them money. We have not found any Arab nationals, and Europeans paying any money to beggars.
Agree (4)Disagree (3)Recommend (2)



各位,事实是,迪拜富有的印度人可怜印度同胞,所以给了他们钱。我们没有发现阿拉伯人和欧洲人给乞丐钱。
sundeepv80 (gurgaon)
HAHA....may be our govt. should legalize these travels, it would bring in much needed FDI to india through the hands of these beggars!!!
Agree (6)Disagree (0)Recommend (3)



哈哈...也许我们政服应该让这样的乞讨合法化,能够通过乞丐之手,为印度带来急需的外资!
Ranvijay Singh (HK)
At least we can boast to the world that even our beggar are so rich - they earn in lakhs and travel internationally !! Gosh we are ahead of China
Agree (5)Disagree (1)Recommend (2)



我们至少可以向世界吹嘘:连我们的乞丐都那么富——他们收入几十万卢比,在国际上旅行!天啊,我们领先中国。
Mozy (Mumbai) 2 hrs ago
Dear santa .. Today i have quit my 10000 per month job. I m sleeping quitely...when i wake up plZ let me be in dubai i also want to earn money and buy ps3 and all the ps3 games
Agree (4)Disagree (1)Recommend (0)



亲爱的圣诞老人...我今天放弃了月入1万卢比的工作。我安静地睡着了...当我醒来时,请让我身处迪拜。我也想赚钱,想买ps3游戏机和所有ps3游戏光碟。
Indian (India) 3 hrs ago
Just 100 years ago this Arabs used to come to India for jobs and begging.
Agree (10)Disagree (7)Recommend (4)



就在100年前,阿拉伯人常来印度工作和乞讨。




Indian (India) replies to Indian 2 hrs ago
Look how we have progressed in in 100 years! Incredible India is shinning. India's future depends on the results of next Lok Sabha elections.
Agree (1)Disagree (0)Recommend (1)




看看我们100年里进步了多少!令人难以置信的印度正闪闪发光。印度的未来寄望于人民院的下次选举。



donut.dodo (mumbai)
40% of india is below poverty line (worse than poor category) according to international standards. so this news shouldnt be a shock.
Agree (16)Disagree (1)Recommend (6)



以国际标准来衡量,40%的印度人生活在贫困线以下。所以不应该对这样的新闻感到震惊。




Prathap (Chennai) replies to donut.dodo 3 hrs ago
India is a superpower.
Agree (0)Disagree (3)Recommend (0)




印度是超级大国。



ss (pune) 4 hrs ago
Hi, When I stayed in Mumbai near Siddhivinayak temple, I came to know of a beggar family there. They own 2 flats in mumbai! which are given on rent and they stay in on the open ground near the temple. Its really surprising how much they make everyday just by begging. Off course they have to give a cut to certain people from it, but still its a lot.
Agree (10)Disagree (1)Recommend (1)



嗨,我以前在孟买的Siddhivinayak寺庙附近呆过,认识那里的一个乞丐家庭。他们在孟买有2套公寓。他们把公寓租出去,自己住在寺庙附近的开阔地上。他们如何靠乞讨赚那么多钱,真是令人吃惊。当然,他们得从中上缴一部分给某些人,但仍然留下很多。
每年,穆斯林要在斋月里封斋。封斋从黎明至日落,戒饮食,戒房事,戒绝丑行和秽语,并认为其意义除完成宗教义务外,还在于陶冶性格,克制私欲,体会穷人饥饿之苦,萌发恻隐之心,以资济贫、行善。日前,印度时报发表了一篇题为《印度人收拾行囊奔赴迪拜乞讨节》的报道,称印度人看准了这一"商机",每逢斋月就成群飞往迪拜乞讨,以期获得丰厚的施舍金。然而,乞讨在海湾国家里是一种犯罪行为。在最近一次突袭中,迪拜警方逮捕了131名在迪拜街头乞讨的印度人。这些印度人将受到相应指控。