版权所有:http://www.santaihu.com
原文标题:India will protect its interests in disputed South China Sea: Navy chief
原文链接:http://timesofindia.indiatimes.com/india/India-will-protect-its-interests-in-disputed-South-China-Sea-Navy-chief/articleshow/17463910.cms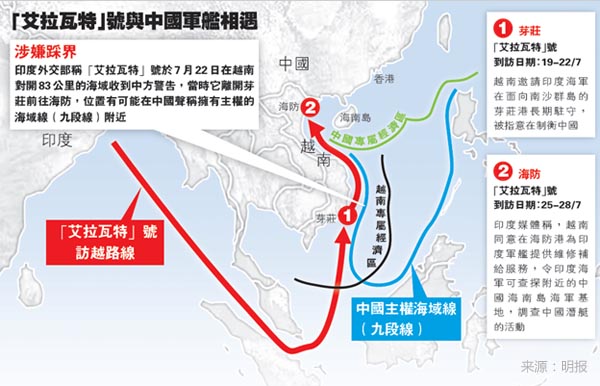 NEW DELHI: Viewing the rapid modernization of Chinese Navy as a "major concern", navy chief Admiral D K Joshi on Monday made it clear that India will protect its interests in the disputed South China Sea, even if it means sending forces there.

"Yes you are right. The modernization (of Chinese Navy) is truly impressive... It is a actually a major major cause of concern for us, which we continuously evaluate and work out our options and our strategies," he told a press conference.

The Navy Chief was replying to a question on contingencies in South China Sea to protect Indian interests there and impression about the Chinese Navy's modernization.



新德里:印度海军总长乔希于12月3日说,中国海军快速现代化,他明确表示海军将保护印度在南海争议地区的利益,即便此举意味着派出海军。





在记者招待会上,当被问及印度如何应对南海突发事件以及对中国海军现代化的印象如何时,乔希说:"你说得对,中国海军的现代化真的令人印象深刻......实际上已经成为了我们的主要关注,我们会继续对其评估,并制定出相应的选择和战略。"



Answering a volley of questions about South China Sea over which India had a tiff with China last year, he said although India's presence in that maritime region was not on "very very frequent" basis, it had interests like free navigation and exploitation of natural resources there.

"Not that we expect to be in those waters very very frequently, but when the requirement is there for situations where country's interests are involved, for example ONGC Videsh, we will be required to go there and we are prepared for that. Are we holding exercises for that nature, the short answer is yes," Joshi said.

Talking about Indian interests in the South China Sea, he said the first of it included freedom of navigation.

"Not only us, but everyone is of the view that they have to be resolved by the parties concerned, aligned with the international regime, which is outlined in UNCLOS (United Nations Convention on the Law of the Sea), that is our first requirement," he said.



印度与中国去年在南海发生争议,乔希回答了一连串有关南海的问题。他表示,印度海军虽然没有"经常出没"该水域,但有兴趣保护在该地区自由航行和开采自然资源的权利。





"当然我们不会非常频繁地在该水域出没。但是,在国家利益所在之处,比如Videsh公司被牵涉的情况下,我们会接到要求,我们为此做好了准备。我们是否为这类事件进行了演练?简单地回答就是'是的',"乔希说。





乔希指出,在谈及印度在南海的利益时,首要包括的是自由航行的权利。





"不仅是我们,大家都持这样的一个观点,即有关各方必须按照《联合国海洋公约法》来解决相关问题,这是首要前提。"




以下是印度网友的评论:




hk (india)
Scary Chinese.....
Agree (3)Disagree (1)Recommend (0)



提心吊胆的中国人....




Magesh (Chennai) replies to hk
Hairy Chinese.....
Agree (3)Disagree (1)Recommend (1)




多毛的中国人.....




Prasad (Mumbai) replies to Magesh
Tell me one chinese who has an hair on his body except head.
Agree (1)Disagree (0)Recommend (0)




告诉我,有哪一个中国人除了头上之外其他地方还有毛的。



colranbir lamba (PTA)
I DO NOT AGREE> THE CHINA IS ALMOST MARITIME SUPERIOR & WITH STRONG TIES WITH NORTH KOREA >INDIA IS AT LOSING SIDE>FREEDOM OF NAVIGATION ALSO AT A RISK >WE NEED US HELP
Agree (5)Disagree (6)Recommend (2)

不同意,中国几乎是海上超强,与朝鲜保持紧密关系,印度属于失败的一方。自由航行的权利也面临威胁。我们需要美国的帮忙。
Anthony (Melbourne)
In view of China's rapid military buildup, and despite India's smaller defence budget it will still be necessary for India to keep up her naval expansion programme so that it is not left behind.Countries do not embark on a massive military buildup for nothing. When they do, like Germany before WW2, there is a reason. China's massive military buildup is not for show. In my opinion they intend to use it to gain land and assets from other countries starting with their neighbours. India cannot afford to be left too far behind in the military race with China. India should aim to be at least 1/2 as strong militarily as China overall given that Pakistan is also in the race. China's stated military budget is US106 billion. The undisclosed budget will be much bigger. So India too should increase her defence budget from about US40 billion to about US60 billion. There is really no other choice!
Agree (13)Disagree (1)Recommend (7)



鉴于中国快速增强军力,且印度国防预算较少,为了不落后,印度有必要继续其海军扩张计划。没有哪个国家会无缘无故搞大规模军力建设,背后必然会有其目的,比如二战前的德国。中国大规模的军力建设不是摆好看的。我认为,他们图谋掠夺其他国家的领土和资产,会从邻国开始。在军备竞赛中,印度不能落后中国太远,考虑到巴基斯坦也在搞军备竞赛,印度国防预算至少要达到中国的一半。中国公开的国防预算是1060亿美元,未披露的预算要多得多。所以印度也应将其国防预算从400亿美元提高至600亿美元。真的没有其他选择了!



版权所有:三泰虎 http://www.santaihu.com

Prasad (Mumbai)
We liked your confidence sir. But have you ensured we are an inch ahead of chinese monkeys as far as naval preparartion is concerned? We dont want repeat of 1962 sir. Please!
Agree (6)Disagree (1)Recommend (3)



先生,我们喜欢你的自信。但在海军的准备上,你能确保我们领先中国猴子吗?我们不想要1962年的失败重演!




fact (india) replies to Prasad
We could have won in 1962, if Nehru used the air force as recommended by the military. He refused and we lost.




如果尼赫鲁接受军方动用空军的建议,我们1962年时本该赢的。他拒绝了,所以就输了。




Prasad replies to fact
Agree to some extent. But it will be unfair to blame one man for a colossal defeat. There must be a reason behind his refusal. May be someone whom he trusted gave him wrong information.




某种程度上同意。但把一场巨大的失败怪罪于一个人是不公平的。他拒绝的背后肯定有其原因,可能一些亲信提供了错误信息。



SCL Premi (India)
Kudos, Admiral Joshi ji. India expects from you guarding of its interests in South China sea and else where.
Agree (6)Disagree (0)Recommend (3)



向乔希上将致敬。印度期望你保护国家在南海以及其他地方的利益。
SCL Premi (India)
India should not forget that it is a N-power now and no power on earth can dare push us into a corner reserved for the losers!
Agree (7)Disagree (1)Recommend (4)



印度别忘了,现在是核时代,没有哪个国家胆敢把我们逼上失败者才会面临的绝境!




chirag (Germany) replies to SCL Premi
They are also N-power . having N-power does mean u can do anything. there are calapse a country even though its N-power .




他们也是核国家,有核武器并不意味着可以胡作非为。已经有核国家奔溃的前车之鉴。




Prasad (Mumbai) replies to SCL Premi
Once bitten twice shy! india can not be complacent. Navy should take all necessary preventive measures to not lose this time!
Agree (3)Disagree (0)Recommend (2)




一次上当两回乖!印度不能自满。为了避免这次失败,海军应该采纳所有必要的预防措施!



Nashikanta Irom (Bangalore)
Good... Indian Navy Chief took a bold stand in regards of South China Sea...
Agree (3)Disagree (1)Recommend (1)



好样的,印度海军总长在南海问题上采取了大胆立场...
KK Singh (Delhi)
How the hell China went ahead of us so far? Not only in economy but even in military and R & D? That too it had its independence 2 yrs later than us. Was our democracy a curse to us in giving us leaders who not only looted us and took our money to foreign banks and anti people but were and are anti national putting us behind in all aspets? Would we intellectuals wake up and get out of Congress, BJP and Third Front and do something four country?
Agree (3)Disagree (0)Recommend (1)



中国怎么会领先我们这么多?不仅经济上如此,军事和研发也是。中国可是迟我们两年独立。皿煮是否是诅咒,是否给了领导人掠夺我们的钱并存入外国银行的机会,他们反人民,反国家,导致我们在各方面落后。知识分子是否能觉醒,是否能为国家做一些事情?
smooth jedi (Muscat)
India need to trade very cautiously in this issue. Because Western Countries are trying to ignite the controversies in the region for their own vested interest. We must protect everything belongs to us and with full force. But also we must not fall in any trap.
Agree (9)Disagree (2)Recommend (2)



印度在这个问题上需要小心行事。为了既得利益,西方国家试图激化该地区的争议。全力保护一切属于我们的东西的同时,务必不能落入任何圈套。



版权所有:三泰虎 http://www.santaihu.com

manoj (Dhule)
China will play germanies role of third world war.....
Agree (0)Disagree (2)Recommend (0)



中国在第三世界大战中会扮演德国的角色......
unknown (India)
First the Indian armed forces like Police, Army etc need to prove their strength. If they can't even take on groups like Shiv Sena and MNS, how will they fight the mighty chinese?
Agree (6)Disagree (5)Recommend (4)



警方、军队等印度武装力量需要首先证明其实力。如果连湿婆神军党和马哈拉施特拉复兴军党(MNS)等组织都不敢挑战,又怎么打强大的中国人?
acrobat (Latur)
ten odd terrorists made their way to Mumbai from Karachi & massacared hundereds on 26/11/2008. The entire Navy or the coast guard could not check them . Should we expect that the navy would do their duty in another crisis.
Agree (9)Disagree (1)Recommend (2)



2008年11月26日,十来名恐怖分子从卡拉奇来到孟买,屠杀了几百人。海军和海岸护卫队制服不了他们,我们还能期望海军在另一场危机中担负起职责吗?
scamnivas (Madras)
Translate words into action!
Agree (3)Disagree (0)Recommend (0)



要把语言转化为行动!
Bharathi (Hyderabad)
Mr. Chief...We don't need your operational details. We only need assurances that we are safe. Just say if we can trust you or not ?
Agree (9)Disagree (1)Recommend (3)Offensive



总长先生,我们不需要听你的操作细节,我们只要你保证我们安全。说吧,我们是否能信任你?
Srikanth (Pune)
Am glad the Naval chief has made this comment, but it would be good only if we can walk the talk. It's easier said than done, a lot of support would be needed from our political establishment and support from the South China Sea based countries (who oppose Chinese dominance) like Philippines, Singapore, Taiwan, Japan, S Korea etc. China has already set its eyes and established roots in Sri Lanka, Pakistan, Arabian Peninsula and East Africa. If we dream of being a super power, our economic and military presence should be felt at an intercontinental level.
Agree (4)Disagree (1)Recommend (1)



高兴地看到海军总长发表了此番言论,但只有言出必行才算好样的。说起来容易做起来难,需要政界提供大量支持,还要有(反对中国霸权的)南海各国的支持,比如菲律宾、新加坡。台湾、日本、韩国等。中国盯上了斯里兰卡、巴基斯坦、阿拉伯半岛和东非,并已经在那里扎根。如果要实现超级大国的梦想,印度必须在经济和军事方面建立国际存在。
SB (India)
Thats is pretty direct..I like this Navy chief...
Agree (8)Disagree (2)Recommend (2)



相当直接,我喜欢这位海军总长。
Gopaal (Delhi)
Now we have to see that who will own Chinese navy after China will get divided into five parts. Those who live by sword die by sword. Remeber!
Agree (2)Disagree (1)Recommend (2)



如果中国分成五块,倒要看看谁会接管中国海军。记住:用剑者必将死于剑下!
bmcowl (France)
While the Chinese are building their economy and military, Indians are only providing lip service and fattening their pockets by kickbacks. This evil can be traced back to the Nehru-Gandhi era when India was deliberately castrated while the British-alliance was turned into world powers. Most wars were fought to control the Indian Ocean trade but Nehru ignored history completely.
Agree (7)Disagree (0)Recommend (1)



中国人在建设经济和打造军队的同时,印度人只是在动嘴巴,吃回扣,中饱私囊!尼赫鲁甘地时代就是这样子,英联邦成为世界强国的同时故意阉割印度。大多数战争是围绕控制印度洋贸易而打的,但尼赫鲁完全忽略了历史。
Lancy Pinto (Qatar)
Indian budget is for corruption, chinese budget is for development. Chinese have superiority over many things and we indians would prefer to slaughter our own patriotic warriors with inadequate and unmatched weaponry. Jai Hind!
Agree (20)Disagree (2)Recommend (5)



印度的预算是用于腐败的,中国的预算是用于发展的。中国人在许多方面对印度人具有优势,印度人喜欢用不合格的武器来屠戮自己的爱国战士。印度必胜!
Brahmos (United States of India)
Some time we behave same with China as Porkistan behaves with India......
Agree (4)Disagree (6)Recommend (0)



有时候,我们在中国面前的表现类似巴基斯坦在印度面前的表现......
Sitaram (Banaras)
58% OF INDIANS DEFECATE IN THE OPEN. JAI HIND
Agree (5)Disagree (5)Recommend (1)



58%的印度人在户外方便。胜利属于印度!
CDRNET1965 (Chennai)
China is quietly building its armed forces and our country is getting embroiled in scams related to procurements affecting our readiness. Instead of brave talk people should implement strategy on the ground to face the situation.
Agree (5)Disagree (0)Recommend (1)



中国默默打造军队,印度却卷入各种与采购相关的丑闻,影响了战备。与其说些空洞的大话,还不如脚踏实地贯彻战略,应对局面。
XIaoping (Beijing) 11 hrs ago
first of all have some guts to come to South china sea ....The PLA second artillery will bomb and flatten delhi in 2 hrs.forget about the rising PLA Navy. ..
Agree (5)Disagree (15)Recommend (0)



首先要有勇气来南海.....PLA的二炮只要两小时就可以把德里夷为平地,更别提崛起中的PLA海军....




Azim.Sheikh (India) replies to XIaoping
The INDIAN ARMY,AIR FORCE and NAVY should Recruit people from Shiv Sena (SS) and Maharashtra Navnirman Sena (MNS).Then no body would dare to say anything.
Agree (3)Disagree (3)Recommend (3)




印度陆军、空军和海军应该从湿婆神军党和马哈拉斯特拉复兴军党中招募人员,到时就没人敢吭声。




chikybasher (singapore) replies to XIaoping
dream on chinky lol
Agree (1)Disagree (1)Recommend (1)




做梦吧,中国佬,笑。




Nep (bahrain) replies to XIaoping
This same applicable to Beijing too. If New delhi can be flattern with two hours, Beijing can be too with hours.
Agree (7)Disagree (4)Recommend (4)




这也同样适用于北京。如果新德里两小时被夷为平地,那么北京也会落得同样下场。




Azim.Sheikh (India) replies to XIaoping
Bravo! Bravo! Indian Muslims are with Pakistan and China.Long Live Pakistan - China Friendship.
Agree (6)Disagree (11)Recommend (1)




好极了!印度穆斯林与中巴站在一起。中巴友谊万岁!




Khan (Guj) replies to Azim.Sheikh
I am 101 percentage sure that u r not a indian muslim, u might be some refugee




我101%肯定你不是印度穆斯林,你可能是难民。




Parthasarathi (India) replies to Azim.Sheikh
If we want to flex your muscles at South China sea then we should have at-least one Carrier Battle group and at-least two to three nuclear submarines permanently stationed at South China Sea. Do we have that much power ? The answer is NO.




如果想在南海耀武扬威,我们应该在南海至少部署一艘航母和三艘核潜艇。我们有那个实力吗?答案是"没有"!



Jai Hind (Hindustan)
As usual, is it verbal assurance or they will be materializing it ?
Agree (11)Disagree (1)Recommend (9)



与往常一样,这是耍嘴皮子还是会付诸行动?
india's historic mistakes (delhi)
india's historic mistakes are 1) not winning wars against muzzlim invaders for various reasons which resulted in loss of ancient indian land of today's afganistan, pakistan, bangadesh and kashmir 2)when country partitioned in 1947 population transfer did not happen correctly which made india loose 1/3rd of land without any gain.3)when china invaded tibet india turned blind eye without realizing it will greatly make indian northern borders vulnerable.we lost aksai chin and entire northern borders tense even today and continue to be tense unless tibet will be independent country in future(chances are very less in foreseeable future).
Agree (10)Disagree (5)Recommend (2)



印度的历史错误有:





1、由于各种原因,印度没有抵挡住穆斯林的入侵,导致丢失了今天的阿富汗、巴基斯坦、孟加拉国和克什米尔等大片领土;





2、1947年印巴分治时,人口转移不合理,导致印度白白丢失了三分之一的领土;





3、中国入侵xz时,印度视而不见,没有意识到中国此举会令印度北部边界变得极度脆弱;





我们丢失了阿克赛钦,除非xz未来独立(在可预见的未来,概率极小),否则整个北部边界的局势会一直紧张下去。





版权所有:三泰虎 http://www.santaihu.com
Krishna (Delhi)
Forget South China Sea, Cowards. think about Arabian Sea/ Indian Ocean. A small dot in the world map, Maldives is intimidating India. What a shame to Indian Politicians and People.
Agree (17)Disagree (3)Recommend (7)



懦夫,别提南海了。考虑下阿拉伯海、印度洋。世界地图上的一个小不点——马尔代夫正恐吓印度。真是令印度政客和人民蒙羞。
Brahmos (United States of India)
we are big mouth Indians....China has Hong kong , Shanghai....and we have slums of Mumbai....just one war with China and our economy would be shattered....sometimes we people behave like Porkistan...
Agree (5)Disagree (6)Recommend (0)



我们是爱说大话的印度人,中国有香港、上海.......我们有遍地贫民窟的孟买,只要与中国打一仗,我们的经济就会支离破碎,有时候,我们的言行举止像巴基斯坦人.....
AP (india)
India is as imp0tent as it was in 1962 ... If ever a war with China breaks out , India will still not have the guts to retaliate and then 50 years after the war , some $tup1d Chief of Air Force or Navy or the Army would say.." Things would have been different , if we had used this and that" , and all sort of c-r-@-p......... India is like that D0nkey, which keeps walking in the hope of getting the carrot hanging by its neck , but never gets it...!!
Agree (7)Disagree (1)Recommend (4)



今天的印度与1962年的印度一样无能。如果中印再爆发一场战争,印度仍然不会有勇气报复,50年后,某个愚蠢的空军总长、海军总长或者陆军总长会说"要是当时动用这个、动用那个,结局就会不同"等各种废话。印度就像一头驴子,一直不停地走,期望获得挂在脖子上的萝卜,但永远得不到!!!
Saikarthik (Bangalore)
First resolve the border issue with China and then send Navy to bases in Vietnam.



先解决中印边界争端,然后派海军去越南基地。
JCMI (India)
That's quite a bold step and i personally welcome this bold and assertive move of Indian Government. Happy to see these kind of news in media. Right time to challenge arrogance of China and make them realize that they can't ignore India. They have always supported Pak against India and now it is our turn.
Agree (4)Disagree (2)Recommend (3)



这一步走得很大胆,我个人对印度政服大胆和自信的举动表示欢迎,喜欢在媒体看到此类新闻。现在该是挑战傲慢中国的时候了,让其意识到不能忽视印度。他们一直支持巴基斯坦对抗印度,现在该轮到我们出手了。
PRADEEP MANOHAR DEO (Sharjah - U A E)
Great to see our Naval Chief talk confidently...........
Agree (6)Disagree (0)Recommend (1)



很高兴看到我们的海军总长如此自信地侃侃而谈........
据《印度时报》3日报道,印度海军总长乔希于12月3日表示海军将保护印度在南海争议地区的利益。在记者招待会上,当被问及印度如何应对南海突发事件以及对中国海军现代化的印象如何时,乔希称,中国海军的现代化真的令人印象深刻......实际上已经成为了印度的主要关注,印度会继续对其评估,并制定出相应的选择和战略。他还称,"在国家利益所在之处,比如Videsh公司被牵涉的情况下,我们会接到要求,我们为此做好了准备。我们是否为这类事件进行了演练?简单地回答就是'是的'"。