原文标题:India replaces China as Iran's top oil buyer
原文链接:http://timesofindia.indiatimes.com/business/india-business/India-replaces-China-as-Irans-top-oil-buyer/articleshow/12639701.cms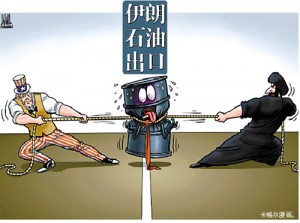 NEW DELHI: India has vaulted to the top of the list of Iran's oil customers, overtaking China, in a first quarter buying surge ahead of tighter sanctions against Tehran this summer, data published by a leading industry consultant showed.

Direct imports to India from Iran were 433,000 barrels per day (bpd) in the first quarter compared with 256,000 bpd to China, according to data compiled by Geneva's Petrologistics and seen by Reuters via an industry source.



新德里:一名产业顾问发布的数据显示,今年夏季对德黑兰实施更严格的制裁前,印度在第一季度疯狂购买伊朗石油,从而超过中国成为伊朗石油最大买家。





日内瓦油轮追踪咨询机构Petrologistics编撰的数据和路透社通过业内人士获知的数据显示,印度第一季度每天直接从伊朗进口43.3万桶石油,相比之下中国每天进口25.6万桶。



The Indian import figure was up by around 23 per cent from the 351,0000 bpd imported over the same period of 2011 and significantly above the its 2011 average of 326,000 bpd.

Iran, like many oil exporters, does not publish its own oil sales data on a timely basis, but the Petrologistics figures add to signs that India has stepped up imports due to a cooling of relations between Tehran and Beijing over payment terms.



相比2011年同期每天进口的35.1万桶石油,印度进口数据上升了大约23%,明显高于2011年平均每天32.6万桶的数据。





伊朗跟许多石油出口国一样,并不及时发布石油销售数据。但是油轮追踪咨询机构的数据显示,德黑兰和北京的关系因支付条款上的分歧而冷却,所以印度加快了进口。



India is also widely seen to be raising imports ahead of tighter sanctions this summer when payments, insurance and supplies are expected to be more uncertain.

Iran traditionally sells most of its 2.2 million barrels per day of oil exports in Asia, where China, India, Japan and South Korea are the four biggest buyers, although its exports have fallen this year due to international sanctions aimed at slowing Tehran's nuclear programme.



人们广泛认为,今年夏季,印度也将赶在更严格制裁前提高进口。预计支付、保险和供应到时候将更加不确定。





为了延缓德黑兰核计划的国际制裁导致伊朗今年的石油出口下降。不过,伊朗每天销售的220万桶石油大部分出口亚洲。中国、印度、日本和韩国是四个最大买家。



Industry sources said Iran's crude oil exports fell by around 300,000 bpd to 1.9 million bpd in March, with customers in Europe making deep cuts ahead of an EU embargo due to be implemented on July 1.

Customs data showed that China's imports from Iran for February were down by 40.3 per cent from the same period in 2011. This trend was confirmed by the Petrologistics data which showed that imports were down 39.4 per cent in the first quarter versus last year.



业内人士称,伊朗3月份原油出口下降30万桶至190万桶。在欧盟7月1日将实施的禁运前,欧洲客户急剧削减从伊朗的进口。





海关数据显示,中国2月份从伊朗进口的石油比2011年同期下降40.3%。油轮追踪咨询机构的数据确认了该趋势,它显示中国第一季度的进口相比去年下降39.4%



"China ditched some term contracts due to what they perceived as unfavourable terms and also as a bargaining ploy on prices," said a crude oil trader.

India, openly disdainful of sanctions to pressure Tehran, has been left off a list of nations given a US waiver from the measures, but is privately pushing its refiners for substantial cuts in imports from Iran.



一位原油贸易商称:"中国放弃某些自己认为是不利条款的长期合同,并将其作为讨价还价的策略。"





印度公开蔑视施压德黑兰的制裁,并没有被列入得到美国豁免的国家名单中。不过,印度私下逼迫炼油厂大量减少从伊朗的进口。



On a monthly basis, India's crude purchases from Iran have fallen steadily from a January's 531,000 bpd when it first overtook China as top importer, the data showed, suggesting that purchases of Iranian crude have already peaked.

Petrologistics, one of several consultants estimating oil exports by tracking tanker shipments, showed that India imported 404,000 bpd in February and 363,000 bpd in March.

Reuters shipping data showed a similar trend and in February India imported about seven per cent less Iranian crude. Many expect lower volumes when new contracts begin in April.



数据显示,以月份来计算,印度1月份从伊朗进口53.1万桶原油,首次超过中国成为最大进口国,此后稳步下降。这显示印度从伊朗购买原油的高峰已经过去。





油轮追踪咨询机构Petrologistics披露,印度2月份每天进口40.4万桶原油,3月份每天进口36.3万桶。





路透社的船运数据也显示了类似的趋势。印度2月份进口的伊朗原油减少了大约7%。许多人预期4月份开始的新合同生效后,进口将下降。



The top Indian oil importer in the first quarter was Essar Oil, buying 142,000 bpd compared with 88,000 bpd in the first quarter of 2011, the Petrologistics data showed.

Essar plans to expand its refining capacity and will raise the capacity of its giant Vadinar refinery to 405,000 bpd this year.

Historically, Iran's biggest Indian oil client was Mangalore Refinery and Petrochemicals Ltd (MRPL), which bought 110,000 in the first quarter, down from 162,0000 bpd in 2011, the data showed.

Indian Oil Corp stepped up imports to 85,000 bpd from just 11,000 bpd in the same quarter of 2011, it showed.



油轮追踪咨询机构Petrologistics的数据显示,印度第一季度的头号石油进口商是埃萨石油公司,日均购买14.2万桶原油。





埃萨石油公司计划扩大炼油能力。今年将把瓦迪纳炼油厂的炼油能力提高到每天40.5万桶。





数据显示,历史上从伊朗进口石油最多的印度客户是芒格洛尔炼油厂和石油化工有限公司。两家公司第一季度日均购买11万桶石油,比2011年的日均16.2万桶有所下降。





印度石油公司加大了进口,从2011年第一季度的日均1.1万桶石油,提高到今年第一季度的8.5万桶。




以下是印度网民的评论:




Vivek (New Delhi)
12 Apr, 2012 09:07 PM
now bargain them for lower price. This is the time.
Agree (98)Disagree (30)Recommend (18)



现在该和他们讨价还价,以获得更低的价格。现在是时机。
Manmohan (Delhi)
12 Apr, 2012 09:08 PM
Though India may be ahead of china in the import of oil and defence equipments but it is far behind of china in every respect.
Agree (78)Disagree (32)Recommend (12)



虽然印度可能在石油和国防设备的进口上领先中国,但是印度在每个方面远远落后中国。




kanhikara (bengalur) replies to Manmohan
12 Apr, 2012 10:37 PM
oh common manmohan (hope u r not pm)as if v r not aware of this. this peice of information is stupid indeed and everyone knows one cannot compare china with india. chinas astute leadership is much better than india's currupt. chinese are hardworking than india's lazy govt lot. and for oil chinas agenda nobody knows. the day is near it will buy usa and all western countries. china never give up. so india learn from china rather than these stupid americans who ar selfish. they have made pakistan a begger. why not all countries of world sanction usa (useless state of america). jaiho india
Agree (14)Disagree (12)Recommend (4)




哦,manmohan,好像你没有意识到这点。这个消息确实是愚蠢的。每个人都知道你无法将印度和中国相提并论。中国精明的领导层比印度腐败的领导层要好得多。相比印度懒惰的政服,中国人是勤劳的。没有人知道中国的石油进口计划。中国买下美国和所有西方国家的日子不远了。中国从来不放弃。所以印度应该学习中国,而不是向愚蠢和自私的美国人学习。他们让巴基斯坦成为乞丐。为什么全世界的国家不制裁美国。




Manmohan replies to kanhikara
12 Apr, 2012 10:53 PM
If you are agreeing with me then why you have wasted ten lines what i have said in one line.Where is the dispute then
Agree (10)Disagree (0)Recommend (2)




如果你同意我的看法,为什么你在我所说的一句话上浪费十句话。争议点在哪里



Neeraj (USA)
12 Apr, 2012 09:36 PM
India should find different sources of oil too. That's what China did. What if Iran is at war or there are sanctions on Iran what's India going to do then.
Agree (32)Disagree (8)Recommend (6)



印度应该寻找不同的石油来源。那正是中国在做的。如果伊朗发生战争,或者伊朗受到制裁,那么印度到时候怎么办。





原创翻译:三泰虎 http://www.santaihu.com
Srinu (hyderabad)
12 Apr, 2012 09:37 PM
Just bcoz US has put sanction on iran why must india suffer, it was very wise on part of India to continue to buy from iran despite US sanction, india previously also stopped gas pipe line from iran bcoz of US sanctions and ultimately india lost in the long run
Agree (50)Disagree (8)Recommend (20)



仅仅因为美国制裁伊朗,为什么印度要遭殃。印度不顾美国制裁继续从伊朗购买石油是明智的。印度以前也因为美国的制裁而停止通过管道从伊朗进口天然气。长期来看,印度最终是失败的。
thirumalaichari (CHENNAI)
12 Apr, 2012 09:53 PM
It will be an achievement if only India could buy all 2.2million barrels/day of Iran's output intended for sale. 400,000 bpd is not at all an achievement. It is very negligible to the quantum of 2.8 mbpd of our total utility as on date. Indian Government is trapped & imposed by vested interests on the energy sector. India continues to be surrendered, coz of absence of a strong self-less, non-corrupt leader. It will not be a problem even if we lose, but should definitely fight to live in this world. If not now, we will lose the opportunity of fight to live and we would only be left with the option to fight to survive.
Agree (32)Disagree (2)Recommend (10)



如果只有印度能购买伊朗每天用于销售的220万桶原油,那将是一项成就。每天进口40万桶并不完全算是一项成就。相比我们如今每天消耗的280万桶原油,它是微不足道的。印度政服在能源领域受到既得利益的困扰和限制。由于不存在无私和廉洁领导人,印度继续投降。即使我们失败了也不打紧,不过我们要为生活在这个世界而奋斗。如果现在不行动,我们将失去为生活而奋斗的机会,我们所剩下的将只是为生存而奋斗的选择。
ram iyer (everywhere)
12 Apr, 2012 10:31 PM
India need to balance with long term strategy. Lock Iran in with rupee trade and negotiate price and fields long term. Do gimic numbers to show that we are lowering import in short term to keep Western eyes as if we are doing something. Build banking, insurance and shipping terms with new BRICS initiative to be away from petro dollars and western institutions to be away from that cycle. Dollar is printed for US convenience and the inflation of it is sent to world through news, turmoil and others.. Finally get our acts together - cut red tape and corruption, invest in socio and physical infrastructure like education, nutrition to roads and systems to make yours attractive for others to come. Else we will need again bowl to ask others for money.
Agree (36)Disagree (2)Recommend (6)



印度需要平衡长期战略。用卢比贸易捆绑伊朗,协商长期石油进口价格。在数据上做文章,显示出我们短期将降低进口,让西方认为我们在做出一些行动。通过金砖国家的新倡议建立银行业、保险和船运条款,以避开石油美元和西方机构,从而打破那个循环。美元是为了美国的便利而印刷的。它的通货膨胀通过新闻、混乱和其他东西传递给全世界。最后,我们要一起行动,减少繁文缛节和腐败,在社会和硬体基础设施上投资,比如教育、公路和体制,以吸引其他人来投资。否则我们又将乞讨度日。
(India)
12 Apr, 2012 10:45 PM
This is a bad news to our economy.We are still far behind an alternate oil resource.
Agree (26)Disagree (4)Recommend (6)



这个对于我们经济来说是坏消息。在石油来源多样化选择上,我们仍然远远落后。
amaaan Indiaaann (bangalore)
12 Apr, 2012 10:45 PM
India cacn now negotiate oil prices and sign a long term agreement. play a big game..
Agree (50)Disagree (2)Recommend (8)



印度现在可以协商石油价格和签署长期协议。下一盘大棋嘛
Kuldeep (Mumbai)
12 Apr, 2012 10:53 PM
Next news will be "US forces India to reduce Oil imports from Iran"
Agree (58)Disagree (12)Recommend (10)



下一个新闻将是"美国迫使印度减少从伊朗进口石油"
mas (France)
12 Apr, 2012 10:55 PM
Every country in Asia must stand up with Iran for a new world order away from the toxicly avid West, that wil lbe beneficial for everybody.
Agree (62)Disagree (14)Recommend (24)



为了建立不受恶毒西方控制的新的世界秩序,亚洲的每个国家必须和伊朗站在一起。那样对大家都有好处。
cloud no1 (india)
12 Apr, 2012 10:57 PM
the proud outsourcing industry of india will move to a trash if we head towards featuing in OFAC! stop buying their oil, NOW!
Agree (14)Disagree (40)Recommend (2)



如果我们进入美国财政部外国资产控制办公室的特别名单,印度令人自豪的外包产业将成为废物!停止购买伊朗的石油,现在!





原创翻译:三泰虎 http://www.santaihu.com




Right here on the Ground (India.) replies to cloud no1
13 Apr, 2012 12:04 AM
The proud Coke, Pepsi, Ford & Chevy will be thrown out too in favor of other companies. Trade is a 2 way street unfortunately.
Agree (14)Disagree (6)Recommend (4)




令人自豪的可口可乐、百事可乐、福特和雪佛兰也将被赶出印度。不幸地是,贸易是双向的。




Vivek Mathur (New York) replies to Right here on the Ground
13 Apr, 2012 02:11 PM
The Coke, Pepsi, Fords and Chevys sold in India are made in the US? Check out the trade figures: in 2011, India imported $21 billion from the US, exported 36 billion. In addition, almost $50 billion was remitted from NRIs in the US, and billions more in FDI from US companies. 50% of India's IT/ITES exports are to the US. India is in no position to begin a trade war with the US, considering that it is India who is the major beneficiary of bilateral trade.
Agree (0)Disagree (0)Recommend (0)




在印度销售的可口可乐、百事可乐、福特和雪佛兰是美国产的吗?查查贸易数据吧:2011年,印度从美国进口210亿美元,向美国出口360亿美元。此外,美国的印度人寄回大约500亿美元,来自美国公司的外资还有数十亿美元。印度50%的IT和ITES的出口是面向美国。考虑到印度是双边贸易的主要受惠方,印度没有必要和美国打贸易战。



ram iyer (everywhere)
12 Apr, 2012 11:04 PM
Time has come for Asia to take off. 2012 end is the marked change to that. China and India knows that buck in their pocket, time is in their side and West need to readjust. With BRICS, developing countries and latin america is looking at the Western is blatant unilateralism to hold on power through petro dollars, banking and insurance, media and pseudo democracy, NATO and my way or highway attitude. 800 million people vs 4 billion people.. Battle of Kruger underway.. Slowly gently. Hope it is a nice readjust by 2020 and not disruptive
Agree (26)Disagree (2)Recommend (2)



亚洲起飞的时候到了。2012年底将出现那样的明显改变。中国和印度知道自己口袋有钱,知道时间站在自己这边。西方需要重新调整。金砖国家、发展中国家和拉丁美洲国家看着西方公然通过石油美元、银行业、保险业、媒体、伪皿煮、北约...等来掌握权力的单边主义。8亿人对40亿人...弱肉强食的斗争正在进行...它是缓慢和温和的...希望2020年前的调整是美好的,而不是破坏性的。
Gowdru (bengaluru)
12 Apr, 2012 11:10 PM
India should buy all the avialable oil rapidly before iran is invaded and oil is shipped free outa country for free.
Agree (24)Disagree (8)Recommend (6)



在伊朗被入侵前,印度应该迅速购买所有能买到的石油...




sats (Atlanta) replies to Gowdru
13 Apr, 2012 01:11 AM
will you store all the oil at your home water storage ?
Agree (2)Disagree (2)Recommend (2)




你会把所有石油储存在你家的蓄水池吗?



Mumin (USA)
12 Apr, 2012 11:33 PM
don't bow to westerners..they want to rule all the world by hook or by crook.. Iran oil is cheaper & convenient for us..
Agree (26)Disagree (12)Recommend (4)



不要向西方屈服。他们千方百计统治全世界。伊朗石油对于我们来说更便宜、更便捷。




Amused (MP) replies to Mumin
13 Apr, 2012 01:49 AM
Leave USA if you hate it. Come back to India. Your words and actions are disconnected.
Agree (0)Disagree (4)Recommend (0)




如果讨厌美国,那么离开美国,回到印度。你言行不一致。




Jay (Delhi) replies to Amused
13 Apr, 2012 09:41 AM
Seems you dont understand business..
Agree (0)Disagree (0)Recommend (0)




似乎你并不了解商业



KTR (Everywhere)
12 Apr, 2012 11:57 PM
What a superb news ! India should import more from Iran. It will be nice to see how USA reacts. They are a declining power and should be shown their place. Let the BRICS take over Iran matters. Now you dont immediately counter saying BRICS will be a flop. Iran will not be taken over by USA if it develops the bomb. Iran is getting harrased, BRICS will handle it for sure, India will be the prime mover. China is just playing a bargaining game. They will be back with a bang on Iranian oil imports, just wait and see.
Agree (30)Disagree (8)Recommend (10)



多么棒的一个新闻!印度应该从伊朗进口更多石油。美国的反应将是有趣的。美国是个走下坡路的大国,应该衬托出自己的位置。让金砖国家接管伊朗事务吧。你现在没必要立即反驳说金砖国家将失败。如果伊朗开发了核弹,伊朗将不会受到美国控制。伊朗正受到骚扰。金砖国家肯定会处理这个问题,印度将是首要推动者。中国只是在玩讨价还价的游戏。他们将重新大量进口伊朗石油,等着瞧吧。
Hemans (Bangalore)
13 Apr, 2012 12:07 AM
Until and unless Sales Taxes on oil is reduced by our Central and State Govt. Common man will not have a respite !!
Agree (6)Disagree (0)Recommend (6)



除非中央政服和邦政服减少石油消费税,否则老百姓不会有喘息的机会!





原创翻译:三泰虎 http://www.santaihu.com
JasbirSinghKang (Shamaspur, Ludhiana, Punjab, India)
13 Apr, 2012 12:25 AM
"Direct imports to India from Iran were 433,000 barrels per day (bpd) ..compared with 256,000 bpd to China, according to data compiled by Geneva's Petrologistics and seen by Reuters via an industry source. " The Chinese tell the world what they need to tell. They always tell what is best for their image. OTOH - Indians are more transparent in this matter because the evil Pakies will make a meal out of nothing if the Indians determined to be lying. I do not believe a tiny bit what is said is to be the actual daily oil intake from Iran to China. Conclusion - India is set up by the foxy Chinese yet again.
Agree (14)Disagree (0)Recommend (6)



"油轮追踪咨询机构Petrologistics的数据和路透社通过业内人士获知的数据显示,印度第一季度每天直接从伊朗进口43.3万桶石油,相比之下中国每天进口25.6万桶。"中国人只告诉世界自己想要说的话。他们总是说对自己形象最有利的话。另一方面——印度人在这个事情上更透明。如果印度人决心撒谎,那么邪恶的巴基斯坦人就能下无米之炊。我不相信中国从伊朗进口那么一点石油。结论——印度又被狡猾的中国人欺骗了。
jokepill (@gmail)
13 Apr, 2012 12:34 AM
thats because chinese Vehicles has more ' MILEAGE ' than that of Indian made Automobiles ! ;; and also condition of roads are rude. ; that compells to consume more fuel...
Agree (12)Disagree (10)Recommend (6)



那是因为中国汽车每升汽油行驶的里程比印度汽车更远!此外,印度路况糟糕,导致消耗更多燃料...




Inidan (India) replies to jokepill
13 Apr, 2012 01:01 AM
No that's because Chinku's scared of bid daddy US.
Agree (0)Disagree (0)Recommend (0)




不是,那是因为中国人害怕美国干爹



indian (delhi)
13 Apr, 2012 01:01 AM
that does not make any difference........ Oil price will still go higher. but it must be very good news for corrupted congress NETASSSSSSSSSS.......
Agree (0)Disagree (6)Recommend (0)



那不会带来任何不同...油价将继续走高。不过对于腐败的国大党政客们是好消息...
From Heaven (Heaven)
13 Apr, 2012 01:04 AM
If US and friends would have allowed supply of nuclear fuel to India in late 1970's India would be self reliant by now. The whole point of US supporting Indian nuclear stance few years back, was to avoid India supporting middle-east islamic regimes.
Agree (12)Disagree (2)Recommend (0)



如果美国和友国在1970年代末期允许为印度供应核燃料,那么印度现在可以自给自足了。美国几年前支持印度核立场的出发点是为了避免印度支持中东的伊斯兰政权。
shyam (malaysia)
13 Apr, 2012 01:10 AM
Our nation has to import iranian oil as the rupee trade factored in for this is very beneficial for India. This is a heavenly sent opportunity to enhance the quantum and India has to increse its storage capacities imminently.We should not benchmark this with china, and who bothers what china does. We have our needs and must take advantage and ensure huge oil procuments from Iran as long as the going is good and it is the survival of rhe fittest.
Agree (12)Disagree (0)Recommend (4)



我们国家必须进口伊朗石油,因为将卢比贸易纳入进来对印度非常有利。这是提高进口的天赐良机,印度必须立即提高石油储备。我们在这方面不应该以中国为标准。谁会去关心中国做什么。我们有自己的需求,必须利用机会,只要有利可图就应确保从伊朗采购石油。
toy toi (chennai)
13 Apr, 2012 01:16 AM
If its india export something to iran more than china, we will be proud....
Agree (30)Disagree (2)Recommend (0)



如果是印度向伊朗出口的某些产品比中国多,那么我们将感到自豪...
Bart (India)
13 Apr, 2012 01:18 AM
India is not doing anything wrong. If USA has a problem with Iran's Nuke policy, US has to be strong with the message. For last several years , US is negotiating and Iranian Govt. ignores all threats! USA is weak under the present rule and is afraid to be tough!-because it is going to file for bankruptcy!
Agree (8)Disagree (10)Recommend (2)



印度没有做错。如果美国对伊朗核政策有异议,那么美国应该传达强硬的信息。在过去的几年里,美国只是协商,伊朗政服忽略所有威胁!由于美国即将宣告破产,所以在现行规则下,美国是软弱的,害怕强硬!
Jay (Delhi)
13 Apr, 2012 09:39 AM
Those who supports US be prepared to walk instead of driving....because if there will be no Oil, all Cars/Bikes will be useless..
Agree (8)Disagree (0)Recommend (2)



那些支持美国的人应该做好走路的准备,而不是开车...因为如果没有石油,所有的汽车和摩托车将毫无用处...





原创翻译:三泰虎 http://www.santaihu.com
印度Rediff网报道,全球著名的油轮追踪咨询机构Petrologistics编撰的数据显示,2012年第一季度,印度从伊朗进口的石油超过中国成为伊朗石油最大买家。报道称印度公然蔑视美国要求制裁伊朗的呼吁。有的印度网友表示印度不应该得罪美国,否则印度外包业岌岌可危;有的印度网友称印度应该像中国所做的那样,将石油进口来源多样化,从而规避伊朗发生战争的风险。