原文标题:India mulls joint military exercises with China
原文链接:http://timesofindia.indiatimes.com/india/India-mulls-joint-military-exercises-with-China/articleshow/14304789.cms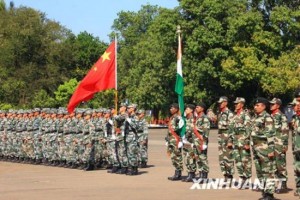 NEW DELHI: Defence ties between India and China are set to gain momentum with New Delhi mulling joint exercises with Beijing next year after the just concluded naval drills in Shanghai held after a gap of six years.

India is planning to propose joint military exercises with China which will also include army-to-army exercises, sources said here.

The armies of the two countries last held counter insurgency and counter terrorism wargames codenamed 'Hand-in-Hand' in 2009 in Belgaum in India and prior to that in China in 2007.



新德里:由于新德里考虑同北京于明年举行联合军演,印中两国的国防关系将有所加强。此前,两国时隔6年后举行的联合海军演练刚刚在上海结束。





消息人士称,印度计划提议与中国联合军事演练,包括陆军联合演习。





中印两军曾于2009年在印度贝尔高姆开展了代号为"手拉手"的反恐和反武装叛乱演习,2007年曾在中国也举行过类似演习。



India and China had agreed to enhance defence exchanges and communications for better understanding and mutual trust during the fourth round of Annual Defence Dialogue (ADD) held here in December last year after a tumultuous two years for military ties.

New Delhi had suspended military exchanges with China in August 2010 after it had refused to grant permission to a senior Indian Army Commander to proceed on an official trip to Beijing.



去年12月,两国军事关系经历了动荡的两年后,印中两国在第四届年度防务对话中就加强防务交流和沟通、增加理解和互信达成共识。





2010年8月,在中国拒绝批准一名印度高级军事官员访问北京后,新德里暂停了中印军事交流。



As an immediate fallout of the event, India refused to hold the third round of military exercise and had put all other military exchanges on hold.

Meanwhile, top-level officers of the Indian and Chinese Navies held discussions to improve the ties between the two countries as four Indian warships took part in basic naval exercises there.



这个事件带来的直接影响是印度拒绝举行第三轮联合军事演练,还暂停了所有其他军事交流。





随着印度四艘军舰在上海参加海军演习,印度和中国海军的高层官员举行了会谈,以讨论如何改善两国关系。




以下是印度网民的评论:




Zio Cooperate but always be on guard (india) 20 hrs ago
Good Now Mrs Clinton can make another insipid comment Two ancient civilizations having more then a BILLION people Cannot fight each other India must be wary militarily but must increase all other ties (keeping local industries needs in mind of course ) AND WHEN WILL INDIAN CHILDREN BE GIVEN AN OPTION TOLEARN CHINESE _______CHINESE CHILDREN ARE BEING TAUGHT HINDI
Agree (6)Disagree (0)Recommend (3)



不错,克林顿夫人现在会发表无趣的评论:两个人口超过十亿的国家不能互相争斗,印度在军事上必须谨慎,还必须提升其他关系(必须留心本土产业的需求)。什么时候印度孩子能有学习中文的选择,中国小孩正被教授印地语呢!





原创翻译:三泰虎 http://www.santaihu.com
shishir (Noida)
looks like understanding is made after the 2010 fallout and chinese agreed to indian terms.
Agree (2)Disagree (1)Recommend (1)



在2010年事件余波之后,两国看起来达成了理解,中国人同意了印度人的条款。
Antonio Barbosa (Goa)
If you cannot fight them, join them. That way we can avoid or at least reduce wars. War is very foolish.
Agree (5)Disagree (4)Recommend (0)



如果你都不过他们,那就加入他们吧。我们可以避免或者至少减少战争。战争是非常愚蠢的。
mrxexon (USA)
Well, this will get Uncle Sam's panties in a wad, won't it? I think the more China and India interact, the more you will come to understand how much you have in common. There also needs to be a counterbalance to western domination of the world. Something that's been missing since the collapse of the USSR.
Agree (4)Disagree (3)Recommend (0)



这会让山姆大叔发火的,不是吗?我认为中国和印度交流越多,就越会理解彼此拥有多少共同点。现在也需要一个制衡西方世界霸权的力量了,自从前苏联解体以来就一直缺少这个力量。
Singh (Punjab) 20 hrs ago
There are making it easier for Chinese to take awy aruchalpradesh from India, more you trust chinese more you will lose. Instaed of wasting time like that, find ways who to be strong to fight a war with them. who knows in military ro military contacts it may become easier for a mole in the indian army to pass all the army secrects to chinese like lately an air man had stollen all the information to be given to Chaus or Pakis, what a nation al character!
Agree (4)Disagree (5)Recommend (2)



他们是在让中国人更容易从印度这里夺走阿鲁纳恰尔邦。你越信任中国人,失去的就越多。与其像这样浪费时间,倒不如找些强壮的与他们打一场战争。正如最近一名空军士兵把偷来的所有信息都给了巴基斯坦一样,谁又会知道在军队交流中,印度军队里的潜伏特务或许更容易把军队秘密传给中国人...
Analis-t (Italy)
India is a reliable ally, that's why both US and China are pulling their hands out from Pakistan...porks must be jealous of it.
Agree (9)Disagree (3)Recommend (5)



印度是个可靠的盟友,这就是美国和中国从巴基斯坦抽身的原因...巴基佬肯定感到嫉妒。




Reality (USA) replies to Analis-t 18 hrs ago
Yes reliable ally, that's why USA threatened nuking India in 1970s.
Agree (1)Disagree (1)Recommend (0)




是的,是可靠盟友,这就是美国1970年代威胁核袭击印度的原因。




Ajit (uk) replies to Analis-t 19 hrs ago
This is the reason, the Phakistani pigs are opposing the joint exercises by taking fake Indian IDs.
Agree (1)Disagree (3)Recommend (1)




这才是原因,巴基斯坦人用假的印度人ID反对联合军演。



acharya_d (kolkata)
it is always better to start an action than finding excuses not to do it...thx
Agree (2)Disagree (0)Recommend (1)



开启联合演习总比找借口不演习更好...
Asdfgh (Ahmedabad)
Less mulling and more action would be highly appreciated!
Agree (4)Disagree (1)Recommend (2)



少点考虑和多点行动会受到高度欣赏!
madireddi (modesto) 19 hrs ago
China has eaten up parts of India, and now India wants to conduct joint exercises with China? How stupid can you get? India should hold joint exercises with USA, Russia, and Vietnam instead to contain China.
Agree (9)Disagree (6)Recommend (2)



中国吃掉了印度部分土地,印度现在却要联合中国举行演习?多么愚蠢啊,印度应该与美国、俄罗斯和越南举行联合军事演习以遏制中国。
Subramanian Raj (Chennai)
I feel this is stupid thing to play with China, they are the most unreliable and back stabbers. By these exercises the Chinese might know our strengths and weaknesses so its not good
Agree (11)Disagree (6)Recommend (2)



我感觉与中国一起耍是蠢事一桩。他们是最不可靠的背后中伤者。中国人可能会从这些演习中了解我们的优势和弱点,所以不是啥好事。




Tokbig (Chennai) replies to Subramanian Raj 14 hrs ago
What strengths has India ?
Agree (3)Disagree (0)Recommend (2)




印度有什么优势?



thinktank (mumbai)
"keep your friends close, and your enemies closer"
Agree (3)Disagree (1)Recommend (1)



亲近你的朋友,更要亲近你的敌人。





原创翻译:三泰虎 http://www.santaihu.com
T (Mumbai) 18 hrs ago
Haven't we got anything better to do thn BED our biggest enemy under the garb of CBM.
Agree (3)Disagree (2)Recommend (2)



我们就真的要与裹着洲际弹道导弹外衣的最大敌人同床共枕吗,就没有其他更好的事做吗。
bmbx70 (India)
I sincerely think it to be an imperative step. We can't afford to have a two front war now. We should stop the habit of carrying history on our shoulders. We should learn from our mistakes and not be overtly complacent; at the same time, we must also not have dogmatic views. This world is changing every second; strategies, enemies, friends are turned upside down within a span of day. It's always good to realize enemy's might; many a times, it is best for us to bend than be beheaded. US can afford to build its military and naval bases anywhere in the world; our boundaries are limited. We must all go together. The sooner we learn this, the better for us. Good move altogether. I hope China complements this effort.
Agree (3)Disagree (0)Recommend (0)



我由衷地认为这个势在必行。我们现在无法承担两线作战,应该放弃驮着历史包袱的习惯,应该从错误中吸取教训,不能公然自满。与此同时,我们也不能有教条主义观点。世界瞬息万变,战略、敌人和朋友一天之内就可能完全颠倒。认识敌人的实力总是好的。很多时候,屈服总比被砍头更好。美国有能力在世界各地修建军事基地。我们的边界是有限的,必须全部团结起来。我们越早认识到这点,对我们就越好。干得好。我希望中国认同该提议。
Deepak (Mumbai)
Aim all your practice shots towards Pakistan.
Agree (5)Disagree (3)Recommend (1)



把所有的演练子弹瞄准巴基斯坦。
Eire (Dublin)
I think this might be a good step for India, showing some of its military might on the world stage is a good thing. It will have the porks of Pakistan awake at night!
Agree (1)Disagree (2)Recommend (1)



我认为这对印度来说是个好举措,能够在世界舞台上展示一些实力是件好事,会让巴基斯坦夜不能寐!
Biswarup Chowdhury (Calcutta, India) replies to Eire
China can never be trusted ... Have China decided to stop their illegal claim on Arunachal ? or do they have left the Aksai Chin region ...
Agree (5)Disagree (5)Recommend (0)



永远不能信任中国...中国有决定停止非法声张阿鲁纳恰尔邦主权吗?或者他们有离开阿克塞钦地区吗...
Satyan (USA) 18 hrs ago
India should choose the commander for this exercise from Arunachal
Agree (12)Disagree (4)Recommend (5)



印度应该从阿鲁纳恰尔邦选出这次演习的指挥官!
Anil (California)
Joint exercises are welcome but lowering guard against China,who back stabbed in 1964 might prove disastrous
Agree (4)Disagree (2)Recommend (1)



联合演习是受欢迎的,但是对1964年背后刺伤我们的中国放松警惕可能是灾难性的。




Watansss (US) replies to Anil 14 hrs ago
Get your facts correct before revealing your ignorance.
Agree (3)Disagree (2)Recommend (2)




在显露你的无知前,还是先把事实搞清楚吧。




(三泰虎注:Watansss可能是说Anil把年份搞错了,应该是1962年,楼下的Mish可能也没看出来吧,所以说"请明示")




Mish (Delhi) replies to Watansss 8 hrs ago
enlighten.




请明示。



Rajesh (India) 16 hrs ago
Who is the biggest bully in the world that pokes its nose where it does not belong, imposes economic sanctions, engages in double standards, tries to behave like a world policeman with an attitude, and goes around attacking various countries with excuses ? It is not China. It is not India. It is the USA. Therefore, an India, Russia, China military partnership is the only counterbalance for an aggressive sole super power known as the USA and will serve as a detterent against US bullying or mis adventures worldwide. It will help preserve peace and stability since the world has now become unipolar after the demise of the former Soviet Union. It is good to see China and India joining hands. Teamplay is good for a rising Asia.
Agree (6)Disagree (4)Recommend (0)



谁是最大的世界恶霸,在不属于自己的地方到处插手、施行经济制裁、实行双重标准、试图充当世界警察、到处找借口攻击其他国家。不是中国,也不是印度,是美国。因此,印度、俄罗斯和中国的军事伙伴关系是唯一能制衡美国这个唯一超级大国的力量,能够对美国在世界上的欺凌行径和冒险行为产生威慑,也能帮助保护和平稳定,因为自从前苏联解体以后,世界成了单极世界。很高兴看到中国和印度联手。协同合作对崛起中的亚洲是有好处的。
Indian (delhi)
Military exercise with an enemy !!! Impossible we should not think about it at first place, we must be prepare for a two front war scenario always, we are placed with unruly nations and our politicians are timid to do any dare action against anyone, they are busy in corruption all the time, even defense is not spared by these corrupt, shameless politicians...
Agree (5)Disagree (3)Recommend (3)



与敌人举行军事演习!不可能,我们首先就不该考虑,必须准备两线作战,我们与不守规矩的国家处在一起,政客胆小怕事,不敢对任何人采取行动,他们一直忙着腐败,连国防都不能被这些腐败无耻的政客幸免...
Mohan (Patiala)
Joint military exercises are to practice for war against a common enemy. Which common enemy will India and China fight together? Nepal? Bhutan? Burma?



联合军事演习是为了共同的敌人而做战争演练。印度和中国的共同敌人是谁?尼泊尔、不丹还是缅甸?
Toga (Gandustan)
please don't. PRC missiles are pre-programmed to track Cow shiet, I do not wish to see friendly fire during a live fire exercise and any Indian getting hurt.



请不要这样做,中国导弹的预定程序能够追踪牛粪。我不希望在实弹演习中,看到友军火力伤到印度人。





原创翻译:三泰虎 http://www.santaihu.com
King Ravan (Heaven)
Good move, you got to be close for both to 'Make Love' & 'Back Stab'.



干得好,你们最好关起门来"爱爱"和"背后中伤"。
Charles (Usa) 9 hrs ago
It is a good thing for india and china to play war games together. They should get to know each others conter parts nd develop trust.
Agree (1)Disagree (1)Recommend (0)



印度和中国一起玩战争游戏是件好事。他们应该互相了解和建立信任。
Deepak Iyer (Chandigarh, India)
WE must never under estimate CHINA... remember 1961? If you do, then you should also remember that they might learn more on how to back stab us than what we might learn from them. In fact, Indians are so nice to foreigners but only fight amongst themselves! North Indians Vs South Indians, Narendra Modi Vs LK Advani... wow wow wow! Meraa Bhaarath Mahaan!



我们永远都不能低估中国...记得1961年的事件吗?如果记得,那么你也记得相比我们所能学到的,他们可能更多的学会如何背后中伤我们。实际上,印度人对外国人是很好的,只是自己会内斗!北印度人VS南印度人,纳伦德拉·穆迪VS阿瓦尼...哇....
roger-k (uk) 14 hrs ago
USA, China, Russia or any one else, it is good to be friendly. At the same time India need to be at the sharp end of its wit in dealing with them. One of the worrying aspects of our friendship with China is, China seems to be not seriously interested in solving the all important border dispute in a peaceful way with India. As keeping the border dispute open will give China the options to attack India when it suits China! Insted China seems to keep India on the hook, while it deals with India on all other issues to its advantage. Take for instent, last years bilateral trade, there was a huge Imbalance in the deal to the advantage of China! Now co-operation with China's military, who knows what has China got in its mind ? India need to insist, peaceful solution to the border dispute between the two countries is its 1st priority, all other deals will be considered only after solving the border dispute! Solving this dispute will give a great relief to us all, no doubts!



不管是美国,中国、俄罗斯或者其他国家,能与之建立友谊总是好的。与此同时,印度应该机智的对待他们。我们和中国之间友谊的一个令人担忧的方面是中国似乎对和平解决重要的边界争议不大感兴趣。边界争端遗留下来可以让中国在适当时候借机攻击印度!中国似乎让印度陷入圈套,在其他问题上总是谋取利益。比如,去年的双边贸易中,中国有巨大的贸易顺差!现在与中国军队合作,谁又会知道中国在想着什么?印度必须坚持把和平解决边界争端当做第一要务,只有在解决边界争端后才能考虑其他交易!毫无疑问,解决边界争端会给我们所有人极大安慰!
jayakumardiwakaran (Ukraina)
I cant understand,if joint exercises with China,then we can have it with Pakistan also. Some stupid politicians want to show the public that,its all right with China or as if China has no choices. God forbid,but for once,Indian SC also could act like the Pakistani SC and disqualify the entire Lok Sabha. JAI HIND
Agree (4)Disagree (3)Recommend (2)



我不理解,如果可以与中国联合军事演习,那么我们也可以与巴基斯坦联合军演。一些愚蠢的政客想向公众表明与中国一起是对的,或者好像中国没有选择一样。上帝是禁止的,但是仅此一次,印度最高法院可能会像巴基斯坦最高法院一样废了整个人民院。胜利属于印度。
据《印度时报》6月20日报道,近日有印度消息人士透露,印度军舰时隔6年再次访问中国后,印度计划提议同中国明年举行联合军事演习。在中印常被拿来进行比较、甚至被指竞争对手的背景下,有印度媒体对此感到困惑:中印到底是朋友还是敌人?但是《印度时报》表示,印中两国军事关系将开始深入发展。此前,中印两军曾于2009年在印度贝尔高姆开展了代号为"手拉手"的反恐和反武装叛乱演习,2007年曾在中国也举行过类似演习。