原创翻译:http://www.santaihu.com
原文标题:GMR row: India freezes aid to Maldives, ties under stress
原文链接:http://timesofindia.indiatimes.com/business/india-business/GMR-row-India-freezes-aid-to-Maldives-ties-under-stress/articleshow/17468213.cms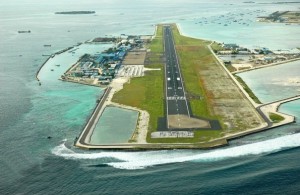 SINGAPORE/MALE/NEW DELHI: In a move to put pressure on Male, India has frozen aid to Maldives as its government on Monday decided to take control of the international airport despite a Singapore court staying the suspension of the contract given to India's GMR-led consortium.

The high court of Singapore suspended the Maldives government's decision last week to terminate the $500 million contract, the single largest Indian FDI in the Maldives, awarded to the consortium for developing the Ibrahim Nasir International Airport at Male.

"High court of Singapore today (Monday) granted injunctive relief (stayed) against the applicability and operations of (contract termination) letter issued by the ministry of finance and treasury (MoFT), government of Maldives," GMR said in a statement.

新加坡/马累/新德里:3日,尽管新加坡法院做出裁决,暂缓终止马尔代夫与印度GMR集团签署的合同,马尔代夫政服还是决定收回国际机场的控制权,为了施压马累,印度冻结了对马尔代夫的援助。



上周,新加坡高等法院裁决马尔代夫政服暂缓执行上周有关终止5亿美元合同的决定。该合同是印度在马尔代夫最大一笔投资,被授予GMR集团用于开发马累易卜拉欣纳西尔国际机场。





GMR集团在一份声明中称:"新加坡高等法院今天(3日)颁布了救济性禁令,裁决马尔代夫财政部发布的合同终止信不适用。"



"The high court upon hearing both the parties was pleased to grant this stay in favour of GMIAL (consortium of GMR-MAHB)."

However, the arbitration process will continue on the sidelines, said a company official.

The Singapore high court is acting as an arbitrator in the issue between the GMR-backed consortium GMIAL and the Maldives government. Under the contract, the law of either Singapore or Britain would apply in case of differences between parties.



"高等法院在听取了双方意见后,爽快地颁布了有利于GMR集团的裁决。"





然而,一位公司官员表示,仲裁手续会继续下去。





在GMR集团和马尔代夫政服之间的争议中,新加坡高等法院充当了仲裁人的角色。按照双方签署的合同,新加坡法律或者英国法律适用于双方之间产生的分歧。



The Maldives government, however, chose to defy the order. "We will continue the airport takeover and Inshallah next Saturday onwards MACL (state-controlled Maldives Airport Company Ltd) will be running the airport," Defence minister and acting transport minister Mohamed Nazim told reporters in Male on Monday.

Upset at the Maldives government's attitude, India has put on hold $25-million budgetary commitment to Male, said reliable sources on Monday.

Bilateral ties will be affected, said the sources.



然而,马尔代夫政服选择违抗命令。国防部长和代理运输部长Mohamed Nazim3日在马累接受记者采访时称:"我们会继续接管机场,听天由命吧,国有的马尔代夫机场管理公司(MACL)下星期六会开始管理机场。"





据可靠消息人士称,印度对马尔代夫政服的态度感到不安,暂停了对马累的2500万美元援助承诺。消息人士称印度和马尔大夫之间的双边关系会受影响。




以下是印度网民的评论:




babu (mumbai)
Pls invest in India. We need more air ports
Agree (5)Disagree (1)Recommend (2)



请在印度投资,我们需要更多机场。
SpArrow (AP)
If India stops aid, China will buy them for 50M$ aid. India should not intervene in the business dispute.
Agree (6)Disagree (1)Recommend (3)



如果印度停止援助,中国会以5000万美元的援助收买马尔代夫。印度不应该干涉商业争端。
VIKASH (maine)
Freezing aid, is a good start to put pressure in solving this dispute!
Agree (4)Disagree (2)Recommend (2)



冻结援助是通过施压解决争议的良好开端!
Anil Thakur (Bangkok )
Another diplomatic mess which our govt first let grow and now does not know how to handle. Most immature action - freeze aid, so that china can walk in with ease provide all aid and then it's bye bye india forever. Can we ever think and act like a leader at all
Agree (6)Disagree (0)Recommend (0)



政服搞了又一出外交乱局,先是放任其发展,现在不知道如何处理。冻结援助是最不成熟的行动,中国会借机提供援助进入马尔代夫,然后马尔代夫就永远跟印度说再见。我们的想法和做法就不能类似领袖那样吗?
EMC3 (Bangalore)
One small tsunami or p1ss of 1 billion Chinese (which they will soon do with their tiny pipes) in the Indian Ocean is enough to sink Maldives.
Agree (4)Disagree (2)Recommend (1)



印度洋一个小规模的海啸或者十亿中国人的一个屁就足以让马尔代夫下沉。
Shakeel (Male)
The Majority of Maldives support GMR and are happy about the generous investment by an Indian company. But the dictator Gayoom and his family, wants to create havoc here by bringing in the Chinese, so that his family can rob this country, transit drugs through the airport and misuse the airport revenues for personal gain. Please bear in mind that Waheed is a puppet of Gayoom, and they are knowingly creating trouble with the Indian Investment for political gain, creating an excuse to bring in the Chinese.
Agree (20)Disagree (3)Recommend (3)



大多数马尔代夫人支持印度GMR集团,对这家印度公司的大手笔投资表示欢迎。但是加尧姆家族想要制造混乱,让中国人卷入进来,这样其家族就可以抢劫国家,通过机场贩运毒品,为了个人私利滥用机场收入。记住,瓦希德是加尧姆的傀儡,为了政治利益而故意制造同印度政服的摩擦,为引入中国人创造借口。
Karan (Jalandhar Punjab)
No need to panic guys Maldives won't be there in few decades due to global warming. we need to worry bout countering China rather than Maldives, over which we can gain control in few minutes.



各位,无需惊慌!由于全球变暖,马尔代夫几十年后就会消失。印度几分钟就可以解决这个国家,所以无需担心,倒是要担心如何反制中国。
vipin verma (New Delhi)
The correct way is to send the Marines. Talks have no future with the present Government
Agree (20)Disagree (8)Recommend (6)



正确的方法是派海军陆战队过去。同当前政服谈判是没有结果的。




aSDFG (ny) replies to vipin verma
DON'T TRY. MASTER CHINS WILL TAKE OVER US. WE DON'T WANT TO BE COMMUNIST.
Agree (4)Disagree (4)Recommend (1)




别试。中国主子会接管印度。我们不想成为共产党。



Ku (uk)
It is time India stretched its muscles and remove this arrogant and defiant government before Chinese take over. Let there be India rule.
Agree (27)Disagree (6)Recommend (4)



现在是印度出手的时候了,应该赶在中国人接管马尔代夫之前废掉这个傲慢和目中无人的政服。
Anuja Mathur (Wald Im Pinzgau, Salzbur)
India should use navy buildup to put pressure
Agree (11)Disagree (11)Recommend (1)



印度应该通过海军集结施压马尔代夫。
raj (mumbai)
I think they don't want mess like delhi airport with stinking carpets
Agree (15)Disagree (34)Recommend (4)



我认为马尔代夫人不想让其机场搞得像德里机场一样铺的地毯是发臭的。




arorav (uk) replies to raj
Delhi airport in itself can now be counted amongst world class airports.
Agree (4)Disagree (1)Recommend (0)




德里机场现在算得上是世界级机场。




Sunil (India) replies to raj
come and visit Delhi international airport (IGI). its word class and in top 4 airport of the word.
Agree (19)Disagree (11)Recommend (5)




过来参观下德里国际机场,那可是世界级机场,排名跻身世界前4。




sankarnp (chicago) replies to raj
The stink was from you,not the airport carpets
Agree (28)Disagree (6)Recommend (8)




臭气来自你身上,不是来自机场地毯。



Darwin (India)
Send our Aircraft carrier. It will send out a strong signal
Agree (10)Disagree (9)Recommend (6)



派航母过去,可以对其发出强烈信号。
Sunil (India)
India should protect its interest in Maldives, India was silent earlier but it should not be silent any more. we have seen what is the end result of being neutral in Nepal. Now our friend nepal is in the hand of china. same is going to happen in Maldives.



印度应该保护其在马尔代夫的利益。印度以前保持沉默,现在不能再保持沉默了。我们已经看到了在尼泊尔问题上保持中立的最终后果。尼泊尔现在落入了中国手中,同样的命运将发生在马尔代夫身上。
MAHA IBRAHMIN (Brahmavartha)
THIS IS WHAT CHINA AND PAKISTAN WANTED ------- Maldives is least bothered and doesn't find any value in India ------- No more friends in SAARC.----- Shame on India.
Agree (7)Disagree (9)Recommend (2)



这就是中国和巴基斯坦想要看到的结果。马尔代夫根本不在意,在印度身上找不到任何价值所在。印度在南亚区域合作联盟没有朋友了。真丢脸。
Jose Abraham (Somewhere in India)
One should read this between the lines and also get into the deeper side of economics & politics. Pak & Sri Langottis are keeping their mouth shut. Why? Its simple the new authorities wants to give the contract to China. The rest, we all know, that is, what happens when counties like China, USA etc steps in. It becomes a strategic defense fortress / base for them. The best option is to just send a strong message in the form of INS Virat, a few frigates with amphibious assault team of MARCOS & NSG commandos about 7 nautical miles from Male. You do not have to even fire a single shell. DO IT NOW. Or else we ( India) will regret for the rest of the time.
Agree (15)Disagree (2)Recommend (5)



大家应该解读字里行间的意思,还要从更深的经济和政治层面着眼。巴基斯坦和斯里兰卡保持沉默。为什么?很简单,新当局想要把合同给中国。一旦中国、美国等国家进入,我们都知道会发生什么。马尔代夫会成为其战略防御堡垒或基地。印度最好的选择是对马尔代夫发出强烈信号,派维拉特号航母过去,再加上护卫舰和两栖攻击舰,游弋在距马累7海里之外,不用打一发炮弹。立即行动,否则我们会后悔终生。
Anand (Qatar)
Before Srilanka back stabbed our nation, now this tiny country slabbing our big country, this is purely because of our inefficient external affairs ministry bureaucrats & chinese influence..What our Intelligence Agencies doing ?? This is the perfect time to revamp our external affairs ministry & intelligence agencies..
Agree (29)Disagree (1)Recommend (8)



以前斯里兰卡背后中伤我们国家,现在是这个小国给我们大国造成伤害,完全是因为低效的外交部官员和中国人的影响力。我们的情报机构在干什么?现在是改组外交部和情报机构的完美时机。
Preet Bhat (India)
Do the math, when they are saving $500 million, would they care for paltry $25 million? It's time to attack and annex such countries like Srilanka, Maldives, Bhutan, Nepal, Burma etc. Though it's not advisable to attack China or Bangladesh. Let America do our dirty work in Af-Pak. Until then, we will be called Third World country.
Agree (4)Disagree (2)Recommend (2)



算一下,既然节约了5亿美元,难道他们会在意微不足道的2500万美元?虽然攻击中国或者孟加拉国是不可取的,但现在该是攻击和吞并斯里兰卡、马尔代夫、不丹、尼泊尔、缅甸等国家的时候了。让美国帮我们在阿富汗和巴基斯坦干那些肮脏勾当。只有到那时,我们才不会被称为第三世界国家。
maria vijayan (tamil nadu )
it was indicating clearly... failed of indian diplomacy,and intelligent. India don't have plane B.even five year before china don't have embassy in Maldives.not only mali also Lanka... bangla... nepal. these all country slowly but steadily go away from our range and close to china...,
Agree (6)Disagree (1)Recommend (2)



很明显,这是印度外交部和情报机构的失败。5年前,中国在马尔代夫甚至没有大使馆。斯里兰卡、孟加拉国、尼泊尔等国家慢慢走出印度影响范围,向中国靠拢.....
Bharat Meena (Dehradun)
Right step in the right direction. India should stop feeding these snakes. This entire episode seems to be sponsored by China so the countries such as Maldives, Sri Lanka must be dealt with Iron stick!!
Agree (13)Disagree (3)Recommend (3)



印度朝着正确方向迈出了一步。印度应该停止喂养这些蛇。整个事件似乎得到了中国的支持,所以必须用大棒对付马尔代夫、斯里兰卡等国家!!
southasian (world)
Wana be superpower! My foot!! Can't handle Maldives! Ha ha ha ......
Agree (20)Disagree (5)Recommend (6)



想成为超级大国!算了!连马尔代夫都对付不了!哈哈哈......
abc (abc)
We should send a naval fleet to intimidate them. The idea must be to create tensions so that tourist stop going there from the world over. The people there will themselves throw the government out in next elections
Agree (12)Disagree (4)Recommend (1)



我们应该派舰队过去吓他们。出发点是制造紧张局势,让世界各地的游客不敢去那里。人们就会在下次选举中推翻现政服。
a (s)
I think we should arrange a coup and change the regime. All it will require is some 100-odd soldiers of Indian navy to release the previous Prime minister who is in Jail, who himself was ousted by the current regime. India should have acted at that time and helped the previous prime minister who was ousted by coup.
Agree (19)Disagree (2)Recommend (2)



我认为,我们应该安排一次政变,改变其政权。只要大约100名印度海军士兵就可以解救被现政权废掉且被其关在监狱里的前任总理。印度当时就应该行动起来帮助被政变推翻的前任总理。
Az (Oz)
India has saved Maldives from coup in the past but this time they must engineer a coup to install a pro-Indian government there. India cannot afford Chinese influence at its doorstep.
Agree (19)Disagree (5)Recommend (4)



在过去,印度拯救马尔代夫人于政变中。他们这次必须策划政变,把支持印度的政服推上台。印度无法忍受中国人在其家门口的影响力。
pawar rs (mumbai.)
This bloody SAARC and all the wastage..Oh Oh!
Agree (4)Disagree (1)Recommend (2)



可恶的南亚区域合作联盟国家,全部是废物....哦哦!
vikashroy (India)
Oooo wait Big Beggar (India) denied Aid to small Beggar (Maldives) ....



噗,大乞丐(印度)拒绝给小乞丐(马尔大夫)援助.......





原创翻译:三泰虎 http://www.santaihu.com
MAHA IBRAHMIN (Brahmavartha)
THIS IS A LOUD SLAP ON INDIA BY CHINA.
Agree (4)Disagree (9)Recommend (0)



中国重重地给了印度一记大耳光!




najeeb (EU) replies to MAHA IBRAHMIN
india has already slapped china thru dalai lama..and they are suffering it such a long it wont curable.india can live with this slap..u got it idiot.
Agree (2)Disagree (2)Recommend (2)




印度已经通过"光头"扇了中国耳光,好久了,现在还在痛,难以治愈。印度忍受得了这记耳光,你懂的,傻子。



MAHA IBRAHMIN (Brahmavartha)
India can NOT afford to mess around with Maldives because 1000's of Indians are working in Maldives but NOT a single Maldivian in working in India ----- Same with Srilanka too.
Agree (6)Disagree (29)Recommend (2)



同马尔代夫的关系要是搞砸了,印度可承受不起,因为有1000名印度人在马尔代夫工作,却没有一名马尔代夫人在印度工作——斯里兰卡的情况也类似。
senthil (chennai)
I support maldives govt because GMR was ripping off the passengers and airlines in terms of air port fees.
Agree (13)Disagree (4)Recommend (2)



我支持马尔代夫政服,GMR集团通过机场建设费剥削乘客和航空公司。
据《印度时报》报道,尽管新加坡高等法院3日做出裁决,暂缓终止马尔代夫与印度GMR集团签署的机场管理合同,马尔代夫政服还是决定收回马累国际机场的控制权,为了施压马累,印度冻结了对马尔代夫2500万美元的援助。有关马尔代夫和印度GMR集团的机场管理合同的争议引起了印度网民的纷纷评论。不少印度网民称背后有"中国因素",要求印度派海军过去恐吓斯里兰卡,以维护印度的名声。然而,马尔代夫总统瓦希德明确表示,终止同印度GMR集团的马累国际机场管理合同与中国无关。