原文标题:India finds no mention in Chinese foreign minister's annual press meet
原文链接:http://timesofindia.indiatimes.com/world/china/India-finds-no-mention-in-Chinese-foreign-ministers-annual-press-meet/articleshow/18886923.cms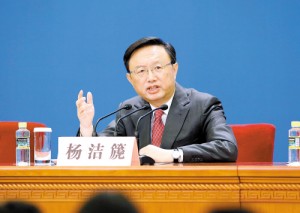 BEIJING: China's outgoing foreign minister Yang Jeichi on Saturday spent two hours in his annual press conference discussing China's relations with different countries but there was no mention of the country's biggest neighbour India.

Yang was speaking at his yearly press briefing, which is used to send out foreign policy signals. Not mentioning an important neighbor like India, which is China's partner in espousing third world causes in environment debates, at the World Trade Organization and in BRICS is a deliberate policy signal, region observers said.



北京:3月9日,在年度新闻会议上,中国爽直的外长杨洁篪花了两个小时讨论中国与各国的关系,但并未提及最大邻国印度。





杨洁篪是在年度新闻发布会上发表谈话的,该发布会通常能传出外交政策信号。地区观察家称,作为中国在环保议题上支持第三世界事业、在世界贸易组织及金砖国家等领域的伙伴,中国并未提及印度这样重要的邻国是一个明显的政治信号。



Yang used a Chinese proverb to indirectly blame China's neighbors for the instability in the region without mentioning any country. "The tree prefers calm but the wind refuses to subside," he said. But there was an improvement in the situation and China's neighbourhood was becoming increasingly stable, he said while asserting, "A good neighbour is an invaluable treasure."

Communist Party leader Xi Jinping, who will soon become the country's president, is due to attend the BRICS meeting in Durban and meet Indian leaders later this month. Yang discussed the rising importance of BRICS without discussing India in particular.



杨洁篪用一句中国谚语间接将该地区的不稳定归咎于邻国,但未提及任何国家的名字。"树欲静而风不止,"他如此说道。但形势有所改善,中国的周边地区变得越来越稳定,他同时声称:"友好邻居是无价之宝。"





本月末,中国不久将成为国家主席的习将在德班参加金砖国家会议并会见印度领导人。杨洁篪讨论了金砖国家不断上升的重要性,但并未特别提及印度。



Yang, who spent six years as foreign minister, discussed "neighbouring countries" and dealt on Beijing's relationship with four of its neighbours—Russia, Japan, South Korea and North Korea besides Indonesia.

He also disclosed an interesting figure saying China's trade with its neighbours including Russia reached 1.2 trillion yuan ($193 billion), which is higher than the country's combined trade with the US and Europe in 2012. This was unimaginable even a few years back, he said.



当了6年外长的杨洁篪讨论了"周边国家"以及北京同俄罗斯、日本、韩国、朝鲜等邻国之间的关系。





他还披露了一个有趣的数据,称中国同包括俄罗斯在内的邻国之间的贸易额达到了1.2万亿元(1930亿美元),比2012年该国同美国和欧洲加起来的贸易额更高。他说,这在几年前是无法想象的。




以下是印度网民的评论:




Toga (Cow Slaughterhouse)
lol i've been telling you guys India is irrelevant in china's mind.
Agree (19)Disagree (2)Recommend (16)



lol,早就跟你们说过,中国从来没有关注印度。




Abdali (KPK) replies to Toga
China knows India won't exist
Agree (18)Disagree (3)Recommend (15)




中国知道印度将不会存在。




Rajesh (Delhi) replies to Abdali
But Chinese know that their business wont exist if they dont export their products to the large Indian market.
Agree (4)Disagree (6)Recommend (2)




但中国人知道,如果不向庞大的印度市场出口产品,那就没有生意了。




badegg (US) replies to Rajesh
India is a small trade partner for China, at least today. Period!
Agree (7)Disagree (0)Recommend (7)




印度对于中国来说是小的贸易伙伴,至少今天是这样。




Toga (Cow Slaughterhouse) replies to Rajesh
Large indian market? lol open your eyes and see beyond Pakistan.
Agree (7)Disagree (3)Recommend (7)




庞大的印度市场?lol,睁开你的眼睛,别老盯着巴基斯坦。




Abdali's Father (Kuwait) replies to Abdali 8
First Pakistan will disappear and then China.
Agree (3)Disagree (7)Recommend (2)




巴基斯坦会首先消失,然后是中国。



TheTruth (Some where)
China doesn't trust India, she is still a lap dog of the west!
Agree (17)Disagree (5)Recommend (13)



中国不信任印度,印度仍是西方的哈巴狗!




Truth my foot (Taxila) replies to TheTruth
china itself is a rabid dog which need to be put down...world is just waiting till the dog bites. India is a trustworthy country. Not like Porkistan
Agree (3)Disagree (11)Recommend (2)




中国自身是条有待压制的狂犬,世界正等着它咬人。印度和巴基斯坦不一样,是可信赖的国家。




raj (UK) replies to Truth my foot
India is not even trusted by its own women....
Agree (6)Disagree (2)Recommend (6)




印度甚至不受本国女性信赖......



x (y)
If India gets mentioned by China, there will be an up-roar, India doesn't get mentioned, she will be up-set. Well, can't win.
Agree (12)Disagree (1)Recommend (10)



中国要是提了印度,印度就会咆哮;中国要是没有提及印度,印度就会沮丧。



译文来源:三泰虎 http://www.santaihu.com



Toga (Cow Slaughterhouse) replies to x
Endians are acting like they are important. But the sad fact is they are impotent.
Agree (7)Disagree (2)Recommend (5)




印度人装得自己很重要一样,令人难过的事实是:他们是无能的。



badegg (US)
What's the point for this news? The conference only lasted for 2 hours, and China has many important things to mention. China would have mentioned India if the conference had lasted longer than that.
Agree (8)Disagree (0)Recommend (5)



本条新闻的重点是什么?这个会议只持续了两个小时,中国有许多重要的事情要讨论。要是会议持续时间长些,中国可能会提及印度。




Toga (Cow Slaughterhouse) replies to badegg
The point is that PRC is making india looks un-important.
Agree (5)Disagree (2)Recommend (5)




关键是中国使印度看起来不重要。



SOM NATH SHARMA (n delhi india)
NO COMMENTS MEANS GOOD COMMENTS on the pattern of NO NEWS IS GOOD NEWS
Agree (1)Disagree (3)Recommend (0)



没有评论(印度)意味着是好评,类似没有消息就是好消息。
Toga (Cow Slaughterhouse)
India is only a "geographic term", not really a nation. It falls under a single government, but in reality it's just a whole bunch of individual cultures melted in to one by the brits.
Agree (10)Disagree (2)Recommend (5)



印度只是一个"地理名词",并非真的是一个国家。虽然处在单一政服的管辖之下,实际上是英国将一大群独立的文化整合起来的。
q (a)
Correction: the trade volume between China and its neighboring countries was 1.2 trillion USD not "yuan". China's trade with USA is more than 400 billion USD.
Agree (6)Disagree (1)Recommend (6)



纠正:中国和周边国家的贸易总量是1.2万亿美元,不是"元"。中美贸易总量就超过了4000亿美元。




Ashok (Lucknow) replies to q
Can't believe our trusted news media can make such a simple mistake. It goes to show that we don't even try at all to make our reported information as accurate as possible.
Agree (3)Disagree (0)Recommend (1)




难以相信可信赖的新闻媒体居然犯这样的错误。这表明我们并未努力使我们的报道尽量准确。



Bin (Singapore)
Oh, China's biggest neighbor is Russia.....not India....
Agree (5)Disagree (0)Recommend (5)



哦,中国最大的邻国是俄罗斯,不是印度。
印媒发现中国外长在年度新闻会议上并未提及印度!印度人看中国外长讨论与邻国关系时未提及印度。据《印度时报》报道,3月9日,在年度新闻会议上,中国爽直的外长杨洁篪花了两个小时讨论中国与各国的关系,但并未提及最大邻国印度。地区观察家称,印度作为中国在环保议题、世界贸易组织及金砖国家等领域的伙伴,中国并未提及印度这样重要的邻国是一个明显的政治信号。杨洁篪用一句中国谚语间接将该地区的不稳定归咎于邻国,但未提及任何国家的名字。