原创翻译:http://www.santaihu.com
原文标题:India decides to fight back aggressive China
原文链接:http://timesofindia.indiatimes.com/india/India-decides-to-fight-back-aggressive-China/articleshow/17801193.cms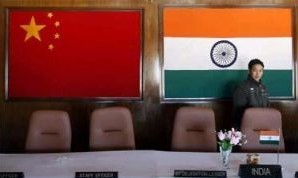 NEW DELHI: Foreign minister Salman Khurshid held his first conversation with his Chinese counterpart Yang Jiechi only last week. National Security Advisor (NSA) Shivshankar Menon will once again host the outgoing state councillor Dai Bingguo in early January for a meeting of BRICS NSAs after having met him only a few weeks ago. The new year will also see a new Chinese ambassador in New Delhi in Wei Wei, a senior Chinese diplomat who will take over from Zhang Yan.



新德里:印度外交部长萨尔曼·库尔希德上周刚和中国同行杨洁篪举行首次会谈。明年1月初金砖国家举行安全会议期间,国家安全顾问(NSA)希夫香卡尔·梅农将再次招待即将离任的国务委员戴秉国,两人此前数周曾会过面。此外,新的一年还将迎来中国新任驻新德里大使韦唯,韦唯是中国一名高级外交官,将接任张炎的职务。



On the face of it, India and China have had a minimal-problem year. "Our aim is to have more interaction, more exchanges, to help us understand each other better," said senior government sources. The past year has seen much greater communication between the two governments — India and China have started a dialogue on West Asia and Africa. A maritime dialogue and talks on central Asia are on the cards. At the top level, regular interaction between PM Manmohan Singh and both Hu Jintao and Wen Jiabao has kept channels of communication open. Even the working group on the boundary has met twice this year, while Menon recently held the second meeting with Dai Bingguo on the dispute. The Chinese defence minister Gen Liang Guanglie made his first visit to India earlier this year, as did the Chinese commerce minister. Whether this has made for better ties is questionable, but it has certainly improved communication.



咋看起来,印度和中国度过了麻烦极少的一年。"我们的目的是加强互动,促进交流,帮助彼此更好地理解对方,"政服高层消息人士说道。过去的一年见证了两国政服更积极地交流——印度和中国在西亚和非洲问题上开启了对话,有关中亚的对话和谈判也可能展开。在最高层,曼莫汉·辛格总理与胡主席、温总理之间的定期互动维系了沟通渠道的畅通。今年,中印边界谈判小组甚至会见了两次,梅农最近和戴秉国就边界争端举行了第二次会谈。中国国防部长梁光烈今年早些时候首次出访印度,中国商务部长也是。这些是否促进中印关系好转尚存疑,但无疑增进了交流。



The complexity of the relationship is illustrated by the fact that while 2012 was the "year of friendship", it was also the 50th anniversary of the humiliating 1962 war. As a consequence of the former, more Chinese visited India than ever before. But the latter date reminded every Indian that China is only growing as a military challenge. The collective breast beating in India over 1962 was not matched in China, but it served a useful purpose here: to focus attention on the military challenge of living next door to a budding superpower with weapons to match and a festering territorial dispute to solve.



可以这样阐释中印关系的复杂性:2012年是中印"友好年",同时也是令印度蒙羞的1962年中印战争的50周年纪念日。前者给印度带来了比以往更多的中国游客,但后者提醒每一位印度人,中国的发展令其成为军事挑战。印度对1962年战争的集体慷慨激昂并没有出现在中国,但也起了一个作用:促使印度人关注新兴超级大国住在"隔壁"带来的军事挑战,必须有能匹敌的武器,严重的领土争端还有待解决。



China's rapid military modernization is a challenge that could have been easier to deal with, but it is accompanied by an ascending aggressive posture by Beijing, particularly on territorial disputes, which is putting Indian military planners on edge. The brewing China-Japan conflict over the Senkaku/Diaoyu islands and the South China Sea dispute is being followed with some interest by Indian strategic planners. Besides, it is a great exhibition of Chinese war planning.

China has been steadily pushing the envelope on both conflicts. For instance, in recent weeks, China has flown surveillance planes over the Senkaku/Daioyu islands, declared that Hainan police would engage in search and seizure of vessels in the South China Sea. Beijing even printed its territorial claims on its new e-passports.



中国的快速军事现代化本是一个可以较轻松应对的挑战,由于伴随着北京咄咄逼人的姿态,特别是在领土争端上,导致印度的军事决策者紧张不安。不断酝酿的中日钓鱼岛冲突以及南海争端,引起印度战略决策者的兴趣和跟踪。



中国在两场冲突都稳步地挑战对方极限。比如,最近几周,中国侦察飞机飞临钓鱼岛,宣称海南警方将搜索和扣留南海的船只。北京甚至将其领土主张刊印在新版电子护照上。

New Delhi's response has been pro-active. India stamped its own map on top of China's, while others have protested diplomatically. Defence sources have pointed out that China's patrolling on the India boundary is equally aggressive, inching forward where they don't encounter a pushback. This has compelled Indian forces to patrol equally aggressively on the border.

Despite a feel-good position on bilateral trade, there is no satisfaction on the ballooning trade deficit between the two countries. Bilateral trade has fallen 8% in the past year, a function of the slowing economic growth in both countries. But the trade deficit remains at a stubborn $40 billion. China's leadership has repeatedly promised to open up their markets to Indian exports of software and pharmaceuticals, but there is nothing on the ground. "China's greatest export to India is promises," said officials involved in trade negotiations.



新德里的回应是积极主动的。印度也刊印其主张的地图,其他国家提出了外交抗议。有国防消息人士指出,中国在印度边界巡逻同样也是挑衅,中国一寸一寸向前推进,并没有遭遇阻击,促使印度军队也在边界展开巡逻。



尽管对双边贸易自我感觉良好,然而印度对不断增大的贸易赤字感到不满。由于两国经济放缓,中印双边贸易额在过去一年里下降了8%,但贸易赤字难以消除,仍是400亿美元。中国领导层三番五次承诺向印度软件和制药开放市场,但根本没有实质进展。"

中国对印最大出口是承诺

,"参加中印贸易谈判的一名印度官员说道。

This year, India worked hard to counter China's "string of pearls" working on relations with South Korea, Japan, Australia, Vietnam, Indonesia and Myanmar. In December, an India-ASEAN summit brought leaders of all 10 ASEAN nations to Delhi. India pushed the idea of ASEAN's centrality and its unity — both of which are under threat because of Beijing's disruptive moves in that part of the world. The success, or otherwise, of India's efforts will only be visible a few years from now, but South Block has bought into the idea of a fight back.

今年,印度努力反制中国的"珍珠链战略",致力于与韩国、日本、澳大利亚、越南、印尼和缅甸加强关系。12月,十个东盟国家的领导人来到德里参加印度-东盟峰会。印度提出了东盟"向心和团结"的理念——北京在该地区的破坏性行动给其带来了威胁。

印度付出的努力能否成功,只有在未来几年才能见分晓,但南亚阵营已经接受了反击的想法。




以下是印度网民的评论:




RJSH (Bangalore)
I hope this is not the lull before the storm...



希望不是暴风雨前的宁静.....
Parnaab Malhotra (GERMANY)
China is a super power we should not mess with them and they got better army, air force, navy we need survival not to go back to stone age from where we hardly moved in these 60 years better to keep distance from them.
Agree (19)Disagree (5)Recommend (5)



中国是超级大国,别与其纠缠,他们海陆空三军更先进,我们要生存,不想回到石器时代,60年来,我们进步不大,最好远离中国。
Robert (USA)
China is great on making promises. Just days before invading India in 1962, Premier Chow-en-Lai told Nehru that 'border issue is not a major issue and can be solved very peacefully and quickly". They surely solved it "quickly". The Chinese way of diplomacy requires understanding China.
Agree (4)Disagree (6)Recommend (2)



中国很擅长做出承诺。1962年中国入侵印度前几天,周恩来总理向尼赫鲁表示,"边界问题不是啥大问题,可以通过和平方式迅速解决",迅速倒是很迅速,不了解中国,你就不会懂中国人的外交方式。
sukumar (usa)
Increase the trade volume by leaps and bounds. Borrow trillions from chinese. When both are done the chinese will never dream of attacking India. The lender has a vested interest in the well being of the borrower.
Agree (4)Disagree (1)Recommend (2)



印度可以大幅增加中印贸易额,向中国人借数万亿。一旦达成目标,中国人就永远不可能攻击印度。债权人有其既得利益,会关心借款人的境况。



译文来源:三泰虎 http://www.santaihu.com

Ind (India)
Chinese are better bargainers than the Indians. Chinese got Tibet, Akshay Chin, and much more in Indian Ocean. India has always lost in every transaction with the Chinese.
Agree (12)Disagree (1)Recommend (5)



中国人比印度人更会讨价还价,中国人得到了xz,阿克赛钦,还在印度洋收获颇丰,印度在和中国的每一笔交易中都亏了。
Satyan (USA)
China has fooled India in 1962. China will repeat that again with other neighbor.
Agree (6)Disagree (4)Recommend (0)



中国1962年欺骗了印度,还会在其他邻国身上故伎重演。
Sudarshan Gupta (VD)
India has to fightback and be prepared to fight against any country
Agree (1)Disagree (1)Recommend (0)



印度必须反击,且做好对抗任何国家的准备。
arajulu (Nellore)
China considers only India as its main competitor even over USA! If we want to compete, we have to grow economically. Ofcourse, we are progressing in that direction but the fruits of this are eaten by the rampant corruption. Unless the corruption is contained, real economic growth is not possible.
Agree (2)Disagree (2)Recommend (0)



中国认为只有印度才是其主要竞争对手,甚至是比美国更大的竞争对手!如果印度想要竞争,就必须发展经济。当然,我们正朝这个方向发展,但发展果实被猖獗的腐败吞噬了。除非腐败得到遏制,否则就不可能出现真正的经济增长。
Honest Citizen (Chennai)
But for international intervention, whole Ladakh and northeast of India would have lost to China during 1962. What is the guarantee that what these people was not able to do then, will they be able to do now? It is country even Russia and US is afraid off.



要不是国际干预,整个拉达克和东北邦会在1962年丢失给中国。中国人当时没有办到的事情,又有什么能保证其现在办不到呢?中国是一个甚至令俄罗斯和美国感到害怕的国家。
K.Dibyajyoti Mohanta (Bhubaneswar)
attack china and bring back Akasi chin
Agree (4)Disagree (5)Recommend (2)



向中国发起进攻,夺回阿克赛钦。




Lal Singh (Delhi) replies to K.Dibyajyoti Mohanta
You lead the charge and I dig the grave. Does that fake 'Kamikazi headband give you false courage ?




你带头,我挖坟。是否是那个假的神风头巾给了你莫须有的勇气?



DC (India)
At least now they decided to take on china directly this is a good move as we need not be bothered about the banana republics like Sri Lanka and Maldives



他们至少决定直接挑战中国了,此举不错,我们不用去烦恼斯里兰卡和马尔代夫等香蕉共和国了。
Harish G (BLR)
let us fist fight against the internal enemies of our country (corrupt politicians, rapists) afterward we can plan for other fights. Shame on indian Govt.
Agree (6)Disagree (0)Recommend (2)



先与内部敌人作斗争(腐败政客、强奸犯),然后再计划其他战斗。印度政服太无耻。
Bharathi (Hyderabad)
Primarily we should have an edge over China economically. And then we need strong leadership at diplomatic level. Military might comes next. Having said that, its not China thats our adversary but our own corrupt leaders who are weakening our economy. What can we do about that?
Agree (10)Disagree (0)Recommend (1)



关键是在经济上对中国要有优势,然后外交层面要有强有力的领导,其次是军事实力要跟上。已经说过,我们的对手不是中国,而是内部腐败的领导人,他们削弱了经济,我们能咋办呢?




great (planet earth) replies to Bharathi
Bharati, don't day dream. With this kind of rubbish / criminal politicians we will not be able to come even 1000 miles closer any time in future. Go to china and see the development . Their railway stations will put delhi airport to shame. Indians only knows to day dream. If British were in India to - day, yes we could have challenged China but not with these dirty politicians. Now we are in gulami forever.
Agree (1)Disagree (0)Recommend (1)




Bharati,别做白日梦了,就凭这些堪比垃圾和罪犯的政客,印度未来不会取得多大进步。去中国瞧一下他们的发展,他们的火车站会令德里机场汗颜。印度人就懂得做白日梦。如果英国今天还统治印度,我们可能有能力挑战中国了,但凭这些卑鄙的政客是办不到的。



myalmightygod (India)
Good, keep it up



好样的,继续保持。
Saurabh Nagshain (Hyderabad)
if Indian bureaucracy had speed up decisions without corruption then India would have over passed China long back
Agree (3)Disagree (2)Recommend (0)



如果印度官僚不腐败,能快速决策,那么印度老早就超过中国了。




If (Heaven) replies to Saurabh Nagshain
If....if.....if.....if.....if....!!!!!!!
Agree (3)Disagree (0)Recommend (0)




如果.....如果....如果........!!!!!



PIO (USA)
No matter how much our military commanders boast there is no match between the two countries. Peace is always better in such situations. Give the devil what belongs to her or be prepared to lose more land. It is so simple. Depending on unreliable friends like USA and Russia for help will be a big mistake
Agree (4)Disagree (6)Recommend (1)



不管我们的军队指挥官如何吹嘘,中印两国还是没有可比性。和平在这种情况下总是更好的选择。给魔鬼其该有的下场,否则就准备好丢失更多领土,就这么简单。依赖美国和俄罗斯这些不可靠盟友的帮助是一个大错。
Rajesh Vyas (Mumbai)
Are we capable of Confronting China. I am afraid not. Since the 1962 debacle, the successive governments have precious little to create a deterrent for China. It is too late now. China is way ahead in all aspects, Business, Economy, Military.
Agree (11)Disagree (1)Recommend (4)



我们是否有能力对抗中国?恐怕没有。自从1962年溃败以来,历届印度政服几乎没有建立起对中国的威慑,现在太迟了,中国各方面遥遥领先,商业、经济、军队......




vishal anand (patna) replies to Rajesh Vyas
BUT CHINA HAS MORE ENEMY TOO LIKE JAPAN AND U.S.A .
Agree (1)Disagree (6)Recommend (0)




中国的敌人也更多,比如日本和美国。




Singham (SLanka) replies to vishal anand
You talk like a little boy. In politics there are no permanent friends or permanent enemies.
Agree (2)Disagree (0)Recommend (1)




怎么跟小孩子说话一样。在政治上,没有永久的朋友,也没有永久的敌人。



Appan (Chennai)
If you look at the history, India and China were friendly country except the brief 1962 war. In fact to support King Harshawardhan, the then China king sent his army to India.. China is also a follower of Buddhism which was originated in India. The great Buddhism learning Center Nalanda was destroyed by Turkey Muslim King Kilji in BC 1193 not by China.. The Chinese did not do anything like this but only Muslim did like this. In Tamil Nadu, the Palani Lord Murugan statue was casted in special metal by a Chinese traveler Bhogar and worshiped by millions. China has more neighbors than India and it has problem with its entire neighborhood. China's language is unique and hence China has unique culture. This will be a barrier for China to become close the any country. On the contrary India is a multi language and multi culture society which encompasses the English also. This is the strength of India and we need to capitalize this strength and become a strong country. The only way to conquer any country is to become strong both economically and militarily.
Agree (9)Disagree (5)Recommend (1)



回首历史,你会发现除了短暂的1962年战争之外,印度和中国一直友好相处。实际上,为了支持Harshawardhan国王,当时的中国皇帝派军进入印度。中国还是佛教的追随者,而佛教起源于印度。伟大的佛教学习中心那烂陀不是中国摧毁的,而是1193年被土耳其穆斯林国王Kilji率军摧毁。中国人没有干过这种勾当,只有穆斯林才会这样做。在泰米尔纳德邦,Palani Lord Murugan被中国旅行家Bhogar铸上特殊金属,接受数百万人的膜拜。中国的邻国比印度更多,而且与每个邻国之间都有纠纷。中国语言独一无的,造就了中国独特的文化,这将会成为中国亲近其他国家的一个障碍。相反,印度是多语言国家,多文化社会,英语也包含其中。这是印度的优势,我们应该利用这个优势,将印度打造成强大国家。唯一征服所有国家的方法是在经济和军事上变得强大。
Gopi Nath (arakkonam)
Left with no other alternative ............
Agree (2)Disagree (0)Recommend (0)



印度没有其他选择了.....
Bakul Bhatt (Rajkot)
If at all India wants to counter China, then it has to be hardliner first with China. It has got to be superior in international political deplomacy.
Agree (4)Disagree (1)Recommend (0)



如果印度真要反制中国,那就必须对中国走强硬路线,必须在国际政治外交中处于上风。
Toga (Cow Slaughterhouse)
India is a coward nation who only talk but don't do. who cares if india fight back or not. they can't even punish their own rapists, how can they defend their country.
Agree (8)Disagree (3)Recommend (0)



印度是个懦夫,只会说不会做。谁会在意印度是否反击。他们甚至不敢惩罚强奸犯,又如何能捍卫国家。
seethi (KSA)
"China's greatest export to India is promises," there is no need to compete with any nation militarily -- as long as u r having a nuclear weapon. It is suicidal for any country to attack, but on the economic and infrastructure front India is still lagging behind China.
Agree (6)Disagree (0)Recommend (1)



"中国对印的最大出口是承诺"





——只要你有核武器,就没必要和其他国家展开军备竞赛,攻击核国家无异于自杀,但是在经济和基础设施方面,印度仍然落后中国。
Pure Morning (Placebo)
The whole equation of far east is fast changing. China is not what it used to and so are other countries. Nationalism is on rise in Japan. Korea is also keeping a tough stand. Asean countries are grouped together for any maritime violations by China. It's good to know that India too is on front foot this time rather than on back foot.
Agree (2)Disagree (0)Recommend (1)



远东的整体实力均衡在迅速改变,中国不再是以前的中国,其他国家也是如此。日本的民族主义在上升,韩国也坚持强硬立场。东盟国家联合起来对抗中国的侵犯,高兴地获知印度这次也主动了,而不是陷入被动。
nabin (new delhi)
I think that "action speaks better than words". since how many decades we are listening our govt empty words but what are the actions on the ground they have taken for national interest.
Agree (3)Disagree (1)Recommend (0)



我认为"行动胜于语言"。几十年了,我们一直听着政服说空话,但有为国家利益而脚踏实地做一些实事吗。
三泰虎12月30日译文,印度时报原题《印度决定反击好斗的中国》。据报道,中印两国过去一年展开了更多的交流,咋看起来,印度和中国度过了麻烦极少的一年。然而,印度时报称,不断酝酿的中日钓鱼岛冲突以及南海争端,导致印度决策者感到紧张不安,中国甚至将其领土主张刊印在新版电子护照上。为此,印度努力反制中国的"珍珠链战略",与中国周边国家加强关系,举行印度-东盟峰会等,印度付出的努力能否成功,只有在未来几年才能见分晓,但南亚阵营已经接受了反击的想法。