原文标题:India, China working in tandem to prevent Taliban surge
原文链接:http://timesofindia.indiatimes.com/opinions/19346023.cms?ordertype=asc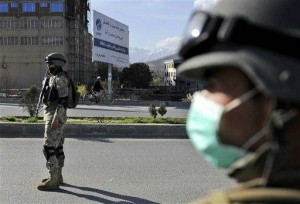 NEW DELHI: With the US withdrawal from Afghanistan looming large, neighbouring countries are hedging against bad outcomes in that part of the world. The jitteriness is palpable, with Afghanistan's neighbours all tying up with each other in different combinations as they scramble to contain what many fear a Taliban surge supported by Pakistan and extremism/terrorism spilling over its borders.

China is teaming up with Russia and Pakistan on a trilateral on Afghanistan, and the first meeting is scheduled in a few weeks. This comes weeks after India, Russia and China sat down in Moscow to craft another trilateral dialogue whereby all the three countries would exchange information and coordinate positions on Afghanistan's future. The new trialateral allows Pakistan and China reaffirm their traditional ties, including showing India that their commitment to each other remains unalloyed.



新德里:随着美国从阿富汗的撤离赫然显现,周边国家正采取措施来避免该地区不良后果带来的损失。痛苦是显而易见的,阿富汗的邻国结成不同组合,争相遏制许多人所畏惧、受巴基斯坦支持的塔利班抬头,以及越界的极端主义和恐怖主义。





中国正与俄罗斯和巴基斯坦就阿富汗问题展开三边合作,首次会谈计划于数周后举行。此前几周,印度、俄罗斯和中国在莫斯科坐下来起草三边对话,三国将在阿富汗的未来上交换信息和协调立场。中俄巴的新三边会谈能够让巴基斯坦和中国确认传统关系,包括向印度表明中巴对彼此的承诺不动摇。



The Moscow meeting was the beginning of a bilateral track between China and India, a surprising and significant development, given that India and China are generally believed to be on opposing sides of Afghanistan's "Pakistan divide". A bilateral talks between India and China on Afghanistan raised eyebrows within the Indian system since the request came from the Chinese side.

But it showed for the first time, that China too was hedging its bets regarding its "lips-and-teeth" relationship with Pakistan. Pakistan's ties with the Taliban show no signs of abating, despite Islamabad's own travails with them. None of the peace talks with the Taliban are going anywhere because Pakistan's ISI retains a stranglehold on them. And, Pakistan seems to be in a minority that believes the Taliban should be part of the power structure in Kabul.



莫斯科会谈是中国和印度走上双边轨道的开始,鉴于印度和中国通常被视为阿富汗问题的互为对立方,所以这是一个意外和显著的进展。印度和中国有关阿富汗问题的双边会谈在印度体制内引发非议,因为这个邀请来自中方。





此举也首次表明,就有关中巴"唇亡齿寒"似的关系上,中国在做两手准备。尽管巴基斯坦也在经受阵痛,然而巴基斯坦和塔利班之间的关系未显缓和的迹象。双方展开的和平会谈没有任何进展。此外,巴基斯坦似乎属于这样一群少数人,即认为塔利班应当成为喀布尔权力结构中的一部分。



China's worries are centred on their concerns in the Xinjiang province and the threat of jihadi spillover from Afghanistan.

But also China, like India, wants to protect its considerable investments in Afghanistan. In May China's CNPC will be extracting oil from its wells in northern Afghanistan. This could be the beginning of a resource boom for Afghanistan.

India has theoretically invested in Afghanistan's Hajigak mines, but security concerns persist. An India-China bilateral dialogue could be the precursor of a joint approach to securing their investments in Afghanistan.



中国的担心主要集中在xj省,以及来自阿富汗的圣战渗透。





此外,类似印度,中国也希望保护其在阿富汗的大量投资。今年5月,中石油将从阿富汗北部油井中抽取石油。此举可能是阿富汗资源繁荣的开始。





印度也在阿富汗的哈吉加克矿山上投资,但安全问题犹存。印中双边对话可能是两国联合保护在阿投资的先兆。




以下是印度网民的评论:




ks (Bhopal)
china is the US of Asia, double faced and highly opportunistic, driven only by profits
Agree (23)Disagree (5)Recommend (6)



中国是亚洲的美国,耍双面派,高度机会主义,唯利是图。
Hari (India)
All this is a farce. China is double-crossing India by being hand in hand with Pakistan.
Agree (32)Disagree (4)Recommend (18)



所有这一切都是一场闹剧。中国欺骗了印度,与巴基斯坦携手合作。




Sashank (Bhopal) replies to Hari Balasubramanian
True. Pakistan represents a business opportunity to the Chinese since Pak purchases weapons from them. The same weapons are turned against India by the terrorists. So China gets both business and a chance to destroy India. Why would they turn against Pakistan?




正确,巴基斯坦从中国购买武器,对中国人代表着一个商业机会。这些武器被恐怖分子用于对付印度。所以中国既获得了生意又得到摧毁印度的机会。为什么他们要去反对巴基斯坦?




True Indian (India) replies to Hari Balasubramanian
Right. No good can be expected out of a country which deals with Pakistan.
Agree (2)Disagree (1)Recommend (1)




正确,你不能对一个与巴基斯坦打交道的国家寄托好的期望。



Krishna Pradyumna (Hyderabad)
Never believe China. They might be using us against the Taliban.
Agree (10)Disagree (3)Recommend (2)



决不要去相信中国。他们可能是在利用我们来对付塔利班。
ITALIAN CONGRESS (Mumbai)
SOUNDS STRANGE INDIA AND CHINA IS IT WORTH TRUSTING CHINESE
Agree (17)Disagree (4)Recommend (10)



听起来怪怪的,是否值得去相信中国人?
rakesh (Hyd)
Chinese like US are very selfish regarding these things, hope Indian leadership is selfish too.
Agree (3)Disagree (0)Recommend (0)



像美国一样,中国人在这方面非常自私,希望印度领导层也能自私起来。
Amrita (Bangalore)
India has 175M Muslims while China has only about 20M. Congress said Indian Muslims have carried out numerous bombings in India since 2007. Last suspected Hindu attack was in 2007. So it would seem more smart for India to concentrate from inner threat coming from Muslims living inside India.
Agree (21)Disagree (8)Recommend (15)



印度有1.75亿穆斯林,而中国只有大约2000万。国大党说印度穆斯林自从2007年以来在印度实施了多次爆炸,而印度教徒上一次涉嫌搞袭击是在2007年。所以印度关注来自国内穆斯林的威胁似乎更不失为明智之举。
Srikanth (Pune)
interesting development.. if we can bolster a good relation with china, am sure the world will definitely start trembling...
Agree (2)Disagree (0)Recommend (1)



有意思,如果我们能和中国共同托起良好关系,我敢肯定世界会开始颤抖的。
Indian Spirit (Hyderabad)
Hindi - Chinee Bhai - Bhai??? A Strange move. I hope for good result.
Agree (3)Disagree (1)Recommend (1)



印中是兄弟?这一做法有些奇怪,希望有好结果。
Suraj (Bang)
India shd never trust china and ofcourse not porkis.....only trust our long term friend Russia.....Ind russia frndship shd be very much stronger than China Russia frndship....else if china turns russia towards itself...India might loose its only helping hand....
Agree (9)Disagree (2)Recommend (1)



印度决不应当相信中国,当然也不能相信巴基斯坦......唯一能信任的是长期盟友俄罗斯......印俄友谊应当比中俄友谊更牢固得多.....要是中国让俄罗斯转向,印度可能失去唯一的帮手......
atulsrivastavasonu (LKO)
WHAT A JOKE !



真是笑话!
nishant (mumbai)
Be cautious. India should rather work with Russia, Afghanistan, Tajakistan, Iran, etc to work on this factor. China is only concerned with its investment and Pakistan will support its involvement as they alone cannot tackle alone west and Indian in that region.
Agree (3)Disagree (0)Recommend (1)



小心,印度宁愿同俄罗斯、阿富汗、塔吉克斯坦、伊朗等国一起解决这个问题。中国只关心其投资,巴基斯坦会支持中国的介入,因为中国无法独自在该地区对付西方和印度。
waran (Australia)
India and China working together?How about solving the 4000 km border dispute first?
Agree (6)Disagree (2)Recommend (4)



印度和中国一起合作?先解决4000公里之长的边界争议怎么样?
Nan Ksn (Pune)
Both should join hands to eliminate Pakistan and all- Afganisthan, India and China will live peacefully thereafter..!!
Agree (2)Disagree (1)Recommend (0)



中印应当联手消灭巴基斯坦和阿富汗,两国随后将能和平相处!
COLRANBIRLAMBA lamba (PTA)
IDEA IS GOOD>>BUT CHINA PAK REALTION EXISTS???
Agree (3)Disagree (1)Recommend (0)



想法是好的,但中巴友谊是否还在?
omprakashacharya460 (jodhpur)
Comman threat may compel them to join hands. It shows that no nation can live alone by itself when Globe has become a village.



共同的威胁驱使中印联手。此举表明地球村形成以后,没有哪个国家能独自生存下去。
Nabakrishna Hazarika (Assam)
Consider this. Chinese weapons have been used by the Taliban and Jihadis to terrorise India. Taliban has benn sponsored by high powers of Pakistan which itself is a close ally to China. China took over Aksai Chin which was our territory in the first place. Aksai Chin is Xiniiang province. So now we help a country with which we are always in semi war state to help it defend a province, part of which was ours, from a enemy helped by the same country? How low can we get?
Agree (24)Disagree (2)Recommend (13)



设想一下:中国武器被塔利班和圣战分子用于在印度搞恐怖,塔利班受到巴基斯坦高层的支持,后者本身是中国的亲密盟友。中国接管了原本属于我方领土的阿克赛钦,该地区现属于xj省。也就是说,我们在帮助向来与印度处于半战争状态的国家保护其一个省,而且这个省的部分地区还是我方领土?这是要闹哪样?
Sathian Thazhathidath (Dubai)
China should stop all economic aid to pakistan. then the terrorism will come down automaticaly. pakis begging money from all over the world and using that money to do their favourite business that is terrorism, and export to other countries including the countries from where they received aid.
Agree (5)Disagree (0)Recommend (2)



中国应当停止一切对巴基斯坦的经济援助,恐怖主义自然会消停下来。巴基佬全世界到处讨钱,用这些钱去搞其喜欢的恐怖主义,并向包括援助来源国在内的国家出口恐怖主义。
Dr.Soumya Saha (Kolkata)
Good joke. The Chinese are fighting with India! Give me a break.
Agree (2)Disagree (3)Recommend (0)



好笑,中国人和印度人一起战斗!饶了我吧。
JC (USA)
I think India should not join hand with China on Taliban Issue. On the contrarary, It should provide support to Talibans to infiltrate into Xinjiang province and liberate it. Only a fool will trust China. China has caused enough trouble in north easter states for India. Are we dum to support China on this issue? I bet, Modi will not.
Agree (2)Disagree (5)Recommend (1)



我认为印度在塔利班问题上不应当与中国联手。相反,印度应当支持塔利班向xj渗透并解放xj。只有傻瓜才会信任中国。中国在印度东北邦给印度带来了够多的麻烦了。我们真的会蠢到在这个问题上支持中国?我敢打赌穆迪不会支持的。
Gokul (Chennai)
India is a soft country, so she will adjust with any country. Even with our most enemy countries.



印度是个软蛋国家,所以会去适应任何国家,即便是最大的敌国。
BS Guruprakash (Bangalore)
FROM THE PAST EXPERIENCE CHINA IS NOT AN TRUST WORTH COUNTRY AS FOR AS INDIA IS CONCERN. THEY ARE AN OPPORTUNIST AND THEY KEEP DECEIVING INDIA AND MANY ASIAN COUNTRIES THIS IS THE HISTORY OF CHINA.
Agree (6)Disagree (4)Recommend (1)



从过去的经验来看,就印度而言,中国不是一个值得信任的国家。他们是机会主义者,老是欺骗印度和其他许多亚洲国家,这就是中国的历史。
Dharmendra (Mumbai)
what a joke, these cockroaches indirectly arm and back the taliban through the gutter worm porkis, india should be careful in sharing any info with these cockroaches, they will pass it tro the guter worms
Agree (0)Disagree (2)Recommend (0)



真是笑话,这些蟑螂通过地沟虫巴基佬间接武装和支持塔利班,印度在和这些蟑螂共享信息时应当小心,他们会把这些信息转给地沟虫的。
Adobe (USA)
Getting together to fight a common threat is a good sign for the sub-continent.Except the slime ball pakistan rest all are serious.Should take the Afghan Govt in confidence .
Agree (8)Disagree (0)Recommend (6)



联合起来打击共同的威胁对次大陆是好迹象。除了烂泥球巴基斯坦之外,其他国家是认真的,应该对阿富汗政服抱有信心。
Ahsna (UAE )
little suggestion no need to invest in Afghanistan , India will booted out once US leave Afghanistan .. so rather invest ur money sum where else Kindly shut down all ur consulates or we can do it for u .. India is scared now there stance against Pakistan is getting soft comparing few year back ... as they know once US leave Afghan, Pak they will concentrate back to easter border all the anti Pak tailban with become Pro Pakistan and India know who Strong the Taliban are ...
Agree (5)Disagree (3)Recommend (2)



小小建议,没有必要在阿富汗投资,一旦美国离开阿富汗,印度就会被撵走,所以宁愿把钱投到其他地方,恳请关闭你们的所有领事馆,否则我们会为你代劳。印度现在害怕了,对巴基斯坦的立场相比几年前是越来越软化了,他们知道一旦美国离开阿富汗,巴基斯坦会重新集中关注东部边界,所有反巴基斯坦的塔利班分子会转而支持巴基斯坦,印度知道塔利班有多么强大.....
Notes Of A Madman (HINDU Republic Of INDIA)
Chinese are stinky People.
Agree (7)Disagree (6)Recommend (5)



中国人臭死了。




Reddy (Hyderabad) replies to Genghis Khan
Who doesn't stink these days?
Agree (1)Disagree (1)Recommend (1)




谁不臭啊?




Notes Of A Madman replies to Reddy
Did i stink you. Did i?




我有熏到你吗,有吗?



amrit (hyderabad)
People may say anything but what China has achieved in the last 30 years will take 100 years for India to achieve. Now you may argue democracy vs communist govt. What did we achieve being the largest democracy. The feel in India is more like a one party (communist) ruling. Apart from the Bajpayee period India has been ruled by the Congress party since independence. That apart see what China has achieved in field of sports. From 1 gold medal in the 80's Olympics to now being the leader in the medals tally. This really spaks volumes about two different nation, two different kinds of citizens and two different level of success. Period.
Agree (15)Disagree (1)Recommend (7)



或许你有异议,但中国在过去30年取得的成就,印度要100年才能实现。你或许会争辩这是皿煮政服和共产政服的较量,可作为最大皿煮国家的印度取得了什么成就。印度给人的感觉更像是一党统治,除了瓦杰帕伊时期,印度独立以来一直由国大党统治。此外,看看中国在体育领域取得的成就,从80年代奥运会的一枚金牌到目前奖牌榜上的领跑者,这足以说明两国的差异,国民的优劣以及两种层次的成功。
gautam (Pune)
though late,but better sense has prevailed for the two countries; it is better late than never (der aaye,durust aaye). hope with joint effort,they can contain this menace-good luck to them
Agree (6)Disagree (0)Recommend (0)



虽然有些迟,但理智在两国间还是占了上风,只要开始,永不嫌迟!希望两国通过共同努力遏制这个威胁。祝好运。
maalolan (planet earth)
If India and China have good relationship and join hands the whole world will have to consult them for any major decisions in war or peace.
Agree (7)Disagree (2)Recommend (3)



如果印度和中国建立友好关系并联手,那么全世界在做出有关战争与和平的重大决策时将不得不咨询他们。
Rajender (BAND WAGON)
China is playing with India.
Agree (3)Disagree (0)Recommend (1)



中国在玩弄印度。
Sagar Singh (Durban)
Unfortunately the only way to handle Taliban is with their own wickedness, the evil of violence in acccordance with an eye for an eye that they believe in.



很不幸,对付塔利班的唯一方式是恶毒,要以牙还牙,用其所主张的邪恶暴力来对付他们。
Anthony Morrison (Gloucester, England)
Here in Britain and the West the view of Indians (in the mdia and general public anecdotal evidence) can be summarised thus : absolutely filthy, rapists, disease ridden, corrupt, untrustworthy, sly, hypocrites, rpaists (again), rude, mannerless, backward, retards, dirty, dirty, dirty, unhygenic with toilet habits which shame the human race. Smelly, pan chewing, spitting, cowardly, weak, lowest of the low. Need I say anything more?
Agree (18)Disagree (29)Recommend (6)



英国乃至西方的(媒体和公众)对印度人的看法是:很脏、强奸犯、疾病丛生、腐败、靠不住、狡猾、伪善、粗鲁、无礼、落后、迟钝、脏之又脏、上厕所不卫生以致于让人类蒙羞、有臭味、随地吐痰、懦弱、软弱、贱之又贱,还要我再说下去吗?




sam ruddy (london) replies to Anthony Morrison
a fakin smelly paki hiding behind a christian to comments




一个发着臭味的巴基佬假装基督徒在这里乱喷。




Titu (Asia) replies to Anthony Morrison
I disagree on one thing in your post. Toilet habits of british goras is worse than anyone. Using a paper to wipe can't be healthy. Moreover Goras seldom wash hands after wiping. Goras also have filthy dirty teeth, I guess the dental insurance is not so good in UK, Ian.You needed to say this in your post too.Biritshers have some kind of superority complex though they themselves are USA' s B1t(h, thus making them in the same league with Pakistanis which is scum of the earth, thus making your country the same
Agree (5)Disagree (1)Recommend (1)




有一点不认同。英国人上厕所的习惯比任何人都要恶心。用一张纸来擦屁股是不卫生的。还有,白人擦完屁股后很少洗手的,他们的牙齿也很脏。我想英国的牙科险不够好,你应该在留言中也提到这一点。英国人有某种优越情结,可他们是美国人的婊子,所以和巴基斯坦人同属一类,也就是地球上的垃圾。




Anandq (Mumbai) replies to Anthony Morrison
Most likely you get your salary from a guy from India.
Agree (3)Disagree (1)Recommend (1)




很可能你是拿一位印度人发的薪水。




Hari (USA) replies to Anthony Morrison
Nothing more to say except to add that all these characteristics were inherited from British. Go back to History and find out how the current Australian people were formed. Until British occupied India, India was a country of justice, wealth, health and great traditions. (of course few bad apples were there as in any society). Britain is a country of beggars without the wealth looted from colonial era. Prime example the way Kohinoor was looted (the way you just described India).
Agree (19)Disagree (1)Recommend (7)




别再说了,不过要补充一点,即所有这些特征是从英国那里继承来的。回顾历史,查下澳大利亚人是如何来的。在英国占领印度之前,印度是一个公正、富饶、健康以及拥有伟大传统的国度(当然正如其他社会一样,难免会有一些烂苹果)。英国是一个乞丐国度,没有财富,统统是从殖民地抢来的。掠夺来的科依诺尔钻石就是最好的例证。




【注:科依诺尔钻石是世界最大钻石之一,原重191克拉】




Philip Shanklin (London) replies to Hari
Before the British arrived at your shores, yes there was wealth - hence the reason for coming there, obviously. But it was concentrated in the hands of the few, the Moghuls, Maharajas etc. Your own rulers sold you out. At the time of Indepence Gandhi himself said 92% of India lives in its villages i.e. unhygenic, illiterate, povert stricken, caste ridden, superstitious, ignorant in the extreme. The Britsh directly rules only about half but indirectly through Nawabs, Maharajahs, who screwed you royally for centuries. The blaady Kohinoor is valued by Sothebys and other auction houses at £50 million - a drop in the ocena. Your VIP's security costa that each month. So take a hike. But most important message from the Whole World - please, please understand hygeine for God's sake this the 21st Century stop blaming the British.
Agree (4)Disagree (9)Recommend (3)




在英国到来之前,印度确实有些财富——显然,正是这个招来了英国。但印度的财富主要集中在莫卧儿和王公等少数人手中。你们的统治者把你们出卖了。独立时,甘地说92%的印度人生活在农村里,不卫生、没文化、贫困潦倒、种姓束缚、迷信、无知......英国直接统治了一半,另一半是通过纳瓦布和王公来间接统治的,这些人奴役了你们几个世纪。科依诺尔钻石被苏富比和其他拍卖机构估价为5000万美元——只是沧海一粟而已。你们的VIP人物每个月的安保费用都不止那么一点,所以哪凉快哪歇着去吧。全世界给你们发出的最重要信息是——看在上帝份上,请懂得一些卫生好不,现在是21世纪,别指责英国。



随着美国从阿富汗的撤离赫然显现,周边国家正采取措施来避免该地区不良后果带来的损失。痛苦是显而易见的,阿富汗的邻国结成不同组合,争相遏制许多人所畏惧、受巴基斯坦支持的塔利班抬头,以及越界的极端主义和恐怖主义。中国正与俄罗斯和巴基斯坦就阿富汗问题展开三边合作,首次会谈计划于数周后举行。此前几周,印度、俄罗斯和中国在莫斯科坐下来商讨三边对话,三国将在阿富汗问题上交换信息和协调立场。