原文标题:India-China bilateral trade set to hit $100 billion by 2015
原文链接:http://timesofindia.indiatimes.com/business/india-business/India-China-bilateral-trade-set-to-hit-100-billion-by-2015/articleshow/14323128.cms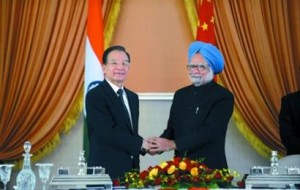 RIO DE JANEIRO: In their 13th meeting in eight years, Prime Ministers Manmohan Singh and Wen Jiabao on Wednesday decided to take the India-China relationship to the next level by giving a boost to trade and priority to resolving the border dispute between the two countries. Going into a huddle on the first day of the Rio+20 conference here, the Indian Prime Minister, who calls Wen his 'close friend', and his Chinese counterpart agreed to take steps to ensure that the bilateral trade between the two emerging economies reaches $100 billion (about Rs 5,60,000 cr) by 2015. The two-way trade between the two countries reached $74 billion in 2011, with China becoming one of the largest trade partners of India and vice versa.

With the delegates and officials of almost all 190 countries present here keeping an eye on the India-China bilateral, the prime ministers of two emerging economies of Asia emerged from their 40-minute meeting after agreeing to boost trade and also give top priority to defence and security dialogue between the two countries.

Speaking to media after the crucial meeting, India foreign secretary Ranjan Mathai said during the meeting, the Indian prime minister invited Chinese investment in infrastructure in India. "The two leaders also decided to start the export of Indian rice to China soon," the foreign secretary said, adding that the issue of trans-border rivers flowing in India and China also figured in the talks which took place on the sidelines of the UN summit on sustainable development.



里约热内卢:星期三,在8年内的第13次会谈中,曼莫汉·辛格总理和温总理决定促进双边贸易,优先解决两国边界争端,把中印关系带到新的水平。印度总理称温是"亲密的朋友"。他和中国同行在"里约+20"峰会第一天凑在一起商讨,双方同意采取措施确保两个新兴经济体的贸易额在2015年前达到1000 亿美元(大约5.6万亿卢比)。两国贸易额2011年达到740亿美元,中国成为了印度最大的贸易伙伴之一,反之亦然。





现场来自190个国家的代表和官员密切注视着中印双边关系,亚洲两个新兴经济体的总理结束了40分钟的会谈,同意促进贸易和优先考虑两国防务和安全对话。



印度外交秘书马塔伊在这个重要会谈结束后向媒体发表讲话,他称印度总理邀请中国投资印度的基础设施,"两国领导人也同意印度不久向中国出口印度香米",还有跨境河流问题,中国也把联合国峰会期间举行的可持续发展会谈包括了进来。

Though it was not immediately clear in which sectors of infrastructure the Chinese would be allowed to invest, Indian diplomats said it was a major turning point in India-China relationship.

With almost all G-7 leaders, except French President Francois Hollande, skipping the meet, Manmohan Singh and Wen have been hogging all the limelight, especially because the draft of the declaration to be adopted at the end of the summit on Friday has a major imprint of G-77+China group. "The view of developing nations that eradication of poverty should be the top priority has prevailed over the adoption of green economy objectives. This couldn't have happened without close coordination between India and China and summit host Brazil," says an Indian delegate who has been part of nerve-wracking negotiations.

The closing of ranks by India and China at an important global meet can have long-term ramifications for the balance of power in Asia as well as the world at large. In the meeting, Wen said the two sides need to further consolidate their political and strategic mutual trust and ensure that their ties will move forward on the right track. "Under the current complex global and regional circumstances, China and India face mutual challenges and opportunities," Wen said.



虽然不能立即知道哪个领域的基础设施允许中国人投资,但是印度外长称这是中印关系的重大转折点。





除了法国总统弗朗索瓦·奥朗德缺席这次会议之外,其他G-7领导人都在场。曼莫汉和温成了媒体焦点,特别是星期五峰会结束时将采纳的宣言有"G-7+中国"的明显印记。"发展中国家认为消除贫穷应该是首要任务的观点在绿色经济目标中占了上风。要是没有印度、中国和峰会主办国巴西的密切配合,那是不可能发生的。"一名参与极端令人头疼的谈判的印度代表如是说。





印度和中国在重要的全球会议上站在一起可以对亚洲甚至整个世界的权利平衡产生长期的影响。温在会上说双方需要进一步加强政治和战略互信,确保双方关系在正确的轨道上向前发展。"在当前复杂的全球和地区环境下,中国和印度面临共同的挑战和机遇。"



On the question of boundary dispute between the two countries, the two leaders said the Special Representatives of India and China have been asked to prepare details of the joint work done so far. China also agreed to look into the issue balance of trade which is heavily in its favour. "The Prime Minister raised the issue of Indian trade deficit and the Chinese agreed to work with India in addressing the fact that India has a large trade deficit. They mentioned in fact specifically that they are arranging trade missions to India to improve access of Indian exports into the Chinese market. They are organizing commodity fairs. And they noted for example one of the changes which has happened recently is that rice exports from India to China will now be commencing,"Mathai told the representatives of Indian media organisations covering the Rio+20 summit.

Now, Indian exporters can soon begin sending basmati rice to China after both countries agree on a mutually satisfactory quarantine protocol. China has already cleared Indian exports of basmati rice following six-year process during which many hurdles that bar the entry of Indian rice into the Chinese market were overcome.

Negotiations on the issue of rice exports were on since 2006, when President Hu Jintao visited India. Finally, it was given a concrete shape during Hu's visit to New Delhi for the BRICS summit in March.



在两国边界争端问题上,两位领导人称两国已经分别派出特别代表进行相关工作。中国也同意审视自己贸易顺差过大的问题。马塔伊告诉报道"里约+20"峰会的印度媒体代表:"总理提出了印度贸易赤字问题,中国同意协同印度的这个问题。他们还特别提到正安排贸易代表团前往印度,提高印度对中国市场的出口。他们组织了商品展览会,还提到了一个最近发生的一个例子,即印度香米对华出口将开启。"





在两国达成一个双方满意的检疫议定书后,印度出口商不久即能开始向中国出口印度香米了。在6年谈判过程中,许多阻止印度香米进入中国市场的障碍已经被克服。





当胡主席2006年访问印度的时候,有关印度香米出口的谈判就开始了。最终,在今年3月胡在新德里出席金砖国家峰会时期,协议最终被敲定。




以下是印度网民的评论:




ajosh gopi (Chennai)
Hmmm.. So by 2015 India would get almost 100% of it commodities with the tag "Made in China"
Agree (8)Disagree (2)Recommend (2)



所以到2015年前,印度几乎所有商品都会带有"中国产"的标签。




R Patel (UK) replies to ajosh gopi
I live in the UK - & starting 2012 I have stopped buying anything made in China (unless absolutely necessary). JOIN ME & spread the word.
Agree (2)Disagree (2)Recommend (1)




我住在英国,2012年开始停止购买一切中国货(除非绝对需要的)。加入我吧,宣传出去。



hihari (Canada)
Problem is the trade deficit with China. China should open it's markets to allow India to export more. Otherwise it is China all the way!
Agree (7)Disagree (1)Recommend (2)



问题在于对华贸易赤字。中国应该打开市场,允许印度出口更多产品。否则自始至终是中国在出口!
Khurram (Delhi,India)
My heart beats for China ,i want chinese nationality.
Agree (6)Disagree (3)Recommend (0)



我的心在为中国跳动,我想要中国国籍





原创翻译:三泰虎 http://www.santaihu.com




Peace (world) replies to Khurram
Is mecca shifted to china ?




麦加转移到中国了?




Dave (US) replies to Khurram
Having a tail is manadatory to apply for Chinese citizenship. If you don't have one already, start growing it first.
Agree (1)Disagree (1)Recommend (0)




有一条摇尾乞怜的尾巴是申请中国公民身份所必须的。如果你还没有,那么首先长出一条来吧。




homer (uk) replies to Khurram
Move over to Pakistan and then your dream might come true!!!




搬到巴基斯坦去吧,你的梦想或许能实现!



Vijay (Hyderabad)
ITS NICE TO SEE TRADE TOUCHING THE 100 BILLION MARK BUT INDIA SHOULD BE CAUTIOUS WITH CHINA...........
Agree (7)Disagree (0)Recommend (0)



很高兴看到贸易达到1000亿美元大关,但是印度应该小心中国...




DMC_9 (INDYEAAHH) replies to Vijay
Well its bilateral just for name sake...India imports more from China then they do from us...fact: China actually has taxed Indian goods at their fancy to protect their farmers...!




这只是名义上的双边贸易...印度从中国进口的比中国从印度进口的要更多...事实是中国出于对保护农民的偏好而对印度产品征税!



taichi (Madrid)
more than 75% of the money will go to China.. India will suffer due to lack of industrialization
Agree (5)Disagree (0)Recommend (0)



75%以上的钱会流入中国...印度由于工业化缺失,所以会遭受损失。
Jamal Pighumber (Peshawar, Pakistan)
China and India better realize Islamic Republic of Pakistan is a nucleir power and we will not hesitate to nuke and obliterate China and Indi from the face of earth if you continue to trade $ 100 billion a year with each other. Dear Indian Muslim brothers be warned, if Chin and India do $ 100 billion a year trade, China will lose interest in Islamic Republic of Pakistan because the chienks only go after money and in that case Pakistan experiments with international Jihad to spread Priopeht Muhamed's message of love and conversion through beheadiong on non muslim infidels will fail. Pakistan needs your help in voting for any party that agrees to eliminate trade between India and China. Islamic Republics of Khalistan and Pakistan Zindabad.
Agree (0)Disagree (7)Recommend (1)



中国和印度最好意识到巴基斯坦伊斯兰共和国是个核国家。要是你们每年贸易达到1000亿美元,我们会毫不犹疑的用核武器把中国和印度从地球上抹去。告诫亲爱的印度穆斯林兄弟,由于中国佬只看钱,如果中印年贸易额达到1000亿美元,那么中国会对巴基斯坦伊斯兰共和国失去兴趣。那样的话,穆圣通过斩首异教徒来传播爱慕和皈依信息的国际圣战就会失败。巴基斯坦需要你们帮忙把票投给那些同意消除中印贸易的政党。巴基斯坦伊斯兰斯坦共和国万岁。
Manoj (Kolkata)
$100 billion dollar trade alright. India will import $90 billion and India will export $10 billion. Even within that, 90% export will be coal and iron ore which will come back as steel at double the price. Good work, Manmohan!!!!! I've now having my doubts whether you are working for India.
Agree (17)Disagree (5)Recommend (6)



总共1000亿美元贸易中,印度进口900亿美元,出口100亿美元。即使是100亿美元出口中,90%是煤炭、铁矿石,这些随后以价格两倍的钢铁回到印度。干得好,曼莫汉!我现在倒怀疑你是否是在为印度工作。
Sapan Kapoor (New Delhi)
With Agni-V and nukes in our pocket, we are strong unlike 1962 and there's no need for us to fear another war with China now. We must improve our ties with China and become very good friends with them. Both India and China must remember we share civilizational links with each other which go back as far as 3000 BC. India should also strengthen its relationship with Iran with which also it shares civilisational links. Indians and Iranians were brothers (Aryans) who drifted in different directions long way back in the past and now they need to come back together. Improve ties with America also but not at the cost of China and Iran.
Agree (8)Disagree (3)Recommend (5)



我们现在手上有了烈火5导弹,不像1962年,我们现在强大了,没有必要担心中印再次交战。我们必须改善中印关系,成为非常要好的朋友。印度和中国都必须铭记彼此可以追溯到公元前3000年的文明渊源。印度也应该和同样有文明渊源的伊朗加强关系。印度人和伊朗人是兄弟(雅利安人),很早以前就各自漂泊。他们现在需要重新走在一起。也要改善印美关系,但不能以中国和伊朗为代价。
Naatrajan (Chennai)
What abt trade balance???? China bankrupted USA, and now the dragon's fiery eyes are on India.
Agree (7)Disagree (4)Recommend (3)



那贸易平衡呢?中国让美国破产了,中国龙的眼睛现在盯上了印度




Anil Gupta (Vadodara) replies to Naatrajan
The reason they bankrupted USA is the high Wages there i.e. Minimum wage of RS320 per hour (yes per hour) even for the lowest workers.India has no excuse - as the Indian wages are LOWER than China's.




他们能让美国破产的原因是美国的高薪水。比如,即使是最低阶工人的最低时薪也有320卢比。印度人的工资比中国的低,所以没有破产的理由。



businessatease (MEERUT)
Bi? China will do USD 99billion, India under MMS and UPA will push USD 1 billion, you call it bi? Call it unilateral trade figures. Only bubble-top water does not come from China, all the rest, our power plants, cell phones, Telephone exchange equipment, Metro train construction, all electronics, consumer durables, toys, furnitures all are from China! Stupid Indian Govt
Agree (13)Disagree (1)Recommend (5)



双向?中国会出口990亿美元,辛格总理和国民进步联盟政服领导下的印度只出口10亿美元,你说这样的贸易是双向的?说这个数字是单向贸易数据还差不多。只有...水不是来自中国,其他的一切,包括发电厂、手机、电话交换设备、地铁列车、所有电子产品、耐用消费品、玩具和家具都来自中国!愚蠢的印度政服




Bhagwa chashma (Bharat) replies to businessatease
China is yet to open its markets to our electronics and pharma sectors..
Agree (3)Disagree (0)Recommend (2)




中国还有待向印度电子行业和制药行业开放其市场。



Amar (Delhi)
$99 Billion China selling to India. India the loser $1 Billion Indian India selling to China. India loser. To TOI, We understand the facts even if you have tried your best to HIDE it.
Agree (7)Disagree (0)Recommend (1)



中国卖990亿美元的产品到印度,印度这个失败者只卖10亿美元产品给中国。印度时报,你就是再卖力掩饰,我们也看得清事实。





原创翻译:三泰虎 http://www.santaihu.com
Yuraj (Pune)
Dont tell me how much business will grow betn two nation...Tell me how much trade imbalance will grow by 2015 Mr.Singh......
Agree (7)Disagree (0)Recommend (0)



辛格先生,不要告诉我两国贸易会增长到多少...你就告诉我对华贸易逆差到2015年会达到多少...
VSGR (Bangalore)
What is the trade share of India is more important than the total amount. Else, cheap Chinese will flood the entire country.
Agree (3)Disagree (0)Recommend (1)



印度的贸易份额占多少比总贸易额更重要。否则,廉价中国货会席卷整个国家。
Aakash Tripathi (CHD)
I hope its not just import of $100Billion, it is both ways 50-50 each.... import and export
Agree (6)Disagree (0)Recommend (6)



我希望不只是进口1000亿美元,而是五五分...进口和出口各占一半
pradeep_sundaresan (Dubai)
Former Chinese premier was Hu (Who) now it is Wen (When) next it might be How :-)
Agree (5)Disagree (0)Recommend (3)



前任中国总理是胡(与who同音),现在的总理是温(与when同音),下一任总理可能是郝(与How同音):-)
RAJESH AGRAWAL (LUCKNOW)
World's future lies in Asia ! Asia will be the growth driver to world trade !
Agree (3)Disagree (0)Recommend (2)



世界的未来在亚洲!亚洲将是世界贸易的增长引擎!
Amin Bhai Patel (Vadodara)
We will have replica of American malls in India flooded with chinese goods.
Agree (3)Disagree (0)Recommend (2)



我们会在印度复制美国超市,涌入的是中国货
Rahul (Delhi)
As long as Congress are ruling the country, we will never get respect. Based on past performance, I'm guessing most of that $100bn is us buying Chinese goods, boosting the Chinese economy, creating Chinese jobs and increasing Chinese wealth, while Indians buy those goods and then go back to their slums and dirty cities. End Congress in 2014. Vote BJP, they aren't perfect, but at least they're Indian. At the very least, Congress needs to be taught a lesson they will never forget.
Agree (9)Disagree (0)Recommend (4)



只要国大党还统治着国家,我们就永远不会得到尊敬。以过去的表现看来,我猜1000亿美元中,大部分是我们购买中国货,促进中国经济,为中国人创造工作岗位,增加中国人的财富,而印度人买了那些产品后回到贫民窟和肮脏的城市。在2014年结束国大党统治吧,选印度人民党,他们不是完美的,但至少是印度人。我们至少得给国大党一个终生不忘的教训。
sandeepjraj (bglr)
yes definitely poverty will be eradicated ........... in china
Agree (2)Disagree (0)Recommend (0)



是的,中国肯定能消除贫困。
Sushil (Lucknow)
Bilateral trade is growing.However it is china which is benefited more than India.
Agree (6)Disagree (3)Recommend (1)



双边贸易在发展。然而,中国比印度受惠更多。
Manu Mohan (kochi)
To become a superpower, it is necessary for India to keep a friendly relation with its neighbors.. the relation with Pakistan & china is very crucial for India. about 60% of our military establishment are aiming the Chinese, so by improving the relation with china we can considerably reduce our military expenditure and that money can be used for some other useful purpose..
Agree (8)Disagree (1)Recommend (3)



为了成为超级大国,保持与邻国的友好关系对印度是必要的。印巴关系和中印关系对印度非常关键。我们大约60%的军事力量是针对中国人的,所以提高中印关系后,我们就可以大幅减少军事开支,这些钱可以被花在其他用途上。
karan sharma (Bangalore)
this means that now Indian Flag will also made in china..lol
Agree (8)Disagree (2)Recommend (0)



这意味着印度国旗现在也要变成中国产的了...哈哈




Indian (delhi) replies to karan sharma
It is already happening, our ,maps, our festival items, gods, and our all plastic and chemical are now coming from china.... One TV Channel exposed how a milk powder from China that is contaminated is used to prepare milk in delhi neighborhood... These chinese are feeding us poison and they are appreciated by our p,m




已经在发生了,我们的地图、节日用品,所有的塑料制品和化学用品都来自中国...有电视台曝光了中国受污染的奶粉是如何在德里的街坊里被用于泡牛奶的...这些中国人给我们吃毒药,他们却受到我们总理的欣赏。



sk (USA)
In this case, I understand the meaning of "Bilateral Trade" means Chine to dump their mass produced goods into Indian market and India to pay them "$100 Billion (less the Congress cut) by 2015. Then China will buy US treasury bonds, Oil, and Mines using that 100 billions!!!!!!
Agree (9)Disagree (0)Recommend (3)



这样的话,我理解了"双边贸易"的意义了,也就是说中国将成品大规模倾销到印度市场,印度2015年支付他们"1000亿美元",中国然后用这1000亿美元购买美国债券、石油和矿产!
Mac (USA)
Export rice, is that all?
Agree (4)Disagree (0)Recommend (1)



就出口印度香米,完啦?





原创翻译:三泰虎 http://www.santaihu.com
Far Side (Delhi)
One thing probably India could do is open more tourist visas for China, Japan and other Eastern Asian countries. In fact India should make China as a tourism partner to share their cultural prosperity. India can open more for Chinese (Eastern and Southern Chinese) restaurants and hotels. Free conversion of currency and less bureaucratic hurdles for visitors. Protect them from thugs and thieves. Keep more Chinese (Mandarin and Cantonese) speaking staff at airports and other tourism places in Delhi, Agra, Kerala, Buddhist Place Bodh Gaya, Bangalore and Bombay. We need to respect to our neighbors in India in order to gain their trust and love.
Agree (7)Disagree (0)Recommend (5)



印度可能该做的一件事情是为中国、日本和其他东亚国家开放更多旅游签证。实际上,印度应该让中国成为旅游合作伙伴,分享他们的文化繁荣。印度可以为中国人开设更多餐馆和酒店。为游客放开货币兑换,减少官僚障碍。保护他们免受恶棍和小偷的迫害。在机场和德里、阿格拉、克拉拉邦、佛教圣地菩提伽耶、班加罗尔和孟买等地方的旅游景点安排更多会说中文(普通话和广东话)的工作人员。为了获得信任和友爱,我们需要在国内尊敬我们的邻居。
Proud Indian (Chennai)
Indian economy will be controlled by China in 2015. Millions of Indians will be exported as cheap labor for cleaning China and our netas will make some foreign exchange. Slave nation, slave mentality:)
Agree (5)Disagree (1)Recommend (0)



印度经济在2015年会受到中国控制。数百万印度人将被出口到中国当廉价扫地工。我们的政客大人们会赚一些外汇。奴隶国家,奴隶思维 :)
Indian (delhi)
The cheap products from china is killing our industries and our great pm is happy to see the downturn of our own industry, we must not accept cheap chinese product which are low in quality and all the money earned through india they may utilize against India one day....
Agree (4)Disagree (2)Recommend (2)



来自中国的廉价产品扼杀我们的产业。我们伟大的总理乐见本土产业的衰退。我们必须拒绝接受低质的廉价中国货。他们从印度赚来的钱可能某天会用于对抗印度...
正在里约热内卢出席"里约+20"峰会的印度总理辛格和中国总理温家宝20日在会晤时强调,印度和中国一致同意加强防务和安全对话,并将努力使两国贸易额在2015年之前达到1000亿美元。印度外交秘书兰詹·马塔伊在两国总理会晤后告诉记者,在谈到贸易和经济合作的问题时,辛格还邀请中国对印度的基础设施进行投资。马塔伊还说,印度不久将开始向中国出口大米。两位领导人还讨论了两国跨境河流的问题,北京同意向新德里提供这方面的信息。