原创翻译:http://www.santaihu.com
原文标题:Huge quantity of ancient coins found in China
原文链接:http://timesofindia.indiatimes.com/world/china/Huge-quantity-of-ancient-coins-found-in-China/articleshow/17820132.cms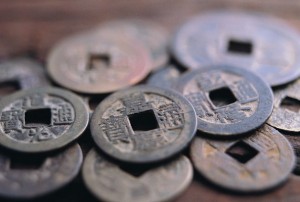 BEIJING: Archaeologists have excavated about 3,500kg of ancient coins in China's Inner Mongolia Region, Xinhua reported on Sunday. Most of these coins were in prevalence during the Han dynasty (202 BC-220 AD).

According to Lian Jilin, a researcher with the regional Institute of Cultural Relics and Archaeology, the coins were found in three millennia-old coin pits in the ancient town of Huoluochaideng after police cracked three theft cases.



北京:据新华社30日报道,考古学家在中国内蒙古自治区发掘出大约3500公斤古钱币,大多数流行于汉代(公元前202年-公元220年)。





内蒙古文物考古研究所研究员连吉林说,警方破坏三起盗窃案件后,这些古币在霍洛柴登古城的三处千年钱币窖藏被发现。



Most of the coins were "Huoquan", the coins commonly used in the Han dynasty (202 BC-220 AD), said Lian.

Archaeologists also excavated over 100 casting moulds from the relics of a coin workshop. The moulds are believed to date back to the rule of Emperor Wudi (156 BC-87 BC) of the Western Han Dynasty and the short-lived Xin Dynasty (45 BC-23 AD) founded by Wang Mang.



大多数古币是汉代流行的"货泉",连吉林说。





此外,考古学家还从铸钱作坊发掘出了一百余块钱范。据信,这些钱范可以追溯至西汉的汉武帝统治时期(公元前156年-公元前87年)和王莽建立的短暂的新朝(公元前45年-公元23年)。



Based on its size and cultural relics uncovered there, Huoluochaideng town is believed to have been a major town in northern China during the Han Dynasty, said Lian.

The findings are significant in the study of the ancient monetary system and casting technology, he added.



从古城的规模和从中发现的文物古迹分析,霍洛柴登古城是汉代北方重要城市之一,连吉林说道。





这次考古发掘的成果,对于研究中国古代货币制度、冶铸技术等领域都有重要意义。




以下是印度网民的评论:




PKumar (India)
Are those gold coins or made in other metals? If those are other metal have no value these days, then Chinese will sale those by saying "Feng Sui Coin of Wealth" :)
Agree (10)Disagree (0)Recommend (4)



那些是金币还是其他金属铸成的?如果是其他金属,那就没啥价值,中国人会以"风水财富币"的口号叫卖" :)
narendra sinha (Thane)
Indeed a very good discovery... If they sell then i will surely buy atleast one.
Agree (0)Disagree (2)Recommend (0)



确实是个伟大的发现....如果有开卖,我肯定会至少买一个。
Banlas (SEA)
Wondering whether India has these historical coins or not. At least then we understand further the great civilization between both India and China.
Agree (4)Disagree (0)Recommend (0)



不知道印度是否有古钱币。如果有,我们至少可以进一步理解中印伟大文明。
BlueHorse (Canada)
China always in the news one way the other.
Agree (2)Disagree (0)Recommend (0)



中国总是以这种或者那种方式出现在新闻中。




romesh.sharma (Germany) replies to A.K.Lightning
Everybody salutes the rising sun.
Agree (8)Disagree (0)Recommend (4)




大家都会向升起中的太阳致敬。




译文来源:三泰虎 http://www.santaihu.com



EndOfTheLastEra (HellOnEarth)
seems like part of china's propoganda...
Agree (2)Disagree (12)Recommend (0)



这似乎是中国宣传的一部分....
ashis (kolkata)
Oh! this proves conclusively that Inner Mongolia belongs to the PRC and the IMPP should be abolished. I wish next time they do some maritime explorations and find some coins in the South China Sea to prove their point.
Agree (9)Disagree (8)Recommend (4)



哦!这确切地证明内蒙古是中国的,内蒙古自治区该废除。我希望他们下次在南海也展开海洋考察,发现一些古币,并以此证明其观点。
JCMI (India)
Invaluable historic finds!
Agree (9)Disagree (0)Recommend (5)



无价的历史发现!
The Beak (Canada)
Wonder if a find such as this was disvovered in India, would any one in Govt or otherwise disclose such finding to the world. India, never as its culture would reject such disclosure. Om. .
Agree (0)Disagree (2)Recommend (0)



不知道如果印度有此类发现,政服人员或者其他人是否会向世界披露。印度文化不允许这种发现被曝光,所以印度从来没有披露过.....
paul (blr)
just thinking, may be another way to export chinese gold in the name of antique items....
Agree (1)Disagree (1)Recommend (1)



试想下,也许是以古钱币为名义的另一种出口中国黄金的方式.......




Mao (S'hai) replies to EndOfTheLastEra
I know Indians have smaller brains than Chinese but I didn't know yours is that small.
Agree (2)Disagree (0)Recommend (2)




我知道印度人的脑袋比中国人的小,但我不知道你的会这么小。



Jai Hind (Delhi)
They need to be verified as CHINA may be buring hem to make big news
Agree (1)Disagree (2)Recommend (1)



这个还要确认下,中国可能自己埋进去的,目的是制造大新闻。
Rang (Bangkok)
quite a interesting find by Chinese archeologist, but, this story is good for people who does not have any knowledge about Chinese history and Mongolian history. The fact is how can a Chinese coin manufacture factory in Mongolia? in those days Mongolian were one of the strongest country in central Asia and Chinese were always avoiding from Mongols invasion. May be during Mongolian's rule China over 150 years and may be they set up factory in inner Mongolia. Inner Mongolia invaded by communist Chinese regime after 2nd World War and outer Mongolia invaded by Russia. Russian gave Independent to outer Mongolia in 1990's. Communist Chinese regime still holds iron grabs over outer Mongolia.
Agree (3)Disagree (13)Recommend (1)



中国考古学家的这个发现非常有趣,但这样的报道糊弄那些毫不了解中国历史和蒙古历史的人还差不多。中国人是如何在蒙古建立铸币厂的?当时的蒙古可是中亚其中一个最强大国家。中国人一直极力避免遭蒙古入侵。也许是蒙古统治中国150余年期间建立的。二战后,内蒙古被共产中国入侵,外蒙古被俄罗斯入侵。俄罗斯1990年让外蒙古独立。共产中国仍然铁腕控制着内蒙古。




Mahendren (chennai) replies to Rang
Just to add with Rang's point, There were some trades between ancient Mongolia and Cholea Kingdom (a Tamil Kingdom).
Agree (3)Disagree (4)Recommend (1)




补充下Rang的观点,古代蒙古和cholea王国(一个泰米尔人建立的王国)有展开一些贸易往来。




JI Fa (Changzhou) replies to Mahendren
Just to add with Rang's point, Tang Dynastic China also defeated the Indian tyrant and conquered most part of India with Nepalese and Tibetan allies. The envoy and commander's name is WANG Xuance. The inscriptions on precipices still exists in Himalaya border between China and Nepal.
Agree (8)Disagree (2)Recommend (2)




我也补充下Rang的观点,在尼泊尔人和藏人等盟友的支持下,唐朝打败了印度暴君,征服了印度大多数地区。这位特使和指挥官的名字叫王玄策。中国和尼泊尔边界喜马拉雅山悬崖上仍然有其铭文。




Rang (Bangkok) replies to JI Fa
I am stupid person to think Ji knows some history Now I knew he is just wasting other peoples time. Of course he is communist's propagandist at the same time he is bit of crazy.
Agree (2)Disagree (7)Recommend (2)




我愚蠢地认为Ji懂得一些历史,现在我知道他是在浪费别人的时间。当然,他是共产党的宣传员,同时又有点疯。




Saeed (Karachi) replies to Rang
Indian history. Indians have rayaped it.
Agree (4)Disagree (3)Recommend (2)




印度人强奸了印度历史。




Mahendren (chennai) replies to Saeed
Indian History is full of Tamils domination.. so tamil enemies wont explore the history of India.
Agree (1)Disagree (0)Recommend (0)




泰米尔人历史上常常统治印度,所以泰米尔人的敌人不会去探索印度历史。




Ali (Lahore) replies to Saeed
What does ray aped mean?
Agree (0)Disagree (1)Recommend (0)




"rayaped"是什么意思?




Saeed replies to Ali
Certain words are deemed "offensive" , so you have to spell it differently., like ssshole etc




有些词语会让人感觉不快,所以必须换种说法,类似ssshole等词语。



三泰虎2013年1月1日译文,印度时报原题《中国发现大量古钱币》。据报道,考古学家在内蒙古鄂尔多斯地区发掘出大约3500公斤古钱币,大多数流行于汉代(公元前202年-公元220年)。这些古币在霍洛柴登古城的三处千年钱币窖藏被发现。大多数古币是汉代流行的"货泉"。此外,考古学家还从铸钱作坊发掘出了一百余块钱范。从古城的规模和从中发现的文物古迹分析,霍洛柴登古城是汉代北方重要城市之一。这次考古发掘的成果,对于研究中国古代货币制度、冶铸技术等领域都有重要意义。