印度实现"高铁梦"?据印度Rediff.com报道,中国和印度签署了高铁合作备忘录,印度期待借助中国帮助圆"高铁之梦",协议的有效期为五年。印度铁路部门已经确认了境内七条高铁线的建设,时速大约是300公里。其中五条高铁线已经进行了可行性研究。日本也热衷向印度提供高铁技术。印度铁路部门计划优先着手修建孟买与艾哈迈达巴德之间的高铁线。此外,印度还希望借助中国在重载货运专线运营和火车站修建等方面的专业技术。


版权所有:http://www.santaihu.com
原文标题:How Indian Railways plans to run bullet trains!
原文链接:http://www.rediff.com/business/slide-show/slide-show-1-how-indian-railways-plans-to-run-bullet-trains/20121127.htm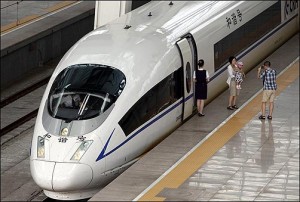 T

he Indian Railways has joined hands with China for cooperation in developing high-speed rail corridors in selected routes in the country.

Besides, Railways will also seek Chinese expertise in carrying out heavy haulage in dedicated freight corridors and developing stations.



"W

e signed a MoU with China for mutual cooperation in rail sector," said a senior Railway Ministry official, adding, "The agreement will remain in force for five years."

Chairman Railway Board Vinay Mittal and China's Vice- Minister of Railways Wang Zhigue signed the agreement. A MoU was signed with China on January 14, 2008 which has since expired.



印度铁路部门携手中国合作开发本国的几条高速铁路专线。





此外,印度铁路还希望借助中国在重载货运专线运营和火车站修建等方面的专业技术。





"我们与中国签署了铁路合作备忘录,"铁路部门一名高级官员补充说:"该协议的有效期为五年。"





该备忘录由铁路局主席Vinay Mittal和中国铁道部副部长一道签署。两国此前在2008年1月14日签署过类似备忘录,不过已经过期。





N

ow an Infrastructure Working Group will be constituted under the India-China Strategic Economic Dialogue to work out details for the future cooperation in the rail sector, the official said.

Railways has identified seven routes for exploring possibilities of running high-speed trains known as bullet trains at a speed of about 300 km per hour.



P

re-feasibility study has been carried out for five corridors, said the official.

Japan is also keen to provide its technology to Railways in high speed rail corridors.



R

ailways plans to take up the proposed Mumbai-Ahmedabad high-speed rail corridor on a priority basis as the government has given the in-principle clearance to the project.

It is estimated to cost about Rs 60,000 cr to run train at 300 km per hour speed in the proposed corridor.



这名官员称,基础设施工作小组将在中印经济战略对话的机制下成立,制定两国未来在铁路领域的合作细节。





印度铁路部门已经确认了境内七条高铁线的建设,时速大约是300公里。





其中五条高铁线已经进行了可行性研究。





日本也热衷向印度提供高铁技术。





政服已经原则上批准修建所提议的孟买与艾哈迈达巴德之间的高铁线,因此印度铁路部门计划优先开工该条线路。




以下是印度网友的评论:




Now Made in China Trains ! Hahahahaa
by ohgandhi

We have seen enough Made in China Toxic Toys ........now trains that FLY ON RAILS IN INDIA......HEHEHEEHEHE



中国造的有毒玩具我们已经看得够多了.......现在轮到了印度铁路上飞的火车.......呵呵呵。
Bullet Train!!! do you need them?
by Ram Singh

We need clean and hygienic train and station, nation have waited almost 70 years now.



我们需要卫生整洁的火车及其车站,国家已经等了接近70年。
joke
by x y

This topic is the joke of the day



本话题就是今日笑话。




Re: joke
by amitav ghosh
i believe they have also signed Mou's with some European companies as well. if i recall correctly and just wait for few more years this will turn out to be the next big scam.




我相信他们也与一些欧洲公司签署了备忘录。没记错的话,只要再等几年,高铁就会成为下一个大骗局。



First priority
by Janarddan

Average speed of the fastest train in India is about 75 kmph. If we can take it to 120 kmph - that in itself will allow faster journeys and more trains on a route.

In addition, all trains must have

1. Waste disposal system

2. Automatic door closure system for safety

Achieving the above will take, definitely, less than Rs.10,000 crore and therefore it will help to keep railways as one of the cheapest transport as it is today.



印度最快火车的平均速度大约是75公里每小时。如果能提速到时速120公里,旅行就会变得更快捷,线路就能跑更多火车。





此外,所有火车必须有以下设施:





1、排泄物处理系统;





2、自动关门系统





做到以上两点需要的资金肯定不少于1000亿卢比,但有助于火车继续成为印度最廉价的交通方式之一。
indian railway/airlines
by Mar Thoma

reminds me of parliament. i dont know why



印度铁路和航空让我想起了议会,不知道为什么。
On computer
by ganesh pillai

Indian railways can develop a video game for passengers to play on mobile during their comfortable and happy journey via indian railways.



印度铁路可以开发一款能让乘客在舒适愉快的火车旅行途中用手机玩的视频游戏。
Best Comedy of the year...
by karthi d

Indian Railways running bullet trains...with the help of China....within the budget of 60000cr...First Indian Railways should learn how to keep the stations clean and congest free



在中国帮助下,印度铁道部以6000亿卢比的预算筹划高铁。其实,印度铁道部应该首先学会保持火车站整洁干净,保证其不会拥堵。
INDIA MOU WITH CHINA
by dipak anand

We can't develop any technology because we have never worked on that lines. We are masters on Ghotalas,scams,loot and what not. We can only teach China how this amount has to be shared by Indians and in what ratio. We are perfect only in this technology.



我们从来没有从事技术开发,所以没有开发出任何技术。我们是诈骗、抢劫等诸如此类的专家。我们只会让中国了解,即印度人不得不以某比例瓜分这笔资金。我们擅长的就是这个"技术"。




Re: INDIA MOU WITH CHINA
by Om Shanti




Intelligent people donot waste time,money and energy developing these things.They just pay and buy it :)




聪明的人不会浪费时间、金钱和精力去开发高铁,而是选择购买 :)




Re: Re: INDIA MOU WITH CHINA
by shailendra tayawade
This is a great opportunity for the politicians for corruption. Estimate is 60K crores right now...i think it would go to 250 K Crores by the time this project gets completed..This usually happens in india... they will spend 4-5 times that of estimated cost....Politians must be happy by this time...




建高铁是政客腐败的大好机会。现在预算是6000亿卢比,我想到了完工时就会涨到25000亿卢比。这在印度司空见惯。最终花的钱会是预算的4-5倍。政客现在肯定乐着呢.....



Why China
by herold monteiro

We can build our Nation,by our own Technology & people ,China will stab behind later be alert .Its dont like India to come up .



我们可以靠自己的技术和人力来建设国家,要保持警惕,中国过后会在背后捅你一刀,他不喜欢印度赶上来。
Coincidence
by Mart Twain

What a coincidence that British also build railways in India to rule over India!

Now China is laying the foundation for a similar reign in the future!



以前英国也为了统治印度而修建铁路,现在中国为了未来能统治印度而打基础!
Good and BAD
by harshit jain

Good: we are going for high speed trains.
Bad: It is INSANE to see that for a project of national importance, we are working with China....
Somebody openly known to be our best ENEMY.



有好的,也有不好的。





好的:我们努力获取高铁。





不好的:如此重要的国家级项目让中国参与进来是不理智的.......





众所周知,某国人是我们最大的敌人。




Re: Good and BAD
by Abbas Rumani
The problem is narrow thinking. Having a dispute with any country does not mean enemy. for that matter India has disputes with all our neibhours. Does that means all are our enemy.Germany, Japan had fought world war with America, but today they are best of friends. In world we move on. don't carry baggages of past.




你的问题在于思维狭隘。有纠纷并不意味着就是敌人。就此而言,印度与所有邻国有纠纷,意味着都是敌人吗?德国和日本在二战时与美国打过仗,但今天彼此是最好盟友。我们要继续前进,别驮着历史包袱。




Re: Re: Good and BAD
by harshit jain
Why one earth cant we go ahead with Japan. They are world leaders in transport technology and projects.
I am only judging on capabilities and track record.




There will also be chinese software running the whole setup....they can rig it at Will (relate to the safety issues raised by US for Mobile network equipment).




为什么不与日本携手前进。日本是轨道交通技术的世界领导者。我只是以能力和过去的记录作为其评判标准。




高铁的整个运行将由中国软件来控制,中国人可以随时操纵印度高铁(类似美国就移动网络设备提出的安全问题)。




Re: Good and BAD
by harshit jain
Why dont we recognise, its a matter of national security.




为什么不承认这是事关国家安全的问题。



To start and make money...
by Discusion Forum

This is to make money by politicians/ bureaucrats etc. They start new projects and leave it after making money out of it. Railway should first complete all the pending work of track doubling, electrification, etc. instead of going for bullet trains. If officials are not able to run the existing setup properly how can they run bullet trains?



印度建高铁是为了让政客和官僚赚钱。新项目开工后,赚了钱就不管了。印度铁道部应该先完成双线化、电气化等迫在眉睫的工作,而不是盲目追求高铁。如果连现有的铁路都管理不好,官员又怎么能运营好高铁?
Let Indian Railways
by iota

Clean up the Railway Stations first.



先把火车站打扫干净吧。
we can develope the technology
by Pradeep peddisetty

with 60000 crore we can very well develope the technology and offer the same to the rest of the world, instead we are going to buy it from some where else and then we have scams



我们用6000亿卢比可以很好地开发高铁技术,然后提供给其他国家。可我们却从其他地方购买,然后丑闻就出现了。
Bullet Train
by sonia maneka

Bullet trains should be for those states who give maximum revenue to the exchequer.



高铁应该提供给那些对国库贡献最多税收的邦。
Duplicate Bullet trians
by vijay meesala

China is ment for duplicate goods. So in future will see duplicate bullet trains.



中国意味着山寨货。未来会看到山寨的高铁。
Like
by Mart Twain

This is like someone who can barely crawl claiming that he will fly!

All we can do is expect lot more accidents, that's all!



此举正如某人勉强会爬,却宣称自己会飞!





可以预料会发生更多事故,就这样!
System
by MM

First make present railway system clean, neat and easily accessible.. now-a-days it is difficult to get even sleeper class ticket... what is the use of bullet train if system is not efficient?



先让铁路系统保持整洁干净和乘车容易。现在连买卧铺票都难。如果系统不高效,高铁又有什么用?
Indian Railways
by G VAITHIANATHAN

Another way to loot Indian public by our politicians



又一个政客抢劫印度公众的途径。
iNDIAN RAILWAYS
by G VAITHIANATHAN

First pass Class-XII then think of MBA.
Indian Railways should first learn as to how to keep the toilets clean.



先过了基础的东西,再来考虑读MBA吧。





印度铁道部应该首先学会如何保持厕所干净。
Bullet train scam
by correct

Already metro scam is going on. Since metro is coming we cannot use roads they are in horrendous condition. If bullet train comes then metro will be rendered useless. When can we start living in India?



地铁丑闻已经发生了。有了地铁,公路状况变得可怕,没法使用(???)。如果有了高铁,地铁就会变得无用。




Re: Bullet train scam
by paper india
I think you have no clue about metros. Metros run intracity where as bullet trains will be run on intercity routes.




你一点也不懂地铁。地铁在市内跑,而高铁担负市际通勤。




Re: Bullet train scam
by ASK ASK
Uncle, bullet train is for long distance route where as metro runs in and around a perticular city




高铁服务于长距离旅行,而地铁是在特定城市区域跑。



Bigger Reform - Convert single tracks to double
by Sridhar Dorairaj

So many tracks like bang to mumbai are still single track and it takes 23 hrs for 1000kms.



更大的改革是铁路双线化。





许多路线仍是单轨,比如班加罗尔到孟买,1000公里要跑23个小时。




Re: Bigger Reform - Convert single tracks to double
by paper india
True ! Railways should first concentrate on double tracks on all major routes, safety, sanitation, improved services and track renewal to ensure 140-150 kmph speeds rather than showcasing bullet trains.




正确!铁道部应该首先关注主要干道的双线化,安全、卫生设施、改善服务和线路维修,从而确保火车能跑140-150公里的时速,而不是去炫耀高铁。




Re: Bigger Reform - Convert single tracks to double
by Kathepalle Narasimha
Even Mumbai to chennai is single track,when will this two destinations get converts to double track




连孟买至钦奈的铁路也是单线,何时才能变成双线呢?



Since years only hearing news- work not started even on one
by vinod shenbaga

Last heard was Indian Officials cosying with German officials , later Japanese and now since these techology majors project are so costly that it costs around more than our whole indian budget. Thats why i guess Indians are cosying with chinese officials expecting some saving benefits in project cost.

Wish atleast these talks go fruitfall and atleast one bullet train project starts . I would love to see Golden Quadrilateral (Mumbai, delhi, chennai and kolkata) connected by Bullet trains -Indigenous projects would be more economical and beneficial for us



以前听说印度官员与德国官员亲密无间,后来与日本人好上。由于两国技术非常昂贵,高铁造价超过印度的整个预算,所以只好与中国官员好上了,寄望于便宜的工程造价能省下一些钱。





希望谈判至少能出一些成果,希望至少会有一条高铁开工,希望高铁能把黄金四角(孟买、德里、钦奈和加尔各答)连接起来。本土项目会更经济和更有利。
Indian railways
by Chat

Indian railways shd first learn hw to run the trains , after tht they shd think of running bullet trains.



印度铁道部应该首先学会如何运营铁路,然后才考虑高铁。




Re: Indian railways
by R.S.Pandey
Please don't do arm chair criticism. First you see first hand how Indian railway works. It's d public who should learn how to use facilities. For everything, you can't & you shouldn't blame govt and railways.




请别当一个空谈的批评家。先看看印度铁道部是如何展开运作的。公众应该学会如何使用铁路设施。你不能把一切归咎于政服和铁道部。




Re: Re: Indian railways
by ganesha jaguva
u mean to say public should love to eat the disgusting food rly offers or r u telling that it is impossible to keep trains and platforms clean




你意思是说公众应该喜欢吃火车上提供的恶心食物,还是说保持火车和站台干净是不可能的?




Re: Re: Re: Indian railways
by R.S.Pandey
NOT AT ALL. I only mean to say that how we use toilets & stations? Throw garbage everywhere baring few, who take pain to throw garbage in dust bin. Kids urinating from platform in place of going to toilets.




Please complaint about any unconvenence and it will be attended to. It's my personal ecperience of at least a dozen of times.




一点也不是。我只是说我们如何使用厕所和车站?到处乱扔垃圾,很少人会费力扔到垃圾桶里。小孩不去厕所,而是在站台上拉尿。




若有麻烦,请投诉,会得到解决的。这是个人经验,我试了不下几十次。



sdfds
by Arun Premraj

we will build the track after much delay n cost over run... VIPs will enjoy first few fast rides
then it will be run at 50kmph again as there will be intrusions n problems



高铁工期会大大延误,造价会严重超支。VIP客户先享受少有的快速旅行,然后由于高铁会遭干扰和各种问题,速度会再次回归到50公里每小时。




Re: sdfds
by SAURABH SINGH
due to political pressures train will be having stops every 50 kms so the result pay more spend same time as passenger train.




在政治压力下,高铁每50公里停一个站,结果钱花更多了,旅行时间却和普通火车一样。




Re: Re: sdfds
by PVijayan Pillai
yes- you are right. There will be political pressue to stops the train at every station.




说得对,在政治压力下,高铁不得不站站停。



china ???
by JayaKrishnan B

what does china known about these??? they themself got help from germany and others...and the trains they run had horrible uptime



中国懂个球?他们自己都接受了德国和其他国家的帮助,其火车的正常运行时间很可怕。





译文来源:西诺网 http://www.ccnovel.com




Re: china ???
by Ajai Jacob
Jealous of china??




嫉妒中国?




Re: china ???
by Ajai Jacob
The chinese HS train network,the largest of its kind in the world was developed indigenously to suit chinese conditions.




中国运营着世界最庞大的高铁网络,而且其高铁是自主开发的,适合中国的国情。




Re: Re: china ???
by Chat
wrong , China got help frm Germany n japan firstly.




错,中国先是得到了德国和日本的帮助。




Re: Re: Re: china ???
by Ajai Jacob
My point is that the chinese modified the technology suit chinese conditions thus succeeding in building a large network within a short time.




我的观点是,中国人根据国情修改了技术,进而在短期内成功打造庞大的高铁网络。



bangalore- hyderabad
by Ramya

ban-hyd two majot IT cites should be connected with bullet train.60% of the total income t the govt of india,will come from these cites so please give priorties to southren states.



班加罗尔和海德拉巴等两个大城市应该通过高铁连接起来。印度政服总收入的60%来自这两个城市,所以请优先考虑南方各邦。




Re: bangalore- hyderabad
by Amit Bhopi
60% of total income, are you nuts? Did you forget Mumbai




60%的总收入?你疯了?忘记孟买了?




Re: Re: bangalore- hyderabad
by Aniruddh Patil
bro wake up. Mumbai is past. Gurgaon, Noida, Bangalore, Chennai, Hyderabad are future.




兄弟,醒醒,孟买已经成为过去,古尔冈、诺伊达、班加罗尔、钦奈、海德拉巴才是未来。



中国高铁有望进入印度令印政服"兴奋"!印度人如何看中国帮助