原文标题:Friend, enemy, rival, investor——How can India make its economic relations with China less lopsided?
原文链接:http://www.economist.com/node/21557764?scode=3d26b0b17065c2cf29c06c010184c684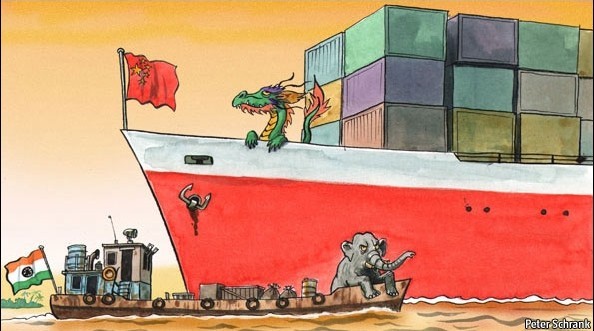 DEALINGS between India and China are stunted in many ways. Rich cultural links once existed long ago, from the study of eclipses to Buddhist chanting, but hardly anyone remembers that today, laments Amartya Sen, a Nobel-prize-winning economist. After a love-in during the 1950s, China thumped India in a border war in 1962, and the two have continued to growl over their high-altitude frontier since. Indians envy China's economic rise, but console themselves by pointing out that it is no democracy. Aside from stiff displays of fraternity at summits, most recently the G20 bash in Mexico on June 18th-19th, China seems not to think much about India at all. Investment flows are negligible. There are still no direct flights between Beijing or Shanghai and Mumbai, India's commercial hub.



在n多方面,中印的来往都存在障碍。从日食月食研究到佛教颂唱,很久以前中印之间曾经有丰富的文化连接,但是如今很少人记得起来了,诺贝尔经济学奖获得者Amartya Sen哀叹。在上世纪50年代的火热关系之后,中国在1962年的一次边境战争中重重打击了印度,从此以后两个国家持续在高海拔前线摩擦不断。印度眼红中国经济的腾飞,却酸葡萄说中国没有皿煮来安慰自己。除了高层首脑会议中僵硬滴展示彼此友谊,在最近6月18到19号墨西哥召开的G20大会上,中国看起来压根儿没把印度太当回事。投资几乎可以忽略不计。北京或上海到印度经济中枢孟买至今都没有直飞的航班。



And yet a huge shift has taken place in the make-up of Indian trade. When India began to liberalise its economy in 1991, the West still dominated the world economy, and it was to the West that India turned for trade. China's rise has now changed everything—for India, too. China is now its third-largest trading partner in goods, and the biggest if you include Hong Kong. For China's East Asian neighbours a dominant trade with China is a given, but Indians are still trying to digest the development.

Rising trade with China has been good for India. It mainly imports Chinese capital goods, with firms benefiting from cheap and decent gear. The giant Reliance Group has bought kit for power stations and telecoms networks—partly paid for with competitive Chinese loans. Chinese firms have often strived to win such business. Pan Song of Shanghai Electric, which makes power equipment for Reliance, among others, recounts years of hard slog in India.



印度贸易的面貌已经发生巨大的变化。1991印度开始实现经济自由化,那个时候西方主导了世界经济,而印度主要和西方进行贸易。中国的崛起改变了一切, 包括印度。当下中国是第三大货物贸易伙伴,如果加上香港,是第一大。对于中国的东亚邻居来说,和中国为主的贸易是美事,而印度仍然在消化发展问题。





与中国上升的贸易已经对印度产生了好处。印度主要从中国进口生产资料,公司从物廉价美的设备中得到实惠。巨头信实集团购买了发电站和电信网络套装——一部分用优惠的中国贷款支付。中国公司经常努力赢得此类业务。特别地,为信实生产电力设备的上海电力Pan Song,在印度积累了数年苦干的经验。



But for India the China connection is also disconcerting. For every dollar's worth of exports to China, India imports three, leading to a trade deficit of up to $40 billion in the year to March 2012, or about 2% of GDP (see chart). China accounts for a fifth of India's overall trade deficit with the world, over half if oil is excluded. Given India's balance-of-payments woes—the rupee has fallen by a fifth in the past year—even Chinese businessmen worry that the discrepancy in bilateral trade is unhealthy.

And it may grow larger. For a start, the little manufacturing India has tends to be quite high-end. As Chinese firms shift to more complex forms of production, they will make life harder for Indian firms. Saif Qureishi of Kryfs, which makes the metal cores of transformers used in, for example, power grids, says China has won a third of the Indian transformer market and is giving locals "a bloody nose".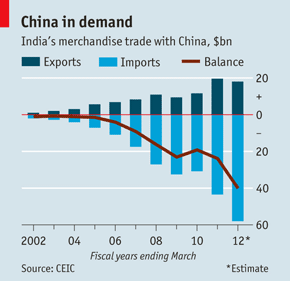 但对印度,中国贸易是令人担心的。印度每向中国出口一美元的货物,印度进口三美元,导致截止2012年3月高达400亿美元的贸易赤字,差不多2%的 GDP(见上图)。中国占了印度全球贸易赤字的五分之一,如果排除石油,那是一半。加上印度收支平衡灾难——过去一年卢比贬值了五分之一——连中国商人都在担心贸易不平衡是不健康的。





不平衡还可能变大。首先,小制造业的印度倾向于高端。随着中国公司转向更加复杂的制造形态,将使印度公司日子越来越难过。Kryfs的Saif Qureishi是制造变压器用的金属核心,如电网,说中国已经赢得了三分之一印度变压器市场,迎面痛击了本土公司。



Meanwhile, India does not produce much that China wants to buy, a hole that British colonial rulers once plugged with exports of Indian opium. Today India's main exports to China are less iniquitous raw materials, mainly minerals and cotton. But their continuing success is not a given. In the past two years the rivers flowing down to Goa on India's west coast have teemed with barges carrying iron ore bound for China. Yet a crackdown in late 2011 on illegal mining has seen volumes fall by a fifth, says Atul Jadhav, of the Goa Barge Owners' Association. In March India briefly banned cotton exports because of fears of shortages.

India is indeed prone to protectionist impulses. No bilateral free-trade agreement exists, and India often flirts with slapping duties on Chinese imports, most recently of power equipment. The Indian sales of Huawei, a telecoms firm, fell by half after it was hit with anti-dumping duties and labelled a security risk. Chinese firms complain of trouble with visas.



同时,印度不能制造中国需要的产品,当年英国殖民者用鸦片出口来填塞这个窟窿。今天,印度主要向中国出口低附加值的原材料,矿物和棉花。但是他们持续的成功不是注定的。在过去两年里,流向印度西海岸果阿邦的河流里充满了为中国运送铁矿石的驳船。果阿驳船主联合会的Atul Jadhav说,2011下半年针对非法采矿的一次整顿使得运货量下降了五分之一。因为担心短缺,3月份短暂禁止棉花出口。





印度特别倾向保护主义冲动。中印没有双边自由贸易协议,印度经常随意对中国进口货物强加条约,最近是电力设备。华为,一个电信公司,因为遭受反倾销和所谓安全风险,在印度的销售掉了一半。中国公司抱怨签证麻烦。



More hopefully, India wants to boost its exports to China. At the G20 summit it struck a deal to sell more rice. India would also like leading firms in industries including drugs, carmaking and IT to have better access to China. Most already have a presence, if only for procurement. Yet what is good for Indian multinationals may not generate jobs or foreign exchange for India. Tata Sons, with the biggest China operation, mainly sells Range Rover cars, made in Britain, and IT services, largely employing local Chinese staff.

And so the trade deficit looks likely to stay. Yet China could do more to help finance it, if given the chance. More loans from Chinese banks would be good—so far India has been wary, with only one Chinese bank allowed to have a branch there. More foreign direct investment would help, too. In 2011 Narendra Modi, the chief minister of Gujarat state, visited China to drum up investment. More often, India seems to regard FDI as the gift of Western multinationals alone.



有希望的是,印度想加强对中国的出口。在G20高峰会议上,它达成一个协议销售更多的稻米。印度期望工业界的一些领头公司,如制药、汽车和IT能够更好滴进入中国。如果只是为了采购,大部分公司已经去中国了。然而对印度跨国公司,最好的并非为印度产生工作机会或者获得外汇。在中国运营最大的Tata Sons,主要生产路虎揽胜,在英国制造,IT服务方面主要雇佣中国本土员工。





所以贸易赤字看起来不会有太大变化。如果有机会,中国或许能在金融上给予更多帮助。中国的银行给予更多的贷款可能是件好事——印度目前仍然很谨慎,只允许一家中国的银行分支机构在此营业。更多的外资直接投资同样会有帮助。古吉拉特邦的首席部长纳伦德拉·穆迪2011年访问中国吸引投资。通常情况下,印度只会认为外资直接投资只是西方跨国公司的礼物。



It need not be so. In a dusty bit of Maharashtra state sits one of the first Chinese factories in India, run by Sany, which makes diggers and other construction machines. Richard Deng, its boss, says it has invested $70m and employs 460 locals; if all goes to plan it will double in size before long. T.C.A. Ranganathan, chairman of Exim Bank of India, reckons ten Chinese firms have or are building plants in India, and 100 firms have offices there.

Despite the usual cold sweats foreigners have about India (nightmarish red tape, a cultural gap), Chinese executives agree that more local production will take place. Sun Haiyan of Trina Solar, a solar-equipment firm, says that, as a global company, it has to manufacture locally. Wu Rong of ZTE, a telecoms concern, says it employs mainly locals and is producing more in India. Huawei, its India problems notwithstanding, is building a new research campus in Bangalore. Niu Qingbao, China's consul in Mumbai, says Chinese firms are mustard-keen to invest in infrastructure, if also a little daunted.

Might this be the start of a wave of Chinese investment? India needs outside capital, and expertise in manufacturing and infrastructure. China must invest its surplus funds abroad, ideally not just in government bonds—as mostly happens in America—and ideally in countries that are not about to go belly up, as may happen in Europe. Chinese investment in India is an idea whose time has come, if only the two sides can conquer a legacy of mistrust.



没必要这样的。在灰尘漫天的马哈拉斯特拉邦,有一个三一重工运营、中国在印度的第一批工厂,生产挖掘机和其他建筑机械。公司老板,Richard Deng,说已经投资了7000万美元和雇佣了460名当地员工;如果一切按计划运作,不久以后公司规模将会翻倍。印度Exim银行的主席,T.C.A. Ranganathan, 估计10个中国公司已经或者正在印度盖工厂,100个公司设立了办公室。





尽管印度的情况让外国人冒冷汗(噩梦般的繁文缛节,文化隔阂),中国执行官们赞同更多的本土制造。太阳能设备公司天合光能的Sun Haiyan表示,作为全球公司,必须当地制造。电信公司中兴的Wu Rong,称公司在印度主要雇佣本地人、更多滴在本地生产。华为,尽管有印度的问题,正在班加罗尔建造一个新的研究园区。中国驻孟买领事牛庆宝称虽然有些让人气馁,但中国公司对基础设施投资有着强烈的兴趣。





这可能是中国一轮投资高潮的开始?印度需要外部投资,在生产和基础设施的经验。中国必须将其剩余资金投资海外,理想地不仅仅投资在政服公债——如美国老是这样——并且理想滴在一些不容易挂掉的国家,如欧洲很可能这样。中国投资印度的时机已到,只要双方能够解决遗留的不信任问题。




以下是《经济学人》读者的评论:




Mahesh7863 mins ago

India is developing very slowly comparing to China. I support both countries relations ships.



和中国比,印度发展很慢啊。我支持两个国家发展关系。
IllegalOccupierJuly 6th, 22:57

Whatever it takes, it is economy not war. Mr. Smart.



无论发生啥,这是经济,不是战争,智者先生们。
godwatchingJuly 6th, 21:25

Indian and Chinese and the rest of the countries must remember that the former colonist British is always try to provoke none- anglo nations to have conflits with each others for their own interest! You can see the British and the U.S together oppose the EU to have the influence in financial power to replace the dollar. Remenber the former British female priminster Tacher hoped the German not able to become united.



印度、中国和其他国家必须牢记:前殖皿煮义英国为了他们的利益,经常挑拨非央格鲁国家相互争斗!你可以看到英国和美国一起反对欧盟拥有替代美元的金融影响力。记住前英国女首相撒切尔曾期望德国不能统一。




Communal Award in reply to godwatching59 mins ago




"Power will go to the hands of rogues and freebooters. All Indian leaders will be of low caliber and men of straw. They will have sweet tongues and silly hearts. They will fight amongst themselves for power and India will be lost in political squabbles" --Winston Churchill




"权力会掌握在流氓和海盗的手里。所有的印度领导人都没有能力、一文不值。他们有甜蜜的嘴巴和愚蠢的心灵。他们和自己人争斗权力,印度在政治纷争中迷失自己。"——温斯顿.丘吉尔



udaybalakrishnanJuly 6th, 17:00
India has terrific potential an aging China cannot ignore. Silly India seeks to confront China when it should be collaborating. China of course smug in its current economic success is ignoring India just when it should be going all out to have it on its side. No country can sustain China's growth and grow itself as India.



对老龄化的中国,印度具有超级潜力。在需要合作的时候,愚蠢的印度选择与中国对抗。中国当然为当下经济的成功洋洋得意,在应该将印度全力争取到身边的时候忽略印度。没有国家能像印度这样能支撑中国可持续增长。
ewakornJuly 6th, 03:21

The obsession of India comparing itself to China is just like China's obsession in comparing itself to U.S.

India badmouths China's social and political system. China also badmouths the social and political system of U.S.

But in reality both countries admire their adversaries.



印度对中国的比较强迫症,正像中国对美国的比较强迫症。




印度老是说中国社会和政治系统的坏话。中国同样老是说美国社会和政治的坏话。但事实上,两个国家都羡慕他们的对手。




Devils Advocate_1 in reply to ewakornJuly 6th, 05:23




[ewakorn1 hour 57 mins ago




The obsession of India comparing itself to China is just like China's obsession in comparing itself to U.S.




India badmouths China's social and political system. China also badmouths the social and political system of U.S.




But in reality both countries admire their adversaries.]




I thought it is Uncle who obsessively "badmouth" China. Does Uncle admire China? Can you give supports to your claim?




As for China "badmouthing" India, I think it is mostly confine to the Chinese ultra-nationalists on the web and most of the time in response to Indian ultra-nationalists "badmouthing" China. It is rare to hear Chinese officials "badmouthing" India.




印度对中国的比较强迫症,正像中国对美国的比较强迫症。




印度老是说中国社会和政治系统的坏话。中国同样老是说美国社会和政治的坏话。




但事实上,两个国家都羡慕他们的对手。




我想是山姆大叔强迫症地诽谤中国。山姆大叔羡慕中国吗?你能给出证据吗?至于中国诽谤印度,我想基本限于网络上的中国超级民族主义者,大部分时间是在应对印度的超级民族主义者诽谤中国。很少听到中国官方诽谤印度的。




PL123 in reply to Devils Advocate_1July 6th, 12:34




I thought it is Uncle who obsessively "badmouth" China. Does Uncle admire China? Can you give supports to your claim?




As for China "badmouthing" India, I think it is mostly confine to the Chinese ultra-nationalists on the web and most of the time in response to Indian ultra-nationalists "badmouthing" China. It is rare to hear Chinese officials "badmouthing" India.
------------------




@ Devil




Totally agreed.




至于中国诽谤印度,我想基本限于网络上的中国超级民族主义者,大部分时间是在应对印度的超级民族主义者诽谤中国。很少听到中国官方诽谤印度的。




完全同意。




happyfish18 in reply to Devils Advocate_1July 6th, 07:17




If they are so engrossed into bad-mouthing envy, at the end of the day they will both be inadvertently backward-assed by the Hegemon.




如果他们如此沉浸在诽谤、妒忌,最后两个国家都将成为霸权主义愚弄的玩物。




silent night in reply to ewakornJuly 6th, 09:54




It is difficult to find a report which badmouths India in China's official media.




On the contrary,you will find many deified India's reports, by describing India as a "democratic paradise",everything is free,food,education etc.,authors show their displeasure to dictatorial goverment.Of course,some people also will badmouth India in the unofficial media,especially the Internet,but it is non-mainstream in China.




Now China goverment don't really badmouth the social and political system of U.S.In most cases,it is only as a way of diplomatic response once US badmouths China goverment.Few people will care about the diplomatic Parlances,how to badmouth US's,including CCP itself.




China's obsession in comparing itself to U.S.? I don't think so,this is basically fifty-fifty.Many Chinese don't think that US is the best model for China in many fields,they more admire Japan,Germany or some Nordic countries.After all,China has its own unique culture,as a unified country for most time of its histroy. A highly homogenized country in race,culture,language etc.




很难在中国官方媒体上找到诽谤印度的报告。
相反,中国倒是有很多神话印度的报告,把印度描述成"皿煮的天堂",一切都是免费的,食物、教育等等,作者们显示他们不喜欢专制政服。当然,也有一些人在非官方媒体上说印度的坏话,尤其是互联网上,这不是中国的主流。
现在,中国并不是诽谤美国的社会和政治体系。在大部分时候,只是对美国诽谤中国政服的外交回应手段。很少人对外交辞令感冒的,包括中共自己,又如何会说美国的坏话。
中国比较美国的压迫症?我不认为这样,这只是一半对一半。在很多方面,很多中国人不认为美国是最佳模式,他们更加羡慕日本、德国,或者一些北欧国家。毕竟中国有自己独特的文化,历史上大部分时间是一个统一的国家。种族、文化、语言上高度同化的国家。




ewakorn in reply to silent nightJuly 6th, 10:48




Devil's Advocate & Silent Night:




I didn't write China (actually I mean the Chinese media) badmouthing India's social and political systems. I only wrote India (media) badmouthing China's social and political system while China (media) badmouthing the political and social systems of U.S.




Do Chinese admire Japan more than U.S.?




I didn't see loads of Chinese touring the campus of Waseda or Keio but I saw loads of Chinese touring the campus of Harvard and Stanford.




我没写过中国(实际指中国媒体)诽谤印度社会和政治体系。我只是说印度媒体诽谤了中国社会和政治体系,而中国媒体诽谤美国政治和社会体系。
日本比美国更让中国羡慕吗?我没看到过大批中国人去参观庆应大学或早稻田大学,但我看到大批的中国人去哈佛、斯坦福大学校园旅游。




PL123 in reply to ewakornJuly 6th, 12:43




@ ewakorn
.
I must disagree with you.




How many Chinese media really reported anything about India, not many. This is the problem because chinese and media simply ignore India and Indian. At the same time Indian media had MUCH more reports of China, and compare China with India.




It is not strange at all when CHinese touring Harvard and Stanford, same as they tour BMW and Daimler factories. Chinese had long history admired America, Europe, but not so to Japan because of historical reason. And why Chinese should admire Japan, Japan is just American Vassal state. And Chinese want to chase USA, but not admire.




I am surprise you don't know this...




我很难赞同你的观点。
有多少中国媒体报道了印度,很少。这是因为中国人和媒体根本不关心印度和印度人。同时与中国对印度的关注度比较,印度媒体对中国的报道要多得多。
中国人去哈佛和斯坦福参观毫不奇怪,和去宝马、戴姆勒工厂参观一样。中国人仰慕美国和欧洲有很长的历史,但是历史的原因,对日本并不如此。为什么要羡慕日本,日本只不过是美国的附庸国。并且中国人是要追赶美国,不是羡慕。




Bismarck888 in reply to PL123July 6th, 16:13




Well you must be the exception because you badmouth everyone with that 10 year old potty mouth of yours. What do you do when you visit US of A, visit a meth lab. What do you when you visit London? Go to the British Musuem and look at all the treasures stolen during the Opium War. That motivate you tell sell more drugs to British people.




你真是个异种,因为你用你那种烂嘴诽谤了每个人。你为什么去访问美国?你为什么去访问伦敦?去大英博物馆瞧瞧所有从鸦片战争中劫掠而来的财宝。那将会激励你卖更多的毒品给英国人。



PL123 in reply to Bismarck888July 6th, 19:52

I sell Bismarck-meat-drug to Jewish-Spy-fake-Bismarck only, no one else!!

LOL



我只卖Bismarck肉-毒品给犹太间谍-伪Bismarck! 大笑.... (看回帖作者昵称)
Jean MichelJuly 6th, 03:06

One of the major problems of India is that it has not yet freed itself from the shackles of colonialism. Psychologically, it is still under the yoke of the western countries, which is not the case of China. For one thing, India still uses the English language as the main vehicle of communication for administration and academic and economic related activities. China, on the other hand, uses its own language. Though a large proportion of Chinese learn English, the latter remains a second language.
Furthermore, India must be more independent and must develop its own industries. China, for instance, has developed independently its spatial program and high-speed rail program. I do not mean that India must also have a spatial and high-speed rail program. It can choose other fields and be among the best if not the best in the chosen fields, whether it be movies, computer software, etc.
Indian are capable as shown by the success of many Indians who have emmigrated to other countries. One American girl of Indian origin even went to space, though she exploded mid-air along with the vehicle that was taking her. But, besides that, there are many very successful businessmen of Indian origin in the UK and the USA. I understand the CEO of Pepsi cola is one of Indian origin as the CEOs of a few financial institutions in the US. So, why is it that India cannot show itself a major power if not the dominant power in at least one particular field? China, as I said, is doing it in high-speed rail, spatial exploration, the development of mega-infrastructures, etc.



印度的一个主要问题之一是还没有从殖皿煮义的桎梏中自我解放出来。从心理上,印度仍然被西方国家束缚着,而中国并不这样。其中之一,印度仍然将英语用作行政管理、学术和经济等相关活动的主要沟通媒介。另一方面,中国则使用自己的语言。虽然很大比例的中国人学习英语,但是后者始终是第二语言。而且印度应该更加独立、应该发展自己的工业。比如中国,已经独立发展了自己的太空项目和高铁。我的意思不是印度也必须有太空或者高铁项目。印度可以选择其他领域,无论是电影、软件或者其他,如果不是该领域中最好的,那也要最好之一。




正如许多移民海外的印度人所显示的那样,印度人是能干的。虽然所乘坐的飞船在半空爆炸了,但是一个印裔女孩毕竟曾经去过太空。除此以外,许多在美国和英国的印裔商人都非常成功。我了解百事可乐的CEO是众多印裔美国金融机构的CEO中之一。因此,为啥印度不能展现为一个强国,即便不是主导性的强国,至少也要在某一领域像个强国。如我所述,中国正在发展高铁、太空探索,各种超级基础设施等等。
the_genius in reply to Jean MichelJuly 6th, 10:23

India uses English only because India has 30 languages, so it uses English as a common language.



印度只用英语是因为印度有30种语言,所以将英语作为通用语言




Jean Michel in reply to the_geniusJuly 6th, 10:56




Does it make sense for the Indians to continue using the language of their colonisers as the common language after 60 years of independence? You must not forget that the Indians had a higher level of civilisation than their colonisers for more than 2,000 years before that.
India can well choose one of the 30 languages as the national language instead of using a totally foreign language.




独立60年后,印度人持续使用殖民者的语言作为通用语言,这有意义吗?你们不能忘记印度人比他们殖民者有早2000多年的、更高层次的文明。印度可以选择30种之一语言作为国家语言,而非一种完全外国的语言。




NielsAbel in reply to Jean MichelJuly 6th, 12:41




I don't know if you had to include that she "exploded mid-air."




However, it's true that the diaspora from the the BRIC countries do very well for themselves.
en.wikipedia.org/wiki/List_of_ethnic_groups_in_the_United_States_by_household_income
en.wikipedia.org/wiki/Model_minority
emirates247.com/business/indians-russians-top-uk-rich-list-2012-04-29-1.456213




Sorry, I know it's a cardinal sin to include Wikipedia links, but I think they're worth looking at. Pakistanis do quite well, too.




我不明白你为啥要注明她"中途爆炸掉了"
不过,(在美国的)来自金砖国家群体真的干得不错。en.wikipedia.org/wiki/List_of_ethnic_groups_in_the_United_States_by_household_income
en.wikipedia.org/wiki/Model_minority
emirates247.com/business/indians-russians-top-uk-rich-list-2012-04-29-1.456213




对不起,发Wikipedia的链接真是罪过,但是我认为很值得看上一看。巴基斯坦人也干得很不错。




Johnny 123 in reply to Jean MichelJuly 6th, 14:02




Ideally, this sounds like a good thing to do. But practically, very difficult to implement. It is impossible to choose one national language without disadvantaging other sections, and will only result in internal disharmony. The languages are quite different, especially between the north & south. But English as a common language would ensure everyone competes on the same level (read no one section has undue advantages)




It would be better to not view English as the "language of the colonizers" (even though it is!) and rather look at it as the global business language. At least Indians will become more competitive globally. Is it also not one reason why IT Services picked up much faster in India rather than in China?




And btw - It was tried in the past to introduce a language called "Hindustani", but it failed due to a large number of protests from people who spoke other languages.




这听起来很好,但实践起来很难。在没有冲击其他部分情况下选择一国语言很难,只会导致内部冲突。语言差别很大,特别是南方和北方。但是英语作为通用语言,可以保证每个人在同一层次竞争(没有那种拥有不适当的优势)最好别把英语视作殖民者语言(虽然真的是),而该把它看作一种全球语言。至少印度人会变得更具国际竞争力。难道这不是印度比中国在IT服务业能更快适应的一个原因吗?顺便说说,我曾经试图引入一种"印度斯坦语"的语言,但是遭到一大群说其他语言人们的抗议而失败。




Jean Michel in reply to Johnny 123July 6th, 16:40




Are all the Indians at the same level with respect to the English language?
The population of India is around 1.2 billion. Do they all master the English language? What is the percentage of the population who do not speak English at all? Is it not more than 50%? Then, are those more than 50% of the population who do not speak English not at a disadvantage compared to those who speak English? Are they not barred from policitical and administrative carreers or even business.
In some countries, there are more than one national language. Is it not possible for india to declare two or three official languages?
In China, there are more than 50 ethnic groups and their languages are totally different, yet there is a single national language. And even this language is spoken differently in different regions, but one has been choson as the official and national language.




至于英语,是不是所有印度人在统一水准?印度的人口有12亿啊。他们都精通英语吗?根本不懂英语的人口占多大比例?是不是不到50%?那么这些超过50%不会英语的和那些会英语的比,不会处于劣势?从政治、行政管理职务、甚至生意上,他们不会被排除在外?在一些国家有不止一种国家语言。印度拥有2到3种官方语言难道不可能?在中国有50个民族,他们的语言完全不同,但是只有一种官方语言。甚至这种语言在不同的地区也说得不同,但毕竟只有一种被选为官方和国家语言。【楼下数篇都讨论印度和中国语言问题,严重楼歪歪,不详译】



yankeedudeJuly 6th, 00:43

I have been visited both countries, of course China is more frequently, they share some common but most parts are quite different: if you view the facts about trade, it's truly a mirror to reflect both nation's industry identity, India isn't ready to compete with China on industry fields at all, China's steel/heavy industry is about 45% of world total output which nearly 2nd to 20th countries combined, many naive comments like Chinese only make cheap stuff, remind all: they are the one of three Airbus manufacturer - and only one outside the Euro, biggest bullet train manufacturer, made fastest computer in 2010,...etc, only one thing I am sure Indian would very likely pass China in decade away - its population. forget about BRICs, those three are leaves, China is only flower.



我去过两个国家,去中国更多一点。他们有共同点,但大部分非常大的差异:如果你观察商贸事实,切实滴反映出两个国家工业特征,印度根本没准备好和中国在工业上竞争。中国钢铁和重工业占了全世界产出的近45%,几乎是第2到20名国家的总和。n多幼稚的评论,比如中国只制造便宜货,提醒所有人:他们是3个空客制造商之一 ——欧盟以外唯一国家,最大的高铁制造商,2010年生产了最快的计算机...等等。只有一件事看起来印度最可能在10年后超过中国 —— 人口。别提金砖国家,那三个都挂了,中国是唯一的花朵。




mommus in reply to yankeedudeJuly 6th, 12:33




I'm no Sinophobe but...




Airbus parts come from dozens of countries around the world. Final assembly takes place in four nations, with the Tianjin plant assembling a limited number of their smallest jet. Like the Ipod, the innovation and engineering takes place in the West, the Chinese merely assemble the pre-made parts. Airbus' decision to locate a plant in China has nothing to do with the quality of Chinese manufacturing, and everything to do with import tariffs.




...I would also add that the fastest computer in 2010 was assembled in China from thousands of Nvidia processors - an American product.




我不是损华者,但是...空客的零件来自全世界数十个国家。最终在四个国家组装,在天津工厂组装他们有限数量的最小引擎。如同iPod,西方国家负责创新和工程,中国人只是组装做好的零件。空客决定在中国设厂无关于中国制造的质量,一切都是为了进口关税。




yankeedude in reply to mommusJuly 6th, 16:49




Airbus's supply chain come over worldwide, but NO India(only Bangalore service center), thousands sub-contractor made part from France, Germany, Sweden, UK, Russia, Canada, Spain, China, Japan...etc, assembly only located in France, Germany and China. in next 20-30 years only 3 country has technology, funding, and manpower to compete world fastest computer: USA, China and Japan, 95% assembly robots of US big 3 vehicle manufacturer are made in Japan, so it's pretty pale to point China to use American chip build it's own computer system.




空客供应链来自全世界,但是没有印度(只有班加罗尔的服务中心),成千合同商来自法国、德国、瑞典、英国、俄罗斯、加拿大、西班牙、中国、日本。。。等等,只有在法国、德国和中国组装。在日后20-30年,只有3个国家有技术、资金和人力来竞争世界上最快的计算机:美国、中国和日本。美国最大三个车辆制造商95%的生产线机器人都由日本制造,所以,指出中国用美国芯片制造自己的计算机显得很苍白无力。



somethingtureJuly 6th, 00:32

friend=cerntainly, in the long ran, they will both be enemies of the USA, so it is only a matter of time

enemy=surely interms of territory and pakistan

rival=not yeat, as their advantages are differed, india, information tech, china, whole seys of industry

investor=as both countries are keen to navgating the outside world, internationally they can cooperate, and they both have huge domestic market to explore.

from the comments i saw
chinese=feeling good and showing their pride with solid reason

indian=want to be acknowledged, modest but in a pretentious way



朋友=当然,从长期看,他们都将是美国的敌人,这只是时间问题





敌人=在领土和巴基斯坦问题上当然是




竞争=还没呢,优势不同,印度信息技术,中国完整工业





投资=两个国家都热衷于和外部世界打交道,国际上可以合作,他们都有巨大的国内市场





从评论来看,我发现:





中国人=感觉良好,有充分的理由显示他们的骄傲





印度人=希望被认可,温和的,但是显得自大
UthredJuly 5th, 23:55

Sad to see that most comments are about people trying to claim which country is better than the other rather than how both countries can grow together which was the underlying thesis of the article itself.



非常难过看到大部分评论中人们只是争论哪个国家更好,而不是像本文期望的那样两个国家如何能一起变得更好。
Malhar MehtaJuly 5th, 23:29

In my view, and I am an Indian, most commentators on this post overstate the problem of casteism in India. Casteism was historically a very great evil but the greatest problems India is facing today are income inequality and the all-pervasive corruption. Casteism is a very significant reason for income inequality. But the terrible policies pursued by Indian leaders in the 70s and 80s were, in my view an even greater evil. This income inequality is entrenched due to the corrupt, Byzantine bureaucracy of India which implements the pseudo-socialist policies of India's elected politicians. I say pseudo-socialist because these policies are ideally socialist but in reality they only increase corruption in addition to increasing India's already burgeoning fiscal deficit.
The income inequality in turn leads to a lower level of education among the poorer sections of the society which is the crux of the problem. Then unscrupulous politicians take advantage of these poor, uneducated people and advance those same policies which maintain the status-quo and the vicious cycle continues.
The only way to break free from this cycle is to somehow ensure that everyone gets a quality education which would increase public awareness and lead to Indian people making better use of their democracy.



我是一个印度人,在我看来,大部分评论者夸大了印度等级制度的问题。等级制度是历史性的一个巨大的罪恶,但印度如今面对最大的问题是收入不平衡和全面腐败。等级制度是收入不平衡一个重大的原因。但在我看来,70年代、80年代印度领导追求的可怕政策是一个更严重的罪恶。这种收入不平衡又被腐败、实施伪社会主义政策民选政治家的繁文缛节官僚主义进一步加深了。我说伪社会主义是因为这些政策是理想的社会主义,但事实上他们增加了腐败,额外加重印度业已膨胀的财政赤字。收入不平衡反过来导致社会穷人低水平的教育,这正是问题的关键。然后,这些肆无忌惮的政客利用这些穷人、未受教育人们,和剔除这些同样的策略来维持现状和让恶性循环继续下去。





唯一打破这个循环的方法是一定程度上保障每个人得到高质量的教育,这将增强公众意识,让印度人民更好的应用他们自己的皿煮。




ltjjliz in reply to Malhar MehtaJuly 6th, 13:22




In China, there is also severe income inequality and the disturbing corruption,however, there is indeed an necessary for India to learn from its great neighbor to inform its kids who are born in the lowest social class that "It depends on the effort I invest and I can succeed if I study hard", rather than the rooted idea that "I will be among my own social class, my abhorrent born social class..."
Just make the slogan "Knowledge changes fate" a social consensus.




中国也有严重的收入不平衡和令人揪心的腐败,但是印度真的很有必要从它伟大的邻居那儿学习,告诉它的出身底层社会的小孩"依靠自己的付出,只要努力就能成功",而不是根植的观念"我只属于我自己的社会阶层,我出生的那个令人厌恶的社会阶层...."



Iskandar AliJuly 5th, 22:05

Todays India with is corrpution, lack of human rights, intolerance, poor quality etc. have very little that is positive to offer to the world. Made in India is well known for it's poor quality. Nobody would want to buy anything from India when they can get better and cheaper products elsewhere. Certainly China as well as other countries that can afford it, will choose quality imports from Europe especially Germany over whatever products that is Made in India. In the nut shell, that summarizes the trade deficit India have with China and other countries.



如今的印度腐败、没有人全、不宽容、质量低劣,等等,几乎没有为世界提供正面的东西。印度制造以质量低劣闻名于世。只要能从其他地方得到更好和更便宜的产品,没有人会愿意从印度购买。当然,出得起钱的中国和其他国家会从欧洲,特别是德国进口优质产品,而不是从印度进口。简要地说,这是印度和中国及其他国家出现贸易赤字的原因。
NielsAbel in reply to Iskandar AliJuly 5th, 23:55

No offense to China but low end, cheap products are associated with China, not India. I don't remember ever seeing a made in India label.

India is responsible for high quality steel, among other things. And I don't know if you could call it made in India, but Tata owns both Range Rover and Jaguar.

But I do think it's great that Pakistanis who come on here conveniently leave their own country out whenever posting. I'd be embarrassed, too, if my country were considered a terrorist state. There are 160 million Muslims in India. How many Hindus are there in Pakistan? They've all been wiped out. Even your terrorists call India rich and use it as a way to incite hatred in poor Pakistanis. India has its problems (one of them being Pakistani terrorists), but we at least openly discuss them. You're too ashamed to even mention you're Pakistani.



不想冒犯中国,但是低端、便宜的产品是和中国有关,不是印度。我不记得是否曾经看过印度制造的标签。和其他东西比,印度只顾着生产高质量钢材。我不知道这是否算印度制造,但是塔塔同时拥有路虎和美洲豹。我不认为巴基斯坦人离开自己的国家并到这儿来发帖是件好事。如果我的国家是个恐怖主义国家,我也会感到尴尬。印度有1.6亿穆斯林。有多少印度人在巴基斯坦呢?他们全被清洗殆尽了。即使你们的恐怖分子也说印度富裕,并以此在贫穷的巴基斯坦激发仇恨。印度有自己的问题(其中之一是巴基斯坦恐怖主义分子),但是我们至少会公开讨论它们。你们甚至会为说自己是巴基斯坦人而感到非常耻辱。




Hyperspacer in reply to NielsAbelJuly 6th, 03:48




China does make a lot of cheap stuff. But China is moving up the value chain pretty fast and increasingly China is making more and more quality products. Here is a website dedicated to the quality products made in China.




中国生产了很多便宜货。但是中国向价值链上游移动得很快,递增性滴制造质量越来越高的产品。这儿有个专门关于中国制造产品质量的网站:http://nicelymadeinchina.com/



NielsAbelJuly 5th, 19:33
First, I should say, if you're the self-righteous, judgmental type, you should probably just skip this post. Let's put aside whatever value judgments that can be made, and look at this at least somewhat objectively.I think it's a mistake to think of India as poor in the traditional sense, since there may actually be a sharp dividing line. I can't say for sure, but the high castes in India are already probably much richer than the Chinese. You might ask what relevance this has since the richest subset of Chinese are rich, too. This is where it gets iffy, but the difference is that the rich and the poor in China are both ethnically Han Chinese. India has no such powerful common denominator. It's probably best to think of India to think of two different countries (or possibly many different countries), one well off and one very poor, which suddenly had to become one country. For example, would it make sense to dump the German population in a poor country with a much larger population and still call that country poor? Maybe, but it would cause you to oversimplify the new nation and vastly underestimate it in geopolitical terms.

To have a powerful country, you don't need your entire population to be wealthy and educated, just have a large enough population. This might at least partially help explain why India already has a successful space program and other advanced capabilities despite being considerably "poorer" than China. It doesn't make much sense to compare a country where only 10-15% of a population contribute all of its scientists and businessmen to a country like China just yet without adding some qualifiers. People think India and China are comparable in population, but in some sense at least, they're not.

Now before you use this as a way to demonize India, however, the same issues are present in Western countries (The black-white divide) and all countries in general in varying degrees. The difference is only that in regards to India, the West gives it a different name -- caste -- so as not to draw attention to its own problems when self-righteously attacking India. Also, this shouldn't be seen as praising the Chinese or denouncing India. China has been blessed with a much easier situation ethnically.



首先,我要说,如果你们都自以为是,妄加判断,那你们不应该来讨论这个帖子。我们应该首先把价值判断放一边,至少较为客观滴看待这个问题。




我认为用传统的角度认定印度的贫穷是错误的,因为印度实际上有明显的分界线。我不敢十分肯定,但是印度高种姓可能已经比中国人富裕多了。你可能会问中国的最富阶层同样富裕,这又有啥关联。这里的区别是中国的贫穷富裕都是汉族,而印度没有如此强大的分母。最好把印度看作两个国家(或者n多个不同国家),一个很富裕,一个很贫穷,突然变成了一个国家。比方说,把德国的人口弄到一个人口大得多的国家里,然后把这个国家仍叫做穷国,这有意义吗?可能这样会导致你过于简单化新国家,并在地缘政治上极大低估它。拥有一个强大的国家,你不必让你整个国家的人口都富裕或者受教育,只要有一个足够大的人口就行了。这可能便于解释为啥印度相比中国叫穷,但已经有了成功的太空项目和其它高级设施。将一个10-15%的人口贡献了所有科学家和商人的国家同中国这样的国家相比,没有任何限定条件,是没有意义的。人们认为中印两国人口有可比性,但是至少某种角度看,是没有可比性的。然而,在使用这样一个方式妖魔化印度时,西方国家同样存在这些问题(黑人、白人分裂),在不同程度上任何国家都一样。唯一的区别不过是对于印度,西方取了一个不同的名字——种姓制度——以便于自以为是地攻击印度、转移自己的问题。同样,这不应该被看作是表扬中国或贬低印度。中国很幸运,民族问题要简单得多。




PL123 in reply to NielsAbelJuly 5th, 20:05




The point is a powerful country with half hungry population and half illiterate, and half have no clean water, half have no electricity...
And do you still call this is a powerful country. Who do you want to cheat! Yourself, may be.




China is NOT a powerful country yet!!




关键是一个强大的国家有一半饿肚子的人口、一半文盲、还有一半没有清洁的水,一半没有电... 你还把这个国家称作强国。你骗谁啊!可能你只是骗自己。




中国还不是一个强国呢!!!




NielsAbel in reply to PL123July 5th, 20:13




No, it's definitely not powerful. The point was just that India's situation is complicated. I'm worried these issues will become even more obvious the richer India gets.
I am saying India still has the potential to be powerful if this trend continues, though, but it makes less sense to compare China and India at this point than people think.




是,当然不算强大。我的观点只是印度的情况是复杂的。我只是担心这些问题在印度富人的衬托下变得更加明显。我要说的是如果这个趋势继续下去,印度仍有潜力变得强大。但是在这点上比较中国和印度,那么意义不大。




NielsAbel in reply to PL123July 5th, 20:57




Also, just to clarify: I agree that it's terrible. And there's no point in "power," outside of the human welfare. I had just promised not to make any value judgments. But I realize now people could take my post the wrong way.




澄清一下:我同意这是恐怖的。离开了人类福利,"强大"毫无意义。我前面说了不做价值判断。现在我发现人们可能会把我帖子引向错误方向。




Darrick Im in reply to PL123July 5th, 21:49




You've gotten the wrong country. China is not a country that is half illiterate. China literacy rate is 90% its way higher than that of India. China's population is relatively well fed and he majority of its population is electrified and with water. China unlike India addresses its problems quick and serious, your data or information is already outdated.




你搞错了国家,中国不是半文盲国家。中国的识字率是90%,比印度高。中国的人口饮食状况相对良好,主要人口都有电和水。同印度不一样,中国快速和严肃地解决自己的问题,你的数据或信息已经过时了。




Uthred in reply to Darrick ImJuly 5th, 23:38




$8400 GDP/capita does not a powerful country make.




人均GDP$8400不是一个强国。




Darrick Im in reply to UthredJuly 5th, 23:45




So by your definition of powerful, Singapore, Qatar, Norway, and Luxemborg are more powerful than USA, Japan, UK, Germany, France, etc.? What power does a high GDP per capita country have? What is your definition of power? A powerful country doesn't need to have a high GDP/capita.




依你的强大定义,新加坡、卡塔尔、挪威、卢森堡比美国、日本、英国、德国、法国等都强大?高GDP国家有什么强大?你强大的定义是什么?一个强国不必有高的人均GDP。




Uthred in reply to Darrick ImJuly 6th, 02:06




Ah yes, please take the time to learn some basic logical reasoning and then we shall have a more productive debate:




是啊,请花点时间学学基本逻辑推理,然后我们会有更加建设性的争论




PL123 in reply to NielsAbelJuly 6th, 12:50




Every nation has potential to be super power, even African countries. In fact some African countries manage better than India and much more willing to improve life.




每个国家都有潜力成为超级强国,甚至非洲国家也有。事实上非洲国家比印度管理要更好,有更强的愿望提高生活。




PL123 in reply to Darrick ImJuly 6th, 12:53




You are the one need to update your reading ability!




你需要提高阅读能力。




Communal Award in reply to Darrick ImJuly 6th, 19:21




hegemony in politics/business will disintegrate India. e.g USSR




政治和商业上的霸权主义会让印度解体,像苏联



SrieJuly 5th, 14:13
The topic given is about the Economic relations between INDIA and CHINA.
So if a comment has to be made, please stay on the subject and talk about the economic problems being faced, If you cannot, please refrain from commenting.
PS: To all those who are deviating from the subject, and taking things in their own perspective.



这个话题给出了中印两国经济关系。




所以评论请与经济话题保持一致,如果不能就憋住别评论。PS. 给所有楼歪歪的和自管自说话的。
somethingtureJuly 5th, 08:38
USA=old dog, still barking
china=young dog, ready fighting
india=little puppy, shitting,sleeping and growing
the economist=bad dog=always provoking lol



美国:老狗,仍在叫





中国:年轻狗,准备战斗





印度:小狗,便便、睡觉和长大





经济学人:坏狗,经常挑拨离间
PKKZXxho4DJuly 5th, 05:58

This is an ostensibly biased article, probably sponsored by the investment council of China, aimed to directly influence international opinion on India and indirectly exert pressure on India's own policy-makers to open doors to Chinese investment. The article terms India's policies protectionist on various counts and does not even make a mention of China's artificial suppression of its own currency and rampant government subsidies to boost exports, in an attempt to drive international competition out of the market! Tells us a thing or two about the 'independence' of media and its clandestine agenda..



这是一篇表面上看就存在偏见的文章,可能是中国投资委员赞助的,目的在于直接影响对印度的国际观点、并且间接给印度政策制定者施加压力以便开门让中国投资。这篇文章把印度各方面政策称作保护主义,对于中国人为压低货币、政服补贴出口以驱动海外市场竞争的事情,提都没提。给我们讲一些媒体的"独立性"和暗箱代理操作....
Howard BlackJuly 5th, 03:29

The two countries should encourage the more trade and exchange of personal in order to build a lasting mutual trust.



为了建立可持久的信任关系,两国应该鼓励更多贸易,人员交流
Jean MichelJuly 4th, 23:57

The behaviour of India on the World's stage is very strange and unusual. It is submissive, like a slave towards his master, vis-a-vis the UK and the US, but at the same time, it is confrontational, like a wrestler on a ring, vis-a-via China. It is as if India suffers from some kind of inferority complex. It should not act like that. It must deal with other countries on an equal basis, not being submissive nor confrontational.



印度在世界舞台上的行为是非常奇怪和反常的。印度是顺从的,正如奴隶对待自己主人那样对待英国和美国;但同时是对抗性的,对待中国就像对待场上的摔跤选手一样。感觉印度存在某种自卑心理。不应该这样啊。它应该平等滴对待其他国家,不应该顺从、也不应该对抗。




NielsAbel in reply to Jean MichelJuly 5th, 01:36




India recently bypassed US sanctions against Iran. In fact, I can't remember one thing India has done in its history to justify calling the India-US relationship anything more than neutral. India and the US have never had anything more than a distant relationship, so this shows you're content with making things up to get a rise out of a few Indians.




Whether or not it's a good thing, there is no political alliance where India is "submissive." The only countries India has strong ties with are Russia, Israel, France, and Bangladesh. Others it keeps at a cynical arm's length.




The inferiority complex is yours for concocting ideas to boost your nationalistic ego.




印度最近忽视美国对伊朗的制裁。实际上,我不记得历史上印度在印美关系上超越过中立。印美一直是远距离关系,因此这显示你满足于瞎编一些事情来惹恼一部分印度人。不管是否是好事,印度人没有"顺从"哪个政治联盟。唯一与印度有密切关系的是俄罗斯、以色列、法国和孟加拉。印度同其他国家都保持一定距离。所谓自卑心理是你自己皿煮主义心理YY出来的。




Hyperspacer in reply to Jean MichelJuly 5th, 02:07




Actually I think India knows well that its relation with the US is not one of equal, so sometimes it overcompensated by deliberately being confrontational to the US to show India is not submissive. For example, when Clinton was in Delhi to push India to join Iran's oil sanction, India have the Iranian delegation visiting Delhi at the same time discussing Indian investment in Iran. When India's foreign minister Krishna visited Washington for the Indo-US economic strategic dialogue, he went straight to Cuba, via Canada, on his next leg of the trip, knowing full well that Cuba is basically a pariah country to the US.




其实印度很清楚它和美国的关系不是平等的,因此有时候有意和美国对抗、显示印度对美国的不顺从。比如,希拉里来印度促使加入对伊朗的石油制裁,印度同时让伊朗代表团访问德里,讨论印度在伊朗的投资。印度外交部长克里希纳前往华盛顿参与印美经济战略对话。随后,他在下一个行程中直接通过加拿大去了古巴,很清楚古巴是美国的心病。



NirbodhJuly 4th, 23:51
India needs a social revolution to get its age old caste based society that denies a fair go for most of its citizens, before it can even start a meaningful economic revolution.
As far as the most vaunted Indian democracy is concerned, all Indians know the realty in their heart - it is democracy at its worst in most part of India; either feudal or strongman democracy where most people vote en-block at the direction of their masters.
The British left behind that form of colonial democracy only to safeguard their interests through the local elites, whose interests under the system are more aligned with their foreign masters than their compatriot country men.
Democracy in any form is just another means to decide on who governs, but the society s' ultimate goal is to have good governance, rule of law, security and economic well being for most of its citizens. On all counts, China has achieved and moved far ahead of India, while India flags its very flawed feudal democracy.
Without a comprehensive social reform, India going anywhere is a pipe dream that higher caste Indians fantasised through thousands years of its history. Will they ever wake up? OR will some one be able to dislodge from the chest of India? These are the moot questions, as far as India's future goes.



印度在启动一次有意义的经济革命前,需要来一次社会革命,将否认公民平等、年代遥远的种姓制度废掉。只要空洞自大的印度皿煮还受关注,所有的印度人心里都知道事实——印度的皿煮是印度最糟糕的部分;无论封建主义,还是铁腕皿煮,大部分人们按照主人的吩咐投票。印度遗留的殖民地皿煮只是通过精英阶层来保障自己利益,精英阶层的利益和他们外国主人的利益相近,而非他们的祖国同胞。任何形式的皿煮只是决定谁来统治的形式,但是社会的终极目标是为大多数公民提供良好的治理、法制、安全和经济保障。在所有方面,中国实现了目标,远超越于印度。印度推崇的是其非常缺陷的封建皿煮。





没有全面的社会改革,印度到哪儿都是一个白日梦,高种姓历史上YY了数千年。他们将会醒来吗?或者有人能从印度迷思中走出来吗?就印度的未来而言,这是一个未知的问题。
soffinaJuly 4th, 14:54

The trade balance in favor of China is not so important as a bilateral payment mechanism. After all, both the countries know that the US dollar cannot be relied on.

I do see this happening soon and Japan will also join in - all of this before 2016.

Best wishes

Kishore Nair from Mumbai



作为双边支付机制,利于中国的贸易平衡不是这么重要。毕竟两个国家都知道美元是靠不住的。我看到这个正在发生,日本也将加入——一切都在2016年之前
No MistJuly 4th, 14:53

protectionism is a foolhardy instinct. india must make hay while it can. chinese cheap production will not last long. buy all the power equipment, electronics, machinery, etc at rock bottom prices. to win markets chinese are burning their midnight meal. why not take advantage of it.



保护主义是有勇无谋的行为。印度只要可能就捞好处。中国便宜产品不能持久。用最低价购买所有的电力设备、电子、机械等。为了赢得市场,中国人不惜代价。为何不好好利用这机会。
印度如何与中国构建平衡的经济关系,是朋友、敌人、竞争者还是投资者?在许多方面,中印的来往都存在障碍。从日食月食研究到佛教颂唱,很久以前中印之间曾经有丰富的文化连接,但是如今很少人记得起来了,诺贝尔经济学奖获得者Amartya Sen哀叹。在上世纪50年代的火热关系之后,中国在1962年的一次边境战争中重重打击了印度,从此以后两个国家持续在高海拔前线摩擦不断。印度眼红中国经济的腾飞,却酸葡萄说中国没有皿煮来安慰自己。