译文来源:三泰虎 http://www.santaihu.com
原文标题:In wealthy Hong Kong, poorest live in metal cages
原文链接:http://timesofindia.indiatimes.com/world/china/In-wealthy-Hong-Kong-poorest-live-in-metal-cages/articleshow/18399259.cms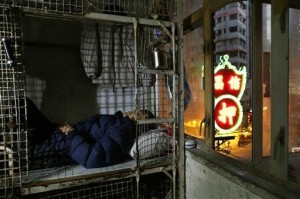 【三泰虎注:原文有删节】

HONG KONG: For many of the richest people in Hong Kong, one of Asia's wealthiest cities, home is a mansion with an expansive view from the heights of Victoria Peak. For some of the poorest, like Leung Cho-yin, home is a metal cage.

The 67-year-old former butcher pays 1,300 Hong Kong dollars ($167) a month for one of about a dozen wire mesh cages resembling rabbit hutches crammed into a dilapidated apartment in a gritty, working-class West Kowloon neighborhood.



香港:在亚洲最富裕城市之一的香港,许多最富有香港人的家就是在太平山顶上拥有奢侈视野的豪宅,而梁曹殷这些穷人的家就是铁笼子。





67岁的梁曹殷以前是屠夫,他以每月1300港元(167美元)的价格租了十二个铁丝网笼子中的一个,类似挤进西九龙劳动人民社区破旧公寓的兔窝。



The cages, stacked on top of each other, measure 1.5 square meters (16 square feet). To keep bedbugs away, Leung and his roommates put thin pads, bamboo mats, even old linoleum on their cages' wooden planks instead of mattresses.

"I've been bitten so much I'm used to it," said Leung, rolling up the sleeve of his oversized blue fleece jacket to reveal a red mark on his hand. "There's nothing you can do about it. I've got to live here. I've got to survive," he said as he let out a phlegmy cough.



这些笼子互相堆起来,每个只有1.5平方米大(16平方英尺)。为了防范臭虫,梁曹殷和室友在铁笼子的木板上放薄垫、竹席、甚至地毡,而不是放床垫。





"我常常被咬,已经习惯了。"梁曹殷捋起超大号蓝色羊毛夹克的袖子,露出手上的一个红斑。"你一点办法也没有。我不得不住在这里。我必须生存下去。"他一边咳嗽一边说。



Some 100,000 people in the former British colony live in what's known as inadequate housing, according to the Society for Community Organization, a social welfare group. The category also includes apartments subdivided into tiny cubicles or filled with coffin-sized wood and metal sleeping compartments as well as rooftop shacks. They're a grim counterpoint to the southern Chinese city's renowned material affluence.



据一个叫香港社区组织协会的社会福利团体称,这个英国前殖民地大约有10万人居住在所谓居住面积不足的住房中,包括被细分为小隔间的公寓、棺材大小的隔间、金属卧铺隔室以及屋顶的棚屋。它们和这个以物质富庶著称的中国南方城市形成鲜明对比。




以下是印度网民的评论:




AAM JANTA DAL (Gurgaon, Haryana)
MAY BE THIS POOR GUY WOULD HAVE BEEN THINKING THE CAGE TO BE SAFEST AREA WHICH CAN NOT BE ENDANGERED BY EITHER OF THE ROBBER OR POLITICIAN !!!!!!!!!!!!!!
Agree (12)Disagree (0)Recommend (6)



也许这个可怜的家伙认为笼子是最安全的地方,既不会受强盗的威胁,也不会受政客的威胁!



译文来源:三泰虎 http://www.santaihu.com

Upasana Rajput (Ahmedabad, India)
India is better then it at least!!!
Agree (3)Disagree (23)Recommend (1)



印度至少比这个好!
akki (Zurich)
True face of shining Honkong ... housings firms has started sucking blood from everyone.. this is true even for INDIA ..
Agree (1)Disagree (0)Recommend (0)



华丽香港的真实面......房地产公司开始吸大家的血....这在印度也是真实的。
Narayan (Bangalore)
India should atleast learn from HK to provide metal cage shelters to derelicts in India, atleast some dignity!!.
Agree (19)Disagree (0)Recommend (6)



印度至少应该向香港学习,为被社会抛弃的人提供铁笼子住所,至少可以有一些尊严!
viswakanth (hyderabad)
staying in metal cages witht the govt aid is far better than staying on the footpaths without any aid.
Agree (40)Disagree (0)Recommend (20)



拿着政服的援助住在铁笼子里,要远远好于没有援助睡在人行道上。
JediHomer (JediLand)
Isn't this what has been happening in Amchi Mumbai for years and years ?
Agree (9)Disagree (0)Recommend (5)



孟买好多年来不就是这样的吗?
Appa Durai (Coimbatore)
How do we feel about people sleeping on roads and pavements in India?
Agree (10)Disagree (0)Recommend (5)



印度人睡在公路上和人行道上又怎么说?
Vikram Gulecha (Bangalore, India)
Strange World



奇怪的世界。
ARUP GHOSH (CALCUTTA)
HORRIFIC..........................



好可怕.....
Aam Indian (India)
Very soon u can see such things in India as well.. thanks to land mafias and corrupt babus
Agree (4)Disagree (0)Recommend (0)



印度很快也会出现这样的事情,感谢土地黑手党和腐败政客。
pcs18 (India)
we don't have metal cages, but only open sky???
Agree (6)Disagree (0)Recommend (2)



我们没有铁笼子,只有露天营地?
arajulu (Nellore)
Still they are lucky when compared to their Indian counterparts. Further, one can find many poor people living on pavements in New York!
Agree (6)Disagree (0)Recommend (4)



相比印度穷人来说,他们是幸运地。你甚至可以看到许多穷人睡在纽约的人行道上!
Bolan Aier (Mumbai)
these cages look much better than the ones that you see on Mumbai footpaths
Agree (18)Disagree (1)Recommend (5)



这些笼子里的人比孟买人行道上躺着的人看起来要光鲜多了。
hunter (India)
Shame on the editor to have a story about the plight of the poor in Hong Kong, while in Mumbai itself which is has the 7000 crore Mukesh Ambani house thousands men ,women & children sleep on roads in the open & beg on streets & signals every day,they don't even have the luxuary of cages.
Agree (36)Disagree (4)Recommend (19)



小编报道香港穷人的困境,真是无耻。也不看看孟买有阿巴尼价值700亿卢比的豪宅,却有数以千计的男男女女露天睡在公路上,在街道上乞讨,他们哪有那么奢侈,居然有笼子。
sgatade.subs (India)
Better to sleep in cages than sleeping on footpath and getting crushed by vehicles of rich. Dont know why the editor thinks that our poor people Mumbai (one of the rich cities in world) are better than those in Hong Kong.
Agree (10)Disagree (0)Recommend (6)



宁愿睡在笼子里,也不愿睡在人行道上然后被富人的车压死。不知道小编为何会认为孟买的穷人比香港的穷人过得好。
Ankit (Gaya)
I earn only $300 but live comfortably. I pay rent, send my kid to school, and take care of other basic expenses. I am unable to save though. In metro cities like Delhi or Mumbai even $500 per month is not sufficient for a family. It is up to a person to live in a metal cage located in a stinking locality in a metro city or in a good home in an uncrowded small town.
Agree (20)Disagree (1)Recommend (14)



我一个月只赚300美元,过得算舒服。付下房租,送孩子去读书,还有其他基本开支,省不到钱就是了。在德里或者孟买这样的大都市,500美元月薪也不够一家子花。选择居住在大都市臭气熏天的笼子里还是居住在不拥挤的小镇上的大房子,这要取决于个人。



译文来源:三泰虎  http://www.santaihu.com

Genghis Kahn (Kahn of the world)
In India anyone who can expend $167 per month as rent for a house would be considered upper middle class (and"rich" compared to the majority). So Indian media should first show concern about Indian poor instead of talking about other's poor who are still in much better condition.
Agree (14)Disagree (6)Recommend (4)



一个月付得起167美元房租的人在印度算是上层中产阶级(相对于大多数人来说算是"富人")。所以,印度媒体应当首先关心下印度穷人,而不是对生活状况好多的别国穷人说三道四。
Thomas Cheenath (India)
The world is full of miseries and wealth is kept by some influential class!!!!
Agree (6)Disagree (0)Recommend (2)



苦难在世界上无处不在,财富掌握在一些有影响力的阶层手中!
ALAPADAN (Mumbai)
Exciting !! What we see is the future of Mumbai's working people. Their salary will be above Rs.50000/pm and they will pay Rs.25000 pm for shelters (where 5 or 6 people will share the space). They will never think of a marriage, house, family etc. This is what we all call progress.
Agree (9)Disagree (0)Recommend (2)



激动!我们所看到的是孟买劳动人民的未来。人们将拿5万卢比以上的月薪,房租就要花去2.5万卢比(还是五六个人合租)。他们不敢奢望结婚、买房和成家。这就是我们所说的进步。
justice of India (India)
it is true we have a lot of population poor like others living in slums but we have liberty, freedom
Agree (0)Disagree (4)Recommend (0)



我们确实有许多居住在贫民窟的穷人,但我们有自由。
Jeril (Vadodara)
True face of all glitz and glamour of HongKong
Agree (1)Disagree (4)Recommend (1)



魅力和浮华光环之下的香港的真实面目。
Pranil (Pune)
Better than the people sleeping on roads and killed by running cars..
Agree (6)Disagree (1)Recommend (2)



比睡在公路上然后被过往车辆压死的人要更好.....
Frank (over the earth)
Increased gap between rich and poor results in such situations in any country. Land is premium is most of the countries.
Agree (2)Disagree (0)Recommend (1)



不断拉大的贫富差距导致出现这样的情况。在大多数国家里,土地是非常贵的。
Kungfu Pandey (Heart of world (India))
These are bigger than Capsule hotel rooms of japan :-)
Agree (5)Disagree (0)Recommend (0)



这些笼子比日本胶囊旅馆的房间要更大 :-)
d c (Goa)
The rich getting richer and the poor poorer
Agree (3)Disagree (2)Recommend (0)



富的变得更富,穷的变得更穷。
rohit (vikarabad)
horrible to think of



想想就可怕。
jay (sri lanka)
its looking cozy, as per Indian standards ;)
Agree (6)Disagree (3)Recommend (2)



以印度人的标准来衡量,这些笼子算得上是安乐窝 ;)



译文来源:三泰虎 http://www.santaihu.com

Capt. Nawanit Raj (kandla)
Bitter fact of metropolitan city.



大都市的苦涩事实。
sanjay Kumar (Patna)
What a contrast .This is the ugly side of capitalism.
Agree (1)Disagree (1)Recommend (0)



多么鲜明的对比。这是资本主义的丑陋面。
arijit dboy (bangalore)
$167 for a cage?? allmost 9000 INR... :O and I used to thought mumbai or bangalore is expensive... :P
Agree (11)Disagree (0)Recommend (3)



一个笼子要167美元?几乎快9000卢比了...哦,我过去常认为孟买和班加罗尔的房租算贵的... :P
Ringa (BLR)
Who is forcing them to stay in city. They should move out and stay in bigger house in rural areas.
Agree (3)Disagree (1)Recommend (0)



谁会去强迫他们呆在城市里。他们应该搬到农村的大房子里去住。
Edwin Barreto (Margao (Madgaon), India)
save the poor people
Agree (4)Disagree (0)Recommend (0)



拯救这些穷人吧。
chefat (DHARAMSHALA)
CANT BELEIVE IT !!



难以置信!
Upasana Rajput (Ahmedabad, India)
India is better then it at least!!!
Agree (3)Disagree (23)Recommend (1)



印度至少比这个更好!
NRI (USA)
America is the best nation in the world.
Agree (2)Disagree (10)Recommend (1)



美国是世界上最好的国家。
Rajender (Hyderabad)
I guess India is a little better, atleast they are trying to build houses for the poor. Cant the Hongkong government atleast provide night shelters.
Agree (0)Disagree (10)Recommend (0)



我认为印度要好一些,至少有在为穷人建房子,香港政服就不能为穷人提供夜间避难所吗。
印度网民评论香港穷人住在铁笼里。三泰虎2月9日译文。据报道,在亚洲最富裕城市之一的香港,许多最富有香港人的家就是在太平山顶上拥有奢侈视野的豪宅,而梁曹殷这样穷人的家就是铁笼子。67岁的梁曹殷以前是屠夫,他以每月1300港元(167美元)的价格租了十二个铁丝网笼子中的一个,类似挤进西九龙劳动人民社区破旧公寓的兔窝。这些笼子互相堆起来,每个只有1.5平方米大(16平方英尺)。为了防范臭虫,梁曹殷和室友在铁笼子的木板上放薄垫、竹席、甚至地毡,而不是放床垫。