译者:coco19920127
外文标题:Indians migrated to Australia 4,000 years ago, genes show
外文地址:http://timesofindia.indiatimes.com/home/science/Indians-migrated-to-Australia-4000-years-ago-genes-show/articleshow/18040698.cms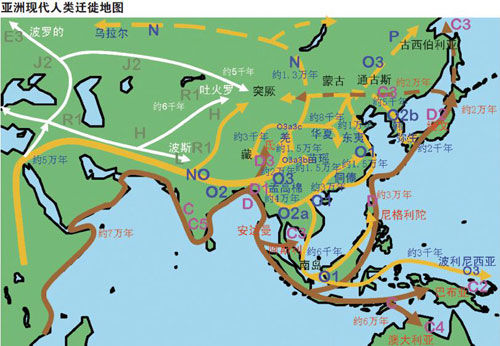 Indians migrated to Australia 4,000 years ago, genes show

基因表明,印度人4000年前就移民澳大利亚

NEW DELHI: Indian genes had got mixed with that of Australian aboriginals more than 4,000 years ago" centuries before the Europeans colonized Down Under.
Dingo, the Australian wild dog, may have also been an Indian export besides stone tool technologies that changed the way Australian aboriginals lives their lives.



新德里:印度与澳大利亚土著居民基因混合超过了4000余年,时间比欧洲人殖民澳洲还要早几个世纪。





澳洲野狗Dingo,可能也是是除了使用石器工具的技术外印度另一个改变了澳大利亚土著居民生活方式的出口。



Latest scientific evidence published on Tuesday has found that Australian aboriginal and Indian genes were mixed.

A study by researchers of the Max Planck Institute for Evolutionary Anthropology in Leipzig, Germany, has now confirmed evidence of substantial gene flow between Indian population and Australia aboriginals about 4,000 years ago.

Interestingly, the study also suggests that this migration coincided with several changes in the archaeological record of Australia, which include a sudden change in plant processing and stone tool technologies, with microliths appearing for the first time, and the first appearance of the dingo in the fossil record.



周二发表的最新科学研究证据表明澳大利亚土著居民和印度存在基因混合。





德国莱比锡城的马克斯·普朗克人类学进化研究所的研究已经确认了大约4000年前印度人和澳大利亚土著居民存在大量基因流动的证据。





有趣的是,本次研究还证实这次移民与澳大利亚考古记录的一些改变相一致,其中包括突然改变的植物进程、石器工具技术、细石器的第一次出现以及化石记录中所记载的澳洲野狗的首次出现。



Speaking to TOI from Germany, lead researcher Irina Pugach said, "Since we detect inflow of genes from India into Australia at around the same time, it is likely that these changes were related to this migration."

She explained, "We have estimated the amount of Indian contribution to Australian genomes at around 10%, but this number doesn't tell us anything about how many individuals might have migrated. This number depends on the size of the Australian population at the time, and we don't know how big it was. The amount of Indian ancestry could have become inflated through the process known as genetic drift, especially if the Australian population was small."



首席研究人员Irina Pugach在德国对印度记者说,"由于我们发现基因从印度流入澳大利亚的时间与此大致相同,所以这些改变很可能和那次移民有关。"





她解释道,"我们估计印度对澳大利亚基因组的贡献大概占10%,但这些数据并不能说明到底有多少人迁移。这个数据取决于澳大利亚当时的人口数量,而我们并不知道其具体数据。印度血统的份额会随着基因漂变而被抬高,尤其是澳大利亚的人口数量还比较小。



"Out of the populations considered in the study, Dravidian-speaking groups are the best match to be the source populations for this migration, but this does not mean the ancestors of these groups actually were the source population. It is possible, that there is another group which we didn't sample yet. Another possibility is that this group doesn't even exist anymore," she added.

Australia holds some of the earliest archaeological evidence for the presence of modern humans outside Africa, with the earliest sites dated to at least 45,000 years ago, making Australian aboriginals one of the oldest continuous populations outside Africa.



"在纳入研究的人群中,德拉威语系的人是最匹配本次种族迁移的,但这并不能说明这个种族的祖先就是种源群体。有可能有另外一些我们没发现的种族。另一种可能是这个种族本身已经不存在。"她说道。





澳大利亚保存着除非洲以外现代人类的一些最早的考古证据,最早的至少至少追溯到4500年前,使澳大利亚本土居民成为除非洲以外的最古老连续进化人口之一。



Now, researchers have analyzed genetic variation from across the genome from aboriginal Australians, New Guineans, island south-east Asians and Indians.

Dr Pugach said, "Our findings suggest substantial gene flow from India to Australia 4,230 years ago during the Holocene and well before European contact.

Currently the accepted view is that Australia has been completely isolated for almost 45 thousand years following its initial colonization in the late 1800s. Yet Australian archaeological record documents some changes which occur in Australia around " 4,000 years ago, which could have been potentially brought in from the outside."



现在,研究人员分析了来自澳大利亚土著居民、新几内亚人、东南亚人和印度人的基因组的遗传变异。





Pugach博士说,"我们研究发现,4230年前,早在欧洲人到来之前的全新世时期,有大量的基因从印度流入澳大利亚。





当前被接受的观点是,18世纪末开始被首次殖民前,澳大利亚已经完全孤立了45000年。然而,澳大利亚考古记录了大约4000年前出现的一些变化,这种变化很可能来自外部。



"In principle, mid-Holocene is a period of expansion in trade interactions in the region of greater Australia, and some suspected Island Southeast Asia as a potential source of the observed cultural shift in Australia. Some previous genetic studies also hinted at possibility of gene flow from India. The significance of our work is that we examined this question with much more genetic data and were able to firmly establish a signal of gene flow from India to Australia. We were also able to date this gene flow to 4,000 years ago," she added.

The study said that though the DNA of dingoes appears to have a south-east Asian origin, "morphologically," the dingo most closely resembles Indian dogs.



"原则上,全新世中期是大澳洲地区贸易互动的扩张时期,一些东南亚岛疑似是澳大利亚文化转移的潜在来源。以前的一些基因研究也表明流入的基因很可能来自印度。我们工作的意义在于,我们通过更多的基因数据来检测这些问题,足够有力证明了基因从印度流入了澳大利亚。我们还可以把这种基因流动追溯到4000年前。"





这个研究表明,澳大利亚野狗基因虽然有东南亚血统,但从形态学上来看,澳大利亚野狗和印度狗很像。



It cited genetic and archaeological evidence to suggest that anatomically modern humans expanded from Africa and colonized all corners of the world, replacing with limited gene flow local archaic Homo populations. The expansion of modern humans apparently proceeded via two routes: the northern dispersal that gave rise to modern Asians 23,000-38,000 years ago and an earlier southern dispersal, which followed the coast around the Arabian Peninsula and India to the Australian continent. It has been suggested that the ancestors of aboriginal Australians diverged from the ancestral Eurasian population 62,000-75,000 years ago and, based on archaeological evidence, reached Sahul " the joint Australia-New Guinea landmass " by at least 45,000 years ago.



他们引用了遗传和考古证据,结果显示现代人从非洲扩张和殖民世界各个角落。现代人的扩张明显经过两条路线,23000—38000年前的北方扩散带来了现代亚洲人,更早的南方扩散,沿着阿拉伯半岛和印度海岸到达澳洲大陆。这表明澳大利亚本土居民与62000-75OOO年前的欧洲祖先基因相背离,根据考古资料证明,他们至少在45000年前到达澳洲-新几内亚大陆。



The prevailing view is that until the arrival of the Europeans in the late 18th century, there was little, if any, contact between Australia and the rest of the world although some chromosomal studies suggested some gene flow to Australia from the Indian sub-continent during the Holocene (around 12,000 to 11,500 years ago).

"Here, we analyze genome data and find a significant signature of gene flow from India to Australia, which we date to about 4,230 years ago," the study said.



主流观点认为,18世纪末欧洲人到达之前,澳洲大陆鲜有和外界联系,尽管一些染色体研究表明(大约12000年至11500年前的全新世时期)印度次大陆有一些基因流入澳洲。





研究称,"我们分析了基因数据,发现了基因从印度流入澳大利亚的重大特征,这种流入可以追溯至大约4230年前。"




以下是印度网民的评论:




译文来源:三泰虎论坛 http://bbs.santaihu.com




Maya Leela(India)
The Dravidian speaking population, yes that is something which is established early. A native speaker of Malayalam, if listens to the aboriginal language called Walpiri from Australia can immediately recognize how phonetically similar they are. For anyone interested there are more studies going on with south east asian languages and australian languages in comparative linguistics.



讲德拉威尔语的人,是比较早的定居下来的。一个讲马亚拉母语的人,如果听多了澳大利亚本土Walpori语就会马上辨别出他们的发音是多么的相像。对于那些感兴趣的人来说,有更多地关于东南亚语言和澳大利亚语言的对比研究。
Arajulu (Nellore)
The shape of Australia indicates as though it is separated from Indian subcontinent million of years back!



澳大利亚大陆的形状表明其似乎在数百万年前从印度次大陆分离!
George Shah (Amdabad)
I believe, Indians have fathered German, Anglo Saxon, Mongol and Eskimo races also. Indians were good breeders, right from day one. We are Super Power of the World in 'breeding'.



我相信,印度也是德国、盎格鲁撒克逊、蒙古和爱斯基摩等民族的祖先。印度人是很好的播种者,自打第一天开始,我们在育种方面就是世界超强。
ykdhanuka (Bangalore)
So indians were migrating at early time also



所以印度人也很早就开始移民了。
Gopalakrishnan Sathyamurthy (Gurgaon, Haryana)
Its the Tamils who went there spread the culture 4000 yrs ago...



4000年前,正是泰米尔人去那传播了文化。
jmartinez (united states)
The information in this study was very interesting. Does anybody know where I can get more info. like this?



这份研究得出的信息非常有趣,有谁知道哪里能获得更多此类信息?
indian (india)
Thats why ind and oz hate each other
Agree (3)Disagree (5)Recommend (3)



这就是印度人和澳大利亚人互相讨厌的原因。




Francis Xavier (Australia) replies to jmartinez
If you visit South of India, Sri lanka (Ceylon) you will be amased to see the people look the same & the australian dingoes are the good domestic dogs in india & Sri lanka.
Agree (12)Disagree (1)Recommend (5)




如果你去印度南部和斯里兰卡走走看,你会吃惊的发现两个地方的人看起来一样。澳洲野狗是印度和斯里兰卡的优良家犬........




Partha Acharya (Guwahati, India) replies to Francis Xavier
Culture and Tradition developed out of India.
Agree (2)Disagree (0)Recommend (0)




文化和传统源于印度。



Prem (Bangalore)
I had always wondered about this... there is striking resemblance in the facial features of people belonging to some of the Draviidian groups with those of the Australian aboriginees
Agree (2)Disagree (0)Recommend (0)



我一直在纳闷.....某些德拉维人和澳大利亚土著的面部特征非常相似。
Sridhar (Mumbai)
Hoooooooorayyyyyyyyy .................Lets migrate to Australia and make it a trashy country like India.
Agree (17)Disagree (17)Recommend (3)



万岁.....让我们移民澳大利亚,让其成为印度那样的垃圾国家。
Aditya (Patna)
Doesn't this migration coincides with the Aryan's migration to India from Asia Minor??
Agree (1)Disagree (4)Recommend (1)



这次迁移时间是否和雅利安人从小亚细亚移民至印度相一致?
ramdass1942 (gurgaon)
''Our Forefather spread their fatherhood across the globe.''
Agree (7)Disagree (0)Recommend (3)



我们的祖先在全世界播种。
L.mahadevan (chennai)
Don't make much of noise Skin headed whites will deport all aborigins as indians and deport them to India as illeagal settlers
Agree (9)Disagree (0)Recommend (4)



不要吵吵嚷嚷,否则白人会把所有土著看作印度人,然后以非法定居者的名义遣返回印度。
Hemanthg7 (Delhi)
Yeah, great news. People of Australia, please do understand this thing. you mock at Indians after all you were from India long ago. The GOVT of Australians should include this information in your text book. So that, there by no issues between India and you.
Agree (5)Disagree (5)Recommend (2)



耶,大好消息,请澳大利亚人民务必要明白这事。你们嘲笑印度人,可你们老早就是从印度来的。澳大利亚政服应该将这个内容加入到教科书上去,到时印度和澳大利亚就不会出现争议了。
rakeshkapila (Canada)
Will all Indians be now allowed to visit Australia to see their distant relations with our Visas or Visas on the Entry Port ?
Agree (11)Disagree (1)Recommend (0)



印度人是否都可以拿着本国签证去澳大利亚看远亲?
geruno (ind)
that is the reason british colonial idiots reach in australia after inhibited in south india..still australia is under british control...its time to get rid of these colonial craps..
Agree (6)Disagree (1)Recommend (2)



这就是英国殖民傻逼来了印度后又去澳大利亚的原因....澳大利亚仍处在英国控制之下......是时候摆脱这些殖民者了.....
Capt. Nawanit Raj (India)
Now Australian will stop fighting with Indian.....
Agree (2)Disagree (0)Recommend (0)



澳大利亚恩将会停止和印度人战斗......




Vinay (Mysore) replies to Mahalingam Santhri
Sir, are you the author of a book called "Ancient India" ? I have read it. Salutes to you if you are actually the author.




先生,你是《古印度》一书的作者吗?我看过了这本书。如果你真的是作者的话,我向你致敬。



sanjeev.ghosh (Delhi)
I hope this wold lessen the hatred in hearts of Aussies against indians.



我希望本人能减少澳大利亚人内心对印度人的仇恨。
Gulshan Arora (Delhi)
Now we can ask some australian cricketers to play for india.



我们现在可以叫一些澳大利亚板球选手为印度出战了。
Partha Acharya (Guwahati, India)
Now the whites in Australia should believe in the capability of the Indians and respect them along with the Aboriginal people.
Agree (3)Disagree (1)Recommend (1)



澳大利亚白人现在应该相信印度人的能力了,并连同澳洲土著一起尊重。
Partha Acharya (Guwahati, India)
All study shows that India is a great nation of a great History.
Agree (4)Disagree (1)Recommend (2)



一切研究表明印度是拥有伟大历史的国家。
Still in India (India)
The Brain Drain has a deep root. hehehehehehe
Agree (7)Disagree (1)Recommend (1)



印度的人才流失看来是根深蒂固的,呵呵......
Lyndon (Melbourne)
lol....i guess the next time someone in oz tells me to go home....i just need to show them this article and say..."we were here before you. So now do us a favour and go home yourself." ROFLMAO
Agree (9)Disagree (2)Recommend (0)



lol.....下次要是有澳大利亚人叫我回去,我就该把这篇文章拿出来,然后说....."我们比你们先来,就算帮一个忙,请你回去",笑翻了........




anand (Pune) replies to Lyndon
first came indians , followed by the european crooks LOL




先来的是印度人,后来的是欧洲恶棍,LOL



Samir (Pune)
Aboriginals are Indians



澳洲土著是印度人。
Sudarshan Shukla (Hyderabad)
The aborigines of Australia worship Lord Shiva even to this day.
Agree (6)Disagree (3)Recommend (3)



直到今天,澳洲土著还在崇拜湿婆神。
Santhosh Warr (new delhi)
indians all over...



到处都是印度人.....
印度时报:基因表明印度人4000年前就移民澳大利亚。据报道,印度与澳大利亚土著居民基因混合超过了4000余年,时间比欧洲人殖民澳洲还要早几个世纪。澳洲野狗Dingo,可能也是是除了使用石器工具的技术外印度另一个改变了澳大利亚土著居民生活方式的出口。德国莱比锡城的马克斯·普朗克人类学进化研究所的研究已经确认了大约4000年前印度人和澳大利亚土著居民存在大量基因流动的证据。有趣的是,本次研究还证实这次移民与澳大利亚考古记录的一些改变相一致。