译文来源:三泰虎 http://bbs.santaihu.com/thread-6631-1-1.html
外文标题:France, Japan vie to put bullet train to Mumbai in fast lane
外文地址:http://articles.timesofindia.indiatimes.com/2013-05-30/ahmedabad/39627799_1_bullet-train-feasibility-study-railway-board-ahmedabad-mumbai-pune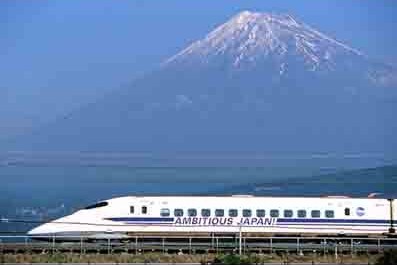 日本新干线

AHMEDABAD: Amdavadi dreams of cruising all the way to Mumbai in less than two hours have hit the fast track with both the French and the Japanese governments fiercely competing for the bullet train project.

The French national railway SNCF is already working with the Indian Railways on the techno-feasibility report for the 630-km project between Ahmedabad and Pune via Mumbai. The report is likely to be submitted to the Railway Board in mid-June.



阿默达巴德:随着法日两国政服激烈角逐印度高铁项目,阿默达巴德人花不到两小时一路巡航至孟买的梦想已经驶入快车道。





法国国营铁路公司(SNCF)已经与印度铁道部一起制定阿默达巴德经孟买至普纳长达630公里线路的技术可行性报告。报告可能于6月中旬提交给铁路局。



At the same time in Tokyo, Prime Minister Manmohan Singh and his Japanese counterpart Shinzo Abe issued a joint statement about conducting another bullet train feasibility study on the same stretch. "The two Prime Ministers decided that the two sides will co-finance a joint feasibility study of high speed railway system on the Mumbai-Ahmedabad route," the statement said. Singh even appreciated Japan's high level of expertise in designing and implementing Shinkansen (bullet train) systems.



与此同时,辛格总理与日本首相安倍在东京就展开另一项可行性研究发布了联合声明。声明指出,两国领导人决定双方为孟买-阿默达巴德高铁的可行性研究共同融资。辛格还对日本在设计和实现新干线方面的高水平技能表示赞赏。



The Rs 60,000-crore project will be executed along the existing railway track and will be funded jointly by Gujarat and Maharashtra governments on a public-private partnership model. Currently, trains cover the 490 km between Ahmedabad and Mumbai in about seven hours but the bullet trains are expected to travel at 350 km per hour, and cover the distance one hour and 50 minutes. The railway is targeting high-end users.



这项耗资6000亿卢比的高铁将沿着现有铁路而建,由古吉拉特邦和马拉斯特拉邦通过公私合营的模式共同融资。目前,奔跑于阿默达巴德与孟买之间的火车跑完这段490公里的距离要大约7小时,而预计时速350公里的高铁能以1小时50分钟跑完全程,目标瞄准高端乘客。



The French proposal will have stoppages at Vadodara, Bharuch, Surat, Mumbai, Lonavala and Pune. It will have 16 cars with a target of 32 round trips. "The fares will be about 70% of air travel cost," he said. "A lot of air traffic may divert here. Though air travel time between Ahmedabad and Mumbai is less than an hour, security checks take a lot of time," says a railways official. Railway officials said the work is to start by November on Delhi-Chandigarh and Ahmedabad-Mumbai-Pune.



法国建议在瓦尔道拉、巴鲁奇、苏拉特、纳瓦拉和普纳设站,采用16节车组,一天跑32趟。有铁道部官员说,票价大约是机票的70%,许多航空旅客也许会被分流。虽然阿默达巴德到孟买的空中飞行时间不到一小时,但安检非常耗时。他称,德里-昌迪加尔以及阿默达巴德-孟买-普纳线路的工作将于11月启动。




以下是印度网民的评论:




本文论坛地址:三泰虎论坛 http://bbs.santaihu.com/thread-6631-1-1.html




K Joshi (Mumbai)
Great news for train travelers and sad news for Air Lines. I hope project is not delayed any more.
Agree (15)Disagree (1)Recommend (3)



对火车旅客是好消息,对航空公司是坏消息。我希望工程不会再次被延误。




srikant pv (Hyd) replies to K Joshi
another scam project intiated and coming soon in news pls bear to wait and see




另一个丑闻项目又启动了,很快会上新闻,等一等看便知。




srikant pv (Hyd) replies to K Joshi
not delayed much expecting to get completed by 2050




不会延期太久的,预计2050年完工。



Surya Prakash (Hyderabad, Andhra Pradesh)
At last ????????????????????



终于要建了?
some1G (india)
if bribe is not the factor india should go ahead with french proposal.
Agree (1)Disagree (1)Recommend (1)



如果不把贿赂作为因素计入,那么印度应该继续推动法国提案。
Crazy Guy (Mad Hindu)
France proposal would be good..



法国的提案不错。
aankir (Bangalore)
Till now the fastest trains in India are of Shatabdi Express that runs over 150km/hr and now Bullet trains run over with a minimum speed of 300km/hr.



迄今为止,印度最快的火车是莎塔布迪特快,速度超过150公里/小时,而高铁的最低速度超过300公里/小时。
aankir (Bangalore)
With the introduction of bullet trains there will be huge progress in Railway system in India.
Agree (3)Disagree (1)Recommend (0)



随着高铁的引入,印度的铁路系统会有巨大进步。
indian (pune)
One thing is CERTAIN,whatever CONGRESS Govt is doing , is Laced with Hidden CORRUPTION n huge Scams.God Save the Taxpayers of India.
Agree (14)Disagree (1)Recommend (6)



不管国大党政服做什么,有一点是肯定的,即项目会受隐性腐败和巨额丑闻的困扰。上帝拯救印度的纳税人吧。
Jungle ka Badshah (Junglestan)
If this goes ahead, and is actually implemented, then airlines will be very hard hit. It will create many more Vijay Mallyas. If the government keeps on building infrastructure projects like super-highways and high speed rail how will airlines make money? Who will they charge exorbitant ticket rates now? Nowadays it is becoming very tough to make money via match-fixing also.
Agree (1)Disagree (4)Recommend (1)



要是高铁得以推进并真的实现,那么航空公司会受严重打击。如果政服持续推动基础设施建设,比如高速公路和高铁,那么航空公司怎么赚钱?他们到时向谁收取高额票价?
Sandip Ghatak (Kolkata)
Lets see when this actually gets rolled out. Sounds promising!!



让我们看看高铁什么时候真正推出,听起来不错!
nagarajan31 (coimbatore)
the highest bidder of bribe will win it eventually.
Agree (8)Disagree (3)Recommend (3)



贿赂最多的投标商将会最终胜出。
V for vendetta (Heaven)
The Biggest fear in implementing these kind of Bullet train projects is not about capital ,but it is all about the unmanned level crossing . For a train travelling at 350 kms /hour ,the biggest nightmare would be see a cool Indian crossing the unmanned level crossing with his bullock cart . Implementing such projects requires the public to stick to very strict rules & safety procedures , for any mistakes can bring about a huge loss of lives .
Agree (10)Disagree (4)Recommend (3)



高铁项目的最大担忧不是资金问题,而是无人值守的平交道口处的安全问题。对于一列旅行时速350公里的火车来说,最大的噩梦将是一名耍酷的印度人拉着牛车通过无人值守的平交道口。修建高铁要求民众严守安全规程,稍有失误就会造成巨大的生命损失。




V for Vayu (Milkyway) replies to V for vendetta
There is a big big big difference between regular train and a bullet train. In densely populated areas bullet train tracks are protected in the form of fensing or overhead viaducts.
Agree (1)Disagree (0)Recommend (1)




普通铁路与高铁之间有很大不同。在人口密集的地区,高铁通常有设置栅栏或者采用高架。




Yogiraj M (mumbai) replies to V for vendetta
It wont have crossing dude --- almost entire places it would be covered with fence on both sides --- no person can be able to see the train coming while travelling at that speed he just wont have time to react so they will either build underpass or overpass for the train
Agree (3)Disagree (0)Recommend (1)




老兄,不会有平交道口的——几乎整条高铁的两边都围有栅栏——火车的速度如此快,没人能看清火车迎面而来的,根本就没有反应时间,所以人们不是走地下通道就是走天桥越过高铁。




Arash (Lyon, France) replies to V for vendetta
The track is elevated wherever there is a crossing and the track is also secured on both sides throughout the journey by a barbed wire. Source - TGV in France
Agree (4)Disagree (0)Recommend (1)




一旦有交叉口,高铁会走高架的,整条铁路两边还会有铁丝网保护。




Crazy Guy (Mad Hindu) replies to V for vendetta
That you dont have to worry about..One who will implement it ,will consider all these issues .




这个不用你担心,建高铁的人会把所有问题考虑进去的。



vibh (global)
Go for Japan they will also give cheap loans
Agree (7)Disagree (0)Recommend (0)



选日本的吧,他们还会提供低息贷款。
Satluj (Jalandhar)
I hope one day sooner than later these trains will run from Jammu to Chennai, Ahmedabad to Kolkatta, and so on........
Agree (12)Disagree (0)Recommend (5)



我希望总有一天,高速火车能奔跑于查馍与钦奈、阿默达巴德与加尔各答等城市之间.....
joker (circus)
nothing for howrah delhi route?? Its one of the busiest and time consuming.
Agree (4)Disagree (1)Recommend (1)



豪拉到德里不建吗?这是最繁忙和最耗时的线路之一。
aSDFG (ny)
INDIA SHOULD GO TO CHINA FOR THIS PROJECT. THEIR TECHNOLOGY IS BETTER THAN THESE TWO, AND IMPORTANTLY IT WILL KEEP CHINA HAPPY.
Agree (0)Disagree (16)Recommend (0)



印度应该去找中国修高铁,他们的技术更好,更重要地是可以讨中国开心。




Gutyghjh (NYC) replies to aSDFG
What planet are you from? Where did the Chinese get the technology. Oh that's right..from the Japanese.
Agree (4)Disagree (0)Recommend (3)




你来自哪个星球?中国人的技术从哪来的?哦,对了,从日本人那里来的。



Brown American (USA)
Japan Trains are better than the French.
Agree (5)Disagree (1)Recommend (0)



日本高铁比法国高铁更好。




vishal (Bangalore) replies to Brown American
It is not who is better than the other, but who will get it. It looks like there is going to be a competetion between the French and Japan, but what should get priority is safety and security.
Agree (2)Disagree (0)Recommend (1)




关键不是谁比谁更好,而是谁会中标。看来法国和日本要来一场博弈了,安全问题应该是优先考量。



thomas (india)
India has 27 states and ahuge area so why should they compete only for bombay? let them work in other areas. kashmir to kanyakumari?
Agree (6)Disagree (2)Recommend (0)



印度有27个邦,领土辽阔,为什么他们只竞标孟买的线路?让他们也在其他地方修高铁,比如克什米尔到坎亚库马瑞。





【三泰虎注:坎亚库马瑞位于印度最南端】
Susheel (Chennai)
It will help people to live in one city and work in other.. like the Bangalore Chennai Route.. this will help increase demand for housing as many Chennaite work in Bangalore IT industry. They can now stay in Chennai, commute to work in an hour and come back home.
Agree (2)Disagree (0)Recommend (0)



高铁能帮助人们住在一个城市,工作在另外一个城市。比如班加罗尔-钦奈线可以提高住房需求,许多钦奈人会在班加罗尔从事IT业,他们可以住在钦奈,乘一小时的高铁去上班,下班后可以回家。




Kaushik Himanshu (Ahmedabad, India) replies to Susheel
yes true it will bring MUmbai closer to Ahmedabad once it is completed




对,一旦高铁完工,就能拉近孟买与阿默达巴德的距离。



Arnab Kar (jaipur)
Thrilled to hear that the fastest BULLET train makers will work together in INDIA for both the projects. INCREDIBLE INDIA.
Agree (1)Disagree (0)Recommend (1)



真是太激动了,速度最快高铁的生产商将为了印度的高铁项目一起合作。令人难以置信的印度。
Suraksha (India)
Looks great & impressieve while reading & going thro the marvelous pictures. Are we not 30 years late already? And if we start planning now, how long does it take for the first commecial run to commence? May be 10 or even 20 years. By then the concept of bullet trains could have got obsolete in every other country.
Agree (4)Disagree (0)Recommend (0)



这些不可思议的图片看起来真是令人印象深刻。如果现在开始规划,多久才会正式商业运营?也许10年甚或20年。到那时,高铁的概念可能在其他国家过时了。
Ben (London)
60,000 Crore ?!!! Are you joking? Entire country's poor people can be made overnight rich with this amount !! Bullet trains don't cost that much !!! Assuming 30 crore ppl live in abject poverty, and each of them live in a family of five, every family can be given Rs 100,000 to start a meaningful business / education / housing / farming. Another massive scandal....
Agree (1)Disagree (0)Recommend (1)



6000亿?开玩笑吧?这笔钱可以让全国的穷人一夜间变富!建高铁不要那么多钱滴!假设有3亿人生活在赤贫中,每五个人组成一个家庭,那么每个家庭就可以分到10万卢比用于做生意,接受教育,买房或者用于农耕。高铁将是另一个巨大丑闻......
Suraj (Bang)
also there shd be bullet train connecting from south to north....starting from chennai to delhi via hyderabad......coz it takes almost 24 hours by train.......7hrs is very less.....bullet train is not needed for less than 10hr journey....
Agree (1)Disagree (2)Recommend (1)



南北也要用高铁连接起来....从钦奈经海德拉巴到德里.....现在坐火车几乎要24小时....... 7小时不会久.....10小时以下的线路不需要高铁......
随着法日两国政服激烈角逐印度高铁项目,阿默达巴德人花不到两小时一路巡航至孟买的梦想已经驶入快车道。法国国营铁路公司(SNCF)已经与印度铁道部一起制定阿默达巴德经孟买至普纳长达630公里线路的技术可行性报告。报告可能于6月中旬提交给铁路局。与此同时,辛格总理与日本首相安倍一起在东京就展开另一项可行性研究发布了联合声明。声明指出,两国领导人决定双方为孟买-阿默达巴德线高铁的可行性研究共同融资。辛格还对日本在设计和实现新干线方面的高水平技能表示赞赏。