版权所有:http://www.santaihu.com
原文标题:Engineering student arrested for forging PM's signature
原文链接:http://timesofindia.indiatimes.com/city/hyderabad/Engineering-student-arrested-for-forging-PMs-signature/articleshow/17316215.cms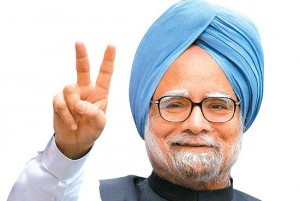 HYDERABAD: A city-based engineering student was arrested by a Central Bureau of Investigation (CBI) team from Delhi for forging the signature of prime minister Manmohan Singh to secure admission in a post-gradute course at the University of Lucknow.

Sources said Farhan Akhtar, a final year student of an engineering college in Himayatsagar, was picked up the CBI team from the college on Wednesday.

Around 5.30 pm, CBI officers took Farhan to the Nampally Criminal Court to produce him before the designated magistrate, but by then the court closed for the day. CBI officials took him to their 'office' and may produce him in court on Thursday.



海德拉巴:为了被勒克瑙大学的研究生院录取,一名工程系学生伪造曼莫汉辛格总理的签名,结果被德里的中央情报局逮捕。





21日,消息人士称,位于Himayatsagar的一所工程学院的大四学生法尔汗阿克塔尔被中央情报局从学院带走。





大约下午5点30分,中央情报局官员把法尔汗带往纳幕帕里刑事法庭,欲在指定的法官面前指控他,但那时候法庭已经关闭。中央情报局官员随后将其带到自己的"办公室",第二天在法庭上指控他。



Farhan, who hails from Uttar Pradesh, reportedly shot off a letter on the letterhead of the PM's Office (PMO) to the University of Lucknow. It was a recommendatory letter directing the university authorities to give him admission in a post-graduate course. In addition to sending the fake PMO letter with the forged signature of the PM, Farhan Akhtar's father Shakeel Ahmed called up LU vice-chancellor in the guise of calling from PMO. "Shakeel Ahmed said that he was an officer in the PMO and asked the LU authorities to reserve a seat for Farhan. Promptly, LU authorities reserved the seat and later sent a compliance letter to the PMO,'' the sources said.



法尔汗来自北方邦。据报道,他向勒克瑙大学发了一封印有总理办公室抬头的推荐信,要求学校录取自己进入该校的研究生院。除了发去一封伪造总理签名的推荐信外,他的父亲沙基尔·艾哈迈德还给该校副校长打了电话,称自己是总理办公室官员,要求学校给保留一个名额,学校按照要求保留了名额,但随即向总理办公室发了一封投诉信,"消息人士称。



The shocked PMO officials contacted LU authorities and informed them that no letter was sent by the PMO at the behest of Manmohan Singh. The equally shocked LU officials narrated the sequence of events. Realising that there was something fishy in the letter, the PMO directed the CBI to look into the matter.

On investigation, they zeroed in on Farhan studying at the engineering college in Himayatsagar and reportedly picked him up from his college.

Local police and CBI officers were tight-lipped about the case and even refused to give details about the forged letter.



总理办公室官员受到投诉信后大为吃惊,之后联系勒克瑙大学,告知其总理办公室从未受到辛格命令发出过类似信件。同样吃惊的学校官员陈述了事情始末。总理办公室觉得此事很可疑,要求中央情报局进行调查。





调查之后,他们取消了法尔汗在工程学院的成绩,并对其进行逮捕。





当地警方和情报局官员口风很紧,拒绝透露该封假冒信件的细节。




以下是印度网友的评论:




Indian (India)
"Promptly, LU authorities reserved the seat and later sent a compliance letter to the PMO" - happens only in India. Ha ha
Agree (21)Disagree (0)Recommend (9)



"很快,勒克瑙大学给他留了一个名额,随后向总理办公室发了一封投诉信"——只有印度才会发生这样的事情,哈哈。
John (chennai)
Oh God... Extreme steps... Extravagant daring... Did they really think that they are gonna get away with this? Stringent punishment required...
Agree (5)Disagree (0)Recommend (1)



哦,上帝....做得太极端了,胆大包天!他们真的认为可以蒙混过关吗?必须给予最严厉的惩罚....
Mahesh Ved (Mumbai)
Actually it is the Father ,who Ruined the Careear of his Son.He should be Arrested as well.
Agree (7)Disagree (0)Recommend (2)



实际上,父亲毁了儿子的学业,他也应该被逮捕。
Jayakumar Vasudev (kasargode)
This guy has not only put his academic career in jeopardy, he has put himself and his father into all sorts legal tangle. Was this sort of 'artistry' needed for pursuing his education. A branded man for life.



这个家伙不仅将其学业置于危险之中,还让自己和父亲陷入各种法律纠纷中。这种"艺术"是追求学业所必须的吗。
BSMV (India)
Every politician in the country follow such dubious practices but escape and enjoy whereas this student is unlucky to be caught.



每位印度政客都有类似可疑行为,只不过逍遥法外,而这名学生不走运,被抓了。
AMARENDRA NATH SRIVASTVA (ranchi)
BY HARD LABOUR,THE BOY COULD HAVE TAKEN ADMISION IN AN ENGEERING COLLEGE OF REPUTE.NOW,THAT PROBABILITY HAS ALSO VANISHED.



这名男孩可以靠努力被著名的工程大学录取,现在机会丧失了。
Pleasedontarrestmealso (Innocentbystander)
I dont see whats the big deal...Sonia aunty has been forging our honourable PM's signature for a really long time and no one bothers to report it.
Agree (1)Disagree (1)Recommend (1)



没什么大不了的。索尼娅阿姨长期伪造尊敬总理的签名,没人有报道过。
Derrick Dias (Goa)
Sending a compliance letter to the PMO is what let the cat out of the bag
Agree (1)Disagree (0)Recommend (1)



向总理办公室发一封投诉信让秘密泄露了。
Ananad (Nagpur)
CBI enquiry for a simple forged letter ??, Could've been done by local police too. And no enquiry for cases needing CBI !!! Wow !! Only powerful people has access to CBI, right ?



中央情报局调查一封简单的伪造信?应该由当地警察来调查,不需要中央情报局介入!哇!只有权力人士才能接触到中央情报局,对吧?
joy (luk)
madrassa buddhi, and hats off to the dad too, now get treatment from CBI



向这名父亲致敬,现在让中央情报局来"伺候"你吧。
xyz (Delhi) 38 mins ago
Before everything else, first he must be awarded for stupidity as its rare to see such stupid people everyday in our lives.



其他先别说,首先得给他颁发愚蠢大奖,日常生活中很难见到如此愚蠢的人。
Name (Location)
education system in india need admission get a heavy signature or a heavy pocket rest all would be taken care off



印度教育体制决定了要被录取,你需要大人物的签名或者要送一大笔钱,其他一切会被打理好。





译文来源:三泰虎 http://www.santaihu.com
Ani (Thiruvananthapuram)
Why should the college reserve a seat for the PM?? It was a loop hole waiting to be exploited. If only our college ensured that merit is the only criteria, then this sort of things will never happen



为什么学校要因总理而保留一个名额?这是一个有待被利用的漏洞。如果学校以学生优点作为唯一标准,那么就能避免此类事情发生。




Umesh Derebail replies to Ani
Unfortunately in India some judges accept forged signature too as evidence, in property cases.




不幸地是,在财产分配案件中,伪造签名被当做证据得到印度某些法官的承认。




Umesh Derebail replies to Ani
Some favours are obviously bound to be traded in this commercial world. But forging signature is criminal offence.




在商业世界中,难免会有一些幕后交易。但伪造签名是刑事犯罪。



vishal srivastava (Delhi)
he forged the signature for securing the seat...and was in final year...did the PMO took 3 years to respond....wow. Ek saal aur ruk jaate, banda pass hi ho jata



为了获得名额,他伪造签名,学业最后一年才被发现,总理办公室要3年时间才反应过来吗,哇........
Veer (Noida, India)
LU authorities has approached direct CBI not local police and finally both locla police and CBI were tight lipped over the matter.
Agree (1)Disagree (0)Recommend (0)



勒克瑙大学直接向情报局报告,而不是向当地警方报案。最终,当地警方和情报局官员都对此事守口如瓶。
Surjeet (Gurgaon)
UP + Muslim = Disaster .......................... This way of life is the reason why people from rest of India are resentful of these scamsters.
Agree (3)Disagree (5)Recommend (2)



北方邦+穆斯林=灾难.............此种生活方式是其他印度人厌恶这些骗子的原因。
Rana (Mumbai)
Hang the accused. This muslim scum like his kind are r@ping India everyday and taking it the middle ages.
Agree (4)Disagree (10)Recommend (1)



处死被告。此类穆斯林垃圾天天强奸印度,将印度带回中世纪。
Goodwill (Boston)
It's unfortunate that Indian education system could not provide opportunities to aspiring students who in turn end up finding illegal and totally self destructive methods of obtaining a seat in higher education institutes. This guy should not have taken such a drastic step of forging signature of PM and should be punished as per the law.
Agree (1)Disagree (3)Recommend (0)



不幸地是,印度教育体制没有为有抱负的学生提供机会,导致这些学生转而采取非法和几乎自我毁灭的方法来获得高等教育学院的名额。这家伙不应该采取如此激进的措施伪造总理的签名,按律该罚!
Kaliyug (USA)
This is very GUTSY, even MaunMohan Singh had to open his mouth and tell the authorities that he did not write any letters, as all of the Indians know, the PM never writes anything, he uses his head to nod, does not speak, lets those under his wings fly, stay put or put the money away in Western banks. What Farhan and his father did goes beyond crime and criminal intent to get admission in an college, this is very dangerous and should be punished by long prison terms.
Agree (5)Disagree (0)Recommend (0)



此举非常大胆,连辛格都不得不开口告知当局其并未写任何推荐信。所有印度人都知道,总理从来不写任何东西,就是点头,不说话,让其党羽逍遥法外,留在原职或者把钱存入西方银行。法尔汗及其父亲为了被研究院录取而做出的行为不仅仅具有犯罪意图,而且非常危险,应该被判长期蹲大牢。
为了被勒克瑙大学的研究生学院录取,印度一名工程系大四学生法尔汗模仿辛格总理的签名,向该校发了一封印有总理办公室抬头的推荐信。他的父亲还给该校副校长打了电话,称自己是总理办公室官员,要求学校给保留一个名额,学校按照要求保留了名额,但随即向总理办公室发了一封投诉信。被识破后,总理办公室要求中央情报局进行调查。调查之后,他们取消了法尔汗在工程学院的成绩,并对其进行逮捕。当地警方和情报局官员口风很紧,拒绝透露该封假冒信件的细节。