译文来源:三泰虎 http://www.santaihu.com
外文标题:Edward Snowden puts spotlight on China amid cyber row
外文地址:http://articles.timesofindia.indiatimes.com/2013-06-11/us/39898212_1_us-and-chinese-governments-china-chinese-territory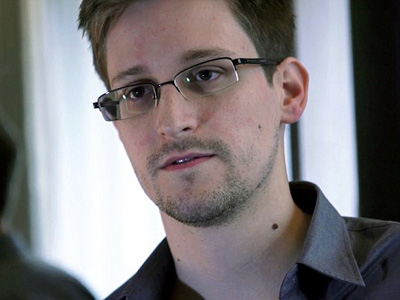 美国监听项目揭秘者"斯诺登"

WASHINGTON: China's role in outing America's super-secret surveillance of the world has come under sharp focus after the US whistleblower who exposed Washington turned up in Hong Kong, of all places.

That Edward Snowden surfaced in Chinese territory to embarrass the US in the middle of summit meeting where President Barack Obama was expected to corner his Chinese counterpart Xi Jinpin over Beijing's ''cybertheft'' was all too glaring to be missed. Compounding American mortification, Snowden then went on to argue that China is not an enemy of the United States, amid speculation that he could defect to Washington's geopolitical rival.



华盛顿:揭露华盛顿丑行的告发者出现在香港后,中国在曝光美国秘密监视世界方面扮演的角色成为世界各地的焦点。





中美峰会期间,奥巴马本打算就北京的"网络盗窃"逼迫中国,然而斯诺登出现在中国领土令美国难堪,这一举动非常惹人注意,不容错过。在人们猜疑他可能叛逃到华盛顿地缘政治对手之际,斯诺登辩称中国不是美国的敌人。



Asked by Guardian correspondent Glenn Greenwald about his presence in Hong Kong and whether he plans to defect to China, Snowden said the assumption that ''China is an enemy of the United States'' is wrong. ''It's not,'' he said, adding that despite conflicts between the US and Chinese governments, the peoples of the two countries remained friendly.

''We're not at war, in armed conflict ... we're the largest trading partners,'' he said.

His remarks were striking given that they came in the middle of a high level summit where Washington made Beijing's cybersnooping the centerpiece of the dialogue between Obama and Xi. Snowden's disclosures appeared to have undercut Washington effort to corner Beijing, allowing Xi to counter that China and the rest of the world too were victims of US surveillance.



谈到他在香港的出现时,《卫报》记者格伦·格林沃尔德问他是否打算叛逃到中国,斯诺登说"中国是美国敌人"的这一假设是错误的,他又说尽管中美两国政服存在冲突,但两国人民仍然是友好的。





他说道:"我们不是在交战,未起武装冲突......我们是彼此最大的贸易伙伴。"





由于适逢中美高层峰会,华盛顿将北京的网络窥视作为习奥会的核心话题,他的这番言论因此显得尤其突出。斯诺登的泄密似乎削弱了华盛顿逼迫北京的努力,使得习能反击称中国乃至世界其他国家也是美国监视的受害者。




以下是印度网民的评论:




本文论坛地址:三泰虎论坛 http://bbs.santaihu.com/thread-6665-1-1.html




devbab (sydney)
Traitor of USA and spy of CHINA !
Agree (6)Disagree (8)Recommend (2)



美国的叛徒,中国的间谍!
raj (usa)
CIA can spy on everyone but could not spy on their own staff who can easily collect important information and pass on to other country like China. Who is responsible ? Mr Snowden or CIA authority who did not keep proper check on all NSA staff ? If we found one case, there could be many more which we do not know.
Agree (3)Disagree (0)Recommend (1)



美国中央情报局能够监控每一个人,却无法监控内部员工,那些人可以轻易收集重要信息并将其转交给中国等其他国家。谁的责任?斯诺登先生还是未监视好美国国家安全局员工的中央情报局?既然出现了一起泄密事件,那就可能还有许多我们所不知道的秘密。
gfellow (USA)
It seems he may be on Chinese payroll already. His timing was the best to benefit Chinese.
Agree (2)Disagree (2)Recommend (0)



也许他在拿中国人的工资,他泄密的时机对中国人最有利了。
Easwar (Mumbai)
This guy will be a thorn for US. If he sides with Chinese then it would be a huge embarassment for Uncle SAM
Agree (4)Disagree (0)Recommend (0)



这个家伙就是美国的喉中刺。如果他站在中国人那一边,那么对山姆大叔将是一个巨大难堪。
sachin (India)
Us blams china & China blam US for Cyber attack. Both are involved.
Agree (2)Disagree (2)Recommend (1)



美国指责中国网络攻击,中国也指责美国网络攻击,两国都有卷入。
Vikram (Goa)
America cant take what it gives...America snoops on everyone ( a spy was arrested in Russia) but is mad when others do the same, its worse spying on your own citizens than on rival nations.
Agree (3)Disagree (0)Recommend (1)



美国监控每一个人(一名间谍在俄罗斯被逮捕),但别人若这样做,他就会发狂,其实监控本国公民比监控敌国更恶劣。
Abhishek Hindustani (Pune, Maharashtra)
US will garner only hate and more hate from throughout the world ! Butchering privacy !
Agree (10)Disagree (1)Recommend (4)



美国从全世界收获的将是世人对其厌恶感越来越大!人们的隐私权遭践踏!
Jay (Delhi)
Well.. we Indians think that USA is doing right thing. But dear fellow Indians those NSA Guys are intercepting our mails and Bank accounts as well. As told by Snowden that intercepting just require personal Mail ID. And they may be intercepting many more corporate, government and research emails and data. Indeed they are spying on India as well. Actually this is a threat to India. I don't care about privacy stuff..but I care about security stuff. That our emails, economic data along with passwords is now hacked by US government....
Agree (23)Disagree (2)Recommend (9)



我们印度人一直以为美国做的是对的,但美国国家安全局那帮家伙截取我们的邮件和银行账户。正如斯诺登所说,只要有邮件ID就可以截取邮件。他们可能还截取了许多企业、政服和研究机构的邮件和数据,印度肯定也遭监视,给印度造成了威胁。我不介意个人隐私泄漏,但关心机密资料的安全。我们的邮件、经济数据连同密码已遭美国政服入侵.....
Venkatesh Ram (Chennai)
US is now preparing to charge him for leaking classified information. Hope he does not end up in the infamous Guatanamo bay.
Agree (6)Disagree (0)Recommend (3)



美国现在准备指控他泄露机密信息,希望他不会落得被关进臭名昭著的关塔那摩基地的下场。
ventris81 (In orbit around the sun)
It shows China cannot be trusted, they have asked this guy to defect at a time and place where it will prevent US from putting pressure on China and China can make any excuses it wants and put US on the back foot. I wonder how much information he must have stolen from US and sold to China.
Agree (10)Disagree (7)Recommend (4)



这说明中国不值得信任,他们要求这个家伙在恰当时间和地点叛变,从而防止美国施压中国,中国到时很容易给出理由,使美国处于被动。不知道他从美国偷了多少信息并卖给了中国。




Johnson (singapore) replies to ventris81
China will use the guy and milk him for all he is worth and then hand him over making a deal with washington for the americans to keep quiet about the chinese human right abuses inside china and Tibet.
Agree (11)Disagree (5)Recommend (4)




中国会充分利用和榨取这个家伙的价值,然后与华盛顿做交易,把他移交给美国,换取美国对中国侵犯人全保持沉默。




ventris81 replies to Johnson
Yes what you said is right, Snowden will end up spending the rest of his life in a US jail 5 yrs from now.
Agree (4)Disagree (0)Recommend (1)




你说得对,5年后,斯诺登最终会开始在一家美国监狱度过余生。



IRAIYANBAN (MADURAI)
US government needs war in other countries so as to sell weapons. They will support the governments,which support it and give weapons to suppress rebels.If the governments are against US, they will supply weapons to rebels.Long live US democracy.
Agree (12)Disagree (0)Recommend (6)



为了卖武器,美国政服需要其他国家打仗。谁支持美国,美国就会支持谁,并提供武器用于镇压叛乱分子;谁要是反对美国,美国就会向其国内的叛乱分子供应武器。美国皿煮万岁。
Prof Partha (Cuttack)
Taking capitalist and communist fight to a new height.



泄密事件将资本主义者和共产主义者的斗争带到了一个新的高度。
rocky (Delhi)
He sold his soul to Chinese....poor guy, I wish he die.
Agree (8)Disagree (14)Recommend (3)



他把灵魂卖给了中国人....可怜的家伙,我希望他去死。
sunilsmourya (mum)
There is no reason to disbelief that Aadhar card is also an effort to collect personal detail like USA secret Prism operation.
Agree (4)Disagree (1)Recommend (3)



没有理由不相信印度的Aadhar身份识别卡类似美国秘密的棱镜计划,也是用于收集个人信息。
Amabo Karab (CD)
Indian police should immediately arrest the Indian chiefs of the companies like Google, Yahoo, Microsoft, etc. and grill them on why their companies are snooping and monitoring Indian Government emails, which is a totally illegal thing to do.
Agree (14)Disagree (1)Recommend (7)



印度警方应该立即逮捕谷歌、雅虎、微软等公司的印度负责人,拷问他们为何要窥视和监控印度政服的邮件,此举完全是非法的。
PitBuLL (Chicago)
Traitor !!! Capture his family....complete family tree here...How could a US born american betray his own country ?! Or any country's born national ?! Extradite him back in US and deal with him !
Agree (3)Disagree (20)Recommend (0)



叛徒!把他全家抓起来......把整个家族抓起来......怎么本土出生的美国人会背叛祖国?!把他引渡回美国判刑!
NRI USA (usa)
China needs to be cornered. Like the Japanese did to them for centuries until it chose to become peaceful. This snake and worm eating nation is becoming a menace.
Agree (6)Disagree (7)Recommend (1)



看来得把中国逼入绝境,类似日本人过去几个世纪以来所做的,逼迫他们选择和平。这个吃蛇和蠕虫的国家正成为一个威胁。
Indian (India)
Will India ever have GOVT OFFICIALS like Edward Snowden who show the courage to LEEK the truth about the SCAM LOOT happening in India ????? There can be DOZENS of Edward Snowden in India who can bring out the truth about INDIAN BILLIONS IN SWISS BANKS, CWG, 2G, ISRO, COALGATE, CHOPPER GATE, TATRA TRUCK SCAM, RAIL GATE, JIJAJI DLF SCAM etc etc.
Agree (11)Disagree (0)Recommend (3)



印度有斯诺登这样有勇气泄漏丑闻的政服官员吗?印度需要许多斯诺登这样的人来揭露英联邦丑闻、2G丑闻、煤炭门、直升机门.......等事件的真相。
vinod agar (Maharashtra)
US is the worst hypocrite country in the modern world.
Agree (14)Disagree (2)Recommend (4)



美国是现代世界最虚伪的国家。




check0nyou (India) replies to vinod agar
you are one Idiot and biggest hypocrite of all. Indian people are dying to go to US for better life. They will do freaking anything to go there.. even get loan from others and then they earn money in US and come back to India to show others how good their life is. When it's comes to education, when some Indian origin who is not Indian anymore.. do something... all the media and hypocrites people start singing... its Indian mind.. brilliant and now when today technology made things so worst that it needed to be observed in order to keep the terrorist away, you guys saying US is hypocrite? what a bigot you are man. lol you guys are just barking but you even knows that it is necessary step. hehehee I pity on you.
Agree (3)Disagree (5)Recommend (0)




你就是白痴,最虚伪的伪君子。印度人渴望去美国过更美好的生活,为此会不择手段,甚至从其他人那里借款,在美国赚到钱后就回到印度向别人炫耀他们的生活有多么美好。谈到教育,一旦某些已经不是印度人的印度裔外籍人士取得一些成就,媒体和伪君子就会开始大唱颂歌;当科技给恐怖分子提供了可趁之机,为了加以遏制,需要对他们进行监控,可你们这些家伙却说美国虚伪!你们真是偏执的人,LOL,你们就懂得叫,却不懂得那是必要步骤,呵呵,为你们感到可怜。



印度人评论美国棱镜门事件。三泰虎6月13日译文,揭露华盛顿丑行的斯诺登出现在香港后,中国在曝光美国秘密监视世界方面扮演的角色成为世界各地的焦点。中美峰会期间,奥巴马本打算就北京的"网络盗窃"逼迫中国,然而斯诺登出现在中国领土令美国难堪。在人们猜疑他可能叛逃到华盛顿地缘政治对手之际,斯诺登辩称中国不是美国的敌人。当《卫报》记者格伦·格林沃尔德问他是否打算叛逃到中国,斯诺登说"中国是美国敌人"的这一假设是错误的。