译文来源:三泰虎 http://bbs.santaihu.com/thread-5869-1-1.html
外文标题:Did China steal Japan's high-speed train?
外文链接:http://tech.fortune.cnn.com/2013/04/15/china-japan/?section=money_topstories&utm_source=feedburner&utm_medium=feed&utm_campaign=Feed%3A+rss%2Fmoney_topstories+Top+Stories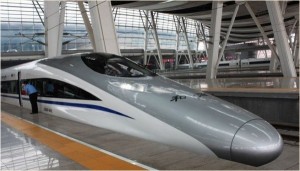 FORTUNE -- One China defender recently claimed his countryman's "bandit innovators" could be good for the world. That was small consolation for the Japanese, who say that China pirated their world-famous bullet train technology.

"Don't worry too much about Chinese companies imitating you, they are creating value for you down the road," said Li Daokui, a leading Chinese economist at the Institute for New Economic Thinking's conference. Such "bandit innovators," he expanded, would eventually grow the market, leading to benefits for everybody.



一位中国辩护人最近宣称其国人的"土匪创新"或许对世界有好处。这对日本人是小小的安慰,日本人称中国盗版了他们世界著名的高速列车技术。





"别过于担心中国公司模仿你们,一段时间后,他们其实是在为你们创造价值。"中国新经济研究所的一位主要经济学家解释道,这样的"土匪创新者"最终会培养市场,给大家带来利益。



Kawasaki Heavy Industries (KHI), maker of Japan's legendary Shinkansen bullet trains, bitterly disagrees. After signing technology transfers with CSR Sifang, the builder of China's impressive, new high-speed rail, KHI says it deeply regrets its now-dissolved partnership. It planned to sue its previously junior partner for patent infringement, but it backed down recently.

Risk analyst Michal Meidan of Eurasia Group believes KHI is wise to drop the IP suit and stay out of China. "Every firm working in the high-tech space in China should be aware of the risks related to weak IP protection in the country but often has few choices but to go into these agreements if it wants to gain market share there," she says. "The intense competition prompts companies to make concessions on technology transfers, as the Chinese are very good at playing off the competition."



作为日本传奇的新干线高速列车生产商,川崎重工表示强烈不同意。在和中国令人印象深刻的高铁生产商南车四方签署技术转让协议后,川崎重工表示极为后悔建立业已解除的伙伴关系,本打算起诉先前的初级合伙人侵犯专利,但最近放弃了。





欧亚集团的风险分析师Michal Meidan认为川崎重工放弃知识产权诉讼并退出中国是明智之举。"任何一家在中国高科技领域展开运作的公司都应该意识到风险,该国的知识产权保护较弱,然而如果想要获得那里的市场份额,你没有多少选择,只能签署这些协议。激烈的竞争促使公司在技术转移上做出让步,中国人非常擅长在竞争中谋利。"



What could drive the normally unlitigious Japanese into such a frenzy? Not only did China copy their technology, say the Japanese, after patenting remarkably similar high-speed-rail (HSR) tech, CSR now wants to sell it to the rest of the world -- as Chinese made. Both Japanese and European rail firms now find themselves frozen out and competing with their former Chinese collaborators for new contracts, inside and outside China.

With a diminishing domestic market, Japan's train industry is hoping to pick up orders abroad for its HSR. Before China stepped in, undercutting Japanese offers by about half, Japan looked very attractive to foreign buyers with its record for fast, reliable train systems.

With more than 300 million annual riders, Japan's Shinkansen -- 50 years old next year -- trains carry more passengers than those of any other HSR system. It has suffered no fatal accidents. The U.K. was impressed enough to complete a 540 billion yen deal with Hitachi, which also builds Shinkansen, to supply bullet trains by 2016.



是什么令不好争论的日本人如此狂怒?日本人说,中国南车不仅抄袭他们的技术,而且在取得类似的高铁技术专利后想以中国造的名义向世界其他地方出售。日本和欧洲的铁路公司发现自己被排挤,不得不在国内外同以前的中国合作者竞争新合同。





随着国内市场萎缩,日本的列车产业希望在国外为高铁接到订单。在中国介入之前,日本凭借其快速可靠的列车系统极大吸引了外国买家。





日本明年达50年历史的新干线每年搭乘的人数超过3亿,比其他各国高铁运输的乘客人数还多,且未遭受过致命事故。对此印象深刻的英国和同样建造新干线列车的日立达成了价值5400亿日圆的交易,在2016年之前提供高速列车。



The Motherland of train travel is not alone. Everyone is shopping around for high-speed solutions including the U.S., as the $180 billion global rail industry continues to boom.

Outside of Britain, Japan could easily find itself edged out by the Chinese competition. This makes KHI's Harada Takuma, who worked on the Chinese collaboration, very angry. Under the licensing agreements with KHI, China's use of the expertise and blueprints to develop high-speed railway cars was to be limited to domestic application, he explains. "We didn't think it was not risky. But we took on the project because terms and conditions under the tech transfer should have been binding. We had a legal agreement; we felt safe."



火车旅行的故乡并不孤单,随着价值1800亿美元的全球铁路行业继续繁荣,各国都在寻求高铁解决方案上货比三家,其中包括美国。





在英国之外,日本很容易就发现自己被中国的竞争排挤在外,这令川崎重工负责中国合作的Harada Takuma非常生气。他解释称,按照与川崎重工的许可协议,中国对高速列车技术和蓝图的使用只能限制在国内应用,"我们当初并非认为没有风险,之所以还是接下这个项目,是因为技术转移的合同条款本该是具有约束力的。我们签署了法律合同,所以感到安全。"



The Chinese authorities, for their part, see no problem. As Beijing busies itself filing for HSR patents abroad, it claims China developed her own HSR based on Japanese and German technologies which it claims were merely "digested." When it was suggested that China trains were mere knockoffs at a press conference in China recently, the Ministry of Railways spokesman asserted that China's HSR was far superior to Japan's Shinkansen, and that the two "cannot be mentioned in the same breath."

Others, such as a few Chinese engineers, have admitted no real innovation. That they were "just standing on the shoulders of giants" as one rail technician put it. Wherever the truth lies exactly, KHI's train technology transfer saga is unlikely to be over soon.



中国当局却并未觉得有何问题。正忙着在国外申请高铁专利的北京宣称中国基于日本和德国技术自主开发出了高铁技术。当有人最近在中国一场新闻发布会上暗示中国高铁只是仿制品时,铁道部发言人声称中国高铁比日本新干线要先进得多,两者不能相提并论。





其他人,比如一些中国工程师,承认并不存在真正的创新。正如一位铁路技术员所说,他们是"站在巨人的肩膀上"。不管真相到底如何,川崎重工的列车技术转移故事不大可能很快结束。




以下是美国网民的评论:




译文来源:三泰虎 http://bbs.santaihu.com/thread-5869-1-1.html




jura5423

The Japanese experience should be a lesson for the world. Our greediness, desire to pile up profits in China, is at the source of the problem, not the Chinese.



日本的教训值得全世界借鉴。问题的根源在于我们的贪婪,渴望在中国大赚一笔,不能怪中国人。
oneworld2

The Japanese use to copy them selfs before they started innovating.



日本人开始创新前也是拼命抄。
disqus_AKB6qo3ejz

How funny! Thirty years ago, American manufacturing use to complain about Japan stealing their intellectual property. Japan would then make the product cheaper and better. Now China is doing it to them!



真有趣!30年前,美国生产商常常抱怨日本偷窃知识产权,日本然后生产出更便宜更优质的产品,现在轮到中国这样对付他们了!




Shuami disqus_AKB6qo3ejz




It took the Japanese about 20-30 years to leapgrog, for the most part,
their American auto-industry counter parts, based on copied
technologies. Maybe after 20 years, it will be the Chinese's turn to do
the complaining. Of course, we all know where a lot of American technologies came from, after the WW2. The cycle goes on. To copy is human nature--that's how kids learn.




日本人花了二三十年才超过美国汽车业同行,大多是靠抄来的技术。也许20年后会轮到中国人去抱怨(别人抄)了。当然,二战后美国的技术从哪来的是众所周知的。这个循环在继续着,抄是人类的本性——小孩子就是这么学的。



Mark Hungerman

People are surprised by this? The cheap labor comes at a cost. Literally EVERYTHING that we are outsourcing is being copied,



这有什么好惊讶的?廉价劳动力的获得是有代价的。实际上,我们外包的每一样东西都在被抄。




Dan Mark Hungerman




India is certainly doing similar things for some industries...




印度的某些行业肯定也在如法炮制.....



Guest

Some 20 years ago, my father -- then a State Department liaison -- returned from China with a massive, albeit inferior, bootlegged copy of the World Book Encyclopedia dictionary at a fraction of what an authentic copy would've cost. For decades, China had a well-earned reputation for its tacit approval of widespread theft of intellectual property and copyright infringement -- from bootlegged books, DVDs and Gucci handbags to consumer electronics knockoffs (including the latest iPad mini tablet dubbed iPed in China). Why should it surprise us now that it has extended this brazen policy to high-speed rail trains in order to gain a competitve edge on the West?



20年前,我的父亲——当时的国务院联络官——从中国带回一本非法贩售的世界百科全书,尽管质量低劣,但价格只要正版的一小部分。数十年以来,中国以大规模偷窃知识产权和侵犯版权而著称于世——从盗版书籍、DVD和古琦手袋到仿冒的消费类电子产品(包括最新的在中国被称为iPed的iPad迷你平板电脑)。所以当中国现在把这个厚颜无耻的政策延伸到了高铁上,意图赢得对西方的竞争优势时,这有什么好惊讶的?
stephenreal

This is a well known case of intellectual theft by China. Kawasaki Heavy Industries (KHI) would win their case in California court if they try to build this KHI tech into the US. KHI would be foolish not to pursue their case in US court This is an open and shut case. No doubt about it for anyone who follows these types of legal questions. I encourage Kawasaki Heavy Industries to move on this case in US court.



这是众所周知的中国偷窃知识产权案。如果中国试图在美国用川崎重工的技术修建高铁,川崎重工将能在加利福尼亚法院胜诉。如果不在美国法院起诉,那么川崎重工就是个傻瓜。这是一个一目了然的案件。我鼓励川崎重工将这个案子搬到美国法庭上去。
John Smith

The mere fact that this question is being asked is pure humor. Communism does not promote creativity. Free thinkers are thrown into jail for causing "unrest." So again ask yourself, did China steal this? Dumb question. I think the better question should be, " Are you willing to sacrifice industry trade secrets and R&D for a few years of higher than normal returns on investments?" My thoughts are that corporations are starting to wise up to this scam and now China has resorted to internet espionage because there are far fewer companies willing to locate there due to the high rate of theft. The unwillingness of the Chinese government to correct intellectual theft has come back to bite them.



把这个问题提出来本身就好笑。共产主义并不促进创新。再问一次,中国偷了吗?这样问是愚蠢的。我认为这样问更好:"你是否愿意为了几年的超常规投资回报而牺牲商业秘密和研发成果?"我的看法是,各企业已经认识到了这个骗局,由于被偷的风险很高,很少公司会愿意进驻,中国转而寻求网络偷窃。中国政服不愿意纠正知识偷窃的行为反而伤害了自己。




Zhuubaajie John Smith




Uh huh. Must be why almost all of the Fortune 500's have set up R&D shops in China. Intel just announced another one in JV with Baidu to do mobile applications.




The reality is that with 6 million college grades newly minted each year, with more than half of those in science and engineering, doing R&D in China costs 1/5th that in the West (or in Japan for that matter). The trend is clear.




额,也许这就是为何几乎所有财富500强的公司业已在中国设立研发部门的原因。英特尔刚宣布和百度组建一个从事移动运用的合资企业,




实际上,中国每年有600万大学生毕业,其中超过一半是理工科生,在中国从事研发的成本仅是西方(或者日本)的五分之一。趋势是明显的。




grattaevinci Zhuubaajie




Sorry I am in high tech....but what you say is not true...my ex company (world famous in communication chips) by their own admission will never open an R&D in china. Only sales and some software.




I can tell you more....when in china, we were forbidden to share any technical presentation apart from few stupid pics with our chinese "colleagues".




This is very very common in the whole semiconductor industry. Moreover chinese employees are scrutinized 10 fold respect to westerners, their computers are always monitored and so on so on.




this at least in my field and honestly I agree with it. My ex company got burned by 3 chinese employees that took a complete chip database and reproduced entirely in china without even erasing the company logo from it.




The chinese gov covered them up making any legal suit completely useless.




I have a chinese wife who is herself ashamed (being a lawyer) of the so widespread intellectual theft going on in china.




I am sure there are very honest chinese like my wife and her family but from what I saw there they are a minority (just my experience).




I think china would require a couple extra generations to align to the common practice in intellectual property right but till then any company that opens an R&D there or "shares" their tech in china is playing a very dangerous game.




so when those companies get scammed I do not feel for them.




抱歉,我就是从事高科技的....但你说的不对.......我的前公司(通信芯片领域的世界著名公司)坦白决不会在中国设立研发部门,只会展开销售和一些软件相关的业务。




还有.....我们在中国时被禁止向中国"同事"分享任何技术演示,一些简单的图片除外。




这在整个半导体行业是非常普遍的。更重要地是,相比西方员工,中国员工接受的审查要严格10倍,他们的计算机也要接受监控....




至少我从事的领域是这样的,坦白说我赞成这样的行为。我的前公司曾经因3名中国员工而遭受重大损失,他们拷走了整个芯片数据库,然后在中国整个复制,连公司的商标也没有去除掉。




中国政服包庇了他们,任何法律诉讼是毫无用处的。




我的妻子是中国人,(作为一名律师),她也为中国普遍存在的知识产权侵犯感到羞耻。




当然,中国也有像我妻子及其家人一样非常诚实的人,但就凭我的经历来看,这些人只占少数。




我认为中国还需要好几代人才会遵守知识产权方面的普遍做法,但在此之前,任何在中国开设研发部分或者"分享"其技术的公司是在玩非常危险的游戏。




所以那些公司被骗时,我不会可怜他们的。




Shuami grattaevinci




China is a huge country, just like the US, only several times bigger. There are honest people and there are crooks, just like in the US too. That it's in its early development cycle definitely encouraged some of the unscrupulous practices, as we have witnessed that phenomena for pretty much all the developing countries. Just remember that the US itself and later Japan have both gone through this stage themselves.




跟美国一样,中国是一个大国,只不过大几倍,哪里都会有诚实的人,哪里都会有骗子。中国正处在早期的发展阶段,当然会鼓励一些不道德的行为,我们已经在各发展中国家见过了这种现象。记住:美国自己以及后来的日本也经历过同样的阶段。



nick

So what, the Japanese been stealing techs from us for decades.
Most of the stuff they claim they invented are actually from our patent office!



那又怎样,几十年来,日本人一直从我们这里偷技术。大多数他们所宣称发明的东西其实来自我们的专利局!
f ray

the question should be what hasn't China stolen since forever?



应该这样问:有什么是中国没有偷的?




Richard Jefferson f ray




Really? How about you look up what China invented and brought to the world.




真的?要不你去查下中国发明了什么,给世界带来了什么。



john doe

japan used to be like china in that it would steal american technology, then with their government funds theyd price their copiers, tools, cars, tv's below what we could make them for until appetite for paying higher prices stopped and desire for lower priced goods took hold. then japan would increase the prices in these areas where they had driven every american company out of business. We are allowing foreign companies to destroy our industries, then we become a nation of marketers and not manufacturers. Subsequently, we allow Americans to take our technology to china where they have access to slave labor and set up shop. Their new partners in china then require them to share all new patents - effectively destroying each company relocated there as now their new host parasite will take that technology given to them by all these many companies and make their own products and eventually kick the companies out or use that technology in their own companies.



日本以前和中国一样,老是偷美国的技术,在政服资助下,他们的复印机、工具机、汽车和电视以低于我们的成本开卖,直到消费者不再愿意出高价,转而低价产品占主导,日本把美国公司从这些领域赶出去后就提高价格。我们是在任凭外国公司摧毁我们的产业,结果我们成为了营销为导向而非生产为主导的国家。随后,我们又允许美国人把技术带往中国,在那里开厂并利用当地的奴工。当地的合伙人要求他们分享所有新的专利——此举有效摧毁了每一家迁往那里的公司,新的寄主拿走技术自己生产,最终将这些公司踢出去......




Richard Jefferson john doe




Umm, no. The United States, after WWII, willingly went into Japan to help it rebuild in commercial industry rather that military. We, the good ole USofA showed them how to do it "right". We directed them on how to innovate. The Japanese are very good students. They took what we offered, refined, expanded it, and are the global market player today because we showed them how.




不对,二战后,美国自愿进入日本帮助其重建商业,而非军事。我们美国人教他们如何做,教他们如何创新。日本人是非常优秀的学生。他们学会了我们教的,加以精细化和扩充,最终成为了全球市场玩家.......



Michael Menzel

Let me tell you something, this country became highly industrialized just because Americans were good in copying British and German technologies in 19 century. USSR successfully copied many American technologies including A-bomb and became highly industrialized country at some point... Now China does the same that everyone else already did before.

BTW, Japanese were VERY GOOD in copying of someone else's technology a hundred years ago...



这里要跟大家提一下:美国之所以成为高度工业化国家,是因为他们19世纪时非常擅长抄英国和德国的技术。苏联成功地抄了许多美国技术,其中包括原子弹,结果成为某种程度上高度工业化的国家......中国现在是在做其他国家做过的事情。





顺便说下,一百年前,日本人非常擅长抄其他人的技术......




John Smith Michael Menzel




If your going to dig that far back into history, you should really refresh yourself on American ingenuity and advancements, 1800's come on! We owned that era. Yah...WWII, we took a lot of stuff but so did the rest of the world. To the victor goes the spoils.




如果你真要挖坟,那么你真应该更新下有关美国独创和进步的知识。拜托,19世纪是属于我们的世纪.......没错,二战时我们拿了很多东西,但其他国家也一样,战利品是属于胜利者的。




Zhuubaajie John Smith




Yup, no question. America took the entire chemical weapons research team, with the research data on live-body tests that the JP military ran on civilian in China, and exempted the group from war crimes trials after WW II. To the victor goes the spoils.




没错,二战后,美国带走了日军研究化学武器的整个团队,连同以中国平民做活体实验而得出的研究数据,还让这些战犯免受审判。战利品的确是属于胜利者的。



sv2000

many large corporations in Europe and US are already backing out major investments in china - hope Apple, HP, Cisco etc. will learn the same before too late. China market is most phony and uncertain or guaranteed. if corporations that depend on china market to profit or grow, they will have no chance to compete or survive anywhere else.



许多欧美大企业已经撤回在华主要投资——希望苹果、惠普、思科等企业在为时已晚前能醒过来。中国市场就是浮云,不稳定或者说无保证。如果企业依靠中国市场来获利或增长,那么在其他地方就不会有竞争或者生存的机会。
Andy

First of all, Kawasaki authorized the transfer of the technology. Japan did similar things in the past - Hitachi stole IBM's secrets, and Japan licensed the transistor from Bell labs, only to put American companies out of business.



首先,川崎重工授权了技术转移。日本以前做过类似事情——日立偷了IBM的秘密,日本许可了来自贝尔实验室的晶体管,唯一的目的是让美国公司倒闭破产。
en zhu

I believe Norton didn't do anything either, he was also standing on the shoulders of others.



我相信牛顿也没啥贡献,他也是站在其他人的肩膀上。
三泰虎4月19日译文,美国有线电视新闻网15日报道,原题:中国是否从日本偷了高铁技术。据报道,日本人称中国盗版了他们世界著名的高速列车技术。"川崎重工是日本传奇的新干线高速列车生产商,在和中国令人印象深刻的高铁生产商南车四方签署技术转让协议后,川崎重工表示极为后悔建立业已解除的伙伴关系,本打算起诉先前的初级合伙人侵犯专利,但最近放弃了。欧亚集团的风险分析师Michal Meidan认为川崎重工放弃知识产权诉讼并退出中国是明智之举。