译文来源:三泰虎 http://www.santaihu.com
原文标题:Delhi most unsafe metro, Mumbai safest: Survey
原文链接:http://www.rediff.com/news/slide-show/slide-show-1-delhi-voted-most-unsafe-metro-in-india-survey-tripdvisor/20130226.htm#4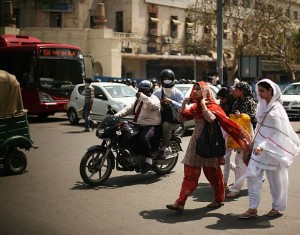 Delhi has been voted as the most unsafe metro city in the country by women travelling alone for leisure, business or both, a recent survey has found.
Mumbai was rated as the safest metropolitan city by a majority of respondents (34 per cent), while Ahmedabad and Bangalore were voted second with 12 per cent votes each.



最新的一份调查发现,德里被选为女性独自休闲旅行或者出差最不安全的大都市。





孟买被相当一部分(34%)的受访者评为最安全大都市,阿默达巴德和班加罗尔被选为第二,得票各占12%。



"Due to the recent spate of crime against women, the national capital has gained notoriety with 84 per cent women claiming it to be the most unsafe metro," the solo women traveller survey 2013 conducted by travel portal TripAdvisor said.

It also brought to light the disturbing fact that 94 per cent of female respondents worry about their safety, always or at least sometimes, when they travel alone in India but not when they travel to international destinations.



旅行门户TripAdvisor举行的2013年女性独自旅行调查显示,"由于最近出现一系列针对女性的犯罪,首都变得臭名昭著,有84%的女性称其是最不安全城市。"



它也揭示了令人不安的事实,即94%的女性受访者在印度独自旅行时总是或者至少有时担心自身安全,但如果去国外旅行就不会担心。

Only six per cent women said they worry when they travel abroad alone but not in India while 24 per cent respondents said they worry when they travel in India.

Despite the fear and worry, only 33 per cent women said they carry any item for self defence (like a taser, or pepper spray) when travelling to a new or unfamiliar city.

Among women who said they travel alone on work, 37 per cent women said they don't mind travelling alone but worry about their safety.



只有6%的女性称在国外独自旅行时会担心,在印度不会,而24%的受访者称在印度旅行时会担心。





尽管会感到害怕和担心,却仅有33%的女性称在去新的城市或者陌生城市时会携带自卫武器(比如泰瑟枪或胡椒喷雾剂)。





在自称工作上有独自出差的女性中,有37%的人说并不介意独自旅行,但担心自身安全。



The survey was conducted among working women -- a number of self employed, as well as homemakers.

Breaking from tradition, Indian women seek adventure and experience and are confident, enthused and eager to travel on their own terms.

Among women who travel alone, 41 per cent said they actually enjoyed travelling alone for work. 76 per cent said they enjoy going solo on holiday.



该调查是在职业女性中展开的——许多人是自谋职业者以及家庭主妇。





印度女性打破传统,追求冒险经历,较为自信,充满热情,渴望按自己的方式旅行。





在独自旅行的女性中,41%的人称其实际上喜欢独自出差,76%的人称其喜欢独自度假。



Lack of company was not a complaint.

In fact, majority of the women (58 per cent) said their biggest incentive for solo vacations was that they could do all the things they want without having to worry about what someone else wants.

About 34 per cent women indicated they loved travelling alone as it was adventurous and exciting. Another 32 per cent claimed the thrill of managing everything by themselves was a motivator as well.



女性并不抱怨缺乏伴侣。





实际上,大多数女性(58%)称希望独自度假的最大动机是可以随心所欲的做喜欢做的事情,不用考虑其他人的意愿。





大约34%的女性表示,她们之所以喜欢独自旅行,是因为这样冒险又刺激。另外32%的人称可以掌管一切的激动也是一个动力。



According to Nikhil Ganju, Country Manager, TripAdvisor India, "The rise in women travelling alone on business is an understandable fallout of the increase in the number of working women. The real surprise is the significant number of Indian women who are choosing to travel solo on vacation."

Another interesting insight was that 78 per cent women said they would prefer to stay in an all women's hotel or on a women exclusive floor in a hotel, when travelling alone.



据TripAdvisor驻印度的区域经理Nikhil Ganju所述,随着职业女性的增多,女性独自出差人数的上升也是可以理解的附带结果。真正令人吃惊的是选择独自度假的印度女性明显增多了。





另一个有趣的观察是,78%的女性称其独自旅行时宁愿呆在专门接待女性的酒店或者酒店里只允许女性入住的那一层房间里。




以下是印度网民的评论:




Delhi & Mumbai
by nikhil samant

From woman security point of view Delhi is not even comparable to Mumbai. Delhi is among the worst place for a single woman even in day forget about night whereas in Mumbai girls comes to their homes without any hesitation. Sorry for any hurt for Delhi based peoples but this a FACT.



从女性安全的角度来看,德里跟孟买没法比。德里跻身单身女性最不安全城市之列,即使是大白天也是如此,何况是晚上。相比之下,孟买的女孩可以毫不犹豫地回家。如果有冒犯德里人,那抱歉,不过这是事实。
Delhi unsafe
by Navratan Agrawal

Why not,All criminal offender,protector(politicians)are living in Delhi who never like stern action against them.



德里不安全,所有罪犯保护人(政客)住在德里,他们从来不对罪犯采取严厉行动。
SS, MNS is there ,so mumbai is safest
by alex

SS, MNS is there ,so Mumbai is safest.Its well known fact..but media just gives only -ve part news.



众所周知,孟买有SS、MNS等极端右翼组织,所以是最安全的,媒体只报道了部分新闻。




Re: SS, MNS is there ,so mumbai is safest
by Hemant Waghela
you are partially correct ,but there are many SS & MNS hooligans who eve tease girls !!Specailly they create nuisance at the time of festivals




你说的部分正确,但也有许多SS和MNS的街头恶棍调戏女孩!特别是在节日期间制造麻烦。




译文来源:三泰虎 http://www.santaihu.com




Re: SS, MNS is there ,so mumbai is safest
by Shri Hegde
Mumbai was safe even when SS, MNS was not there. It's because the people are there for making a living and don't have time to waste.




即便没有SS和MNS等组织,孟买也是安全的,人们在那里是为了谋生,没有时间来浪费。



Chennai is best
by abbas adis

Chennai is safest place for women..



钦奈是女性最安全地方。




Re: Chennai is best
by Ravi
Chennai has set benchmark for maximum number of eveteasing a couple of years ago.




两年前,钦奈就为女性被调戏人数设定了一个最大上限。




Re: Chennai is best
by jithin george
Chennai/mumbai and bangalore are the safest for women i have seen...Just personal opinion..




钦奈、孟买和班加罗尔是我所见过的女性最安全城市.....只是个人观点......



Economics Of DELHI is based on corruption and loot money.
by kallol paul

Don expect it to be all stable.



德里的经济是建立在腐败和掠夺资金上的,别指望其会一直稳定。
Where is the choice
by Seshagiri Raghukumar

We do not have many metros to choose from. What exists is rudimentary and primitive. Where is the question of what is best and what is worst?



我们没有多少大都市来选择,现有的大都市处于初级和原始阶段。哪有什么最好和最差的问题?
the joke of the year for mumbai metro
by bhaskar

Mumbai metro is the cheapest way to your destiny .



孟买地铁的本年度笑话是:孟买地铁是最便宜的到达目的地方式。
Delhi vs Mumbai Women safety.
by RAJIV KUMAR SINGH

As per report more women wants to travel alone, there are the matter of unsecurness arise.



从报告来看,更多女性希望独自旅行,不安全的事件会增多。
Fake assumptions
by Micky

The percentages given by rediff do not show any reality. Young men are behaving the same in all Indian metroplitan cities. We should have a higher number of police patrols in cities (frankly, honest and sincere). Police simply sitting inside the Police Station cannot control the public. They must always be on the move on the streets to enforce law and order.



rediff给出的比例未反应现实。印度各城市的年轻男人都是一个屌样,(老实说),城市里应该有更多的巡逻警察,现实是警察只是坐在警局里,并不能控制公众,他们必须在街道上来回执行法律和维持秩序。
Mumbai
by lax yopr

Mumbai is definitely better than Delhi for Women, but its still dirty, full of slums.

I remember reading & seeing pics few years ago, of a girl being molested by a mob on new years eve.
All the passersby joined in on the fun.
This shows that ppl are the same everywhere.
If they feel they can break law & get away with it, then they will.
So, in the end, the law enforcement has to be strict, which is perhaps lacking in Delhi.



孟买肯定比德里更适合女性呆,但还是脏脏,到处是贫民窟。





我记得几年前看过一些图片,一名女孩被一个暴徒调戏,所有的路人也加入到这个乐子中来。这表明各地的人都一个屌样。如果觉得违法后能逃脱,他们就会去做。





所以,说到底,执法要严格,德里在这方面肯定做得不够。
..
by Om Shanti

500 plus MPs,one president,one prime minister and the royal family cannot make Delhi a safe place.What administration do you expect from these people throughout the countries.Either these leaders are incompetent-rapist-hooligans or they are indifferent towards building a civilised society which is safe and secure.All these leaders chullu-bhar-pani-mein-dub-marna-chahiye.



500多个议员、一个总统、一个总理和印度王室无力让德里成为一个安全地方,你还能对这些人在全国的执政抱何期望。这些人不是无能的强奸犯、暴徒,就是对打造安全的文明社会持冷漠态度。
Go solo - But dont cry foul
by Tamil Lover

You dare to go solo. But dont pls cry foul.
You go solo for a reason. If there is a small deviation then you cry foul. Be brave and face consequences, dont accuse men when things go wrong for you women.

Men are always the same yesterday, today and forever. They always are hungry. Hungry for food, hungry for $, hungry for W. Nothing wrong with them. If the feel they can get it , they will try to get it. DOnt blame them.



你既然敢独自旅行,那到时候别喊冤。





你因某个理由而独自旅行,如果稍有差池,你就会喊冤。勇敢面对后果,一旦出现问题,你们女人别指责男人。





男人向来那样,昨天、今天、一直到永远都是。他们会一直饿,想吃东西,想做爱,想钱,想W(三泰虎注:W是啥)。男人没有错,如果觉得可以得到,他们就会设法去获取,别责备他们。



译文来源:三泰虎 http://www.santaihu.com


Re: Go solo - But dont cry foul
by lax yopr
This is rapist mentality.
So, you are supporting rapists.
I doubt you would say the same, if some one in your family is raped.




强奸犯就是这样的心态。




所以你支持强奸犯就是了。




我怀疑,要是你的某个家人被强奸了,你是否会这样说。




Re: Go solo - But dont cry foul
by Krish
@ T Lover: I think Chennai women will skin you alive if you dare to say this over there!




如果你敢在钦奈这样说,我想钦奈的女人会活剥了你的皮!



slumbai
by Rohit Bajaj

In Slumbai, girls are arrested for going to bars..

Girl;s r termed prostitutes by police for going to pubs

girls r arrested on FB posts

Goons called thakres attack anyone anytime at will and police remain silent.

Great going Slumbai



在孟买,女孩去酒吧会被逮捕,会被认为是妓女。





女孩在facebook上发贴被逮捕

。



暴徒随时随意攻击人,警察却保持沉默。





孟买做得很棒。
Misplaced
by Janadesh Yepurpattan

I feel that agitation regarding the Delhi Bus Stand got its targets partly wrong.
It was a good motive to demand Capital Punishment for the perpetrators, BUT at the same time public should have asked for stronger action against Rickshaw/Taxi drivers who refuse to carry passengers -especially in the night.
Public should be encouraged to report refusals, and if a pattern appears about a repetitive offender, then his/er license should be revoked. Only then will public will reach home safely.



我感觉有关公交车停车场骚乱的目标有些搞错了,要求对行凶者执行死刑的动机是好的,但与此同时,公众应该要求对拒载乘客的的士司机采取更强硬行动——特别是对深夜拒绝的司机。





公众在报告拒载方面应该得到鼓励,如果有人多次拒载,那就应该吊销其执照。只有那时,公众才能安全回家。
Safety of women
by Vivek Shukla

Safety of women is not a law and order problem. it is a cultural issue.

By spending money on police and such things people are not going to change their way of looking at women.

I notice, people stare at women as if they have just landed from some other planet. WTF??



女性安全并非法律和秩序问题,而是文化问题。





只要花钱收买警察等可以做一些诸如此类的事情,人们就不会改变其审视女性的方式。





我发现,男人盯着女性看,就好像这些男人刚从其他星球来一样。




Re: Safety of women
by abc_xyz abc_xyz
men staring at women and vice versa is a natural instinct. But in the developed countires, you have exclusive places where you actually get to 'DO' it legally if you are above certain age, to relax and relieve yourself. Whereas in India, everything oustide your marriage is considered illegal and in most of the cases, marriages are arranged out of your status, finance and background. If you have ever been to middle-east, you would see thousands of labourers from sub-continent staring at women like there is no tomorrow on the streets. When you are forced to stay away from family and dont have any means to 'DO' it, you will behave that way.




男人盯着女人,女人盯着男人,这是本能。但在发达国家,只要达到一定年龄,你就可以去专门场所合法"做",放松放松。而在印度,婚姻之外的性被视为非法。大多数情况下,婚姻是基于地位、收入和背景而安排的。如果去过中东,你会发现数以千计来自次大陆的劳工像没有明天一样,在街道上盯着女人看。如果你被迫远离家人,并没有任何途径去"做",你就会那样子的。




Re: Re: Safety of women
by satya p
Well said, sex is physical instinct and requirement like food and water both for male and female, if you dont have any other means to satisfy your urge, it leads to rape.




There are male prostitites paid by rich ladies to satisfy thier needs.




If rapes can be done be girls then there will be no issue, but that is not the case.




说得好,食色乃人之本性,男女都一样。如果没有其他途径来满足需求,那就会去强奸。




富婆也花钱请男妓满足其需求。



I doubt the whole India
by ganesh pillai

I am 100% sure no place in India or for that matters earth is safe for women.

Women should take things in their own hand and defend themselves.



我100%肯定印度或者说地球没有一处是女性安全的地方。





女性应该带东西自卫。



译文来源:三泰虎 http://www.santaihu.com
Delhi
by Rohit Bajaj

In Mumbai, Girls are arrested by police in NIGHT on FACEBOOK post……Great safety for women ?????

And in rape cases Mumbai is second to Delhi , and there being no major difference.

This survey is based on opinion polls (which are creation of media) not on facts & figures



在孟买,女孩因在facebook上发贴而深夜被警方逮捕.....女性很安全?





孟买的强奸案仅次于德里,没有大的区别。





该调查是民意调查(是媒体创造的),并非基于事实和数据而得出的。
Delhi's DNA
by bryan joseph

The Mumbai Delhi comparison talks are as old as earth.

......

Many newcomers to Mumbai from Delhi sulk at how Mumbai is inferior in many aspects of daily living.
......
The security is not from Police or Administration. Its from the man on the street, the bus drivers and conductors, from the men at the railway platform, from the vegetable vendor, from the taxi driver.
The people in Mumbai have something in their DNA that makes them more human than in Delhi.
As for Delhi .... I fear that if sari is draped around a bamboo stick...they would rape that too...



孟买和德里的比较算是老生常谈了。





......





许多刚从德里到孟买的人会抱怨孟买在日常生活的许多方面比德里更差。





......





安全不能靠警察或者当局,而是要靠街上的人、公交车司机、售票员、火车站台上的人,蔬菜摊贩,的士司机。





孟买人的基因里有一些东西让其比德里人更人道。





至于德里......我怕要是把纱丽披在一根竹棒上,他们也会去强奸的......
safety
by arungopal agarwal

If women are not safe in India, they are not safe anywhere in the world. Whatever have happened in Delhi was brutal murder not alone rape. Exception cannot be counted as with routine safety. Can anyone provide safety to every one-not possible, everyone is to keep its own pre cautions.



如果说女性在印度不安全,那么她们在世界任何地方都不会安全。德里所发生的是残忍谋杀,不单是强奸。例外事件不能被当做例行事件看待。有谁能向每个人保证安全吗——不可能,大家要自己做好预防措施。
MUMBAI IS THE BEST
by azhar shaikh

DELHI ADMN SHOULD TAKE SOME ADVICE FROM MUUMBAI POLICE, SO THEY CAN CREATE THE FAITH IN PUBLIC



德里当局应该从孟买警方采纳一些建议,这样可以在公众建立信任。
ot News
by Abhay Kumar

Delhi voted as the most unsafe metro cannot qualify as news!

Everybody already knows that!



德里被选为最不安全城市并不能被当做新闻!





大家已经知道了!
旅行门户TripAdvisor在印度针对女性展开的一项调查发现,德里被选为女性独自休闲旅行或者出差最不安全的大都市。孟买被相当一部分的受访者评为最安全大都市,阿默达巴德和班加罗尔被选为第二,得票各占12%。由于最近出现一系列针对女性的犯罪,首都德里变得臭名昭著,有84%的女性称其是最不安全城市。尽管会感到害怕和担心,却仅有33%的女性称在去新的城市或者陌生城市时会携带自卫武器(比如泰瑟枪或胡椒喷雾剂)。此外,78%的女性称其独自旅行时宁愿呆在专门接待女性的酒店。