译文来源:三泰虎 http://www.santaihu.com
原文标题:Dam collapses in China, thousands evacuated
原文链接:http://articles.timesofindia.indiatimes.com/2013-02-17/china/37143772_1_dam-thousands-duct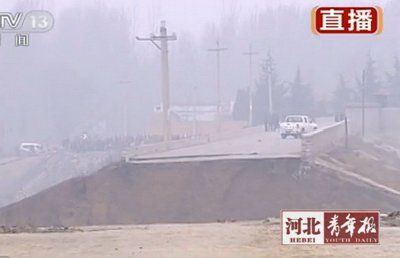 BEIJING: Thousands of people were evacuated after a dam in north China's Shanxi province collapsed, causing heavy flooding and damaging highways and rail tracks.

The top of an irrigation water duct of Quting Reservoir in Hongtong county caved in on Saturday leading to collapse of its dam walls, official media reported.

No casualties have been reported. Thousands of villagers were evacuated to safety.



北京:2月16日,中国北部山西省一座大坝垮塌,引发严重的洪水,公路和铁路被破坏,随后数千人被疏散。





据官方媒体报道,洪洞县曲亭水库的灌溉输水洞洞顶16日发生塌落,导致下游坝体出现垮塌。





目前没有人员伤亡的报告。数千名村民被疏散到安全地方。



The floods damaged a highway and rail lines, leaving thousands of holiday passengers stranded at various places.

While the highway was flooded with silt, railway tracks were swept away. Eight railway lines have been shut.



洪水破坏了一条公路和几条铁路,导致数千名假期乘客滞留在各地。





公路上到处是淤泥,铁轨被冲走。8条铁路线已经被关闭。



More than 3,000 passengers have been stranded and temporary offices are dealing with ticket returns.

Officials said the irrigation duct was built in 1959 and attributed its collapse to its age.



超过3000名乘客被滞留,临时办公室在处理退票事宜。





有官员表示,该灌溉输水洞建于1959年,由于老化而垮塌。




以下是印度网民的评论:




COLRANBIRLAMBA lamba (PTA)
NO CAS...BUT TROUBLE EXIST



没有人员伤亡,但麻烦犹存。
Rajender (BAND WAGON)
Dont they have any safety checks made to old dams.
Agree (1)Disagree (0)Recommend (0)



难道他们没有对老的大坝进行安全监控吗。
Suresh Singhal (India)
With this scale of devastation 'NO casualty' is hard to be believed.
Agree (10)Disagree (1)Recommend (6)



发生这种规模的破坏,居然没有人员伤亡,难以相信。
Truth (US)
China is only good at manufacturing products designs by others especially US and copying products, else this is their quality - poor and substandard.
Agree (4)Disagree (3)Recommend (2)



中国只擅长生产别国特别是美国设计的产品,还有就是搞山寨,看看质量,粗劣次等的。
Sandeep Kumar (India)
This is again going to happen in Assam due to dams on Brahamputra. Are we doing any thing to save our people. Nothing.
Agree (5)Disagree (0)Recommend (1)



由于(中国)在布拉马特拉河(三泰虎注:即我雅鲁藏布江)上的大坝也会垮塌,阿萨姆邦也会发生这样的事情。我们有采取措施保护人民吗?没有。
JCMI (Hindustan)
Everything that is "Made in China" are dangerous!
Agree (13)Disagree (5)Recommend (10)



一切中国造的都是危险的!




Kelingbenci (Kuala Lumpur) replies to JCMI
Everything made in india, especially men, is even more dangerous!!!! Foreign women are advised by their governments against traveling to India despite protests by the Indian tourism department. Do you know that more dams collapsed in India than in China?
Agree (3)Disagree (0)Recommend (2)




一切印度造的东西更危险,特别是男人!外国政服不顾印度旅游部门的抗议,建议本国女性不要去印度旅行。你知道吗,印度垮塌的大坝比中国垮塌的更多。



MS (Kerala)
118 year old Mullaperiyar dam in Kerala will also collapse one day.
Agree (5)Disagree (3)Recommend (1)



总有一天,喀拉拉邦118年历史的Mullaperiyar大坝也会垮塌。
ADMani (Qatar)
China made lasting for 55 yrs. good
Agree (3)Disagree (1)Recommend (0)



中国造的(大坝)能用55年,不错。
Kodeeswaran (chennai)
Built in china-Collapsed!! Wakeup china! Now it's time to think about quality of MADE IN CHINA tags aswell..
Agree (4)Disagree (4)Recommend (0)



中国建造的(大坝)垮塌了!中国该醒醒了,现在是时候为"中国产"标签着想了。
Akhill K Singgh (Jazan, Jizan, Saudi Arab)
What will happen if these made in China dams being built over Brahamputra collapse??????
Agree (4)Disagree (0)Recommend (0)



要是中国在布拉马特拉河上建造的大坝垮塌,后果会怎么样?



译文来源:三泰虎 http://www.santaihu.com


AjitSingh (Delhi) replies to Akhill K Singgh 1 day ago
India will be cleaner. Shiit will be washed away, carcasses in Varanasi will be washed away and Indians can then bath in clean water and smell the fragrance of China.
Agree (3)Disagree (0)Recommend (1)




印度会变得更干净,粪便会被冲走,瓦拉纳西的尸体也会被冲走,印度人可以在干净的河水里沐浴,闻着来自中国的芬芳。




Sashant (Colombo) replies to Akhill K Singgh
A few million blackies in India will die. Good riddance to bad dirt!
Agree (4)Disagree (3)Recommend (2)




几百万印度黑鬼会死去,终于可以摆脱这些肮脏的东西!



paul (blr)
i wonder what wil happen if brahmaputra dams destroyed like that.... even few yrs back, arunachal flood was caused due to some other dam's damages in china.... why india not protesting stronly??? mms, wake up!!! kab tak sonia ka per ke niche betha rehaga!!!
Agree (2)Disagree (3)Recommend (0)



我想知道,如果布拉马特拉河上的大坝也这样毁掉,后果会怎么样.....就在几年前,由于中国境内的一些大坝遭损坏,"阿鲁纳恰尔邦"出现了洪水。为何印度不强烈抗议?曼莫汉·辛格,该醒醒了!........
ashishbanerjee66 (varanasi)
is this dam constructed on Brahmaputra river ? if not then nothing to worry
Agree (2)Disagree (3)Recommend (1)



这个大坝是建在布拉马特拉河上吗?如果不是,那就没什么好担心的。
Zokhuma Lushai (Aizawl)
China is specialised in making everything nice and beautiful, but for a short duration. Even if you eat hearty Chinese food, you will feel hungry again after an hour or two. Every thing Chinese seems to be for short duration. The dam of Shanxi province is no exception either.
Agree (7)Disagree (9)Recommend (0)



中国擅长制造好看漂亮的东西,但使用寿命短。即便吃上丰盛的中餐,你在一两个小时后就会感到饿。中国产的一切东西似乎使用寿命都是短的,山西的大坝也不例外。
Vijay Kale (Navi Mumbai)
Made in China...
Agree (5)Disagree (5)Recommend (0)



中国造.....
sushil (Lucknow)
china must ensure deep study before constructing new dams in Tibet on Brahamputra considering the fate of this 1959 made dam.
Agree (2)Disagree (3)Recommend (3)



考虑到中国1959年造的这个大坝的命运,中国在xz新建大坝时必须确保进行深入研究。
Sam Fisher (India)
Even though I have some admiration for the way CPC has transformed China over the past 10-20 years, they do go a bit overboard in trying to complete projects in record breaking time.
Agree (3)Disagree (1)Recommend (4)



虽然我对CPC过去10-20年里改革中国的方式有那么一些欣赏,但他们在试图以破纪录的时间完成项目方面确实有点过火了。
EMMGEE (Doha, Qatar)
FAKE dam....???
Agree (4)Disagree (2)Recommend (0)



假的大坝....?
Chilwq (INDIA)
Told it a million time about Chinese products but chinese in this forum always came up with some stupid fact .Now see it yourself .
Agree (5)Disagree (7)Recommend (1)



唠叨了无数遍中国货(的质量),但本站的中国人总是蹦出来说一些愚蠢的事实,现在用你自己的眼睛来见证吧。



译文来源:三泰虎 http://www.santaihu.com
morning (Belgium)
Many dams built in China in a hurry. Some will break soon. Can suffer a few hundred million people. The saddest thing is the administration has many things to HIDE before its citizens. The absence of democracy is expensive.
Agree (10)Disagree (8)Recommend (5)



中国的许多大坝是仓促建造的,有些很快会垮塌,几百万人会遭殃。最可悲的是当局在人民面前掩盖了许多事情。缺乏皿煮的代价是高昂的。
A K Gupta (Bangalore)
======================================================= Result of 'Tofu Construction'. There has been over 18 bridge collapses in china since 2007. =======================================================
Agree (3)Disagree (4)Recommend (1)



"豆腐渣"的后果,中国自从2007年以来已经有超过18座大桥垮塌了。
Kallol Sinha (Calcutta, India)
China should be cautious about maintanence too. One time use is not a good policy for a valuable asset like Dam or Barrage. Millions of life under stake here. We may only thank God that there was no casulaty. But this may have been much worse. We are wooried about those dams which are being made inside Tibetan territory by China. If any such incident happens there a huge area of India and Almost half of Bangladesh will be washed away.
Agree (0)Disagree (4)Recommend (0)



中国在(大坝)维护上也应该谨慎。对于大坝或拦河坝等宝贵资产来说,一次性使用不是好政策,数百万人的生命会面临危险。没有造成人员伤亡,这可能要感谢上帝,但情况可能会糟糕得多。我们担心中国在xz建造的大坝,如果也发生这样的事故,那么印度大片地区和几乎半个孟加拉国会被冲走。
Mr. Bernard Wijeyasingha (Clinton, USA)
The construction of the Three Gorges Dam, the world's largest dam ever created, fears are that since this is the first of it's kind Chinese engineers do not know what effects the dam will cause. The sheer pressure of six hundred feet of water is yet to be proven as safe. If the Three Gorges Dam were to collapse millions of people down stream including many major cities will be wiped out. The construction of a larger dam in Tibet which when completed will be twice the size of the Three Gorges Dam could be a greater disaster if that dam collapses, especially downstream into India and Bangladesh.
Agree (4)Disagree (4)Recommend (3)



三峡大坝是世界上迄今建造的最大大坝,人们存在这样的担忧,即这种规模的大坝算头一个,中国工程师不知道该大坝会带来什么效应。600英尺的水压还有待证明是否安全。如果三峡大坝垮塌了,下游数百万人会死去,包括许多大城市会被抹去。xz要建造一个更大的大坝,一旦完工,将会是三峡大坝规模的两倍,如果垮塌了,会带来更大的灾难,特别是对下游的印度和孟加拉国。
Samir (Ooty)
Chinese Stuff is all the same - SUB STANDARD
Agree (6)Disagree (5)Recommend (1)



中国的东西都是这样——次等。
krtecekmalinky (Prague, Europe)
poor local people. China " quality " again.... I am really in shock when the children of the Chinese politicians come to Europe, also in Prague and insist to buy the most expensive label cloths and things, which are produced just in Europe. Why dont they buy their own products , all these fakes, which they export worldwide. A bit strange.
Agree (7)Disagree (6)Recommend (1)



可怜的当地人,又是中国"质量"(惹的祸).....当看到中国政客的孩子来欧洲坚持买欧洲产的最昂贵衣服等产品时,我真的震惊了。为什么他们不买自己产的东西,他们向世界出口的尽是些假货,有点奇怪。
jnm22 (Puri)
Chinese quality is ppaying dividend now .
Agree (2)Disagree (3)Recommend (0)



中国货质量带来了回报。
印度人看中国山西水库大坝垮塌。印度网民担心:要是中国在布拉马特拉河上建造的大坝垮塌,后果会怎么样?三泰虎2月19日译文,据《印度时报》报道,2月16日,中国北部山西省一座大坝垮塌,数千人被疏散。据官方媒体报道,洪洞县曲亭水库的灌溉输水洞洞顶16日发生垮塌,导致下游坝体出现垮塌。目前没有人员伤亡的报告。洪水破坏了一条公路和铁路。公路上到处是淤泥,铁轨被冲走。8条铁路线已经被关闭。有官员表示,该灌溉输水洞建于1959年,由于老化而垮塌。