译文来源:三泰虎 http://www.santaihu.com
原文标题:Cops detain Ulhasnagar man for letting friend rape daughter over Rs 50,000 debt
原文链接:http://timesofindia.indiatimes.com/city/mumbai/Cops-detain-Ulhasnagar-man-for-letting-friend-rape-daughter-over-Rs-50000-debt/articleshow/18652577.cms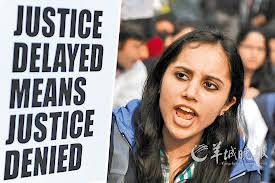 MUMBAI: Cops probing the case of a 16-year-old girl in Ulhasnagar, who claimed her parents forced her to have sex with a man to whom they owed Rs 50,000, booked her parents and the man for rape on Saturday. While the victim's father has been detained, her mother and Nisar Khan (40), a family friend who the minor accused of sexually abusing her, are absconding.

The victim, sent by her parents to their native place in Uttar Pradesh as they feared police action, was brought to the city on Friday by UP police and handed over to Vithalwadi police. The victim's statement was later recorded by the Child Welfare Committee and police. Based on the statement, police on Saturday morning booked the three accused under sections 376 (rape), 354 (molestation), 504 (intentional insult with intent to provoke breach), 506 (criminal intimidation) and 34 (common intention) of the Indian Penal Code.



孟买:23日,警方调查乌拉斯讷格尔一名16岁女孩的案子,该女孩声称,由于父母欠了一名男子5万卢比,父母强迫她和该名男子发生关系。警方以强奸罪起诉其父母和该名男子。受害者的父亲被拘留,她的母亲和这家人的朋友、被控性侵害少女的尼萨尔汗在潜逃。





由于害怕警方采取行动而被父母送到北方邦老家的受害者于22日被北方邦警方带回了乌拉斯讷格尔市,并移交给了Vithalwadi警局。受害者的陈述随后被儿童福利委员会和警方录下。警方根据受害者的陈述,以《印度刑事法典》的第376(强奸罪)、354(性骚扰)、504(有意侮辱引发违约)、506(刑事恐吓)和35(共谋罪)等条款对三名被告进行立案。



"Initial investigations revealed the victim's mother was involved in an illicit relationship with Nisar and it was she who first forced her daughter into a relationship with him," said Chandrakant Deshmukh, senior inspector of Vithalwadi police station. While the case has been transferred to Kolsewadi police station where the crime first started, the victim has been sent to a child welfare centre. A medical test of the victim will be conducted on Monday.

In her statement, the victim said the family earlier lived in a rented room at Khadegolivali area in Kalyan east and said her parents had borrowed Rs 50,000 from Nisar, who was friendly with the family and lived with them, to buy a new room. She said since they were unable to repay the money, Nisar began physically abusing her two years ago, an act supported by her parents.



"初步调查显示,受害者的母亲和尼萨尔有不正当的关系,正是她迫使女儿和该男子发生关系。"Vithalwadi警局的高级督察Chandrakant Deshmukh说。该案已经被移交给了罪行始发地Kolsewadi的警局,受害者则被送到了一家儿童福利中心,将于25日在那里接受一次体检。





据受害者陈述,这家人以前住在卡尔杨(Kalyan)东部Khadegolivali地区一间租来的房子里,父母和尼萨尔是好朋友,大家住在一起,父母向尼萨尔借了5万卢比买一间新房子。她说,由于家里无力还钱,尼萨尔两年前开始对她进行身体虐待,该行为得到了父母的支持。



The victim alleged in her complaint that when her father would go out to work, her mother would force her to have sex with Nisar, claiming both her mother and Nisar threatened her when she protested. She said the abuse continued when the family moved into their new one-room house at Shiv Nagar in August and Nisar moved with them. She said he would force himself on her at night in the room when her parents and two younger brothers were sleeping.

The victim, a student of Class VIII, went into depression and managed to confide in a teacher last August. The teacher called her parents and asked them to take action against Nisar, but they stopped sending her to school instead and packed her off to their village in UP.

School principal Anju Singh then approached a local NGO, which reported the incident to the Thane CWC. The committee approached Vithalwadi police, but they reportedly refused to file a complaint till the victim directly came to them. The CWC then issued summons to the police, forcing it to contact UP police who then send the victim to the city. However, on learning of the developments, the mother and Nisar reportedly left the city while the father has been detained.



受害者控诉称,当父亲出去干活时,母亲就会强迫她和尼萨尔发生关系,如果抗议,母亲和尼萨尔就会威胁她。她说,当全家在8月搬往Shiv Nagar的单间新房时,尼萨尔也一起搬了过来,她所受的虐待也在继续。她还说,当父母和两个弟弟晚上睡着时,尼萨尔就会强迫她发生关系。





去年8月,身为八年级学生的受害者陷入了抑郁状态,最终向一名老师吐露了秘密。这名老师给她父母打电话,要求其对尼萨尔采取行动,但父母阻止她去上学,将其打发到北方邦的农村老家。





校长Anju Singh接洽了当地一家NGO组织,后者将该事件报告给了塔纳儿童福利委员会。该委员会向Vithalwadi警方报案,但据报道,警方称除非受害者直接来向他们报案,否者不能提出诉讼。这家儿童福利委员会随后向警方发出传票,迫使其联系北方邦警方把受害者送回本市。然而据报道,在获知最新事态后,母亲和尼萨尔离开了本市,父亲则被拘留。



The accused

The victim's 42-year-old father works as a daily wage labourer at construction sites while her 38-year-old mother is a housewife. The main accused, Nisar Khan (40), sells fruits near Vithalwadi station and has been living with the family for the past four years

The long trauma

* The victim's ordeal started around two years ago, when her parents took a loan of Rs 50,000 from Nisar to buy a room in Shiv Nagar area in Ulhasnagar. In exchange for the money, the victim said her parents forced her to have sex with Nisar

* Last August, the victim, a student of Class VIII managed to confide in her teacher who called her parents and asked them to take action against Nisar. Instead, her parents stopped sending her to school

* Finally in January 2013, the school principal approached a local NGO which took the matter to the Child Welfare Committee

* A CWC representative complained to the police who reportedly said they could not act unless directly approached by the victim. Meanwhile, the girl's parents sent her to their village in UP to avoid police action

* On February 19, the CWC issued summons to the police, forcing them to act to bring back the victim and register her complaint

被告



受害者的42岁父亲在工地上当按日计酬的劳工,她的38岁母亲是一名家庭主妇。主要被告尼萨尔汗在Vithalwadi火车站卖水果,过去四年里一直和这家人住在一起。



长期的创伤



★受害者所受的折磨大约始于两年前,她的父母向尼萨尔借了5万卢比来买乌拉斯讷格尔Shiv Nagar地区的一间房子。受害者说父母强迫她和尼萨尔发生关系以换取资金。





★去年8月,身为八年级学生的受害者终于向其老师吐露了秘密,老师给她父母打了电话,要求其对尼萨尔采取行动。然而,父母却阻止她去上学。





★最终在2013年1月,校长接洽了当地的一个NGO组织,后者将该事务转交给了儿童福利委员会。





★儿童福利委员会的一名代表向警方投诉。据报道,警方称除非直接接洽受害者,否者不能采取行动。与此同时,受害者的父母将受害者送到北方邦的农村老家,以避免警方采取行动。





★2月19日,儿童福利委员会向警方发出传票,强迫其采取行动带回受害者并立案调查。




以下是印度网民的评论:




CCU (India)
I do not want to write this but more then often I find mus lims involved in such grisly crimes which will shame humanity,is it due their upbringing? culture? I do want to know the answer. Poor girl, may God bless her..!
Agree (27)Disagree (20)Recommend (22)



我本不想这样写,但我常常发现穆斯林牵涉进这种令人蒙羞的可怕罪行,是因为其教养?文化?我不想知道答案。可怜的女孩,愿上帝保佑她!




Vijay Kumar (Hyderabad) replies to CCU
Why cant we legalize Prost1tuition and have a regulated body so the system wont be expl0ited. It might reduce rap£ cases, provide employement legally, we cant deny the fact that there is prost1tuition in india. so why cant we legalize. Its just opinion. What do you all reckon?
Agree (4)Disagree (0)Recommend (1)




为何我们不让卖淫合法化,可以设一个管理机构,以避免被利用。这或许能减少强奸,合法提供就业。我们不能否认印度存在卖淫现象的事实,为何就不能将其合法化呢。聊表观点而已,你们怎么认为?




vijay (india) replies to CCU
Nirbhayas r@pists were mus lim? yesterdays news there was a pankaj who r@ped his niece, he was mus lim? all men are not r@pists, but all r@pists are men.
Agree (8)Disagree (1)Recommend (1)




Nirbhaya的强奸犯是穆斯林?昨天的新闻说pankaj强奸了侄女,他是穆斯林?并非所有的男人是强奸犯,但所有强奸犯都是男人。




Vijay Kumar (Hyderabad) replies to CCU
I disagree with you sir, no father would do such a hen1ous cr1me and we cant push it onto a religion. If we blame musl1ms for this,they might blame h1ndus about the rap£ being part of culture. Think!!
Agree (9)Disagree (1)Recommend (1)




我不同意你的看法,没有哪位父亲会犯如此可恶的罪行,我们不能将其推到一门宗教上。如果我们将其怪罪于穆斯林,那么他们可能会指责印度教徒,称强奸是印度教文化的一部分,想想吧!



namrata (india)
Uncle Pankaj r@ping his 15 year old niece, Family friend Nisar r@ping 16 year old girl...yeh Hindustan hai ki r@pistan???
Agree (7)Disagree (0)Recommend (2)



叔叔Pankaj强奸了15岁的侄女,家人的朋友尼萨尔强奸了16岁的女孩......耶,印度斯坦该叫强奸斯坦了?



译文来源:三泰虎 http://www.santaihu.com
JK (blore)
Her parents are p!mps
Agree (5)Disagree (0)Recommend (1)



她的父母是皮条客。
ABC News (Chicago)
Now who will feed this poor girl. Anyway her family's identity must has been disclosed, so In her own social circle she will be more humiliated. Bad parents, worse society, worst poverty. Unless someone or relative becomes her guardian. condemn police for disclosing identity.
Agree (10)Disagree (3)Recommend (6)



现在谁来养这名可怜的女孩。不管怎样,她家人的身份肯定已经暴露了,她在自己的社交圈子里会感到更丢脸。可恶的父母、糟糕的社会,最严重的贫穷。除非有人或者亲戚当其监护人。警方披露其身份该受谴责。
no one (Toronto)
Indians talk big. Look people send their kids to be raped because they can't repay 50,000 rupee, What an economy? When Ambani building his castle, some Indian farmers have to commit suicide because of loans or send the kids to be raped.
Agree (11)Disagree (2)Recommend (1)



印度人就会吹牛,看看,就因为还不起5万卢比,人们就把孩子送去让人强奸。阿巴尼修建城堡的同时,一些印度农民因为还不起贷款而自杀,或者把孩子送去让人强奸。
COLRANBIRLAMBA lamba (PTA)
SHAMELESS PARENTS & RAPIST>> PUNISH THEM>> POOR GIRL'S LIFE SPOILED
Agree (3)Disagree (1)Recommend (1)



无耻的父母和强奸犯,该惩罚他们,可怜女孩的这辈子被毁了。
Buddhist (reddit dot com)
Shame on Lindu-Chuslim culture. Lindus and Chuslims have ruined India.
Agree (5)Disagree (13)Recommend (5)



印度教徒和穆斯林的文化受蒙羞,印度教徒和穆斯林毁了印度。




ramesh (hoshiarpur) replies to Buddhist
so havse sikh
Agree (2)Disagree (1)Recommend (3)




锡克教教徒也是。



Santoshkumar Nyattuvetty (KL)
Very SAD, how people can sell their daughter like this?
Agree (5)Disagree (0)Recommend (2)



非常伤心,人们怎么能把女儿就这样卖了?
samuel cherian (cochin)
Nisar Khan is the true and most faithful follower of Mo, the ped0 popat...
Agree (20)Disagree (4)Recommend (11)



尼萨尔·汗是穆罕默德的最忠实追随者.......
Indian (Global)
They could not afford shelter but has given birth to three children. ... For poor we need tough law like one child policy then parent will understand the value of their kid .... Sorry no offense for biased view but those work hard take education do not even marry till 30- 35 ie until they start earning properly to feed family
Agree (24)Disagree (2)Recommend (15)



他们连藏身之所都买不起,却生了三个孩子......我们应该对穷人施行严格法律,比如一胎政策,父母到时才会理解孩子的价值.....抱歉,一些偏见,无意冒犯,那些努力接受教育的人到30-35岁开始有体面收入来养家时才会结婚。
locx (reddit dot com)
The girl and her parents were Muslim, but the r@pists were Hindu. All Hindus are not r@pists, but all r@pists are Hindus.
Agree (3)Disagree (26)Recommend (1)



女孩和父母是穆斯林,但强奸犯是印度教徒。并非所有印度教徒是强奸犯,但所有强奸犯都是印度教徒。
Blitzkrieg (Bangalore)
WTF !!! Victim's father should be hanged in public for this act !!!
Agree (5)Disagree (0)Recommend (0)



TM的在干什么!受害者的父亲应该为其行为当众被处死!
Mobiles (Dubai)
This shows the mentality of these pigs. All they know is to have sex and bear kids and send their kids to wage war against us. Illiterate people
Agree (18)Disagree (5)Recommend (12)



这表明了这些猪的心态,他们就只懂得做爱和生孩子,然后送孩子去对我们发动战争,一群文盲。
Baljeet singh (Amritsar ,Punjab)
Muslims never miss a single day to make headlines for every wrong reason . And their unrest is increasing with their rising population .
Agree (7)Disagree (15)Recommend (3)



穆斯林没有哪天不会因各种理由而登上头条的,随着他们的人口不断增多,动乱也在增多。
NAC (Earth)
Even if you are poor, you do not have to sell your child for a debt. These parents do not deserve to have children. The trauma to the girl will live with her forever. A MOTHER does not do this to her child. I hope they go straight to hell. Disgusting!



即使贫穷,你也没必要把孩子卖了去还债。这些父母没资格要孩子。女孩所受的创伤会伴随她一辈子。母亲不能这样对待她的孩子。我希望他们直接下地狱。恶心!



译文来源:三泰虎 http://www.santaihu.com
sumant padhi (Berhampur)
we humans are so sick....Oh! God please save us.
Agree (3)Disagree (1)Recommend (1)



我们人类真是够恶心的....哦!上帝请拯救我们吧。
indianguy.hindu2012 (India)
Again a muzzie !!!!
Agree (6)Disagree (2)Recommend (2)



又是穆斯林!
saranathan Lakshminarasimhan (chennai)
Outrageous behavior. These people need harsher punishments



可恶的行为,这些人应该遭受严厉惩罚。
Indian (India)
P!mp!ng parents are pr0stituting their juvenile daughter..mera bharat mahan
Agree (1)



皮条客的父母让未成年的女儿卖淫.....
kailash (muscat)
what a world where are we heading God bless the girl.
Agree (5)Disagree (0)Recommend (2)



真是疯狂的世界,我们将走向何方,上帝保佑这名女孩吧。
ajaydanieljohn (Qatar)
Unbelievable. God save mankind.
Agree (3)Disagree (0)Recommend (1)



难以置信,上帝拯救人类吧。
Neel Sundar (INDIA)
Money.....Money....Money...! Money is the root cause for all the problems...! however, this is too much and unforgivable... the accused viz. the borrower and the lender should be punished for ' arriving at ' this kind of ' settlement ' to clear the debts...!
Agree (6)Disagree (0)Recommend (0)



钱....钱......钱.....!钱是一切问题的根源....!然而,这也太过头了,不可原谅.....被控也就是借款人和出借人应该为达成此种清偿债务的方法而受惩罚!
为偿还5万卢比债务,印度一男子让朋友强奸女儿。三泰虎2月24日译文,据《印度时报》报道,由于欠了一名叫尼萨尔的男子5万卢比,父母强迫16岁的女儿和该名男子发生关系。警方以强奸罪起诉其父母和该名男子。受害者的父亲被拘留,她的母亲和这家人的朋友、被控性侵害少女的尼萨尔汗在潜逃。据受害者陈述,由于家里无力还钱,尼萨尔两年前开始对她进行身体虐待,该行为得到了父母的支持。当父亲出去干活时,母亲就会强迫她和尼萨尔发生关系,如果抗议,母亲和尼萨尔就会威胁她。