原文标题:Chinese navy signs up Uygur Muslim women for deep sea missions
原文链接:http://timesofindia.indiatimes.com/world/china/Chinese-navy-signs-up-Uygur-Muslim-women-for-deep-sea-missions/articleshow/19326388.cms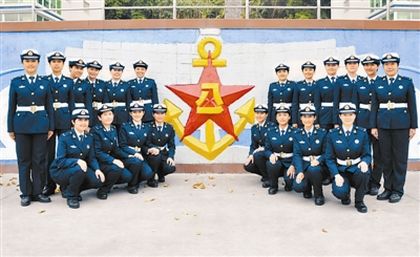 BEIJING: The Chinese military has began recruiting Uygur Muslim women for its navy in what appears to be first such experiment to open up its ranks for minorities, especially from volatile Xinjiang province where Islamic militants are fighting a separatist movement.

Twenty Uygur women were recruited for the People's Liberation Army Navy (PLAN) who now started their voyage missions on naval ships, according to state-run China Daily.



北京:中国军队开始将维族女穆斯林招收入海军,此举似乎是军队首次向少数民族敞开,特别是对来自于不安定的xj省,那里的伊斯兰激进分子为分裂运动而展开斗争。





据《中国日报》报道,20名维族女被招募进解放军海军,目前已经在军舰上开始航行任务。



"It is an honour that I am among the first 20 Uygur women to serve our country in the navy," said Aytulun Xukrat, a 19- year-old woman who joined the navy along with two of her sisters.

Xukrat, from Turpan in Xinjiang, now works in the communications section on the Jinggangshan, one of the Chinese navy's most advanced landing craft.



"我属于首批服务于我国海军的20名维族女兵之列,这是一项荣誉。"和两个妹妹一起加入海军的19岁阿依提鲁尼·许克热提说。





许克热提来自于xj吐鲁番,目前在井冈山舰通信部门工作,该舰是中国最先进的登陆舰之一。



Their recruitment was significant as Uygurs, Muslims of Turkish-origin, were restive for the past several years agitating against the increasing settlements of Han Chinese nationals from the mainland.

"After I was recruited in 2011 and later joined the navy's South Sea Fleet, two of my younger sisters followed suit and are now serving in the North Sea Fleet and East Sea Fleet. We are the pride of our family," she told the Daily.



"我2011年入伍,随后加入南海舰队,我两个妹妹也纷纷效仿,目前分别服务于北海舰队和东海舰队。我们是家族的荣耀。"她跟中国日报说。





中国海军有三大舰队,2011年开始招收维族女兵。报道称,此举激发了许多女人的激情,她们梦想着成为水兵。




以下是印度网民的评论:




译文来源:三泰虎博客 http://www.santaihu.com




Sanju kutty (Cochin)
This Muslim girls have chinese names... How come
Agree (1)Disagree (4)Recommend (0)



这位穆斯林女孩有中国人的名字.....怎么会这样




Bhanu Pratap (delhi) replies to Sanju kutty
it is not necessary to keep arabic names, but meanings should be good




没必要保留阿拉伯的名字......



M K Gupta (Gurgaon)
Indian women should not be disturbed from divine task of making babies. Let China do what they want. We need more BACHHAS and BACHHIS.



印度女人生孩子的神圣任务不应当受打扰。中国爱怎么着就怎么着.......
Aditya M (Cuttack)
A progressive step by a communist country China. It seems china is opening up after a lot of criticism.
Agree (3)Disagree (1)Recommend (0)



共产中国前进了一步,似乎在饱受批评后,中国开始开放了。




Ukranor (Urumchi) replies to Aditya M
China not "opening up", it always like that but the anti-China people always distorted it. We Uygur and ethnic minorities treated even better than Hans people who sometimes jealous with us. Most uygur very happy with China.
Agree (8)Disagree (0)Recommend (3)




中国并未"开放",向来都是那样,但反华分子总是给以曲解。我们维族等少数民族受到的待遇甚至比汉人好,汉人有时候还嫉妒我们。大多数维族人对中国非常满意。




Izmir (Urumchi) replies to Ukranor
we muslims tolerate to everyone. if state is giving equal rights and freedom of religion, we should be faithful for our country. if country is displacing and preventing from out religion like Burma. we should resist.




我们穆斯林对谁都能忍。如果国家给我们平等权利和宗教自由,我们对国家会衷心的;如果像缅甸一样阻止我们的宗教信仰,我们会反抗的。



Apollo (Hindustan)
Chinese plans r always abstruse to understand . where and for wat they wish 2 use them ????????
Agree (1)Disagree (1)Recommend (0)



中国人的计划真心难懂,把她们招募入伍图个什么?
Fiz (somewhere)
China may recruit the Uighurs and the Tibetans into their navy in the communications section but I would advise them not to post them in their submarine arm...........Both these ethnic groups do not have any concept of a bath and stink to high heaven. Life on a submarine with these two ethnic varieties would be one big stink for their comrades from other parts of the People's Republic of China. Anyone who has come close to the Uighurs or the Tibetans will know what I mean.
Agree (5)Disagree (9)Recommend (2)



中国可以把维族人和藏族人招募进海军通信部门工作,但我建议别把她们分配到潜艇里.....这两个民族的人没有洗澡的概念......来自中国其他地方的同志和这两个民族的人一起在潜艇生活会被熏的。任何靠近过维族和藏族的人都知道我在说什么。




Francis McLure (SurryHills) replies to Fiz
They smell better than Indians. Recently I attended an Easter gathering for children and there were some recent migrants from India there. I wanted to welcome them but had to stop as I couldn't stand the body-odour. It was a pity so I hope Indians who comment on other people do so with a bit of judgement.
Agree (6)Disagree (0)Recommend (3)




她们至少比印度人好闻一些。我最近参加了复活节聚会,有一些最近从印度来的移民与会。我本想欢迎他们的,但不得不放弃了,我忍受不了他们的狐臭味。真是遗憾,所以我希望印度人能够公正评判其他人。



COLRANBIRLAMBA lamba (PTA)
GOOD USE & CONTROL ON THEM
Agree (1)Disagree (3)Recommend (0)



很好地利用和控制了她们。
arshad sayyed (Thane)
This is an example, how country progress, by taking minority under consideration, our country will also shine much better then Chinese, if the prejudice and isolation of minority is removed and give the fair chance to minority, this is not by reading, but by experience, how the minority are sidelined in India and also the SC and ST, India has to eradicate these mind set, then only we will progress like other big country, now waiting for some ve feedback, cross my finger!!!! ;)
Agree (22)Disagree (10)Recommend (9)



这就是国家把少数民族考虑进来从而取得进步的例子。如果针对少数民族的偏见和孤立能够得到消除,以及少数民族能够得到公平的机会,那么我们国家会比中国更出众。这不是通过解读得出的,而是经验之谈,少数民族是如何在印度被边缘化的。印度必须摒弃这些思维,我们才能像其他大国一样进步。




romesh.sharma (Germany) replies to arshad sayyed
The life Indian muslims are enjoying here as minority its no where on the earth.India has reaservations,quotas and special status that gives them more chances than majority Hindus itself. India had Presidents,vice presidents,generals, chief justices,ministers holding very high offices and what not and you shamefully telling what India should do for minority muslims.Its always muslims who yammer while other minorities never show such alienated attitude/tendencies.Contrary to your view I would rather say with appeasement and much care/concern to muslim minority India could have achieved more progress.Your minority is extremely unthankful and an extra burden on Hindu majority.
Agree (4)Disagree (6)Recommend (2)




印度穆斯林享受的少数族群生活在世界其他地方是找不到的。印度的预留制、配额制和特殊地位给他们提供了比多数印度教徒更多的机会。他们当过印度的总统、副总统、将军、首席法官、部长等诸如此类身居高位的职务,而你却无耻地说印度应该为穆斯林做一些事情。穆斯林总是在抱怨的同时,其他少数族群从来未表现出如此不友好的态度/倾向。与你的观点相反,我宁肯说,(要不是)对穆斯林少数族群的绥靖政策和过多照顾,印度可能已经取得更大的进步。你们少数族群总是忘恩负义,是多数印度教徒的额外负担。




Indian First (HYD) replies to romesh.sharma
Calling Muslims as minorities is absurd they are in fact second largest majority.
Agree (5)Disagree (0)Recommend (2)




称穆斯林为少数族群是荒唐的,他们实际上是第二大多数族群。




INDIAN hindu (Thane5) replies to arshad sayyed
Things are changing in India too my friend. Today we see large nos of Muslim youth in the organised private sector like HDFC, Axis Bank and the private sector Insurance cos like ICICI Lombard, Icici Prulife etc etc not to speak of a fair amount of them in the police and the airlines and the hospitality industry. I admit more need to be taken up but the change is there to see and remember the initial change is always slow. And now, tell me if China is so good to the minorities, how come there are still murderous riots in Xinjiang almost every fortnight and why do monks regularly set themselves on fire in Chinese occupied Tibet? However, I entirely agree with you that minorities in any nation more so in ours should always be helped to join the mainstream, after all minorities residing in our country are Indians too.
Agree (11)Disagree (5)Recommend (7)




我的朋友,印度的情况已经在改变,今天我们能在HDFC、Axis银行等组织有序的私营部门以及印度工业信贷伦巴德保险、 Icici Prulife等私营保险公司看到大量的穆斯林年轻人,更不用提警察队伍、航空公司以及酒店业里相当数量的从业者。我承认还做得不够,但改变已经出现了,最初的改变总是那么缓慢。告诉我,中国对少数民族有这么好吗,怎么xj几乎每两个星期就出现杀人骚乱,为何xz的僧人要自焚?不过我完全同意你说的一点,即各国少数民族差不多都这样,他们有待帮助融入主流社会,毕竟居住在我国的少数族群也是印度人。




Syed Hashim (delhi) replies to arshad sayyed
I love my nation India from the bottom of heart but when i read TIO comments section, i had to question my safety & future prospects here as i see lots of poisonous & vengeance from Hindu named commentators. the poison of Religious intolerance be in "Talibanic ( not Islamic) jihad" or Hindutav ( not sanatan) should be abhored by all sections of Indian society. We dont want to see another form of Afghanistan dipped in Hindutav here on our soil. lets progress togather.
Agree (9)Disagree (1)Recommend (5)




我发自内心热爱印度,但看到印度时报这里的评论后,我不得不质疑我的安全和未来前景,因为我看到许多以印度教名字评论的人说许多恶毒和复仇的话。不管是"塔利班圣战"还是Hindutav,宗教偏执应当受到印度社会各阶层的憎恶。我们不想看到在自己领土上看到阿富汗式的混乱,让我们一起进步。



《印度时报》4月1日报道,中国军队开始将维族女穆斯林招收入海军,此举似乎是军队首次向少数民族敞开,特别是对来自于不安定的xj省,那里的伊斯兰激进分子为分裂运动而展开斗争。据《中国日报》报道,20名维族女兵被招募进解放军海军,目前已经在军舰上开始航行任务。"我属于首批服务于我国海军的20名维族女兵之列,这是一项荣誉。"和两个妹妹一起加入海军的19岁阿依提鲁尼·许克热提说。许克热提来自于xj吐鲁番,目前在井冈山舰通信部门工作,该舰是中国最先进的登陆舰之一。