译文来源:三泰虎 http://bbs.santaihu.com/thread-6749-1-1.html
外文标题:Chinese law 'forcing' children to visit parents ridiculed
外文地址:http://timesofindia.indiatimes.com/world/china/Chinese-law-forcing-children-to-visit-parents-ridiculed/articleshow/20856443.cms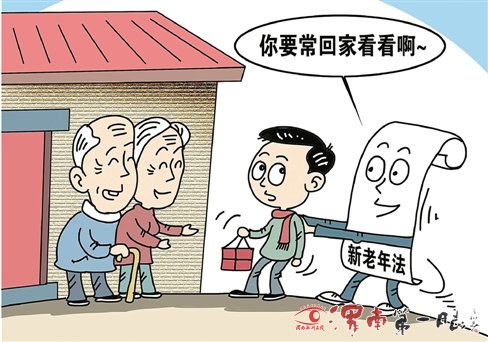 BEIJING: A Chinese law requiring family members to visit their elderly relatives went into effect on Monday to howls of online ridicule, as the country's huge population ages rapidly.

The regulation "forces" children to visit their parents, the state-run Global Times newspaper said, with concerns growing over increasing numbers of " empty nest" homes.

China's rapid development has challenged its traditional extended family unit, and reports of elderly people being neglected or mistreated by their children have shocked the country.



随着中国庞大人口快速老龄化,要求家庭成员看望老年人的法律周一正式生效,这一规定在网上引发了铺天盖地的嘲笑。





《环球时报》称,这条法规"强迫"子女看望老年人,关注点是空巢家庭的数量越来越多。





中国的快速发展挑战了传统家庭构成,老年人被子女忽视或虐待的报道曾经震惊了这个国家。



Last year a farmer in the eastern province of Jiangsu faced a barrage of online criticism after domestic media revealed he had kept his 100-year-old mother in a pig sty.

More than 14 percent of China's population, or 194 million people, are aged over 60, according to the most recent figures from the National Bureau of Statistics.

The growing proportion of the elderly is the result of China's controversial one-child policy, which was launched in the late 1970s to control population growth.

Many aged live alone in "empty nest" homes, as a result of their children finding work in other areas of China.



去年,东部江苏省一位农民叫100岁的母亲住在猪圈里,经国内媒体报道后,他遭受了网上一连串的批评。





根据国家统计局最新统计数据,中国超过14%的人口,即1.94亿人的年龄大于60岁。





人口老龄化是中国饱受争议的独生子女政策导致的。1970年代底,为了控制人口增长,中国推出了独生子女政策。





由于子女在其他地方工作,许多老人独守空巢。



But while internet users generally express concern for elderly people — who are highly respected in the close-knit Chinese family unit — many took to China's Twitter-like microblogs to criticise the new measures.

"A country actually legislates respecting its parents?" said one of the eight million people to comment on the story on Sina Weibo.

"This is simply an insult to the nation."

Another poster said: "The government uses legislation to protect the elderly, but in reality it is just to put all the blame on to their children.

"The government should have thought of how they would address this problem when it brought in the one-child policy."



网民普遍表达了对老年人的关注——他们在紧密结合的中国家庭里颇受尊重——许多人去微博批评这一新措施。





有800万人在新浪微博上就这一事件发表评论,其中一位网民说:"一个国家竟然要立法规定子女尊重父母?简直是对国家的侮辱。"





另一位网民说道:"政服立法保护老年人,实际上是把所有责任推给他们的子女。政服在推出独生子女政策时就应该想好如何应对这个问题。"



The state-run Shanghai Daily said the new law gives parents the power to apply for mediation or bring a case to court, but experts are unclear about how the measures will be enforced, or how often visits are required.

"More quantitative standards and measures need to be added," Xia Xueluan, a professor with Peking University's Institute of Sociology and Anthropology, told the Global Times.

"The current revision looks more like a reminder for young people to refocus on the traditional values of filial piety rather than a compulsory law," he said.



《上海日报》称,新法律给了父母申请调解或者诉诸法庭的权利,但专家不清楚法律将如何实施,或者要求多经常看望父母。





北京大学社会学和人类学研究所教授对《环球时报》说:"应该加入更多量化标准和措施。"





他说:"当前的修订更多是提醒年轻人重新关注孝顺这一传统价值观,而非强迫性的法律。"




以下是印度网民的评论:




本文论坛地址:三泰虎论坛 http://bbs.santaihu.com/thread-6749-1-1.html




COLORFULBANDHA (Milkyway Galaxy)
why oppose such a nice law ? someone who truly love their parents should not be concerned if such visits are compulsary by law as they would anyway do so.
Agree (25)Disagree (4)Recommend (18)



为什么要反对这么好的法律?那些真的爱父母的人不应该担心看望父母是法律强制的,不管怎样,他们本来就会去看望父母。
k k Pandita (J&K )
Nice law. The need of enacting this law is unfortunate for current era.
Agree (12)Disagree (1)Recommend (9)



好法律。不过制定这个法律的必要性是当今时代的不幸。
Sunil Menon (Mumbai)
China is a very different country and unique in itself. Their laws are above one's thinking. Anyway, India is the youngest country unlike oldies too much in China. Good for India afterall



中国是一个大不相同的国家,具有其独特性。他们的法律超越了人们的思维。不管怎样,印度是最年轻的国家,而中国的老年人太多!毕竟对印度有好处!
INDIAN2REPLY (INDIA)
The parents can expect respect and care if they do respect the children. In some cases it could be only formalities.
Agree (2)Disagree (0)Recommend (2)



父母如果真的有尊重孩子,那么可以指望收获子女的尊重和关照。在某些情况下,可能只是形式而已。
Anuj Sharma (Middle East)
It is pathetic state of affairs when govt has to make law to bring the family closer.
Agree (2)Disagree (2)Recommend (0)



为了让家庭更亲密,政服只好制定相应法律,着实可悲。
pvs3 ()
Excellent law. Unless we force good things on the people they will not follow
Agree (14)Disagree (1)Recommend (4)



这个法律棒极了。有些东西好是好,但不强制实施的话,人们是不会遵守的。
nshrinivasan (kalyan)
If children neglect parents then Law will do some justice to parents, why younger Generation feels that they are going to remain as they are now for ever? they are also going to grow old, and will require some support from younger generation.
Agree (11)Disagree (1)Recommend (2)



如果子女疏忽了父母,那么法律会给父母讨回一些公道。为什么年轻人总感觉自己会永远年轻下去?其实他们也会变老的,也会需要年轻一代的关照。
Baby Mohan (Bangalore)
Those who love their parents this law is a blessing ! Those who hate the parents, this law is tough to them, even if they visit as per law, that will be a tough time for their parents ! Why don't they try to punish under law those don't treat the parents well ?
Agree (21)Disagree (2)Recommend (12)



对于那些爱父母的人来说,这部法律是个祝福!对于那些讨厌父母的人来说,这部法律有些苛刻。即便他们按照法律去看望父母了,对父母来说也将是一段艰难时光!为什么不惩罚那些对父母不好的人呢?
gajree (nairobi)
To take care of the old ,China has enough resources to build and run old peoples homes .In todyays' individualism ramapant in free economies, it is impractical to expect the son and the daughter in law to take care of the aged parents.
Agree (1)Disagree (20)Recommend (0)



为了照顾老人,中国有足够的资源来建造和运转老人院。个人主义在当今自由经济下泛滥,指望子女来照顾老年父母是不切实际的。
Chennai Man (Chennai)
Unfortunate scenes in China...Effect of single child policy...
Agree (6)Disagree (11)Recommend (0)



中国不幸的一幕......独生子女政策的负面效应.......




Bond Lala (Bindekhalpur) replies to Chennai Man
So ... u mean everyone should produce dozens of children ... so that, at least one of them will take care of them in old ages
Agree (1)Disagree (0)Recommend (0)




你意思是说每个人应该生几十个孩子......这样至少有一个孩子会照顾老年父母?



bapoojee (BHUBANESWAR)
THOSE WHO THINKS AGED PARENTS ARE BURDEN, THEY MUST THINK ABOUT HOW THEY BROUGHT UP AND FUTURE HOW WOULD BE THEIR LIFE WITHOUT THEIR CHILDREN AT OLD AGE.
Agree (16)Disagree (3)Recommend (2)



那些认为父母是负担的人,必须得思考下他们是怎么被养大的,以后自己老了后要是没有孩子在身边,他们的生活将会怎样。
shivatronics (India)
Economic`s bad effect on Human ecology.A balance is a necessary.
Agree (3)Disagree (0)Recommend (0)



经济给人类生态造成的不良影响,有必要保持一个平衡。
kirit (bangalore)
Should be accorded as One of the Beautiful Law on earth ! Which govt thinks so deep in this century, way to go communism govt !
Agree (33)Disagree (3)Recommend (11)



这个可以看做是世界上最完美的法律之一!政服考虑得很深入,共产政服,加油!
Allaahuakbar (Cal)
A mother looks after her child all the years till he grows up and becomes strong and self dependent till she is abandoned by her children. What a pity.
Agree (15)Disagree (1)Recommend (5)



母亲成年累月将孩子拉扯大,等到孩子能够独立自主了,反而被孩子抛弃。真可怜。
Raj Thackeray (Republic of Maharashtra)
Arrange marriage in itself is a form of a r@pe, where the bride is r@ped by the groom, why is it not ridiculed ?
Agree (12)Disagree (20)Recommend (3)



包办婚姻本身也是强奸的一种形式,是新郎强奸了新娘,为什么这个不可笑?
aarienabombay (Bombay)
Very very good. Carry out….
Agree (2)Disagree (2)Recommend (0)



非常好,就这么施行.......
Salil Mathur (Chandigarh)
If social values are lost, no law restore it. You can't have police sitting in every home
Agree (0)Disagree (1)Recommend (0)



如果社会价值观缺失,那么任何法律都不会起作用。你没法让警察成天呆在每个家庭监视。
boronv ()
After reading the article I don't really understand as to why these Chinese are howling so much. Seems to be a very nice law to me. Should be implemented in India as well. May be it is the Dogs and Cats that Chinese eat are making this noise.
Agree (5)Disagree (2)Recommend (2)



看了文章后,真心不理解为何中国人叫声连天,在我看来是一部非常好的法律,也该在印度施行。也许中国人是因为吃了狗肉和猫肉才会发出如此多噪音。
trilokbisht (new delhi)
very good decision,,, and now its India's turn take steps for manage population,,,
Agree (7)Disagree (1)Recommend (3)



非常好的决定....现在轮到印度采取措施来控制人口了......
Pavan B (Bangalore)
Its actually a good move. I don't know why it is being ridiculed. Visiting(looking after) the elders should have been by choice without any forcing but since the Chinese are not doing it, it has been made into a law. Whats wrong in it?
Agree (14)Disagree (5)Recommend (4)



实际上这是很好的做法,不知道为何如此可笑。看望老年人应该是自愿的,而非强迫,但是考虑到中国人不照办,只好将其写入法律。何错之有?




Dipanker Koley (Ahmedabad) replies to Pavan B
There is nothing wrong in the intention, but it's not quite possible to implement. For such a huge population tracking every elderly person and monitoring their child visit is not feasible..
Agree (1)Disagree (0)Recommend (0)




意图没有错,但不可行。人口如此庞大,要跟踪每一个老年人和监控子女是否看望是不可行的。



Saurabh (Chandigarh)
Cultural problems can never be solved with laws. Like dowry case in India. It is much harder to solve social problems like these. One can only wish that it were as simple as formulating a law and enforcing it.
Agree (4)Disagree (1)Recommend (2)



文化问题从来就不能用法律来解决。类似印度的嫁妆案件,要解决此类社会问题更是难上加难。有人希望可以简单通过制定法律来解决,然后就开始施行。
Divya (Delhi)
Athough it is a good move overall but not everyone enjoys a good relationship with their parents.There are parents for whom their children are burden, what about them? Should their children be forced to visit them?
Agree (5)Disagree (1)Recommend (5)



虽然这样做整体上是好的,但并非每个人都和父母保持着良好关系。有的父母对子女来说是负担,那些子女怎么办?难道要强迫子女去看望他们?
Appa Durai (Coimbatore)
No law can be enforced to provide love for the parents by the Children.Visit does not guarantee affection and concern.Chiky style!
Agree (1)Disagree (0)Recommend (0)



不能用法律来强制子女爱父母。看望并不能保证子女对父母的感情和关心。这是中国佬的做事方式!
proudfelisleo ()
This will never work in China, because the children work in factories very far away from their state, and some of the need two days journey to reach their parents. And there is no money when they get something like the equivalent of $3 per day to work a 10 hour shift. LOL,



在中国行不通的,孩子在工厂上班,离家很远,有些人需要两天的旅程才能回到家看父母。有的人拿着一天轮班10小时3美元的工资,根本就没有钱回去,LOL
Srini (Toronto)
Will the workers get leave for visiting their parents. If not, who is breaking the law, the employee or the employer. I did not know Chinese are so dumb



工人可以请假回去看望父母吗。如果不能,那是谁违反了法律,是员工还是雇主?没想到中国人如此笨。
Abrakadabra (Timbaktu)
Nothing wrong with the law!
Agree (5)Disagree (0)Recommend (2)



这部法律根本就没有错!
常回家看看正式成为法律。三泰虎7月2日译文,随着中国庞大人口快速老龄化,要求家庭成员看望老年人的法律周一正式生效,这一规定在网上引发了铺天盖地的嘲笑。《环球时报》称,这条法规"强迫"子女看望老年人,关注点是空巢家庭的数量越来越多。中国的快速发展挑战了传统家庭构成,老年人被子女忽视或虐待的报道曾经震惊这个国家。去年,东部江苏省一位农民让100岁的母亲住在猪圈里,经国内媒体报道后,他遭受了网上一连串的批评。