原文标题:China's rail link to hit Indian exports
原文链接:http://timesofindia.indiatimes.com/world/china/Chinas-rail-link-to-hit-Indian-exports/articleshow/15788914.cms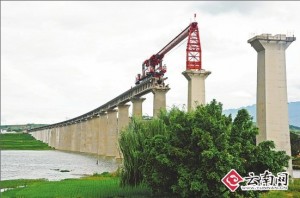 BEIJING: The $707 million Yuxi-Mengzi rail line, linking Kunming in southwest China to Singapore in southeast Asia, will become operational by the end of this year, posing a threat to Indian exporters competing for market space with China. The rail line, originating in China's Yunnan province, will traverse through Vietnam, Laos, Thailand and Singapore, completing a course of over 2,000km.

The announcement comes just before Chinese commerce minister Chen Deming meets his Indian counterpart Anand Sharma at the joint economic group on August 27 in New Delhi.

China also plans to build rail routes linking Kunming to Myanmar and, eventually, Bangladesh. On completion, it will create a grand alliance of Asian markets supporting each other, while expanding China's markets. The line will provide an impetus to trade which has slumped due to cancellation of purchase contracts by recession hit West.



北京:总投资7.07亿美元的玉溪蒙自铁路是连接昆明和新加坡铁路的组成部分,预计今年底通车,给印度出口商竞争市场空间带来威胁。这条泛亚铁路开始于中国云南省,经过越南、老挝、泰国,最终到达新加坡,全程超过2000公里。





这条声明发布不久前,也就是8月27日,中国商务部长陈德铭在新德里的联合经济组织上会见了印度同行阿南德·萨玛。





中国也计划建设连接昆明和缅甸,并最终到达孟加拉国的铁路。一旦完工,会产生一个庞大的亚洲市场联盟,各市场彼此支撑,同时扩大了中国市场。这条铁路将给西方衰退导致的贸易下滑注入一针强心剂。由于经济不景气,西方国家取消了中国的订单,这条铁路的建成将会为处于下滑中的中国贸易注入动力。




以下是印度网民的评论:




Krishna (KTM) 4 hrs ago
Come on India stop unnecessary internal fight stalling parliament. Develope infrastructure, Large scale Industries and reduce poverty gap between rich and the poor. Country rich with great intellectual power is being bogged down by communal rift and corruption.
Agree (12)Disagree (3)Recommend (2)



印度快点停止让议会陷入停顿的不必要内部争斗吧。发展基础设施和大型工业,减少贫富差距。拥有伟大智慧力量的国家正因公众分裂和腐败而陷入困境。




KSingh (USA) replies to Krishna 3 hrs ago
Those are not unnecessary internal fights. Those are necessary democratic processes in action. Don't forget India is the world's largest democracy.
Agree (5)Disagree (6)Recommend (2)




那些不是不必要的内部争斗,而是必要的皿煮进程。别忘了,印度是世界最大的皿煮国家。



azadi (mumbai) 4 hrs ago
China is eating india's breakfast, lunch and dinner!!! Wake up INdians, Wake up!!! What are you waiting for, build the infrastructure!!! Build INdia. Compete with China!
Agree (11)Disagree (3)Recommend (3)



中国在动印度的早餐、午餐和晚餐!醒醒吧,印度,醒醒!你还在等什么,修建基础设施吧!建设印度,和中国竞争!




hihari (Canada) replies to azadi
Indian ministers are eating Indian's breakfast, lunch and dinner! Indian politicians and bureaucrats are sinking this nation, whereas China is forging ahead!! Ghar ka bhedi Lanka dhaye!!
Agree (13)Disagree (1)Recommend (2)




印度部长们吃了印度人的早餐、午餐和晚餐!印度政客和官僚主义者正让国家沉陷,而中国在不断前进...



Bahu Virupaksha (Pondicherry)
China is showing how to make economic progress. The dream project of linking all the major Asian capitals with Beijing is now being realized. China can teach a lot of lessons to India, if only the GOI come out of its Nehuvian mindset of being critical of China.



中国正在展示如何取得经济进步。连接北京和所有主要亚洲国家首都的梦幻工程正在实现。如果印度政服走出尼赫鲁对中国的批判思维,那么中国有很多值得印度学习的东西。
badegg (US) 17 mins ago
China is so bad. They even dare to build railways to other countries without India's approval. India should protest!
Agree (2)Disagree (3)Recommend (0)



中国太糟糕了,他们甚至胆敢不经过印度批准就修建通往其他国家的铁路。印度应该抗议!





原创翻译:三泰虎 http://www.santaihu.com
devabrata sinha (Patna)
Our great leaders and politicians have no time for the development of our nation rather they are busy in their own all out development and also busy in saving their own gaddis.
Agree (3)Disagree (0)Recommend (0)



我们伟大领导人和政客没有时间关心国家发展,而是忙于自己的仕途,忙于保住乌纱帽。
Chinkis (Bharatbarsh) 10 mins ago
India will catch up with china by next decade, chinese exports to west is decreasing, only gulf is main patron. China is aging fast. China is a carpenter by proffession, india is the back office manager of the world.despite all its verirties & hindrances, india will surely catch up, because of its production of technical manpowers & growing infrasteucture.Concepting its existing untapped resourses.You can see Indian manpower everywhere.Chinese are mainly in retail & export business in USA, Siingapore,malyesia. China has purchased some land from pak & lanka but that is not that worrisome. Chine & India can compete at same pace in neihbourhood backyard.



印度未来十年会赶上中国。中国人对西方的出口在下滑,只有海湾国家是主顾。中国人口在快速老化。以职业来衡量,中国是木匠,印度是世界的后勤部门经理。虽然存在各种不同和障碍,不过印度有技术人力和不断发展的基础设施,所以印度肯定会赶上来。印度遍地是劳动力,还存在很多尚未开发的资源。中国人主要盯着美国、新加坡和马来西亚的零售业和对美出口,已经购买了巴基斯坦和斯里兰卡的一些土地,不过没有到令人不安的程度。中国和印度可以在邻里后院以同样的速度竞争。
sk (sks) 45 mins ago
China should extend this rail link to bihar so bhaiyas can go to real Shanghai and not to forever in the making Shanghai - Bombai.
Agree (3)Disagree (1)Recommend (0)



中国应该把这条铁路延伸至比哈尔邦。这样的话,比哈尔邦人就可以去真正的上海,而不是去永远是正形成中的上海——孟买。
Ramesh Sargam (Bangalore, India)
China links continents with rail links. But back in India, our corrupt netas are linked by corruption irrespective of whichever party they belong to.
Agree (7)Disagree (0)Recommend (4)



中国通过铁路把各大洲连接起来。但反观印度,不管属于哪个政党,我们腐败的政客大人们通过腐败互相勾结起来。
Chinna (Maddur) 1 hr ago
Psst!! China is laying tracks to pakistan!! PS: The tracks are underground and we are yet to find!!



中国正在铺设通往巴基斯坦的铁路!PS:铁轨铺在地下,我们还有待发现!
Harsh (India) 2 hrs ago
Whole world progresses while we are busy with : - Corruption - Illegal Immigrants to strengthen vote bank. - Mumbai riots - Blocking social media etc. etc. How sad :(
Agree (9)Disagree (1)Recommend (4)



全世界都在进步,而我们却忙于腐败。为了加强票仓而收留非法移民,孟买暴乱,封锁社交媒体等。多么可悲 :(
polihudga (bangalore)
Guy's we are in serious threat from china. India will not have out sourcing for the next generation. china will take over everything! the next generation chinese are fluent speakers of US english!
Agree (8)Disagree (1)Recommend (3)



各位,我们面临来自中国的严重威胁。印度在下一代将不会有外包业。中国会夺走一切!下一代中国人能说熟练的美式英语!
barhoga2004 (australia)
See how China is progressing,while India is busy in all kinds of lip service and corruption. We all acknowledge that China has worst human record,yet it is making progress at a tremendous speed. Our politician prevail in atmosphere of jingoism and xenophobia,of course what do we expect if criminals are ruling our country?
Agree (8)Disagree (2)Recommend (3)



看看中国是如何进步的,而印度人忙于腐败,嘴巴上说得好听,却没有行动。我们都承认中国的人泉记录最糟糕,但中国却以惊人的速度进步。我们的政客盛行沙文主义和仇外主义。如果我们国家是由罪犯统治,那你还能从中期望什么呢?
Saleem (MUMBAI) 3 hrs ago
I am a poor indian, a common man.... I don't need any railway line going to China or anywhere!!!! What I need is water, sanitation, electricity (without power cuts), irrigation to farmlands, price control (life is beginning to picnh real hard). Proper education facility for my kids, reasonable medical care for old parents. The list can go on for just the basic rights that I need from my leaders. Can we all please come together to make this happen in India. Please remember....If we are weak from within.... no amount of empty rail links talk or going to Moon or mars will help us. So lets make India stronger from WITHIN FIRST!!! Lets shed our differences!!! FIRST!!!! JAI HIND
Agree (15)Disagree (3)Recommend (5)



我是一名贫穷的印度人,一个普通人...我不需要通往中国或者其他国家的铁路!我需要的是饮用水、卫生设施、不间断供应的电、农田灌溉、价格控制(生活变得越来越难了)、孩子能享受合理的教育设施、老父母能享受价格合理的医疗。这个名单可以一直列下去,都是我希望领导人提供的基本权利。我们能一起努力让这样的事情在印度实现吗。请记住:如果我们内部软弱,再多空泛的铁路或者登月登火星,对我们不会有帮助。所以,让我们首先让印度内部变得更强大!让我们首先摒弃分歧!胜利属于印度
Chatter (Azad Hind) 3 hrs ago
These kind of things will keep on happening to us because we dont have any clear Foreign policy..We are investing in bad countries which have no future interest for us like afghanistan,Iran..Non aligned movement etc etc all Bull*hit..We should make good relationships and invest in US,Israel,Russia,European Union,Japan,Brazil etc..And should attract foreign investments from these countries..And focus upon building our economy...Also make normal relationships with China,Myanmar,Sri Lanka,Bangladesh,Nepal,Bhutan Etc instead of being hostile to them..We must be focused and make some closest allies..like Israel,Russia,France,Japan..
Agree (8)Disagree (1)Recommend (3)



这类事情会一直发生,我们没有清晰的外交政策,在一些没有未来利益的糟糕国家投资,比如阿富汗、伊朗,还有不结盟运动等都是胡扯...我们应该在美国、伊斯兰、俄罗斯、欧盟、日本、巴西等国家投资并建立良好双边关系,应该吸引这些国家的外资,集中建设我们经济。此外,要和中国、缅甸、斯里兰卡、孟加拉国、尼泊尔、不丹等国家建立正常关系,而不是敌视他们,我们必须专心交一些最亲密的盟友,比如以色列、俄罗斯、法国、日本...
yugal (Pune)
China's rail link is not affecting. Our slowness towards development is the real cause.
Agree (11)Disagree (0)Recommend (1)



中国的铁路不会影响印度,我们对发展的怠慢才是真正原因。
subharaman (Mumbai) 4 hrs ago
India and China should also be connection through Rail network through Burma and Northeastern states. This will bring lot of development in the Northeast. Ofcourse, cheap chinese made products which are of poor quality should not be allowed to be imported.
Agree (1)Disagree (4)Recommend (0)



印度和中国也应该通过经缅甸和东北邦的铁路连接起来。这会给东北邦带来相当大的发展。当然,不应该进口那些廉价低质的中国货。
KhanJi (Amritsar, Punjab) 4 hrs ago
I must be from Mars because I don't see any competition between India and China. China is a giant and other is a very poor starving country. If you don't believe me just go outside of India and take any product from plastic to computers and see in the back. You will see Made in China and not made in India. India, stop dreaming!
Agree (26)Disagree (4)Recommend (12)



我肯定来自火星,因为我看不出中印之间有任何竞争。中国是个巨人,而印度是一个非常贫穷的饥饿国度。如果你不相信的话,那么离开印度,看看从塑料制品到电脑的一切产品,看看产品背后,你会看到"中国制造"的标签,而不是印度制造。印度,别做梦了!




Siloo Kapadia (Singapore) replies to KhanJi
Deekra you are right. As things stand, India is set to become the next province of the People's Republic of China.
Agree (6)Disagree (0)Recommend (1)




Deekra,你说得对。就现状来看,印度将成为中国的下一个省。




faisal (jeddah) replies to KhanJi 3 hrs ago
You must be blind. China is a mirage and its economic activity is only skin deep. In its cities only the miracle is within a certain area. Go outside that area its is still poor and backward. India is more advanced in many ways.
Agree (2)Disagree (15)Recommend (2)




你肯定是瞎眼了。中国的奇迹和经济活动只是浮于表面。奇迹只存在于城市的特定区域。走出那些区域,你仍会看到贫穷和落后。印度在许多方面更先进。




原创翻译:三泰虎 http://www.santaihu.com



s.jayate (Singapore)
hmm... china again with blatant lies...
Agree (1)Disagree (9)Recommend (0)



中国又在明目张胆的撒谎...
dasgupta (India)
Work has started only in Chinese part. There are lot of issues on the Railway Lines in other countries. However it is clear from the article that Yuxi-Mengzi rail line will start soon, the construction of which commenced in 2009-10. But there are big question on the Link in other countries, and even if gets cleared that will not commence operation before 2018 - 2020.
Agree (2)Disagree (0)Recommend (1)



工程只在中国开工,其他国家的铁路存在许多问题。然而,从这篇文章可以明显看出玉溪蒙自铁路很快会通车,工程开工于2009年10月,但其他国家的铁路尚存很大问题。即使问题解决了,铁路在2018-2020年前也不会通车。
Pradosh (India)
The Chinese are very much concerned about their economic growth while we Indians lack interest in our own economic growth. Many of the policies are put on hold and our leaders disrupt the parliament every now and then.
Agree (12)Disagree (0)Recommend (1)



中国人非常关注经济发展,而我们印度人对经济发展缺乏兴趣。许多政策被搁置,我们领导人时不时干扰议会。
ABM (Hong Kong) 5 hrs ago
China is fast developing it's own infrastructure. What our India is going to do? Any plan? Pls. wake up.
Agree (8)Disagree (1)Recommend (3)



中国快速发展基础设施。我们印度打算怎么做?有计划吗?请醒醒吧
TRUE INDIAN (kuwait) 5 hrs ago
WAKE UP INDIANS WAKE UP. BE MATURE AND SENSIBLE. Very soon CHINA will build rail and road passing through INDIA and reaching PAK. We have to develop ourselves and overtake CHINA in progress at all level. It is not IMPOSSIBLE.
Agree (16)Disagree (6)Recommend (8)



醒醒吧,印度人,成熟些,理智些。中国很快会修建经过印度到达巴基斯坦的铁路。我们必须发展自己,并在各层次超过中国,这并非不可能。




indian (china) replies to TRUE INDIAN 5 hrs ago
Dear it is now impossible be an Indian on my last visit to china i saw we are 60 to 70 years back than china in terms of infrastructure
Agree (14)Disagree (1)Recommend (5)




现在不可能了。我是一名印度人,我上次访问中国时发现我们在基础设施方面至少落后中国60至70年。




RS (Ahd) replies to indian 4 hrs ago
Thats not true. China has had the development seen in the last 20-25 years. It should take India 25 years or so to do it provided we have the will, planning, organization and the luck. I see a big problem in the will, planning and organization and until they are developed luck wont help
Agree (3)Disagree (3)Recommend (0)




这不是真的。中国的发展也就是过去20至25年的事情。只要有意志、规划、组织和运气,印度只要25年左右就能取得这样的发展。我发现意志、规划和组织方面尚存很大问号。在这些问题解决之前,运气帮不上我们。




sunny (Pune) replies to RS 4 hrs ago
20-25Years yes!!! true planned and done...not like India still everything only on papers even after 65years.....
Agree (5)Disagree (1)Recommend (1)




20至25年!规划,然后实现...印度倒不一样,65年了,一切还停留在纸上...



siva (Indonesia) 5 hrs ago
Why we Indians always fret about what Chinese are doing ? Why not we raise to the occasion in becoming the world's factory for " quality products at competetive prices" ? When we accuse some one , we forget the other four fingers always point towards us.
Agree (18)Disagree (1)Recommend (2)



为什么我们印度人要为中国人在做什么而烦恼?为什么我们不让自己变成生产价格具有竞争力的优质产品的世界工厂?别忘了,当我们指责别人时,一只手指指着别人,而四只手指是指着我们自己。
paul (hk) 5 hrs ago
India compete China and China compete America,China no way think of India.
Agree (14)Disagree (1)Recommend (3)



印度和中国竞争,中国和美国竞争。中国绝不会想和印度竞争。




Pradip Biswas (India) replies to paul 5 hrs ago
Agree! It is like Pakistan/Pakistani/Jihadis have fixed obsession against India. So do many in India, who want India to be "compared" with China! But China has advanced past india 20 years back in Industrial productions, Infra and Export! But having said that - China can not be in the same bracket/league as (forget America/USA) as in the countries of Western Euerope! The gap in advancement in "intellectual" and "technical" and "academic" area between 'western world' and Communist China springs forth from a "social" and "political" freedom and culture ! A "supervised" nation by a "matron like" authority (Party) can only create "infant" scholars/achievers and graduates much like in Kindergarten /Montessori schools. Currently China is a "Labour Camp" of the 'western world' and not a nation! In that sense it is not a sovereign country!!!
Agree (5)Disagree (8)Recommend (2)




同意!正如巴基斯坦人迷恋和印度竞争一样,许多印度人想把印度和中国进行比较!但在工业生产、基础设施和出口方面,中国领先印度20年!已经说过,中国并非和西欧国家属于同一个层次!西方世界和共禅中国在知识、技术和学术方面的差距来源于社会和政治的自由以及文化!一党监督的国家只能培养出"婴儿级"学者和幼儿园级的毕业生。目前,中国是西方世界的"劳改营",不是一个国家!在这个意义来说,中国不是一个主权国家!



ThaiIndian (Thailand) 6 hrs ago
Chinese products are of low quality and bad even if they build rail root to Singapore. Quality of product is of importance. if India can make products of quality and export still we will win:)
Agree (14)Disagree (26)Recommend (3)



即使中国修建了通往新加坡的铁路,但中国货低质,如果印度能生产并出口优质产品,那么我们仍然会赢 :)
nicky narwani (hongkong)
RAILS AND ROAD PLAYS BIG PART FOR FUTURE
Agree (6)Disagree (0)Recommend (1)



铁路和公路对未来发展会起很大作用
prana (India)
India should seriously consider making solar planes, solar cargo ships to counter that move..
Agree (0)Disagree (1)Recommend (0)



印度应该严肃考虑生产太阳能飞机和太阳能货船,以反制中国的该举措...



玉蒙铁路起点为玉溪,经通海、建水至蒙自,全长141公里,项目总投资45亿元,为电气化Ⅰ级铁路。工程于2005年9月1日开工,将于今年年底竣工。玉溪蒙自铁路是泛亚铁路的组成部分,将给印度出口商竞争市场空间带来威胁。泛亚铁路开始于中国云南省,经过越南、老挝、泰国,最终到达新加坡,全程超过2000公里。中国也计划建设连接昆明和缅甸,并最终到达孟加拉国的铁路。一旦完工,会产生一个庞大的亚洲市场联盟,各市场彼此支撑。这条铁路将给西方衰退导致的贸易下滑注入一针强心剂。