译文来源:三泰虎 http://bbs.santaihu.com/thread-6418-1-1.html
外文标题:China's missile hits highest suborbital level since 1976: Scientist
外文地址:http://timesofindia.indiatimes.com/world/china/Chinas-missile-hits-highest-suborbital-level-since-1976-Scientist/articleshow/20062829.cms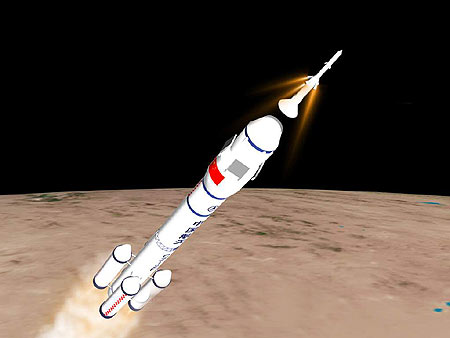 WASHINGTON: China launched a large missile on Monday that reached 6,200 miles (10,000 km) above the earth, its highest suborbital launch since 1976, according to a US scientist at Harvard University.

Jonathan McDowell, an astrophysicist at the Harvard-Smithsonian Center for Astrophysics, said the rocket was launched from the Xichang Satellite Launch Center in western China, and China said the rocket carried a science payload which studied the earth's magnetosphere.

He said the rocket could possibly be used in the future to carry an anti-satellite payload on a similar trajectory, but there was no evidence to indicate the launch was intended to test such a capability.



华盛顿:美国哈佛大学的科学家称,中国在13日发射了一枚"大型导弹",高度距地面6200英里(10000公里),达到中国自1976年以来亚轨道发射的最高点。





哈佛大学史密森天体物理研究中心天体物理学家乔纳森·麦道威称,火箭从中国西部的西昌卫星发射中心升空。中国称火箭搭载了用于研究地球磁层的科学仪器。





他称,火箭未来可能通过类似的轨道来运载反卫星武器,但尚无证据表明此次发射旨在测试这一能力。



The United States remains concerned about China's development of anti-satellite capabilities after it shot a missile at one of its own defunct satellites in orbit in 2007, creating an enormous amount of debris in space.

Monday's rocket launch was similar to launches using the Blue Scout Junior rocket that were conducted by the US Air Force in the 1960s for research on the Earth's magnetosphere, McDowell said in an emailed response to questions.



2007年,中国用一枚导弹击落一枚报废的卫星,在太空中制造了大量垃圾,此后美国一直对中国反卫星能力的发展表示关注。





麦道威用邮件回复问题时写道,13日的火箭发射类似"蓝色侦察兵"初级火箭的发射,美国空军在1960年代通过这种火箭来研究地球磁层。



The launch came less than a week after US Deputy Defense Secretary Ashton Carter unveiled what he called a "long overdue" effort to safeguard U.S. national security satellites and develop ways to counter the space capabilities of potential adversaries.

The Pentagon also released an 83-page report on Chinese military developments that highlighted China's increasing space capabilities and said Beijing was pursuing a variety of activities aimed at preventing its adversaries from using space-based assets during a crisis.

A Pentagon spokesman declined to comment on the Chinese rocket launch.



此前不到一周,美国国防部副部长阿什顿-卡特公开了其称之为"姗姗来迟"的努力,旨在保护美国国家安全卫星和寻求一种方法来反制潜在对手的太空能力。





此外,五角大楼还发表了一份长达83页的中国军力发展报告,报告强调了中国日益增强的太空能力,并指出北京正寻求各种努力来防止对手在危机时期动用太空资产。





五角大楼发言人拒绝评论中国的此次火箭发射。




以下是印度网民的评论:




本文论坛地址:三泰虎论坛 http://bbs.santaihu.com/thread-6418-1-1.html




vswami11 (Hyderabad)
Congratulations Beijing, no matter diplomatic relations between India and China aren't the best but still I feel happy to see an Asian country standing face to face against western powers. I really hope we can sort out differences and help in mutual development.
Agree (21)Disagree (2)Recommend (11)



祝贺北京,虽然印度和中国的外交关系不是最好的,但我仍然乐见亚洲国家面对面地对抗西方大国。我真的希望我们可以解决分歧,并互利共发展。




Punebetterthanmumbai (Pune) replies to vswami11
China, South Korea, and Japan are the only Asian countries that can stand up to the west. We're getting there at a snail pace




中国、韩国、日本是仅有的能对抗西方的亚洲国家。我们却以缓慢地速度朝着这个方向发展。




Sunny (Dubai) replies to vswami11
U chino b*st**d
Agree (0)Disagree (12)Recommend (0)




你是中国劣种。




Rock (Mumbai) replies to Sunny
Praise their achievement and devlopment which they are moving , not like India, where every project is either hit by scam or delayed.
Agree (6)Disagree (1)Recommend (0)




只是夸他们的成就和发展而已,哪像印度,每个项目不是受丑闻困扰就是被拖延。




fw (india) replies to Rock
LOL....If development at any cost is all that matters, then please f*** off to China. Enjoy, the freedom of being arrested for expressing you opinion. You sit here and criticize India because India gives you the privilege to do so.
Agree (1)Disagree (4)Recommend (1)




LOL.......如果不惜一切代价地发展是最重要的,那么请滚到中国去,好好地享受因表达言论而被逮捕的自由。你之所以能坐在这里批评印度,那是因为印度给了你这样做的特权。




vswami11 replies to Sunny
see that's the problem, if an Indian praises China then Indians have problem and they use filthy language as well. Sunny grow up and face facts...
Agree (10)Disagree (1)Recommend (5)




看看,问题就出在这,如果有印度人夸中国,那么其他印度人就会不爽,然后就会污秽语言满天飞。Sunny,成熟点,面对事实吧......



ramchandran ramchandran (pune)
This effort by Chineese to to launch a missile to reach space orbit, is a preamble to blind the US system of statilites controlling the movement of thire war machine from active funtion in the event of full fledged confrontation with US in future or thier ability to come to the resucue of its victim in activily helping or participating. US may or may not realise it, but we in India must have similar deterent capable to destroy enimies statilite over looking our war efforts without further delay.. In this matter our scientist are quiet capable enough to devolope suitable deterent to the latest threat without delay, we can do it w/o any external aid. ramchandran pune
Agree (4)Disagree (5)Recommend (0)



中国人努力向太空轨道发射导弹,是致盲美国卫星系统的先兆,这些系统控制着美国战争机器的运转,中国未来全面对抗美国时可以令其失灵。美国也许没有意识到,但印度必须具备类似的能力,不容迟疑地摧毁那些窥视我方战争努力的敌方卫星。我们的科学家完全有能力立即发展出合适的威慑武器来反制最新威胁,我们可以在不接受任何外部帮助的情况下办到。




Benci (Kuala Lumpur ) replies to ramchandran ramchandran
LOL. "In this matter our scientists are quite capable enough to develop suitable deterrent.....w/ external aid ...."? What make you so sure? When will that happen? Do you know the detaied technological requirements?
Agree (3)Disagree (1)Recommend (2)




LOL,我们的科学家完全有能力立即发展出合适的威慑武器.....不需要外部帮助.....?




你怎么这么肯定?什么时候?你知道详细的技术规格吗?



50 cents brigade (Malaysia)
Facts: China so-called debris in space only amounted to 10%, and the rest of these space debris can attributed to US and Russia. The problem with western American Propaganda, they never tell the whole truth. Just like American continue used of torture around the world. Check out the Afghan video.
Agree (15)Disagree (1)Recommend (5)



事实:中国制造的所谓太空垃圾只占10%,其余是美国和俄罗斯制造的。问题出在美国的宣传,他们从来不会道出真相。比如美国持续在全世界动用酷刑,去看阿富汗视频便知。
Abhishek Hindustani (Pune, Maharashtra)
I am hugely impressed by these Chinese milestones ! When will the corrupt Indian Democracy will let this feat happen !
Agree (12)Disagree (1)Recommend (3)



中国这些里程碑式的成就给我留下了极为深刻的印象!腐败的印度皿煮什么时候会让这个壮举出现!




Ishan Kaul (lugansk) replies to Abhishek Hindustani
we also have a satellite killer missile program already in place in advance stages confirmed by the drdo chief watch the video its already on you tube..
Agree (1)Disagree (3)Recommend (1)




我们已经有了猎杀卫星的导弹计划,已经处在推进阶段,并已得到印度国防研究发展组织的确认。可以去看有关视频,youtube上有。



SP (India)
A battle for supremacy establishment from space.
Agree (1)Disagree (1)Recommend (0)



太空霸权之争。
Samaritans (bangalore)
Can't we have missile resistant satellite or something like stealth satellite ? Satellite are very much vital for any country, may not necessarily for warfare but for domestic use ranging from basic communication to medical. Protecting satellite is very much essential.
Agree (0)Disagree (2)Recommend (0)



我们就开发不出能抗导弹的卫星或者能隐形的卫星?对各国来说,卫星都是至关重要的,也许不是战争所需,而是服务于从基本通信到医疗等民生用途。保护卫星是非常必要的。
murali Krishnan (Bangalore)
Huge Stride...
Agree (3)Disagree (0)Recommend (1)



迈进了一大步.....
三泰虎5月16日译文,印度时报原题《科学家:中国导弹击中亚轨道最高点》。据报道,美国哈佛大学的科学家麦道威称,中国在13日发射了一枚火箭,高度距地面6200英里(10000公里),达到中国自1976年以来亚轨道发射的最高点。麦道威称,火箭未来可能通过类似的轨道来运载反卫星武器,但尚无证据表明此次发射旨在测试这一能力。2007年,中国用一枚导弹击落一枚报废的卫星,在太空中制造了大量垃圾,此后美国一直对中国反卫星能力的发展表示关注。