原文标题:China's external debt crosses $751 billion
原文链接:http://timesofindia.indiatimes.com/world/china/Chinas-external-debt-crosses-751-billion/articleshow/14426928.cms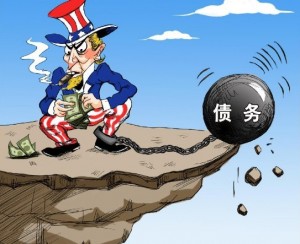 BEIJING: China's external debt crossed $751 billion in March, highest since it embarked on economic reforms in 1985, even as debt ridden local governments have been barred from issuing bonds directly to raise revenues.

The rising debt is adding to concerns whether it may undermine China's fiscal position and cause economic harm, a report in the state run China Daily said.

According to data released by the State Administration of Foreign Exchange (SAFE), the country's total debt increased 8.1% from $695 billion three months earlier.

The proportion of short-term debt rose to a record high of 74%, well above the international alert level of 25%, the Daily report said.



北京:中国外债3月份超过7510亿美元,是自从1985年着手改革开放以来最高的。这还是债台高筑的地方政服被禁止通过直接发行债券来提高收入的情况下的债务。





中国日报的一篇报告显示,正在上升的债务增加了这样的担忧,即它是否会破坏中国的财政状况和带来经济伤害。





根据外汇管理局(SAFE)发布的数据,中国的债务比三个月前的6950亿美元增加了8.1%。





中国日报的报告显示,短期债务比例上升到74%的创纪录高度,远远大于国际警戒水平的25%。



SAFE said the increase in short-term debt is closely related to the rapid development of China's foreign trade.

Meanwhile, China has halted plans to allow local governments to issue bonds directly, as policymakers increase their scrutiny of regional debt risks and call for improved fiscal management at the local level.

The central government will continue to sell bonds on their behalf, official media here reported.

According to National Audit Office, the provinces' debt was stated to be around 10.7 trillion yuan ($1.68 trillion) by the end of 2010, in which local governments are responsible for 70% of the debt repayment.



外汇管理局表示,短期债务的增加与中国外贸的快速发展密切相关。





与此同时,由于政策决策者加强审查地区债务风险和呼吁地方政服改善财务管理,中国暂停了地方政服直接发行债券的计划。





官方媒体表示,中央政服会继续代表地方政服出售债券。





国家审计署称,省级债务2010年底是10.7万亿元(1.68万亿美元),其中地方政服负责偿还70%的债务。



Some experts have expressed concern that the cancellation of direct debt issuance will put local authorities under greater financial strain.

Jia Kang, director of the Finance Ministry's Fiscal Science Research Centre, said the move does not reflect the actual requirements under current economic conditions.

"It is imperative to open the bond market to local governments as a proper financing channel. It is also a chance to prevent further hidden debt and prevent risks," China Daily quoted Jia as writing in his micro blog.



一些专家表达担忧,称取消地方政服直接发行债券的权利会让其面临更多的财政压力。





财政部财政科学研究中心的主任贾康表示,此举没有反应当前经济状况的实际需求。





中国日报援引贾康在其微博上的话称:"向地方政服开放债务市场是势在必行的合适融资渠道,也是避免进一步加深债务从而避免风险的机会。"



But now that the door is closed, local governments will face increasing fiscal constraints from decreasing land sale revenues and increasing expenditures on people's livelihoods, Xiang Songzuo, chief economist of Agricultural Bank of China Ltd said.

"Expanding financing channels for local governments and letting them be responsible for their own debt repayments is a basic direction of China's fiscal reform, and that should not be changed," Xiang said.

However, Ye Yanfei, deputy head of the statistics department of the China Banking Regulatory Commission, said the new move will barely affect the repayment of current loans made to local governments through financing.



但是现在这扇门关闭了,由于土地销售收入减少和人们生计开支的提高,地方政服面临不断增加的经济压力,中国农业银行的首席经济学家向松祚如此表示。





向松祚表示:"扩大地方政服的融资渠道,并让其负责自身债务偿仍是中国财政改革的基本方向,该方向不应该被改变。"





然而,中国银行业监管委员会统计部门的副主任叶燕飞表示,此项新举措几乎不会影响地方政服通过融资偿还当前贷款。




以下是印度网民的评论:




WAG (Maha Mumbai)
This report is bit confusing, because China's financial surplus is around USD 20 trillion.
Agree (11)Disagree (4)Recommend (2)



这份报告有点令人困惑,因为中国的财政结余大约是20万亿美元。




Bob (USA) replies to WAG
You are confused. China's foreign exchange reserve is about 2 trillion USD (not 20 trillion). That's not the surplus, that's foreign exchange reserve. CHina can still run a deficit and have a reserve (like India does). If an American company (say Microsoft) invests $1 billion in China, China's foreign exchange reserve goes up by $1B USD. That doesn't affect the surplus or the deficit.
Agree (4)Disagree (0)Recommend (1)




你糊涂了,中国外汇储备大约是2万亿美元(不是20万亿美元)。这不是结余,而是外汇储备。中国像印度一样出现赤字的同时拥有外汇储备。如果一家美国公司(比如微软)在中国投资10亿美元,那么中国的外汇储备上升10亿美元。此举不会影响结余或者赤字。




原创翻译:三泰虎 http://www.santaihu.com




Anna (India) replies to Bob
India has 10 trillion in foreign countries and unaudited scams in the country.A single temple in the south holds gold and other metals worth more than a billion. How about the other temples and other places of worship? But who cares as long as the poor are dying of hunger? They are only concerned with God in the temples not the God within the poor.




印度国内未经审计的丑闻和在国外的资金共涉及10万亿美元。单单南部一个寺庙就持有价值十亿美元以上的黄金和其他贵金属。其他寺庙和朝拜场所又有多少呢?但是谁会在意穷人是否饿死?他们只关注寺庙内的神,而不会关注穷人。




Bob replies to Anna
You are right, but unfortunately it is only the reserves held by the government that counts towards paying off external debt. Indians and Indian temples hold ENORMOUS amounts of gold, but these are not available to the government to sell to pay off the debts. Maybe if things get very hard, the government will start confiscating the gold from temples.
Agree (1)Disagree (0)Recommend (1)




你说得对。但不幸的是只有政服持有的储备才可以支付外债。印度人和印度寺庙持有巨额的黄金,但这些黄金不能被政服用于支付债务。或许情况变得非常困难的时候,政服会开始没收寺庙的黄金。




Raj (india) replies to WAG
Maybe 20 Trillion Yuan definitely not 20 trillion dollars
Agree (4)Disagree (2)Recommend (1)




可能是20万亿人民币,但肯定不是20万亿美元。




Jagtap (mumbai) replies to WAG
woah.!!!! 20 trillion...omg from where did you got this news...20 trillion in surplus..ah ah ah ahahah ahaah ahhaah.....
Agree (7)Disagree (1)Recommend (1)




哇!20万亿美元嘞...天啊,你哪来的消息...结余20万亿美元嘞...啊...啊...




WAG replies to Jagtap
I stand corrected and thank you all(Bob, Raj and Jagtap) for pointing out my grave error. According to latest report (dated 13 Jan 2012) of BBC: Figures from the People's Bank of China showed its reserves had slipped 0.6% to $3.18tn (£2.07tn).
Agree (4)Disagree (1)Recommend (0)




我认错,谢谢你们(Bob、Raj和Jagtap)指出了我的严重错误。根据BBC的最新报告(2012年1月13日):中国人民银行的数据显示其外汇储备下滑0.6%至3.18万亿美元(2.07万亿英镑)。



Sai Vijay (Bangalore, India)
We are seriously heading to economic crisis and not slowdown....Earlier in the recession period atleast BRIC nations were resilient to all these and now CHina also started moving to these debt crisis
Agree (6)Disagree (2)Recommend (0)



严肃地说,我们不是在走下坡路,而是在走向经济危机...至少金砖国家在衰退初期对这些有弹性,现在中国也开始走向债务危机了。
myalmightygod (India)
Are the figures reliable.



数据是否可靠
RAGHUPATHY JAGADEESAN (Coimbatore)
All that glitters are not gold! A strong body with a weak heart! seeing is not believing! Audacious and aggressive with a big mouth!



并非所有发光的都是金子!有一个强壮的身体却有一个软弱的心!眼见为实!无畏和激进却又爱吹牛!
Welingkar (Hyderabad)
So does this move by the Chinese government put a stop to profligate spending on infrastructure by the regional governments? It appears to do so- at least there will be a good deal of prioritising and re-thinking. I am sure the media and those awed by China's infrastructural growth will be disappointed.
Agree (0)Disagree (1)Recommend (0)



所以中国政服此举意在制止地方政服在基础设施上肆意挥霍吗?看起来似乎是这样,至少会出现大量的优先顺序调整和重新考量。我确信那些对中国基础设施发展感到敬畏的媒体和人们会感到失望。
Balraj (delhi)
If China Dying a death out of corruptions, we can also die ! (Wo)man Mohan Singh (noted economist) may say now.
Agree (3)Disagree (2)Recommend (0)



如果中国死于腐败,我们也会死!(著名的经济学家)曼莫汉·辛格现在可能会如此说。
Anjana (Hyderbad)
So the federal govt is sitting on foreign exchange resrves, while local govts are making merry raising debt.



所以联邦政服坐拥外汇储备,而地方政服则在"欢快"地举债。
MRAN (INDIA)
WE HAVE BEEN LED TO BELIEVE ALL ALONG THAT CHINA WAS ECONOMICALLY SOUND--
Agree (3)Disagree (15)Recommend (1)



我们一直被误导,以为中国经济稳健...





原创翻译:三泰虎 http://www.santaihu.com




singh (hf) replies to MRAN
they are ..
Agree (14)Disagree (3)Recommend (3)




他们确实经济稳健...



pm mns (india)
China has $4 trn reseve it can repay it within 1 day....! We indian must concern about our debt
Agree (34)Disagree (1)Recommend (5)



中国有4万亿美元外汇储备,一天之内就能还上了...!我们印度人必须关注自身债务。




Bpb (USA) replies to pm mns
You are also confused. Reserves don't have to be repaid. Only debts have to be repaid. Reserves may or maynot be usable to repay debts depending on how they are held. If they are held in trust (for example the US holds more than $5 trillion in social security trusts) they can't be used to pay off debts.
Agree (0)Disagree (2)Recommend (0)




你也糊涂了。外汇储备不用偿还的,只有债务必须偿还。外汇储备可能用于偿还债务,这要取决于他们所持有的外汇储备形式。如果是以信托的形式存在(比如美国持有的5万多亿美元的社会保险信托),那么不能被用于偿还债务。



Sid (Sydney) 15 hrs ago
Instead of narrating China's good economic stories our media, suffering from inferiority complex tries to cover the follies of UPA government by only highlighting China's few economic hiccups. China is sitting on a mountain of Foreign exchange reserves - 3.5 Trillion Dollars and has invested in US Bonds, EU bonds. Their local government are not more corrupt than Indian ones!
Agree (21)Disagree (0)Recommend (6)



我们媒体患有自卑情结,不是去叙述中国美好的经济故事,而是试图通过强调中国的一些经济波动来掩盖国民进步联盟政服的罪恶。中国坐拥堆积如山的3.5万美元外汇储备,并将其投资于美国债券和欧洲债券。他们的地方政服不会比印度的更腐败!
kesav scindia ( 9827443390 ) (indore) 15 hrs ago
does not matter if they dress half or full or nude etc. in this country you can bargain a deal as low as USD30 for a night with a lady and frankly its like a tissue -- use, throw and flush it out. who cares? otherwise these so called protestors are soft prostitues and whores only. in china the tv news reader can strip every min to get attention of audience and increase TRP and bikini clad girls will read weather news report so this news is non-sense and i request the chinese ladies to open up little more, may be indian females can learn little from them. if chinese ladies start behaving descent and dress complete attire to casual in public, 25% of the total GDP of china will go down. the biggest industry in china itself is the massage industry. in name of massages are sex parlours, soft and hardcore.
Agree (3)Disagree (9)Recommend (0)



不管是穿着半裸装或者全裸都不重要。在中国,你可以以低至30美元一晚的价格包下一名女人。坦白说,她们就像卫生纸一样——使用、扔掉、然后冲走。谁会在意?这些所谓的抗议者只是妓女和淫妇。在中国,为了获得观众注意力和提高收视率,新闻播报员会慢慢脱光。还有比基尼女孩播报天气预报,所以这个新闻是胡扯,我要求中国女人更开放一点,或许印度女性可以向他们学习吧。如果中国女性开始在公众场所行为得体和穿着完整,那么25%的中国GDP会消失。中国最大的产业是按摩业。名义上是按摩,其实是隐形或者赤裸裸的性店。




indian (India) replies to kesav scindia ( 9827443390 ) 12 hrs ago
it is a sign of perversion....i have dealt with few chinese people and they are sex freaks....hope some sense comes into their daily life
Agree (1)Disagree (1)Recommend (0)




这是反常的迹象...我同一些中国人打过交道,她们是性成瘾者...希望她们的日常生活能够融入一些理智。



Thinking_Dimaag (BharatVarsh)
Looks like China could be the next USSR in line.
Agree (4)Disagree (10)Recommend (0)



看起来中国会成为下一个苏联。




Siva Krishna Kota (Riyadh) replies to
Agree (1)Disagree (3)Recommend (0)




hope so




但愿如此



Huntsman (Planet Earth)
We are more concerned about China's doomsday than India's. We need to clean this country up before we dwell into others miseries!. China has enough reserves to bank roll itself while for India, we may have to head to China to bankroll us!
Agree (10)Disagree (1)Recommend (2)



我们更多关注的是中国的末日,而不是关注印度的。在沉迷于别人的痛苦前,我们需要清理一下自己国家。中国有足够的外汇储备来为自己融资,而我们印度可能不得不去找中国提供资金帮助!
Misleading article
by Anand Khatavkar on Jun 27, 2012 07:45 PM

This is a totally misleading article.

China has a Forex reserve running upto a couple of Trillion Dollars. They are just playing around to show there economy is in Bad Shape.

The writer has gone nuts and misleading people. He should first get his facts right.



这完全是一篇误导性文章。





中国有多达几万亿美元的外汇储备。他们只是戏弄他人,以显示其经济状况很糟糕。





作者失去理智了,是在误导人们。他应该首先弄清事实。
Yawn
by Raj Gupta on Jun 27, 2012 07:54 PM | Hide replies

CHina is a about US$7.5 trillion economy, with US$3.2 trillion forex, andt US$750 billion external debt.
India is a about US$1.75 trillion economy with US$ 290 billion economy and about US$280 billion external debt.

If China is sinking, how about India?



中国是一个大约7.5万亿美元的经济体,有3.2万亿美元外汇储备和7500亿美元外债。





印度是一个大约1.75万亿美元的经济体,有2900亿美元外汇储备和大约2800亿美元外债。





如果中国在沉没,那么印度呢?




Re: Yawn
by Sanjay on Jun 27, 2012 08:12 PM
India does not look good with those figures. What you are doing Manmohan Singh, at least Mukher is gone. Hope you can save your reputation.




印度那些数据并不可观。曼莫汉·辛格,你在干啥,至少Mukher走了,希望你能挽救你的声誉。




Re: Yawn
by toga on Jun 27, 2012 11:54 PM
India looks like it should be sinking by now....
oh wait, it is sinking.




印度看起来现在该沉没了...




哦,等等,它正在沉没




原创翻译:三泰虎 http://www.santaihu.com



haha
by toga on Jun 27, 2012 11:53 PM

I love when india is sinking, everybody starts to writing doom day story about china.
They've been writing this kind of doom day story since what? 1990? look what happened?



印度要是在沉没,我会喜欢的。每个人都开始写有关中国末日的故事。他们自从什么时候就开始撰写此类末日故事?1990年?看看发生了什么?
..
by om shanti on Jun 27, 2012 07:01 PM

Not sinking,donot mislead.China is increasing focus on import now rather than export.

China is allowing ASEAN and many other nations to have trade surplus to support their economies.

When China has trillions of foreign reserve,this debt is nothing..



不是在沉没,不要误导别人。中国是在增加对进口的关注,而不是出口。中国允许东盟国家和许多其他国家拥有贸易盈余,以支持他们的经济。





中国有数万亿美元外汇储备,这点债务不算什么...
China is clever
by David Dak (View MyPage) on Jun 28, 2012 04:35 AM

China is very clever to announce that she has so much of external debt. China is very clever to announce that China has 100 million people living below poverty line. Such messages are telling world that China is still poor and please do not expect China to save you either europe or usa. How clever is this? By the way China has contributed to IMF 45 billions US dollars (india puts in 10 billions). World should appreciate what China has done by contributing so nuch even herself is still a poor developing country.

中国非常聪明地宣布其有如此多外债,中国非常聪明地宣布其有1亿人生活在贫困线以下。这样的消息是告诉世界中国仍然贫穷,请不要期望中国能够拯救欧洲或者美国。此举多么聪明啊?顺便说下,中国向IMF贡献了450亿美元(印度拿出了100亿美元)。中国自身仍然是个贫穷的发展中国家,世界应该感谢中国所做的如此大贡献。
What is new about it
by Sirisha K (View MyPage) on Jun 28, 2012 12:58 AM

Investors and experts have already said this for last 4 years now. China's economy is about to hit the skids. In fact experts have warned that due to the rise in unemployment and lack of basic needs, there could be a social unrest soon in china. Unlike India, China is not a democratic nation and foreign investors does not have much confidence in China. The only advantage to China is their cheap labor cost as the rich industrialists can exploit poor labourers and get the work done. But india's growth story is going down too, thanks to low lying government, irresponsible opposition and impatient people. India should stop worrying about other things and focus on growth, otherwise our unemployment will raise alarmingly as our population blooms.



投资者和专家说这个已经说了四年。中国经济就要走下坡路了。事实上,专家警告,由于失业率的上升和缺少基本所需,中国很快会出现社会动乱。同印度不一样,中国不是皿煮国家,外国投资者对中国没有多大信心。中国的唯一优势是廉价劳动力,因为富裕的工业家可以剥削廉价劳动力。多亏了低能的政服、不负责任的反对党和不耐烦的人民,印度的发展故事也要走下坡路了。印度应该停止关注其他事情,转而关注自身发展,否则我们的失业率会随着人口膨胀而令人担忧地上升。
国家外汇管理局日前公布的数据显示,截至2012年3月末,中国外债余额为7512.61亿美元。其中,登记外债余额为4801.61亿美元,企业间贸易信贷余额为2711亿美元。外债余额统计数字不包括香港特区、澳门特区和台湾地区对外负债。《印度时报》27日报道,中国外债创纪录的超过7500亿美元,不断上升的债务增加了这样的担忧,即它是否会破坏中国的财政状况和带来经济伤害。印度Rediff网则如此发问:中国在沉没?中国外债余额突破7500亿美元!