原文标题:China's arming Pakistan makes it a 'second class enemy': Ratan Tata
原文链接:http://timesofindia.indiatimes.com/india/Chinas-arming-Pakistan-makes-it-a-second-class-enemy-Ratan-Tata/articleshow/14771213.cms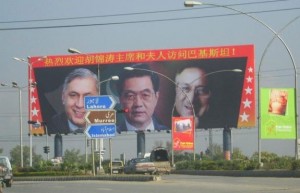 NEW DELHI: China's assisting and arming Pakistan has made "it a second class enemy", but its economic strength overpowering India is not a real concern, according to Tata Group chairman Ratan Tata.

"China has of course been assisting and arming Pakistan, which is like a red flag to India and that already makes it a second class enemy," Tata said in an interview telecast on Bloomberg UTV.

Describing India-China relationship as "not adversarial, but it is not the best", Tata, however, added, "you know China has never done anything adversarial to India, and India, I think, has been more concerned about China's economic strength overpowering India, which we really don't see."



新德里:塔塔集团主席兰塔·塔塔称,中国支持和武装巴基斯坦,使其成为"二流敌人",但是要让巴基斯坦的经济实力超过印度则不是一个现实关注。





"中国肯定在协助和武装巴基斯坦,对于印度来说它正如是一面危险信号旗,中国已经使巴基斯坦成为了二流敌人。"塔塔在接受彭博社UTV的电视采访时表示。





塔塔将中印关系形容为"并非敌手,但也并非关系最好。你们知道,中国从来没有做任何敌对印度的事情。我认为印度更多关注中国经济实力超过印度,这些是我们没有看到的。"



When asked if he is worried about China, he said: "No, I am not worried. I wish we could find a way to be allies with China." Exuding confidence about India, Tata said: "I really do believe, deep down inside, that...the Indian tiger has not been unleashed."

He, however, said: "I would prefer to use China as a very strong ally, to forge a relationship with China which would be a sustaining one and I think it could be done."

Explaining the complex nature of relationship between the two countries, he said: "I think there is a concern on part of India that China is trying to dominate the region (Asia) and there is an equal concern on the part of China that India is trying to dominate the region."



当被问及是否担心中国时,塔塔表示:"不,我不担心。我希望我们可以找到同中国结盟的方法。"塔塔对印度流露着自信,他说:"我真的深深相信...即印度虎的潜力没有释放出来。"





然而,他说:"我更喜欢把中国当作强大的盟友,同中国打造可持续关系。我认为这是可以办到的。"





在解释两国关系的复杂性时,塔塔说:"我认为印方认为中国试图统治亚洲,而中方也同样对印度试图统治该地区表示关注。"



Commenting on China as a car market, Tata said: "It is a very difficult country to sell cars from outside. JLR, which we have now acquired, is setting up a plant in China because China wants those cars but not Tata Motors."

He said the Tata group would be looking to source automobile parts from China, which has made lot of progress in in the sector. "If you look at what China has done in the automotive area in a short period of time, they have produced cars which in fact exceeds what India did in the same period of time," Tata said.

"We will now be sourcing sub-assemblies from China, for Indian cars. We will buy things like automatic transmission, things which India doesn't yet produce...at prices that are unbelievable which will help us," he added.



塔塔在评论中国汽车市场时表示:"从国外向中国卖车是非常难的。我们收购的捷豹路虎在中国建立了一家工厂,因为中国需要的是捷豹路虎,而不是塔塔汽车。"





塔塔集团可望从中国进口汽车零件,并且取得了很大进展。塔塔补充说:"如果你看中国短期内在汽车领域所取得的成就,你会发现他们同期生产的汽车实际上超过印度。我们将从中国进口半成品,用于组装印度汽车。我们会购买自动变速器和印度还没有生产的零件,价格是难以相信的,对我们会有帮助。"



On global economic scenario, Tata said it is "a little grim".

According to him, Europe and the UK will face a "hard recovery" and it is going to take "a lot of efforts, a lot of sacrifice, a lot of pain". However, the US is going to recover faster than the Europe and "part of it going to be the innovativeness, that is embedded in the US in the sense of entrepreneurship," he said.

Tata said there are opportunities in Asia, Africa and some parts of Latin America. "Asian countries may be finding more trade between themselves that they did before," he added.

"So you got a shift of industrial activity, economic growth moving to these so called South-South areas," Tata said.



塔塔表示,在全球经济环境下,竞争"有点残酷"。欧洲和英国面临艰难的恢复过程,需要很大的努力、牺牲和痛苦。然而,由于美国有根植于美国企业的创新,所以会比欧洲更快恢复。"





亚洲、非洲和拉丁美洲等一些地区有机会。塔塔补充说:"亚洲国家会发现彼此的贸易比以往更大了。所以工业活力、经济发展会转移到一些所谓的南南地区。"




以下是印度网民的评论:




ramshankerdubey (Faizabad)
China is never credible to us
Agree (10)Disagree (3)Recommend (4)



对于我们来说,中国永远不可靠。
Milan (Murarai) 1 day ago
Well Mr Tata. If Pakistan is your enemy, why are you doing business with entities of that country. Please practice what you preach and comment.
Agree (5)Disagree (25)Recommend (3



塔塔先生,如果巴基斯坦是你的敌人,为什么你还要同巴基斯坦企业做生意。请言传身教。




krishnendu.guha (Kolkata) replies to Milan
He is a businessman,, he never mixes emotions and business... Wherever there is opportunity for earning money business tycoons will earn money and invest...
Agree (1)Disagree (0)Recommend (1)




他是商人,从来不会搞混情感和商业。每当有赚钱的机会时,商业大亨就会投资赚钱...



exhalted.moon (Delhi)
china has invested lot of time and money in pakistan but in the end it will lose pakistan , pakistan will prove to be a liability to whoever invests in it. sooner or later china will realize that it has bet on the wrong option.
Agree (32)Disagree (5)Recommend (14)



中国在巴基斯坦投入的精力和金钱都颇多,不过最终会失去巴基斯坦。不管是谁投资,巴基斯坦都会向其证明自己是碍事者。中国迟早会认识到自己赌错了。
Anuj Sharma (Middle East)
This is world of Economic war..its a cont. battle for survival of people. Porkis are nowhere in this war. China cannot harm their 100bn dollar business partner.
Agree (6)Disagree (0)Recommend (1)



这是世界经济战,是人们的生存之战。巴基斯坦在这场战争中一无是处。中国不会伤害其1000亿美元的商业伙伴。
Raghava Rao Karavadi (Vijayawada-)
China has betrayed India once in 1962.But now the world situation ha changed beyond imagination. Now Communism is only in Government Structure in China.The rest is Capitalism.I agree that China as of now is stronger than India. But India can give areply to China in case of need.Indo-China Trade relation s are doing good to India.India has to use like Electricity.We have strategic Defense Relationship with USA and Israel.That will take care if China crosses its limits.



中国曾经在1962年背叛印度。如今世界的变化已经超乎想象。供缠主义仅存在于中国政服结构中,其余是资本主义。我同意中国迄今为止比印度强大,但印度必要时可以回击中国。中印贸易关系对印度有利。印度必须能用上电。我们同美国和以色列有战略防御关系。如果中国胆敢越界,那么会被收拾。
nicohol (india) 1 day ago
tata have direct connection with colonial british ..when they left india he tactically bought all lands and industries of british in a low amount...that make him rich by traitor job..
Agree (3)Disagree (33)Recommend (3)



塔塔与英国殖民者有直接关联。当英国人离开印度时,塔塔以低价从他们手里买下了所有土地和实业公司。叛徒行为让其变得富裕。




Balakrishna Hegde (Bangalore) replies to nicohol
The Tata group can be credited with pioneers in building modern India. Calling them traitor is cheap and silly. The group has a very ethical business outlook.
Agree (33)Disagree (3)Recommend (24)




塔塔集团应该是归属于建设现代印度的先驱。称塔塔为叛徒是愚蠢行为。塔塔集团有非常道德的商业观。



Abrakadabra (Timbaktu)
We must pray for democracy for China...rest the democracy will handle
Agree (7)Disagree (1)Recommend (1)



我们必须为中国祈祷皿煮...皿煮可以解决剩余事情。




Iron (SE) replies to Abrakadabra 8 hrs ago
LOL, yeah like the 'democracy' has handled everything so well in India :))




笑,是啊,就像"皿煮"在印度解决了一切问题一样 :))



sudeep (uae) 1 day ago
I don't understand the idea of buying auto sub assemblies from China. Why cant we setup and develop the same quality level-chinkies have? At least I don't expect this from Tatas.
Agree (9)Disagree (6)Recommend (4)



我不理解为什么要从中国购买汽车半成品。为什么我们不自己设厂生产质量相当于中国的产品?至少,我不希望塔塔这样做。
Dinesh Prabhakar (delhi)
So much of our land with China, and on that land a road from China to Pakistan, Indian surrounded by unfreindly neighbors, please no business with them. Enough world to do business.
Agree (7)Disagree (5)Recommend (3)



我们有非常多土地被中国占去了,被占领土上还有一条从中国到巴基斯坦的公路。印度被不友好的邻国包围,请不要同他们做生意。世界已经够多生意让你做了。
Sanity (India) 1 day ago
Why cant we make car parts in India? I didn't expect this from rotten tata. Why should we outsource our manufacturing to the Chinese when he describes them as our second enemy? People like tata make me ashamed to be an Indian. he is the epitome of dhimmitude and cowardliness. A trait which Indians have embraced over the past fifty years. Chinese do not care about the poor of India. Only mass-scale industrialization will lift our country out of poverty. Industrialization which we SHOULD NOT be outsourcing to the Chinese.
Agree (13)Disagree (34)Recommend (5)



为什么我们不在印度生产汽车零件?我不希望烂透的塔塔这样做。把他们描述为敌人,可为什么要把制造外包给中国人。塔塔那样的人让我羞为印度人。他是懦弱的象征,印度人过去50年都抱有这种缺点。中国人并不关心印度穷人。只有大规模工业化才能让我们国家脱贫。我们不应该把工业外包给中国人。




Logics (India) replies to Sanity 1 day ago
because chinese work their A** off like robots... not like indian labor...
Agree (5)Disagree (1)Recommend (1)




因为中国人像机器人一样工作...印度劳工不会这样...



Pratul Birla (Kolkata)
Anyone can see the contradictions in Shri Ratan Tata's statements. Designating it as a second class enemy and saying it has not done anything adversarial to India. His business interest in China seems to cause a dilemma . But I agree with him that there is a potential ally in China as well.
Agree (2)Disagree (4)Recommend (0)



任何人都可以看到塔塔声明的矛盾之处。将其称为二流敌人,又说它没有做任何敌对印度的事情。他在中国的商业利益令其左右为难。但是我同意他的一个看法,即中国有可能成为印度的盟友。
William (Mangalore)
Neverthless, this is not a new story, since long China is helping Pakistan to arm against India, to weaken India, it shows China is afraid of India - THE MIGHTY.
Agree (4)Disagree (5)Recommend (1)



然而,这不是新鲜事,因为中国很早就帮助巴基斯坦武装对抗和弱化印度。此举表明中国害怕印度。(文章来源:三泰虎)
kapil garg (delhi)
china has taken over our markets.... they have done economic attack on India. our industries are dying.... aur kya bolu ab to Diwali k liye lights aur laxmi ji b and china se aati hai......( wo b itni sasti)
Agree (7)Disagree (0)Recommend (2)



中国占领了我们的市场...对印度发起了经济攻击。我们的工业在死去...
Vijaypratap Singh (Bareilly)
Assistance never helps in making one great. One should always try to stand on its own leg.
Agree (2)Disagree (1)Recommend (1)



接受帮助永远不会让一个人变得伟大。你应该总是试图独立自主。
Ananthanarayanan (Bangalore) 1 day ago
What India thinks about China is not important. What USA thinks about China is more important to India.
Agree (7)Disagree (0)Recommend (3)



印度怎么看中国并不重要。对于印度来说,美国怎么看中国还更重要。
Awdhesh (delhi) 1 day ago
Dear Tataji, What u r doing to counter Chinese policies, U people are considered as engineering master, why cant you make those assemblies in your manufacturing unit?
Agree (9)Disagree (1)Recommend (6)



亲爱的塔塔,你有什么措施来反制中国政策吗。你们被认为是工程专家。为什么你们不能在自己的工厂生产那些装配组件。
Anil (Dubai)
With all due respect, Tata is looking at Indo-China relations solely from the myopic kaleidoscope of Tata motors. He is thinking like a corporate Executive and not a Visionary. China is a very real and present danger.
Agree (10)Disagree (7)Recommend (3)



恕我直言,塔塔仅仅从塔塔汽车为出发点来看待中印关系,目光是短浅的。他的思维模式正如企业高管,不像是有远见的人。中国是个真正的现实威胁。
lokesh jalora (Jodhpur)
Very correctly stated by Tata
Agree (3)Disagree (0)Recommend (2)



塔塔说得非常正确




Dinesh (USA) replies to lokesh jalora
Let's start with Cricket Diplomacy !!!
Agree (2)Disagree (0)Recommend (2)




让我们以板球外交作为开始吧!



Prof. Raj Kumar (Uttar Pradesh)
Its true, India and china are neighbors since existence of the mankind itself yet there are no signs of war between both in the history except for when stupid Nehru was PM.
Agree (7)Disagree (1)Recommend (3)



是真的,自从人类出现以来,两国除了在愚蠢的尼赫鲁当任总理时发生过战争,其他时候都没有出现过任何战争迹象。
Surendra Nath (bangalore)
if v win the diplomacy in relation with china, then pakistan will become quiet in all the aspect. but to tame china is the most most difficult job. a very strong foreign affair minister is required who is very very dynamic also in dealing with day today activities with great swiftness
Agree (6)Disagree (0)Recommend (2)



如果我们赢得中印外交,那么巴基斯坦各方面都会变得安静下来。但是要驯服中国是最困难的工作。必须有一个非常强势和非常有活力的外交部长来迅速处理日常事务

。
Political Analyst (Geneva) 1 day ago
India should try to make China its ally.If India and China forms a partnership then it would spell the end of the American hegemony.Most of the so called "American " goods are made in China and India takes care of its service side.If we decide to form a economic partnership then both countries can benefit a lot. 1962 war could have been avoided If India had shown more sense than changing the maps by ourselves rejecting the talks proposed by China. Our Defence ministry's overconfidence and terming China as cowards who run away when a shot is fired paved way for the war.And The chinese motive was "A war now will give atleast 30years of peace with india" .Also the decision to reject Pakistan's proposal(pak also had border disputes with China) to form a common front against China was rejected by our foreign ministry and it ended up making Pakistan an ally of China.The ministry at that time was made of couple of arrogant foolish ministers which caused India to lose.Also it is to be remembered that China ended the war by their own at returned 20kms back of the Sino-India border which existed before the war. If India can have a nuclear traety eith US which had sent its nuclear vessel to attack India during 1971 war,then why not an economic treaty with China?There are no permanent enemies in the race for world supremacy.
Agree (10)Disagree (4)Recommend (5)



印度应该努力同中国结盟。如果中印形成伙伴关系,那么会终结美国霸权。所谓的美国产品大多数是在中国生产,而印度负责其服务部分。如果我们决定形成经济伙伴关系,那么两国会受惠颇多。如果印度更加理智,不是擅自修改地图,没有拒绝中国提出的谈判,那么1962年中印战争就可以避免。我们国防部太过自信,以为中国是一听到枪响就跑的懦夫。这些想法为战争的爆发铺平了道路。中国人的动机是"打一场至少能够带来30年和平的战争"。此外,巴基斯坦与中国也有边界争议,印度外交部拒绝巴基斯坦提出的形成对抗中国的共同战线,结果巴基斯坦成为了中国的盟友。当时的国防部由一些傲慢和愚蠢的部长组成,导致印度失败。此外还要记住中国是自己结束战争的,主动撤退到战前中印边界线后面20公里。美国在1971年印巴战争时派核动力航母准备攻击印度,印度却与美国之间签署了核协定,那么为什么印度不与中国签署经济条约?在角逐世界霸权方面是没有永久敌人的。




Sima (New Delhi) replies to Political Analyst 1 day ago
While most of what you say is true, the common people on both sides of the border have been fed for far too long with misinformation. Consequently, it is extremelty difficult, if not impossible for the Indian Government at least, to settle the border issue without incurring the criticism "whose land are you ceding?" China, being a totalitarian state can ignore any murmur on their side. If the Indian Government and politicians of all hue earnestly take the people into confidence, tell them the true story of our border dispute and seek their support in resolving the problem, perhaps it can be resolved. However, given the attitude of our politicians and because of the misinformation spread over so many years, this appears to be too much to expect.
Agree (2)Disagree (0)Recommend (1)




你所说的大部分是真的,边界两边的老百姓长期以来被灌输了太多误导信息。结果,即使不是说不可能,印度政服也非常难以在不招致批评的情况下解决边界争议,人们会问"你割让了谁的土地"?作为一个专制国家,中方可以忽视任何抱怨。如果印度政服和政客真正信任人民,告诉他们边界争端的真实故事,在解决边界问题上寻求他们的支持,可能问题能够得到解决。然而,考虑到我们政客的态度和数十年来流传的错误信息,抱有这样的期待似乎不大现实。



rk (AHMEDABAD)
SO MUCH OF OUR LAND GRABBED BY CHINA...;BITTER EXP. OF 1962 ; RATAN SIR..BEFORE PURCHASING sub-assemblies FROM CHINA GO FOR THOROUGH QUALITY CHECKS...ALL THE BEST SIR...
Agree (2)Disagree (0)Recommend (0)



中国夺取了我们如此之多土地...1962年(中印战争)的苦涩经历。塔塔,在从中国购买半成品前,请先彻底检查质量...一切顺利...
William (Mangalore)
Indeed, China got a higher ranking by Ratan Tata, I say "China is Third Class" See their most of the goods, which are also third class, duration guarantee is one day !!!!
Agree (5)Disagree (1)Recommend (0)



确实,塔塔给中国的评定更高一级,我要说的是"中国是三流的"。看看他们大多数产品也是三流的,保修期只有一天!
Amit Singh (Bangalore, India)
I am not sure about the actual thought behind the quotes. China has not done anything adversarial to India. I was not born then but Mr. Tata was already present in the world china fought a war with us in 1962, if that was not adversarial, when India was still an infant in the world economy, what would Mr. Tata actually term adversarial.
Agree (1)Disagree (0)Recommend (0)



我不确定文章所引用的话背后的真实想法。"中国没有做任何敌对印度的事情"。1962年中印战争爆发时,印度在世界经济版图中仍然非常弱小,我当时还没有出生,但是塔塔先生已经来到这个世界了。如果那也不算敌对的话,那么塔塔先生对敌对的定义是什么。
Harin Bansal (New Delhi)
Nice to see Tata ji saying like "Hindi chini bhai bhai" ;)
Agree (2)Disagree (3)Recommend (0)



很开心地看到塔塔说"中印亲如兄弟"等诸如此类的话 ;)
Indian (India) 1 day ago
Indian tiger is caught somewhere in circus called Congress
Agree (51)Disagree (3)Recommend (26)



印度虎在一个叫做国大党的马戏团里卡住了。(文章来源:三泰虎)




gbs (bangalore) replies to Indian 1 day ago
Indian tigers are caught somewhere in circus called BJP particularly in Bangalore ,the Electronic capital of India !!
Agree (3)Disagree (5)Recommend (2)




印度虎是在一个叫做印度人民党的马戏团里卡住了,特别是在印度电子产品之都——班加罗尔!



Dilip (Bangalore)
its well know fact that china's is fighting with India with a 'Borrowed knife'. Hope Manmohan will awake from deep sleep before china does one more 1962.
Agree (3)Disagree (1)Recommend (2)



众所周知,在对抗印度方面,中国可是借刀杀人。希望在中国发动另一场1962年中印战争前,辛格能够从沉睡中觉醒。
Dinesh (USA)
Post 1947, all Indian Politicians were like TATA. After having Bitter Taste in 1962, the true lesson was learned !!!
Agree (8)Disagree (2)Recommend (5)



1947年独立后,所有印度政客都如同塔塔那样。1962年尝到苦涩滋味后学到了真正的教训!




Iron (SE) replies to Dinesh 23 hrs ago
I wish we could also learn some 'TRUE' lessons about 1962. Sadly the Henderson-Brooks report on the 1962 debacle still remains classified after 5 decades.




我希望我们可以从1962年中印边界冲突中吸取真正的教训。遗憾地是,50年后,有关印度在1962年战场上奔溃的《亨德森布鲁克报告》仍属机密。



Dinesh Prabhakar (delhi)
Let us get out of China phobia and enter some other credible market for business, everybody knows how badly they have flooded our country with sub standard material and useless goods with no guarantee of their performance, they are looters keep them away from Indian market.
Agree (3)Disagree (1)Recommend (2)



让我们走出中国恐惧症,进入一些可靠的商业市场。每个人都知道中国低劣、没有保修期和无用的产品充斥着我们国家。他们是抢劫犯。把他们拒之于印度市场之外吧。
Agnel Pereira (Goa)
We should jump to the conclusion without any evidence. China might be our first tough enemy, that doesn't means we directly point them the fingers. Defnenitely China is supplying arms to Pakistan as they are too close. Tata is a business man and he have lot of things in his mind and he is sure that he can't sell anything to China as they are producing everything in their own country, for that reason he is criticizing them.
Agree (1)Disagree (1)Recommend (0)



我们无需任何证据就能得出结论。中国可能是我们最难缠的敌人,并不意味着我们要直接挑战他们。毫无疑问,中国为巴基斯坦提供武器,因为他们彼此关系太密切了。塔塔是个商人,有很多事情需要考虑。他确信自己没有什么东西可以卖给中国,因为一切东西在中国都有生产。正因如此,塔塔批评他们。
Purush Vichaar (New York)
While Ratan Tata is a respected figure and his words carry a lot of weight, one concern though with China is quality, in terms of reliability and durability. The experience with Chinese goods which have come into India has not been very good. They do not last beyond a year or two.
Agree (7)Disagree (6)Recommend (1)



塔塔是个德高望重的人,他说的话有很重的分量。值得关注的一方面是中国产品的可靠度和耐用度。进入印度市场的中国货并没有给人很好的体验。大多只能用上一年或者两年。




Shifali (Vasai) replies to Purush Vichaar 1 day ago
ITS NOT CHINA DOESNT PRODUCE QUALITY & DURABLE PRODUCTS.. THE FACT IS INDIANS LOOK FOR CHEAP PRODUCTS SO THE CHINESE END UP SELLING 3RD GRADE PRODUCTS TO INDIA. ALSO, THERE IS NO QUALITY CONTROL IN INDIA TO BAN OR STOP THESE PRODUCTS FROM ENTERING INDIA LIKE IN U.S.A SO CHINESE MANAGE TO SELL THEIR REJECTED & LOW END PRODUCTS TO INDIA. THATS THE FACT
Agree (4)Disagree (1)Recommend (0)




不是中国没有生产优质耐用的产品,事实是印度人要的是廉价产品,结果中国人就把三流产品卖给印度。此外,印度没有像美国那样禁止或者阻止劣质产品进入国内的质量把控,所以中国人就设法把被拒或者低端产品卖给印度。事实就是这样。



Dinesh (USA)
Thanks God, CHINA don ' play CRICKET !!!
Agree (21)Disagree (1)Recommend (12)



谢天谢地,中国不玩板球!
Mayank Jain (Bangalore, India)
China is same dangerous as pak...always be careful from their side..they are want to grab our land...their is nothing to talk to them...
Agree (3)Disagree (1)Recommend (1)



中国和巴基斯坦一样危险...要时刻提防他们那边的动向...他们想要夺取我们的土地...跟他们没什么好谈的...
I am Legend (India) 1 day ago
Mr Ratan Tata,what about 1962 aggression and gobbling up Aksai Chin?what about their eye on Arunachal Pradesh?you cant say that they have not been adversial to India.
Agree (6)Disagree (2)Recommend (1)



塔塔先生,那么中国1962年的侵略和被吞并的阿克塞钦呢?还有他们觊觎阿鲁纳恰尔邦?你不能说他们没有敌对印度。
BSS (Chennai) 1 day ago
All ok, but why India is not able to produce a single international brand on par with a small country like South Korea, viz. Hyundai, LG, Samsung, Deawoo etc.
Agree (12)Disagree (1)Recommend (4)



一切都很好,但是为什么印度无法培养出水平等同诸如韩国等小国的单一国际品牌,比如现代、LG、三星、大宇等。
Indian4ever (Ahmedabad) 1 day ago
Tata should be ashamed if they have to outsource spare parts from China...its a very bad sign for India....i will never buy a tata car with imported parts.
Agree (2)Disagree (7)Recommend (1)



如果塔塔把零件外包给中国,那么塔塔应该感到羞耻...这对于印度来说是不好的迹象...我永远不会买进口零件组装而成的塔塔汽车。
Pavan (World) 1 day ago
China dosent have some magic wand to make things at a cheaper cost. It is the enterprising nature of chineese people, which makes that possible. Majority of chineese work from 6 am to 11 pm by choice, that is 17 hrs a day!
Agree (6)Disagree (6)Recommend (1)



中国并没有以更低成本生产产品的魔术,正是中国人的进取心让其变成可能。大多数中国人自愿从早上6点工作到晚上11点,也就是一天17个小时!
Anand (Delhi)
Indian tiger is washed away in floods of Asam and Bengal.
Agree (6)Disagree (0)Recommend (1)



印度虎在阿萨姆邦和孟加拉邦的洪灾中被冲走了。
Madan (Jamshedpur) 1 day ago
It is first time I saw Ratan Tata talking about political isssues. I think we need him in politics as he is a person of wisdom.
Agree (27)Disagree (4)Recommend (11)



我第一次看到塔塔谈论政治问题。我认为他是一名充满智慧的人,我们需要他从政。
塔塔集团主席兰塔·塔塔在接受彭博社UTV的电视采访时表示,中国支持和武装巴基斯坦,使其成为"二流敌人",但是要让巴基斯坦的经济实力超过印度则不是一个现实关注。塔塔称中国肯定在协助和武装巴基斯坦,对于印度来说它正如是一面危险信号旗,中国已经使巴基斯坦成为了二流敌人。塔塔将中印关系形容为"并非敌手,但也并非关系最好。你们知道,中国从来没有做任何敌对印度的事情。我认为印度更多关注中国经济实力超过印度,这些是我们没有看到的。"