原文标题:China to deploy drones to conduct maritime surveillance
原文链接:http://timesofindia.indiatimes.com/world/china/China-to-deploy-drones-to-conduct-maritime-surveillance/articleshow/15942118.cms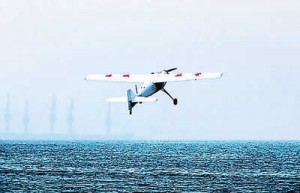 BEIJING: Amid increasing maritime disputes with a host of its neighbours, China today said it plans to deploy unmanned aerial vehicles (UAVs) along its coast line to conduct "remote-sensing marine surveillance."

"The plan also includes the construction of 11 UAV bases run by provincial maritime authorities," Yu Qingsong, a division chief of the State Oceanic Administration, said.

No further details on the scale or the schedule of the project were provided, but Yu noted that at least one drone would be stationed at each base, state-run Xinhua news agency reported today.

The announcement came in the midst of maritime tensions between China and host of its neighbours over the disputed islands in the South and North China Sea.



北京:据新华社报道,在中国和许多周边领国的海事纠纷日益增多期间,中国国家海洋局某司司长于青松今天称拟在全国11个沿海省(区、市)各建设一个由各省海事局管理的无人机基地,每个基地至少部署一架无人机,实施遥感海洋监测。然而,有关工程的规模或者计划的进一步细节没有被披露。



The Xinhua report said China had earlier launched trial program last year in Liaoning Province where rented Drones were successfully used to take aerial photos of a 980 square kilometer sea area.

Local authorities said they could use the high-definition photos to discover illegal land reclamation and sand dredging as well as monitor marine environments along the coast and on islets.

A separate test on a drone-based 3D monitoring system was also conducted earlier this year by the maritime authority in east China's Jiangsu Province, the report said.



新华社的报告称,中国去年在辽宁省实施了一个实验项目,成功地用租来的无人机在980平方公里的海域展开航拍工作。地方当局表示,他们可以通过高清照片发现非法填海造地和挖沙,以及沿海各岛的海洋环境。今年早些时候,江苏省海事局举行了基于无人机的3D监控系统的独立测试。




以下是印度网民的评论:




dv1173 (Delhi)
China is aggressively following up the status of maritime disputes with its neighbours, because of deep sea oil exploration... well in near future this disputes may take an ugly shape on International political map..
Agree (3)Disagree (1)Recommend (1)



随着和周边领国的海事纠纷日益增多,中国变得越来越具侵略性,导火索是深海石油开发...在不久的将来,这些争议可能在国际政治版图上丑陋成形...
Santhosh (India)
Where are we on the race? Or are we still in the budgeting stage of the project?
Agree (5)Disagree (1)Recommend (0)



我们如今在比赛中处在哪个位置?还是我们仍处于项目的预算阶段?




Prasanjit (Kalyan) replies to Santhosh
"it has already been announced some 20-25 years ago...the project is progressing at a steady pace"...lol
Agree (6)Disagree (1)Recommend (2)




"大约20到25年前就已经宣布了此类项目...正在稳步推进中"...笑



kamal (Bangalore)
wake up indian navy do someting better than china
Agree (6)Disagree (7)Recommend (1)



醒醒吧,印度海军,要比中国做得更好
ATS.MAVERICK (EARTH)
And these drones were built on the designs and technology of US drones which were shot down in Pak and handed over to China by Pak.....
Agree (18)Disagree (5)Recommend (1)



在巴基斯坦境内被击落的美国无人机移交给了中国。这些中国无人机会在美国无人机的设计和技术的基础上制造...
HimadriBhattacharyya (Kolkata)
Seems like international center of economic and military powers is shifting away from USA to somewhere in the Pacific Ocean by China's attraction. Both the countries are desperate to establish as much control as possible in this area.
Agree (6)Disagree (2)Recommend (0)



在中国的吸引力下,国际经济和军事中心似乎从美国转移到了太平洋的某个地方。中美两国都使出浑身解数,尽可能控制该地区。





原创翻译:三泰虎 http://www.santaihu.com
indian (Delhi)
china the next super power.
Agree (10)Disagree (10)Recommend (2)



中国是下一个超级大国
waran (Australia)
China is already using drones on the China / India border for the last few years and because there is no radar system in India as such they have no idea that they are always monitoring Indian forces 24 hours.
Agree (8)Disagree (0)Recommend (1)



在过去几年里,中国已经在中印边界使用无人机。由于印度没有雷达系统,所以印度人不知道中国人全天候24小时监控印度军队。
Horses Mouth (Everywhere)
AND Indian do NOT have One! We are happy to play remote sensing Satellites, no body knew they work?
Agree (3)Disagree (0)Recommend (0)



印度一架无人机都没有!我们乐于使用遥感卫星,没有人知道它们是否有用?
Marco Hsiao (Asia)
China (Mainland China ROC Taiwan Hong Kong Macau) is becoming more and more stronger. In 2025, Mainland China's GDP (nominal) and military should surpass the US; and India's GDP (nominal) and military should exceed the UK, too. All Asian countries should unite together for peace and prosperity. Asia has great future.
Agree (14)Disagree (6)Recommend (5)



中国(大陆、台湾、香港、澳门)正变得越来越强大。到2025年,中国大陆的名义GDP和军力应该会超过美国,印度的名义GDP和军力也应该会超过英国。为了和平与繁荣,所有亚洲国家应该联合起来。亚洲有美好的未来。
Simon Lee (UK)
China is sending a strong signal to US who is stirring up trouble in the South China Sea. China is basically speaking the only language US understand - might is right!
Agree (7)Disagree (11)Recommend (1)



中国对在南海惹是生非的美国发出强烈信号。根本上说,中国是在说美国唯一听得懂的语言——强权即公理!
Gilbert Albright (Horsham, Pennsylvania)
Looks like it didn't take them long to replicate the American drone that crashed in Iran. I'm sure the Chinese gave the Iranians some really nice nuclear weapons technology in return for it.
Agree (11)Disagree (5)Recommend (0)



看起来中国不费多少工夫就山寨出了坠毁在伊朗的美国无人机。我确信,作为回报,中国人给了伊朗人一些实在的核武器技术。
Morgan (Australia)
Question; why is it ok for the US to use UAV's for "surveillance" on other countries but not for those countries to do the same? Why is it ok for the US to have military bases beyond their own borders across the globe and not anyone else?
Agree (4)Disagree (1)Recommend (1)



问题:为什么美国可以用无人机监视其他国家,而其他国家就不能效仿呢?为什么美国可以在全球各地建立军事基地,而其他国家就不可以呢?
Jim Bob (US)
Just like we in the US control our drones from far away...who says China or India cannot do the same. To say anything different, in my opinion, is pure lunacy.
Agree (5)Disagree (0)Recommend (0)



正如我们美国能够在远处遥控无人机一样,谁说中国或者印度办不到。在我看来,对此持任何异议,纯粹是极端愚蠢的行为。




Morgan (Australia) replies to Jim Bob
Hi Jim, not lunacy, just hypocrisy. When China excercises financial muscle, it's called curreny manipulation. When the US does it, it's called quantitive easing. When middle eastern people attack a military target inside the US or a US ally, it's called terrorism. When the US executes an unarmed middle eastern person without trial (Bin Laden), it's called counter terrorism. Do as I say, not as I do.
Agree (9)Disagree (16)Recommend (3)




嗨,Jim,不是愚蠢行为,而是伪善之举。当中国运用金融实力时,会被冠以操纵货币之名;当美国这样做时,则被称为量化宽松。当中东人袭击美国境内或者美国盟友的军事目标时,会被称为恐怖主义;当美国在不经审判就处死一名手无寸铁的中东人(本拉登)时,却被称为反恐。照我所说的做,别照我所做的来做。




James (Ohio) replies to Morgan
You need to know international laws to figure out why CHina does what it does. You don't, so you really don't know what you're talking about. Secondly, China steals everything that has made it successful. Should give you an indication on how it views cooperation with anyone.
Agree (8)Disagree (3)Recommend (2)




你需要了解国际法律,才能理解中国为什么要这样做。你不了解,所以你实际上不知道自己在说什么。其次,中国的成功一切靠偷。在中国如何看待和其他国家的合作方面,应该给你一些暗示。




HS (Singapore) replies to James
China must be doing a much better job than Tom Cruise in his "Mission Impossible" series, right? But with their predominance in high-end security technologies, why are USA and the West so hopeless in protecting their inventions and technologies from the clumsy Chinese thieves?
Agree (2)Disagree (0)Recommend (1)




中国的表现肯定比《碟中谍》电影系列中汤姆·克鲁斯的表现要好多了,对吗?美国在高端安全技术上有优势,为什么在保护其发明和技术免遭笨拙中国小偷染指方面,美国和西方却如此无能?




raj (UK) replies to James
China steals everything... where do you get this claim. Your words sound like many of my Indian fellows. What I can say is USA stole and robbed a lots of lands from others. It is fact, isn't it?
Agree (5)Disagree (9)Recommend (0)




"中国什么都偷"...你哪里听来这个断言。你的话听起来像我的许多印度同胞说的。我要说的是美国偷窃和抢劫许多其他国家的土地。这是事实,不是吗?



Dev Kumar (Gurgaon, Haryana)
Muscle flaxing by China....and why not....they have worked hard for these capabilities with Discipline,utmost dedication,Honesty and silently. There is hardly any corruption in China which makes this nation to stand out in CROWD. We dreamt India to overtake China but then high level of Corruption and non-govrnance in last many years hs pushed us back by many years.
Agree (18)Disagree (11)Recommend (5)



中国在炫耀力量...为什么不可以...在经过纪律、最大奉献、诚实和默默地辛勤工作后,他们获得了这些能力。中国几乎没有腐败,使得这个国家能够出类拔萃。我们梦想印度能超过中国,但过去许多年的严重腐败和无治理让我们倒退了许多年。
LD Bhatia (Delhi)
China which considers South China Sea to be its private sea does not want that foreign ships should pass through the vital sea-link without its permission. China which at one time was the main supporter and even best friend of Vietnam is at loggerheads with that country because Vietnam also lays claims to an island or two of the sea. But China does not want anything of the kind. China has the same kind of dispute with Japan and South Korea also.

China is now busy constructing 'colonies' on the disputed islands where people from the mainland China would be settled as they have been settled in large numbers in Tibet. China knows once this is accomplished, no neighbour of China, Vietnam, South Korea, Japan and Phillipines would be able to lay any claim to any island of the South China or Even East China Sea. That's why the deployment of drones now. After all China also considers itself to be equal to America in military strength.
Agree (8)Disagree (5)Recommend (1)



中国认为南海是其专属海域,不希望外国船只在未经允许的情况下航行在这条至关重要的海上通道。中国曾经是越南的主要支持者和最好朋友,如今两国闹得不和,原因是越南也对南海几个岛屿声张主权,中国可不会允许此类事情发生。同样地,中国与日本和韩国之间也有类似争端。





中国如今忙于在争议岛屿上建立"殖民地",让大陆人过来定居,此种做法和中国在xz的做法如出一辙。中国知道一旦完成,越南、韩国、日本和菲律宾等中国领国就无法对南海甚或东海的任何岛屿声张主权。所以,中国现在部署无人机。毕竟,中国认为自己在军事力量上媲美美国。





原创翻译:三泰虎 http://www.santaihu.com




FACTS (Beijing) replies to LD Bhatia 19 hrs ago
In 10-15 years, Japan, Korea will side with CHina to create the east Asian Common Wealth, which will have by far the largest economy in the world, a lot bigger than Eurozone and North America. The conflicts between Korea-Japan-China will disappear by then, and East Asia will stand out as world #1 in science, engineering, business.
Agree (12)Disagree (10)Recommend (6)




在10到15年里,日本、韩国会和中国一起形成东亚联邦,将是迄今为止世界最大的经济体,比欧元区和北美大多了。到时候,韩国、日本和中国之间的冲突会消失,东亚会在科学、工程和商业领域崛起为世界第一。




Heinz57 (US/ROK) replies to FACTS 6 hrs ago
As a Korean/American I can say that you are speaking through your rear end.Koreans have no such vision of joining "Asian Commonwealth" that includes CHINA who supports the atrocities being committed Criminal North Korean Government against their own people. But then again what do one expect from the same Government who slaughtered thousands of the same Chinese people in just 1 swoop? Tinamin square.Stop your dreaming.
Agree (2)Disagree (2)Recommend (1)




作为一名韩国人/美国人,我要说你是通过屁股说话。韩国人没有加入包括中国的"亚洲联邦"的打算。中国支持反人民的北韩政服犯下的暴行。你又能从一次性ΧΧ几千名中国人的类似政服中期望什么?就在天安门那里。别做梦了。




LD Bhatia replies to FACTS 7 hrs ago
Latent antagonsims running through centuries always remain. They would remain in the case of China, Japan and South Korea. Japan and South Korea would never, never trust China. There is no question of the type of grand alliance as you have written being forge even in the distant future..
Agree (3)Disagree (1)Recommend (0)




历经数百年的潜在敌意会一直存在下去,这适用于中日韩的情况。日本和韩国永远不会信任中国。你所说的此类大联盟是不可能的,就是在遥远的未来也不现实...




WtSane (USA) replies to FACTS 12 hrs ago
I wish China luck. They will shortly discover what America has, that being out in front means everybody wants to take you down. The world will also discover that America wasn't so bad after all, but by then, too late. Enjoy your slave labor camps!
Agree (13)Disagree (7)Recommend (0)




我希望中国好运。他们很快会发现美国的实力。出类拔萃意味着每个人都想拉你下来。全世界也将发现美国并非那么糟糕,不过到时可就太晚了。还是享受你的奴隶劳改营吧!




LD Bhatia (Delhi) replies to WtSane 7 hrs ago
America would remain America a beacon of light for everybody to see from afar. China is out to assimilate as many countries as it can the biggest example being that of Tibet.
Agree (2)Disagree (2)Recommend (0)




美国仍然会是美国,仍然是大家老远就能看到的一座灯塔。中国尽可能多地同化其他国家,最大的例子是xz。






印度时报称,中国拟在11个沿海省(区、市)各建设一个无人机基地,每个基地至少部署一架无人机,实施遥感海洋监测。目前中国海域动态监视监测的主要手段是卫星遥感、航空遥感、现场监视监测和远程视频监控。这几种监测手段在应用中存在一些不足。如:卫星遥感监测受制于天气和拍摄周期等因素,在一些区域长年也无法获取一次质量较高的影像;航空遥感监测具有较大的局限性和延时性;地面监视监测存在野外工作量大、人力成本高等问题;远程视频监控则存在拍摄范围较小、视频精度不高等问题。