译文来源:三泰虎 http://www.santaihu.com
原文标题:China takes over Pakistan port from Singapore
原文链接:http://timesofindia.indiatimes.com/world/pakistan/China-takes-over-Pakistan-port-from-Singapore/articleshow/18560472.cms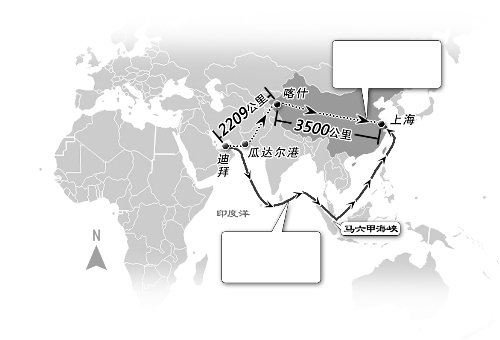 ISLAMABAD: China took control on Monday of a strategic Pakistani port on the Arabian Sea, as part of a drive to secure energy and maritime routes that also gives it a potential naval base, sparking Indian concern. The Pakistani cabinet approved the transfer of Gwadar, currently a commercial failure cut off from the national road network, from Singapore's PSA International to the state-owned China company on January 30.



伊斯兰堡:作为确保能源和海上航线安全的一部分,中国18日掌控了阿拉伯海之滨巴基斯坦的一个战略港口,给了中国一个潜在的海军基地,引发了印度的关注。1月30日,巴基斯坦内阁批准了瓜达尔港从新加坡港务局移交给中国一家国有公司,该港口目前是个商业失败,并未同国家公路网连接起来。



It had not been clear when the actual handover would take place, but Pakistani President Asif Ali Zardari presided over the signing of a memorandum of understanding on Monday that was broadcast live by local television.

"The contract of operation of Gwadar port is formally given to China. Today, the agreement is transferred from the Port of Singapore Authority to China Overseas Ports Holding Company Limited," Zardari announced.



目前尚不明确真正的移交何时会发生,巴基斯坦总统扎尔达里主持了谅解备忘录的签署,当地电视台进行了现场直播。





"瓜达尔港的运营合同被正式授予了中国。今天,协议从新加坡港务局转交给了中国海外港口控股有限公司。"扎尔达里宣布。



"The award of this contract opens new opportunities for our people... It gives new impetus to Pakistan-China relations."

The Pakistanis pitched the deal as offering an energy and trade corridor that would connect China to the Arabian Sea and Strait of Hormuz, a gateway for a third of the world's traded oil, overland through an expanded Karakoram Highway.

Experts say it would cut thousands of kilometres off the distance which oil and gas imports from Africa and the Middle East have to travel to reach China.



"这份合同的授予为我们人民打开了新的机会....给中巴关系带来了新的推动力。"





巴基斯坦人将该交易定义为提供了能源和贸易走廊,通过扩建的喀喇昆仑公路,把中国与阿拉伯海和霍尔木兹海峡连接了起来,是通往世界三分之一石油贸易的大门。





有专家表示,从非洲和中东进口的石油和天然气到达中国的路程将被缩短数千公里。



"Gwadar port will enhance trade and commerce not only between Pakistan and China but also in the region," said Zardari.

China paid about 75 per cent of the initial $250 million used to build the port but in 2007 PSA International won a 40-year operating lease.

Then-ruler Pervez Musharraf was reportedly unwilling to upset Washington by giving control of the port to the Chinese.



"瓜达尔港不仅将加强巴基斯坦和中国之间的商业贸易,也将加强该地区的贸易。"扎尔达里说。





中国支付了最初用于建造港口的2.5亿美元的75%,但新加坡港务局在2007年赢得了该港口40年的经营性租赁合同。





据报道,当时的统治者佩尔韦兹·穆沙拉夫不愿意因把港口的控制权授予中国而令华盛顿不安。



On February 6, defence minister AK Antony said in New Delhi was concerned by Pakistan's decision to transfer management of the deep-sea port to China, which has interests in a string of other ports encircling India.

Pakistan foreign ministry spokesman Moazzam Ahmad Khan dismissed those concerns last week, telling reporters: "This is not something that any other country should have any reason to be concerned about."



2月6日,国防部长安东尼在新德里称对巴基斯坦决定把这个深海港口移交给中国表示关注,后者有兴趣构建围堵印度的港口"珍珠链"。





巴基斯坦外交部长莫阿扎姆·艾哈迈德·汗上周驳斥了这些担忧,他告诉记者:"这不是其他国家有理由对此感到担忧的事情。




以下是印度网民的评论:




zubeen raj neog (mumbai)
A FRIEND IN NEED IS A FRIEND INDEED....LOL
Agree (4)Disagree (2)Recommend (0)



患难见真情...LOL
Pakistan should be handover to China (Oslo )
They should hand over Pakistan to China. They would persecute and execute the Mullahs. This would be redemption for us.
Agree (16)Disagree (1)Recommend (8)



他们应该把巴基斯坦移交给中国,毛拉会被迫害和处决,对于我们来说算是救赎。
SURYA PRASAD (Bangalore)
Within few years china will take over to pakistan! A big challange for INDIA ahead.
Agree (8)Disagree (3)Recommend (2)



中国几年内会接管巴基斯坦!印度将来会面临一个巨大挑战。
Sathian Thazhathidath (dxb)
Next is karachi port. after that Islamabad airport. slowly but steadly whole pakistan is going to taken over by china.then the pakis will have to start independence struggle against china.
Agree (28)Disagree (8)Recommend (8)



下一个就是卡拉奇港口,然后是伊斯兰堡机场,整个巴基斯坦将会缓慢而稳定地被中国接管,巴基佬随后会开始反抗中国的独立斗争。



译文来源:三泰虎 http://www.santaihu.com


Aamir Chaudhary (Pakistan) replies to Sathian Thazhathidath
They are trustworthy friends of Pakistan. We are not worried. Most welcome to Chinese. They are good people and neighbours to deal with.
Agree (10)Disagree (1)Recommend (1)




他们是巴基斯坦可信赖的朋友,我们并不担心,中国人最受欢迎,他们是好人和容易相处的邻居。



Johnson (singapore)
How about making Pakistan a part of China so the leaders in Pakistan can loot China too just like they are looting the Pakistan treasury
Agree (8)Disagree (2)Recommend (4)



把巴基斯坦变成中国的一部分怎么样,巴基斯坦领导人可以像抢劫国库一样去掠夺中国。
myalmightygod (India)
What would you say when two traitors meet and cooperate ????
Agree (1)Disagree (5)Recommend (0)



两个叛徒聚在一起合作,你还有什么好说的?
goggi (Lahore) (Germany)
The Yellow Plague is constantly spreading in our sub-continent like the ants, million thanks to our short-sighted corrupt politicians and stupid military institutions.
Agree (5)Disagree (10)Recommend (0)



黄祸一直像蚂蚁一样在我们的次大陆传播,万分感谢我们短视的腐败政客和愚蠢的军事机构。
v d (hyd)
smarter one is the gainer in any game
Agree (2)Disagree (0)Recommend (0)



聪明的人才会在游戏中胜出。
xyz (Delhi)
Just waiting for the day when China eats up Pakistan. They will regret this soon.
Agree (8)Disagree (6)Recommend (0)



就等中国吃掉巴基斯坦的那一天,他们很快会后悔的。
Mr.chan (shanghai)
we will take over Arunachal Pradesh and give it to pakistan as a gift..BTW,Kashmir is a part of pakistan....If u r not afraid of being beheaded, come and get it back.
Agree (23)Disagree (18)Recommend (9)



我们会接管"阿鲁纳恰尔邦",然后把其作为礼物送给巴基斯坦。顺便说下,克什米尔是巴基斯坦的一部分,如果你不怕被砍头,那就过来拿吧。




A K Gupta (Bangalore) replies to Mr.chan
Free Taiwan. Free Tibet. Free Aksai Chin....




解放台湾、解放xz,解放阿克赛钦.....




KNambiar (Bangalore) replies to A K Gupta
He is not Chinese, He is a stupid Porky, using Chinese name




他不是中国人,他是愚蠢的巴基佬,用的是中文名。




homer (albion) replies to Mr.chan
And what stopping you taking over Arunachal -beheading? Pakistan is part of Kashmir therefore it belongs to India.
Agree (11)Disagree (4)Recommend (9)




是什么阻止你们夺取阿鲁纳恰尔邦——砍头?巴基斯坦是克什米尔的一部分,所以属于印度。




Cameron (UK) replies to Mr.chan
Are you sure you are a Chinese in Shanghai? Your English indicates you are not (:0
Agree (5)Disagree (3)Recommend (3)




你真的是上海的中国人?你的英语表明你不是




Mulla O. (Karachi) replies to Mr.chan
I declare fatwa on Chinese for consuming pig meat in Gwadar.
Agree (9)Disagree (5)Recommend (6)




我向中国人发布追杀令,因为他们在瓜达尔港吃猪肉。




umar (伊斯兰堡) replies to Mr.chan
thanks MR Chan. we are waiting to accept gift from our chinese frnd
Agree (12)Disagree (5)Recommend (3)




感谢Chan先生,我们等着接受中国朋友送的礼物。




Mr.chan replies to Mulla O.
India provides us with beef. my friend
Agree (8)Disagree (5)Recommend (3)




我的朋友,印度向我们提供牛肉。




dikcse90 (bbsr) replies to Mr.chan
hey CHINKI ...Open your eyes completly so dat u can see dat India is providing u a pig meat....hahahah..
Agree (6)Disagree (3)Recommend (3)




嘿,中国佬.....完全睁开你的眼睛吧,这样才看得到,印度是在向你们提供猪肉...哈哈...




Mr. Lee (Singapore) replies to Mr.chan
Come and take it Paki. We will await you and your Chinese friends.
Agree (11)Disagree (4)Recommend (5)




过来拿吧,巴基佬,我们会等着你们和你们的中国朋友。



V.O.S (Shillong)
It is of no surprise. Sooner or later China will take over the whole of Pakistan
Agree (6)Disagree (2)Recommend (0)



这并不奇怪,中国迟早会接管整个巴基斯坦。
Manoj (Kolkata)
India should just sit back and relax. The oil has to traverse on land which is real Badland. Its doomed to fail.
Agree (4)Disagree (4)Recommend (0)



印度应该静坐放松,石油还得经过陆地,那里才是真正的邪恶之地,注定会失败的。
Cheetan (Mirpur Khas, Sindh. )
Saftey Note for Pakistan as Naval Ships of China means a second thought for any country to have a fight with Pakistaniz as Chinese never ran in time of need like the US did all the time. Good News
Agree (8)Disagree (3)Recommend (4)



这对巴基斯坦来说是安全票据,因为中国海军军舰会让任何想打巴基斯坦的国家三思,中国人从来不会像美国一直所做的那样在需要的时候跑掉。
Saunil (Kolkatta)
Good move, the Chinese will only loose money on this for the sake of pestering India. In a total war of India-Pakistan they will loose the port anyway. They will eventually also loose India as a trading partner and market, because elephants never forget...
Agree (6)Disagree (4)Recommend (3)



干得好,中国人会因为纠缠印度而失败。在印巴全面战争中,他们也会失去这个港口,还将会最终失去印度这个贸易伙伴和市场,大象可是有记性的.....



译文来源:三泰虎 http://www.santaihu.com
Rajkrishnan (Chennai)
after sometime , pakistan will become a state of china...very very soon
Agree (4)Disagree (3)Recommend (0)



一段时间后,巴基斯坦会成为中国的一个邦,很快的。
Shambhu Paswan (Ranchi, Jharkhand)
a political deal between China and Pakistan.
Agree (1)Disagree (0)Recommend (0)



这是中国和巴基斯坦之间的政治交易。
M Shafiullah (Trivandrum)
China will never give that port back.
Agree (10)Disagree (8)Recommend (2)



中国永远不会归还那个港口。




homer (albion) replies to M Shafiullah
I think they will never give pakistan back to the pakis. They are sold out to the Chinese-bankrupt.
Agree (8)Disagree (4)Recommend (3)




我认为他们永远不会把巴基斯坦归还巴基佬,巴基斯坦被整个卖给了中国人,破产了。



Jay (SL)
Indians a@@ on fire too.
Agree (6)Disagree (4)Recommend (2)



印度人的屁股也着火了。
Sanjay (Pune)
Not a good news for India. India should do the same thing around China.
Agree (5)Disagree (4)Recommend (3)



对于印度来说不是好消息,印度应该在中国周边也这样做。
Paki (Pakistan )
Today is the happiest day of my life that china took over the port. Look at the bIackes here are crying like monkeys. I love you china ..



中国最终接管了这个港口,今天是我这辈子最开心的日子。看看这些黑鬼像猴子一样鬼叫。我爱你,中国.....
Onlooker (Delhi)
In two decades, if Pakistan survives, Pakistani children, will have distinct Chinese looks.
Agree (11)Disagree (5)Recommend (4)



20年后,如果巴基斯坦还存在,那么巴基斯坦孩子会有明显的中国人相貌。
swatant (ind )
Do not stop Chinese investments in Pak or Maldives. Let them invest more. The Chinese are helping the world.
Agree (6)Disagree (1)Recommend (3)



别阻止中国人投资巴基斯坦和马尔大夫,让他们多投资点,中国人是在帮助世界。
Land of Indus (PAKISTAN)
This agreement will pull in more Chinese investments in infrastructure to connect Gwadar with the national road and rail system. Commercial shipping will benefit. The naval strength of Pakistan will be reinforced as this base cannot be blockaded by India. Now India cannot project power to the Strait of Hormuz. It is a strategic investment that will strengthen Pakistan. China will gain a strategic foothold to help deter Indian naval power in our region. It is a clear signal that India cannot control the Pakistan/Arabian Sea.
Agree (7)Disagree (2)Recommend (3)



该协议会引入更多中国投资,修建将瓜达尔港连接上国家公路网和铁路系统的基础设施,商业航运会受益。这个基地不能被印度封锁,所以巴基斯坦的海军力量会得到加强。印度无法向霍尔木兹海峡投送力量。这是一个能够加强巴基斯坦实力的战略投资。中国将会在我们地区获得一个有助遏制印度海军力量的战略立足点。这是一个明显的信号,即印度无法控制巴基斯坦和阿拉伯海。




homer (albion) replies to Land of Indus
Like all past Pakis dreams and calculation will come to nought if you start using it against India. Strait of Hormuz is Iranian concern not India!
Agree (2)Disagree (6)Recommend (2)




跟以往一样,如果将其用于对抗印度,那么巴基佬的梦想和算计会落空。霍尔木兹海峡是伊朗人该担心的,不是印度!



Chandrasekar Palanisamy (Karur, India)
Pakistan can now trust China, but China is a cunning one that it will turn against Pakistan at anytime...
Agree (4)Disagree (4)Recommend (0)



巴基斯坦现在信任中国,但中国狡猾得很,随时会背叛巴基斯坦......
中国正式接管瓜达尔港,进口中东石油路程可缩短数千公里。三泰虎2月20日译文,据报道,作为确保能源和海上航线安全的一部分,中国掌控了巴基斯坦的一个战略港口,给了中国一个潜在的海军基地,引发了印度的关注。目前尚不明确真正的移交何时会发生。巴基斯坦将该交易定义为提供了能源和贸易走廊,通过扩建的喀喇昆仑公路,把中国与阿拉伯海和霍尔木兹海峡连接了起来,是通往世界三分之一石油贸易的大门。有专家表示,从非洲和中东进口的石油和天然气到达中国的路程将被缩短数千公里。