译文来源:三泰虎 http://www.santaihu.com
原文标题:China successfully tests jumbo cargo plane
原文链接:http://timesofindia.indiatimes.com/world/china/China-successfully-tests-jumbo-cargo-plane/articleshow/18196990.cms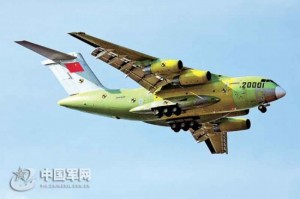 BEIJING: China today said it has successfully conducted the test flight of its first country made jumbo air-freighter, capable of handling various air transportation tasks.

The Yun-20, or Transport-20, is a huge, multi-function airfreighter which can perform various long-distance air transportation tasks targeting cargo and passengers, state-run Xinhua news agency reported.



北京:中国26日称其首架国产大型运输机成功试飞,该机能执行多种空中运输任务。





运-20是大型多用途运输机,可以执行各种物资和人员的长距离航空运输任务,新华社称。



The successful maiden flight of Yun-20 is significant in promoting China's economic and national defence buildup as well as bettering its emergency handling such as disaster relief and humanitarian aid, it said.

The giant aircraft will continue to undergo experiments and test flights as scheduled, the report said.

The new plane adds to the new stealth and carrier landing fighters said to have been developed by China in recent months.



报道称,运-20大型运输机的首飞成功,对于推进中国经济和国防现代化建设,应对抢险救灾、人道主义援助等紧急情况,具有重要意义。





该大型飞机将按计划继续开展相关试验和试飞工作。





最近几个月,除了刚刚亮相的运-20飞机,中国相继推出了据称其自主开发的新型隐形战机和舰载机。




以下是印度网民的评论:




AJAY RANJAN (France)
Whether its a fighter or a freight carrier? Can china elaborate. What's it's useful payload capacity? Whether this new invention a Russian or American rip off?
Agree (4)Disagree (4)Recommend (1)



这是战机还是运输机?中国能否详述。有效载重是多少?运-20是抄袭俄罗斯的还是抄袭美国的?




ashish singh (bhopal) replies to AJAY RANJAN
i think they have copied from an Indian model. one should not compare them with such advanced countries like USA.
Agree (4)Disagree (10)Recommend (0)




我认为其是抄袭自印度某款飞机,你不能把其和美国等如此发达国家的飞机比较。




Sanjyot Suhas Baviskar (India) replies to AJAY RANJAN
Its an Indian invention ripped off by China. our Republic Day Parade have a few of those planes.
Agree (8)Disagree (11)Recommend (2)




抄袭自印度,中国偷来的。印度国庆日就有一些这样的飞机出场表演。




译文来源:三泰虎 http://www.santaihu.com




Ladi (U.S.)
China. way to go!
Agree (7)Disagree (0)Recommend (4)



中国,就该这么做!
GL (Hong Kong)
This is a military transport plane similar to Boeing C17 which can also used for civilian purposes.
Agree (4)Disagree (2)Recommend (1)



这是军用运输机,类似波音C17,也可以用于民用。
ash (uk)
credit must go to china for developing and producing high teh instead of importing. india must do the same and develop own high tech industry and rely less on imports. india has the brains and man power but it lacks the infrastructure to utilise the telents.
Agree (25)Disagree (1)Recommend (7)



这要归功于中国自主开发高科技,而不是从国外进口。印度务必向中国学习,自主发展高科技产业,减少对进口的依赖。印度拥有所需的智慧和人力,但缺少能将其利用起来的公共建设。
Shining India (Innocent India)
and what is India doing? We always compare India with China in Development but unfortunately our youth is just busy in raping women and chating on facebook. And our media makes us beleive that we are at par with other emerging countries.
Agree (27)Disagree (2)Recommend (8)



印度在干什么?我们总是比较中印发展,不幸地是,我们的年轻人只忙着强奸女人和在facebook上聊天。媒体使我们相信印度和其他新兴国家是旗鼓相当的。
myalmightygod (India)
Jumbo is fine, but what is the capacity, all vague....
Agree (2)Disagree (3)Recommend (2)



好吧,就算是大型飞机,但其运载能力如何,说得模糊不清的......
Sushil (Lucknow)
India should only to watch while China is delivering?
Agree (17)Disagree (1)Recommend (7)



中国不断推出新飞机的同时,印度就只能在一旁观望?
reghu agrasala (Trichi)
Readers must know that China pirated technology from WWII planes and Russian jets for developing their version of planes.They have advanced in chip-set technology but USA is still sceptical about their ablities saying that they are reverse engineered technology ........................ But PLA is absolutely corrupt ,much corrupt than Indian Army.
Agree (3)Disagree (19)Recommend (1)



读者必须清楚,即中国盗版二战飞机和俄罗斯飞机的技术,开发出了自己的飞机。中国在芯片技术上有进步,但美国仍然怀疑其能力,称其是逆向工程技术.......PLA绝对是腐败的,比印度军队更腐败。
Ravi Sharma (Hindustan)
" NEW STEALTH" wat is the need of this technology in cargo planes ??????????
Agree (3)Disagree (10)Recommend (4)



"新的隐形飞机",货机有必要使用隐形技术吗?





(三泰虎注:看来这位没有看懂文章)
G.Natrajan (France)
This is just a re-engineered Chinese version of the Russian Ilyushin 76. China can never make anything by itself.
Agree (4)Disagree (28)Recommend (2)



这只是俄罗斯伊尔76飞机的中国逆向工程版本。靠自己的话,中国神马也不会造。




Marathi9Manoos (Mumbai) replies to G.Natrajan
Wake up Natyraj. You are still in dream. What about China bagging 2nd rank in Olymoics 2012? Oh yeah! That's all fake. Huh?
Agree (11)Disagree (0)Recommend (6)




醒醒吧,Natyraj,你还在梦中。那2012年奥运会中国排第二名呢?哦,耶!统统是假的,呃?




Analyst (Global Research Centre) replies to G.Natrajan
Yes, very true. Unlike the Chinese, India makes everything by itself, including aircraft carrier, nuclear submarine, 5th generation stealth fighter, jumbo commercial aero planes and world's most advanced military helicopters.
Agree (10)Disagree (4)Recommend (6)




非常正确,和中国不一样,印度神马都自己造,包括航母、核潜艇、第五代隐形飞机、大型商业飞机和世界最先进的军用直升机。




wombat (Aust) replies to Analyst
You forgot that great Indian invention the PUNKAH FAN
Agree (2)Disagree (0)Recommend (2)




你忘记了伟大的印度发明——蒲葵扇!



Laxminarayana Garikapati (U.S)
Jumbo Cargo Plane is another feather in the cap of Chaina's military might. When other countries are busy with internal bickerings Chaina is silently improving it's capability.
Agree (18)Disagree (0)Recommend (7)



大型货机为中国军事力量增添羽翼。其他国家忙着内部吵闹的同时,中国默默提高其军事能力。
EndOfTheLastEra (HellOnEarth)
Made in China will not do well..
Agree (1)Disagree (14)Recommend (1)



"中国造"就是个蛋....
K P Pandey (Ghaziabad)
A shame for India who is unable to manufacture civilian planes. Even Brazil manufactures it.
Agree (22)Disagree (0)Recommend (9)



印度没有能力造民用飞机,丢脸了吧,连巴西都会造。




EndOfTheLastEra (HellOnEarth) replies to K P Pandey
Chinese paper plane
Agree (2)Disagree (14)Recommend (1)




中国人的纸飞机而已。



rakesh (Hyd)
Indian govt should take a cue from China and focus more on R&D and indigenous production of everything.
Agree (9)Disagree (1)Recommend (1)



印度政服应当从中国得到一些启示,更多地专注研发,让一切生产本土化。
Being Indian (Mumbai)
Made in China
Agree (4)Disagree (4)Recommend (1)



中国造而已。
NRI (Narlai)
Whatever China is doing should not affect India. We enjoy our bullock carts, motor bikes and Tata cars. Why should we always compare ourselves with the Chinese. They are a bunch of atheists, who do nothing but work. We enjoy our Indian way of life, spiritual and happy. We think we are superior, therefore we are superior. I think therefore I am!
Agree (9)Disagree (5)Recommend (3)



中国爱咋地就咋地,别来影响印度。我们喜欢牛车、摩托车和塔塔汽车。为何要与中国人比呢,他们只是一群无神论者,只会工作,其他啥也不做。我们享受印度的生活方式,精神快乐,生活幸福。只要我们认为自己优越,我们就是优越的;我就是这么认为,所以说我有优越感!



译文来源:三泰虎 http://www.santaihu.com

swami (himalaya)
neighbors envy, owners pride! congratulations china! but the road you are taking is well traveled by erstwhile USSR. you cant live in piece by troubling neighbors. build bridges than planes!
Agree (2)Disagree (7)Recommend (1)



邻国嫉妒,所有者自豪!祝贺中国!但你走的道路其实是前苏联走过的,老是给邻国制造麻烦,怎么和平相处呢,你需要的是搭建桥梁,而不是造飞机!
JohnHonda (Chennai)
Hats off for the innovation and development effort you people put into.
Agree (11)Disagree (0)Recommend (1)



向为创新和发展投入努力的人们致敬。
P. K. (USA)
China took the next step in the aviation , or just copy the idea from Boeing or Air Bus? Congratulations ! Producing so many goods need an effective transportation system, so China is thinking about the future !
Agree (7)Disagree (1)Recommend (2)



中国在航空业又迈出了一步,又或只是抄袭波音或者空客飞机?祝贺!中国生产如此多产品需要高效的运输系统来运输,中国是在着眼未来!
运20首飞成功:中国距离战略空军不再遥远!印度网民评论中国运20大型运输机试飞成功!三泰虎1月27日译文,印度时报原题《中国成功试飞大型货机》。据报道,中国26日称其首架国产大型运输机成功试飞,该机能承担各种空中运输任务。新华社称,运-20是大型多用途运输机,可以执行各种物资和人员的长距离航空运输任务。运-20大型运输机的首飞成功,对于推进中国经济和国防现代化建设,应对抢险救灾、人道主义援助等紧急情况,具有重要意义。该大型飞机将按计划继续开展相关试验和试飞工作。