译文来源:三泰虎 http://www.santaihu.com
原文标题:China successfully carries out interceptor missile test
原文链接:http://timesofindia.indiatimes.com/world/china/China-successfully-carries-out-interceptor-missile-test/articleshow/18210906.cms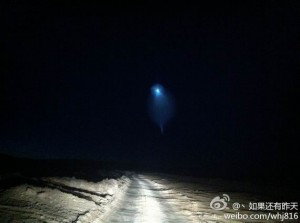 BEIJING: China on Sunday successfully carried out its second interceptor missile test as part of its efforts to build a missile shield to intercept incoming warheads.

China again carried out a land-based mid-course missile interception test within its territory today, state-run Xinhua news agency quoted the information bureau of China's defence ministry as saying.



北京:1月27日,作为构建拦截来袭导弹的防御系统的一部分,中国第二次成功试验拦截导弹。





中国今天再次在其境内进行陆基中断反导试验,新华社援引中国国防部新闻事务局的话称。



"The test has reached the preset goal," an official with the bureau said. "The test is defensive in nature and targets no other country," he said.

According to the bureau, this is the second time China announced such missile test.



"试验达到了预期目的。"新闻局的一位官员称:"这一试验是防御性的,不针对任何国家。"





这是中国第二次进行此类导弹试验。



A similar anti-missile interception test was successfully conducted on January 11, 2010, the Xinhua report said.

Although no other detailed information about the test was released from the military authorities, weapon system experts said such test could build shield for China's air defence by intercepting incoming warheads such as ballistic missiles in space, the Xinhua report stated.



2010年1月11日中国成功举行过类似的反导拦截试验,新华社报道称。





据新华社报道,虽然新闻局未透露有关该试验的其他细节信息,但武器专家认为这种试验可为中国打造防空护盾,在太空拦截来袭(弹道导弹)弹头。




以下是印度网民的评论:




EndOfTheLastEra (HellOnEarth)
chinese firecracker...
Agree (3)Disagree (12)Recommend (2)



中国人的烟花.....



译文来源:三泰虎 http://www.santaihu.com

Derrick Dias (Goa)
"The test is defensive in nature and targets no other country," No need to mention this
Agree (5)Disagree (1)Recommend (5)



"这一试验是防御性的,不针对任何国家"





没必要提这个啊。
KC and Jojo (United States)
Who did they copy it from? The US? Europe? Or Russia?
Agree (6)Disagree (6)Recommend (1)



哪里抄来的?美国?欧洲?还是俄罗斯?




desmond (MALAYSIA) replies to KC and Jojo
China must have copied Indis's future technology
Agree (10)Disagree (0)Recommend (4)




中国肯定是抄了印度的未来技术。




raj (UK) replies to KC and Jojo
So far, only two nations did tests on such level - USA and China.
Agree (4)Disagree (0)Recommend (1)




迄今为止,只有两个国家做过此类实验——美国和中国。




Alan in wonderland (wonderland) replies to raj
israel and india have also conducted similar tests and other nations also i guess
Agree (4)Disagree (2)Recommend (3)




以色列和印度也进行过类似实验,其他国家也进行过,我猜的。



Sanjay (Pune)
Copy cats are doing good in this area.
Agree (3)Disagree (4)Recommend (4)



盲目模仿他人的国家在这个领域做得不错。




Johndoe (Syd) replies to Sanjay
How's your square wheel going mate ?
Agree (4)Disagree (0)Recommend (1)




你的方形轮子研究得如何?



exhalted.moon (delhi)
india should continue to build up its own missile defence to ensure we do not lag behind.
Agree (5)Disagree (1)Recommend (1)



印度应当继续加强导弹防御能力,以确保不会落后于中国。




shieladickshit (QLD) replies to exhalted.moon
India is not lagging behind in the fields of poverty, literacy, women rights and hygine standard. so lets forget about those and keep spending big bucks on those big projects that Indians are proud of.
Agree (7)Disagree (2)Recommend (3)




在贫困人口、识字率、妇女权利和卫生标准上,印度不会落后,所以别去管这些,还是把大把的钱投入印度人引以为豪的大项目中吧。




Luk (Boston) replies to exhalted.moon
In most of areas - India lags behind China
Agree (15)Disagree (1)Recommend (4)




印度大多数领域落后中国。




KC and Jojo (United States) replies to Luk
China's success can be summarized as copying 40 years of Western technology in 10 years.
Agree (0)Disagree (2)Recommend (0)




中国的成功可以归结为用10年的时间抄了西方40年的技术。




Marvin (UK) replies to KC and Jojo
That is success because others have spent time and money to innovate. It is the most economical way.




这算是成功的,其他国家已经花了时间和资金去搞创新,"拿过来用"是最经济的方式。




Harry Potter (India) replies to Luk
Maybe, but from your comments, you make it clear that Chinese Govt and arrogant Chinese like you do lag behind India and Indians in democracy, decency and humility. No offence at all to the rest of my Chinese friends.
Agree (5)Disagree (9)Recommend (3)




或许吧,但从你评论来看,可以清楚看出中国政服和你这样的傲慢中国人确实在皿煮、礼貌和谦逊上落后于印度和印度人。无意冒犯我的其他中国朋友。




Fulofsht (SL) replies to Harry Potter
You have Chinese friends ? I know Indians yearn to have Chinese gf and hate Indian girls but Chinese also don't like big talkers.
Agree (2)Disagree (0)Recommend (1)




你有中国朋友?印度人渴望拥有中国女友,讨厌印度女孩,但中国人也不喜欢侃爷。




raj (UK) replies to Harry Potter
Do you really believe in Indian style democracy - the criminals in congress and rapists on street and poor still poor?
Agree (10)Disagree (1)Recommend (5)




你真的相信印度式皿煮?还有国大党里的罪犯,街道上的强奸犯,穷人仍然穷?



kartik (india)
Wat a timing.. China tested interceptor missile on same day when India tested K15, submarine based N missile ... And says not intended at any country... M sure in few days pak will also test d same..despite china claiming non proliferation of tech.. Although not to mention that china bought all these tech from Russia ... Still Chinese are yet to produce an indigenes product be it apple or missile... STILL COPYCATS..
Agree (6)Disagree (12)Recommend (3)



时机拿捏的很准.....印度试射K15潜射导弹,中国在同一天试验拦截导弹....却对外说不针对任何国家.....务必要让巴基斯坦也在几天后搞这样的试验.....尽管中国说不会扩散技术,即便中国的技术都是从俄罗斯那买来的....不管是苹果还是导弹,中国人还有待自主生产一种产品....仍然是盲目模仿者.....
ha (us)
The Chinese invented gun powder and used "rockets" to repel the Mongols, who "copied" the Chinese rockets to attack Europe and conquered Russia for 400 years. Then the Germans copied the Mongols to attack England. Then both Russia and the U.S. copied from the Germans, threatening to attack each other and destroying the whole world. The Japanese did not invent automobiles, TV and semiconductors, but everyone is impressed with their Toyota, Nissan, Sony, etc. Now the Chinese are labeled copy cats. Who copied from whom? Peace loving Indians are most vegetarians, which is very good. Obviously, they eat a lot grapes. Unfortunately, the hot climate of India seems to grow only sour grapes.
Agree (24)Disagree (5)Recommend (12)



中国人发明了火药,用"火箭"击退蒙古人;蒙古人复制中国人的火箭,用来攻打欧洲,且征服了俄罗斯400年;德国人又复制蒙古人的火箭来攻打英国;随后俄罗斯和美国又从德国人那里复制,威胁攻打对方和摧毁全世界。





日本人没有发明汽车、电视和半导体,但每个人对其丰田、尼桑、索尼等品牌印象深刻。中国人现在被贴上"盲目模仿者"的标签。到底是谁抄谁的?爱好和平的印度人大多是素食者,这很好,他们明显吃了很多"葡萄"。不幸地是,印度的炎热气候似乎只适合种植"酸葡萄"。




Indian (USA) replies to ha
Do you know your Kung Fu is from Tamil Nadu. Your Chinese medicine, acupuncture, also borrows a lot from India. India taught you to stand and fight when you were weak.
Agree (4)Disagree (9)Recommend (4)




你知道吗,你们的功夫来自泰米尔纳德邦。你们的中药、针灸从印度得到大量借鉴。印度在你们衰弱时教会了你们挺身而斗。




Hardhitter (Planet Earth) replies to ha
Chinese seem to invent a lot of things like paper, fireworks and now gun powder. Tomorrow whatever is popular, it will be invented in China, he he
Agree (8)Disagree (3)Recommend (3)




中国人似乎发明了很多东西,比如造纸术、烟花和火药。不管明天流行什么,肯定会在中国发明,呵呵。




KC and Jojo (United States) replies to Hardhitter
Those things were invented like 1000 years ago. What have you invented lately?
Agree (0)Disagree (3)Recommend (0)




那些是一千年前左右发明的,你们最近发明了什么?



Martin Phillip (Melbourne)
Welll done China !! So one more technology has been successfully stolen from US or RUSSIA or JAPAN.
Agree (7)Disagree (11)Recommend (4)



中国,干得好!又成功从美国、俄罗斯或日本偷了一门技术。
Genghis Khan (HINDU Republic Of INDIA)
He he he we did it already. Stinky Chinese. I can't see their eyes.
Agree (4)Disagree (7)Recommend (3)



呵呵,我们已经搞过了这样的试验,好臭的中国人,我看不到他们的眼睛。
Genghis Khan (HINDU Republic Of INDIA)
Just One Thind to say - Made-in-China ;-)
Agree (6)Disagree (3)Recommend (4)



只想说一点——这是中国造 ;-)
BABUJI (UK)
Is this a message for Agni V ????????
Agree (2)Disagree (2)Recommend (2)



这是对烈火5导弹的回应吗?
Shoufeng Yang (China)
I hope this will send a warning to other countries always thinking to blow up China, it is no fun to do that, because your country will be wiped out!
Agree (9)Disagree (2)Recommend (6)



我希望这能警告其他国家,别老想着搞掉中国,这样做没意思,要不然你们国家会被抹去的!




hj (hh) replies to Shoufeng Yang
pakistani bheekari using a fake name.....
Agree (4)Disagree (1)Recommend (3)




巴基佬又在用假名字来发帖了....



piyush (usa)
Stolen technology as usual
Agree (1)Disagree (4)Recommend (0)



和以往一样,这是偷来的技术。
tusharsoni89 (Indore)
Though India ahead of China in terms of Ballistic Missile Defense, it seems, China will soon catch up... India must build up it's military power more indigenious and modernize to give a challenge to the might of China's military....
Agree (0)Disagree (9)Recommend (2)



虽然印度在弹道导弹防御上领先中国,但中国似乎快要赶上来了....印度必须加强其军事力量的本土化和现代化,以便向中国军队发出一个挑战.....





译文来源:三泰虎 http://www.santaihu.com




shiela dickshit (QLD) replies to tusharsoni89
legalizing marijuana has already taken effect...
Agree (2)Disagree (0)Recommend (0)




合法化大麻已经起作用了.....




Avi (US) replies to tusharsoni89
OMG, you are either being sarcastic or just blatantly stupid...
Agree (5)Disagree (0)Recommend (0)




哦,天啊,你不是在讽刺,就是纯粹是个傻蛋.......



John (CA)
Relax, the test is intended for North Korea's rockets.



放松,这次试验是针对朝鲜火箭的。
印度人评论中国成功试验陆基中段反导。三泰虎1月28日译文,据印度时报报道,1月27日,作为构建拦截来袭导弹的防御系统的一部分,中国第二次成功试验拦截导弹。中国今天再次在境内进行陆基中断反导试验,新华社援引中国国防部新闻事务局的话称。试验达到了预期目的。这一试验是防御性的,不针对任何国家。这是中国第二次进行陆基中段反导拦截试验,2010年1月11日,中国曾进行过一次陆基中段反导拦截技术试验。当时,有分析认为,此举暗示中国已初步掌握反弹道导弹技术。