译文来源:三泰虎 http://www.santaihu.com
原文标题:China should strengthen force on Indian border, researcher says
原文链接:http://timesofindia.indiatimes.com/world/china/China-should-strengthen-force-on-Indian-border-researcher-says/articleshow/18041628.cms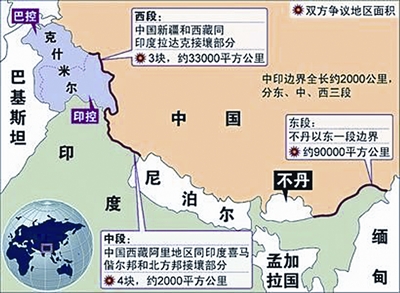 BEIJING: A Chinese expert has advised the government to increase supervision on its border with India after New Delhi's decision to form a new mountain strike corps for the 3,380km-long border that the two countries share in total.

Reacting to a news report in The Times of India, Fu Xiaoqiang, researcher from the China Institute of Contemporary International Relations, said, "China should strengthen its supervision and control over the border area with India."



北京:新德里决定在中印长达3380公里的边界上新组建一支山地作战部队后,中国一名专家建议政服加强对中印边界的监视。





中国当代国际关系研究院研究员付小强对《印度时报》的一篇新闻报道做出回应,称"中国应当对与印度接壤地区加强监视和控制。"



The formation of a new corps shows India sees China as its military competitor, Fu was quoted by Beijing-based newspaper the Global Times.

The TOI report said that the new corps, having around 40,000 soldiers, will be formed during India's 12th Five-Year Plan from 2012 to 2017, at an estimated cost of 810 billion rupees ($14.9 billion). The idea is to build the capability of launching counter-offensives into the Tibet Autonomous Region against potential "Chinese attacks."

However, Fu felt the Indian proposal has little relation to a military exercise carried out by the Chinese air force over the Tibet Autonomous Region in December. It is part of India's overall plan to strengthen its military power along its border with China, he said.



印度新组建山地作战部队表明印度将中国视为军事对手,环球时报援引付小强的话称。





印度时报的报道称,新山地作战部队有大约4万名士兵,将于印度第12个五年计划(2012-2017)组建形成,预估成本是8100亿卢比(149亿美元),这个计划的目的是打造一种能力,即当遭受潜在的"中国攻击"时,印度到时就有能力反攻入xz自治区。





然而,付小强认为,印度的此项计划与中国空军12月在xz自治区举行的军演没有多大关系,只是印度沿着中印边界地区加强军事力量的整体计划的一部分。




以下是印度网民的评论:




Harjap Singh Aujla (New Jersey USA)
China need not be overly worried about its border with India. Experience of the past fifty years indicates that India does not have any cross border ambition. India wants to live in peace with China. On the other hand China is flexing its muscles not only on the Indian border, but is threatening Japan, Korea and Phillippines.
Agree (29)Disagree (2)Recommend (17)



中国没必要过度担心其与印度的边界。从过去50年的经验来看,印度并没有越过边界的抱负。印度想与中国和平相处。另一方面,中国不仅在印度边界炫耀力量,还威胁日本、韩国和菲律宾。
artiman (blr)
china is an agressor. it has always been. ask tibetians, viatnameese, mongloids, koreans, japs, if you don't understand history, pls read. you wrong about indians not wanting peace with china. check the 5000 year history of india as a. geographic regions. from the chengiskhan, greeks, persians, mugals, british, french, dutch onwards everyone attacked india. have you heard about india attacking others? war with pakistan was started by them and war with china was started by them. now, about your stupid comments on caste system. brother, india is very diverse even if you live in india for 50 years, you'll not get it.
Agree (2)Disagree (0)Recommend (0)



中国是侵略者,一直都是,去问问藏人、越南人、蒙古人、韩国人、日本人便知。如果将印度当做一个地理区域来看,纵观其5000年历史,成吉思汗、希腊人、波斯人、莫卧儿、英国、法国、荷兰先后进攻过印度。你有听过印度进攻别人吗?印巴战争是巴基斯坦挑起的,印中战争是中国挑起的。印度是一个多样化的国家,即便在印度生活50年,你也摸不透。
MRAN (INDIA)
FINDING SOME EXCUSE TO INCREASE ITS MILITARY FORCE-
Agree (5)Disagree (0)Recommend (0)



中国为加强军事力量找一些理由。
smmishra1960 (Bhubaneswar)
No coumtry should take her neighbour, that too a large neighbour, for granted. Our experience with China as a neighbouris definitely not sweet. As the former defence minister George Fernandesh had assessed, China is our bigger enemy than Pakistan. At that time people criticised him. But we quite agree with him. China has got territorialambitions. It is more powerful than Pakistan.
Agree (6)Disagree (1)Recommend (2)



没有国家能对邻国不予理睬,况且这个邻国还是个大国。我们与中国的交往经历肯定不美好。前国防部长乔治费尔南德斯曾如此评估,即中国是比巴基斯坦威胁更大的敌人,人们当时批评他,但我非常同意。中国有领土野心,比巴基斯坦更强大。
dev kumar (gurgaon)
" THEY HAVE INDIA PHOBIA
Agree (8)Disagree (4)Recommend (6)



他们有印度恐惧症。
suraj (delhi)
Dealing with china is not as easy with porkis...china is 5 times stronger than India...
Agree (8)Disagree (1)Recommend (1)



对付中国可没对付巴基斯坦那么容易.....中国比印度强大5倍.....
General Sheru Singh (Demchok)
China do not need to worry. Indian army is fast asleep. China army must keep very quiet at the Indian border because Indian soldiers after drinking army rum they are fast asleep. China no need to attack India because in India all the Indian rapist doing a good job raping Indian girls. Confucious said when the Indian army is sleeping make sure their pillow is soft. Chinaman make good Dim Sum breakfast so when Indian soldiers wake up give the Indian soldiers Dim Sum and fortune cookie.
Agree (8)Disagree (3)Recommend (2)



中国没必要担心,印度军队在睡熟。中国军队在印度边界必须保持安静,因为印度士兵喝酒后就熟睡过去了。中国没必要进攻印度,印度强奸犯干得很好,强奸了印度女孩。孔子云:印度军队睡着时,要确保其枕头够软。中国人会做好吃的早餐点心,所以印度士兵睡醒后,给其一些点心和福饼就可以。



译文来源:三泰虎 http://www.santaihu.com

Coco (India)
Be warned China !! We Indians are world renowned rapists.



警告中国!我们印度人是世界著名的强奸犯。
Tashi (Delhi)
issue of Tibet is key of Indo China border. Bodgyalo....
Agree (0)Disagree (0)Recommend (0)



xz问题是中印边界问题的关键......
Ankur Deokar (Nasik)
This is just a tactical move...China is trying to put pressure and give the message that it stands by Pakistan in this times of tension at LOC
Agree (10)Disagree (0)Recommend (3)



这只是战术而已.....中国试图施压印度且释放一个信息,即在印巴实控线局势紧张之际,中国站在巴基斯坦那一边。
satsec13 (india)
what are you afraid of?



你们有什么好害怕的?
udaykiran (Bangalore)
Hindi-Chini can never be bhai bhai..Once an aggressor, always an aggressor..India is doing a right thing by strengthening its capabilities...
Agree (8)Disagree (0)Recommend (2)



中印永远不会成为兄弟。曾经是侵略者,就会永远是侵略者。印度做得对,就要加强防御能力....
nayan (India)
china - the sole supporter of pak. is looking for the right time to strike india. with their aggressive attitude, they do not have many friends left.
Agree (10)Disagree (3)Recommend (3)



中国是巴基斯坦的唯一支持者,正寻找袭击印度的好时机。由于好斗,中国没多少朋友了。
Krushna (Chennai)
Oh my god, Fu is urinating for no reason. We know that china is stronger than India. Then why worries. We are not chinese to have filthy mindset. We are Indians. We are holy people. We have better history than yours. My Indian made you to learn kung fu, Buddha is an Indian. No gratitude from Chinese side at all. You filthy people will be punished by god soon.
Agree (9)Disagree (3)Recommend (6)



哦,我的上帝,付小强无缘无故就吓尿了。我们都知道中国比印度更强大,为什么要担心呢?我们不是中国人,不会那么卑鄙,我们是印度人,是圣洁的人,我们有比中国更丰富的历史,我们教会了你们功夫,佛陀是印度人,中国人一点都不懂得感谢。你们这些龌蹉的人很快会受上帝惩罚的。
AJAY RANJAN (France)
When it come to China , India will not alone , Japan , Austrila , Vietnam will be also their. And USA is not going to support China, China vs India is a global issue not a regional issue like Pak vs India. :)
Agree (20)Disagree (1)Recommend (7)



说到打中国,印度可不孤单,日本、澳大利亚、越南也会加入的。美国不会支持中国,中国vs印度是全球问题,巴基斯坦vs印度才是地区问题 :)
Nishi Malhotra (New Delhi)
Indian Army should note of this !! War at this time is not one of the best solutions !!
Agree (1)Disagree (3)Recommend (0)



印度军队要注意了!战争在这时并非是最佳解决办法之一!
joe (london)
China can takeover India in no time! Indian army relies on numbers. Chinese are better fighters than Indians. Even Pak soldiers superior but few in number. When confronted indians run!
Agree (7)Disagree (40)Recommend (1)



中国很快就能占领印度!印度军队靠的是数量,中国人比印度人更能打,就连巴基斯坦士兵的战斗力也更强,但在数量上处于劣势,两军一遭遇,印度人就会落跑!
santosh murthy (mumbai, INDIA)
China is world's largest armed forces and has copied everything from usa and europe J20 - copy of F22 J10 - copy of eurofighter 2000 J7 - copy of mig 21 all r copied from . CHINA won't do anything to INDIA coz it has investment in GUJRAT and chinese goods are demand in some cities . so Attacking us will cause economic problems for both the nations .
Agree (7)Disagree (0)Recommend (2)



中国拥有世界最庞大的武装部队,对美国和欧洲是各种抄袭,歼20抄袭F22,歼10抄袭欧洲2000战斗机,歼7抄袭米格21,通通都是抄的。中国不会拿印度怎么样,在古吉拉特有投资,中国货在一些城市有需求,所以攻击我们会给两国带来经济问题。
Dr. Het Ram Bishnoi (Haryana)
At present China knows very well that it is not 1962. 2nd point is this that USA at any cost want to engage China in war with any nation so that it can taught a lesson to this nation. 3rd point is this that China now a day is a super power & super power never fight a war at its own border.All these rules Chinese peoples knows very well so their is no "Q " of any war.
Agree (5)Disagree (1)Recommend (2)



中国人很清楚以下几点:





1、中国很清楚现在不是1962年;





2、美国不惜一切代价希望中国和其他国家交战,以便能给其一个教训;





3、中国目前是超级大国,超级大国从来不会在家门口打仗的。





所以不可能发生战争。
vishal (india)
india shud be the unlucky country on this planet, we got 2 fuckkedd up neighbours
Agree (6)Disagree (0)Recommend (0)



印度应该是这个星球上不幸运的国家,我们有两个操蛋邻国!



译文来源:三泰虎 http://www.santaihu.com

Durba Sengupta (Kolkata)
I think China should build 3 strong forces. One for dominating and choking the lives of its own people in d name of socialism/communism, one for shameless cross border infringement, and the last one for doing all other sorts of "DADAGIRI"! What else you can do!
Agree (6)Disagree (0)Recommend (1)



在我看来,中国应当建立三支军队,一支以社会主义和共产主义的名义管理国内人民,一支厚颜无耻地侵犯他国边界,最后一支处理其他各种事情!
ungli_karunga (mumbai)
((((((((((((((( first of all china shoud take the issue of chinees food abused in India making it spicy is okay yaar but why put kajoo
Agree (2)Disagree (1)Recommend (1)



中国首先应当解决好在印度备受诟病的中餐问题,做辣些没问题,但为何要放花椒?





(三泰虎注:kajoo是啥东东?应该是"花椒")
Capt. Nawanit Raj (India)
China keeping very good watch on indian news.....
Agree (5)Disagree (0)Recommend (0)



中国密切关注印度新闻.....
Gopaal (Delhi)
I hope that when China will be divided into five parts then only they will understand that it is not good to intervene in your neighbours business and create problem for them.
Agree (9)Disagree (2)Recommend (5)



我希望中国会被大卸五块,到那时,他们就会理解干涉邻国内政和给其制造问题是不对的。
G Iriraj (kota)
if china dares to invade india this time india would recapture all land captures by china in 1961.
Agree (10)Disagree (2)Recommend (6)



如果中国这次胆敢入侵印度,印度就会夺回1962年时被中国占领的所有领土。
Vikram Sood (MUMBAI)
HOW MANY MORE TROOPS ON CHINESE SIDE....DON'T THEY HAVE PLENTY ALREADY?
Agree (3)Disagree (1)Recommend (0)



中方一侧有多少军队,他们在那里不是已经有够多军队了吗?
三泰虎1月18日译文,据印度时报报道,新德里决定在中印长达3380公里的边界上新组建一支山地作战部队后,中国一名专家建议政服加强对中印边界的监视。中国当代国际关系研究院的研究人员付小强,称中国应当加强对与印度接壤地区的监视和控制。印度时报的报道称,新山地作战部队有大约4万名士兵,将于印度第12个五年计划组建形成,预估成本是8100亿卢比(149亿美元),这个计划的目的是打造一种能力,即当遭受潜在的"中国攻击"时,印度到时就有能力反攻入xz自治区。