译文来源:三泰虎 http://bbs.santaihu.com/thread-6642-1-1.html
外文标题:China reaps biggest benefits of Iraq oil boom
外文地址:http://articles.timesofindia.indiatimes.com/2013-06-03/china/39713356_1_oil-boom-largest-oil-fields-oil-contracts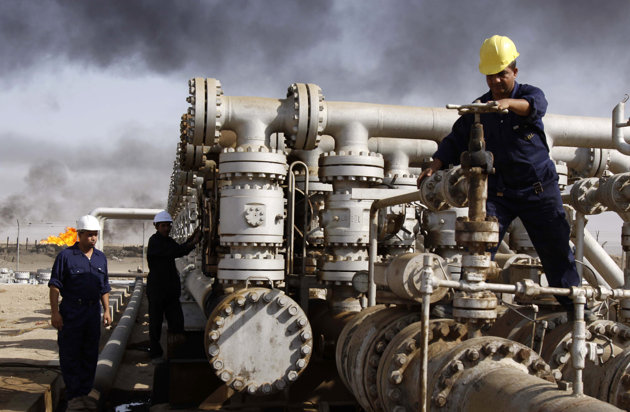 中国从伊拉克石油繁荣中收获最大利益

BAGHDAD: Since the American-led invasion of 2003, Iraq has become one of the world's top oil producers, and China is now its biggest customer.

China already buys nearly half the oil that Iraq produces, nearly 1.5 million barrels a day, and is angling for an even bigger share, bidding for a stake now owned by Exxon Mobil in one of Iraq's largest oil fields.

"The Chinese are the biggest beneficiary of this post-Saddam oil boom in Iraq," said Denise Natali, a Middle East expert at the National Defense University in Washington. "They need energy, and they want to get into the market."



巴格达:自从2003年美国主导了对伊拉克入侵以来,伊拉克成为了世界上最大的产油国之一,中国现在是其最大客户。





中国已经购买近一半伊拉克产石油,每天将近150万桶,为了谋取更大份额,正投标埃克森美孚所持有的伊拉克最大油田之一的份额。





华盛顿国防大学中东问题专家丹尼斯·纳塔利称,"中国人是伊拉克后萨达姆时代石油繁荣的最大受益者,他们需要能源,想要进入这个市场。"



Before the invasion, Iraq's oil industry was sputtering, largely walled off from world markets by international sanctions against the government of Saddam Hussein, so his overthrow always carried the promise of renewed access to the country's immense reserves. Chinese state-owned companies seized the opportunity, pouring more than $2 billion a year and hundreds of workers into Iraq, and just as important, showing a willingness to play by the new Iraqi government's rules and to accept lower profits to win contracts.

"We lost out," said Michael Makovsky, a former Defense Department official in the Bush administration who worked on Iraq oil policy. "The Chinese had nothing to do with the war, but from an economic standpoint they are benefiting from it, and our Fifth Fleet and air forces are helping to assure their supply."

The depth of China's commitment here is evident in details large and small.



在美国入侵伊拉克之前,伊拉克石油工业持续低迷,很大程度上是因为国际社会对萨达姆政权的制裁导致其与世界市场隔绝,萨达姆被推翻意味着伊拉克巨大的石油储量重新对外开放。中国国有公司抓住了这个机会,每年向伊拉克投入20亿美元和派驻数百名工人。同样重要的是,中国表现出了遵守伊拉克新政服规定的意志,为了赢得合同而接受更低利润。





布什政服负责伊拉克石油政策的前国防部官员迈克尔·马可夫斯基说:"我们输了,中国人与这场战争一点关系都没有,但从经济的角度来看,他们正从中收获利益,我们的第五舰队和空军在确保其石油供应。"



In the desert near the Iranian border, China recently built its own airport to ferry workers to Iraq's southern oil fields, and there are plans to begin direct flights from Beijing and Shanghai to Baghdad soon. In fancy hotels in the port city of Basra, Chinese executives impress their hosts not just by speaking Arabic, but Iraqi-accented Arabic.

Notably, what the Chinese are not doing is complaining. Unlike the executives of Western oil giants like Exxon Mobil, the Chinese happily accept the strict terms of Iraq's oil contracts, which yield only minimal profits. China is more interested in energy to fuel its economy than profits to enrich its oil giants.



在靠近伊朗边界的沙漠,中国最近在修建自己的机场,用于把工人运往伊拉克南部油田,北京和上海直飞巴格达的航班按计划很快会开通。在巴士拉的高档酒店,中国的高管们令主人印象深刻,他们不仅说着阿拉伯语,而且说的是伊拉克口音的阿拉伯语。





值得注意的是,中国人并不会抱怨。与埃克森美孚等西方石油巨头的高管不一样,中国人乐意接受只能带来很少利润的伊拉克苛刻石油合同。中国更感兴趣的是为推动经济提供能源,而非让石油巨头赚取巨额利润。



Chinese companies do not have to answer to shareholders, pay dividends or even generate profits. They are tools of Beijing's foreign policy of securing a supply of energy for its increasingly prosperous and energy hungry population. "We don't have any problems with them," said Abdul Mahdi al-Meedi, an Iraqi Oil Ministry official who handles contracts with foreign oil companies. "They are very cooperative. There's a big difference, the Chinese companies are state companies, while Exxon or BP or Shell are different."

China is now making aggressive moves to expand its role, as Iraq is increasingly at odds with oil companies that have cut separate deals with Iraq's semiautonomous Kurdish region. The Kurds offer more generous terms than the central government, but Iraq and the United States consider such deals illegal.



中国公司无需向股东解释、无需支付红利甚或无需产生利润,它们是中国外交政策的工具,用于为日益繁荣的中国经济和亟需能源的人口获得能源供应。伊拉克石油部门负责与外国石油公司签署合同的官员阿卜杜勒说:"我们与他们之间不存在任何问题,他们非常配合。有一个很大的区别,中国公司是国有的,而埃克森、BP或壳牌等石油公司不是。"





正当伊拉克与那些单独同伊拉克半自治的库尔德地区签署合同的石油公司越来越不和,中国积极行动以扩大作用。库尔德人为外国公司提供了比中央政服更慷慨的条款,但伊拉克和美国认为这些合同是非法的。



Late last year, the China National Petroleum Corporation bid for a 60 percent stake in the lucrative West Qurna I oil field, a stake that Exxon Mobil may be forced to divest because of its oil interests in Iraqi Kurdistan. Exxon Mobil, however, has so far resisted pressure to sell, and in March the Chinese company said it would be interested in forming a partnership with the American company for the oil field.

If the United States invasion and occupation of Iraq ended up benefiting China, American energy experts say the unforeseen turn of events is not necessarily bad for United States interests. The increased Iraqi production, much of it pumped by Chinese workers, has also shielded the world economy from a spike in oil prices resulting from Western sanctions on Iranian oil exports. And with the boom in American domestic oil production in new shale fields surpassing all expectations over the last four years, dependence on Middle Eastern oil has declined, making access to the Iraqi fields less vital for the United States.



去年底,中石油投标有利可图的西古尔纳一号油田的60%股份,持有这一份额的埃克森美孚可能因在库尔德斯坦的石油利益而被迫将其出让。然而,埃克森美孚迄今顶住了将其出售的压力,中国公司今年3月份称有兴趣与一家美国公司组成伙伴共同竞标这块油田。





美国能源专家称,如果说美国入侵并占领伊拉克的结果是让中国受益,那么这一未预见的转变对美国利益未必是坏事。伊拉克的石油大多由中国工人抽取,越来越大的产量为世界经济构筑了屏障,阻止油价因西方对伊朗石油出口的制裁而飙升。况且,随着过去4年里美国本土页岩油田生产的繁荣超出了所有人的预期,美国对中东石油的依赖在下降,使得伊拉克油田对美国不那么重要。



At the same time, China's interest in Iraq could also help stabilize the country as it faces a growing sectarian conflict.

"Our interest is the oil gets produced and Iraq makes money, so this is a big plus," said David Goldwyn, who was the State Department coordinator for international energy affairs in the first Obama administration. "Geopolitically it develops close links between China and Iraq, although China did not get into it for the politics. Now that they are there, they have a great stake in assuring the continuity of the regime that facilitates their investment."



与此同时,由于伊拉克面临日益严重的宗教冲突,中国在伊拉克的利益有助于帮助这个国家稳定。





在奥巴马第一个任期里负责国际能源事务的国务院协调员大卫说:"我们的利益是石油得到生产,伊拉克赚了钱,这样的好处很大。虽然中国并非冲着政治而进入伊拉克,但此举在地缘政治上发展了中国和伊拉克之间的关系。既然他们去了那里,他们就有了很大赌注,会为了便利投资而确保伊拉克政权的连续。"




以下是印度网民的评论:




本文论坛地址:三泰虎论坛 http://bbs.santaihu.com/thread-6642-1-1.html




ajaypoori (usa)
god bless china, new world order .without religion
Agree (24)Disagree (11)Recommend (8)



上帝保佑中国建立没有宗教的新世界秩序。
saifula30 (bengal)
China & Hyena .................sounds similar. Both are very smart & opportunistic player.
Agree (14)Disagree (9)Recommend (6)



中国和土狼.....听起来很像,两个都是聪明的投机取巧者。
Pranav (pune )
China needs to rise so as to counter the influence of US in the world. China needs to make this world more polar by taking on the mighty USA. Peace and Security of this world lies in China becoming powerful and strong, otherwise US will continue its warmongering and dictatorship.
Agree (19)Disagree (13)Recommend (11)



中国需要崛起以抵制美国在世界的影响,中国需要通过挑战强大的美国来创造更多极化的世界。世界的和平与安全在于中国变强大,否则,美国会继续其好战和独裁行径。




kanji (mumbai) replies to Pranav
usa has become a rampaging elephant chinese dragon is needed to balance the power and contain the elephant.
Agree (4)Disagree (0)Recommend (3)




美国已经成为一头狂暴的大象,世界需要中国龙来平衡权利和控制这头大象。




Bhadrinath B (Ban-Hyd) replies to Pranav
What you said is true brother, but rise of China is a danger to India. Do we need that?
Agree (5)Disagree (5)Recommend (2)




你说的是对的,但中国的崛起对印度是威胁,难道我们想这样?




China fails (The wonderful West) replies to Pranav
The USA has saved the world many times from Chinese invasions. She will do it again. China will fall into darkness even as she plans for new invasions!
Agree (6)Disagree (17)Recommend (4)




美国多次从中国人入侵中拯救世界,她还会这样做的。正当计划新的入侵时,中国会陷入一片黑暗中。



Bond (Bindekhalpur)
very sharp move ... USA losing and China gaining ... India watching like a fool
Agree (33)Disagree (2)Recommend (16)



非常犀利的措施....美国在损失,中国在获利.....印度像傻瓜一样在一旁观望。




Indian (Mumbai) replies to Bond Lala
instead of taking advantage like this, Indian company increase the price every month to forfeit the so called loss...
Agree (14)Disagree (0)Recommend (9)




印度公司不去利用这样的机会,反而每个月提高油价来弥补所谓的损失.....



Easwar (Mumbai)
This is where China differs from other countries. When there is a slightest opportunity they exploit it. They are ready to forego the higher profits just for the presence and the uninterrupted supply of oil for their economy. Though they are cunning a lot has to be learnt about dealing with the situation on hand. They have put in hard work and reaping the benefits.
Agree (10)Disagree (0)Recommend (3)



这就是中国不同于其他国家之处。只要有一丁点机会,他们就会去利用。为了给经济提供源源不断的石油,他们准备放弃更高的利润。虽然他们很狡猾,但要应对目前的形势还有很多需要了解。他们付出了辛苦工作,正在收获利益。




Chinese r liars (usa) replies to Easwar Venkatraman
The Chinese accuse the US of invading Iraq for oil but the Chinese get the most oil from Iraq.
Agree (6)Disagree (6)Recommend (3)




中国人指责美国为了石油而入侵伊拉克,但从伊拉克得到最多石油的却是中国人。



paul (blr)
once again, china has shown matured thinking and working towards its long term goal of energy security... it's not that, chinese leaders are not corrupt and not dishonest, but the way they work, their utmost main priority is to have better and better future for china!!!!
Agree (20)Disagree (2)Recommend (4)



中国再次表现出了成熟思维,正努力实现能源安全的长期目标。并非中国领导人不腐败和诚实,关键是他们的工作方式,他们把实现中国的美好未来放在最重要的位置!
Mohit Agrawal (Pune)
Nice Slap on face of US !
Agree (8)Disagree (0)Recommend (3)



给了美国一个响亮的耳光!
Anwar (Mumbai)
ITS BECAUSE CHINA DONT FEAR USA. WHILE INDIA DONT BUY OIL FROM IRAN,IRAQ,LIBYA AND VENEZUELA EVEN ITS AVAILABLE AT CHEAP RATE, DUE TO FEAR OF USA. INDIA IS FATTOO NATION WHO CAN NEVER CONFRONT USA. IT WILL REMAIN SLAVE FOREVER.
Agree (21)Disagree (3)Recommend (6)



这是因为中国不怕美国。虽然能够以低廉价格从伊朗、伊拉克、利比亚和委内瑞拉购得石油,但印度出于害怕美国而放弃购买。印度没有勇气面对美国,将永远是别人的奴隶。
Reason (India)
US occupied Iraq to grab the oil fields.... but China snatched it away......
Agree (6)Disagree (1)Recommend (4)



美国为了油田而占领伊拉克......结果被中国抢走了.....
aunty biryani (india)
so amrika attacked iraq, stole their oil and sold it to china. what is new here? india is also customer, but with less money and lesser requirement than mighty china. lagey raho uncle sam ki chaatney mein
Agree (3)Disagree (0)Recommend (1)



美国攻打伊拉克,偷走石油,然后卖给中国,有啥新鲜的?印度也是客户,但是钱比强大的中国更少,需求也更少。
Annamalai (India)
US has sucked enough oil from Iraq, which was the main hidden reason to wage a war against Iraq. Now, China has over take them to procure oil. Is it really benefiting Iraqi people??????
Agree (4)Disagree (1)Recommend (2)



美国已经从伊拉克拿走够多石油了,这也是它对伊拉克发动战争的主要深层原因。中国现在赶上来了,买了很多石油,伊拉克人民是否真的能从中受益?
vijay banga (new delhi)
Imagine the astute business sense and acumen that Chinese have applied. They took the opportunity and boarded the bus that India missed so much for this country's stupidity despite excellent relations with Iraq and Iran for ages
Agree (8)Disagree (0)Recommend (4)



可以想象出中国人的商业意识有多么敏锐。他们抓住了机会,登上了印度因愚蠢而错过的那班车,尽管印度老早就与伊拉克和伊朗拥有不错的关系。
cabpgupta04 Prasad Gupta (GHAZIABAD)
there is a difference between INDIA AND CHINA,they are more concerned with their national interest where as INDIA is struggling to find out who is secular and who is non secular this has impacted national interest in a big way.
Agree (11)Disagree (0)Recommend (7)



印度和中国之间存在不同。中国更关心国家利益,而印度却在努力辨别谁是世俗的和谁是非世俗的,很大程度上影响了国家利益。
Innocent guy (Asia)
Chinese are so concerned towards their nation, whereas Indians are too busy copying the western culture!
Agree (10)Disagree (2)Recommend (4)



中国人非常关心国家,而印度人忙着照搬西方文化!




fds (india) replies to Innocent guy
If Indians copied "western culture", we would be a developed nation by now. Instead, we are busy r@ping and telling women how to dress and behave while China doesnt care about those things.
Agree (13)Disagree (1)Recommend (6)




如果印度人照搬了西方文化,那么印度现在可能已经是发达国家了。相反,我们忙着强奸女人,然后叫女人该如何穿着,而中国压根就不关心这些事情。




Suresh (India) replies to Innocent guy
Indians are too busy in looting the national wealth.
Agree (17)Disagree (0)Recommend (10)




印度人在忙着掠夺国家财富。



Pallavi (Port Louis)
The Chinese are only interested in gobbling up things be it land or resources without sharing or giving back anything to the source or community. If Iraq had borders with China then they would have merrily gobbled away the same.
Agree (0)Disagree (7)Recommend (0)



不管吞并的是领土还是资源,中国人只对吞并感兴趣,却不懂得分享,不懂得回报。如果伊拉克与中国接壤,那么中国同样会无情地吞并伊拉克。
Innocent guy (Asia)
India can only watch as a mute spectator and increase the petrol prices day by day, thereby mounting the pressure on the common man, while providing car loans lower interest rates!! Rightly, India deserves the tag of being a 3rd world nation forever!!!
Agree (12)Disagree (0)Recommend (4)



印度只能充当沉默看客,然后天天提高油价,把压力转嫁到老百姓身上,同时为买车的人提供低息车贷!第三世界的标签非常适合印度!
Pradeep Nair (India)
Indians are no where near this... Indians really don't know how to make use of these kind of opportunities. Just wasting more money by getting fuel from Iran..
Agree (2)Disagree (1)Recommend (0)



印度人在这方面连中国的边都沾不上....印度人不懂得如何利用这些机会,一味地浪费钱从伊朗进口石油。
pcs18 (India)
they hv clear vision whereas we suffer from myopia???
Agree (6)Disagree (0)Recommend (2)



他们有清晰目标,而我们受目光短浅之苦。
Calvin (Banglore)
China is going to be the next global policeman after U.S. They have already started bullying the neighbours. In China bribes are given to make the Economy Flourish and here bribes are taken to loot the resources.
Agree (6)Disagree (3)Recommend (0)



中国是继美国之后的下一个全球警察,他们已经开始欺负邻国了。中国人给贿赂是为了让经济繁荣,而印度人收贿赂是为了掠夺资源。
ATS.MAVERICK (EARTH)
Ever wondered why muslim countries have the highest oil reserve? Its bcoz of their infighting that millions died and were buried who got transformed into oil in last 1500 years!!!!!
Agree (7)Disagree (11)Recommend (4)



想知道为什么穆斯林国家的石油储量最多吗?因为过去1500年有数百万人在混战中死去,他们的尸体经掩埋后变成了石油!
(Australia)
Where is the oil money going? to USA where else! Them blamed Saddam for Massacre & ended up killing half a million themselves. I'm not a muslim, but i hate USA, you dont have to be a muslim to hate USA.
Agree (10)Disagree (4)Recommend (4)



石油收入去哪了?美国还是其他地方!他们指责萨达姆搞大屠杀,结果自己杀了50万人。我不是穆斯林,但我讨厌美国,并非只有穆斯林才讨厌美国。
ash (uk)
iraq has worlds second largest oil reserve ,d easy access as it can be done on land . extraction cost around 23 dollar p/b . stupid usa spent billions kicking sadam out and chinki benefits the dividend



伊拉克拥有世界第二大的石油储量,且容易开采,提炼成本是每桶23美元,愚蠢的美国花了几十亿美元赶走了萨达姆,而分红的却是中国佬。
三泰虎6月5日译文,印度时报文章《中国从伊拉克石油繁荣中收获最大利益》。据报道,自从2003年美国主导了对伊拉克入侵以来,伊拉克成为了世界上最大的产油国之一,中国现在是其最大客户,已经购买近一半伊拉克产石油,每天将近150万桶。华盛顿国防大学中东问题专家丹尼斯·纳塔利称,"中国人是伊拉克后萨达姆时代石油繁荣的最大受益者,他们需要能源,想要进入这个市场。"