原文标题:China plans tourist hub close to disputed areas near Arunachal Pradesh border
原文链接:http://timesofindia.indiatimes.com/india/China-plans-tourist-hub-close-to-disputed-areas-near-Arunachal-Pradesh-border/articleshow/14365569.cms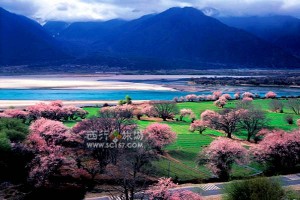 BEIJING: China is building a "golden" tourist complex in Nyingchi prefecture in Tibet, close to the disputed areas on the India-China border in Ar.

The move is bound to affect the border talks between India and China because Beijing claims that Arunachal Pradesh is part of Nyingchi prefecture.

Beijing's plans may involve attracting well-off Han Chinese from mainland China to settle in the border region to strengthen its claims over parts of Arunachal Pradesh, sources said.

The announcement comes within a day of a meeting between Prime Minister Manmohan Singh and Chinese premier Wen Jiabao on the sidelines of the Rio+20 summit in Brazil.



北京:中国正在xz林芝地区打造"黄金"旅游度假区,该地区靠近中印边界的"争议地区"。





该举动必将影响中印边界谈判,因为北京声张阿鲁纳恰尔邦是林芝地区的一部分。





消息人士称,北京的计划是从内地吸引富裕的汉人到边界地区定居,以加强其对阿鲁纳恰尔邦部分地区的主权声张。





该声明的宣布距曼莫汉·辛格总理和中国温总理在巴西"里约+20"峰会期间举行的会谈仅不到一天。



South China's Guangdong province will invest 400 million yuan ($63.5 million), apparently on the orders of the central government in Beijing. An additional investment of two billion yuan ($317 million) is expected to flow into Nyingchi from different enterprises once it develops as a tourist destination, Guangdong officials said.

Nyingchi can be a "potential golden tourism resource" because of its abundant virgin forests, snow mountains, rivers and pastures, according to a Guangdong official. The central government has assigned the relatively prosperous Guangdong the role of Tibet's partner province.

Beijing's plans may involve attracting well-off Han Chinese from mainland China to settle in the border region to strengthen its claims over parts of Arunachal Pradesh, sources said.



中国南部的广东省将投资4亿元(6350万美元),此举明显是在北京中央政服的命令之下做出的。广东官员称,一旦发展成旅游目的地,来自各企业的额外20亿元(3.17亿美元)投资预计将流入林芝地区。





广东一位官员称,由于其丰富的原始森林、雪山、河流和牧场,林芝地区有潜力成为"黄金旅游胜地"。中央政服已经指定相对繁荣的广东为xz的对口援助省份。





消息人士称,北京的计划可能是从内地吸引富裕的汉人在边界地区定居,以加强其对阿鲁纳恰尔邦部分地区的主权声张。




以下是印度网民的评论:




MOTIRAM LALWANI (USA)
GOVERNMENT OF INDIA SHOULD IMMEDIATELY GIVE INCENTIVES TO INDIANS WHO WANT TO SETTLE DOWN IN ARUNACHAL PRADESH SPECIALLY NEAR THE BORDER AREA. WHY NOT ALLOW RETIRED ARMY OFFICERS TO GET FREE LAND NEAR THE BORDER AREA? WE MUST NEUTRALIZE THE CHINESE TRICKS IMMEDIATELY.
Agree (14)Disagree (1)Recommend (5)



印度政服应该立即为想在阿邦定居,特别是在靠近边界地区定居的印度人出台激励措施。为什么不允许退役的军官在边界地区附近自由获得土地?我们必须立即让中国人的诡计失效。
Bihari (Bihar)
Good work China. Show these Indians that they are not more than doormats. Hope there's a war and China mauls India and disintegrates it, that's what this filth of a country needs.
Agree (13)Disagree (4)Recommend (6)



中国,做得很棒。让这些印度人看看他们只是擦鞋垫。希望发生一场战争,中国击伤并瓦解印度。这就是这个肮脏国家所需要的下场。
dj_assame (NE)
All the intelligent people, I do not like Chiness nose rubbing, but if they are doing something legally in their land whats the problem ? How much did Indian goverment invested in the North East of India ? Almost none compare to rest of the India. Just putting a few batch of platoons will not save that region , You need to have economical strategy, or kiss good bye .
Agree (12)Disagree (0)Recommend (1)



所有聪明的人,我不喜欢中国人吹鼻子瞪眼的,但是他们要是在自己领土上合法做事,又有什么问题呢?印度政服在印度东北部投资了多少?相比其他地区,几乎没有。仅仅部署几个团并不能拯救该地区。你需要有经济战略,否则就再见吧。
Avik Roy (USA)
Another example of bad journalism. Indian media need to stop crying foul every time China does something that might affect us. China is doing something within the Tibetan border, why should that concern us? If we are convinced Arunachal Pradesh is India then we should actually benefit from this Chinese developments across the border. Many Chinese tourist will visit us. Also, if there is increased tourism across the border the chance of conflict is also reduced, isn't it?
Agree (12)Disagree (2)Recommend (4)



又是一个不良新闻作风的例子。每次中国做一些可能影响我们的事情时,印度媒体需要的是停止大喊不公。中国是在xz边界内搞开发,为什么这也会让我们担心?如果我们相信阿鲁纳恰尔邦是印度的,那么我们实际上能从中国人在边界另一边的开发中受惠。许多中国游客会过来参观。此外,要是边界上旅游业增加了,那么边界冲突的机会也就减少了,不是吗?





原创翻译:三泰虎 http://www.santaihu.com
matkakulfi (mumbai)
I don't blame china they are doing what india should have done years ago. All India is doing is complaining and to whom god knows. Its high time these gandus in the center do something for the nation and not just think about themselves.
Agree (11)Disagree (1)Recommend (6)



我不会指责中国。他们是在做印度几年前就应该做的事情。印度所做的尽是抱怨,至于向谁抱怨,天晓得。这些处于权力中心的政客不应只是为自己着想,他们早该为国家做一些事情了。
Yavanshatru (Delhi)
Only Narendra Modi has the courage and ability to counter China. Entire Islamic world and China will be on his feet. He is blessed by Lord Krishna and will win the battle to make Bharat, Mahabharat.
Agree (10)Disagree (9)Recommend (7)



只有纳伦德拉·穆迪才有勇气和能力反制中国。整个伊斯兰世界和中国将臣服在他脚下。他受到克里希纳神的保佑,将赢得让巴拉特实至名归的斗争。





(三泰虎注:巴拉特是梵文,即指印度)
Amit Thackeray (Bhayya Hunter)
What is our concern. Whatever China does in its own territory it their own business. Why such a hue and cry, did China ever raised an issue when Delhi made tourist hubs ?
Agree (10)Disagree (2)Recommend (6)



我们在担心什么。中国在自己领土里怎么做是他自己的事情。为什么要大惊小怪。德里打造旅游中心的时候,中国有提出异议吗?
FACTS (MUMBAI)
The irony is that Indians have a habit of complaining other countries for doing something, when they should be ashamed of themselves for not doing anything. Does Mexico complain San Diego for creating Sea world tourism attraction ?!
Agree (9)Disagree (0)Recommend (0)



讽刺的是印度人本该为自己什么也没做感到羞耻,却习惯抱怨其他国家做了某些事。墨西哥有抱怨圣迭戈打造海洋世界旅游景点吗?
Zia Ahmed (Dhaka, Bangladesh)
India has made Arunachal Pradesh a prohibited and restricted area for tourist since 1962. Now China is doing the opposite. Hope we would be welcome to visit Nyingchi prefecture after it is developed into a tourists' spot.
Agree (9)Disagree (0)Recommend (2)



自从1962年以来,印度让阿鲁纳恰尔邦成为旅游禁区。现在中国反其道而行之。在开发成旅游景点以后,希望我们能够受欢迎参观林芝地区。
indianguy.hindu2012 (india)
Please take over complete INDIA. At least we will be far better off under China than this worthless congress.
Agree (8)Disagree (2)Recommend (1)



请接管整个印度吧。我们在中国的统治下至少能比在无价值的国大党统治下过得远远更好。
satchidananda (bbsr)
We have already exported huge quantity of iron ore to them. Now , it is logical for them to take up construction work.
Agree (8)Disagree (1)Recommend (1)



我们已经向他们出口了大量的铁矿石。他们现在搞建设也是合乎逻辑的。
jaygudi (Houston)
It was George Fernandes who first said china is india's Enemy No. 1, but nobody believed him, especially the Cong party who in opposition then. And, now they are creeping near day by day. Our army is not ready to take them on, as per the last chief. Sonia led Cong has done nothing to make our military strong for the last 8 years. They have been busy transferring commission money to Swiss bank accts. Unless we now throw this govt out into the Indian ocean, we are doomed.
Agree (8)Disagree (0)Recommend (6)



乔治·费尔南德斯是第一个称中国是印度头号敌人的人,但是没有人相信他,特别是当时处于对立面的国大党。他们现在一天天靠近。我们军队没有做好挑战他们的准备。前任参谋长称,索尼娅领导的国大党过去8年里没做任何强军的事。他们忙于把佣金转入瑞士银行账户。除非我们现在把这届政服扔进印度洋,否则我们注定完蛋了。
indianaamadmi (kerala)
Well we can start a Buddhist Monastery adjacent to it.
Agree (7)Disagree (0)Recommend (2)



好吧,我们可以在其毗邻地区开一个佛教寺庙。
shekhu (jk)
they will build a tourist spot first then a huge army instillation with the excuse to protect it...
Agree (7)Disagree (1)Recommend (3)



他们会首先打造一个旅游景点,然后一大批军队会借口保护该景点而慢慢进驻。
Vikash Dogra (ludhiana)
our corrupt politicians will sure plan a holiday there .....
Agree (6)Disagree (1)Recommend (1)



我们腐败的政客肯定会计划在那度假...
Dr.Priyanka (hongkong)
It looks very serious issue.Like china, indian government should start to develop that disputed area with tourist centers to attract our people.Our goverment should not ignore this matter.
Agree (6)Disagree (1)Recommend (1)



看起来似乎是个严重问题。印度政服应该效仿中国在争议地区打造旅游中心,以吸引我们的人民。我们的政服不应该忽视这个事情。
Ramesh (Hyderabad) 13 hrs ago
I don't understand the logic here. The Chinese are not building military base there!! Why fear?
Agree (5)Disagree (4)Recommend (1)



我理解不来这里的逻辑。中国人不是在那里修建军事基地!为什么要害怕?
ranjit (Angul)
China already is in possession of part of India over Kashmir! Pakistan is also unlawfully in the possession of part of Kashmir! Who knows for certain, if China already has kept some other parts of India under possession!..and our (anti-national) leaders still believe in Panchsheel and Non Aligned movement and keep LOOTING ,actually for whom??!!!
Agree (4)Disagree (0)Recommend (1)



中国已经在克什米尔持有印度部分领土!巴基斯坦也非法持有部分克什米尔地区!谁又能确定中国是否已经占领印度的其他地区!...我们(反国家的)领导人仍然相信和平共处五项原则和不结盟运动,仍然在抢劫,到底是为了谁?!
aqabdulaziz (Hyderabad)
China should take over Injia and teach Injians how not to take a dump in the open. Injia may also benefit immensely from China take over. For example, 50% of Inians (women) will get to experience what it is to live without the fear of men. Porkys will also benefit if the Chinese kick some as# in the Porkyland.
Agree (4)Disagree (6)Recommend (2)



中国应该接管印度,教印度人如何不在户外大便。印度还可能从中国的接管中获利巨大。比如,50%的印度人(女性)能够体会不惧男性的生活。要是中国人也在巴基斯坦踢那些人的屁股,巴基斯坦人也会受惠的。
Venkat (Ben) 14 hrs ago
China is moving inch by inch and ultimately Arunachal pradesh will be taken over by China.
Agree (4)Disagree (3)Recommend (2)



中国一点点蚕食,阿鲁纳恰尔邦最终会被中国占领。
Rajeev Nair (Nilambur)
Frankly speaking,regardless of the outcome,India should deal with China in the way Israel has dealt with Palestine so far
Agree (3)Disagree (0)Recommend (1)



坦白说,不管结果如何,印度应该以以色列迄今为止对付巴勒斯坦的方式来对付中国。





原创翻译:三泰虎 http://www.santaihu.com
Rabin Banerjee (Dhangadhi)
China can not do any harm to India , now global situation is very different than in 1963.India has to take some appropriate measures for the development of bordering states of us that is linked with China.
Agree (3)Disagree (5)Recommend (0)



中国不能对印度造成任何伤害。现在的全球形势与1963年时候的非常不同。印度应该为与中国接壤的几个邦的发展采取一些合适的措施。
Amar (Delhi) 12 hrs ago
Tinny Philipins stood up to China's greedy claims, Philipins was ready to fight China, resulted in China backing down. Indian COWARD MMS and rest of CONgress forever leaders need to start growing guts, ba#@#%s. It's a shame. MMS is the weakest pm ever, the man needs to step down, can't fight, can't standup to anything.
Agree (3)Disagree (2)Recommend (0)



小小的菲律宾勇敢的面对中国贪婪的主权声张。菲律宾做好了对抗中国的准备,导致中国让步。印度懦弱的辛格总理和其他永不退位的国大党领导人需要鼓起一些勇气。这是耻辱,辛格是最软弱的总理。这个男人该下台了,不敢抗争,没有勇气面对任何事情。
Paul (US) 14 hrs ago
Nuke them on the very first day they start the work there. Diplomacy is over...
Agree (2)Disagree (2)Recommend (1)



只要他们第一天开始动工,就用核弹灭了他们。外交已经结束...
Santo (Dallas) 15 hrs ago
Send man mohan singh on our border security.
Agree (2)Disagree (2)Recommend (1)



派曼莫汉·辛格去保护边界安全吧。
Gopi Srinu (hyderabad)
beware of the dragon greed......cage it back before it cages ..........
Agree (1)Disagree (0)Recommend (0)



小心中国龙的贪婪...在它把别人关入笼子里前,先把它关回笼子里去...
H Ahmed (Muscat)
Typical Israeli strategy - Silent expansion. Build settlements and expand.
Agree (1)Disagree (4)Recommend (1)



典型的以色列策略—悄悄地扩张。先建立定居点,然后扩大。
chand (Dallas and hyderabad) 15 hrs ago
Befriend US, listen to them. China will automatically backtrack.
Agree (3)Disagree (0)Recommend (1)



和美国交朋友,听他们的话。中国会自动放弃
aloke (b'lore) 15 hrs ago
china is doing this.. china is doing that ! TOI i think u ppl start to irritate ur readers now by making story around "china"... after all china is china n nt "usa" so stop to give them so much importance in ur site ! 4 god sake please.......
Agree (8)Disagree (3)Recommend (5)



中国在做这个...中国在做那个!印度时报,我认为你们这些人开始通过围绕"中国"编故事来激怒读者...中国毕竟是中国,不是美国。所以不要在你们网站赋予其如此大的重要性!看在上帝的份上,求求你了...




RJ (DL) replies to aloke 15 hrs ago
Can you answer the following question What country attacked India in 1971.. a) USA b) China C) Utopia (The land you live in now)
Agree (1)Disagree (3)Recommend (0)




你能回答下面这个问题吗?




哪个国家1971年攻击印度?




a、美国 b、中国 c、乌托邦(你现在所居住的土地)




aloke replies to RJ 13 hrs ago
d)non of above ;)




d、以上都不是 ;)



Gurubachan Singh (Delhi) 15 hrs ago
Tourist operators in Delhi will make more business
Agree (1)Disagree (0)Recommend (0)



德里的旅游业者可以揽更多生意了
Tarsem singh (Bhatinda) 15 hrs ago
First the Chinese must sink the Philippine ship which threatens them. China is weak and stroinbgly Jewish supported.
Agree (0)Disagree (1)Recommend (0)



中国必须首先击沉威胁他们的菲律宾船只。中国是虚弱的,受到犹太人的强力支持。
《印度时报》6月24日称,中国拟在xz林芝地区打造"黄金"旅游度假区,该地区靠近中印边界的"争议地区"。该举动必将影响中印边界谈判,因为北京声张阿鲁纳恰尔邦是林芝地区的一部分。消息人士称,北京的计划是从内地吸引富裕的汉人到边界地区定居,以加强其对阿鲁纳恰尔邦部分地区的主权声张。该声明的宣布距曼莫汉·辛格总理和中国温总理在巴西"里约+20"峰会期间举行的会谈仅不到一天。