原文标题:China jails 20 on jihad, separatism charges in restive Xinjiang
原文链接:http://timesofindia.indiatimes.com/world/china/China-jails-20-on-jihad-separatism-charges-in-restive-Xinjiang/articleshow/19241785.cms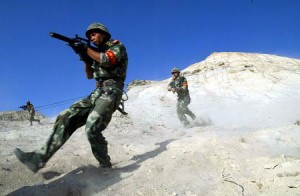 BEIJING: Chinese courts have sentenced 20 people to up to life in jail on charges of separatism and plotting to carry out jihad in the restive far western region of Xinjiang, the government said on Wednesday.

The courts in Kashgar and Bayingol said the 20 - all ethnic Uighurs judging by their names - had had their "thoughts poisoned by religious extremism", and used cell phones and DVDs "to spread Muslim religious propaganda", the Xinjiang government said on its official news website (www.ts.cn).



北京:3月27日,中国法院判处20人无期徒刑,这些人被指控阴谋分裂国家以及在不安宁的西部地区xj发动圣战。





xj政服在其官方新闻网站(www.ts.cn)上引述喀什地区、巴音郭楞两地法院的话称,这20人——从名字可以判断是维族人——受"宗教极端主义思想毒害",利用手机和DVD进行"穆斯林宗教宣传"。



Some of them bought weapons to kill policemen as part of their jihad and spread propaganda related to the banned East Turkestan Islamic Movement, the report said, a group which China says wages a violent campaign for a separate state.

Many Uighurs, a Turkic-speaking Muslim people native to Xinjiang, chafe at Chinese controls on their religion, language and culture.

China has blamed violence in energy-rich Xinjiang - strategically located on the borders of Afghanistan, Pakistan, India and Central Asia - on Islamic separatists who want to establish an independent East Turkestan.



报告称,作为圣战的一部分,他们中一些人购买武器杀害警察,宣扬被禁的"东突"运动。中国称"东突"旨在通过暴力活动来独立建国。





许多维族人,即说突厥语的xj本地人,对中国控制其宗教、语言和文化感到愤怒。





xj能源丰富,地处战略位置,与阿富汗、巴基斯坦、印度和中亚接壤,中国将该地区的暴力活动归咎于伊斯兰分裂分子,这些人意图建立独立的东突厥斯坦。



Some Chinese officials have also blamed attacks on Muslim militants trained in Pakistan. But many rights groups say China overstates the threat to justify its tight grip on the region.

In December, a Xinjiang court sentenced three men to death and another to life in prison for attempting to hijack an aircraft in June.



一些中国官员还将袭击归咎于在巴基斯坦接受训练的穆斯林激进分子。但许多人全组织称中国夸大了这一威胁,旨在为其牢牢控制该地区进行辩护。



去年12月,xj法院判处三名男子死刑和一名男子无期徒刑,这些人在6月试图劫持一架飞机。


以下是印度网民的评论:




Indian (India)
Ha ha ha. China, where do you think the Uighurs got their violent ideology and weapons from? Your loving friend, Pakistan. You dont have to belive me now. They will "give" you more evidence later. Ha ha ha
Agree (2)Disagree (1)Recommend (1)



哈哈,中国,你认为维族人是从哪接受的暴力意识和武器?是你们可爱的盟友巴基斯坦。你没必要现在相信,他们随后会给你更多证据的,哈哈......
DibyaPrasad (Chennai)
It's China Muzzzies...Now stay in a 6x6 cell for life. No immediate chance to get 72 Virgins(Tried and tasted by Allah) !!!! Another thing... the Indian Muzzies also are so hapless in this case that they can't do a protest march against this Chinese ruling. Complete laughing stocks taking India for Granted....
Agree (3)Disagree (1)Recommend (1)



他们是中国穆斯林.....现在要在大牢里蹲一辈子,没有机会立即获得72个处女了!还有.....印度穆斯林也感到很无助,无法游行抗议中国的这个裁决,成了笑柄,把印度视为理所当然.....
samarth (delhi)
What China can do with a friend country, India is unable to do with a enemy country.
Agree (9)Disagree (0)Recommend (4)



中国对友好国家所做的事情,印度却不敢对敌国那样做。
Sathian Thazhathidath (dbx)
When pakistan is a neighbour, no country is free from islamic terrorisom.training islamic militants is a revenue earinig business for pakistan. its mostly madrasa educated people are depending on this revenue for a living.even if they are telling china is theirs(Pak's) all weather friend they dont leave china also.
Agree (11)Disagree (0)Recommend (2)



哪个国家要是与巴基斯坦为邻,就不能得到伊斯兰恐怖主义的幸免。对巴基斯坦来说,训练伊斯兰武装分子是一项生财之道。主要接受宗教教育的人们靠这项收入维持生计。即便巴基斯坦说中国是其全天候盟友,他们也不会放过中国。
Blue Saturn (Delhi)
Has anyone ever seen any muzzie religious or political leader, OIC or any other muzzie leader declaring Jihad against China....... or even uttering a single word against China's actions in Xinjiyang ? I have never seen any ......... Why ?
Agree (10)Disagree (0)Recommend (2)



有人看过穆斯林宗教领袖或者政界领袖、伊斯兰会议组织或其他穆斯林领袖对中国宣布圣战吗........甚或有对中国在xj的行动发声吗?我从来没有见过......为什么?
WJD (Udupi)
This is the begining China, now you will have revenge attacks by Pakistani jihadist, Turkish Jihadist, Al Qaida terrorists, Talibani Terrorist etc.... So be ready to get ripped off.
Agree (7)Disagree (7)Recommend (1)



这只是开始,中国,你就等着巴基斯坦圣战分子、土耳其圣战分子、基地恐怖分子、塔利班恐怖分子发起报复性攻击吧......所以要做好被宰的准备。
MRM (UAE)
The Chinese have the guts, no one, not even their best friend Pakistan will protest - Fully support China - they can see a problem much ahead of anyone
Agree (9)Disagree (0)Recommend (3)



中国人就是有勇气,没有人敢抗议,就连他们最好的盟友巴基斯坦也不敢抗议。我完全支持中国——他们看问题比任何人看得更远。
scamnivas (Madras)
Jihadis should be dealt with an iron hand, like in China.
Agree (13)Disagree (1)Recommend (6)



就应该像中国一样铁腕对付圣战分子。
scamnivas (Madras)
India should learn some lessons from China!
Agree (15)Disagree (1)Recommend (7)



印度应该从中国那里得到一些借鉴!
Buddhadeva Das (aaa)
They thought China and Pakistan are brothers and jihad is OK in China.
Agree (7)Disagree (0)Recommend (1)



他们以为中国和巴基斯坦是兄弟,以为在中国搞圣战没问题。
Susnatha Nath (Silchar)
China is also having the feeling the thorn of Jihadis ! But, nice that they are now taking strong against such elements ! China should join hands with others to curb & with not the ones who are supporting & abetting them !
Agree (6)Disagree (0)Recommend (3)



中国也觉得圣战分子是如鲠在喉!不过好在他们对这些圣战分子采取了强硬行动!中国应当联手其他国家一起对其进行遏制,别与支持和煽动圣战分子的国家在一起!
manisha anand (new delhi)
Any call by the Human Right activists in China. In India even a terrorist is held these human right activists start their campaign. No wonder India is taken for granted as we are a soft state.
Agree (11)Disagree (0)Recommend (3)



中国人全活动分子有发出呼吁吗。在印度,即便一名恐怖分子被拘留,这些人全活动分子就会开始活动。难怪印度被视为理所当然,我们的政服是软弱政服。
Major Samra (Ludhiana)
world will never see these guys again,No appeal, No Vakil, No dalill. They will vanish in to thin Air. Chinese are not India where terrorist will be provided special cells and cost the Government crores.
Agree (18)Disagree (0)Recommend (5)



这些家伙会从世界上消失,没有申诉......他们会消失在空中。印度会为恐怖分子提供单人牢房,给政服增加数以千万卢比的开支。
Rakesh Sharma (Kunming)
No matter what people say about this country, China is actually safe for common people. Mullon ki G@nd M@sti nehi chalti yaha...forget about blasts..even you could be seriously punished for possessing a knife.
Agree (17)Disagree (3)Recommend (7)



不管人们怎么说中国,其实老百姓在中国是安全的.........别提爆炸.......就是携带刀具也会受严厉惩罚。



译文来源:三泰虎 http://bbs.santaihu.com/thread-4341-1-1.html

Paki chini bhai bhai (Lahore)
And every Paki leader says China is our all weather friend. Pakis domnot know what Chinese will do if they feel they are deceived. Pakistan can nit handle it.. This region ugur is near to pak afgan border and many paki travel there. They have married the women in that area.
Agree (14)Disagree (0)Recommend (5)



每位巴基斯坦领导人都会说中国是全天候盟友。巴基佬殊不知中国人感觉被欺骗后会怎么做.......该地区靠近巴基斯坦和阿富汗边界,许多巴基佬去那里,还娶了当地的女人。
Hindu (Stark Tower in New York)
India learn from China, kill all separaists and muslim jihahists
Agree (22)Disagree (2)Recommend (8)



印度应当向中国学习,把所有分裂分子和圣战分子杀掉。
bjvya (Blr)
This will make others to think before they think about Jihad. A very good move to suppress Jihadi's. Hope our Govt shows potent to take such action.
Agree (9)Disagree (0)Recommend (3)



此举会令其他人意图圣战前三思,能很好地压制圣战分子。希望我们的政服拿出勇气来采取这样的行动。
Irrfan (Mumbai)
Pakistanis give Chinese access to Baluchistan port and Chinese thank them by sending 20 Muslims to jail for life. What a strange friendship this is- Muslims who kill for allah every day and Communists who do not believe in allah/god at all.
Agree (21)Disagree (0)Recommend (4)



巴基斯坦人向中国人提供俾路支斯坦的港口,中国人以将20名穆斯林投入监狱作为感谢。这个友谊好奇怪——一方是每天为了真主而打打杀杀的穆斯林,另一方是完全不信真主/上帝的共产党。
Neeraj (INDIA)
Why Muslims are not settled with anyone. Hindus (INDIAN) are all over world but they never created problem for others. I am proud to INDIAN.
Agree (26)Disagree (1)Recommend (9)



为什么穆斯林和谁都相处不来。印度教徒遍布世界,但从来不给其他人制造麻烦。我以身为印度人而自豪。
Noushad (UAE)
At last "Jihad" reached in chaina.........
Agree (12)Disagree (1)Recommend (3)



"圣战"最终来到了中国......




Bitsy (Pune) replies to Noushad
Reached and got Screwed as expected...
Agree (11)Disagree (2)Recommend (5)




来是来了,但如预计一样搞砸了......



Jeevan Karkera (Hindustani)
Islamists should have known that Jihad; Fatwa etc. will not work in China. Hindustan being a soft country, people are taking advantage of liberalism.
Agree (23)Disagree (5)Recommend (10)



伊斯兰主义者本该知道圣战、法特瓦在中国行不通。印度是一个软弱国家,人们利用了这里的自由主义。
Bhai (UK)
Muslims don't know how to live peacefully. They are problem everywhere..
Agree (20)Disagree (1)Recommend (9)



穆斯林不懂得如何和平相处,在各地都是麻烦制造者。
Muraleedharan Chnadran (Cochin, Kerala)
As far china is concerned Jihad is meant only for international trade. Not for domestic supply and use. And now watch, no islamic country or jihadi group will dare to raise their finger against them.
Agree (13)Disagree (0)Recommend (5)



就中国而言,圣战是为国际贸易做准备的,不是用于本国供应和使用的。看看,没有哪个伊斯兰国家或圣战组织胆敢对他们竖中指。
Indian (India)
Jihadis have selected wrong country
Agree (12)Disagree (0)Recommend (1)



圣战分子选错了国家。
geredharrao (chennai)
INDIA MUST ALSO HANDLE INDIAN MUIJAIDEEN IN THE SAME WAY. NATION FIRST THEN PEOPLE. CHINA POLICY
Agree (15)Disagree (0)Recommend (9)



印度应该以同样的方式对付圣战分子。国家优先,其次是人们,这就是中国的政策。
Dwivedi JSK (BSP)
India govt must learn from China how to handle the separatists and jihadis.
Agree (16)Disagree (1)Recommend (5)



印度应该向中国学习如何对付分裂分子和圣战分子。
Anil Ruparelia (World)
Nice, Very Nice. Hope India learns some lessons from China on how to deal with Jihadis in restive Xinjiang. Tighter grip in J&K is very important. No Jawan must be prosecuted for accidental deaths of Civilians. There is too much symphathy for terrorists only in J&K.
Agree (18)Disagree (1)Recommend (11)



不错,非常不错,希望印度向中国学习如何对付圣战分子。牢牢控制查馍克什米尔非常重要性。印度士兵不应为平民的意外死亡负责。查馍克什米尔的恐怖分子得到太多同情了。
sudeep (uae)
Israelis, Chinese, Americans know how to handle jihadies- they just kill them and don't talk much. In India as long as people like Katju , Digvijay and mulayam singh are there, the jihadies will prosper.
Agree (42)Disagree (1)Recommend (23)



以色列人、中国人以及美国人懂得如何对付圣战分子,就是直接杀了,废话少说。只要有katju、Digvijay和mulayam sing之流,圣战分子就会在印度繁荣壮大起来。
nideeshm (trivandrum)
well done china, way to go. But be carefull, they are like termites, once it comes, it is difficult to remove.
Agree (36)Disagree (4)Recommend (16)



中国,干得好,就该这样子做。不过要小心,他们就像白蚁,一旦来了,就难以消灭。
geredharrao (chennai)
who has guts to stop these punishment from china? Hafiz sayeed, yasin malik, gilani, zardari, Pakistan ISI,Taliban .....................................!!!!!!!!!!!!!!!!!!!!!!!!!!!!!!!!!!. Can these idiots will raise and protest china as they do with kashmir?
Agree (30)Disagree (1)Recommend (12)



谁有勇气去阻止来自中国的惩罚?Hafiz sayeed、yasin malik、扎尔达里、巴基斯坦情报机构、塔利班.......!!!?(注:Hafiz sayeed是巴基斯坦虔诚军创始人)





这些白痴敢不敢如其对克什米尔问题一样向中国提出抗议?
Supersan (Krypton)
Wherever this muzzzies go they spread hatred, and bloodhsed in the name of religion. Sick of it.
Agree (30)Disagree (4)Recommend (17)



穆斯林走到哪,哪里就会有仇恨,就会有宗教名义下的杀戮......
据《印度时报》3月27日报道,中国法院判处20人无期徒刑,这些人被指控阴谋分裂国家以及发动圣战。喀什地区、巴音郭楞两地法院称,这20人受"宗教极端主义思想毒害",利用手机和DVD进行"穆斯林宗教宣传"。报告称,作为圣战的一部分,他们中一些人购买武器杀害警察,宣扬"东突"运动。xj能源丰富,地处战略位置,与阿富汗、巴基斯坦、印度和中亚接壤,中国将该地区的暴力活动归咎于伊斯兰分裂分子,这些人意图建立独立的东突厥斯坦。