原文标题:China is not an enemy, just a competitor: Lt Gen Bikram Singh
原文链接:http://timesofindia.indiatimes.com/india/China-is-not-an-enemy-just-a-competitor-Lt-Gen-Bikram-Singh/articleshow/13675743.cms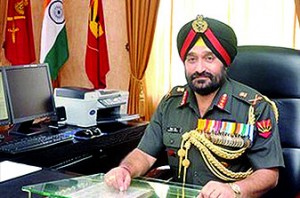 KOLKATA: Lt Gen Bikram Singh, GOC-in-C, Eastern Command, who takes over as Chief of Army Staff (CoAS) on Thursday, feels that relations with China have improved and one shouldn't send across a wrong message by talking too much about India's preparations military-wise.

"Minor incidents do occur. Patrols from their sides move to what is their perception about the Line of Actual Control (LAC). Our patrols also move to what is our perception of the LAC. These are tactical issues at best and should not be taken to a strategic level. In today's world, China is not an enemy. China is a competitor," the CoAS designate said in Kolkata before leaving for Delhi. The general also spoke about his priorities.



东区总指挥官比克拉姆·辛格中将星期四接任陆军参谋长职位。他认为中印关系已经改善。人们不应过多讨论印度的军事准备,以免传达错误的信息。





这位陆军参谋长在前往德里前在加尔各答说:"确实有发生微小事件。他们的巡逻队前进到他们所认为的实际控制线。我们的巡逻队也走到我们所认为的实际控制线。这些充其量是战术问题,不应该提升到战略水平。在当今世界,中国不是敌人。中国是竞争对手。"这位将军还谈了自己优先考虑的事情。



"My first priority as CoAS will be to ensure operational readiness of the Army to enable it to fulfil its Constitutional obligations and assigned roles effectively. Secondly, I will address the hollowness and ensure that the modernization process proceeds as per stipulated timelines. Thirdly, I will strengthen the Army's work culture and the core values, namely, duty, honour, loyalty, integrity, respect and selfless service," he said.

Singh, who will be the 25th general to lead the world's second largest Army, will also focus on effective human resource management to ensure high standards of motivation and morale among all ranks. The former eastern Army commander is also keen to enhance co-ordination with the other services.



"作为陆军参谋长,我首先考虑的是确保军队保持战备状态,让军队有能力有效完成宪法义务和分配的角色。其次,我将确保军事现代化进程按照预定的时间表推进。第三,我将加强军队的工作文化和核心价值,也就是责任、荣誉、忠诚、正直、尊严和无私服务。"





辛格是领导世界第二大军队的第25位将军。他也将集中关注有效的人力调配,以确保各级官兵高昂的士气。这位前任东线指挥官也热衷加强和其他军种的合作。



"All commanders must endeavour to create a climate during their command tenures that hinges on our cherished core values, professional ethos and is conducive to growth and cohesion. Everything, including the military, needs to move forward if we want to develop India into a regional leader," the general said.

Singh was commissioned into the Sikh Light Infantry on March 31, 1972. In the Indian Military Academy (IMA), he held the appointment of battalion cadet adjutant. At the IMA, he was awarded the J&K Rifles gold medal for 'tactics and leadership' and the Shriganesh Trophy. Better known as 'Bikki' to his friends, he was awarded the 'Commando Dagger' and the 'Best in Tactics' trophy during his young officer's course at Infantry School. It was during his tenure as instructor at the Commando Wing of the Infantry School in Belgaum that he met Surjeet Kaur and married her. She is better known as Bubbles with the Army-circle.



"所有的指挥官在任期内必须力争营造一种风气,这种风气依赖于我们珍视的核心价值和职业道德,有利于我们的发展和凝聚。如果我们想要把印度发展成地区领导者,那么包括军队在内的一切必须向前发展。"





辛格1972年3月31日进入锡克轻装步兵团。在印度军事学院,他获得营实习副官任命,被授予J&K步枪"战术和领导能力"金牌和Shriganesh奖杯。他的朋友更经常叫他"比克"。在步兵学校的年轻军官课程中,他被授予"最佳战术"奖杯。在贝尔高姆的步兵学校当任突击队教员时,他碰上了苏吉特·考尔并娶了她。



"Till the Kargil War, the Army used to be a closeted organization and interactions with the media were not entertained. It was after the Kargil War that the perception changed. Even as CoAS, I will ensure that people get to know about what is happening in the Army," Lt Gen Singh, who was assigned to brief the media during the Kargil War, said.

As a brigadier, Singh attended the US Army War College in Pennsylvania. He served in two assignments with the United Nations in Central America and as the deputy force commander and GOC of Eastern Division in the Democratic Republic of Congo. Colleagues remember him as a 'soldier's soldier' for spending time with his troops on the ground.

What was it that prompted the general to join the Army? "I was a student at the Punjab Public School in Nabha during the 1962 and 1965 Wars. We would dig trenches and take shelter when the air raid signals were sounded. This was when I decided to join the Army. I was very good at Zoology and Biology and my teachers felt that I would become a doctor. If I were to be born again, I would join the Indian Army," he said.



在卡吉尔战争期间,辛格中将受命召开媒体发布会。"到卡吉尔战争为止,军队是秘密组织,并没有和媒体互动。卡吉尔战争后,看法改变了。作为参谋长,我将确保人民了解军队发生的事情。"





作为一名陆军准将,辛格就读过宾夕法尼亚州的美国陆军战争学院。他完成过两次联合国任务,一次是中美洲,一次是在刚果皿煮共和国当东区总指挥官。由于他和地面部队呆在一起,同行对他的印象是"士兵的士兵"。





什么促使这位将军参军的?"1962年战争和1965年战争期间,我在纳哈的旁遮普公共学校读书。当空袭警报响起的时候,我们会挖壕避难。正是那时我决定参军。我非常擅长动物学和生物学。我的老师认为我会成为一名医生。要是能再活一次,我还会参军。"




以下是印度网民的评论:




pawan (gwalior)
7 hrs ago (11:17 PM)
i m fully agree with general's comment bt we can't forget that it is china who attacked 20/10/1962, and now again he is talking about Arunachal Pradesh that the AP is their part in past so they claim the arunachal pradesh, China did not give the visa to the indian citizen which belong to Arunachal Pradesh and thereafter if we said the he is not our enemy then i only said "OPEN YOUR EYES GENERAL SAHAB"



我完全同意将军的评论。不过我们不能忘记正是中国1962年10月20日攻击印度。中国现在又说"阿邦"过去是他们的一部分,所以声张"阿邦"主权。中国不给"阿邦"的印度公民颁发签证。如果我们说中国不是我们的敌人,那么我只能说:睁大你的眼睛吧,将军。
ami (surat)
7 hrs ago (11:17 PM)
than why they are crossing LOC every day? to say hi to you? dont run away from problem..



为什么他们每天越过实际控制线?过来问好吗?不要逃避问题...
Sardar Singh (Varanasi)
7 hrs ago (11:16 PM)
I BELIEVE THAT IT IS EASY TO LOVE AND DIFFICULT TO HATE! This is a competetive world and every Nation has to be agressive in development in every sector.



我相信爱比恨容易得多!这是个竞争激烈的世界。每个国家必须在各领域积极发展。
Prithviraj Kumar (Bangalore)
But It is also a close friend of an Enemy.



不过中国也是敌人的亲密朋友。
Pyb (Doon)
7 hrs ago (11:15 PM)
The other day i was chatting on ownskin where i met this chinese guy who asked my asl..i gave the details stating that m an indian..he said, i hate you..i asked y? he said i hate indians..i further asked what makes you hate indians?? he said, "go and ask your PM"..what is it guys?? i was perplexed at this?? Y this chini hates MMS?? Isn't Congress more China friendly?? or there is something else??



几天前,我在ownskin上聊天,碰到一名询问我年龄、性别和所在地的中国人...我详细回答,称自己是印度人...他说,我讨厌你...我问为什么?他说讨厌印度人...我又问是什么让他讨厌印度人?他说去问你的总理吧...什么人来着这是?我感到困惑。是的,这个中国人讨厌辛格总理。国大党不是对中国更友好吗?还是出了其他问题?





(三泰虎注:ownskin应该是类似QQ的聊天软件。asl是age、sex、location..就是你的年龄、性别和你现在所在的位置.. 是时下老美流行的口号)
MS (blr)
7 hrs ago (11:15 PM)
So this guy has decided not to fight from day one. China was Neheru's friend before 62.



所以这个家伙上任第一天就决定不准备打。1962年以前,中国是尼赫鲁的朋友。
CITIZEN (India)
7 hrs ago (11:12 PM)
China is as Ancient as India is, besides China is a country of enterprising people, they believe in development and prosperity unlike the suicidal mentality of Pak. We should resolve the minor border issues and look at the prospects of joining hands with an equally Ancient Culture like China and stop considering the Invadors from the Western Border as the Most Favoured Nation



中国和印度一样古老。此外,中国人富有进取心。与拥有自杀思维的巴基斯坦不一样,他们相信发展和繁荣。我们应该解决微不足道的边界问题,展望未来,联手同样拥有古老文化的中国,停止把西部边界上的入侵者看做最惠国。
Amit (Delhi)
General seems right in his viewpoint. We need to compete with the Chinese , not fight.



将军的观点似乎是对的。我们需要和中国人竞争,而不是打仗。
Amit Thackrey (Mumbai)
I urge china to please for god sake invade us and liberate us from the tyrant rule of India. This spineless Bikram singh looks like another Manmohan Singh . We are fed up with continuous infiltration of Bhayyas from every corner. They are breeding like mosquitoes and coacroaches and have made entire Mumbai as their sulabh sauchalay. As long as we are in india we will be continuously exploited financially and brain washed to be indian. It is better for us to speak Chinese then language of bhayyas. Mi Maharashtracha Maharashtra Maza!!!



中国,你就行行好,看在上帝的份上,请入侵我们,把我们从印度的暴政下解放出来吧。这个没有骨气的比克拉姆·辛格看起来像是另一个曼莫汉·辛格。我们受够了Bhayyas在各个角落的入侵。他们嗜血如蚊子和蟑螂,把整个孟买变成他们的....只要我们还在印度就会持续受到剥削,就会被洗脑成印度人。我们最好说中文,而不是说bhayyas....




Singh (Chicago) replies to Amit Thackrey
7 hrs ago (11:14 PM)
Hehehe Porki, why don't you urge Pakistan to attack us.




呵呵,巴基佬,为什么你不督促巴基斯坦攻击我们



RAJESH AGRAWAL (LUCKNOW)
I wish China could also treat and behave in the same way as Gen Vikram Singh thinks !!!!!!



我希望中国能够以比克拉姆·辛格将军所想那样对待我们!
ar.utkarsh (Noida)

Lt. Gen Singh can you please clarify whether your comments are personal or in capacity of Chief of Army Staff because then you should be having strong evidence to prove your point. I as a citizen demand those evidences.



辛格,你能阐明自己发表的是个人评论,还是以陆军参谋长的名义发表?你应该有强有力的证据来证明你的观点。作为一个公民,我要求你出示这些证据。





原创翻译:三泰虎 http://www.santaihu.com
manumaster.manu (Mumbai)

He knows our strength is only to fight poor countries like Bangladesh, Sri Lanka, Pakistan, etc. So we have to say China is our competitor and not enemy- A diplomatic answer for our poor army and poor country



他知道我们的力量只能打孟加拉国、斯里兰卡、巴基斯坦等穷国。所以,我们只好说中国是竞争者,不是敌人。这是为我们可怜的军队和贫穷的国家准备的外交答案。
vikramsahu(india)

We will be in a better position if china is an ally rather than a competitor.



如果中国是盟友,不是竞争者,那么我们将处于更有利的位置。




ashu lifeisbeautiful (mumbai) replies to vikramsahu




China is Pakistan's ally and has been for decades. And it will be our ally if we give up Arunachal Pradesh.




中国是巴基斯坦数十年的盟友。如果我们放弃"阿邦",中国会成为我们的盟友。




EBM (The USA) replies to ashu lifeisbeautiful
11 hrs ago (11:59 PM)




If we will give Arunachal Pradesh; China will conquer Kanyakumari. India full of Idiots!




如果我们放弃"阿邦",中国会征服坎亚库马瑞。印度到处是傻子!




(三泰虎注:坎亚库马瑞位于印度最南端)




IndiBloke (India) replies to vikramsahu
12 hrs ago (10:59 PM)




china can't be anybody's ally, it only knows to gobble and gobble and gobble..a dragon from heart!!




中国不会成为任何人的盟友。它只知道贪婪地吃...是十足的一条龙!



(Chennai)
12 hrs ago (10:38 PM)
We are living in the world of "Hunger Games". We should overpower the competitor.



我们生活在"饥饿游戏"世界中。我们应该压倒竞争者。
Jago India (Planet earth )
12 hrs ago (10:40 PM)
Lt Gen Bikram Singh China is not an enemy, just a competitor: sorry it is not acceptable. your statement may be an administration compulsion and you might have been forced to say so . Please note that competitor does not invade in your territory and does not help setting terror camps in POK the existence of which is proved beyond doubt. I can give thousand of examples when China has stabbed at the back of our country and our spineless leadership has done nothing other than meek and poor hee hee



比克拉姆·辛格中将:中国不是敌人,只是竞争者。抱歉,接受不来。你的声明也许是行政强制,你也许是被迫这样说的。请注意,竞争者不会入侵你的领土,不会在巴占克什米尔帮助建立恐怖训练营。这些已经被证明,是毫无疑问的。我可以给出中国在背后给我们国家捅一刀的数千个例子。我们没有骨气的领导层除了谦恭和可怜兮兮外,什么也没做。
Brown American (USA)
12 hrs ago (10:43 PM)
I do not see China as an enemy, however, it will turn into an enemy if the issues of Arunanchal Pradesh, Ladakh and River Brahmaputra are not resolved amicable. If China builds a Dam on River TsangPao, it will be direct assault on India. China is building heavily in Pakistan Kashmir and will link Gawadar Port to Western China.There is credible evidence that China supports Maoists



我没有把中国看做敌人。然而,如果"阿邦"、拉达克和布拉马普特拉河等问题没有友好解决,中国就会变成敌人。如果中国在雅鲁藏布江上筑坝,相当于直接攻击印度。中国在巴基斯坦克什米尔大力建设,将连接瓜达尔港和中国西部。有可靠的证据表明中国支持毛派。
Abhinav (India)
12 hrs ago (10:45 PM)
The general is right. He appears to be a brilliant diplomat! The time has changed since Nehru, and while we need to be cautious regarding our dealings with China, India needs to excercise stick-and-carrot diplomacy with China. General Singh is the right pick for the top job.



将军是对的。他似乎是个聪明的外交官!自从尼赫鲁时代以来,时代已经改变了。在和中国打交道的时候,我们需要小心。印度需要对中国奉行"胡萝卜加大棒"的外交政策。辛格将军是最高职位的正确人选。
IndiBloke (India)
12 hrs ago (10:52 PM)
I hope this coming soon general is not another puppet of congress..he talks nice but there are plethora of good orators in congress as well who only know talking and not deliver..i would like to believe his arrival will make a difference.. about china, its surely not our enemy coz states don't do trade running to billions with its enemy..but china surely is a potent and lethal competetor who can soon turn the events unfavourable.. my earnest hopes are that china's Pak oriented policy will one day boomarang with Ugihur militants infiltrating the regions of china and playing havoc there, then only china will come to realize what India is going through, through pak sponsored terrorism.. Jai Hind!!



我希望这很快就会到来。将军不是国大党的傀儡...他说得很棒,不过国大党有太多只说不做的演说家...我希望将军的到来会带来改变...国家和敌人的贸易是不会达到数十亿美元的,所以中国当然不是我们的敌人。不过中国无疑是强有力的致命竞争对手,它可以让事情瞬间变得不利...我最诚挚的希望是中国以巴基斯坦为导向的政策总有一天自食其果,维族武装分子会渗入中国搞破坏。只有那时中国才会认识到印度正在经历的巴基斯坦支持的恐怖主义...胜利属于印度!
AKBAR KASSAM (NEW-YORK CITY, UNITED STATES.)
12 hrs ago (10:56 PM)
CHINA IS NOT A FRIEND OF ANY ONE. THERE ONLY INTENTION IS TO MAKE MORE AND MORE MONEY. AKBAR KASSAM, NYC.



中国不是任何人的朋友。他们的唯一意图是赚越来越多的钱....




Saeed (India) replies to AKBAR KASSAM
12 hrs ago (11:25 PM)
Since when making money become the only criteria to determine who is an enemy or friend? The American education makes you dumber (:- Maybe you should come back to India for re-education!




什么时候赚钱变成了衡量敌人或者朋友的唯一标准了?美国教育让你变成了傻瓜(:- 。也许你应该回印度接受再教育!




原创翻译:三泰虎 http://www.santaihu.com



dilmen (Dubai)
General, you said it rightly. If I were to be born again, I will be joining the services to serve the nation. Keep the spirit high and let Indian Army the best in the world. Dileep Menon, Dubai



将军,你说得对。要是能再活一次,我将参军报国。保持高昂斗志,让印度军队成为世界最棒的军队——Dileep Menon ,迪拜
Amit Thackrey (Mumbai)
12 hrs ago (10:59 PM)
Good joke V.K. Singh, it was nice to see this competition in 1962 war when most of our soldiers were running like headless chickens in the battle field showing their back. Keep up the running competition among soldiers. hehehe.lol.



有趣的笑话,能看到1962年中印战争时的"竞争"也不错。我们的士兵当时在战场上像无头苍蝇一样到处乱串。你就尽管让士兵上演逃跑比赛吧,呵呵...
RKN (USA)
12 hrs ago (11:06 PM)
Good diplomatic talking Singh saab, but there is a very thin line separating a competitor from an enemy...competitors play by the rule and enemies just don't. By this definition clearly Pak is an enemy, right...? Now, if China offers unconditional support to your enemy and specifically against you, then do they become a competitor or an enemy...? You decide...



辛格,不错的外交辞令。不过竞争对手和敌人之间只有一步之遥...竞争对手按照规则办事,敌人不会。以这个定义来看,巴基斯坦明显是敌人,对吧...?如果中国为你的敌人提供无条件的支持,而且是特别针对你的,那么它是竞争者还是敌人呢...?你决定吧...




Kaml (US) replies to RKN
12 hrs ago (11:20 PM)
You have very interesting logic. Are you educated in India or the US? Just curious




你的逻辑很有趣。你是在印度接受教育的,还是在美国?只是好奇而已



Dany (Mumbai)
12 hrs ago (11:07 PM)
Pandit Nehru was saying same thing long time back. Then what happen, we all know it.



博学家尼赫鲁很久以前也是这样说。我们都知道后来发生了什么
Singh (Punjab)
12 hrs ago (11:10 PM)
General makes very smart statement, will turn no stone turned to make India ready and competent to face china. In diplomatic language you don't say that china is our enemy, no one knows China than Ge. Bikram, that China is an enemy. General Bikram will leave a legacy and will be remembered as star Chief of the army staffs., it is only time that is going to prove.



将军发表了一个非常聪明的声明,足以让印度做好应对中国的准备。你在外交语言上不说中国是我们的敌人。没有人比比克拉姆将军更了解中国是敌人。比克拉姆将会留下典范,会被当做明星般的军队参谋长被铭记。需要的只是时间来证明。
Our Daily (USA)
With the Western world in severe decline and China becoming an undisputed Super Power, India has no other option except to make peace with China. However, if India is really serious about this, then it must expel Dalai Lama and extradite him to China.



随着西方世界严重衰退和中国变成无可争议的超级大国,除了和中国言和,印度没有其他选择。然而,如果印度真的严肃看待这件事,那么必须驱逐光头并引渡给中国。
Manish (Manali)
12 hrs ago (11:23 PM)
I hope that is a diplomatic statement and he doesnt seriously believe it. Today China is the most aggresively hegemonistic country in this region and India should build up its defences to protect itself from China. China is claiming islands owned by the Phillipines and Japan. It is also claiming Indian terrtory. There is therefore no room for complacency



我希望这是外交声明,希望他不会真的这样认为。今天的中国是该地区最好斗的霸权国家。印度应该打造抵抗中国的国防力量。中国和许多国家有领土主权争议,包括菲律宾、日本,还包括印度。因此它是不会满足的。
ashu lifeisbeautiful (mumbai)

Was the Gen. thinking about London Olympics... Only God can save India now. GOD rut..



将军说的是伦敦奥运会(中印是竞争对手)吧....现在只有上帝能拯救印度了。
Vidya Bulchandani (Pune, Maharashtra)
11 hrs ago (11:38 PM)
It was before, I was born, but I will never forget, what my Grandad told me about the famous saying...'Hindu Cheene Bhai Bhai' propagated by Nehruji. This time around, we should be more careful. The original Silk Route, was the Biggest Trade Route and will surely be again, but we must surely be Alert!



当时我还没出生呢,不过我永远不会忘记爷爷告诉我尼赫鲁宣传的著名口号..."中印亲如兄弟"。我们这次应该更加小心。最初的丝绸之路是最大的贸易路线,无疑会再次兴起。不过我们必须保持警惕!
Laxman Manchigiah (Colleyville texas)
11 hrs ago (11:43 PM)
Good news indeed. New CoAS Bikram Singh's approach seems to be right for India and China, don't forget, we have very long boundries and both countries have a rich culture and traditions and our relationship is over several thousands of Years, we have to live peacefuly and allow the development of countries and can we change a NEIGHBOR ? no, so, why not bury the HATREAD and SHOWER LOVE, Govt. has to give FREE HAND to him to achieve this goal. God bless him and protect him



确实是好消息。新任陆军参谋长比克拉姆·辛格的做法对中印来说似乎是对的。别忘了。我们有很长的共同边界。两国都有丰富的文化和传统。我们的关系超过数千年。我们必须和平共处,允许两国共同发展。我们能换一个领国吗?不能。所以,为什么不埋葬仇恨和表达关爱呢。政服必须让他放手取得这个目标。上帝保佑他,保护他吧。
sant2020 (delhi)
11 hrs ago (11:51 PM)
So, we have a sleeping general ....



所以,我们有一个沉睡的将军...
nikitiwari75 (UP)

OK, let the momentum of competition going and see what happens. You can't trust too much on such country who attacked you before and also a friend of other bad neighbor.



好吧,让竞争势头继续下去吧,看看会发生什么。对于以前攻击过你并且是另一个恶邻之朋友的国家,你不能倾注过多信任。
EBM (The USA)
11 hrs ago (11:57 PM)
China is certainly not a competitor; long way back they have surpassed India in every single aspect. Pakistan is the only competitor India has (check Per Capita Income).



中国肯定不是竞争对手。他们很早以前就在各方面超过印度。巴基斯坦是印度唯一的竞争对手(核对下人均收入)。




bmbx70 (India) replies to EBM
11 hrs ago (12:08 AM)
Sad but true. Back in like 1978, China surpassed India. Now, China is more than 10 times India. We can't be a competitor to China - neither in economy nor in defense; and with all this corruption, I see the gap widening further. Unless we get rid of these corrupt politicians, no good can happen.




伤感,不过是真的。早在1978年,中国超过了印度。现在,中国是印度的十倍不止。不管是经济还是国防,我们无法成为中国的竞争对手。正是因为所有这些腐败,我看到差距在进一步扩大。除非我们摆脱这些腐败的政客,否则不会发生什么好事。



Someone (Somewhere)
11 hrs ago (12:00 AM)
Do not know if his statement was diplomatic but to me he appears to be a family man and love his life like any ordinary Indian. He should remember that he should be ready to die for the country's sovereignty. With China's encroachment all over northern India, he should not pamper with such words but deliver a stern message.
Agree (8)Disagree (2)Recommend (0)



不知道他的声明是否是外交辞令,不过在我看来,他看起来像个居家男人,正如普通印度人那样热爱生活。他应该记住时刻准备为国家主权献身。中国侵犯整个印度北部,他不应该用这些话来纵容,而是应该严正交涉。
Inderjit Ahuja (Delhi)
11 hrs ago (12:00 AM)
How is China not an enemy? China occupies 1/3rd of J&K and calls it Aksai Chin. China provides arms to pak terrorists. China violates border in Uttarakhand & Arunachal. China claims Arunachal to be hers. .... How is China not an enemy?!!
Agree (28)Disagree (2)Recommend (11)



中国怎么不是敌人?中国占了三分之一的查馍克什米尔,并称其为阿克塞钦。中国为巴基斯坦恐怖分子提供武器。中国侵犯北阿坎德邦和阿鲁纳恰尔的边界,声张阿鲁纳恰尔邦主权...中国怎么不是敌人?!




Singh (Punjab) replies to Inderjit Ahuja
10 hrs ago (01:00 AM)
General knows that too, how about faking friendship to the enemy and getting prepared for the war. He is a General, not an ordinary soldier.
Agree (2)Disagree (4)Recommend (1)




将军也知道这些。一方面对敌人搞虚假友谊,另一方面准备战争,不是挺好的吗。他是将军,不是普通士兵。



Agnel Pereira (Goa)
India and China must have a good relationship inorder not to have a border disputes and other tactical issues. Both countries should treat each other as friends and not enemy.



为了解决边界争端和其他战术问题,中印必须建立友好关系。两国应该把对方当做朋友,而不是敌人。
mikemaj (USA)
Remember 1962 war? Chinese were dancing in the Indian Territory? Nehru and Krishna Menon were sleeping? Same thing will happen if India does not think China as an Enemy. Chinese cannot be trusted and should not be trusted. Here in USA, despite of having great trade relationship, US is considering China as a Threat and preparing for it all the time.



还记得1962年中印战争吗?中国人在印度领土大摇大摆摇晃。尼赫鲁和克里希纳·梅农在沉睡?如果印度不把中国看做敌人,同样的事情会再次发生。不能相信也不应该相信中国。在美国,尽管中美贸易规模很大,美国还是把中国看做是威胁,一直做着相关准备。
narenbumb (Murshatpur)
11 hrs ago (12:09 AM)
The General has generalized his job ! It's better to embrace an enemy (when you are not prepared) than to get slaughtered in a skirmish.



这位将军把自己的工作泛化了!当你没有准备好的时候,最好拥抱敌人,而不是在冲突中被屠杀。





原创翻译:三泰虎 http://www.santaihu.com
K.Chatterjee (Delhi)
10 hrs ago (12:31 AM)
Is he an army man? This is an alibi of a coward who has risen to the top post more by sycophancy than valour. And from world history, we all know a sycophant switches side when the assault begins.
Agree (5)Disagree (7)Recommend (2)



他是军人吗?这是懦夫的借口。他不是通过勇敢,而是更多通过拍马屁来升到最高职位的。从世界历史来看,我们都知道马屁精在攻击开始就会叛变。




Singh (Punjab) replies to K.Chatterjee
10 hrs ago (12:51 AM)
You must be a fool, have you ever been in the army, even in the NCC or your father? Have you ever picked up a gun, that you are talking about a four star general like this? First read everything about General's academic career as well what he did ever since he was in and after IMA Dehradun. Do you think that he does not know that China is a number one enemy, what difference it would have caused if he would have said so. Now a days, diplomacy counts. He will do everything to prepare India for China or any other future wars and defend Mother India with is heart and soul.
Agree (8)Disagree (2)Recommend (5)




你肯定是个傻瓜。你当过兵吗?你扛过枪吗。竟然如此评论四星将军。还是先看一看将军的学历吧。看看他在印度军事学院里和随后做了什么。难道你认为他不知道中国是头号敌人?如果他这样说,那么会引发如何不同的结果。如今,外交很重要。他会做好一切准备,应对中国或者其他未来的战争,会全心全意保卫祖国。



Vidya Bulchandani (Pune, Maharashtra)
10 hrs ago (12:34 AM)
Operational Readiness has to be our Only Priority!



保持战备状态必须是我们唯一优先考量!
deelip (goa)
10 hrs ago (12:34 AM)
next he will say Pakistan is not our enemy but a petty competitor.
Agree (6)Disagree (7)Recommend (2)



他下次会说巴基斯坦不是我们的敌人,而是不重要的竞争者。
DHRUV (mumbai)
10 hrs ago (12:35 AM)
either he is too smart or too dumb and ignorant of history with China (i cant forgive China for the deceit of Hindi Chine Bhai Bhai...) or 3rd option...he is paid in RMB...
Agree (5)Disagree (5)Recommend (0)



他或者太聪明,或者太傻,对中印历史无知(我无法原谅中国以"中印亲如兄弟"口号为幌子来欺骗...),或者还有第三个可能...他收了人民币...
Apurba Paul (Bangalore)
If we say "Just competitor" for china, surely then we are taking china too lightly.



如果我们说"中国只是竞争对手",那么我们肯定太看轻中国了。
Das (Bangalore)
15 hrs ago (01:08 AM)
He is like our MMS, He has read china wrongly. The ground realities are different. China is far ahead of India both in economy and military hardware. There can be no competition. He can console himself by uttering this statement. Politicians are far more corrupt and lazy in India. China has shown aggressive designs by breaking a boundary wall in Tawang. The Chinese have made their intentions clear. We do hope the incumbent general would not be living in fools paradise just like the UPA govt. All the best wishes to him .
Agree (19)Disagree (2)Recommend (8)



他像我们的辛格总理,错误解读了中国。根本现实是不同的。中国在经济和军事装备方面遥遥领先印度。根本就不存在竞争。他发表这样的声明来安慰自己。印度的政客远远更腐败和懒惰。中国在达旺破坏边界城墙表明了侵略企图。中国人的意图很明显。我们希望现任的将军不会像国民进步联盟政服那样做黄粱美梦。向他致以最美的祝福。
JK (Delhi)
15 hrs ago (01:09 AM)
THIS IS SHAMEFUL AND SHOCKING. The enemy is occupying our territories since 1962, and wants Arunachal Pradesh too. And our Army Chief says China is not an enemy!! He should talk like a soldier and not like a politician. For a soldier both Pakistan and China are enemies. Politicians of course have to speak in a political language. It is not for a General to say such things. He should concentrate on the defence of the land.
Agree (14)Disagree (4)Recommend (8)



这是可耻和震惊的。敌人自从1962年以来占领我们的领土,还想要阿邦。我们的军队首长却说中国不是敌人!他应该像军人一样说话,而不是像政客那样。对于军人来说,巴基斯坦和中国都是敌人。政客当然只能用政治语言。这些话并不是将军该说的。他应该专注保卫领土。
V. K. Krishna Menon (Kerala)
15 hrs ago (01:11 AM)
China is our 'friendly' enemy. In 1962, we invited them to visit our country. Since thier population is too high, we told them to come and live in Arunachal Pradesh, Tebet etc.. Alongwith Pakistan, they are helping us to battle cross border terrorism. Sir, very good observation and nice statement. You made a good beginning and I got a flash message that China is sending a special 'Garland' to you on the day of your take over.
Agree (14)Disagree (2)Recommend (4)



中国是我们"友好"的敌人。1962年,我们邀请他们访问我们国家。由于他们人口太多了,我们跟他们说,到阿邦、xz来住嘛。他们和巴基斯坦一起帮助我们和越界恐怖主义战斗。先生,非常好的洞察力,非常棒的声明。你开了个好头,我接到个加急电报,中国在你上任的那一天送了一个特殊的"花环"给你。




vicky (Wellington NZ) replies to V. K. Krishna Menon
11 hrs ago (04:56 AM)
That was thanks to you VKK!You were the Defence minister of India, then.




那要多亏你啊,VKK!你当时可是国防部长啊。




(三泰虎注:楼上那位网民的名字就是1962年中印战争时印度国防部长)



Pradeep Nair (Ghana, Accra)
14 hrs ago (01:14 AM)
Best Wishes Singh Saab, You have very hard task ahead. One request is please dont end up like other Generals in Media contravarcies and Big Scandals.
Agree (3)Disagree (5)Recommend (0)



致以你最美好的祝福。你前面的任务还很艰巨。其中一个要求是请不要像其他将军一样在媒体争议和巨大丑闻中收场。
ahk (india)
14 hrs ago (01:32 AM)
carbon dioxide is the true enemy of all living creatures in this world and particularly for india ,as it is a tropical country . so be cautious of carbon dioxide , not china ,pakistan or iran ...............................
Agree (2)Disagree (2)Recommend (0)



二氧化碳是世界所有生物的真正敌人。特别是对于印度来说,由于是热带国家,更是如此。所以小心二氧化碳,而不是小心中国、巴基斯坦或者伊朗....
&nbpriti (pune)
14 hrs ago (01:55 AM)
Dont know much about this new chief of our mighty indian Army .... But His attitude is more like a politician /bureaucrat than Army Man/patriot. good night friends . Tomorrow Bharat Bandha ... wish u all happy holiday toi readers..
Agree (11)Disagree (0)Recommend (4)



对强大印度军队的新首长不大了解...不过他的态度更像是政客和官僚主义者,不大像军人。晚安,朋友们。明天是巴拉特班达节...祝印度时报的读者节日快乐。
homer (uk)
14 hrs ago (02:01 AM)
Another Moron promoted by the PM. Is Pakistan our enemy? I guess not, since he's married to one. If China is not our enemy stop wasting Indian hard earned money on defence.
Agree (14)Disagree (0)Recommend (10)



又一个总理提拔的傻子。巴基斯坦是我们的敌人吗?我猜不是,他和别人配对去了。如果中国不是我们的敌人,那么不要在国防上浪费印度人的血汗钱。
JC Patel (USA)
14 hrs ago (02:10 AM)
Do not suck it up to China. Whole world knows that China is India's enemy number one. These statements are made out of weakness. No choice but to say this. If China decides to invade India, it can capture the whole country in 30 days.
Agree (10)Disagree (3)Recommend (2)



不要对中国忍耐。全世界都知道中国是印度的头号敌人。这些声明是出于软弱。没有选择,只能这样说。如果中国决定入侵印度,那么它可以在30天之内占领整个国家。
Samajhdar (Canada)
13 hrs ago (02:14 AM)
General Sahib - Jai Hind. You feel that relations with China have improved. Since when, the responsibility for external relations has been transferred to army from foreign ministry? Are you in a habit of making decisions based on your feelings not the facts and figures? You also said that one shouldn't send across a wrong message by talking too much about India's preparations military-wise. Why not? China always talks about it, Pakistan also talks about it. It is not in our control what message they will get by knowing India's war preparedness. It is up to them to read whatever they want to read into it. Strong fence makes good neighbourly relationship possible.
Agree (9)Disagree (1)Recommend (4)



你认为中印关系改善了。什么时候开始的。对外关系的责任从外交部转移到了军队?你是否习惯凭感觉做决定,而不是凭事实和数据?你还说不应该过多谈论印度的军事准备,以免传达错误的信息。为什么不能?中国一直都在说,巴基斯坦也一直在说。他们获知的有关印度备战的消息不是我们能控制的。是他们自己决定想要解读哪些信息。强大国防才可能拥有友好邻居!





原创翻译:三泰虎 http://www.santaihu.com
Brown American (USA)
13 hrs ago (02:35 AM)
Reading comments of Hindu_Indians, they do not trust General Bikram. Poor Sikhs are defending him in this debate. Sikhs have always sacrificed to protect Hindu's, yet most Hindu's consider Sikhs as intellectually, socially, culturally inferior. Sikhs have been reduced to third rate citizens of India after the Assassination of Indira Gandhi and Indian Military attack on Harminder Sahib.
Agree (7)Disagree (26)Recommend (3)



看了印度教徒的评论,他们不信任比克拉姆将军。可怜的锡克教徒在这场争论中捍卫他。锡克教徒总是牺牲自己保护印度教徒。然而,大多数印度教徒认为锡克教徒智商、社交和文化方面逊于他们。英迪拉·甘地被刺和印度军队攻击金庙后,锡克教徒就沦为印度的三等公民。





【三泰虎注:Harmandir Sahib也叫the Golden Temple,是锡克教徒的圣地,位于印度边境城市阿姆利则市 (Amritsar) 中心,是印度锡克教 (Sikhism) 的最大一个寺庙,也是锡克教的总部和行政文化中心】




Brown Indian (Not hiding in the USA) replies to Brown American
13 hrs ago (03:00 AM)
You are most probably Muslim and want to create dissent where there is none. The only poor person who I see intellectually lacking is you! You certainly have my pity for this thinking, hoping you grow up soon.
Agree (19)Disagree (1)Recommend (4)




你很可能是穆斯林,想要无中生有引起异议。我想唯一缺失智商的可怜人就是你!你有这种想法,让我真的为你感到可怜。希望你快点长大。




Brown American (USA) replies to Brown Indian
13 hrs ago (03:09 AM)
A typical Hindu_extremist response. When cornered, either call them Pakistani or a Muslim. What is your issue? Don't you have brains to counter an argument? Don't you have brains to shut up if you do not know what are you talking about? Why are you such an imbecile?
Agree (3)Disagree (13)Recommend (0)




典型的极端印度教徒的回复。当被逼得没话说的时候,就说别人是巴基斯坦人或者穆斯林。你怎么了?你有没有脑子来反驳观点?如果不知道自己在说什么,你就不懂得闭嘴吗?为什么你如此低能?



JD (India)
13 hrs ago (02:57 AM)
Wish General Singh best of luck as the top commander of India. I agree that he could not possibly say that China is India's enemy # 1 without causing problems all around, China is just too powerful for such flippant comment by the top general. However I wish Gen. Singh would just kept mum or referred to his civilian master AK Antony to define China as friend or foe.
Agree (2)Disagree (3)Recommend (0)



希望辛格将军作为印度最高指挥官能够好运。我同意他可能无法说中国是印度的头号敌人,以免引起麻烦。中国太强大了,以致于我们的最高军官不能发表如此轻率的言论。然而,我希望辛格将军保持缄默,或者让安东尼来定义中国是朋友还是敌人。
Guest (Canada)
12 hrs ago (04:10 AM)
If at all some one will harm India seriously it will be China and not the beggar state of Pakistan. Hope this General and Indian politicians stop living in this self denial mode of fool's paradise like Chacha Jee.



如果有人会严重伤害印度,那么就是中国,不会是乞丐国家巴基斯坦。希望这位将军和印度政客停止像Chacha Jee那样做自我否定的黄粱美梦。
Proud Indian (Chennai)
11 hrs ago (05:10 AM)
COA says China is NOT an enemy and Buddha is laughing:)
Agree (7)Disagree (0)Recommend (3)



参谋长说中国不是敌人,佛陀都笑了:)
Proud Indian (Chennai)
10 hrs ago (05:19 AM)
wow. Our COA had surrendered even before the battle has started:)



哇,我们的参谋长在战斗开始前就投降了:)
mini (india)
10 hrs ago (06:04 AM)
Right China is not an enemy. The Army is going to order for a pair of nike shoes for each of its men so that they can beat their rivals in glorious retreat.



对,中国不是敌人。军队将为每名士兵订购一双耐克鞋子,以后在光荣大撤退中可以跑赢对手。





原创翻译:三泰虎 http://www.santaihu.com
ash (uk)
10 hrs ago (06:08 AM)
china is not an enemy ?? is this man been bribed by china ?? is this why VKS didnt wnt him to take post ? if china is not enemy than why is china occupying indian territory ?......... THIS GUY SHOULD noT BE PROMOTED
Agree (6)Disagree (2)Recommend (5)



中国不是敌人?这个人是不是收了中国的贿赂?这就是VKS不想他上任的原因吗?如果中国不是敌人,为什么中国占着印度领土?....这个家伙不应该被提升。
romell (hyderabad)
7 hrs ago (09:03 AM)
Congrats General Biks for showing us the art of surrendering without fighting. No doubt the Indian Army under your leadership in Congo turned out to be a gang of looters and thieves. I join in the billion prayers to the lord almighty to Save the Indian Army !!!
Agree (5)Disagree (2)Recommend (1)



祝贺比克拉姆将军,他向我们展示了不战而降的艺术。难怪你领导下的印度军队在刚果变成一群抢劫犯和盗窃犯。我和10亿祈祷者一起祈祷万军之耶和华能够拯救印度军队!
prasanna (Pune)
2 hrs ago (01:51 PM)
Is he planning an attack on china by praising the enemy first. the same way wht the chinese did to us in 1962 with their Hindi Chini bhai bhai.....



他是否计划先赞扬敌人,然后再攻击。就像中国人1962年对我们所做的那样,他们当时说"中印亲如兄弟"...
印度Rediff发表了一篇题为《比克拉姆中将:中国不是敌人,只是竞争对手》的报道,印度东区总指挥官比克拉姆·辛格将接任陆军参谋长职位。比克拉姆认为中印关系已经改善,人们不应过多讨论印度的军事准备,以免传达错误的信息。印度新任陆军参谋长还称,中印边界的微小事件,充其量是战术问题,不应该提升到战略水平。在当今世界,中国不是敌人,而是竞争对手。