译文来源:三泰虎 http://www.santaihu.com
原文标题:China frigate locked weapon-targeting radar on Japan navy: Minister
原文链接:http://timesofindia.indiatimes.com/world/china/China-frigate-locked-weapon-targeting-radar-on-Japan-navy-Minister/articleshow/18350126.cms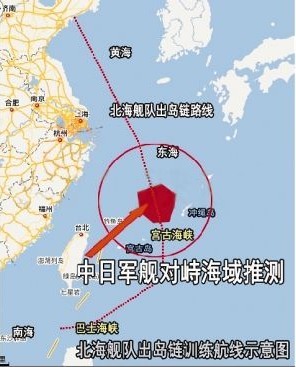 TOKYO: A Chinese military frigate locked its weapon-targeting radar on a Japanese navy vessel on at least one occasion, Japan's defence minister said on Tuesday, in an apparent upping of the stakes in a bitter territorial row.

"On January 30, something like fire-control radar was directed at a Japan Self-Defense Maritime escort ship in the East China Sea. The defence ministry today confirmed radar for targeting was used," Itsunori Onodera told reporters in Tokyo.



东京:日本防卫大臣5日称,中国军队的护卫舰至少在一个场合用火控雷达锁定日本自卫队舰船,此举明显提高了苦涩领土争端中的赌注。





"1月30日,在东海,类似火控雷达的东西被照射在日本自卫队一艘海上护航舰船上。防卫大臣今天确认中方使用了目标锁定雷达。"小野寺五典在东京向记者表示。



Onodera said a Japanese military helicopter was also locked with a similar radar a few days earlier.

"Directing such radar is very abnormal," he said. "We recognise it would create a very dangerous situation if a single misstep occurred.

"We will seek the Chinese side's self-restraint from taking such dangerous action."

The move is an apparent ramping up of an already tense situation in the East China Sea, where Asia's two largest economies are at loggerheads over the sovereignty of an uninhabited island chain.



小野寺五典说,日本一架军用飞机几天前也被类似的雷达锁定过。





"使用这种雷达是非常寻常的,"他说:"我们认为走错一步就会带来非常危险的局面。"





"我们将寻求中方克制,勿采取如此危险的行动。"





此举明显使东海的紧张局势加剧,亚洲最大的两个经济体因无人居住岛屿的主权而产生对立。



On Tuesday Tokyo summoned China's envoy in protest at the presence a day earlier of Chinese government ships in the waters around the islands.

No mention was made in the earlier announcement of the actions of any Chinese military vessels. It was not believed that the military ships had been in what Japan considers its waters.

"The foreign ministry summoned the Chinese ambassador over ships entering the waters near Senkaku islands," said an official, referring to a chain claimed as the Diaoyus by Beijing.



5日,东京传唤中国大使,抗议中国官方船只一天前出现在岛屿周边水域。





早先的声明并未提及中国军舰的任何行动。据信,中国军舰并未出现在日本所认为的己方水域。





"外务省就中国军舰进入尖阁岛附近海域而召见中国大使,"一位官员说,他所提及的岛屿被北京称为钓鱼岛。




以下是印度网民的评论:




ajay.ranjan RANJAN (France)
Both the countires have made it an issue of NATIONAL PRIDE. No one looks like backing out... But none can afford a war.. very complex and delicate situation....



两国都将其上升为事关民族自豪感的问题,没有哪一方看起来会退让,可谁也承担不起战争,形势非常复杂和微妙.....



译文来源:三泰虎 http://www.santaihu.com

joemask (Kerala)
'Oil' is at the bottom of the barrel, not any love for those specks of an islands. They are ready to go to war with each other for the sake of some oil. Japan will loose if their is any war between the two, with or without US help.



问题的关键是"石油",而非对星星散落岛屿的热爱。他们准备为了一些石油而开战。如果两国开战,不管是否有美国的帮忙,日本都将会失败。
Vijaypratap Singh (Bareilly)
It is for the whole world to protect the territorial integrity of Japan after surrender in second world war. Chinese might shouldn't be allowed to suppress the democratic nation.
Agree (1)Disagree (0)Recommend (1)



日本二战投降后,保护日本领土完整是全世界的责任。中国人欺压皿煮国家的行为不应当得到允许。
raj baldev (springfield)
China is out of control, it wants war. This will greatly impair trade. Japan should withdraw investments, move it manufacturing to other countries.
Agree (2)Disagree (0)Recommend (2)



中国失控了,想开战,这会极大损害贸易。日本应当撤资,将生产搬往其他国家。
daylon (japan)
lets just nuke china
Agree (3)Disagree (1)Recommend (4)



让我们核平中国吧。
SCLP (India)
Japs, do you really think that at your request for using restraint, the Chinese will heed it? A marauding bull needs to be caught by the horns or shot dead, there is no middle way! Arm yourself to the teeth!
Agree (12)Disagree (0)Recommend (6)



日本,你真的认为中国人会听从你的请求而保持克制吗?要想制服一头行凶的公牛,那就必须抓住其牛角或者开枪杀死它,没有其他方法!要把自己武装到牙齿才行!
Chinchinaki Biblaboo (Chindia)
We should encourage both the countries to dump their garbage on those islands and settle the issue once for all.
Agree (1)Disagree (1)Recommend (1)



我们应该鼓励两国把垃圾都倾倒在这些岛屿上,从而彻底解决这个问题。
vipin (New Delhi)
China is a bully. Bullies need to be treated a lesson. Let us all boycot Chinese goods.
Agree (1)Disagree (0)Recommend (1)



中国是土霸,应该教训它一下。让我们都来抵制中国货。
2013-Year of (India)
Stop talking and FIGHT let us see the ISLAND belongs to WHOM. China (PAK) vs JAPAN (IND) This would be best at this time...... let you people initiate the world war III later USA & UK would decide whom to support.
Agree (3)Disagree (4)Recommend (0)



别斗嘴皮子,开战吧,看看这个岛到底归谁。中巴vs日印,这回是绝配.....你们去引发世界大战,美英随后来决定支持谁。
Vish (Bangalore)
This is the abuse of Power by China!
Agree (2)Disagree (1)Recommend (1)



中国在滥用权力!
hushar_manus (Mumbai)
Nothing will happen. Almost all Japanese branded consumer products for world market are manufactured in China. The political establishment of both countries are not fools to allow the situation to deteriorate. Economic considerations are more important than petty fights..
Agree (5)Disagree (1)Recommend (1)



什么也不会发生。日本几乎所有供应世界的消费品都在中国生产。两国的政界不会傻到让形势恶化。经济考量要比打打杀杀更重要......




Pranil (Pune) replies to hushar_manus
Do you think it is impossible to manufacture those outside from China??




你以为在中国之外就生产不来吗?



Furr (India)
People Guess what US will be on whose side if they engage in a war...
Agree (1)Disagree (0)Recommend (1)



大家猜猜,如果两国开战,美国会支持哪一边.....
Ashok krishnatry (USA)
China want a lesson......Japan can teach...Let's wait ?
Agree (12)Disagree (4)Recommend (10)



中国想要被教训,日本可以成全它,等着瞧
Krr (India)
China must realize that it cannot oppose every country in the world. China's south sea disputes have made SE Asian countries openly support India and oppose China. Now Japan is drifting our way. Let's hope the Indian Govt utilizes this oppurtunity
Agree (11)Disagree (3)Recommend (5)



中国务必认识到其不能反对所有国家。中国的南海争端促使东南亚国家公开支持印度、反对中国。日本现在也飘向我们这边,希望印度政服能抓住这个机会。
Ramesh Sargam (Bangalore, India)
The relationship between Japan and China is going murkier day by day. China is going more aggressive and that is not good for China.
Agree (10)Disagree (1)Recommend (6)



中日关系变得日益暗淡。中国越来越好斗,这对中国没有好处。
ajay.ranjan RANJAN (France)
CHina should understand that the agreement between USA & Japan would force any escalation to become a full blown war.. If its just posturing then CHina need to be more careful.
Agree (11)Disagree (2)Recommend (5)



中国应该理解,在美日安保协议下,任何升级的举动都可能转变成全面战争。如果只是摆摆姿态,那中国要更加小心。
srini (Hyderabad)
Lets resolve island issue peacfully: Let there be a soccer match between Japan and China, whoever wins will own these uninhabited islands. If there's a draw, islands belongs to UN.



让我们和平解决岛屿问题。日本和中国可以来一场足球比赛,谁赢了,无人岛就归谁,如果平局,那岛屿归联合国。



译文来源:三泰虎 http://www.santaihu.com

Be Good Be Kind (India)
I hope Indian in real life is not like those on this board. Just the mentioned of China, make the majority of people on this board hysterical. Indian get more hysterical about China than the constant warmonger the US. The island were a remnant of Sino-Japanese war. It was not Japan to begin with.
Agree (7)Disagree (2)Recommend (1)



我希望现实生活中的印度人不会像本站的印度人一样,只要一提到中国,本站的大多数印度人就会歇斯底里。中国比战争贩子美国更会让印度人歇斯底里。这个岛是中日战争余留下来的问题。




KI (Tokyo) replies to be_good_be_kind
Remnant of Sino-Japanese war, that's what Chinese goverment says. Although in 1885 those island was already Japan, which is 10 years before Sino-Japanese war. Nobody was living in the island at the time. In 1921, Chinese goverment sent official thanks letter to Japan for saving Chinese fisherman's life at Senkaku island, and in the letter they clearly stated Senkaku belongs you(Japan). In 1958, official world map made by Chinese Communist Party stated Senkaku is part of Okinawa. Only after 1969 when vast supplies of oil was found around Senkaku Chinese goverment started to claim possession of the island.




中日战争余留下来的问题这一说法出自中国政服之口。该岛1885年就已经是日本的,比中日(甲午)战争早了10年,当时没有人居住在岛上。1921年,中国政服向日本发出官方感谢信,感谢其在尖阁岛拯救中国渔民,信中明确称尖阁岛属于日本。1958年,共产党制作的世界地图把尖阁岛标为冲绳县的一部分。只是1969年尖阁岛周围发现大量的石油后,中国政服开始声称对该岛拥有主权。



BUDDA RISING (TAIWAN)
JAPAN CAN WIPE OUT CHINISE NAVY WITHIN HOURS. CHINISE KNEW THAT. THEY JUST GAMBLING. CHINISE CAN'T AFFORD CONFLICT WITH ANY COUNTRY THAT REGION.
Agree (3)Disagree (5)Recommend (1)



日本可以在几小时内消灭中国海军。中国人清楚这点,他们只是在赌注。中国人承担不起和该地区任何国家起冲突的代价。
Bhatti (DXB)
Without knowing the reality all Indians are supporting Japan. is there any specific reason other than 1962?
Agree (5)Disagree (5)Recommend (1)



印度人不知道真实情况就支持日本,除了1962年战争,还有其他具体原因吗?




srik (UK) replies to Bhatti
Enemy's Enemy is said to be FRIEND..dont u no tat..u fool
Agree (2)Disagree (1)Recommend (0)




敌人的敌人就是朋友,你不知道吗,傻瓜。




sk (India) replies to Bhatti
The reality is that China is bullying neighbouring countries. They took an island from the Philipines recently this way and now they are testing Japanese patience. The Senkaku islands belong to Japan and China is out to grab it, just the way they grabbed Tibet.
Agree (3)Disagree (6)Recommend (1)




现实是中国在欺负邻国。他们最近以这个方法从菲律宾抢走一个岛屿,现在又来考验日本人的耐心,尖阁岛属于日本,中国想将其占为己有,手法和其占领xz如出一辙。



Siddharth (Bangalore)
The outcome of a showdown between Chna and Japan is pretty clear...China will lose badly. Not because the Japanese armed forces are necessarily better or larger, but because the Japanese are allied with the US who will also step into the fray. With the US in, so will the Nato and all its member countries. Also SE Asian countries with whom the US has treaties....S Korea, Phillipines, Taiwan, Australia. Asean countries also have disputes with China plus or are bound to side with the US, so will also step in to take advantage of the situation. Pakistan will naturally side with China, which means India will get drawn in also. With all these countries ganged up against it, the outcome is fairly obvious.
Agree (3)Disagree (5)Recommend (0)



中日对决的结果很明显.....中国会输得很惨,并非是因为日本军队更先进或更庞大,而是因为日本和美国是盟友,美国到时也会介入战争。随着美国的介入,北约及其成员国也会介入,此外还有和美国签署了条约的东南亚国家.....还有韩国、菲律宾、台湾、澳大利亚。东盟国家或和中国存在领土纠纷,或肯定会站在美国那一边,所以也会乘机介入。巴基斯坦肯定会支持中国,意味着印度也会卷入进来。这么多国家一起反对,结果再明显不过了。
Lou (USA)
Time will tell. I met Chinese delegation in 1986 when China did not have technology and financial strength. Today China is very powerful in defence and ruling economically all over the world. USA faced and is facing economical disaster becuase China took away most of the manufacturing and exporting cheap goods. Manufacturers are finding it hard to compete with China in price.
Agree (3)Disagree (5)Recommend (1)



时间会证明一切。我1986年时会见过中国代表团,中国当时没有技术,也没有钱。中国今天的国防非常强大,经济统治全世界。中国夺走了大部分的制造业,出口便宜的产品,美国正面临经济灾难,制造商发现难以和中国在价格上竞争。
Hu Shee Bi (Pune)
High time Japan reconsidered its no nuclear weapons doctrine. What will it do in case China drops a few ones on Japan?
Agree (3)Disagree (2)Recommend (0)



日本早该重新考虑其无核化政策。要是中国在日本扔几颗核弹,怎么办?
Ravi Sharma (Hindustan)
Snakes can b believed in but not china .
Agree (17)Disagree (3)Recommend (2)



可以相信蛇,但不可以相信中国。
chinnee497 (Hyderabad)
Both sides should use restraint and should not show belligerent, bellicose, provocative activities. China is expected to act as big brother being one of the super powers of the world. This matter may be solved by negotiated settlement.
Agree (3)Disagree (5)Recommend (0)



双方应该保持克制,不应该好战、好斗、挑衅。中国有望担当老大哥角色,成为世界上的其中一个超级大国。这种事情应该通过协商解决。
Raghu Poojary (mumbai)
...indian defense should note of this....defense capability must be upgraded ASAP....
Agree (6)Disagree (1)Recommend (2)



印度国防部应该注意了,必须尽快提高国防能力......
Mahesh Ved (Mumbai)
INDIA IS FAR MORE STRONGER THAN JAPAN IN MILITARY STRENGTH..
Agree (5)Disagree (4)Recommend (2)



印度军事实力比日本强多了。
三泰虎2月7日译文,据印度时报报道,日本防卫大臣小野寺五典5日称,中国军队的护卫舰至少在一个场合用火控雷达锁定日本自卫队舰船,此举明显提高了苦涩领土争端中的赌注。他称,1月30日,在东海,类似火控雷达的东西被照射在日本自卫队一艘海上护航舰船上。日本一架军用飞机几天前也被类似的雷达锁定过。日本防卫省在晚间紧急召开的记者会上用"特别异常的事例"来形容两起上个月发生的事件,认为当时"稍有错误就可能陷入非常危险的局面"。