译文来源:三泰虎 http://www.santaihu.com
原文标题:China defends hefty defence budget as key to Asian stability
原文链接:http://timesofindia.indiatimes.com/world/china/China-defends-hefty-defence-budget-as-key-to-Asian-stability/articleshow/18790789.cms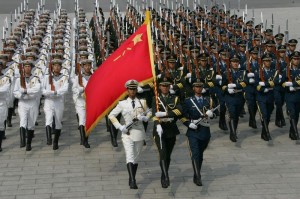 BEIJING: China on Monday said that its defensive military policies played a "core role" in maintaining peace and stability in Asia, playing down speculation of a hefty rise in its defence spending amid standoff with Japan and others over disputed islands.

"China's peaceful foreign policies and its defensive military policies are conducive to security and peace of Asia," Fu Ying, spokesperson for the first session of the National People's Congress (NPC), told a press conference here ahead of the release of budgetary allocations on Tuesday.



中国4日称其防御性的军事政策在维护亚洲和平稳定上发挥了"核心作用",淡化了其在和日本以及其他国家就争议岛屿发生对峙之际,人们对中国国防开支大幅增长的猜测。





5日,全国人大第一次会议发言人傅莹在财政拨款公布之前举行的一次新闻发布会上说,中国的和平外交政策及其防御性的军事政策有利于亚洲的安全与和平。



"It's not good news to the world that a country as large as China is unable to protect itself," Fu, a former vice-foreign minister, said without disclosing this year's defence budget allocation, which is a break from the past.

China has increased its defence spending manifold in the recent budgets taking it to over USD 106.4 billion last year which is far above India's this year's defence budget of USD 37.4 billion.



"中国这样偌大的一个国家没有能力保护自己并非是好消息。"前女副外长傅莹并未公布今年的国防预算分配,这是一反过去的做法。





在最近几次预算中,中国的国防开支增加了几倍,去年超过1064亿美元,远远高于印度今年374亿美元的国防预算。



Many international analysts say China's defence budget is far higher than it actually announces though Beijing asserts that it is the real amount.

Over and above the defence spending China allocated over USD 110 billion for internal security which meant that the country is spending far more on its police forces to maintain a tight control over people.

Analysts say that considering that massive defence projects China has undertaken including to build new aircraft carriers and the development of fighters jets to land on the carriers as well as new missile systems and weaponry, this year's budget could be even higher.



许多国际分析人士称,中国的国防预算远高于其所宣布的数额,不过北京断定这就是真实数据。





中国用于内部维稳的开支在1100亿美元以上,超过国防预算,这意味着该国在用于控制人民的警察部队上的开支要高得多。





分析人士称,考虑到中国已经在进行的大规模国防项目,包括修建新航母、舰载机以及新导弹系统和武器的开发,今年的预算甚至会更高。




以下是印度网民的评论:




Arun Mathew (kerala)
When China increases the military budget, it enhances Asia's stability. But if India or Japan increases budget or tests a missile, it lead to instability, I don't know how that works?

中国增加军事预算就是加强亚洲稳定,如果印度或日本增加预算或者试射导弹,就会带来不稳定。我不知道怎么会这样。
Biresh Sinha (Chennai)
China is bent upon creating disturbances in Asia and establishing its supremacy. India may be low on its defense preparedness but is capable of handling China. A superpower China will bring its own disasters with it. It is better for China to follow a path of peace & prosperity for all in this region



中国决心要在亚洲寻衅滋事,建立自己的霸权。印度可能国防准备不足,但有能力对付中国。超级大国中国会给自己带来灾难。中国最好奉行和平道路,为该地区各个国家带来繁荣。
sankar (ulagam)
-defensive military policies played a "core role" in maintaining peace and stability in Asia- :(((( My foot
Agree (4)Disagree (3)Recommend (2)



防御性军事政策在维护亚洲和平稳定方面发挥了"核心作用"。 :( 胡说。
Sid Pune (Pune)
China is going towards a war as more power brings arrogance and attitute.
Agree (7)Disagree (3)Recommend (3)



中国正走向战争,随着更大实力而来的是傲慢姿态。
imran3000 pak (City of Lahore)
China loves peace after all, welcome to Gawadar and POK, long live China Free Army.
Agree (3)Disagree (6)Recommend (1)



中国毕竟是爱好和平的,欢迎来到瓜达尔港和巴控克什米尔,中国自由军万岁。




geredharrao (chennai) replies to imran3000 pak
u forgot what happen to raise of muslim voice against them and the treatment provided?
Agree (3)Disagree (0)Recommend (0)




你忘记了发出反对声音的穆斯林受到何待遇了?




geredharrao (chennai) replies to imran3000 pak
yesterday it was US di@k today china di@k and tomorrow ?
Agree (2)Disagree (0)Recommend (0)




昨天是美国,今天是中国,那后天呢?



3333sachin (mumbai)
Side Effects of Chinese ECONOMIC GROWTH.
Agree (1)Disagree (1)Recommend (0)



这是中国经济增长的副作用。
Gilbert D'Souza (Bangalore)
Chinese expansionist programme is Asian stability !
Agree (1)Disagree (1)Recommend (0)



中国的扩张计划是维护亚洲稳定!
satinder (Noida)
On the contraray, it's the main reason causing the Asian instabilty..
Agree (1)Disagree (4)Recommend (0)



恰恰相反,这正是导致亚洲不稳定的主要原因。
Sid Pune (Pune)
One single war will bring it back to 50 years.
Agree (6)Disagree (1)Recommend (3)



一场战争就会让它倒退50年。
ravindra sharma (PATNA)
History says that many empires has been fallen down due to heavy expenditure on unproductive assets including defence . We have seen U S S R ,SEEING U S A AND WILL SEE CHINA IF CHINA NOT TAKES A LESSON .
Agree (3)Disagree (2)Recommend (0)



从历史上来看,许多帝国因为在包括国防在内的非生产性资产上的庞大开支而倒下。我们已经见证了苏联倒下,正在见证美国倒下,如果中国不吸取教训,我们也将会看到中国倒下。




rajan (hyderabad) replies to ravindra sharma
USSR was a conglomerate of nations and had misplaced priorities and thus collapsed....but China is a different story altogether......China is here to stay.....
Agree (2)Disagree (0)Recommend (1)




苏联是联邦制国家,偏离了发展重心,因此会解体,但中国完全不同,中国已成定局......



onlythetruth8015 (India)
India Should be more alert now...China is supporting the porkis to wage their proxy war against us.....Congi's take a brake from your Looting and please concentrate on this real and present Threat...
Agree (7)Disagree (3)Recommend (3)



印度应该要多加警惕了,中国支持巴基佬向我们发动代理人战争......国大党应该为掠夺踩一下刹车了,请专注当前真正的威胁.......
Ringa (BLR)
We also have good budget but most of the amount goes into congress ministers pocket.
Agree (10)Disagree (0)Recommend (3)



我们也有可观的预算,但大部分的资金进入了国大党部长们的口袋。
Aviresh Khalchevarkar (Pune, Maharashtra)
China is spending more on defense spending while India has cut 10000 crore on defense budget.



中国在国防开支上投入更多的同时,印度削减1000亿卢比的国防预算。
Shubham Agarwal (SRINAGAR)
surely there's a difference in military budget of ours and theirs, but then again we should also take in account that they got a larger perimeter and area to secure. keeping that in view the difference would come down a bit.
Agree (2)Disagree (1)Recommend (0)



我们的军事预算和他们的肯定有差距,但我们也应该考虑他们有更长的边界和更大的领土要保卫,考虑到这一点,差距就会变得小一些。
JR (India)
Chinese are anything but peaceful species.
Agree (3)Disagree (2)Recommend (1)



中国人决不是爱好和平的"物种"。



译文来源:三泰虎 http://www.santaihu.com
Garib Manus (India)
China's published defense budget is about 3 times higher than India's (it is claimed that China often underreports these numbers and classifies many defense-related expenses in other categories). China is supporting huge infra projects not only in our neighborhood (Pak, SL, Bangla, Nepal, Maldives, Afghan, etc.), but throughout the world as well. HAVE READ ALL THE COMMENTS BELOW--SO, WHAT SHOULD INDIA DO--WHAT IS INDIA'S STRATEGY?
Agree (3)Disagree (0)Recommend (0)



中国公布的国防预算大约是印度的3倍(据称,中国经常少报数据,将许多国防相关的开支归到其他类别)。中国在邻近地区(巴基斯坦、斯里兰卡、孟加拉国、尼泊尔、马尔代夫、阿富汗等)乃至在全世界支持庞大基础设施项目的建设。看过了以下所有评论——印度应该怎么做——印度的战略是什么?




suv (Odisha) replies to Garib Manus
As someone mentioned, we too have gr8 budget,but most of them goes to congress pocket..
Agree (3)Disagree (0)Recommend (0)




有人已经提过,我们也有可观的预算,但大多数进入了国大党政客的口袋...



chdk (ghy)
NO WORRY HALF OF MONEY WILL BE POCKETED. KEEP GOIN?
Agree (2)Disagree (0)Recommend (0)



别担心,一半的钱会被装入口袋.....
T.P. Viswanathan (Mumbai)
Humbug!! If China spends over its head on defense, it is only to further its self-aggrandizing regime. It wants to suppress the freedom and liberty of its neighbours. China things it can intimidate its neighbours by massive defense outlay.
Agree (3)Disagree (0)Recommend (0)



谎话!如果中国在国防上过度开支,那么只会进一步加强政权的自我扩张,意图压制邻国的自由。中国认为通过庞大国防开支就可以恐吓邻国。
Abhi (GCC)
Defensive military policy? but defense budget not suggesting. A pure contradiction.
Agree (1)Disagree (0)Recommend (0)



防御性的军事政策?但国防预算表明不是这样,纯粹是自相矛盾。
Amit Thackeray (Bhayya Hunter)
Indian government should increase taxes to atleast 43% if defense budget has to be increased. It should be made compulsory for all government and private employees.
Agree (1)Disagree (6)Recommend (1)



如果国防预算必须提高,那么印度政服应该至少将税收提高43%,让其成为所有公务员和私营企业员工必须服从的强制规定。
Vinod (New Delhi)
Just reverse the figures. If India spends 106.4 billion dollars on Defence and China spends 37.4 billions dollars on Defence, than see Chinese reaction. Than it India's hegemonic desire to expand, control and annex neighbouring countries.
Agree (2)Disagree (0)Recommend (0)



如果把数据反过来,也就是如果印度国防开支1064亿美元,中国国防开支374亿美元,那么看看中国人的反应,他们会说这是印度的霸权欲望,意图扩张、控制和吞并邻国。
william (new delhi)
Large family means large budget! Large military means large military budget! China is bigger than India in many ways: population, land mass, economy, infrastructure etc. So, naturally,the defense budget is larger. NOTHING UNEXPECTED. It is common sense. Unfortunately, common sense is NOT so common. Mass media should play a responsible role.
Agree (9)Disagree (2)Recommend (2)



大家庭意味着预算大!庞大的军队意味着庞大的军事预算!中国许多方面比印度大:人口、领土、经济、基础设施等。所以,军事预算自然比较庞大,没什么好意外的,这是常识。不幸地是,常识并非那么普及,大众媒体应该扮演更负责任的角色。
Anthony (Melbourne)
Listening to the Chinese talk is like listening to a snake. Next they will brainwash everyone into believing that when they invade a country or countries it is for the good of that country and the world! As the US gets financially weaker the cunning "snake" may become bolder to do as it pleases when it pleases, because it has been planning for world domination for the past 50 years, starting first with toys then trade then providing credit and finally with force.
Agree (5)Disagree (6)Recommend (1)



听中国人的话就像是听蛇的话。他们下次会给大家洗脑,让大家相信他们入侵一个国家是为了这个国家乃至世界的好!美国财政上变得更脆弱,这条狡猾的"蛇"可能会变得更大胆,想做什么就做什么,过去50年里一直谋划统治世界,先从玩具开始,然后是贸易,提供信贷,最后用武力。
King Ravan (Heaven)
increase is huge , but never forget over 600 millions Chinese people worship an Indian daily, morning & evening , Lord Buddha , greatest son of India.
Agree (8)Disagree (2)Recommend (2)



增幅很大,但别忘了,有6亿中国人每天早晚拜一名印度人,也就是印度的伟大之子——佛陀。
paul (blr)
china is competeting with the USA and the rest of the world.... so, this defence budget justifies it....
Agree (13)Disagree (0)Recommend (2)



中国是在和美国乃至全世界竞争.....国防预算就是证明.....
印度今年的国防预算是374亿美元。印度人看中国国防预算连续增长!中国为国防预算辩护,称是维护亚洲稳定的关键。三泰虎3月5日译文,据《印度时报》报道,中国4日称其防御性的军事政策在维护亚洲和平稳定上发挥了"核心作用",淡化了其在和日本以及其他国家就争议岛屿发生对峙之际,人们对中国国防开支大幅增长的猜测。5日,全国人大第一次会议发言人傅莹在财政拨款公布之前举行的一次新闻发布会上说,中国的和平外交政策及其防御性的军事政策有利于亚洲的安全与和平。