原创翻译:http://www.santaihu.com
原文标题:China confirms takeover of Pak's Gwadar port
原文链接:http://timesofindia.indiatimes.com/world/china/China-confirms-takeover-of-Paks-Gwadar-port/articleshow/16252909.cms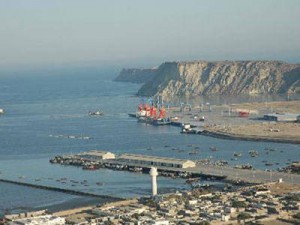 BEIJING: Ahead of Pakistan Premier Raja Pervez Ashraf's visit here, China today tacitly confirmed reports that it was taking over the strategic Gwadar deep water port in Balochistan, which it may convert into an oil pipeline hub to augment its energy supplies from the Gulf.

Asked about Pakistan Shipping Minister Babar Khan Ghauri's remarks that China may take over the port operations with USD 10 billion investment following pullout of Singapore Port Authority (SPA), Foreign Ministry spokesman Hong Lei said both countries are engaged in cooperation to build infrastructure projects. "China and Pakistan are neighbours of traditional friendship. Over the years, China and Pakistan have engaged in wide-ranging cooperation in all fields including infrastructure construction with a view to helping Pakistan improve people's well-being and promote social and economic development," Hong said in a written response to a query from . "Such cooperation is also beneficial to regional stability and development," he said, without directly referring to Babar's comments.

He also did not say whether the issue would be discussed during Ashraf's visit to attend the World Economic Forum 2012, also known as Summer Davos, starting from September 11 at Tianjin city. The forum would be inaugurated by Chinese Premier Wen Jiabao, who is expected to hold talks with Ashraf on its sidelines. Pakistani officials have long been pushing for China's takeover of the port to make it an oil pipeline hub for China connecting with the Karakoram Highway.



北京:在巴基斯坦总理拉贾·佩尔韦兹·阿什拉夫访问印度之前,中国今天心照不宣地承认中国接管了俾路支省的瓜达尔深水港。为了扩大来自海湾地区的石油供应,该港口可能转变成石油管道枢纽。





巴基斯坦海运部长巴巴尔表示,随着新加坡港务局的退出,中国可能以100亿美元的投资,接管瓜达尔港的运营管理。当被要求就该部长的此番言论发表看法时,外交部发言人洪磊称两国正合作修建基础设施。"中巴是拥有传统友谊的领国。多年以来,中巴在包括基建在内的各领域展开了广泛合作,目的在于改善巴基斯坦的民生,促进社会和经济的发展,"洪磊在书面答疑时称,"此类合作也有利于地区稳定和发展。"他在回复中没有直接提及巴巴尔的言论。





洪磊并没有确认这个问题是否会在阿什拉夫参加2012世界经济论坛期间被讨论。该论坛也被称为夏季达沃斯,9月11日开始将在天津举行。中国总理将为该论坛揭幕。预计在论坛举行期间,他会和阿什拉夫展开双边会晤。长期以来,巴基斯坦官员一直推动中国接管瓜达尔港,以让其成为中国的石油管道枢纽,并通过喀喇昆仑公路连接中国。




以下是印度网民的评论:




Jon Joseph (Kozhikode (Calicut), Ind)
This is a threatening move from Chinese side.
Agree (10)Disagree (0)Recommend (4)



这是来自中方的威胁性举动。




Rakesh Goel (Newcastle UK) replies to Jon Joseph
What can we do.They have encircled us.
Agree (4)Disagree (0)Recommend (0)




我们又能做什么呢。他们已经包围了我们。




原创翻译:三泰虎 http://www.santaihu.com



Make Me Smile (Follow me)
Indian politicians are busy handling scams and they are not at all bothered about such news. Its we Indians who are getting worried and eventually frustrated as our Government will do nothing to protect our intrest for next generation.
Agree (32)Disagree (0)Recommend (14)



印度政客忙于处理丑闻,他们不关心这些新闻。我们政服在保护下一代利益方面无动于衷,那些会感到担心并最终泄气的是我们印度人。
Sunil Menon (Mumbai)
Please take-over whole of Porkistan so you die too with these morons. In any case you both are arch-enemy No.1 of India
Agree (15)Disagree (4)Recommend (6)



请接管整个巴基斯坦,这样的话,你们就可以和这些傻子死在一起了。不管怎么样,你们都是印度的头号敌人。
chetan (Siberia)
Congrats China...I never knew that still there are assets which are left unsold by Pak leaders..The country itself is under mortagage to Bank (America and China)..If one of them pulls the rug Govt will not be able to pay salary...
Agree (18)Disagree (2)Recommend (4)



祝贺中国....我从来不知道还有一些资产是巴基斯坦领导人还没有卖出去的。这个国家本身被抵押给了(美国和中国的)银行。如果其中一个抽身离去,那么政服会发不出工资...
Rakesh Goel (Newcastle UK)
China does not follow the middle path .It takes all decisions in its National interest. First a port in Sri Lanka, Greece and then Pakistan. Our netas our busy scamming.
Agree (15)Disagree (0)Recommend (3)



中国并没有遵循中间路线。一切决定以国家利益为准,首先在斯里兰卡和希腊搞一个港口,然后是在巴基斯坦。我们的政客大人们忙着行骗。
nearmsp (USA)
Great strategic move by Pakistan to keep it eggs in both US and China basket. I guess with this done, China will probably ask SL to give it one port to protect its territorial waters from Indian excursions. India was publicly berating the US for trying to find allies to "contain" China. Guess what, China is containing India. India does not have good relationships with any of its neighbors - Nepal, Burma, Pakistan, Bangladesh, Sri Lanka. The list goes on. And all these country people are Indo Aryans and have more cultural ties with India not China. India has mismanaged all its relationships for short term political gains.
Agree (23)Disagree (3)Recommend (10)



巴基斯坦把鸡蛋放在了中美两个篮子里,这个战略举措很棒。我想此事完成后,中国可能会要求斯里兰卡提供一个港口以保护其水域。印度公开斥责美国试图找盟友"围堵"中国。猜猜怎么了,中国在围堵印度。印度和所有领国的关系都不好——尼泊尔、缅甸、巴基斯坦、孟加拉国、斯里兰卡等,名单可以一直列下去。所有这些国家的人都是印度雅利安人,他们不是和中国,而是和印度有更多的文化联系。为了短期的政治利益,印度和所有领国的关系都处理不当。
Amused (US of Asia) 12 hrs ago
China sneezes, India trembles.
Agree (7)Disagree (4)Recommend (1)



中国一打喷嚏,印度就颤抖。
Rohan Suley (Mumbai)
A Great Move By Dragon .... But Whats Need To Be Analysed Is The Strategy Behind This Move ...Though They Are Giving Reason Of Oil Pipe Line , The Actual Reason Must Be Different . Dragon Always Think Too Far And They Also Succeed In Doing So ...Lets See ...
Agree (4)Disagree (1)Recommend (2)



中国龙的这个举措很棒...但需要分析的是此举背后的战略...虽然他们说要建石油管道枢纽,但实际原因肯定不同。中国龙总是考虑得很远,并且每次证明自己是正确的...走着瞧吧...
rajiv mehta (ncr)
Hope China does what East India Company did to India. For India it is good news--next generation will not be afraid of Fundamentalist Pakistan,because China will take care of it.
Agree (7)Disagree (1)Recommend (1)



希望中国能像东印度公司一样对待印度。对于印度来说,这是一个好消息。我们下一代不会害怕奉行原教旨主义的巴基斯坦,中国会管好他。
Vivek Nandan (Delhi)
good . Some day we will hear news of china takeover of whole Pakistan!
Agree (11)Disagree (1)Recommend (1)



不错,总有一天,我们会听到中国接管整个巴基斯坦的消息!
Rajguru (delhi)
The port will provide strategic foothold and location's advantage to China. Though the development not good for India the port is a win-win for both China and Pakistan.
Agree (3)Disagree (0)Recommend (1)



这个港口可以为中国提供战略立足点和区位优势。虽然对印度不利,但这个港口对于中巴是双赢局面。
MAHA IBRAHMIN (Brahmavartha) 11 hrs ago
India must immediately handover Bombay port to USA, to counter balance China-Pak friendship.
Agree (5)Disagree (14)Recommend (3)



为了抗衡中巴友谊,印度必须立即把孟买港移交给美国。
VVSebastian (Vancouver, Canada.) 11 hrs ago
I can not immagine how more stuppid a Government can be like Pakisthan. China has been claiming Islands, normal land etc. from all it's neighbors saying that it belongs to China. Pakistan has a boarder with China and it is very easy for China to claim the whole of Pakistan as part of China where they are investing money and doing free infastructure works like building roads etc. free to show that it is out of friendship. China never had been a good neighbor friend to any country. My Paki friends, please wake up before it is too late. I would not be surprised that within the next 10 years we will see a China map including Pakistan.
Agree (2)Disagree (0)Recommend (1)



我无法想象巴基斯坦那样的政服会如此愚蠢。中国对各领国都宣称某些岛屿或者领土属于中国。巴基斯坦和中国有接壤。中国在巴基斯坦投资,出于友谊而免费修建公路等基础设施,中国会很容易就会宣称整个巴基斯坦属于中国的一部分。中国从来没有和任何一个领国成为朋友。我的巴基斯坦朋友,为时已晚前请清醒。如果未来十年内我们看到一张覆盖巴基斯坦的中国地图时,我并不会感到惊讶。




Furqan (Lahore, Pakistan) replies to VVSebastian 9 hrs ago
@VVSebastian: No dear it will never happen. China and Pakistan are all-weather, time-tested friends. China has neither harmed us nor we have any territorial dispute rather she has helped and respected us more than any other nation on this planet. If we can give our airbases to drone-striker US, why cant we hand over a port(which today exist only because of China)to China? We are culturally similar to Indians but we deeply trust Chinese because unlike majority of Indians, Chinese fully accept and respect the existence of Pakistan.For most of Indians like skpatil Pakistan doesnot exist! @skpatil: I strongly disagree with you. You need to take a history lecture. Pakistan was never a part of present day India. Rather it was a part of British Raj, Mughal Empire, Sikh Empire, Durrani Empire and so on. Muslims states or empires existed in present day Pakistan even 800 years ago. For how long will you deny the existence of Pakistan? Bear in mind that Pakistan is a fact that is as much old as present day India is (Rather we are one day older)
Agree (2)Disagree (2)Recommend (2)




不,亲爱的,永远不会发生。中巴是久经考验的全天候朋友。中国既没有伤害我们,也和我们没有任何领土争议,她比地球上的任何国家更多地帮助和尊重我们。既然我们可以为美国提供空军基地,为什么我们不能把港口移交给中国?我们文化上和印度人相近,但我们深深信任中国人,因为和大多数印度人不一样,中国人充分接受和尊重巴基斯坦的存在。对于大多数印度人来说,巴基斯坦压根不存在!skpatil,我坚决不同意你的说法。你需要上一下历史课。巴基斯坦从来不是当今印度的一部分,而是英属印度、莫卧儿帝国、锡克帝国、 杜兰尼王朝等国家的一部分。穆斯林国家或者帝国在800年前就存在当今巴基斯坦领土上。对于巴基斯坦的存在,你们到底要否认到什么时候?记住:巴基斯坦是个事实存在,它和当今印度一样古老(我们还大一天呢)。




(三泰虎注:巴基斯坦比印度早一天独立)



ekdesi (USA)
If India is lagging behind China, it is due to the failure of Indian government and its lack of credible inetrnal and foreign policies. Govt and politicians lack vision. With the largest English speaking work force, India should have been the dominant in manufacturing and R&D fields. Thanks to the poor infrastructure and the corrupt govt policies, we remained poor with half the population struggling to earn their food. Who needs democracy when you have to sleep hungry? With the rampant corruption and inefficient governance, situation remains grim with no signs of improvement anytime soon.
Agree (20)Disagree (0)Recommend (7)



如果印度落后中国,那么就归咎于印度政服的失败及其可靠内外政策的缺失。政服和政客缺乏愿景。印度说英语的劳动大军最庞大,本该统治制造业和研发领域。多亏了可怜的基础设施和腐败的政服政策,我们仍然贫穷,一半人口为填饱肚子而挣扎。当你饿着肚子睡觉时,谁会需要皿煮?由于腐败猖獗,管理低效,局面仍然没有很快改善的迹象。
Fortune Teller (Strategic Position) 11 hrs ago
Soon there will be no India within 50 years.China will break it up and give some peices as reward of loyalty to Pakistan,Srilanka , Bangladesh, Burma and possibly Nepal and Bhutan and keep the majority within their control. What a shame.
Agree (4)Disagree (5)Recommend (0)



50年内,印度将不复存在。中国会肢解印度,并把一些领土作为奖赏,分给巴基斯坦、斯里兰卡、孟加拉国、缅甸,可能尼泊尔和不丹也有得分。然后把剩余的大多数领土归于自己控制。真丢脸。
Col Sondhi (gaon)
China is spreading its tentacles all around India. Pakistan has handed over a large chunk of land of POK to China, Chinese military engineers are doing work in POK and elsewhere, Chinese have built a road link with Pakistan, China's presence in Indian Ocean is quite formidable... and now the Gwadar port. India is busy in Coal Gate, 2G Scam, CWG Scam..... where is the time with these corrupt politicians for the country?
Agree (19)Disagree (1)Recommend (7)



中国的触须伸向印度四周。巴基斯坦把巴控克什米尔的一大块领土移交给中国。中国军事工程师在巴控克什米尔和其他地区工作,中国人修建了一条连接中巴的公路,中国在印度有强大存在...如今进入了瓜达尔港。印度忙于煤炭门、2G丑闻、英联邦丑闻...腐败政客哪有时间关心国家?
homer (uk) 11 hrs ago
America and India should back the Baluchistan to counter this move. The port belong to them and not to Pakis.
Agree (18)Disagree (4)Recommend (8)



美国和印度应该支持俾路支斯坦反对这个决定。这个港口属于他们,不属于巴基斯坦。
MAHA IBRAHMIN (Brahmavartha) 11 hrs ago
Mighty nuclear power Pakistan has won the war without lifting a finger -- India is blinking -- Alhamdulillah:)
Agree (5)Disagree (17)Recommend (1)



强大的核国家巴基斯坦不费吹灰之力就赢得了战争。印度在干眨眼。
MAHA IBRAHMIN (Brahmavartha) 10 hrs ago
We can scream on top of our head but we must admit that majority Indian Muslims are secretly happy and pray Allah to bless China-Pakistan friendship. They think, India can NOT scratch even an inch on Pakistan --- Allahu Akbar :)
Agree (13)Disagree (9)Recommend (4)



我们会夺命尖叫,但我们必须承认,印度大多数穆斯林暗地里高兴,并祈祷安拉保佑中巴友谊。他们认为,印度不敢染指巴基斯坦一寸领土...
Manoj Kumar (Delhi) 10 hrs ago
It would have been better if they took over entire Pakistan and made them Buddhists. :D
Agree (9)Disagree (2)Recommend (3)



如果中国接管整个巴基斯坦,并让他们成为佛教徒,那么会更好。
MAHA IBRAHMIN (Brahmavatha) 10 hrs ago
MASTER STRIKE BY PAKISTAN -- INDIA HAS LOST THE WAR WITH PAKISTAN AND CHINA SIMULTANEOUSLY.
Agree (6)Disagree (21)Recommend (2)



(这是)巴基斯坦的高招——印度同时输掉了印巴战争和中印战争。
Ringa (BLR)
This can be good news for India. CHINESE MONK will convert terrorist to BUDDHIST. ISLAMIC PAK will be renamed to BUDDHIST REPUBLIC PAK after 20yrs.
Agree (18)Disagree (3)Recommend (8)



这对印度是好消息。中国和尚会把恐怖分子转变成佛教徒。20年后,巴基斯坦伊斯兰共和国会改名为巴基斯坦佛教共和国。
djagan1949 (Puducherry)
Zardari is going to sell entire Pak to China including Talibans as bonus to them.
Agree (20)Disagree (1)Recommend (8)



扎尔达里准备把整个巴基斯坦卖给中国,还附送塔利班作为补贴。





原创翻译:三泰虎 http://www.santaihu.com
Rajesh Pathak (Bangalore)
If China aims to get control over India ..they should know it is simply not possible..we might have a weak PM but we are not weak as a nation
Agree (13)Disagree (6)Recommend (6)



如果中国打算控制印度,那么他们应该知道简直不可能。我们的总理可能软弱,但是我们国家并不弱。
MAHA IBRAHMIN (Brahmavartha) 16 hrs ago
Honestly, in front of mighty China and Pak, we stand like an impotent without both hands, who can't even masturbate :)
Agree (11)Disagree (8)Recommend (4)



老实说,在强大的中巴面前,我们就像是没有双手的性无能者,甚至无法手淫 :)




Indian (Indian) replies to MAHA IBRAHMIN 16 hrs ago
We are enjoying the show... China is f****ing Pakis...
Agree (6)Disagree (5)Recommend (1)




我们喜欢这出戏...中国正在"操"巴基斯坦...




Ejaz (Pakistan) replies to Indian 4 hrs ago
Why do I hear screams from Indians?
Agree (2)Disagree (0)Recommend (0)




为什么我听到的是来自印度人的惊叫?



Jagdish (Mumbai)
One day Pak will also betray China, just after realizing that china dependency on Pak is good enough.
Agree (3)Disagree (4)Recommend (1)



总有一天,当发现中国对巴基斯坦依赖足够大后,巴基斯坦也会背叛中国。
Khan (Nuclear Pakistan) 15 hrs ago
Best site to see 'Frustrated Indians' is here! Lolz! Burn in Fire! :P Oh btw: Congratz Pakistan & China!!
Agree (10)Disagree (7)Recommend (4)



要看"沮丧的印度人",本站就是首选!笑!:P 哦,顺便说下:祝贺中巴!
印度时报4日称,在巴基斯坦总理拉贾·佩尔韦兹·阿什拉夫访问印度之前,中国心照不宣地承认中国接管了俾路支省的瓜达尔深水港。为了扩大来自海湾地区的石油供应,该港口可能转变成石油管道枢纽。巴基斯坦海运部长巴巴尔表示,随着新加坡港务局的退出,中国可能以100亿美元的投资,接管瓜达尔港的运营管理。去年,时任巴基斯坦国防部长穆赫塔尔告诉英国《金融时报》,巴基斯坦曾请求中国在瓜达尔建立一座海军基地,并希望中国海军在此维持常备军队,但梁光烈表示,中国政服没有讨论这一提议。