译文来源:三泰虎博客
外文标题:China calls Japan-US island drill 'provocative'
外文地址:http://timesofindia.indiatimes.com/world/china/China-calls-Japan-US-island-drill-provocative/articleshow/19711820.cms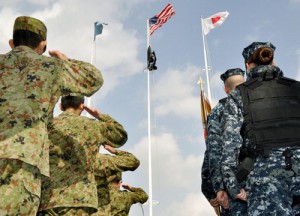 BEIJING: China said on Wednesday that "provocative actions" would not sway it from defending its territory, after Japan confirmed it would conduct military drills with the United States amid tension between Beijing and Tokyo over disputed islands.

Japan said on Tuesday that the joint drill, scheduled for June off California, involved the recapture of an isolated island but was not aimed at scenarios involving a specific country, Japan's Kyodo news agency reported.

China's foreign ministry spokeswoman, Hua Chunying, said "foreign pressure" could not sway China from protecting its territorial sovereignty in the East China Sea.



北京:4月24日,在北京和东京就存争议岛屿而关系紧张之际,日本确认其将和美国联合举行军演,中国称两国的"挑衅行动"不会动摇其捍卫领土的决心。





日本共同社23日报道,预定6月在加州举行的联合演习涉及重夺离岛,但并非针对特定国家。





中国外交部发言人华春莹表示,"外部压力"不会动摇中国保护其东海领土的决心。



"For any related provocative actions, the Chinese government will maintain a resolute response," Hua told reporters at a regular news briefing when asked about the drills.

"We have always upheld the same stance on issues related to the Diaoyu Islands: to appropriately solve, manage and control the relevant issues through bilateral dialogue and negotiations."

Beijing and Tokyo have both protested over an incident on Tuesday in which Chinese patrol vessels played cat-and-mouse with a flotilla of Japanese nationalists near the uninhabited islands, known as the Senkaku in Japan and the Diaoyu in China.



在一场例行新闻发布会上,华春莹对记者说:"对于任何有关挑衅行动,中国政服将会做出坚决回应。"





"就有关钓鱼岛的问题上,我们一直秉持相同的立场,即通过双边对话和协商来妥善解决、应对和控制有关问题。"





23日上演了中国巡逻船和一支载着日本国民的船队玩猫捉老鼠的游戏,北京和东京都对此事件表达了抗议。日本称该岛为尖阁岛,中国称之为钓鱼岛。



The Japanese government bought the islands near rich fishing grounds and potentially lucrative maritime gas fields from a private Japanese owner last year, sparking sometimes-violent anti-Japanese protests across China.

The issue has brought Chinese-Japanese relations to their lowest point since normalisation of relations more than 40 years ago.

China also chastized Japan for Tuesday's visits by at least 168 lawmakers to Tokyo's Yasukuni Shrine, which honours 14 leaders convicted as war criminals by an Allied tribunal along with Japan's war dead.



去年,日本政服从私人手中购买了这个岛屿,此举在全中国激发了时而发生暴力活动的反日抗议。该岛靠近渔业资源丰富的渔场和可能有利可图的海上气田。





自从40年前关系正常化以来,这个问题已经令中日关系跌至最低点。





中国还指责日本至少168名议员在23日参拜了靖国神社,那里供奉着被盟军法庭判为战犯的14名头目以及其他战死的日本军人。



The pilgrimage came after Prime Minister Shinzo Abe made an offering and Deputy Prime Minister Taro Aso and two other ministers visited Yasukuni over the weekend.

Homage paid by leading Japanese politicians at the Tokyo shrine typically angers Japan's neighbours, who contend that it glorifies wartime aggression.

US chairman of the joint chiefs of staff Gen Martin Dempsey told reporters in Beijing on Wednesday on the last day of his trip to China that he had reminded Chinese officials of US obligations to Japan.



日本政服对靖国神社表达敬意激怒了邻国,后者声称日本美化侵略战争。





访华之旅的最后一天,美国参谋长联席会议主席马丁·登普西上将在北京就美国对日本的义务提醒了中国官员。



"Our position is that we don't take a position on territorial issues. In the case of Japan in particular, however, I was careful to remind them that we do have certain treaty obligations with Japan that we would honour," he said.

The US-Japan security treaty commits the United States to intervene in defence of Japan if there is an attack on Japanese-administered territory.



他说:"我们的立场是我们不在领土问题上采取立场。然而日本尤其特别,我小心翼翼地提醒了他们,即我们和日本之间有一些需要遵守的条约。"





美日安保条约规定,一旦日本管辖的领土遭受攻击,美国有义务协防日本。




以下是网民的评论:




译文来源:三泰虎博客




Rajender (BAND WAGON)
If you have drills near the disputed islands why not Japan?
Agree (7)Disagree (1)Recommend (2)



既然你可以在存争议岛屿附近演习,为什么日本不可以?
Annamalai (India)
Why can't you intrude them??? Because they will fcu@ you. Only India will come for talks. Even Srilankan navy is killing innocent fishermen who cross maritime border.



为什么你们不入侵他们?因为他们会艹你。只有印度才会来谈判。就连斯里兰卡也会杀死越过海上边界的无辜渔民。
BC Menon (ALAPPUZHA)
LET CHINESE DRAGON GO TO HELL.
Agree (4)Disagree (1)Recommend (1)



让中国龙下地狱去吧。
Annamalai (India)
China, If you call Drills as Provocative?? Then, how do call the Intrusion???
Agree (6)Disagree (1)Recommend (1)



中国,如果你说演习是挑衅?那么,入侵又怎么说?
nitish (india)
Why cant India has same treaty with US????I think we would be more stronger with the help of US.
Agree (15)Disagree (3)Recommend (4)



为什么印度不和美国签署类似条约?我想有了美国的帮助,我们会更强大的。




Freedom Fighter (New Delhi) replies to nitish
Japs has US troops stationed on their soil, it is not an independent state. Your slave mindset upsets an old freedom fighter like me, shame on you, Indian's future relies on bunch of selfhaters. 60 years ago, we gave up everything to fight for the independence of this country but now look at our sons and grandsons, they are still enslaved by colonial mentality.//sigh
Agree (3)Disagree (6)Recommend (0)




日本有美军驻扎其领土,并非是一个独立国家。你的奴隶思维令我这样的自由斗士感到沮丧,太丢脸了。60年前,我们不惜一切为了国家的独立而斗争,可看看我们的儿孙们,他们仍然被殖民心态所奴役,叹气。




nitish replies to Freedom Fighter
I will tell you ,we have else no option left.
Agree (4)Disagree (0)Recommend (1)




跟你说,我们没得选择了。




nitish replies to Freedom Fighter
Dude this blabbering will not work anymore.We dont want US troop on our soil but its now time we should strategically aligned towards US.Our leaders r corrupt.They will give up all our land to china and we would be enslaved by them.Better take help from superpower and fight against them.There is always give and take in the deal.I dont think US has any policy to expand its area like china.
Agree (6)Disagree (1)Recommend (0)




老兄,扯淡无助于事。我们不想美军进来,但战略上应当与美国看齐。我们的领导人腐败,他们将把所有领土让给中国,我们会受之奴役,所以最好从超级大国那里获得帮助。交易总会有所得失,我认为美国并无类似中国的扩张政策。




pi (us) replies to Freedom Fighter
You may be a freedom fighter. But today, without USA help, we cannot take up Chinese. All this talk is fine but the reality is different.
Agree (4)Disagree (2)Recommend (0)




你也许是自由斗士,但今天没有美国的帮忙,我们无法挑战中国人。说起来是好听,但现实不是那么一回事。




Bhinrats replies to nitish
American won't play your body guard for free, you have to contribute, they have to collect. what do you have to offer? your 5 years old girls? funny you talk like that.
Agree (2)Disagree (6)Recommend (1)




美国不会免费给你当保镖的,你必须得有贡献,他们得有来拿,你有什么好给的?你5岁的女儿?话说成你那样真是可笑。



samir (Foreign)
China will not stop bullying some strong action needed to stop it.China understands only language that is western world and its allies should stop imports from china.
Agree (7)Disagree (0)Recommend (4)



中国不会停止欺凌弱小的,需要一些强硬行动来加以阻止。中国只懂得一种语言,即西方世界及其盟友应该停止从中国进口。
adwe (china)
I am sure we will have war with Japan.



我们肯定会和日本打仗的。




manishbhardwaj2001 (USA) replies to adwe
The war China will lose. Salute to USA.
Agree (5)Disagree (3)Recommend (3)




中国会输。向美国致敬。




FunnyIndians (China) replies to manishbhardwaj2001
China and US fought two wars after WWII, none lost. we tied in Korea and we won in Vietnam. so who knows, we also ass-whopped the world biggest democracy in 1962 and talking about provocative, we can ask all south asian countries, Pakistan, Bangladesh, Sri Lanka, Maldive, Nepal.. and most important Sikkim, who bullied them.
Agree (2)Disagree (5)Recommend (1)




二战后,中国和美国打了两场战争,一场都没有输。朝鲜战争平局,越南战争赢了。我们还在1962年痛打世界最大的皿煮国家。说到挑衅,可以去问问南亚国家,比如巴基斯坦、孟加拉国、斯里兰卡、马尔代夫、尼泊尔,特别要问锡金,问他们被谁欺负了。




Amused (MP) replies to FunnyIndians
Won? Vietnam is still picking mines and bombs out of their rice paddies. they rely on US veteran charities to buy artificial limbs. US lost 58,000 soldiers, no civilians. Vietnam claims 2 million dead in all categories. All the 3 lakh Chinese ethinics in Vietnam were kicked out before 1975, mostly to US and Singapore or Hong Kong. Now Vietnam invites US Navy to visit Danang as Russia abandoned them, and they hate China (and beat them back in 1979). Vietnam begs for US investment and makes shoes for Nike and children's clothes for WalMart.




Then Korea? North Korea has to beg and whine for food, uses 30-40 year old tanks, rifles, guns, planes... all junk. Seoul is powerful, sells cars and TVs in China, has more modern tanks, planes, radar than both North Korea and China, many built indigenously. Seems to me your idea of winning and losing is skewed badly. My money is on Japan, India, South Korea, Philippines, Australia, US.... the liberal democracies. You can have Pakistan and North Korea. Laughable alliance. After the war we will shoot or hang Fatty Kim, all the Chinese Commies, and all the Muslim radicals and ISI sneaks. Then there will prosperous peace, as in Europe, the Americas. The people of North Korea, China and Pakistan deserve far better of their governments than they get now. Cheers.
Agree (1)Disagree (1)Recommend (1)




赢了?越南还在稻田里捡地雷和炸弹,倚靠美国老兵慈善机构来买假肢。美国损失了58000名士兵,没有平民。越南宣称总共有200万人死亡。越南的30万华人在1975年前就被赶出去了,大多去了美国、新加坡和香港。如今遭到俄罗斯抛弃之后,越南邀请美国海军访问岘港,他们后来仇视中国(并在1979年将其击退)。越南乞求美国过来投资,为耐克生产鞋子,为沃尔玛生产童装。




那朝鲜呢?朝鲜在讨饭吃,用的是三四十年历史的老旧坦克、步枪、大炮、飞机.....统统是垃圾。首尔很强大,在中国卖汽车和电视,比朝鲜和中国加起来还更多现代的坦克、飞机和雷达,许多还是自主生产的。在我看来,你的胜负观念有失偏颇。我把钱押在日本、印度、韩国、菲律宾、澳大利亚、美国等自由皿煮国家上,你可以押在巴基斯坦、朝鲜上,这些是可笑的盟友。战后,我们会毙掉或处死金胖子,共产党,还有穆斯林激进分子......




StupidChineseAndPakis (India) replies to FunnyIndians 3 days ago
Sikkim??haha its already a part of india so lets forget about sikkim bullying india,infact chinese r still sore with sikkim issue...and south asian countries are way closer to india than japan, vietnam, philippines, south korea, russia etc etc to China..i feel that chinese like u r now feeling the heat now..haha or maybe u r a paki who's again faking as chinese here..lol in both cases u r as stupid as we know u r
Agree (4)Disagree (2)Recommend (2)




锡金?哈哈,它已经是印度的一部分了,忘掉锡金吧,实际上,中国人仍对锡金问题痛心......南亚国家和印度的关系比日本、越南、菲律宾、韩国、俄罗斯等国和中国的关系要亲近得多。我感觉你们中国人现在感到压力了,哈哈,或许你又是伪装成中国人的巴基佬....lol,不管怎样,你都是蠢蛋。




Happy Man (UN) replies to adwe
Japan and US will welcome it. This is the time China should be taught a good lesson
Agree (9)Disagree (5)Recommend (5)




日本和美国会欢迎的。现在是中国被教训的时候了。



Jay K (Toronto, Ontario)
Just read earlier that China is involved in "provocative actions" - in Indian territory! Are they aware of their own actions?
Agree (5)Disagree (0)Recommend (3)

早些时候看了有关中国在印度领土发起"挑衅行动"的报道,他们是否意识到了自身的行动?
swapnil (India)
In case (though chances are very few) war breaks out india should provide miltary support or bases for japan.
Agree (4)Disagree (0)Recommend (1)



万一爆发战争(可能性很小),印度应当向日本提供军事支持或基地。
haula chua (Hyderabad)
Chinikis fly over INDIAN teritory, when INDIA protests, Chinkis say they are within their own borders and doing the routine stuff. However, Chiniks call the routine USA and Japanese drill provocative. Like I said, you cannot trust Chinese as they have a forked tongue exactly like a snake.
Agree (7)Disagree (0)Recommend (4)



中国佬飞跃印度领土,印度表示抗议,可中国佬说他们是在边境内例行活动。然而,中国称美国和日本的例行演习是挑衅。正如我所说的,你不能去相信中国人,他们就像一条蛇,口是心非。
Nicole (Australia)
America has forgotten the lessons of Pearl Harbour and World War Two. America is being very stupid to support Japan against China. Time will tell. Wake up Obama.
Agree (3)Disagree (13)Recommend (3)



美国忘记了珍珠港乃至二战的教训,美国支持日本对抗中国实为愚蠢之举。时间会证明的。醒醒吧,奥巴马。
Deepak (UP)
It's a worry time for China. They are provoking everyone Japan, india, Vietnam, Philippines etc and having dispute over the borders. All this countries should unite and give a fitting reply to China from all the side and fronts. It seems China is not able to balance it new stature and wants to dominate and this will bring the dragon down.
Agree (12)Disagree (0)Recommend (7)



现在是令中国忧心的时刻。他们把各国挑衅了个遍,日本,印度、越南、菲律宾等等......统统都出现边界争议。这些国家应当联合起来给中国一个恰当的回复。中国似乎难以平衡其新高度,想要主宰别人,这会让中国龙倒下的。




Indiansaresofunny (China) replies to Deepak
A chicken is scared by a panda so she runs to a fox and a wolf to seek protection, India's national IQ is revealed.
Agree (2)Disagree (8)Recommend (2)




一只鸡被一只熊猫吓坏了,遂而跑去找狐狸和狼寻求保护,印度的国民智商暴露无遗。




RAKESH SHARDA (Panchkula) replies to Indiansaresofunny
China is proceeding towards its self destruction.The time has come to teach these opium eaters a lesson.




中国正走向自我毁灭,现在是时候给这些磕鸦片者一个教训了。




Blackie Pakis are so shameless (China) replies to Indiansaresofunny
Beggar Blackie Pakj posing as a fake Chinese scared of showing true humiliated Paki face.............its your own failed nation Packistan that is a chicken and has no IQ as can be seen from your worthless scared comments..........ha ha ha
Agree (3)Disagree (2)Recommend (3)




黑不溜秋的巴基乞丐又在装中国人了,你害怕展示令你丢脸的巴基真面目.......你们失败的国家巴基斯坦才是那只鸡,你们木有智商,从你们毫无价值的恐惧评论就可窥视......哈哈哈......



Rupert (mangalore)
Why is India left out? India should also participate in this drill.



怎么把印度遗忘了?印度也应该加入这次演习。
RAKESH SHARDA (Panchkula)
India should learn from countries like Japan ,and give a befitting reply to China.



印度应当向日本等国学习,给中国一个恰当的回复。
Arvind chitale (Pune)
China has become bold and openly aggressively. The power equation is tilting in favour of China. Will India join Us?



中国已经变得大胆,公然咄咄逼人。实力平衡已经倒向中国。印度是否会加入美国?
Abdali (Pakistan)
When China does a provocative act on Indian border, its not provocative, but when harmless military drills are played far away from its border, its provocative. Come on, China, be a sport, what you do is what you get back Time to behave like a man and stand up for what wrongs you have done.
Agree (3)Disagree (1)Recommend (2)



中国在印度边界的挑衅行为不算挑衅,但远离中国边界的无害军事演习就是挑衅了。拜托,中国,有个有风度的人吧,恶有恶报滴.....
三泰虎4月28日译文,印度时报原题《中国称美日演习是"挑衅"》。据报道,4月24日,在北京和东京就存争议岛屿而关系紧张之际,日本确认其将和美国联合举行军演,中国称两国的"挑衅行动"不会动摇其捍卫领土的决心。日本共同社23日报道,预定6月在加州举行的联合演习涉及重夺离岛,但并非针对特定国家。中国外交部发言人华春莹表示,"外部压力"不会动摇中国保护其东海领土的决心。