原文标题:China builds infrastructure for Mansarovar pilgrims
原文链接:http://timesofindia.indiatimes.com/world/china/China-builds-infrastructure-for-Mansarovar-pilgrims/articleshow/14620943.cms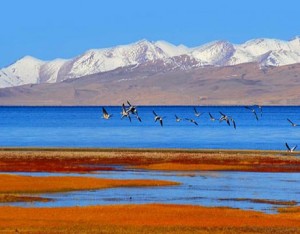 三泰虎昨天分享了一篇题为《印度驻华大使十年内首次访问xz》的译文,本文原文无特别内容,主要侧重中国为印度朝圣者改善基础设施,修建类似深圳世界之窗那样的景点等,故原文略。


以下是印度网民的评论:




only truth (earth)
Mount kailash and manasarovar lake belonged to bharat much much before the chinese learnt civilization.
Agree (12)Disagree (4)Recommend (4)



在中国人学习文明的老早前,冈仁波齐峰和玛旁雍错湖就属于印度。
D.Jagannathan (Puducherry)
Shows good will of China. They want to convince Indian authorities that they are friendly and mean business.
Agree (1)Disagree (2)Recommend (0)



中国展示了善意。他们想要说服印度当局,即他们是友好的,是认真的。
shikha (chandigarh) 1 hr ago
Why all of a sudden so much love for India?
Agree (6)Disagree (1)Recommend (0)



为什么突然如此喜欢印度?




sudeep (uae) replies to shikha 13 mins ago
It is the love for Indian money- dont get misguided.
Agree (3)Disagree (0)Recommend (0)




是喜欢印度人的钱,别被误导了。



Manohar (Bengaluru) 54 mins ago
ITS A GOOD MOVE BUT THERE SHOULD NOT BE ANYTHING FISHY B'COZ CHINA & PAKISTAN ARE FRIENDS AND THESE TWO COUNTRIES ARE OUR ENEMIES. THE INFRASTRUCTURE SHOULD NOT HELP PAKISTAN TO PLOT BOMBS IN MANASORAVAR.
Agree (3)Disagree (1)Recommend (0)



此举是好的做法,但是不应该有任何可疑的事情,因为中巴是朋友,是我们的敌人。这些基础设施不应该用于帮助巴基斯坦在玛旁雍错湖密谋安放炸弹。
truth (earth)
Mount kailash is Lord shiva's abode , hence that area belongs to Bharat from time immemorial, So also Mansoravor lake . I hope both indian and chinese govt's wake up to this fact.
Agree (11)Disagree (2)Recommend (3)



冈仁波齐峰是湿婆神的居所,因此该地区自古以来属于印度,玛旁雍错湖也是。我希望印度政服和中国政服能够认清事实。
Anilson (Kuwait)
Its China's dirty game to make India politically not oppose developments in Tibet. Or Tibetians living in India are not encouraged by Indian govt and masses. Kailash and Mansarovar should be part of India.
Agree (7)Disagree (2)Recommend (1)



此举是中国的肮脏游戏,以让印度政治上不反对xz发展,或者印度政服和民众不鼓动居住在印度的xz人。冈仁波齐峰和玛旁雍错湖应该是印度的一部分。
Nandee (Mansarover) 30 mins ago
Having been thru almost all of the comments posted here , i feel pathetic , on intellect level on my fellow countrymen.First , Tibet and Mansorover belongs to India, we should be supporting tibetians at any cost and not allow any puched-nose pigmies to encroach upon.Shame on our bureaucrats and politians , they have failed on this fronts also.....What an Irony , We need to pay Chinese airlines , tourism , ice-cream sellers...if we want to visit our lands !!.......sorry Lord Shiva we (Mallus , Biharis , Kannada , Bhiya , Gulati , converted , non -converted ....all , but Indians ) are too busy , we are helpless ...now sing "Itnee shakti hamee , deena datta , every day i can earn my bread and pay taxes for politians to build heir toilets , for it's too hot out side to go and stand with Anna " ...itnee shaktee .....
Agree (17)Disagree (4)Recommend (6)



看了这里的大部分评论以后,我对印度同胞的知识水平感到悲哀。首先、xz和玛旁雍错湖属于印度,我们应该不惜一切代价支持xz人,不允许任何人侵犯。我们的官僚主义者和政客太无耻了,他们在这方面也是不成功的...多么讽刺啊,如果我们想要参观自己的领土,居然需要向中国航空公司、旅游业和卖冰激凌的人付钱!...抱歉,湿婆神。我们太忙了,太无助了...现在唱一下......




mohana sundaram (pune) replies to Nandee 1 min ago
very true.




非常正确。



indianaamadmi (kerala)
Good initiative from China,will boost Tourism and Bi-Lateral relation's.
Agree (3)Disagree (2)Recommend (0)



此举是中国的不错倡议,将促进旅游业和双边关系。
RK (India) 17 mins ago
That's marvelous! This is the way forward for both nations, Chinese should be doing more and more instead of showing the muscles. REquest to Chinese - respect people's aspirations and human values. Heartful thanks for this nice move.



太神奇了!这才是两国该走的路。中国应该做出越来越多此类举动,而不是炫耀力量。这是对中国人的请求:尊重人们的抱负和人类价值。衷心感谢此项不错举动。
cherian varghese (Bagru Jaipur)
It is the business-mind of China.
Agree (1)Disagree (0)Recommend (0)



这是中国的商业思维。
ABM (Hong Kong) 13 mins ago
Yes. I've visited those miniature park around Shenzen area in southern China. Very good. China is keep building lot of infrastructures and very huge too. Road, bridges and flyovers are very huge like 4 ways and 8 ways . But, what does India do..?
Agree (3)Disagree (0)Recommend (0)



是的,我参观过深圳地区的微缩公园。非常不错。中国一直修建大量的基础设施,而且非常巨大。公路、桥梁和立交桥非常大,比如4车道或者8车道。但是印度做了什么?
Rj Siddhesh Shanbhag (Mumbai, Maharashtra)
i dont want mansarovar included in india. let it be in china. i dnt want it to be turned into an uncivilised dumping ground, jst like what we have done to the ganga river. not to mention the corruption which will follow.



我不想玛旁雍错湖并入印度,让它留在中国吧。我不想像我们对待恒河那样让它变成不文明的垃圾场,更不用说将随之而来的腐败了。





原创翻译:三泰虎 http://www.santaihu.com
Saratchandran (Australia) 12 mins ago
Possession is 9 out of 10 and the rest is 1 out of 10 ! Even when one does not like or approve what has happened, the reality is that India will be unsuccessful in getting these places back, ever! Go and enjoy the view and find the peace. At least you get a visa to go now! Remember, Pakistan was part of India too, even Afghanistan, perhaps!! Remember Hindukush!!?



10个(圣地)中有了9个,还有一个在外!即使某人不喜欢或者不认可所发生的事情,现实是印度永远也要不回这些地方了!去那里享受景色和寻找内心平静吧。至少你现在可以拿到签证去那里!记住,巴基斯坦也是印度的一部分,可能阿富汗也是!记得兴都库什山脉吗?
Jai Bharat (Spain)
Nice to hear some positive news from China regarding India



开心地看到来自中国的一些有关印度的正面新闻。
radrapusukumar (Bangalore)
A good move initiated by China. Hope this gives comfort to the Manasarovar Piligrims.



此举是中国发起的善意举措。希望能给玛旁雍错湖的朝圣者些许安慰。
Ghoda (Murshatpur)
Indian uncrowned emperors are busy 'looting' while the Chinese dictators are 'rooting'; inside our country. Shame on our people & the politicians !
Agree (1)Disagree (0)Recommend (0)



印度未加冕的皇帝忙于"抢劫"国家,而中国独裁者却在我们国内"扎根"。我们的人民和政客太无耻了!
Vibhu Bansal (New Delhi)
The infrastructure China has developed from Nepal to Mansarovar is simply commendable. This is from my personal experience.



从我的经历来看,中国修建的从尼泊尔到玛旁雍错湖的基础设施真的值得赞美。
Darsh (..) 0 min ago
If you dont protect what you have, then it will be taken away.



如果你不保护自己所拥有的,那么就会被夺走。
Jitendra Yadav (Nerul-Mumbai)
This is a well planned tact by Chinese, they are thus playing active role in tibet to prove that this whole part belongs to them. Otherwise they were never concerned about Hindu pilgrimage places. Other thing is they will thus keep close to Indian borders and could keep good watch on Indian side activities. Indian diplomats open your eyes and be alert at proceedings instead of praising China.



此举是中国人精心策划的策略,他们因而能扮演积极的角色,以证明整个地区属于他们的。否则他们是永远不会关心印度教圣地的。另外,他们可以就此靠近印度边界,密切观察印度那边的活动。印度外交官,请睁开眼睛,警惕事情的进展,而不是去赞美中国。
Nipun Jain (India)
They are treating it like a tourist spot. Government should understand that Mansarovar traditionally has been a religious place and it shall remain so. By building parks and other monuments they are commercializing it which is not good. Also, they should try to remove visa requirement for this place. Mansarovar can be treated as a special case with no visa barrier hold.



他们只是将其当做旅游点来看待。政服应该理解玛旁雍错湖传统上是个宗教圣地,以后应该也保持这样。通过修建公园和其他纪念碑来商业化运作并不好。此外,他们应该允许无需签证就能访问这个地方。玛旁雍错湖可以被当做一个无签证障碍的特殊例子来对待。
s.sundaram (New Delhi) 11 mins ago
Should we really trust these Chinese intention? If China is so serious in its intention of increasing more Indians tourists to visit kailash Manasarovar pilgrimage, there is hardly any basic infrastructure provided to tourists till date. Basic facilities like a clean toilet, electricity, road is missing in most of the areas. When we performed KMY 5 years ago and complained to the Chinese Visa authorities after our yatra the unfriendly chinese said tourists are not welcomed by them.



我们真的应该去信任中国人的意图吗?如果中国真的有意增加访问冈仁波齐峰和玛旁雍错湖的印度游客,可迄今为止几乎没有为游客提供任何基本的基础设施,比如干净的厕所、电。那个地区大部分没有公路。当我们5年前朝圣结束后,我们向中国签证局抱怨,不友好的中国人表示他们不欢迎游客。
Vachaspati (Bhutan)
india should not be mistaken for this goodwill gesture. This might be a garb of china to appease the Indian Pilgrims. Mr. Ambassador, must get deviated from his role of safeguarding the national interests. Let it be made clear that the Mansarovar and Mount Kailash belong to India. Also, the plight of Tibetans needs to be highlighted. China can never be trusted as they can go to any extent. They are doing this only to subvert international opinion about china. May be this way they shall be making better strategic moves and these facilities could be used more effectively against India during war times.



印度不应该被这个善意举措误导。此举或许是中国安抚印度朝圣者的方式。大使先生不应该偏离保护国家利益的角色,应该清楚表明玛旁雍错湖和冈仁波齐峰属于印度。此外,还应该强调藏人的困境。中国永远不值得信任,因为他们什么事都做得出来。他们之所以这样做,是为了颠覆有关中国的国际舆论。或许他们能就此采取更好的战略举措,这些设施在战时可以被用于更有效地对付印度。
ajay (mumbai) 1 hr ago
india and china share a common culture. Buddhism is not only revered in china but Mongolia, Japan and the Koreas. Hinduism and Dharmic religions define the way of life in South East Asia as well. We should all unite to protect our culture and way of life and create a golden age, open up the borders just like during the Mauryan ages. I believe it is possible.
Agree (4)Disagree (1)Recommend (0)



中印拥有共同的文化。佛教不仅受到中国的尊敬,而且受到蒙古、日本和韩国的尊敬。印度教和达摩教定义了南亚的生活方式。我们应该联合起来保护我们的文化和生活方式,创造黄金时代,就像孔雀王朝时期那样开放边界。我相信这是可能的。





原创翻译:三泰虎 http://www.santaihu.com
vijayaraghavans mb (cochin)
China will get Blessings from Lord Siva, the Kailasnath.
Agree (4)Disagree (3)Recommend (1)



中国会受到冈仁波齐峰的湿婆神的保佑。
AD (NCR) 1 hr ago
Though the move is good but China doesn't do anything without hidden designs and interest for their own people, how can they be so benevolent for Manas Sarovar Yatris. This move is rather a strategy to increase more revenue as well as control/monitor the pilgrims more efficiently.This infrastructure can also be used for military purpose in any eventuality.
Agree (3)Disagree (3)Recommend (1)



虽然行为是好的,但是中国做事从来不光明磊落,从来不考虑自己人民的利益,他们又怎么会对玛旁雍错湖的朝圣者如此仁慈呢。倒不如说此举是增加收入和更有效控制朝圣者的战略。这些基础设施也可以服务于军事目的。
ajay (mumbai) 1 hr ago
i believe if india and china unite in all aspects, it will bring a golden age for both.
Agree (8)Disagree (2)Recommend (2)



我相信如果印度和中国各方面联合起来,那么会为两国带来黄金时代。




k (helsinki) replies to ajay 40 mins ago
sliteyes frnd of no one. they are backstabbers... remember 1962
Agree (3)Disagree (3)Recommend (1)




他们不会成为任何人的朋友,他们是背后中伤者...还记得1962年吗...



sbisarya (NOIDA) 1 hr ago
I think China needs to understand the psyche of Indian pilgrim. They are hardly going to be amused by routine showcases of Chinese infrastructure. What the pilgrims want are clean rooms, no hassles visits and courtesy. Let Mansarovar lake be in its pristine beauty.
Agree (4)Disagree (0)Recommend (0)



我认为中国需要理解印度朝圣者的心理。他们几乎不会被中国基础设施的例行展示所娱乐。朝圣者所需要的是干净的房间、不受打搅的参观和接待者的礼貌。让玛旁雍错湖保持其古朴美吧。
anandconstructions_2k5 (India)
This is nothing but development of infrastructure for use by the Chinese in war time against India.
Agree (4)Disagree (0)Recommend (1)



此举没有任何其他目的,只是为了发展中国人战时对付印度的基础设施。
Vijay Banga (new delhi)
Very well indeed if you do not try to read any meaning in it. Welcome enjoy the benefits.



如果不试图去解读其中的意义,那么是非常好的举措。欢迎享受随之而来的好处。
komatineni (India)
They are not building for Indians guys. The number of Indian visitors in comparison with Buddhist visitors is negligible. Buddhist believe that Kailash/Manassarovar is a sacred place too. So you can see hundreds of thousands pilgrims and the 'parikrama' is must for them. No need to get excited on sino-indian relations ;) Chinese won't do anything without 'profit'.
Agree (6)Disagree (0)Recommend (1)



他们不是为了印度人而修建基础设施。相比佛教游客,印度游客的数量是微不足道的。佛教徒相信冈仁波齐峰和玛旁雍错湖也是圣地。所以你会看到成千上万朝圣者......没必要对中印关系感到激动 ;) 中国人要是没有利益是什么也不会做的。
Arjan (Mumbai)
What is India doing to increase tourism to India? Indian politicians are involved in scams and scams only!
Agree (9)Disagree (0)Recommend (2)



印度有做什么促进旅游业的事情吗?印度政客只是沉迷于一个又一个丑闻!
Venkatesh Iyer (Nagpur)
Good News. Let the nations unite in doing good for the human race. World will surely flourish. Good Days ahead......
Agree (1)Disagree (0)Recommend (1)



好消息。让各国联合起来为人类福祉而奋斗。世界肯定会繁荣的。好日子在前面呢...
hu (guanzho) 2 hrs ago
talkin strategically...look if they come upto mansarovar and kailash, in the disguise of workers and labourers..and in reality they are chinese soldiers which are building their firm base in Himalayas. well it can be good move...but never trust anyone blindly.
Agree (2)Disagree (1)Recommend (0)



从战略上来说...要是中国士兵伪装成工人和劳工来到玛旁雍错湖和冈仁波齐峰,在那里修建牢固的基地,那怎么办。好吧,这可能是好的举措...但是永远不要盲目相信任何人。
Venkatarama Muthuswami (Chennai)
The Chinese are already in all over the neighbourhoods, from Sri Lanka to Nepal, Bangladesh to Pakistan and Maldives. Thanks to our ineptitude and foolish red tape, Chinese may even be emboldened to build the infrastructure to the holy places this side of Himalayas. It is probably easier to come than with the tanks and missiles.
Agree (1)Disagree (0)Recommend (0)



从斯里兰卡,到尼泊尔、到巴基斯坦,再到马尔代夫,中国人已经遍布整个邻近地区。多亏了我们无能和愚蠢官僚主义者的繁文缛节,中国人甚至有胆量在喜马拉雅山另一边修建通往圣地的基础设施。可能他们的坦克和导弹更容易过来了。
marshal panda (sambalpur)
Two points here.(a). Indian ambassador visited Tibet for the first time in ten years. (b). All the Hindu places of pilgrimage(tirtha sthan) are inside hindustan proper.Could one such place be outside it?
Agree (4)Disagree (3)Recommend (1)



这里有两点:1、印度大使十年内首次访问xz;2、所有其他印度教圣地都在印度境内,这个圣地能够留在境外吗?
Manish Vaid (Miami)
Incredible India, Unpredictable China!!!
Agree (3)Disagree (1)Recommend (1)



令人难以置信的印度,不可预测的中国!
ABC (Hyderabad) 2 hrs ago
Great job China! Our heritage ties us together. We are friend, not enemies. As great visionary Padma Vibhushan VK Krishna Menon said: Our enemy is Pakistan, not China. Hindi-Chini Bhaibhai.
Agree (7)Disagree (7)Recommend (3)



好样的,中国!我们的遗产让我们走到一起。我们是朋友,不是敌人。就像颇有远见的克里希纳梅农所说的:我们的敌人是巴基斯坦,不是中国。中印亲如兄弟。
pradeep_sundaresan (Dubai)
Communism & Hinduism. Goes well?
Agree (2)Disagree (3)Recommend (1)



共产主义和印度教,协调得好吗?
maitra.gautam (Kolkata)
Is it out of sheer good will or purely economic considerations or, more ominously, political design on China's part? A xeonophobic country like China encouraging Indian pilgrims! Difficult to digest. China perhaps is relying on subtle diplamcey alongside flexing its physical muscle to woo Indian people along its borders and even beyond.
Agree (7)Disagree (4)Recommend (3)



此举是纯粹出于善意,或者是经济考量,或者更多的是中国不怀好意的政治意图?中国那样的仇外国家会鼓励印度朝圣者,难以理解!中国可能是依靠微妙的外交来炫耀力量,以吸引边界沿线的印度人,甚至还有其他更深的意图。
Prof. Raj Kumar (Uttar Pradesh)
China is a progressive country, they are not only developing themselves but they are developing their neighbors as well. Congratulations China.
Agree (18)Disagree (3)Recommend (9)



中国是一个进步国家,他们不仅发展自己,还帮助邻国发展。祝贺中国。
K.S.Parthasarathy (now in Union City, California, US) 6 hrs ago
they refused me visa to Manassarovar last year . I wanted to travel from Lhasa, after attending a confrence in The neighbour State. I had to cacle my tickets and lot of money to Chinese Air Line.
Agree (7)Disagree (8)Recommend (3)



他们去年拒绝给我颁发前往玛旁雍错湖的签证。在领近国家参加完会议后,我本来是想从拉萨去那里的。我不得不取消订票,许多钱送给了中国航空公司。




Raj karey ghee Kali,sikh rahey na koee (kASHMIR) replies to K.S.Parthasarathy 3 hrs ago
Bad luck,you went their as a yankee not as a Indian so stop crying.
Agree (9)Disagree (2)Recommend (1)




运气不好,你是以美国佬的身份去的,不是以印度人身份去,所以别抱怨了。




K.S.ARTHASARATHY replies to Raj karey ghee Kali,sikh rahey na koee 1 hr ago
Sorry to disappoint you..I am afull blooded Indian, on a VISIT TO us. wHEN THEY REFUSED ME, THEY WERE ALLOWING YANKEES. i UNDERSTAND YOUR yNAKEE FRUSTRATION!




让你失望了...我是纯种印度人,现在是在访问美国当中。当他们拒绝我的时候,他们是允许美国佬去那的!



sgsavadi (Navi Mumbai) 12 mins ago
If China is serious about improving infrastructure, we must welcome it. But ,they should start with improving some basic necessity of pilgrims. CONDITION OF TOILETS IN THE PILGRIM CAMP AT TAKLAKOT ARE INSULT TO ANY HUMAN BEING. China should attend to improving the much needed facility in such places before going for making improvement in infrastructure.



如果中国真的考虑改善基础设施,我们必须表示欢迎。但是他们应该首先为朝圣者改善基本的设施。塔克拉噶朝圣营地的厕所的条件对人类是一种侮辱。在改善基础设施前,中国应该着手在这些地方改善更急需的便利设施。





原创翻译:三泰虎 http://www.santaihu.com
Mr. X (Mumbai)
China?? Tourism? more over, HELP INDIA?? OMG!



中国?旅游业?更重要的是,帮助印度?哦,天啊!
Steve Hutchinson (London) 1 hr ago
Indian fools think China is helping Indian pilgrims, Infact China is creating a powerful infrastructure to conquer India some day. They have already built a 4,000Km World class Railroad from Beijing to Lhasa( near Indian Border) to transport Soldiers and Military Equipment right up to Indian Doorstep. China is and will be India's greatest threat. Its high time India realises this before it is too late.
Agree (6)Disagree (7)Recommend (1)



印度傻瓜认为中国在帮助印度朝圣者。事实上,中国是在为某天征服印度而修建强大的基础设施。他们已经修建了一条从北京到拉萨长达4000公里的世界级铁路,以便把士兵和军事装备直接运送到印度门口。中国现在是印度的最大威胁,以后也是。印度早该认识到这点,否则就太迟了。
dv1173 (New Delhi)
CHINA Creating Military establishments behind any such development the scenes.... these Chinese are creepy mind people..... i.e. Nothing comes Free & Friendly.. from china
Agree (1)Disagree (4)Recommend (0)



中国其实是在背地里修建军事设施...这些中国人的思维令人毛骨悚然...你不会从中国那里得到任何免费的东西或者友谊。
rishiraj (Mumbai)
India should be careful about china we have already seen the betrayal of slogan "" Hindi Chini bhai bahi"""
Agree (2)Disagree (3)Recommend (0)



印度应该小心中国。我们已经见证了中国人对"中印亲如兄弟"口号的背叛。
冈仁波齐峰海拔6721米,是冈底斯山脉第二高峰。藏语意为神灵之山。素有"神山之王"的美称。玛旁雍错有"世界江河之母"的美誉,是唐朝高僧玄奘在《大唐西域记》中称为"西天瑶池"的地方。岗仁波齐峰和玛旁雍错湖被誉为神山、圣湖的教派有:佛教、印度教、耆教和苯教。印度驻华大使10年来首次访问xz。为了方便印度朝圣者,中国表示将改善基础设施,提供便利的食宿、交通等设施。有的印度网民对中国此举表示欢迎,称将给前往玛旁雍错湖和冈仁波齐峰朝圣的印度教徒提供方便。