译文来源:三泰虎 http://bbs.santaihu.com/thread-6725-1-1.html
外文标题:China asks Pakistan to guarantee safety of its nationals
外文地址:http://timesofindia.indiatimes.com/world/china/China-asks-Pakistan-to-guarantee-safety-of-its-nationals/articleshow/20730618.cms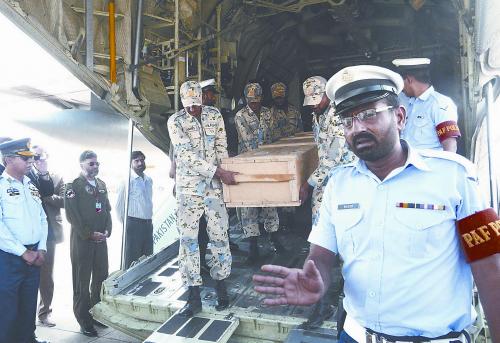 6月23日,在巴基斯坦首都附近的机场,装有遇难中国公民遗体的棺木被抬下飞机。

BEIJING: China on Sunday asked Pakistan to "guarantee the safety" of its nationals working there as it condemned a violent militant attack on a base camp in the country's north in which 10 people, including three Chinese tourists, were killed.

About 14 to 16 Taliban gunmen disguised as soldiers killed nine foreign tourists and a Pakistani guide in an unprecedented attack on a base camp at Buner Valley in Gilgit-Baltistan.

"The foreign ministry strongly condemned a violent attack in Pakistan-administered Kashmir that resulted in 11 deaths, including those of several Chinese tourists," state-run Xinhua news agency reported.

Two Chinese nationals and one Chinese American were among the killed, according to Xinhua report.



北京:6月23日,中国谴责巴基斯坦北部一座营地发生的暴力袭击事件,同时要求巴基斯坦保证在巴工作的中国公民的安全。袭击事件导致10人丧生,其中包括3名中国游客。





据悉,吉尔吉特-巴尔蒂斯坦布内尔山谷发生了一起前所未有的袭击,大约14至16名塔利班武装人员伪装成士兵,杀死了9名外国游客和1名巴基斯坦向导。





据新华社报道,中国外交部强烈谴责巴控克什米尔地区发生的暴力袭击事件,事件导致11人死亡,其中包括几名中国游客。死者中有两名中国公民和一名美国华人。



State television said the shocking attack was reportedly carried by Pakistan Taliban and another militant group Jundullah claimed responsibility for the attack.

China's foreign ministry spokesperson's office said the Chinese embassy in Pakistan has maintained close contact with Pakistan's foreign ministry, interior department and military to further verify related information.

The embassy has asked Pakistan to make all-out efforts to take care of the survivors, apprehend the gunmen as soon as possible and take measures to guarantee the safety and legitimate rights of Chinese citizens in Pakistan.

It also asked Pakistan to cooperate in dealing with the aftermath of the incident, as well as to severely punish the attackers.



据官方电视报道,这起令人震惊的事件据称由巴基斯坦塔利班组织发起,另一个叫做真主旅的组织也声称对此事负责。





中国外交部发言人办公室称,中国驻巴大使馆与巴基斯坦外交部、内政部和军方保持密切联系,以进一步确认相关信息。





大使馆要求巴基斯坦尽一切努力照顾好幸存者,尽快逮捕持枪歹徒以及采取措施来保证在巴中国公民的安全和合法权利。此外,大使馆还要求巴基斯坦配合善后处理以及严厉惩罚袭击者。



The embassy has been in contact with a Chinese survivor and asked the Pakistani military to protect the survivor.

It said the ministry and the Chinese embassy in Pakistan have attached great importance to the incident and have launched an emergency response to deal with the issue.

It quoted local police in PoK as saying that the incident took place this morning when unidentified gunmen opened fire at tourists in a hotel near the base camp of 8,126-metre Nanga Parbat, the world's ninth highest peak that is popular among adventurous travellers.



大使馆已经与中国幸存者取得联系,要求巴基斯坦军方保护这名幸存者。





据称,中国外交部和中国驻巴大使馆相当重视这起事件,已经启动了紧急响应来处理这个问题。





报道引述巴控克什米尔当地警方的话称,这起事件发生在当天凌晨,一群不明身份的武装人员袭击了南迦帕尔巴特峰一座营地附近的旅馆,并向游客开火。南迦帕尔巴特峰海拔8126米,是世界海拔排名第9的山峰,颇受冒险旅游者的欢迎。



The foreign ministry and the Chinese embassy in Pakistan will work to properly handle the incident and offer assistance to the victims, the spokesperson's office said.

Significantly, the Chinese foreign ministry statement referred Gilgit-Baltistan where the attack took place as Pakistan administered Kashmir while the Xinhua report on the attack from Islamabad referred the area as Pakistan's Northern Areas.

PoK provides the geographical link between China and Pakistan.



外交部发言人称,中国外交部和中国驻巴大使馆将妥善处理这起事件,并向受害者提供帮助。





值得注意的是,中国外交部的声明将事件发生地吉尔吉特-巴尔蒂斯坦称为巴控克什米尔,而新华社发自伊斯兰堡的报道将这个地区称为巴基斯坦的北部地区。





巴控克什米尔的存在使得中国和巴基斯坦在地理上连通。




以下是印度网民的评论:




本文论坛地址:三泰虎论坛 http://bbs.santaihu.com/thread-6725-1-1.html




MAN111 (Sohar)
Pakistan has a great contribution to international Jihad. It is not limited to any nation or person.
Agree (15)Disagree (2)Recommend (7)



巴基斯坦对国际圣战运动有巨大贡献,目标不局限于某个国家或个人。




Aalimah (Rampur) replies to MAN111
It is because the aim of Pakistan is to guarantee 72 virgins to all its citizens when they get to heaven
Agree (3)Disagree (2)Recommend (2)




因为巴基斯坦的目的是确保所有国民进入天堂后能获得72个处女。



Dilbert Times (India)
Pak cant guarantee safety of its own citizen, WTF guarantee can be given for foreigners on its soil.
Agree (11)Disagree (0)Recommend (2)



巴基斯坦连本国国民的安全都保证不了,又如何能给外国人提供安全保障?
sensible logic (Canada)
How safe is the guarantor, Pakistan? China should kiss Xinhua province good-bye after the US makes up with Taliban.



担保者巴基斯坦的自身安全又如何?美国与塔利班修好后,中国应当与新华省吻别。




Aalimah (Rampur) replies to sensible logic
Oh puleeez,,,, there's no province in China like "Xinhua",,,, Xinhua is the propaganda arm of Chinese Communist Party that serves strange mixture of half truths and plain lies to the masses,,,,,, but I do agree, very soon Taliban is going to look East and target Xinjiang and,,,, Jihad for the freedom of the Uyghur Land is next in the menu of Taliban
Agree (2)Disagree (2)Recommend (1)




中国没有所谓的"新华省"......新华是共产党一个宣传机构的名字,负责给民众灌输半真半假的谎言.......很快,塔利班将向东看,把目标瞄准xj,并在那里发动圣战。



cksmohan (Mysore)
China is the only country that can teach Pakistan the lesson of its life!
Agree (4)Disagree (1)Recommend (1)



中国是唯一能给巴基斯坦一个终生教训的国家!
Deepak (Bangalore)
Let China make its tourists wear reactive armor before going to Pakistan!
Agree (1)Disagree (1)Recommend (0)



去告诉中国,叫他们的游客去巴基斯坦前应该穿上反应盔甲!
Ivan Bigger (Gamburtsev Province)
"We cannot gurantee the safety of our own nationals..and you are talking about chinese? go away and dont return till you fill our begggin bowll," said Pak foreign minister...
Agree (1)Disagree (1)Recommend (0)



巴基斯坦外交部长说:我们连本国国民的安全都无法保证,你却要我保证中国人安全?滚开吧,先把我们的讨饭碗装满,否则别想走!
Dr. Anand (Delhi)
As you sow so shall you reap. Chinese will also learn one day for their support to Pakistan.
Agree (17)Disagree (2)Recommend (8)



种瓜得瓜,种豆得豆,中国人总有一天会认识到其对巴基斯坦的支持(是错误的)。
Hakimullah Mehsud (TTP HQ)
Chinese are infidels we will keep slaying them.
Agree (8)Disagree (3)Recommend (2)



中国人是异教徒,我们将继续屠杀他们。
Manish Vaid (Los Angeles)
China to Pak: Please protect our nationals. Pak to China: Please send more money Russia to Pak: Please protect our nationals. Pak to Russia: Please send more money USA to Pak: Please protect our nationals. Pak to US: Please send more money HAFIZ SAEED to Pak: Need more money to kill other nationals. Pak to Saeed: Please continue with your good work, we will soon send you a lot more!!!
Agree (2)Disagree (0)Recommend (2)



中国对巴基斯坦说:请保护我们的国民;





巴基斯坦回应中国:请多送一些钱过来!





——————————————————





俄罗斯对巴基斯坦说:请保护我们的国民;





巴基斯坦回应俄罗斯:请多送一些钱过来!





————————————————————





美国对巴基斯坦说:请保护我们的国民;





巴基斯坦回应美国:请多送一些钱过来!





————————————————————





赛义德对巴基斯坦说:需要更多钱来杀其他国家的国民;





巴基斯坦回应赛义德:好好干,我们很快会给你送去一大笔钱!





【三泰虎注:赛义德是巴基斯坦"虔诚军"创始人】
Manish Vaid (Los Angeles)
Pakistan will China Sir you can take an additional Port from us please dont ask for something which we cannot do!!!
Agree (1)Disagree (0)Recommend (1)



巴基斯坦将会这样回应中国:你再接管一个港口吧,别用我们办不到的事情来为难我们!
ravindra sharma (patna)
This is not a friendly demand because Pakistan can not guarantee the safety of her own citizens then how can they give guarantee of safety to the Chinese ?
Agree (3)Disagree (0)Recommend (0)



这个要求不太友好,巴基斯坦连本国国民的安全都无法保证,又如何能保证中国人的安全?
suresh (India)
LOL ..................chinese are getting taste of pukisdtani talibanis



LOL.......中国人尝到了巴基斯坦塔利班的厉害了。




Dharmendra (Mumbai) replies to suresh
and most likely the weapons would have been supplied by the chinese themselves, serves the cockroaches right
Agree (1)Disagree (0)Recommend (1)




很可能这些武器是由中国人提供的,这些蟑螂活该!



suresh (India)
Nice joke



笑尿了。
micro report (india )
Mad people go to pak for tourism
Agree (2)Disagree (0)Recommend (0)



疯子才会去巴基斯坦旅游。
anonymous (India)
After the demand by Chinese Master of security of Chinese nationals, now soon expect as a kneejerk cowardly reaction, one of the slave Pakistani Ministers or Military Officials will now fly to Beijing to placate the angry Chinese Masters. Being professional beggars, the Pakistani Minister/ Official will not forget to carry a big begging bowl with him. As usual, the success of the visit of the Pakistani Official to a foreign land is solely judged by how much alms he was able to collect from their foreign Masters (like Arabs, Chinese, Americans & British).
Agree (1)Disagree (0)Recommend (1)



听闻中国主子要求保证其国民的安全后,巴基斯坦预计不久会条件反射地做出懦弱反应,其中一位部长或军官将飞往北京安慰愤怒的中国主子。作为职业乞丐,巴基斯坦部长或官员当然不会忘了随身携带一个大大的讨饭碗。与往常一样,巴基斯坦对外国访问成功与否,取决于从外国主子(比如阿拉伯人、中国人、美国人和英国人)那里讨到多少施舍金!
Saurav (Indian )
A country which cannot give security to its own ex - PM ( Mrs Bhutto) How can anybody expect will give security to tourist?
Agree (1)Disagree (1)Recommend (0)



连本国国民的安全都无法保证,你又怎么能指望其给外国游客提供安全?
Dharmendra (Mumbai)
china should get its residents converted to islam then taliban wont attack them



中国人应该皈依伊斯兰,然后塔利班就不会攻击他们了。
JCMI (Hindustan)
Are these chinese really that dumb... don't they know that Pakistan is the terror capital of the world and killing people... car-bombing their favorite past-time... national hobby!
Agree (6)Disagree (1)Recommend (5)



这些中国人真的那么蠢吗.......难道他们不知道巴基斯坦是世界恐怖之都吗,杀人和汽车炸弹袭击是他们最喜欢的消遣方式!
jeetu hegde (mumbai)
CHAINA -Wait a little bit..., one day pak will bomb you with the same technology you provided for them....
Agree (8)Disagree (1)Recommend (5)



中国,再等一等,总有一天,巴基斯坦会利用你提供给他们的技术来炸死你......
atulsrivastavasonu (L)
DEAR CHINESE , PAKISTAN WANT YOU TO GO INSIDE AFGHANITAN SO AS TO NEVER COME OUT FROM THERE. ALSO PAKISTAN HAS HANDED OVER GWADER PORT AND NOW CHINESE CAN BE SAVED BY GOD ONLY.BEWARE OF PAKISTANIS.
Agree (7)Disagree (0)Recommend (4)



亲爱的中国人,巴基斯坦希望你进入阿富汗并永远无法脱身。另外,巴基斯坦已经移交了瓜达尔港,现在只有上帝才能拯救中国人了,要小心那些巴基斯坦人。
omguha (India)
China which is selling its military equipment to Pakis which is primarily used by Pakis terrorist against India and Afghan has suddenly realized that Pakis are not protecting Chinese. China needs to check the bullets and gun used for firing at its citizen. Hopefully, it would be from China. US trained Bin Laden to fight Russians in Afghan and ended having him #1 enemy of the state and they went to Pakis to kill him. The same will happen to China too. You give them weapons and they will kill you....
Agree (9)Disagree (0)Recommend (4)



中国卖给巴基斯坦的武器主要被用于对付印度和阿富汗,现在突然意识到巴基佬没有在保护中国人。中国应当去检查那些用于杀害其国民的枪和子弹。但愿这些武器来自中国。





美国训练本拉登去阿富汗与俄罗斯人作战,结果反倒成为了其头号敌人。同样的事情将会发生在中国身上。你给他们武器,他们用这些武器来杀你......
omguha (India)
I think the article should read Pakistani killed Chinese in Indian territory because Kashmir, as a whole, is Indian territory
Agree (13)Disagree (1)Recommend (6)



我认为文章应该这样写,即巴基斯坦人在印度领土上杀死中国人,因为整个克什米尔都是印度领土。
nelofa29 (IND)
Well china had been busy supplying cheap AK47 all this while...
Agree (2)Disagree (0)Recommend (1)



中国一直忙着供应廉价的AK47
jaihind101 (Location)
china wants napakistan to ne under its thumb and terrorise INDIA now napakistan is terrorising china , what goes aroung comes around
Agree (1)Disagree (1)Recommend (1)



中国希望巴基斯坦处于其控制之下,本想用其恐吓印度,结果巴基斯坦反倒恐吓起中国来,一报还一报。
Rajesh (USA)
Chinese arms being used against Chinese citizens and China barks? Let's see how loud this growling grows as Pakistan will not be able to contain the terrorists from sneaking into North West China. What goes around comes around. This time it is for China.
Agree (11)Disagree (1)Recommend (6)



中国武器被用来袭击中国公民,中国现在开始叫了?看看他们这次会叫得多大声,巴基斯坦可没有能力遏制恐怖分子潜入中国西北部。善有善报、恶有恶报,这次轮到中国了。
jaihind101 ()
it is good for china to know that friendship with evil results in death more chinese should be targeted by napakistani terrorists to open chinese's eyes
Agree (2)Disagree (0)Recommend (1)



让中国明白与魔鬼的友谊会导致自身灭亡是一件好事。巴基斯坦恐怖分子应该更多地以中国人为目标,好让中国人开开眼界。
radar (Delhi )
Lesson for China. Feeding a snake does not make it your friend. The snake's character is to bite. It will bite even it's master. You cannot train a snake to bite only your enemies.
Agree (11)Disagree (0)Recommend (6)



这起袭击事件给了中国一个教训。"养蛇为友"是行不通的!蛇的本性就是咬人,连主子都咬!你无法训练出一条只会咬敌人的蛇。
Archit Aprameyan (Bangalore, India)
China deserves this, after all it has done to support Pakistan with the sole aim of destabilizing India. Now why are they complaining about their so-called "evergreen" friendship??
Agree (5)Disagree (4)Recommend (1)



中国活该,毕竟它支持巴基斯坦,唯一的目的却是破坏印度的稳定。他们现在为什么要抱怨所谓经久不衰的友谊?
Black Hindu (India)
how come they didnt get gang r@ped like tourists in india get???????????
Agree (2)Disagree (5)Recommend (1)



为什么她们没有像在印度旅行的游客一样被轮奸?
vgsan (usa)
The people of Gilgit-Baltistan are quite justified in being anti-China. They are mostly Shia who have been demanding independence from Pakistan. What does Pakistan do, it rents Gilgit-Baltistan to the Chinese. Recently, a Chinese official in GB was arrested for committing blasphemy.
Agree (2)Disagree (1)Recommend (1)



吉尔吉特-巴尔蒂斯坦人民反华是有正当理由的,他们大多属于什叶派,一直以来要求从巴基斯坦独立。巴基斯坦怎么做,他们居然把吉尔吉特-巴尔蒂斯坦租给中国人。最近,吉尔吉特-巴尔蒂斯坦有一位中国官员因亵渎神明而被捕。
KC and Jojo (USA)
Just the Chinese nationals? To hell with the other ones huH?
Agree (1)Disagree (1)Recommend (0)



就只保护中国公民?让其他人见鬼去?
Taurus (California)
Pakistan will never be stable as long as the Wahabi movement is alive and well.
Agree (0)Disagree (1)Recommend (1)



只要瓦哈比运动还在进行,巴基斯坦就会永无宁日。
三泰虎6月24日译文,中国谴责巴基斯坦北部一座营地发生的暴力袭击事件,同时要求巴基斯坦保证在巴工作的中国公民的安全。据悉,吉尔吉特-巴尔蒂斯坦布内尔山谷发生了一起前所未有的袭击,大约14至16名塔利班武装人员伪装成士兵,杀死了9名外国游客和1名巴基斯坦向导。中国大使馆要求巴基斯坦尽一切努力照顾好幸存者,尽快逮捕持枪歹徒以及采取措施来保证在巴中国公民的安全和合法权利。此外,大使馆还要求巴基斯坦配合善后处理以及严厉惩罚袭击者。